It's a constant struggle to find the perfect jewellery to match your outfit of the day. We understand that shopping for jewellery can be overwhelming due to the variety of options out there. To make things easier for you, we have put together this handy list of the 16 best types of jewellery with pictures you can choose from for any occasion!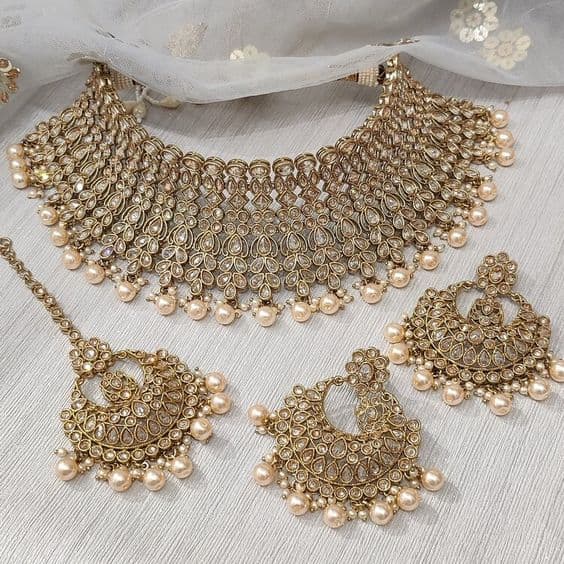 Also Read: How to Choose the Right Necklace for Different Occasions
16 Best Types of Jewelry
1. Antique Jewellery
Antique or vintage jewellery is perfect for a chic, classy look. You can pair a heavy necklace or a statement pair of earrings with a saree in a muted, light shade such as beige, cream, or pastel blue. Other antique jewellery options like rings and nose pins are more versatile to style and can be worn with both ethnic and fusion wear.
2. Temple Jewellery
Temple jewellery is a type of ethnic jewellery designed using the imagery of different gods and goddesses. The original idea of temple jewellery involved gold items embedded with precious gemstones. Currently, temple jewellery pieces are inspired by the sculptures, carvings, and idols across Indian temples.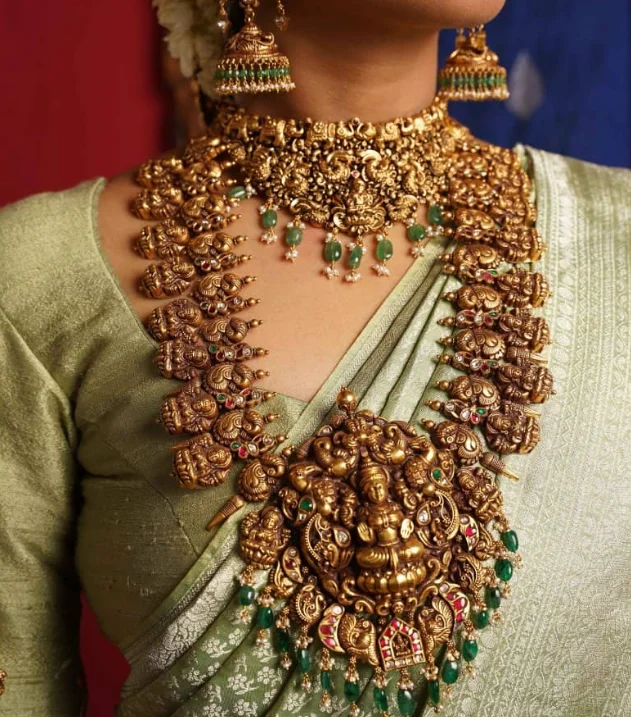 Goddess Lakshmi is one of the most-featured motifs by jewellers for temple jewellery. Some other non-religious motifs that are used include trees, leaves, coins, and bells. Temple jewellery is best paired with kanjeevaram or brocade sarees. They are also a great choice for bridal outfits, especially in South Indian weddings.
3. Gemstone Jewellery
Gemstone jewellery is made using precious and semi-precious stones, such as emeralds, rubies, and sapphires, as the base. The stones are first cut and polished with precision; then, they are used to craft the jewellery pieces to perfection. Different types of jewellery that commonly use gemstones include rings, pendants, necklaces, bracelets, and earrings.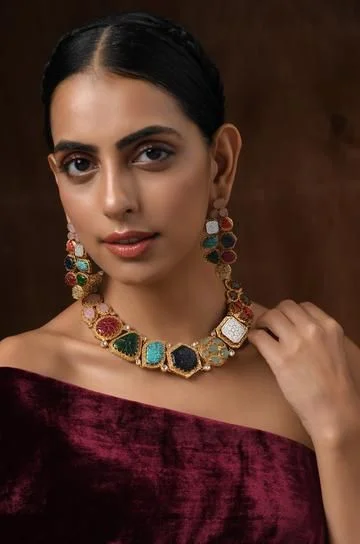 Based on the month they were born in, every person is assigned a particular birthstone, which is why certain gemstones are considered to be auspicious due to their astrological connection. You can style gemstone jewellery with both ethnic and western attire. You can also wear a statement gemstone in the form of a minimalist ring or pendant with all of your outfits.
4. Platinum Jewellery
Platinum is a protective metal and is often regarded as eternal and everlasting since it does not change its shape, wear, or colour even if you wear it all throughout your life. Platinum jewellery is also extremely light and durable, making it the perfect choice if you want something to wear on a daily basis.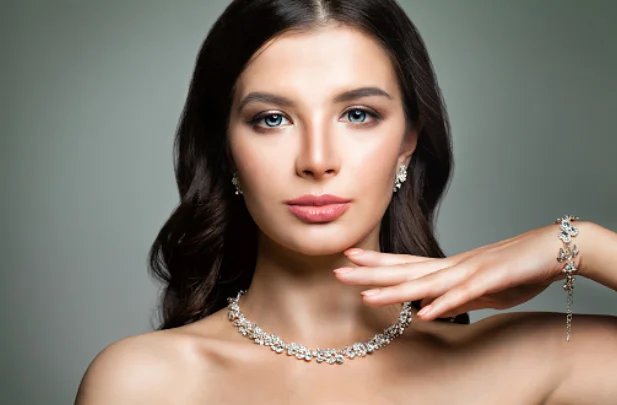 You can wear a platinum ring or earrings with your everyday wear, or you can go all out with a choker necklace, hoops, and chunky rings if you are headed to a special event.
Also Read: How to Buy Jewellery – Things to Remember Before Buying Jewellery
5. Minakari Jewellery
Minakari, or Meenakari, jewellery is a traditional Indian jewellery type that dates back to the 16th century. The art form of Minakari originated in Persia and was carried to India by the Mughals. Later, Raja Man Singh of Mewar adapted it for his court, making Rajasthan the centre of this form of jewellery in India. Minakari designs are created by embedding gemstones on molten glasses of different colours, sizes,and shapes, which are then outlined with wires made of molten gold or silver.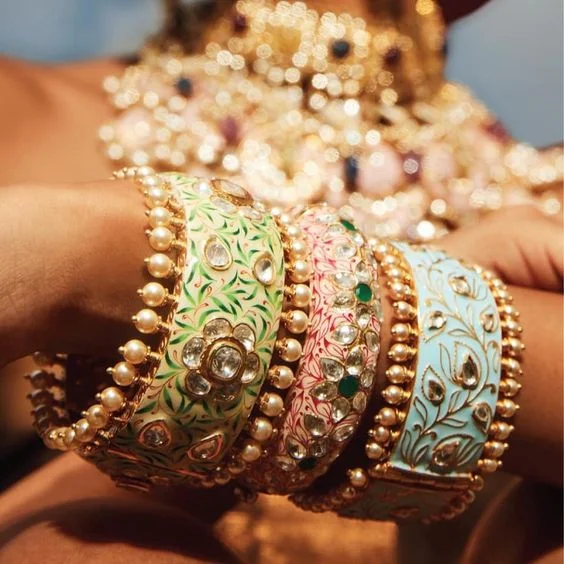 Minakari jewellery is characterised by gorgeous floral patterns and different motifs that are akin to the Mughal style of design and architecture. Heavy Minakari items are suitable for bridal wear, whereas lighter Minakari necklaces and bracelets can be worn with clothing items like sarees, lehengas, and ethnic suits.
6. Navratna Jewellery
Navratna is Sanskrit for 'nine gems'. These gems are diamond, ruby, emerald, coral, pearl, blue and yellow sapphire, cat's eye, and hessonite. This style of jewellery features multiple colourful stones and is deemed to be a symbol of wealth and prosperity in most south Asian cultures.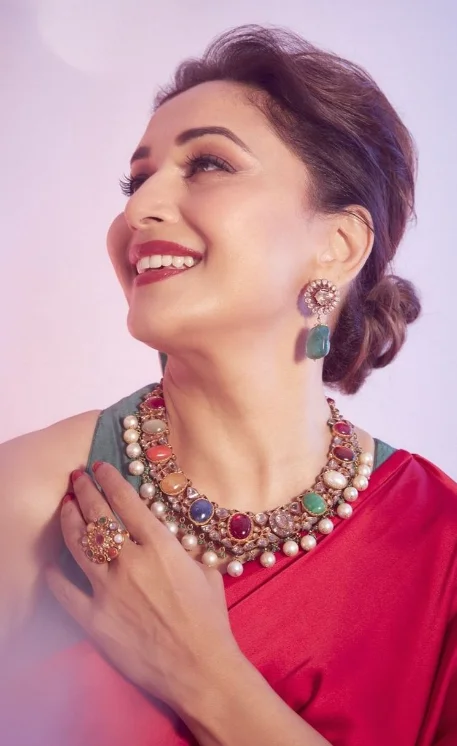 Navratna jewellery look best when paired with pastel-coloured lehengas and sarees. The softer colour of the dress complements the shade and magnificence of the Navratna earrings and necklaces, resulting in a royal and gorgeous look. Some popular Navratna necklaces include collar necklaces, choker necklaces, and low-hanging necklaces.
7. Bridal Jewellery
Every woman dreams of a lavish, glamorous wedding. After all, your wedding is a once-in-a-lifetime chance to create lasting memories, and the right outfit can guarantee that all eyes are on you on your special day!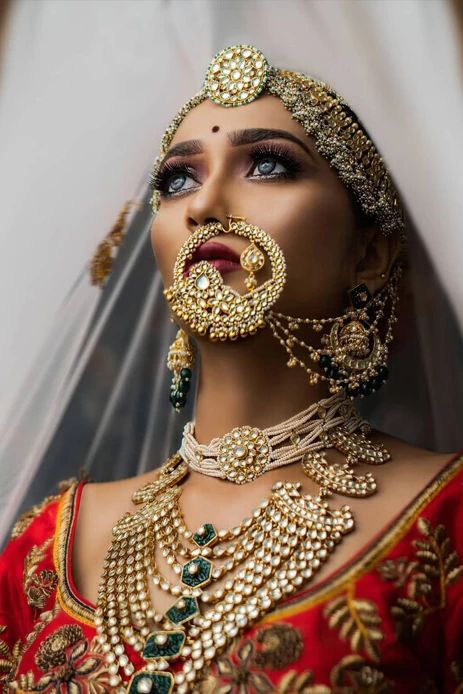 Bridal or wedding jewellery items are usually on the heavier side. If you are looking for bridal jewellery options, go through all the types of jewellery designs – necklace, earrings, nath, anklet, bracelets, maang tika, armlet, and different finger rings – before making your choice! These designs come in a wide array of colours and finishes, so you can easily match it with the overall colour scheme of your bridal outfit.
8. Fashion Jewellery
Fashion jewellery, also commonly referred to as costume jewellery, is not a specific design. Instead, it refers to jewellery items that are made without the use of precious metals or stones. The base metals used for fashion jewellery usually include brass, aluminium, and copper.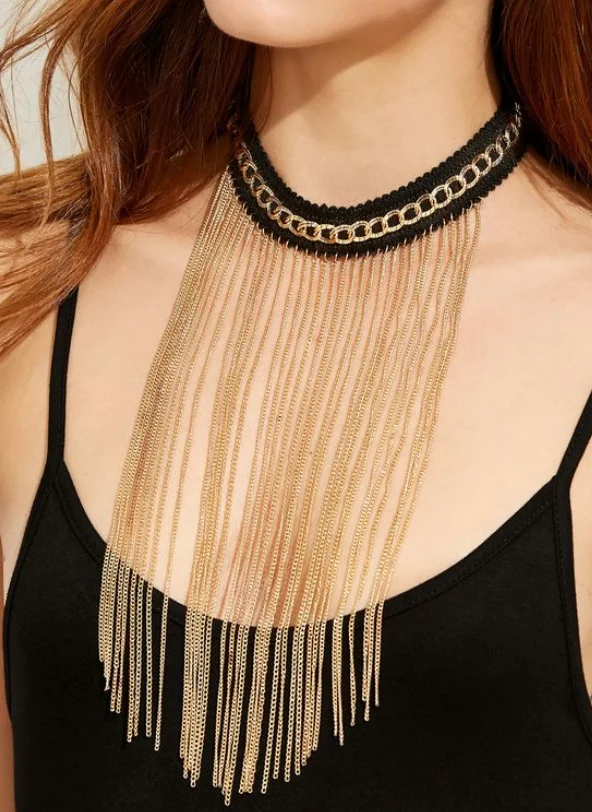 Fashion jewelleries tend to be on the minimalist side when it comes to their design, making it easy for you to pair them with everyday outfits. You can also wear them to work!
Also Read: Beach Accessories For Women – A Finishing Touch To Your Beach Look
9. Gold Jewellery
A staple for all Indian women, gold jewellery is timeless, classy, and durable. No matter what the occasion is, you can always find a number of gold jewelleries to match it! Gold jewellery goes best with bright colours like red, yellow, and orange. From bridal sets to pendants and studs for daily wear, gold jewellery is perhaps the most versatile item on this list.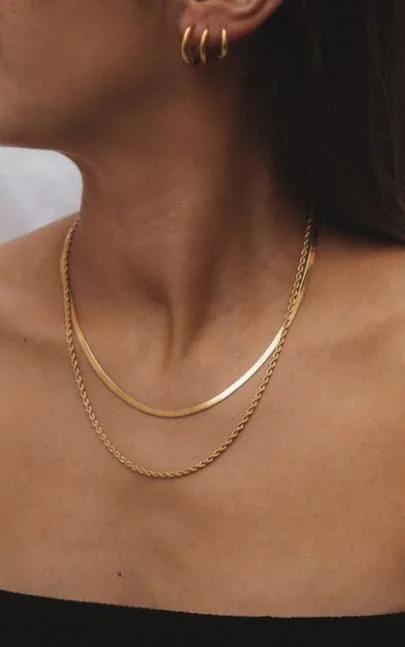 You can also get other jewellery items you use regularly gold plated to give it a sophisticated look without spending a fortune. Although pure gold jewellery might be on the expensive side, gold never goes out of style, so, the payoff is definitely worth the investment!
10. Filigree Jewellery
Filigree is a special technique that uses intricate strips of metal (like gold and silver) to create unique textures and details in all types of jewellery. Due to its precise nature, this process is systematic and time-consuming, ensuring that every filigree jewellery piece in your collection is truly unique!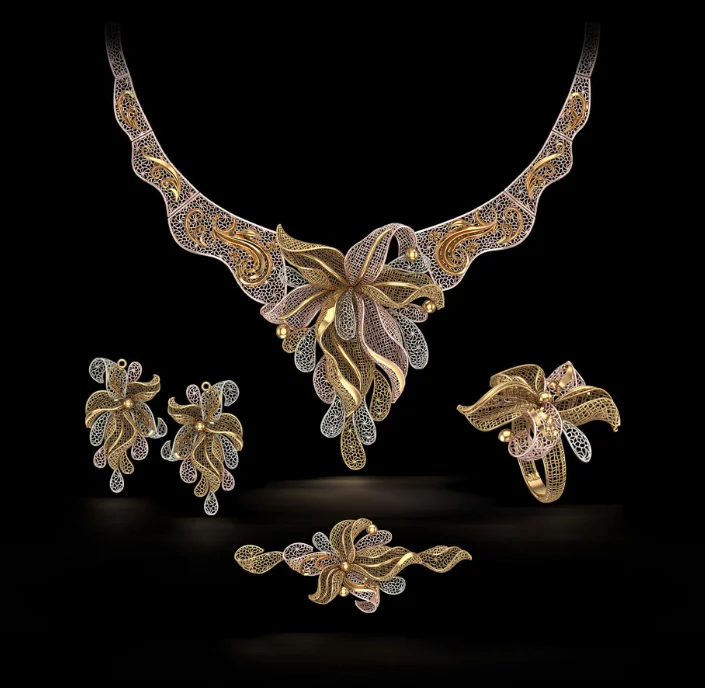 Filigree jewellery items are great to add some extra details to your outfit, so it is best to opt for smaller items like pendants and earrings which do not take the attention away from your outfit but complement it instead. Filigree designs are delicate and elegant, adding a dash of sophistication to any outfit you pair it with!
11. Handmade Jewellery
Handmade jewellery showcases the creativity of the different parts of India. Since these items are handmade without the use of machines, it is important that you handle them carefully to maintain the correct form and shape.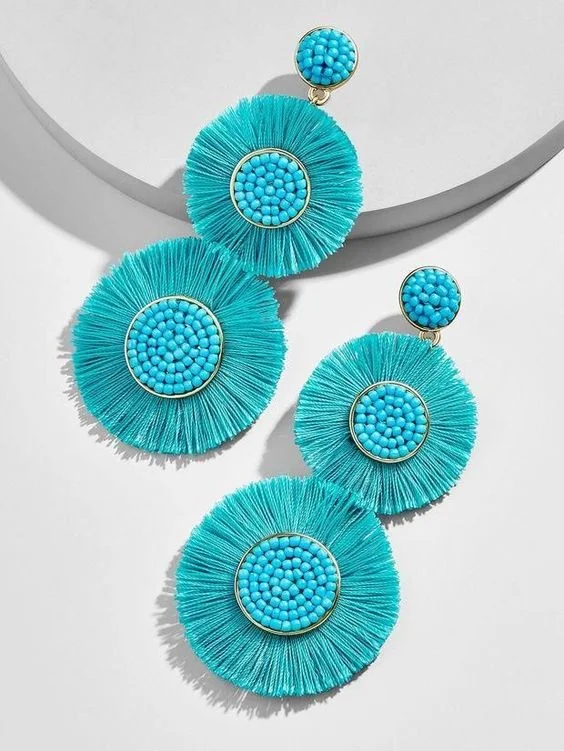 A few types of jewellery names that are handmade are jute, clay, and terracotta designs. These items go very well with ethnic wear, particularly kurtis, slip dresses, and salwar suits. You can also pair chunky handmade jewellery items with solid black, blue, or maroon tops and a pair of blue jeans to achieve a cool, boho look.
12. Pachchikam Jewellery
Pachchikam jewellery originated in Gujarat and is an exemplary example of Indian traditional handicraft designs and techniques. These items use silver as the base metal, which is then moulded, engraved, and adorned with a number of colourful (red, blue, green, and white) stones.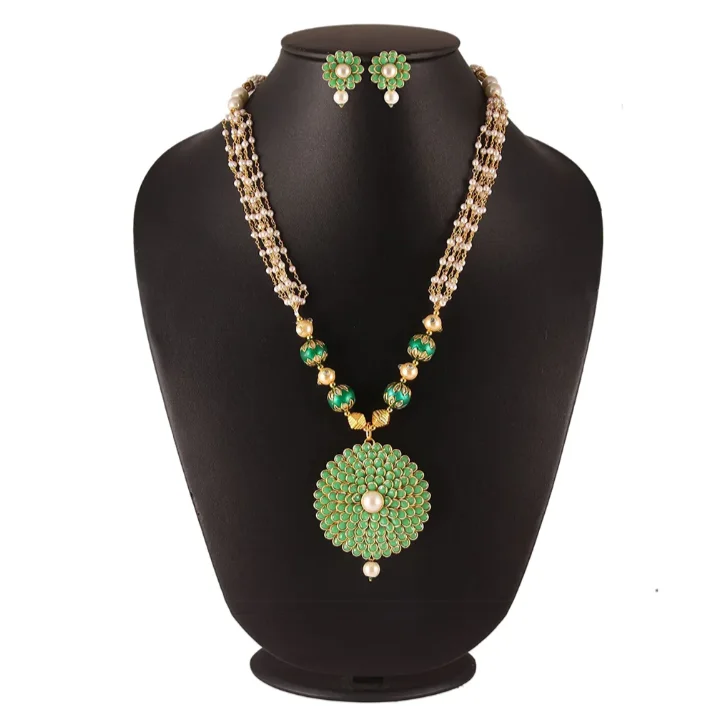 Meant to be worn only on special occasions, Pachchikam jewellery sets usually comprise long necklaces, headpieces, and earrings. You can also use a stand-alone Pachchikam broach on your dress to stand out without wearing any elaborate pieces of jewellery.
Also Read: Popular Rings for Men and Women
13. Bead Jewellery
Beads jewellery is a type of handmade jewellery that is worn by men and women alike. These pieces are created by stringing together beads of different colours on a long string or chord. The beads used can be made of glass, stone, or even plastic.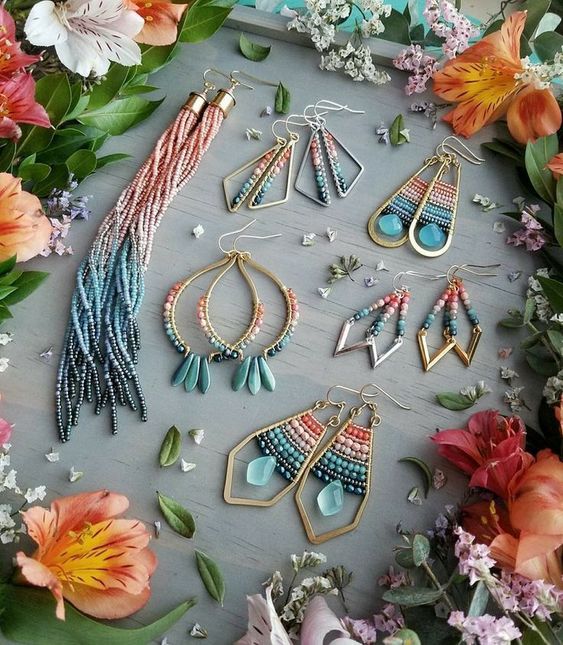 While women can pair longer and more elaborate bead necklaces with sarees, chiffon suits, and anarkalis for a semi-formal event, men can wear bead necklaces or bracelets with casual shirts in attractive prints and patterns to achieve an effortlessly cool look! If you are styling bead jewellery, make sure not to pair it with any other types of jewellery as they might not come together to form a coherent fashion statement.
14. Kundan Jewellery
Kundan jewellery is a lot similar to Pachchikam jewellery, and the primary difference between the two is that Kundan jewellery uses a gold base, while Pachchikam uses silver. The word 'kundan' means pure, refined gold, making Kundan jewellery a symbol of luxury and extravagance.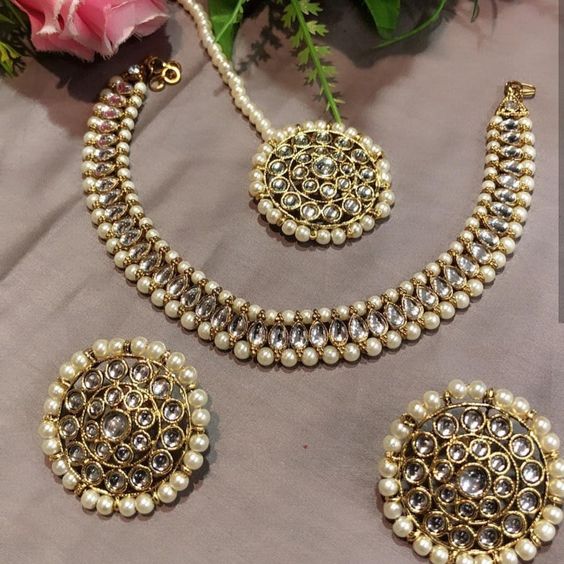 That is why these items are mostly reserved for important occasions and are often included in bridal looks. You can also combine Kundan choker necklaces or a stunning pair of gemstone-embedded earrings with a western dress to put together a unique fusion outfit!
15. Polki Jewellery
Designed using gold foil and uncut gemstones such as diamonds, Polki jewellery is one of the oldest Indian jewellery forms and is often passed down as family heirlooms across generations. Suitable for only ethnic outfits, you can wear Polki necklaces, bracelets, or armlets to transform a dress for a special event – such as Diwali, Karva Chauth, or Bhai Dooj – within minutes!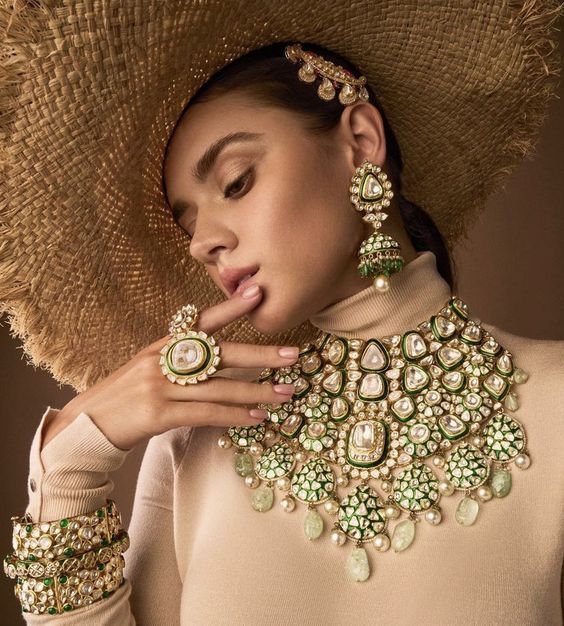 16. Jadau Jewellery
Introduced to Indians by the Mughal rulers, Jadau jewellery is an exclusive, traditional design made by groups of artisans known as Chiterias and Ghaarias. The designs are made using precious and semi-precious stones like diamonds, rubies, sapphires, emeralds, and pearls in premium-quality gold casting.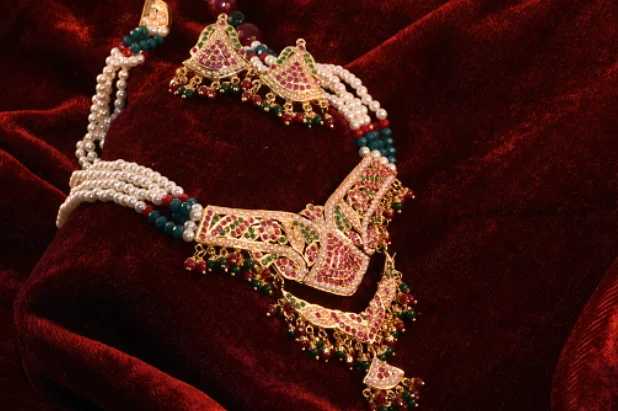 Jadau jewellery pieces are perfect for weddings and other important events. Necklaces, rings, and tikas are some examples of Jadau jewellery that you can pair with most Indian outfits.
Also Read: How to Choose the Right Sunglasses – A Complete Guide to Find the Right Sunglasses
Conclusion
Jewellery helps you make a bold and unique fashion statement and is a reflection of your personal style, and it changes your entire outfit look. However, it is important to first choose the right types of jewellery depending on the occasion. We hope that the list we have compiled can help you with that, making your job a lot easier for the next time you are spoilt for choices and looking for jewellery pieces to go with your outfit. If this article was helpful, you can check out a wide range of other such curated fashion guides on Infifashion!
Popular Searches
Hair Care Tips: How To Treat Your Hair Like A Boss | Top Shoe Brands In India | Top Luxury Fashion Brands | Sustainable Fashion Brands | Organic Makeup brands in India | Best Watch Brands in India | 10 Best Cameras for Photography | Best Food Bloggers in India | Types of Tea You Must Really Know |Best 10 Types of Paintbrushes | 6 Best Skin Care Products Your Skin Needs |Types Of Skirt You Will Love | Best Cameras for Photography | Right Skin Care Routine Steps | How to Get Rid of Pimples |