Most of us probably got our first watch as a gift. That moment of adorning one's wrist with a watch for the first time always remains special and is somehow a rite of passage to becoming a grown-up. Your watch is not just a means of telling time—it's a style statement. It is an extension of your personality and speaks to who you are.
We recommend having a collection of the best watches in your wardrobe. You would not wear the same footwear for all occasions, would you? Why should you then constantly wear the same watch? There are different types of watches available in different styles and patterns, each suited perfectly for a specific occasion. Whether you want to accentuate your polished professional look or bring out your rugged adventurous side, there is a perfect watch for the job. And don't be flabbergasted at the thought of so many types of watches.We are right here to help you find one that suits you the best.
Choose the Right Watch for the Right Occasion
Given the plethora of designs available, it's best to ask yourself what styles you would need before you start shopping.
Sports Watches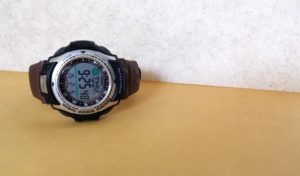 These watches, as the name suggests, meet your sports requirements. Sports watches are rugged-looking and usually have a chunky design. They are equipped with stopwatches, lap-time monitors, heart rate monitors, and other handy features. Though not all sports watches are suitable for extreme water sports, they do have a higher-than-normal (compared to non-sports watches) degree of water resistance. If you are looking for a watch for deep water adventure, you need a dive watch. Sports watches are available in neutral as well as vibrant colours, and they add a bright, sporty edge to to your personality.
Dress Watches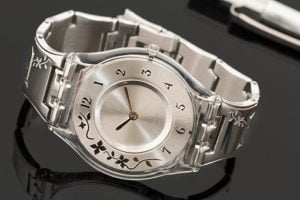 These are everyday watches with an added elegance and style. You can choose sophisticated pieces to wear with your everyday work attire. Ladies, you can browse through our range of stylish women's watches and pick delicate pieces to add to your charm and femininity. Typically, dress watches come with metallic straps, and may have interesting oval, square, heart, or diamond-shaped dials rather than ones in the standard round shape. Stones, American diamonds, and other embellishments are also commonly seen on dress watches.
Luxury Watches
Luxury watches are more of an investment and a passion rather than simply an instrument that shows the time. Brands such as Rolex, TAG Heuer, Longines, and others are some well-known luxury watch labels. While they are obviously highly priced, these designer watches are collectors' items and their value only increases with time. In fact, owners of these fabulous watches agree that the pride of ownership of a luxury watch is worth its cost several times over.
Fashion Watches
These are bright, trendy, colourful watches you can wear for any informal event. These watches are designed with innovative dial shapes, perhaps inspired by contemporary events. These are the best kind of watches you can coordinate with your outfits and your mood. We'd recommend stocking your wardrobe with more than one of these fashionable pieces. Showcase your peppy personality with these fun watches, whether you're going to an office picnic or to the college cultural fest.
Choose the Watch Type that Suits You Best
While looking to buy watches online, another way of choosing the right watch from the plethora of options available is to look for one with great features. Based on how watches look and function, there are 3 kinds of watches:
1. Analogue Watches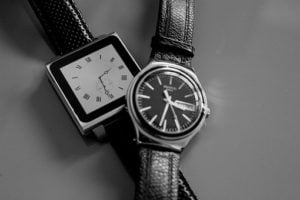 Analogue watches are fairly popular and preferred by most people. An analogue watch shows time with an hour and a minute hand, and in some cases, a second hand. With analogue watches, there are again several options to choose from in terms of number display. Do you want to go for European numerals (1 to 12) or Roman numerals (I to XII), or would you prefer just numeral markings instead of the actual numerals? In the end, it all comes down to your personal preference, and what in your opinion constitutes a good-looking watch.
2. Digital Watches
Digital watches show time in the digital format, in two possible variations—the liquid crystal display (LCD), which shows time continuously, or the LED display, which displays time at the push of a button. Several styles of kids'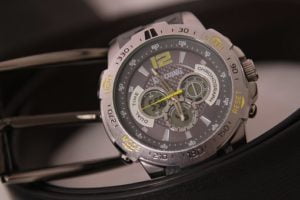 watches are available as digital watches to help children read the time more easily. A digital watch would be a great gifting option for a little child.
3. Digital and Analogue (Combination) Watches
The display dial shows time in both analogue as well as digital formats; this feature is most commonly found in certain brands of sports watches or the more sophisticated pilots' watches.
How to Choose a Watch Strap
Unless you are opting for a pocket watch, the strap on your watch is a factor you must consider when shopping. The different types of watch straps include the following.
1. Leather Strap Watches
Genuine and synthetic leather strap watches add a classic, professional aura to an ensemble. Though typically available in black and brown, you can also find eclectic coloured and textured strap options.
2. Metal Strap
These are bracelet style watches. The bracelet is composed of metal links. You can lengthen or shorten the bracelet for a perfect and comfortable fit by adding extra links or removing a few.
3. Fabric Strap
These are non-leather straps made of a variety of materials including canvas, plastic, and more. These straps are usually seen attached to fashion watches that are bright and vibrant, creating a fashionable edge.
How to Choose a Watch Case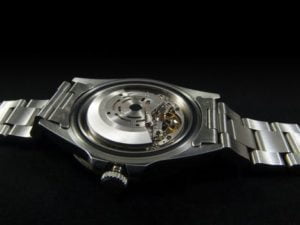 The part of your watch that houses the numbers and time-keeping mechanism is called the case. The outer visible part of the case is the display dial. The watch case is most commonly made of stainless steel with some proportion of chromium to prevent rusting. For a more elegant and sophisticated look, consider watch cases in gold, silver, or even titanium. Platinum case watches are the ultimate in luxury and refinement.
Observe the Watch Movement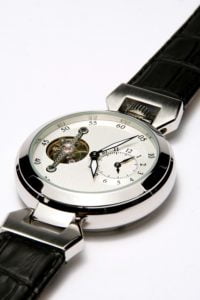 At the end of the day, what essentially distinguishes a watch from a bracelet is its ability to tell time. This time-keeping mechanism is called the 'movement'. Watches can be classified on the basis of their movements, mechanical or battery powered. The mechanical movement consists of hundreds of individual parts working together with the help of gear mechanisms. If you have ever wound up a watch (to make it work), that's a mechanical watch. Battery powered watches contain quartz as the time-keeping element and are automatic (do not need to be wound to keep time). Some people prefer the vintage, romantic aura associated with a wind-up watch, while for some, quartz watches represent the modernity that they like. So really, it all comes down to your personal preference.
With our wide selection of fabulous and stylish designer watches, you need look no further when it comes to choosing a timekeeping accessory. Take a few minutes to figure out the occasion for which you are buying the watch, think about your personal preferences in terms of display, watch case and strap (leather or metal), and you are all set to find the perfect watch. Happy shopping!