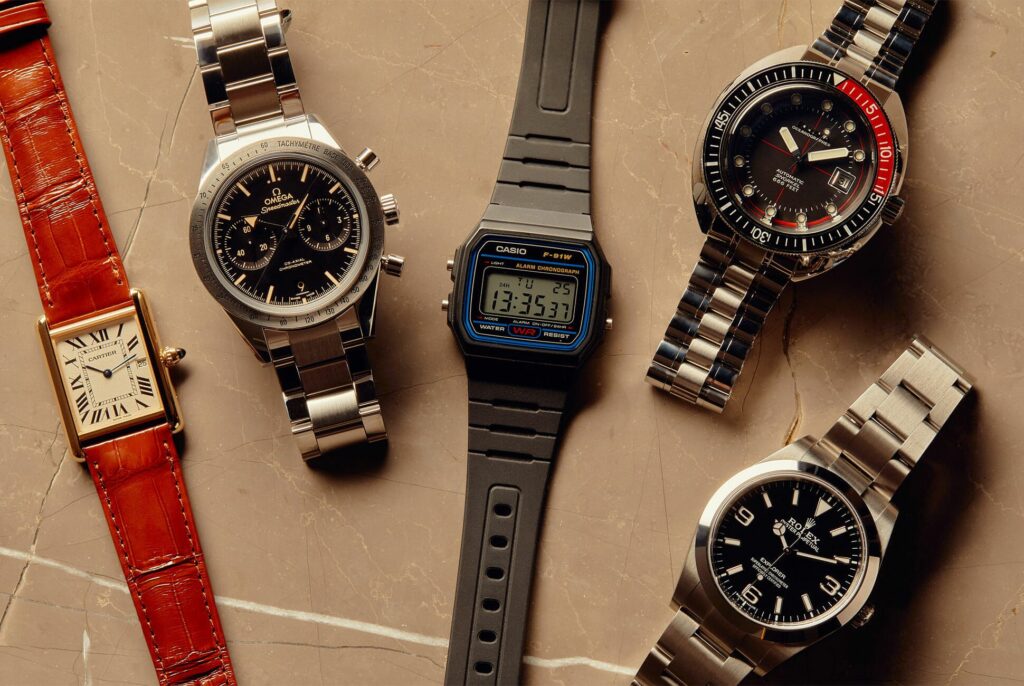 You are all set to hit the streets in your printed denim shirt, khaki chinos folded on an ankle, striped socks, and leather boat shoes. But have you added a touch of sophistication to your look with an eye-catching wristwatch? Complement your attire with some of the most sophisticated watches available online. Watches for men can be intricate and expensive. Considering that there are numerous watches out there, it can be a bit daunting when shopping for a man's watch. There are several aspects you need to keep in mind while picking the right one. It all comes down to a few general questions. You must consider looking at your wardrobe and deciding on a budget. In the world of sophistication, there are 5 particularly fashionable types of watches for men.
The Automatic Classic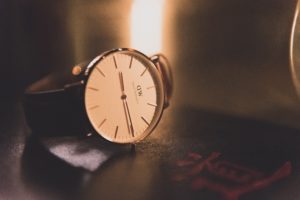 The automatic watch is also known as the self-winding watch. In this particular watch, the mainspring is wound automatically by the natural movement of the wearer; therefore, manual winding is unnecessary. Because of this convenient characteristic, the automatic watch has become the go-to watch for all watch enthusiasts. What also makes the automatic watches one of the most fashionable pieces for men is the fact that they come in various colors and designs. There is no possible way any man would fail to find an automatic watch to his liking. It may be one of the more general watches you can find but finding the perfect automatic watch to match your lifestyle and personality is yet another important aspect to consider. In any case, the automatic watch has a sleek, distinguished finish that makes it the most classic watch for men to buy.
Extra: Buy a titanium automatic watch for a dark, chic look.
A Chronograph Model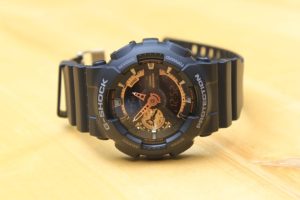 The chronograph watch is one step ahead of an automatic watch in terms of additional features. The most basic chronograph watches have an independent second hand that can be stopped and started by pressing an extra button on the side. The more complex chronograph watches have multiple hands that can measure hours, minutes, seconds, and even tenths of seconds. The fully loaded ones are able to measure speed and distances. These watches symbolize convenience and class. This watch for men is not only the ultimate watch for men, it is definitely one of the most fashionable. They are the epitome of rigor and fashion. For any watch to be classified as a chronograph watch, they must be put through a series of tests that assess strength, accuracy, and precision by a specific institute.
Extra: Certain chronograph watches can be used as a stopwatch, calendar, and alarm.
The Sporty Ones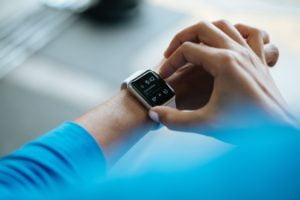 Sports watches are for active men who are always on the move. It is no surprise that they have become one of the most fashionable watches for men. They are specifically designed to keep up with the fast-paced lifestyle of any man and are intricately made for a sleek finish. Sports watches are being worn by all men and can be matched with many outfits. The majority of the straps on sports watches are nylon, rubber or canvas, creating an easy, fun look. A lot of these latest watches for men come in digital for a faster time reading. Some of them even glow in the dark for night time outings. The cases of these watches are usually made of a hard plastic or resin finish for a lighter feel. Many sports watches include functions such as heart rate monitoring and GPS tracking. Moreover, the more recent ones have the capability to send information such as lap times, running distance, and overall statistics straight to a smartphone or computer. These sports watches have quickly become one of the most fashionable watches for men.
Extra: Some sports watches are solar powered, which eliminates the need to ever change the battery in your sports watch.
Mechanical Windup Watch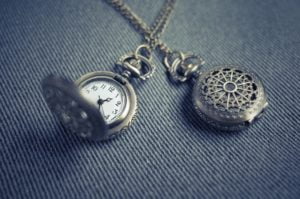 The mechanical watches were among the first ever watches to have been invented. These watches for men are made to be wound periodically; personifying the idea of nobility and refinement. It is made up of complex springs, wheels, and gears. Together, these mechanisms create the illustrious ticking noise. Just imagine any man looking down at a mechanical watch to tell a lady the time or to simply wind the gears to the correct time. If you can picture that, it will be no chore to realise that these mechanical watches are indeed fashionable. Because these watches for men require periodic cleaning by a professional watchmaker, they have become a high-end watch. The mechanical watch is fashionable in its sense of aestheticism and craftsmanship. It will always be appreciated for its looks and traditional symbol of status. They are made in both the classic design and in the modern style, making the mechanical watch one of the five most fashionable watches for men.
Extra: Pocket watches are also mechanical and are quite fashionable.
Lavish Luxury Watch
Luxury watches for men come in all sophisticated styles and designs, but the one thing they all have in common is their hefty price tag. However, the cost of luxury watches should not deter men from buying them. These luxury watches for men are made of some of the finest materials ever found on Earth; therefore, making every single luxury watch a timeless, fashionable piece. Some contain diamonds of every color encrusted around the case. Others come entirely made in the different variants of gold available. These latest watches for men are considered luxurious samples because of the extensive time that might have gone behind the design, dimensional checking, and quality control. This truly defines the making of the most luxury watches. Because of these defining attributes, luxury watches will always be one of the most fashionable watches for men.
Extra: Many luxury watches come with a lifetime guarantee, so the price does not quite seem to be the deciding criterion.
It can be quite a difficult task to narrow down to a particular one, considering the innumerable selections available in the market. With this list of five fancy types of wrist watches for men, selecting the right one for yourself can prove to be less daunting. Be it a classic automatic watch with a platinum case or a chronograph model with stopwatch capabilities, a sports watch for an active lifestyle, the mechanical windups, or the luxury extravagant ones – indulge in buying the watch that suits your style. These types of watches for men are without a doubt among the most desired ones for every fashion maven.