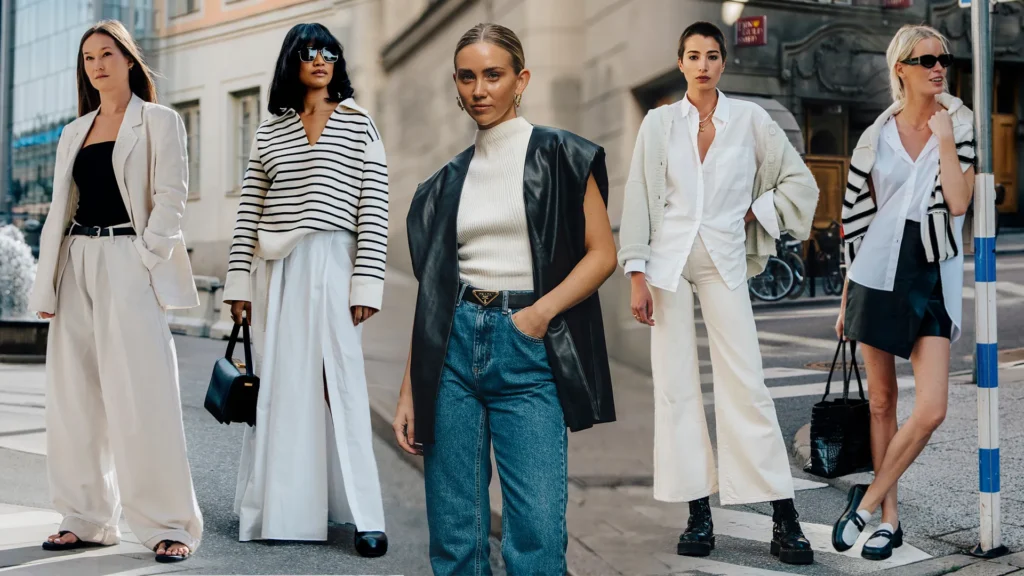 There is so much you can do with all the clothes in your closet! So bust out the wardrobe, it's time we all get a bit more creative! With the help of our guide, styling smart will be the way forward!
How to Dress in Style
While shopping for apparel it is necessary to keep a few points in mind so that.
One of the most important points to buying clothes online is to make sure your body measurements are always up to date. Weight fluctuations are common among all so it's necessary to always know your size better.
Once you have the sizing in place, identify your body shape. This will help you understand what type of clothes will work well with your body and how each fabric flows differently.
When you have doubts about buying an expensive item, always buy a size larger and get it tailored for yourself.
Types of Body Shape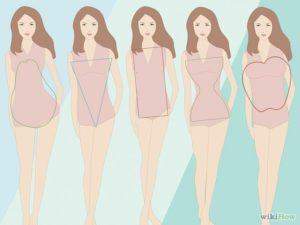 There are eight different types of body shapes, namely:
Straight Body Type – The bust and hips are basically of the same size. The waist is slightly smaller than the bust and hips.
Pear Body Type – The hips are larger than the bust, and the waist gradually slopes out to the hips.
Spoon Body Type – The hips are larger than the bust and the hips have a"shelf" appearance. The waist is slightly smaller than the bust.
Hourglass Body Type – The bust and hips are basically of the same size and your waist is well defined.
Top Hourglass Body Type – The bust is larger than the hips and the waist is well defined.
Inverted Triangle Body Type – The bust is large, the hips are narrow and the waist is not very well defined.
Oval Body Type – The waist is larger than the bust and hips. The hips are narrow compared to the shoulders. Bust is ample in size.
Diamond Body Type – The waist is larger than the bust and hips. The shoulders are narrow compared to the hips. Bust is small to medium in size.
How to Style Clothes
Listed below are a few tips on different pieces of clothing which will help you flaunt your new style. These tips are a guide to help you organize your ensemble better, so do not be hesitant to try new combinations if you think of any!
Shirts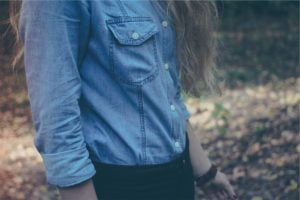 Shirts can make you look elegant on any occasion. They are usually worn to work but can be coordinated with a number of bottoms for cool and trendy variations. Wear a mandarin shirt with a short denim ripped skirt and gladiator sandals for a casual day out with your friends. Pair a sleeveless denim shirt with a tulle skirt for work and add a pair of chandelier earrings to take the outfit from day to night. Pair a long tunic shirt with ankle length trousers and an embroidered cropped jacket for a traditional look.Try on a bold coloured chiffon shirt with a contrast sequined skirt for your friend's sangeet.
T-shirts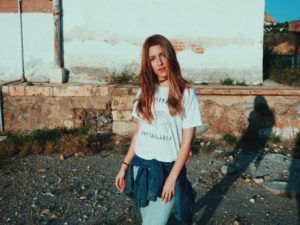 A comfortable T-shirt is the universal symbol of comfort. Wear an oversized T-shirt in a bold colour with skinny jeans and a black boyfriend blazer for a casual lunch out with your colleagues. Add a hat and round sunglasses to top off the look. Wear a white T-shirt over your shirt and trousers to work. Accessorize with a statement necklace over the shirt collar to add a subtle hint of glamor. Wear a ripped T-shirt over your bikini top and denim shorts for a day at the beach. Add a scarf as a bow-tied headband and some cool sunglasses to rock the look.
Jackets
A well-tailored jacket adds a great deal to your look. For formal occasions, a blazer is a no-brainer. But, there are various options like a cropped blazers with wide leg trousers and a crew neck t-shirt for a presentation at work. Leather jackets look good when paired with floral printed fashionable dresses. Try out vests with graphic prints over a simple white shirt and blue jeans. Shrugs can be added to add layers as well as style.
Pants
Try different styles like skinny, straight, flared, wide legged and choose the one which suits your body shape the most as this will make pairing them with different tops easier. Try floral print pants with a bold coloured shirt and some nude sandals for work. Wide legged trousers work well with mandarin collared shirts and tunic style tops for a casual lunch. The latest jeans all come in different washes and shades which are a wide variety to choose from.
Skirts
A full skirt can be paired with shirts as well as t-shirts. Wear a black pencil skirt with a grey plain white shirt for a more corporate look. Long maxi skirts can be paired with ripped tanks for a day at the beach. team up a long skirt with a sequined blazer or top for a traditional occasion. Denim skirts can be paired with leather jackets and cowboy boots for an evening outing.
Dresses
Wear a tweed dress teamed up with a white shirt for work. You can pair the same ensemble with a light blazer for an evening out. For a date night wear an asymmetrical hem dress with a thin belt and a body chain. It is subtle and glamorous at the same time. Wear a denim jacket over a checked black and white dress with grey ballerinas for a Sunday brunch.
Last but not the least, stock up on as many interesting accessories as you can. Neon print scarves, body chains, thigh chains for your denim shorts, headbands for work-wear and beachwear, hats and caps, etc. Try sunglasses in different shapes and shades to add glamor and pizazz to the outfit. Bangles, rings, earrings and of course statement neck pieces will really bring out your ensemble.
Try new combinations from your wardrobe, add a stylish piece of accessory and feel like the true style icon that you are.
Happy Styling!