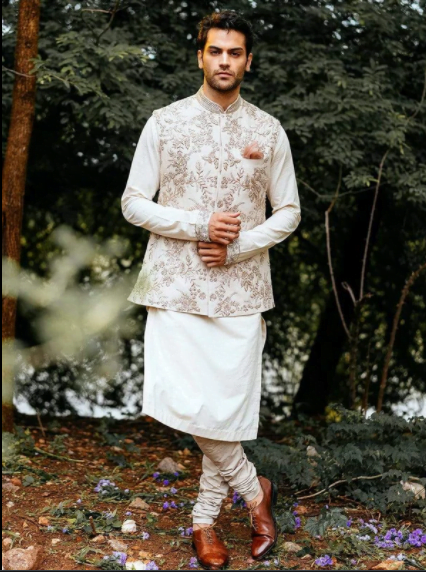 The very nature of fashion is that it is always evolving. What was once old is now reborn into a new image and becomes popular again. This can be said about the Nehru jacket. The Nehru jacket, once seen as only appropriate for formal events, is now a symbol of high fashion for men and can be worn in both casual and formal settings. Want to look like those men you see on the covers of fashion magazines? Want to be seen as stylish and refined but you don't quite know how to pull it off? Rocking a Nehru jacket is your step towards pulling off that look. Need some help on where to get started? We have laid out the best five ways to wear your Nehru jacket so you can embrace the trend! Take this advice and you will always look classy and sophisticated!
Also Read: Top 30 Luxury Fashion Brands in India
1. With a Gingham Shirt
The latest Nehru jackets are sleeveless and slim fitting, making them perfect for layering. For men's fashion, layering is vital for keeping the outfit interesting and gingham shirts are ideal to use when layering under a Nehru jacket. A slim fit Nehru jacket tightly hugs the body, accentuating those pecs and ab muscles we all know you want to show off! Button up the silk Nehru jacket all the way to the top and make sure to keep the shirt sleeves long and buttoned. This will make your look formal, elegant and sophisticated. Still want to look good, but heading to a more casual occasion? Opt for a cotton Nehru jacket and roll up those shirt sleeves to the elbow. Voila! You still look amazing and style savvy, but more laid-back and casual with the cotton Nehru jacket! This look can be worn with both slacks and jeans, so you will be ready for any occasion. Wondering how to pick your handkerchief? All you have to do is pick out one of the colours in the shirt layered beneath your Nehru jacket! The kerchief will match the undershirt while still offering a pleasant contrast to the colour of the jacket. You can always be daring and pick a bold colour that will catch the eye! Get creative with it!
Also Read: Sustainable Fashion Brands
2. Long Sleeved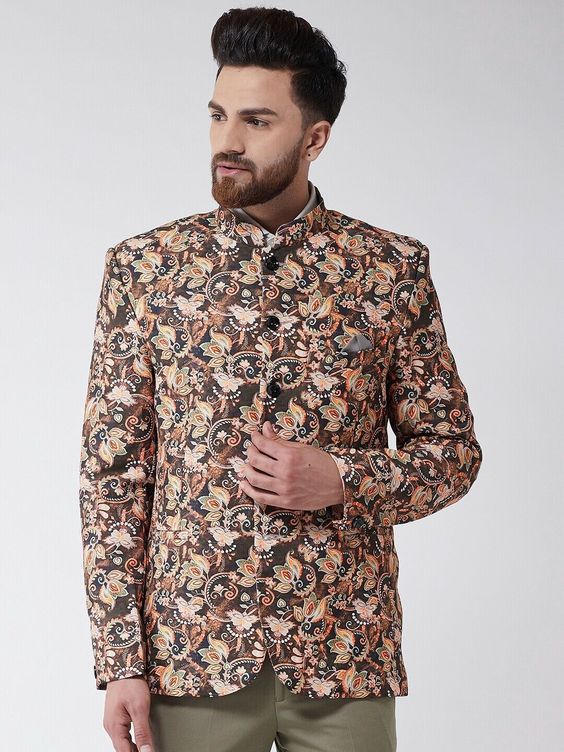 Long sleeved Nehru jackets are another fantastic option that can be worn both formally and casually. Combining a rich, dark coloured Nehru jacket with a printed dress shirt and denim jeans is how you achieve a casual yet classy look! Create a cape effect by fastening the top button of the jacket, allowing for the shirt beneath to show (and to show off your good taste!) For a major wow factor, add a pop of colour by throwing on some red shoes, and even a red handkerchief to match! This outfit is perfect for the busy businessman on the go who is looking to stay fashionable and trendy!
Also Read: Top Fashion Photographers of India
3. Colour Combinations
Nehru jackets are available in a myriad of vibrant colours, so it is easy to piece together a unique and exciting outfit with them. Go with a preppy style, and choose a cotton or linen Nehru jacket in a dusty pink or yellow with a white or off-white button down shirt underneath and some tan slacks. Tack on some fun navy loafers and a navy kerchief to seal the deal with this refined and preppy outfit. Give it an ultra stylish twist with a red or purple silk Nehru jacket and grey pinstriped slim fit trousers. Why don't you try swapping out that white shirt for a navy or black to give this outfit a dramatic flair! In this scenario you'll probably want to go with a more muted kerchief colour, since the entire outfit is already very eye catching and bold. Any nude or muted pastel would look nice with this outfit.
Also Read: Top Fashion Trends That You Cannot Miss
4. With Shorts
Do you remember when shorts were considered super casual and were strictly lounge-wear? It seems strange now, since the industry has shown us how sophisticated and polished shorts can look when paired with the right items! Nehru jackets are a perfect match for creating stylish summer outfits. Go for a nautical look with lightweight pink cotton shorts, a tan Nehru jacket and a short-sleeved navy shirt underneath! How about a night out on the town with friends? Try wearing a pair of black shorts with a grey Nehru jacket and a patterned button up shirt underneath! Don't be afraid to mix prints! Since the shorts offer a fun and whimsical look to your outfit, keep that vibe going by selecting a handkerchief with a pattern on it! Even contrasting shirt and kerchief prints will look fab and will keep the look dynamic and fresh.
Also Read: 5 Most Fashionable Watches for Men
5. With a Kurta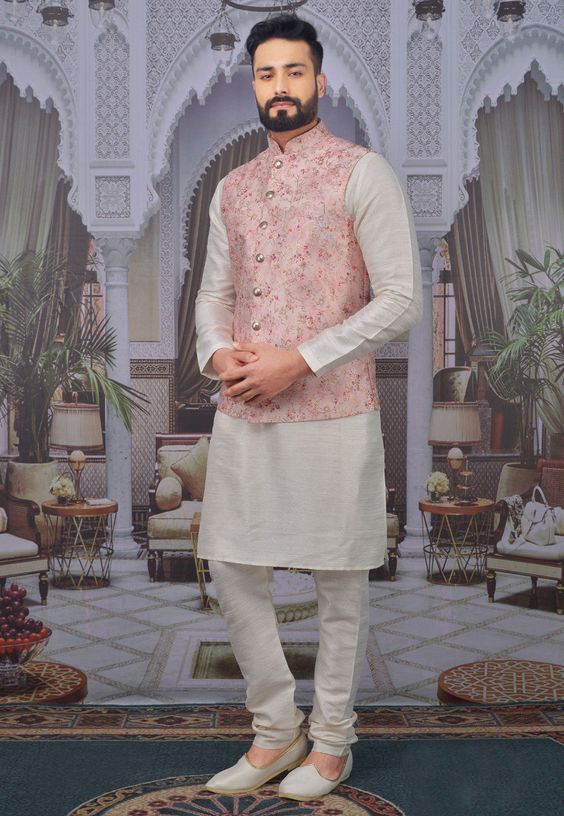 Of course, Nehru jackets cannot be discussed without mentioning the traditional Kurta. Wearing a Nehru jacket with a Kurta can be a sophisticated as well as traditional look. The key is to layer the Kurta over the Nehru jacket. Combine the supremely trendy, tight, coloured trouser (that is all the rage these days) with the traditional long Kurta layered over the Nehru jacket. To pull off this look, you want to appear light and trendy. The focus should be on the length and the material of the Kurta. Opt for light weight cottons and poly blends in order to keep the outfit from being too structured and giving your body a wider shape. The Kurta's length should come down to just below your knees. This creates the illusion of an even longer and leaner body. Skinny jeans or slim fit trousers really look best in this scenario. Why not go with a bright or colourful pair to pull the eye downward, making the body appear long and lean? Though it is customary to complete the outfit with a handkerchief matching the Kurta, it can be fun to shake things up. Choose a funky pattern or choose one that matches the trousers or the shoes!
Also Read: Guide to the Best Running Shoes for Men
Nehru jackets add so many options to the world of men's fashion. They are both stylish and versatile! Nehru jackets add a unique component to the traditional men's outfit that brings it to life and shows everyone how fashion savvy you are! Check out Myntra for all of the latest fashion styles of Nehru jackets and pick a few out today! Exude confidence and sophistication in any situation when you wear your Nehru jacket!
Popular Searches
Fashion Bloggers in India | Best White Sneakers | Bridal Lehenga Trends | Ethnic Wear Brands in India | Shoe Brands in India | Types of Lehenga Choli | Different Kurta Style | Yoga Outfits for Women | Summer Outfit Ideas | Types of Silk Sarees | College Outfit Ideas | How to Buy Jewellery | | Best Shoe Brands | Health Benefits of Running | How to Care for Leather Shoes |