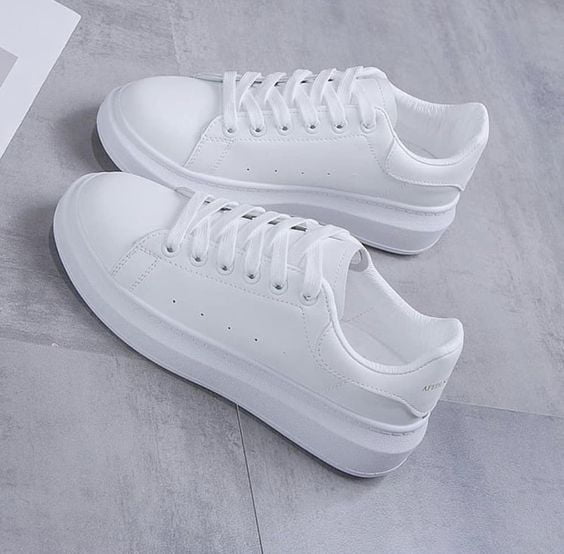 Sneakers are the most trending style pieces that one can own. The shoes that were once only worn by athletes and sports fanatics have become a full-fledged fashion trend. The everlasting trend of wearing classic pairs of white sneakers will never go wrong as it can instantly levitate your casual outfit into an eye-catching one. And as it said, the trend must go on. If you want to buy one for yourself or upgrade your shoe collection, you can scroll down to find the best white sneakers for men in 2021.
Our Top Picks of the Best White Sneakers for Men
1. Nike Air Force 1
When talking about white sneakers, the first name that comes to mind is the Nike Air Force 1. It is Nike's first basketball sneaker built with its Air Technology, launched in 1982. These sneakers are named after the aircraft that helps the U.S. President travel around the world.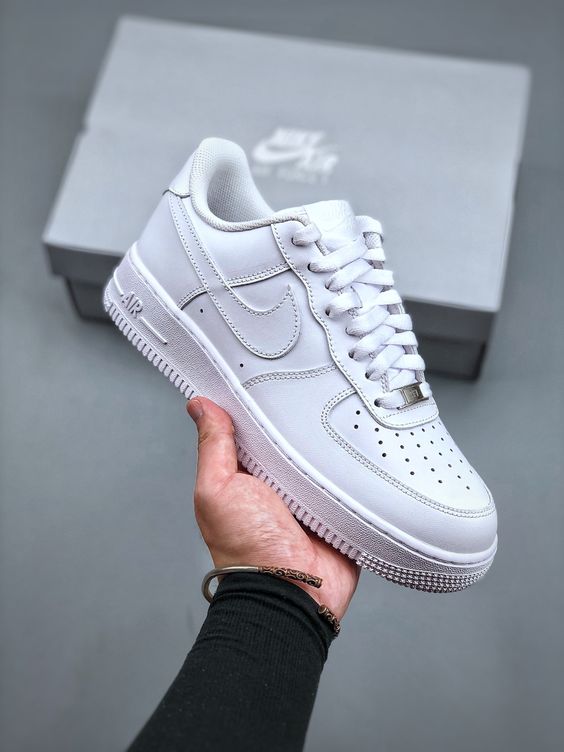 Over these years, Nike has remodelled its Air Force 1 with a more stylish look made from supple white leather for providing optimal comfort. The perforated toe cover grants extra support, and its padded end keeps your ankles comfortable. In addition, the extra height of the platform sole gives it an appealing look.
2. Reebok Club
Reebok Club C 85 are one of the best white sneakers for men with a hint of vintage vibe. It is a premium quality low-cut footwear with a midsole cushioning, wide shoe tongue, and lace ties. Also, Reebok's name is embellished upon the heel counter, and its signatory logo runs sideways over the quarter panels. These white sneakers from Reebok are ideal for different dressing styles, from athleisure to business casual.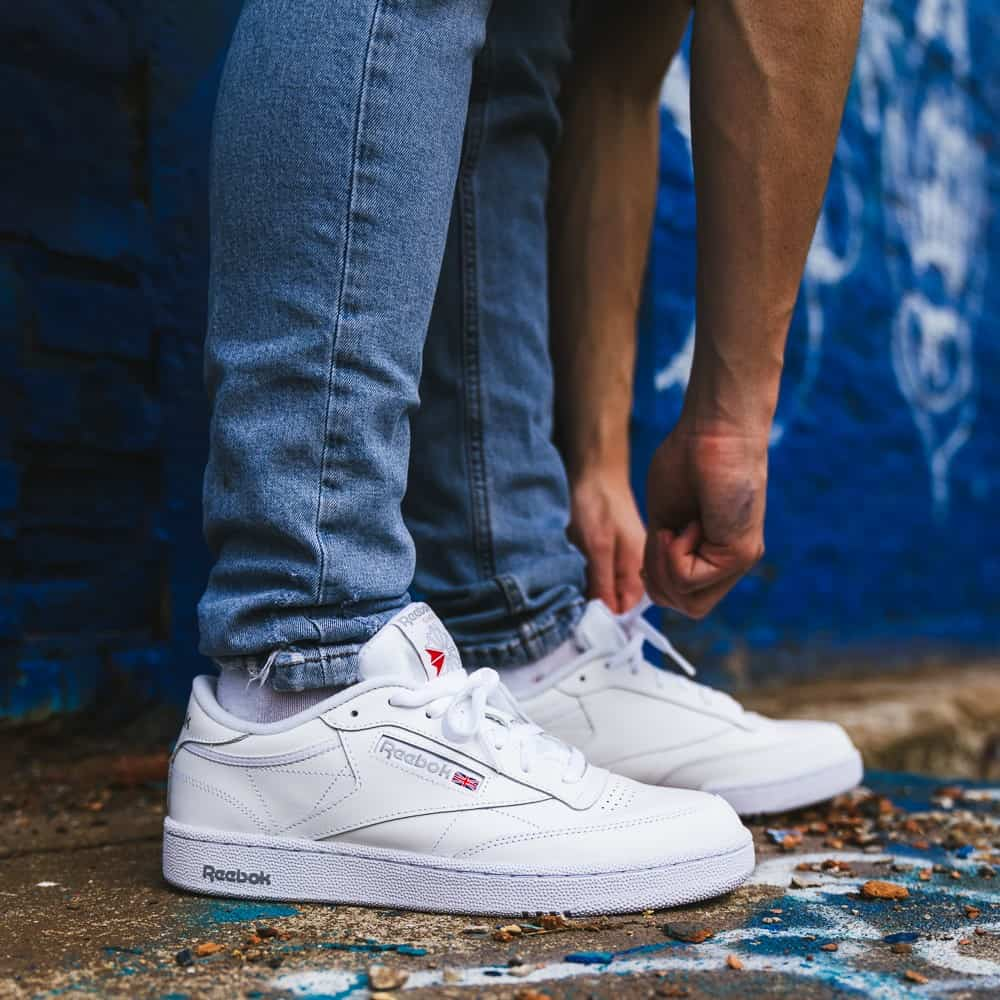 Source: Reebok
3. Adidas Stan Smith White Green
No one can deny the utter popularity of the Adidas Stan Smith. Stan Smiths comes with a green contrasting heel tab and the peculiar three stripes branding on the oblique sides of the shoe. It is a sustainable sneaker that is made from recycled materials. Adidas Stan Smith Sneakers have been an icon for about 50 years and still running great. Also, they are among the first white tennis sneakers released in 1971.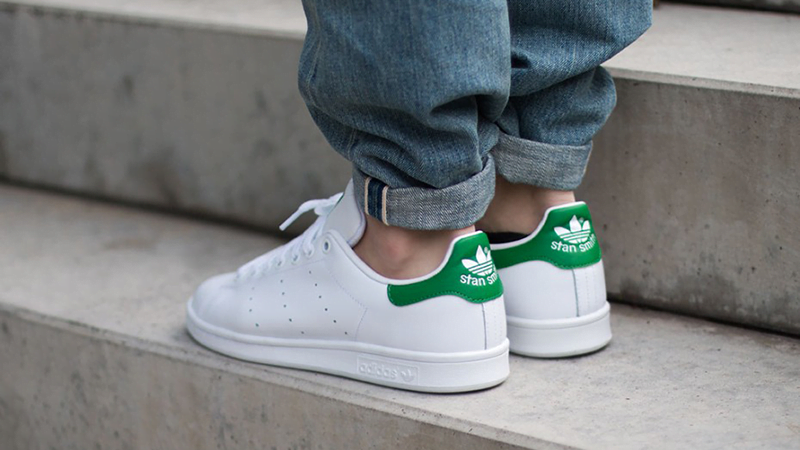 Also Read: Best Running Shoes For Women
4. Adidas Ultra Boost 2.0 sneakers
Adidas Ultra Boost 2.0 Sneakers are created with an affluent premier running shoe technology, one of the most game-changing revolutions in the sneaker industry. The triple white colour of the sneaker is a one-of-a-kind appearance thanks to monochromatic laces, an overhead, and soles. The Boost midsole combines the soft rubber outsole with a torsion bar to provide comfort and support.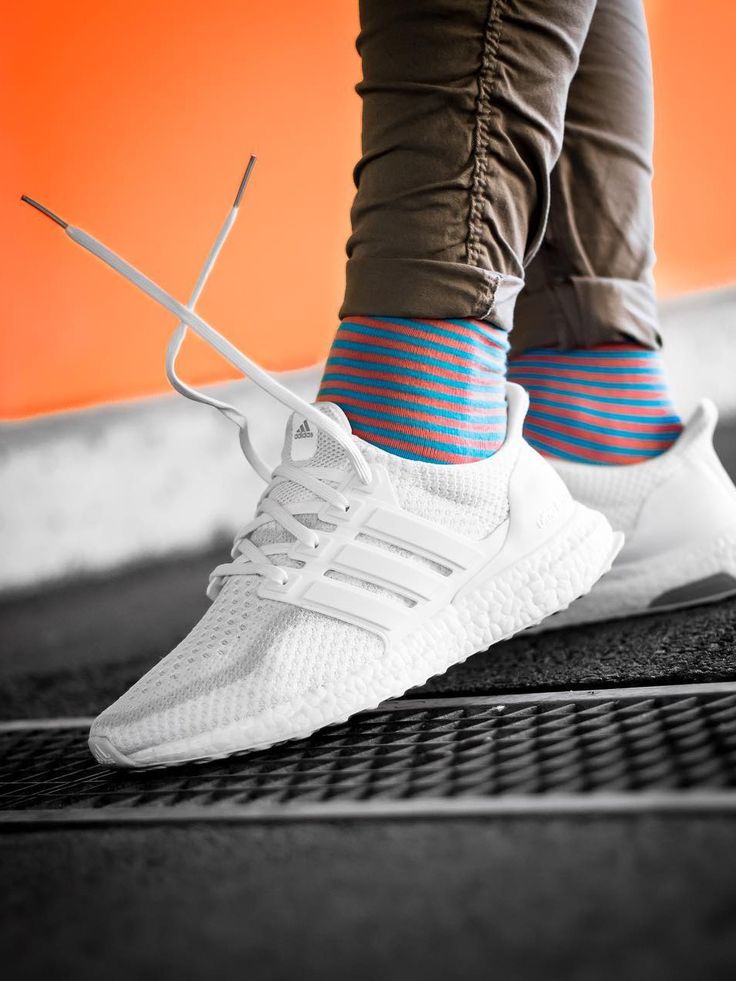 5. Vans Authentic sneakers
Nobody can beat the classic Vans Authentic Sneakers! You can pair them with practically everything because they have a typical skater feel and an everlasting style and appearance. It is a classic canvas shoe that features sturdy uppers, metal perforations, and signature rubber outsoles. Authentic Sneakers are constructed with a simple low top and lace-up profile. It is one of the best white sneakers for men and has been a cult favourite since 1966.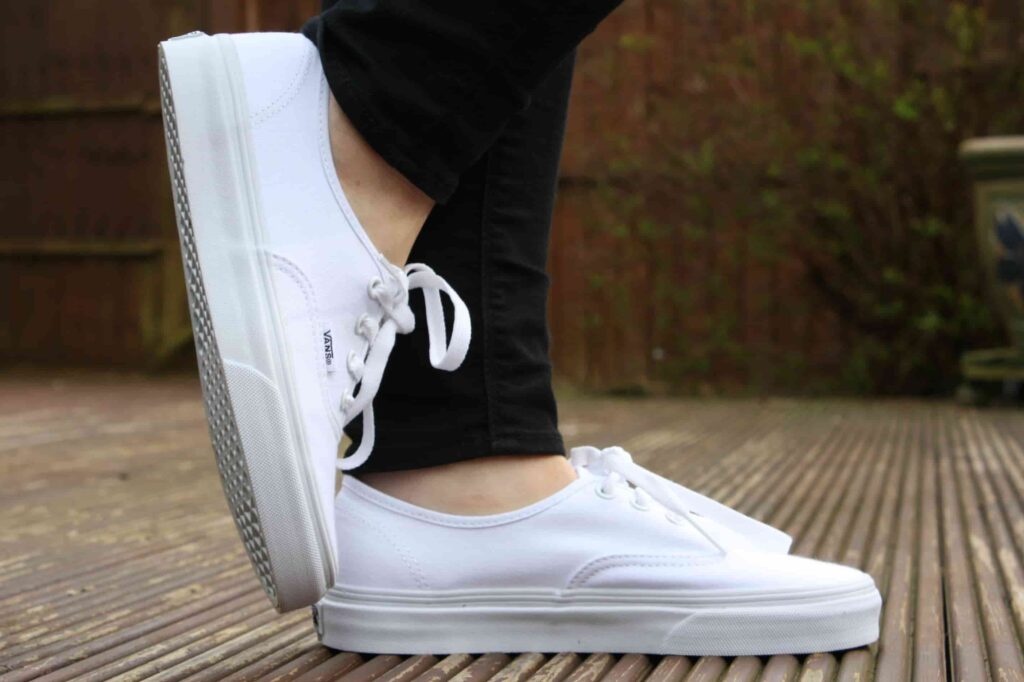 6. Fila Disruptor Sneakers
If you like to wear chunky sneakers, you will surely love the Fila Disruptor. It is a funky pair of sneakers, featuring a thick sole, bright blue base and heel, zig-zag platform with its spectacular logo on the side. The moulded tread gives extra support for your feet, allowing you to move, run or walk-in style. It is an attractive piece of smart and fashionable footwear, a total must-have for your shoe closet. It was also granted the title of '2018 Shoe of the Year.'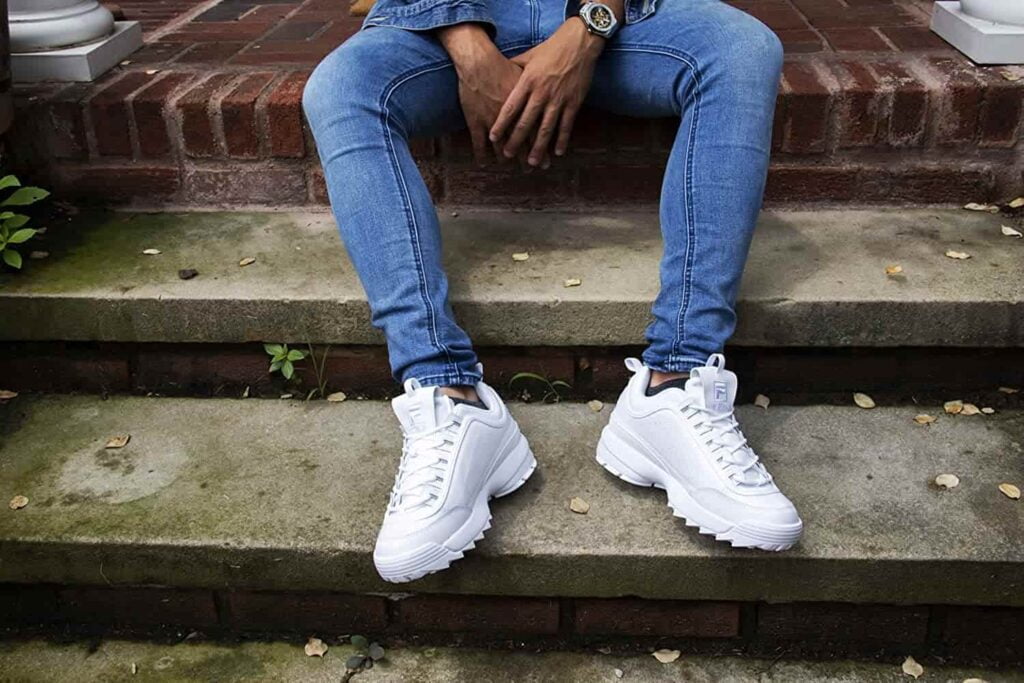 Also Read: A Complete Guide to the Best Running Shoes for Men
7. New Balance 550
New Balance 550 has a porous leather upper on top of a rubber boot-style midsole. It has a thick midsole, making it comfortable and shock-absorbent. The monochromatic white finish of the shoe upper features a tonal 'N' logo. New Balance 550 sneaker has to be one of the must-have white sneakers for men. These sneakers are suitable for everyday use and match well with casual & trendy outfits.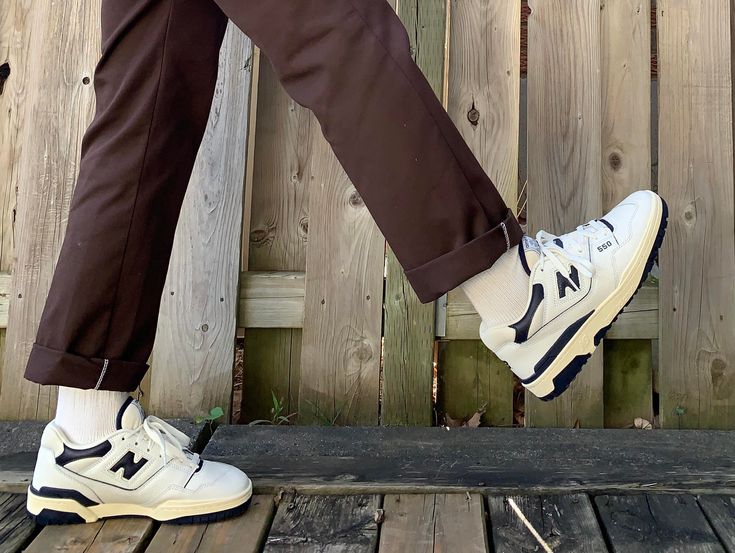 8. Converse Chuck 70 Low Top Parchment
The Converse Chuck 70, which debuted in 1917 as a non-slip basketball sneaker, paid tribute to the original Chuck Taylor All Star while incorporating modern elements. The low-top design retains specific historical characteristics, such as piping on the sidewall and a sturdy canvas upper. It has more of an off-white hue that stands out under dark denim bottoms and is one of the best sneakers for men.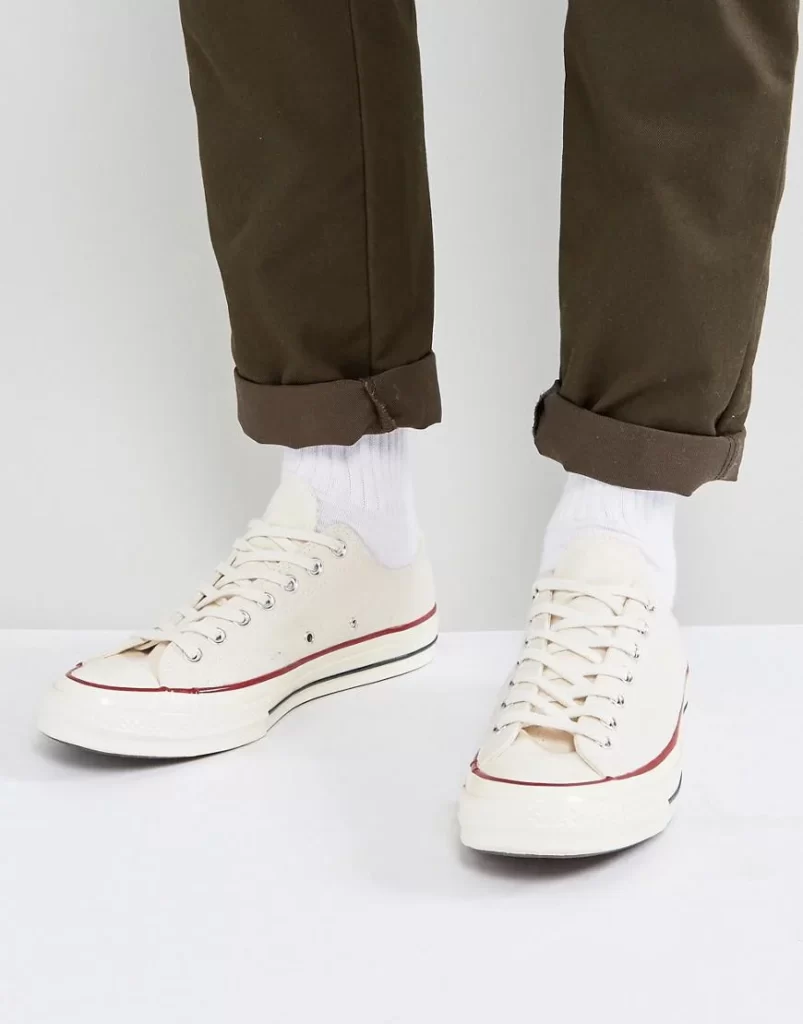 9. Stepney Workers Dellow Leather
Numerous sneaker brands are rising, and one of the investment-worthy brands is Stepney Workers, built on an impactful concept of "Freedom of Sport, Freedom of thought". Stepney Workers Club is an East London-based brand that creates a low-key 90s-style white sneaker featuring an enormous rubber outsole. Stepney Workers Dellow Leather premium classic design sneaker with an off-white sole contrasts flawlessly with its upper to form a timeless vintage shoe.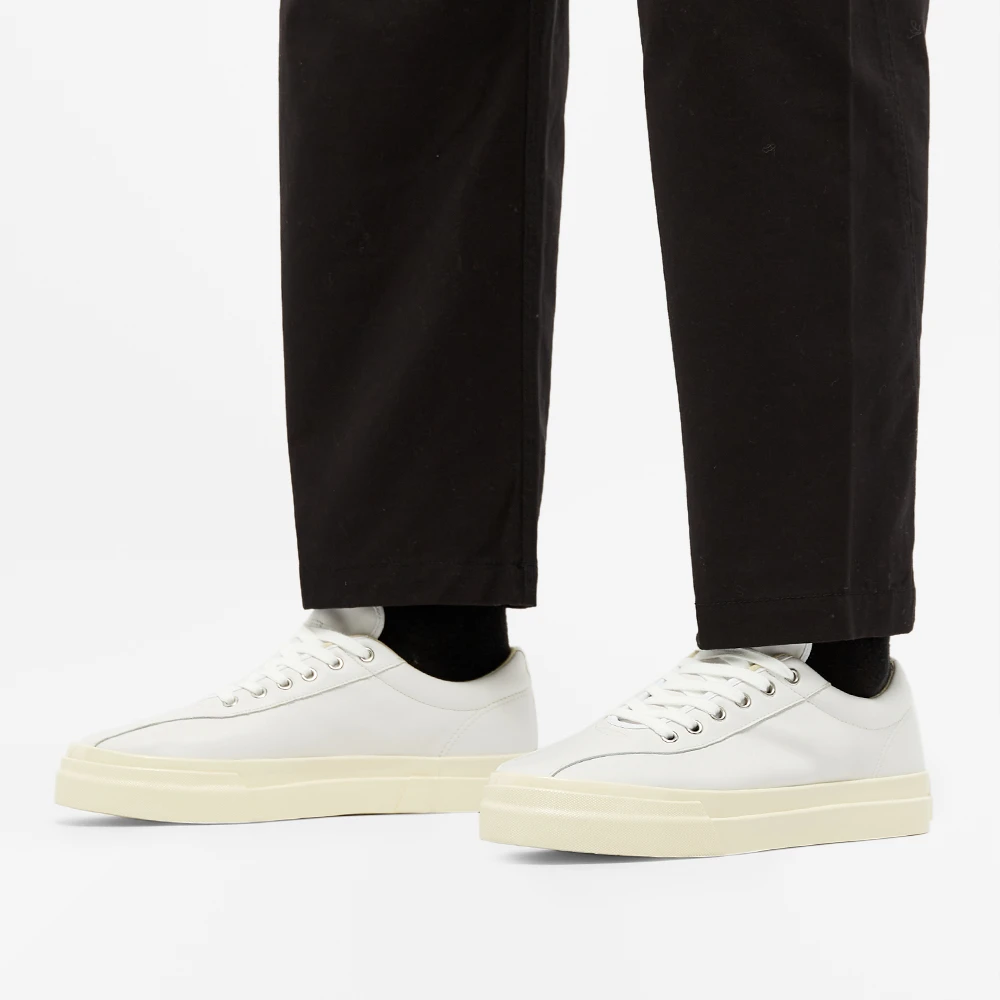 Also Read: Best 6 Types of Formal Shoes for Men
10. Converse Jack Purcell
These Converse sneakers were first developed and worn by the badminton world champion Jack Purcell in 1935. The black 'smile' logo on the toe cap contrasts with the rather all-white low-top men's shoes. Converse's basic Jack Purcell shoes are great for athleisure and off-duty casual outfits. They can also be paired with classic workplace outfits like wool trousers, flannel button-downs, and woven jackets. They are the preferred footwear choice for many gentlemen.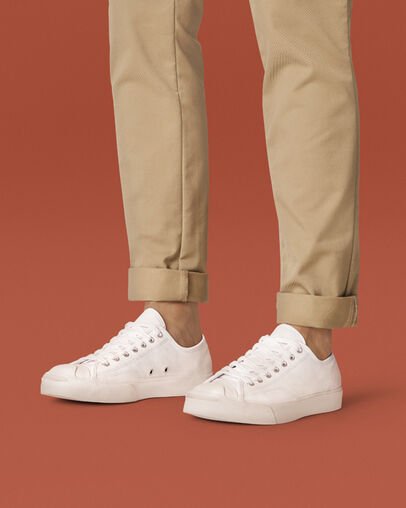 11. Maison Margiela Tabi
The most talked-about footwear brand for men on this list is Maison Margiela, a French premium designer label. The legendary Tabi Sneakers have a low-top lace-up canvas style, with its most prominent feature being the Tabi cleft toe, which divides the shoe into halves. Many people wrongfully predicted that this would be a temporary fad, yet here they are and continue to be a long-term investment piece.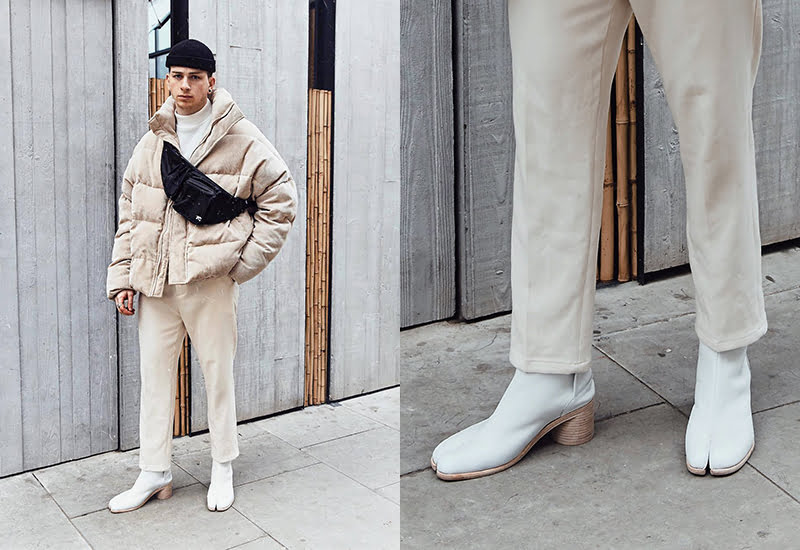 12. Puma Classic Sneakers
Puma has upgraded the Basket Classic design from the 1970s with contemporary deluxe advancements while preserving its original sneaker's basket structure. The sneaker has a leather top with the Puma formstrip on the sides and a complementing gum outsole. The Heritage Basket classic sneakers look great with rolled, cuffed denim or athleisure wear. It is one of the best white sneakers for men that combines fashion, comfort, and durability.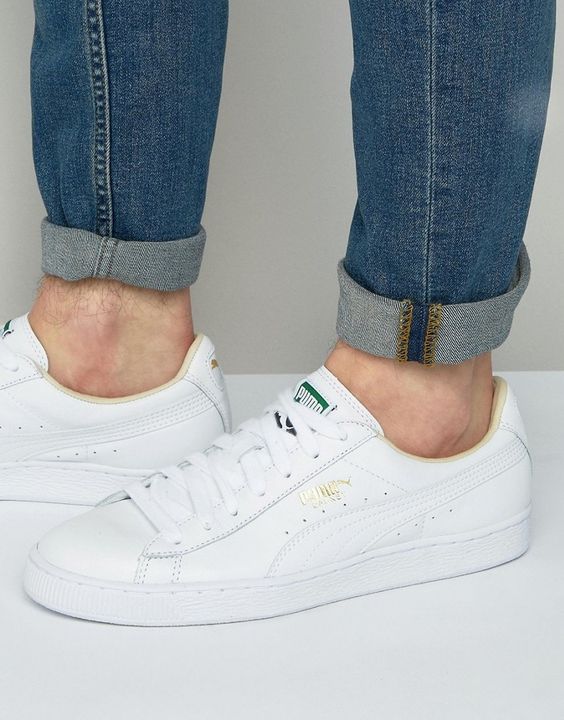 Also Read: How to Buy the Right Sports Shoes?
13. UGG South Bay Sneaker
The South Bay Sneakers by UGG is a lightweight low-top shoe created in honour of the skating culture of the 1970s in California. It has a stylish suede overlay with a sleek silhouette that would look suitable even with formal attire. In addition, the ultra-cushioned insole of the sneakers provides excellent comfort for all-season long wear.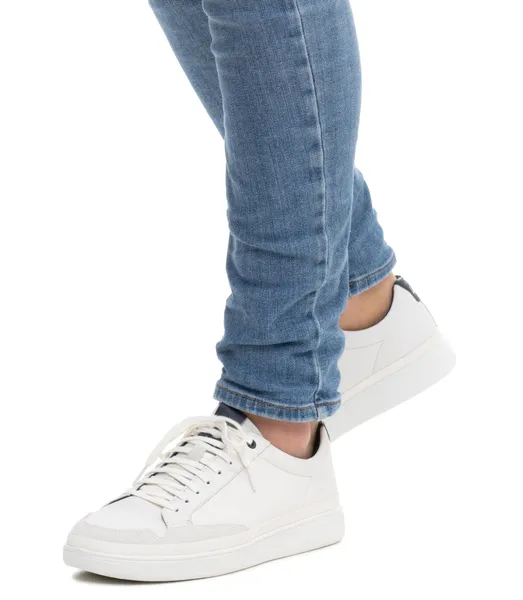 14. Oliver Cabell
The Oliver Cabell Low 1 in off-white may be the best white sneakers in terms of quality and value. The brand has over 636 five star ratings, so how can we overlook mentioning such premium quality leather shoes in our list of top white sneakers for men? Each sneaker has a distinctive low-top silhouette, handmade in the Marche region of Italy from supple calfskin leather along with Margom outsoles.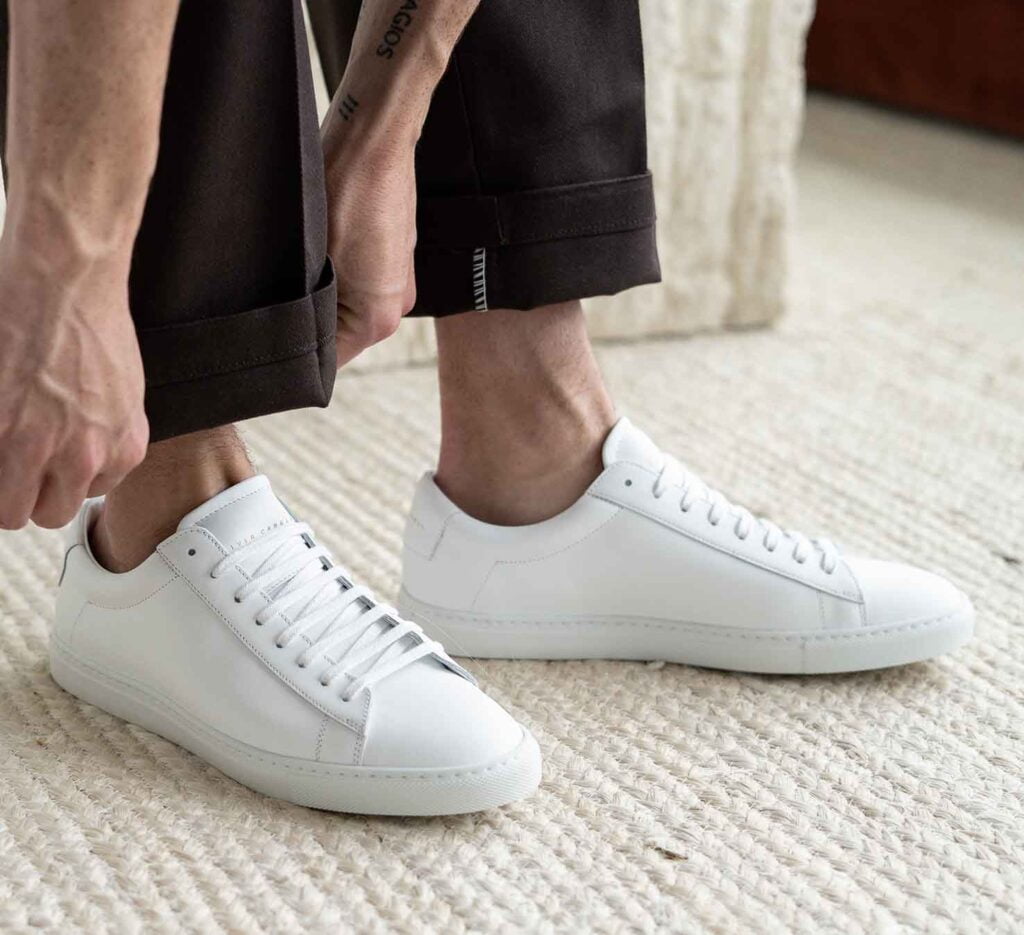 15. Lacoste Lerond Sneakers
Lactose's low-top Graduate BL 1 white tennis sneakers are crafted from leather and other textiles, making them a convenient minimalist sneaker that is great for casual styling. The trademark Lacoste crocodile logo on the lateral side instantly boosts its appearance. With a basic sleek rubber outsole to create a fantastic white sneaker that goes well under any attire. Lacoste's range of shoe collections is excellent, and Lerond is one of the best white sneakers for men.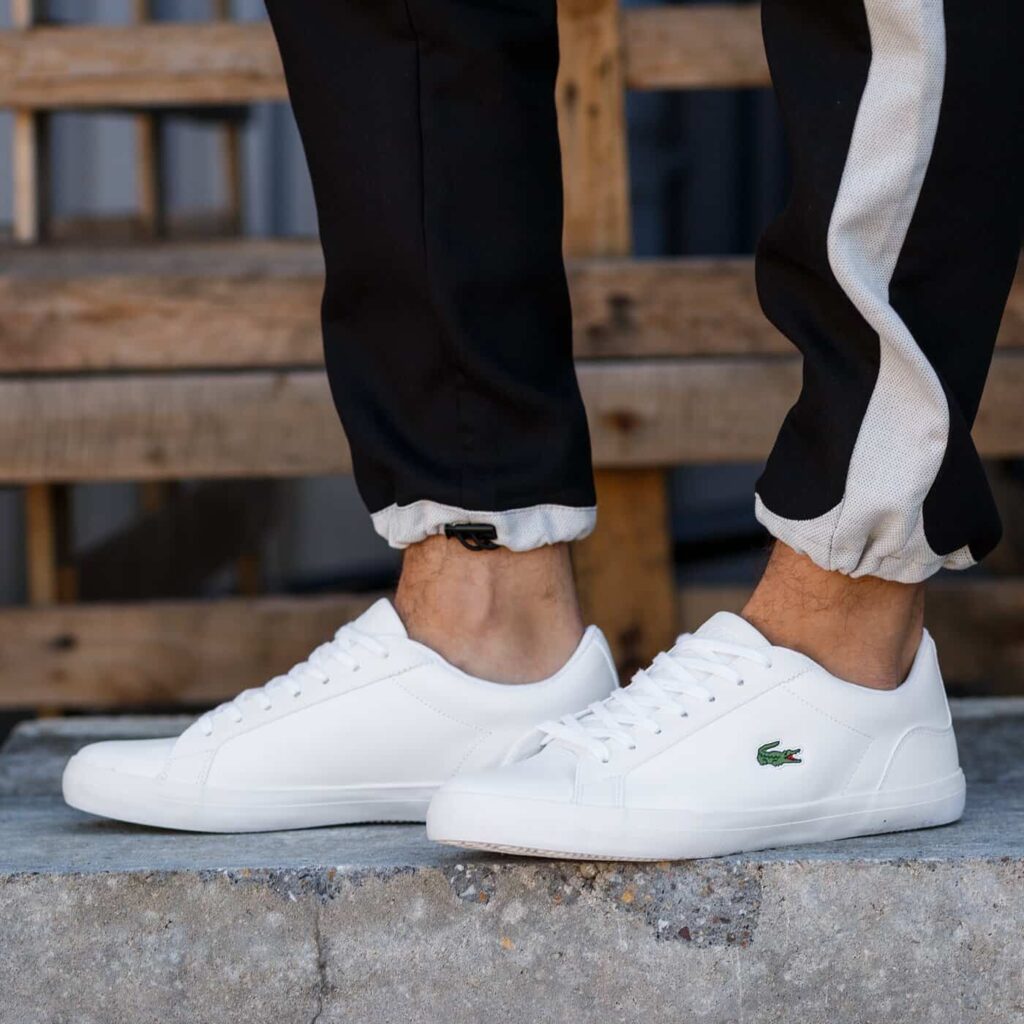 Also Read: How to Boost Immunity with these Simple Steps
16. Von Routte Sneakers
Gus and Marina, a Brazilian-born couple residing in Sydney, established Von-Röutte. They produce sneakers that are modest and simple to wear by integrating graphic design expertise with quality craftsmanship. Its Lyon Sneaker in White comes with a modern twist on the traditional tennis shoes. The sneakers' upper is made from high-quality leather and features a low-top design with contrasting rubber soles.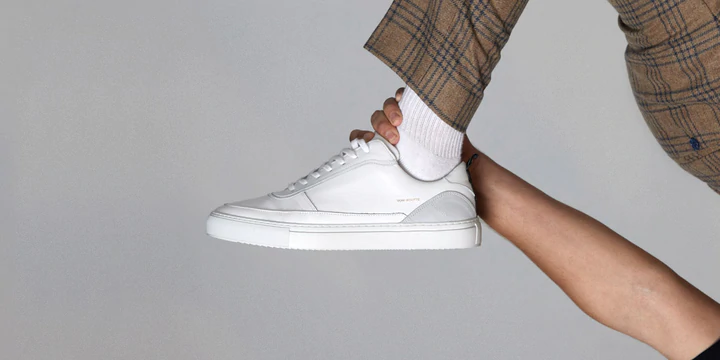 17. RM Williams White Sneakers
RM Williams is well known for its classic leather Chelsea boots, but the firm has adapted its leather mastery into its sneakers too. These shoes feature traditional shapes, great cushioning for all-day comfort, with the highest quality of leather obtainable. The classic lace-up with a round toe design, crafted from yearling leather, and the R.M. Williams script logo embroidered on the back heel makes this one of the most desirable athleisure pieces. Other attributes like the soft rubber outsole and polished sidewall stitching for durability are also wonderful add-ons.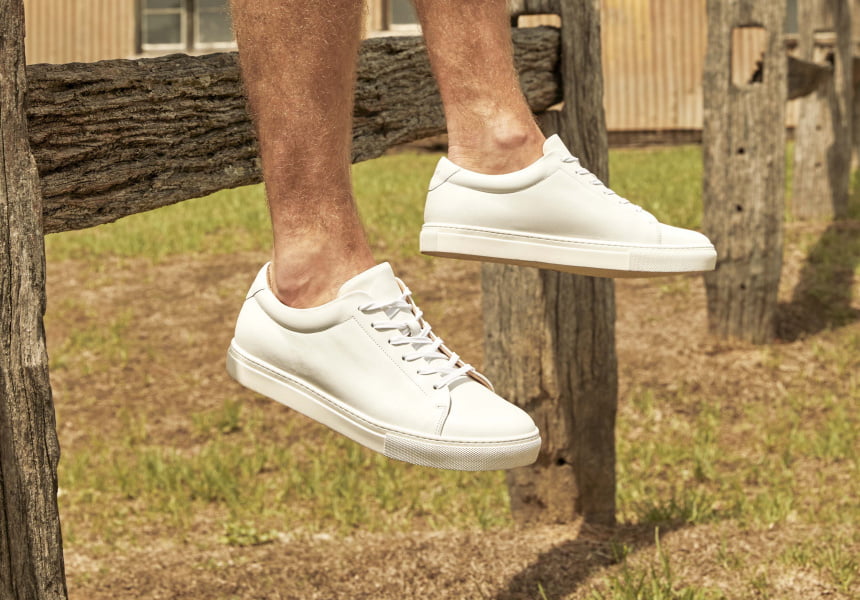 18. Hoka One One Mesh Sneakers
Finding the ideal balance of street style and high fashion may be difficult, but not anymore. The Hoka One Mesh Sneakers are here to take care of such preferences. Its thick sole and arched heel give ample support to the knees and ankles without compromising on aesthetics. The crisp white detailing is an excellent point of distinction. You can wear them with trousers, jeans, or shorts and create cool summer outfits.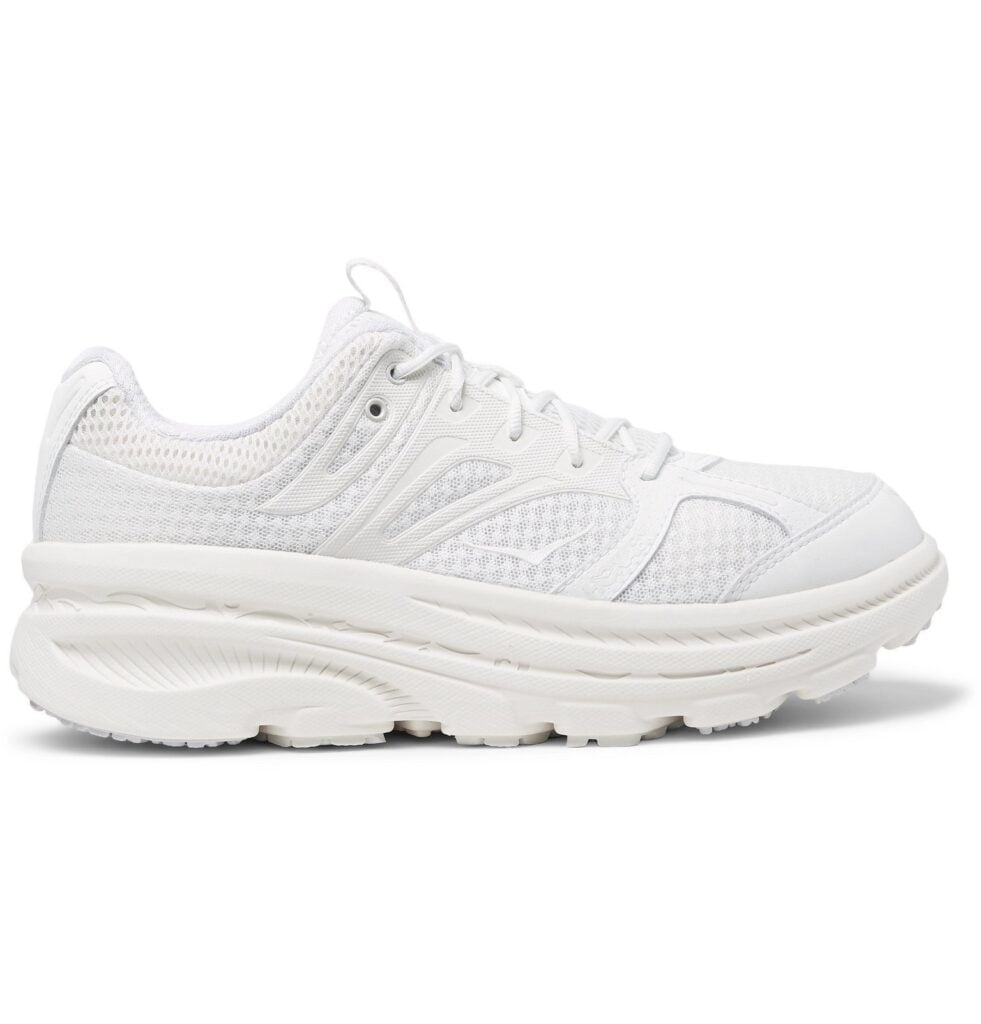 Also Read: Health Benefits of Running
19. Superga 2750 Classic Canvas Plimsolls
The Superga 2750 Cotu Classic is a street style basic that features a timeless look, tracing back to1911. The basic tennis canvas sneakers have a vulcanised gum sole, minimalistic design, and white uppers that make them ideal for creating multiple outfits. You can walk down the street or to a cafe with these smart and stylish Superga plimsolls. The Superga 2750 Plimsolls is a top choice when it comes to the best white sneakers for men.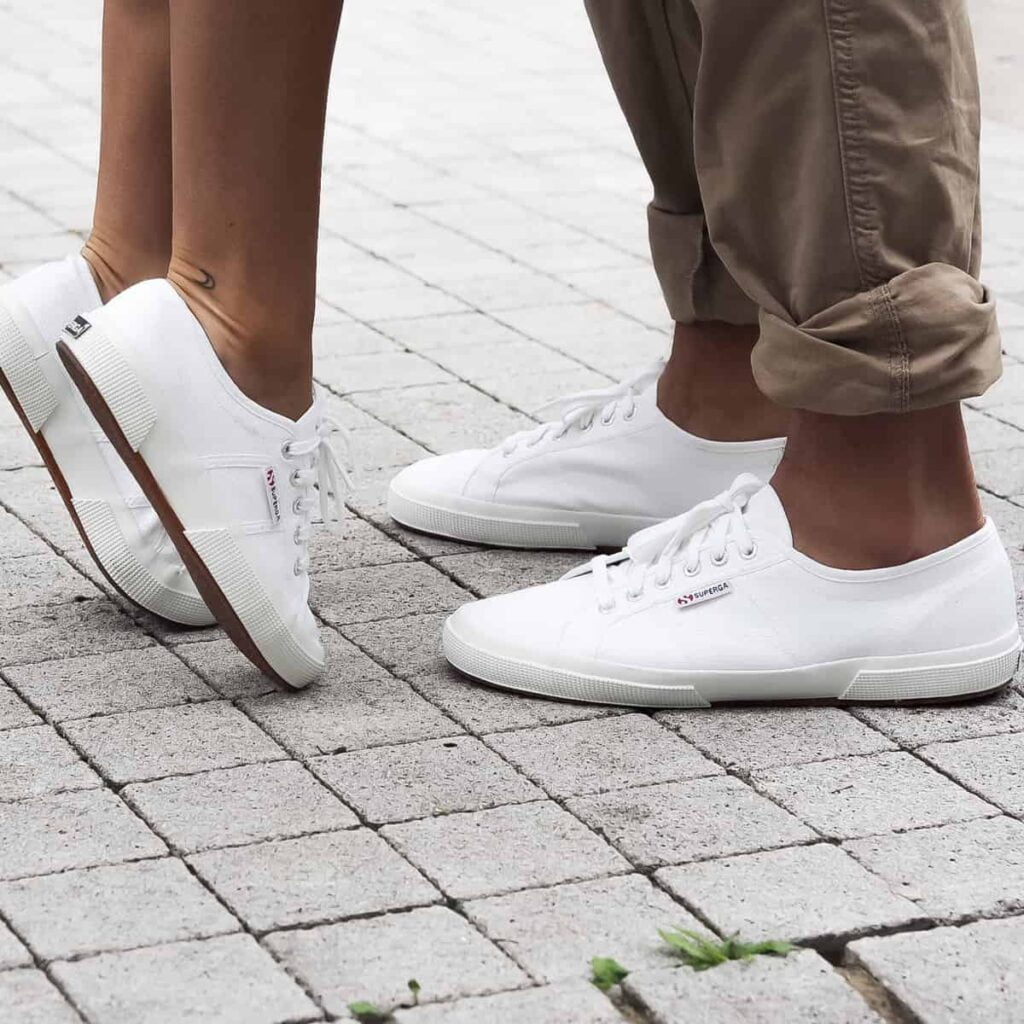 20. Givenchy Urban Street Leather Sneakers
Nothing is as classy as a pair of white shoes with a hint of black heel tabs like Givenchy's 'Urban Street' sneakers. The beauty of these shoes is derived from the combination of french design and contemporary visual details. The white leather sneaker is ideal for any occasions, and the soft soles provide comfort for everyday use.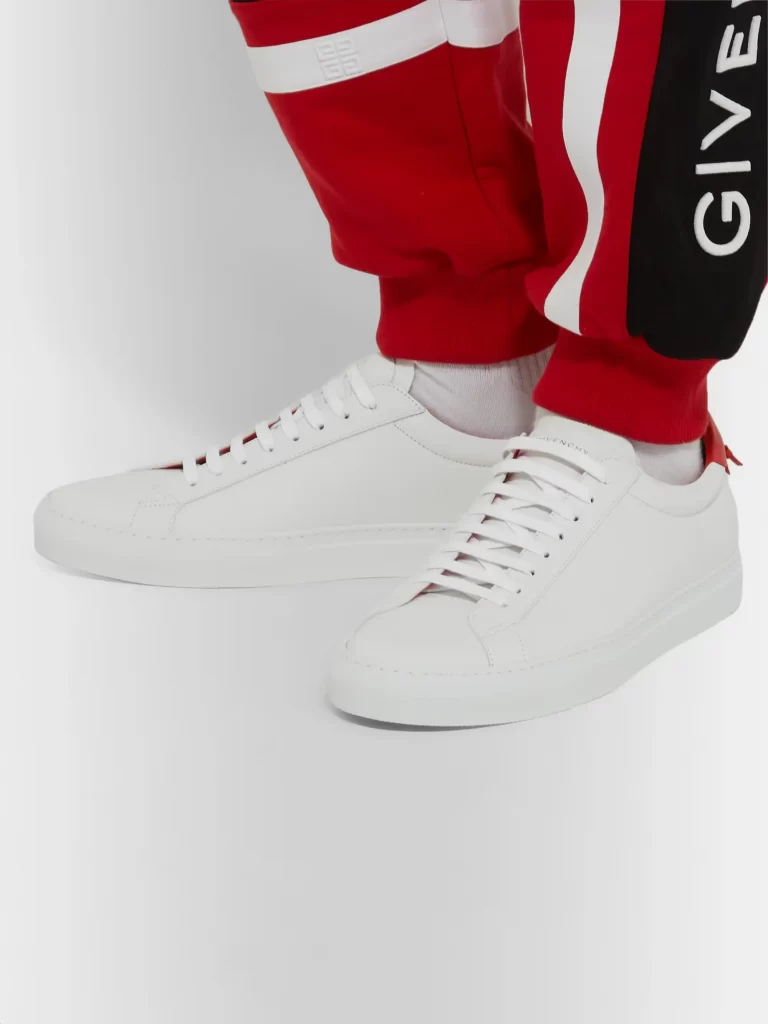 21. Balenciaga Triple S
This brand ranks high in the top white sneakers for men list. Known for being extremely stylish, these chunky sneakers have an aesthetic appearance that is quite hard to miss. Not to mention, the Balenciaga Triple S best white sneakers for men are made to endure regular wear and tear with a thick sole for stability and durability along with a rubber finish that allows for convenient cleaning. All in all, these sneakers are surely worth every penny!
Also Read: 12 New Year Dress Ideas To Flaunt At Nye Party
22. Tom Ford Cambridge
These Tom Ford Cambridge low-top sneakers combine comfort and style with a basic, beautiful design. As one of the best White Sneakers For Men, they could be a great option. The white calf leather pair is finished with a logo patch on the back. The sole is made of 100% rubber with a patterned outsole designed to provide optimal stability and grip on all types of terrains. The minimal design is ideal as a versatile wardrobe piece that you can style with casual, business casual, fancy as well as party outfits.
23. Allbirds Tree Dasher 2
By significantly reducing weight, altering the outsole lug pattern to improve traction, and lowering the carbon footprint, the Tree Dasher 2 builds upon the solid foundation established by the original shoe. It is one of the best white shoes for men for recreational runners or as an alternate running shoe that you can use for a long time. It has a flexible and shock-absorbent sole with a comfortable upper that offers an adjustable grip with lace-up detail.
24. Koio Capri In Triple White
The Koio Capri is a simple, sleek leather sneaker. It has an opulent feel and a beautiful silhouette. For as long as you own them, these shoes will remain in style because of their timeless design. With these top white sneakers men, you can enjoy a luxurious feel provided by its high quality, soft leather and suede lining. Overall, this fine-grain leather best white sneakers for men is a great option to go for if you are looking for something long-lasting and affordable.
Also Read: Types of Tattoos: 15 Most Popular Types Explained
25. New Balance 608v5
The New Balance 608v5 is a supportive, adaptable, and comfy sneaker. It can handle strolling, light jogging, exercise courses, and the gym. The shoe has a spacious toe box and comes in a variety of widths. This shoe uses leather for the upper, which provides structure and support. To increase ventilation, there are more perforations on this model of shoe. Also, the Absorb technology found in the heel pad and midsole will ensure maximum comfort. Because of all these qualities, this shoe is on the list of best White Sneakers For Men.
With these best white sneakers for men in your wardrobe, you will always be at the peak of fashion and comfort. Not only will these investments last you a long time, but you can also rest assured you will always be in style. Check out the Infifashion website for more on the best white sneakers for men and such topics!
Popular Searches
Skin Care Routine Steps that You Must Follow | How to Get Rid of Pimples | Places To Visit In India | How to Get Rid of Dandruff | Show-stopping Wedding Outfit Ideas for Women | Benefits of Vitamin C on the Skin | Best Watch Brands in India | Fashion Magazines in India | Top Fashion Photographers of India | Organic Makeup brands in India | Sustainable Fashion Brands | How to Choose a Jacket | Types of Track Pants | Nehru Jacket Ideas | Yoga Clothes For Women |