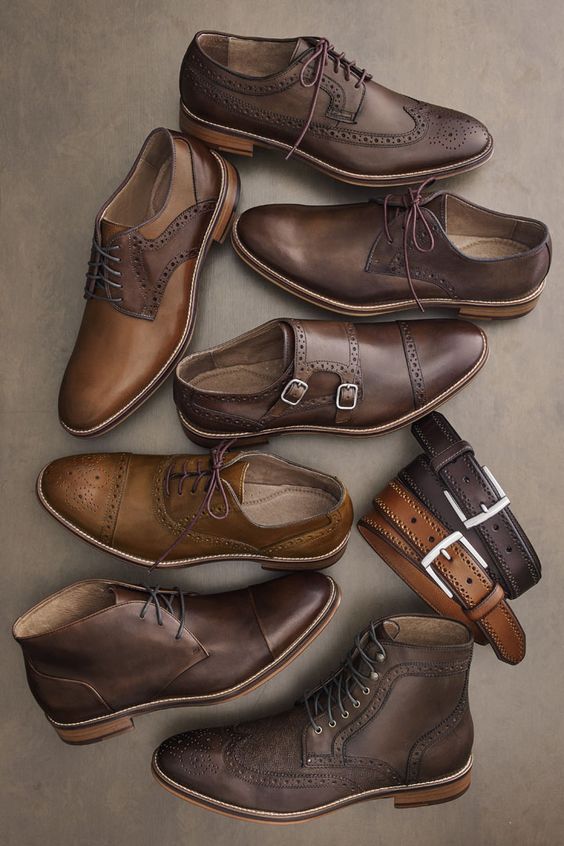 You've invested in a brand new pair of leather shoes and are all set to show them off. After all, there's hardly any outfit that these wonders can't pep up. But a couple of weeks down the line, they're beginning to show signs of wear. Not what you expected, right? Well, we show you how to get them looking as fabulous as they were the day you bought them. Caring for leather requires effort as it can dry out, crack, and get mouldy. The occasional wipe-down isn't enough to keep your leather shoes in good shape. So, if you want your gorgeous leather shoes to really last, there are a few things you need to keep in mind.
Also Read: Best Running Shoes For Women
Leather Needs TLC
Leather is durable yet delicate and requires regular maintenance. Simply applying a coat of polish is not enough. You need to clean and condition it properly too. Since leather is essentially an organic material, it will dry out and crack if not moisturised using a leather conditioner. There's little you can do once this happens except to toss your shoes into the trash.
Remember the Two C's and the Two P's
Make your leather footwear last with simple but regular care. With a little time and effort, those expensive shoes will look almost as good as new even years down the line. Keep in mind the two C's–cleaning and conditioning–and the two P's–polishing and protecting!
Cleaning Leather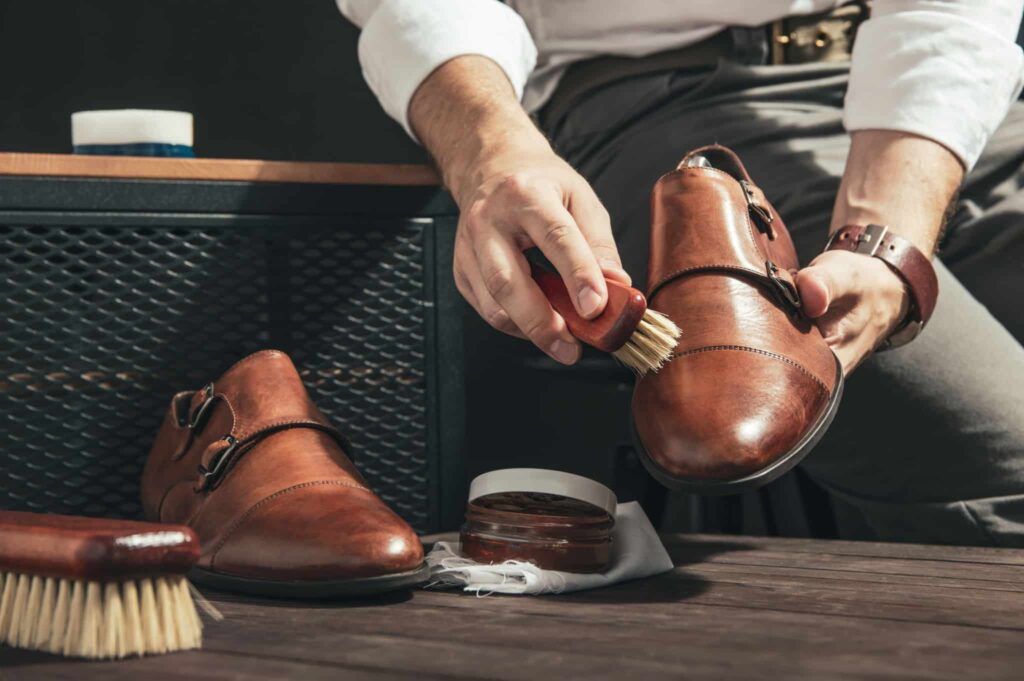 The next time you buy a pair of leather shoes, find out if the manufacturer also produces leather cleaners. There are generic brands, of course, but certain shoes, like designer leather footwear, may require specific products. Before cleaning, take out the shoelaces and any other removable components. Next, get rid of dirt and dust using a soft-bristled brush. Take a suitable leather shoe cleaner and apply it over the entire surface of each shoe. You can also use saddle soap if it's easier to come by. Work your way through the leather using the same soft-bristled brush, paying special attention to areas that are scuffed. Let the shoes dry for about 20 minutes before moving to the next step.
Conditioning Leather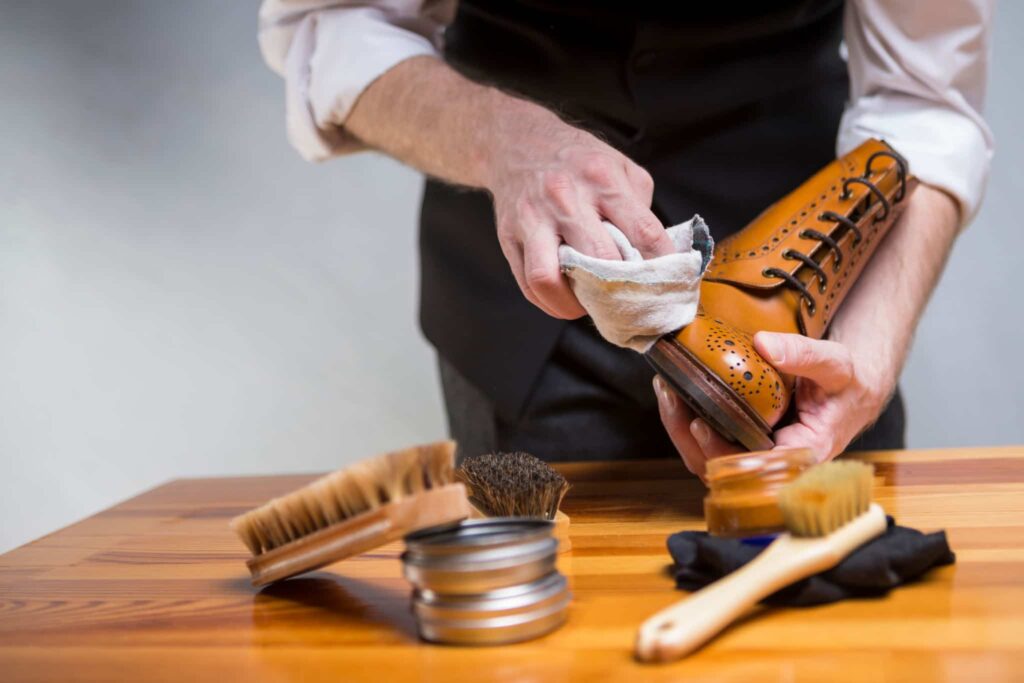 Just like your skin and hair, leather becomes dry after cleaning, since it also requires care like skin care & hair care. Conditioning them is, therefore, an indispensable part of ensuring your shoes look great. Using a soft cloth, apply a dollop of leather conditioner to shoes and rub in a gentle circular motion. Remove any excess and let it set in.
Also Read: Top Shoe Brands In India
Polishing Leather
Once your leather shoes are nice and moisturised, it's time to get down to polishing. Lanolin-based beeswax polish is ideal. Get a top-quality polish, if possible, and choose a colour that matches your shoes. Light-coloured footwear can be shined with neutral-coloured polish if you can't find one that matches the hue. Use a soft brush or a cloth to apply the polish, leave it to set for a couple of minutes, and shine your shoes using the same brush/cloth.
Protecting Leather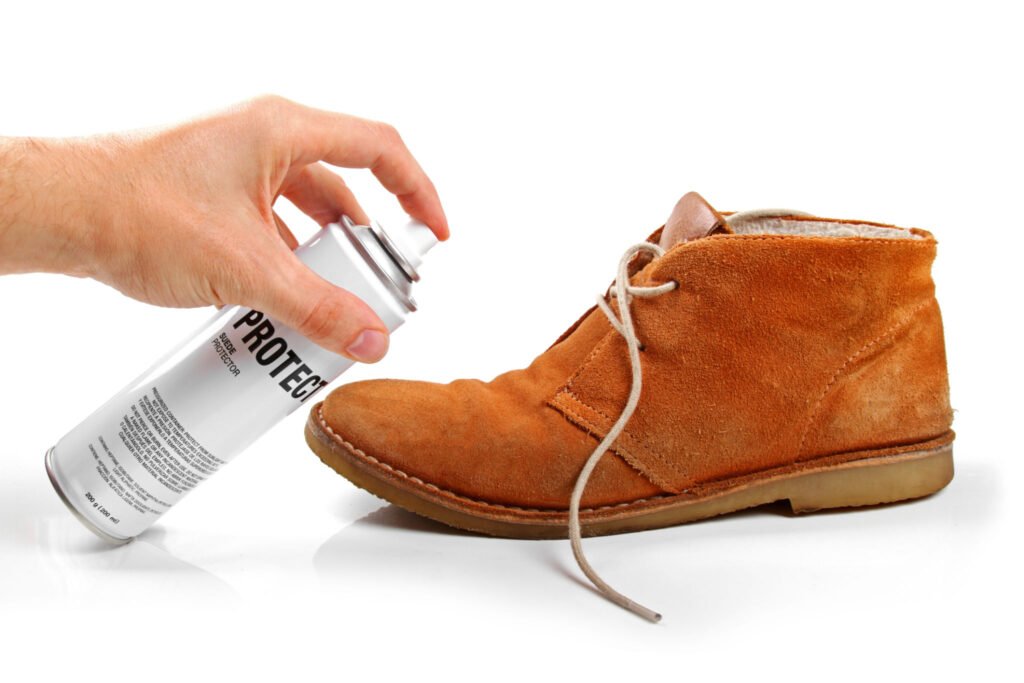 No matter how much you may love the rain, splashing around in it in your leather shoes is a big mistake. If there's one thing that can ruin leather in a snap, it's moisture. Waterproof your shoes using a spray-on water repellent or a wax-based polish. These breathable repellents help to keep away excess moisture, leaving behind a smooth pair of shoes for you to flaunt.
Also Read: Best Sneakers For Men in India
Know Your Leather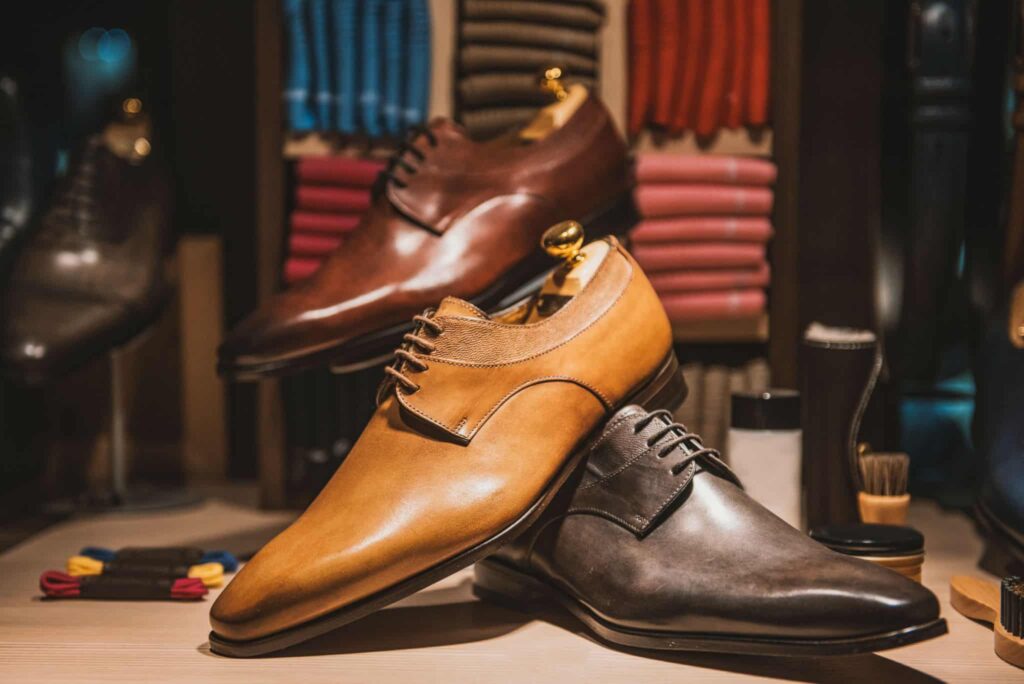 One of the first steps to knowing how to care for leather shoes is to determine what type of leather you're dealing with. For instance, maintaining suede will differ from caring for patent leather. There's no one-instruction-fits-all guide.
Full Grain Leather Shoes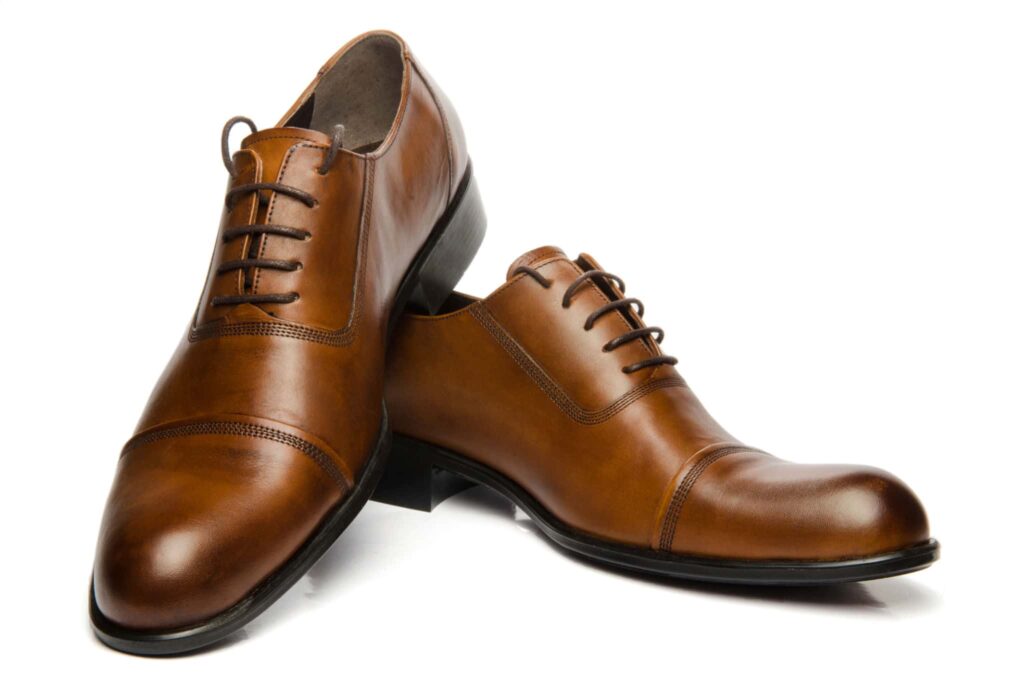 Full-grain leather is leather that hasn't been buffed or sanded to correct imperfections on the surface. It's among the most durable types of leather and also the one that needs the least care. Still, there are a few to-do's you need to follow to keep it looking good. You can begin by cleaning off dirt with a dry cloth. Follow this up by wiping the shoes with a damp piece of cloth. Let them air-dry away from direct sunlight and other heat sources that can cause the leather to dry out. Finish with a couple of coats of cream polish in a neutral colour or use a polish that matches the shade of your shoes. Then buff for a gorgeous shine. You could also use a liquid polish but we recommend staying away from it because it doesn't do much to condition leather.
Also Read: Top 20 Men's Fashion Trends
Oiled Leather Shoes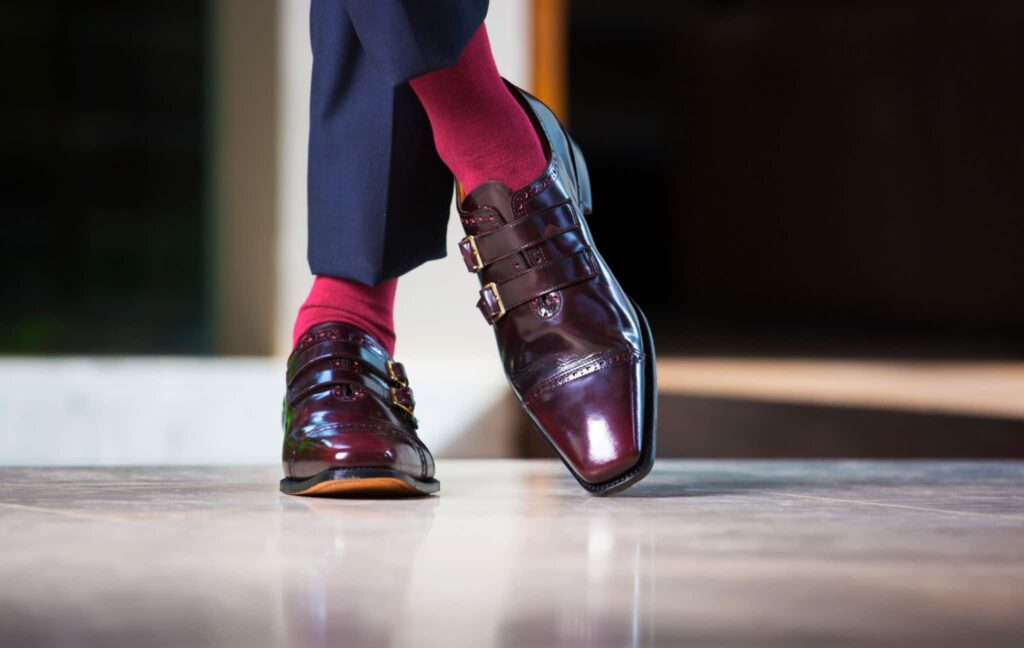 Those glossy leather shoes of yours are undoubtedly made of oiled leather. Like full-grain leather, it's durable and easy to maintain. However, keeping the shine intact calls for a bit of work. Start by wiping off dirt with a dry cloth and then following up with leather cleaner. Wait until the shoes have air-dried before working in a leather protector and restorer made of oil and other non-water soluble substances such as lanolin. These products help to waterproof oiled leather. However, they can leave your shoes looking a tad darker, so don't panic if this happens.
Patent Leather Shoes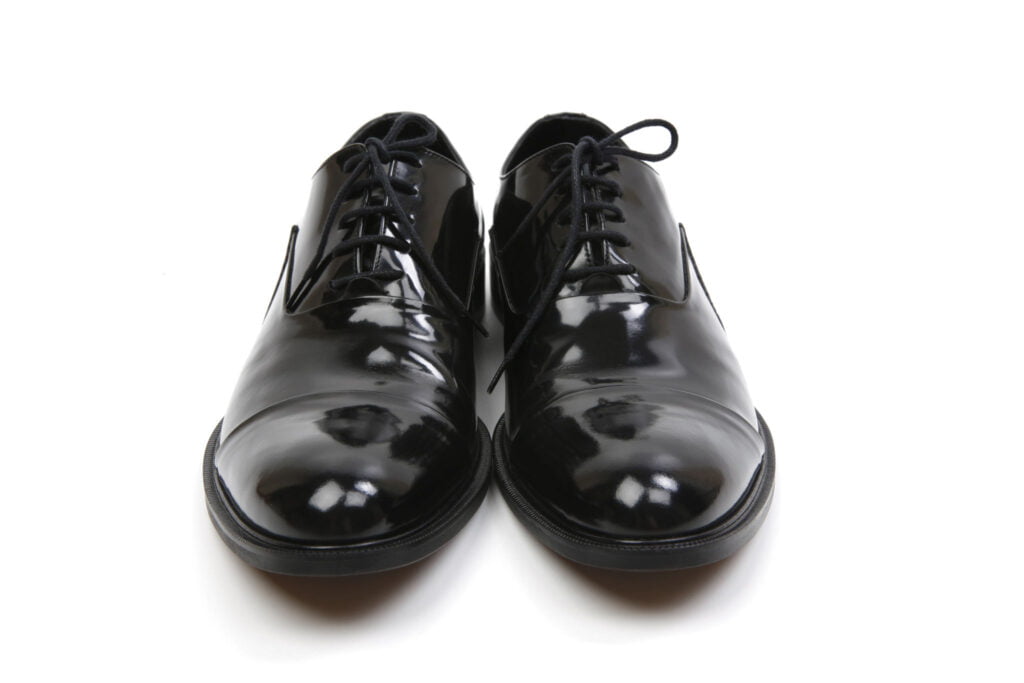 Patent leather shoes, with their highly glossy finish, need a surprisingly small amount of care. However, unlike full-grain and oiled leather shoes, they age very fast. Scratches are also very visible. Keep them away from pets, especially kittens and puppies, which are notorious for nibbling on shoes! Mild soap and a soft, damp cloth are an awesome combo for removing dust and dirt from patent leather shoes. You can follow up with patent leather cleaner to return the glossiness to your shoes in no time.
Also Read: A Complete Guide to the Best Running Shoes for Men
Suede and Nubuck Leather Shoes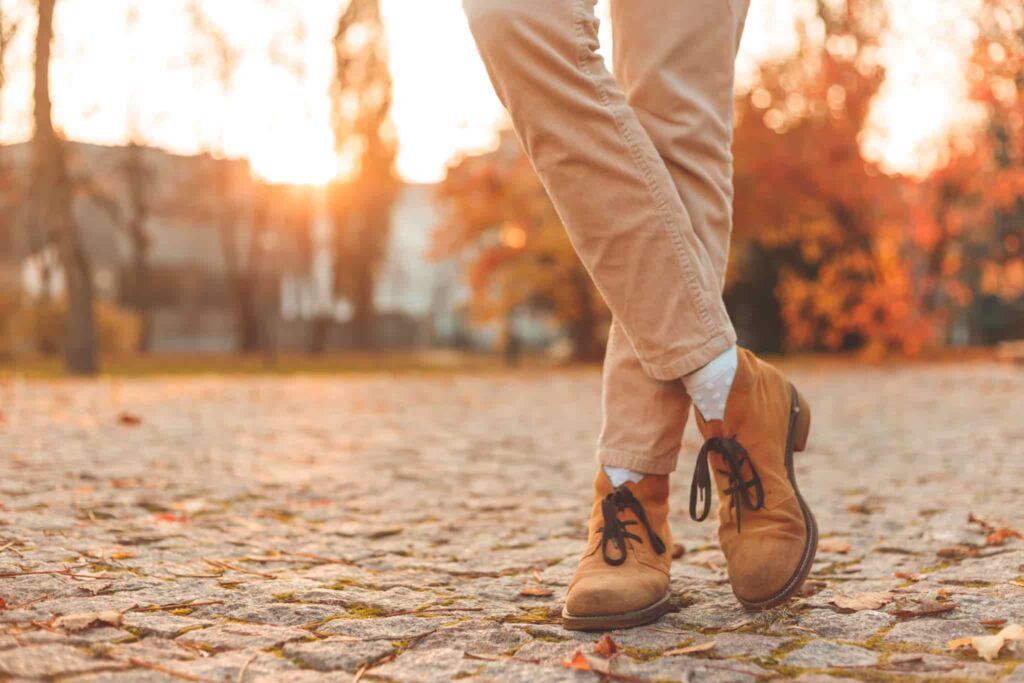 Use an ordinary eraser when you're dealing with dirt and smudges on suede and nubuck shoes. You can also use a damp cloth for more stubborn grime. Do follow up with a soft brush to clean any remaining particles. Stay away from wire brushes and polishes, unless they've been designed for the same. You can use a silicone spray to waterproof the surface of your shoes.
Prepare to show off your leather shoes in all their glory thanks to our useful guide on how to care for leather shoes. Whether it's a pair of your formal shoes or the casual shoes this guide will help you to take care of your shoes. Pair you nubuck ankle boots with attractive stitch details that would pair excellently with chinos, or shiny patent leather heels that would immediately dress up a pencil skirt, you can keep them looking almost brand new. Leather shoes are an investment and it's only fitting that you give them the TLC they deserve. Take care of your babies and they'll serve you well for years to come.
To know more such tips and trends keep following Infifashion. Do let us know in the comments section if these tips helped you guys!
Popular Searches
Rainy Season Shoes for Men | Types of Sports Shoes | Rainy Season Shoes for Women | How to Get Rid of Dandruff | Places To Visit In India this Vacation | How to Get Rid of Pimples | How to Boost Immunity | Best Watch Brands in India | Everything You need to know about Face Serums | Fashion Magazines in India | Top Fashion Photographers of India | Organic Makeup brands in India | Sustainable Fashion Brands | Types of Track Pants | Nehru Jacket Ideas