Sneakers! How many of us actually give a damn about our shoes? Well, I do. I am not a hype beast but I love my shoes, and I consider them as a part of my life, no wonder why I'm so choosy about it. I don't think you will understand because for that you need to put yourself in my shoes. Come on! That was funny.

In western countries, sneakers for men are the most important part of an outfit, so much so, that they would not mind spending 1500 dollars on their sneakers. Same is the case with many people in India too.

I know what you are thinking, Aren't sneakers worn only for sports? Yes, they are, but with time the definition of sneakers has changed from shoes only worn for physical stuff to shoes that can be rocked on a regular daily basis. Sneakers are not the same as it used to be a few years back. In fact, sneakers hit the limelight in India only in recent times and since then, men's passion for sneakers just sky rocked. Now, we are totally okay to spend money on a sneaker, provided it offers the right kind of comfort. Basically, now what jewellery is to women, sneakers is to men.

Now, that I have been talking a lot about sneakers, it is only fair that share some suggestions with regards to the same. So here is my list of top five sneakers for men that you need to have in your collection which will help you step up your style game.

Side Note: I have also mentioned the prices next to the name to make your decision-making process a tad easier, You are welcome. There is no So lace up, and let's get started, shall we?
Vans Old Skool (INR 1500 – 3500):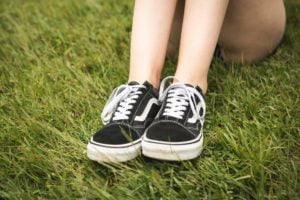 Let's kick things off with Vans Old Skool, puns intended. Originating in California, Vans is the underdog when it comes to shoes.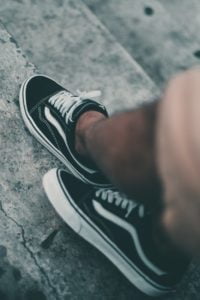 Old Skool has coolness written all over it, I mean look at it. Old Skool is, was and will always be my go-to shoe for any occasion, be it a party or a casual stroll around the town. If you don't mind spending a little extra, then you can also try their Sk8 high to get an, even more, cooler look. So, go cop one now because it is one of the most iconic sneakers for men.
Converse Chuck Taylor (INR 900 – 2500):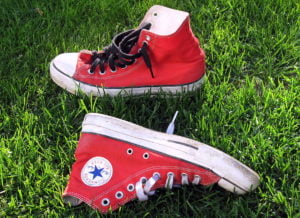 Most of us have spent our childhood with these shoes, didn't we?. Since WWII, the brand has been making some incredible shoes, and they still look as cool as they used to in the 1940s. Wearing a converse shoe is like riding a Royal Enfield, it is all about the feeling that is associated with it, and you just cannot compare them with any other brand. They come in a lot of colours, and it is easier to pair them with anything, and I mean anything. To top that, you can get one for as low as 900 Rupees, making them the cheapest sneakers for men in India that you can rock in any season.
Nike Ebernon Sneakers (INR 3000 to 5500):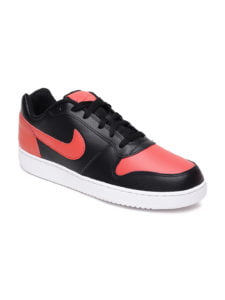 What is Nike doing in this list, you might ask? Aren't they suppose to be a sport-centric brand? Well, let me set the record straight, even though they are famous for making good sports shoes, you must take a look at their sneaker collection, especially their Ebernon collection. Nike Ebernons are leather shoes that go perfectly with any outfit. I have owned one for some time now, and I can definitely say that they are very sturdy and will last for a long time.
Air Jordan 1 (INR 4000 – 25000):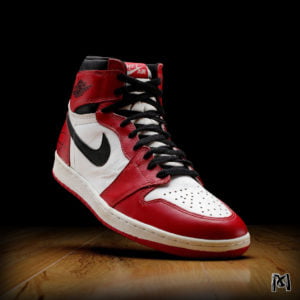 What can I say about it? Except that they are the coolest shoe ever made and I have been planning to buy from a long time. No shoe has ever created more hype than Air Jordan 1. Michael Jordan was actually fined a whopping 5000$ per game because his shoes did not comply with the NBA's uniform regulations. After which, Jordans sale just inflated, making it the most hyped sneaker for men in the history.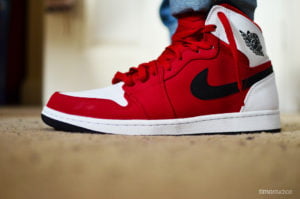 With incredible popularity and such a rich past, if your budget ranges somewhere around 4k to 10k, then look no further than Air Jordan 1. They are available in numerous colours and material options, and you can even get them customised and specially made for you at their website.
Adidas NMD (INR 7800 – 19000):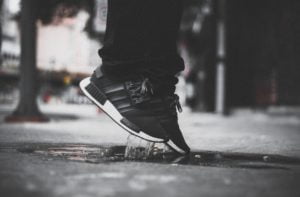 I know, they look a lot sportier than the other ones in the list, but you can not deny that look awesome. Don't you want to fall in love with them? NMDs are perfect for anyone who likes to carry a sporty, athletic look without investing a lot of money Yeezy.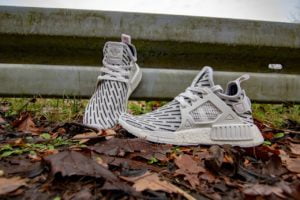 You will be left slack-jawed by looking at their never-ending colour options. They are the new Jordans. Yes, I said it because millennials love NMD and have been rocking them everywhere, all thanks to Kanye West. They are cool, fresh, perfect, sturdy and you should cop one right away because they have on the top of the sneakers for men list since 2016.
Personally, I think all these shoes are great and you must definitely have one of each pair if you are a sneakerhead like me. If not, then go for the one that best fits your budget. No matter which one you go with, you would never regret your decision and you can quote me on that.

For more such glimpses into fashion, and accessories for all seasons, continue to follow InfiFashion and get regular updates on all things fashion.