The importance of a well-chosen pair of formal shoes in men's attire cannot be overemphasized. Stepping into the sartorial world reveals that shoes, particularly formal ones, are crucial in establishing style and elegance, influencing one's entire image, and creating a lasting impression, whether attending a wedding, a business meeting, or a formal dinner. Exploring Types of Formal Shoes for Men uncovers a variety of possibilities, including Oxfords, Derbies, and Loafers, each contributing to refined elegance and providing a polished and sophisticated appearance at every formal function.
Importance of Formal Shoes in a Gentleman's Wardrobe
In a gentleman's wardrobe, formal shoes are a representation of refinement, tradition, and character. They are more than just shoes; they enhance the elegance of a well-curated ensemble, complementing a man's dress and increasing his presence and posture. Impeccably polished formal shoes are unrivaled in professional and formal contexts, functioning as a subtle signal of a man's attention to detail and personal flair. Examining the many types of formal shoes for men, such as Oxfords, brogues, and monk straps, may provide important insights into elegance, with each design making a specific sartorial statement and expressing refinement and class.
Types of Formal Shoes for Men
When exploring the various types of formal shoes for men, each catering to varied preferences and occasions, it's pivotal to understand their unique qualities and appropriate usage.
Oxfords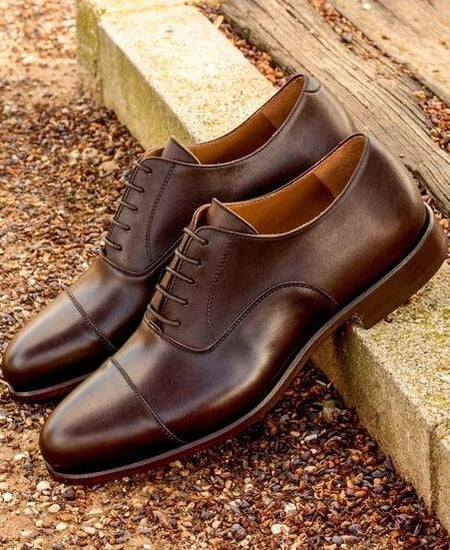 Oxfords are the traditional option for formal events, with their closed lacing system reflecting classic beauty and complimenting traditional suits and tuxedos with their modest elegance. Oxfords, which epitomize refined taste, are frequently the first to spring to mind when discussing the many types of formal shoes for men. This category also includes derbies, loafers, and monk straps, each with its own distinct look. Derbies have open lacing, which adds adaptability; loafers, which are lace-free, provide convenience and a sleek style; and monk straps, which have a buckled strap, bring a particular flair to formal clothes. Each kind caters to a distinct style and inclination, allowing men to make a fashion statement in a variety of formal situations.
Also Read: Top Shoe Brands
Derbies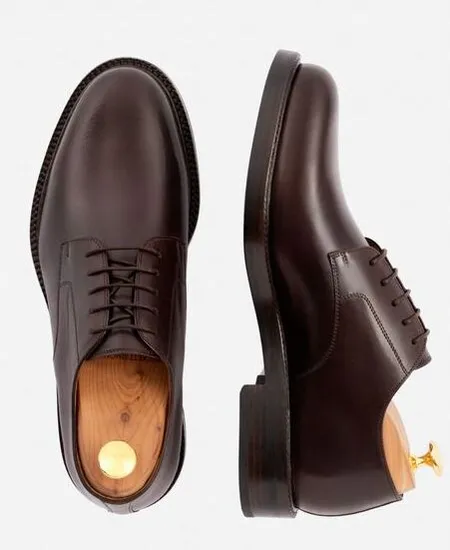 Derbies, also known as Bluchers, offer a relaxed fit with their open lacing system, making them comfortable, adaptable, and suitable for both formal and semi-formal events. In the realm of types of formal shoes for men, Derbies holds a special place, exuding a subtle charm. They share this space with Oxfords, Monk Straps, and Loafers, each of which portrays a unique blend of style and function. Oxfords, known for their sleek design, evoke sophistication; monk straps, with their secure buckle, bring a hint of daring; and loafers, with their easy slip-on style, embody a casual elegance, ensuring that every man finds his perfect match to express his individual style and confidence in any formal setting.
Brogues
Brogues provide a touch of delicacy to formal dress with their ornate perforations, providing a balance between heritage and contemporary, and are synonymous with class. When it comes to types of formal shoes for men, brogues stand out as a detail-rich alternative that simply elevates the aesthetic quotient. They, along with Oxfords, Derbies, and Monk Straps, demonstrate the variety in men's formal footwear. Each of these designs appeals to diverse preferences and circumstances, allowing men to display their sartorial choices with elegance and personality, ensuring a memorable impression in any professional or festive setting.
Also Read: Best Wine Brands in India
Loafers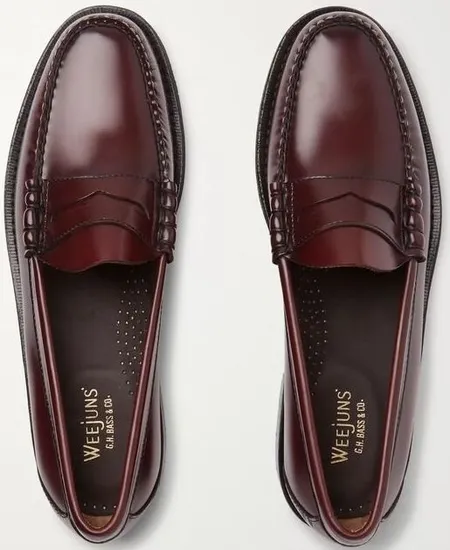 These slip-on shoes are the epitome of design and comfort, making them suitable for a variety of contexts and an elegant and adaptable choice. Loafers stand out for their practicality and sophisticated appearance while discussing types of formal shoes for men, complimenting the broad assortment with Oxfords, Derbies, and brogues. From the smooth sophistication of Oxfords to the precise elegance of Brogues, these shoes provide variations in elegance, allowing men to easily transition between informal and formal settings while retaining an aura of sophisticated style and excellent taste.
Monks Straps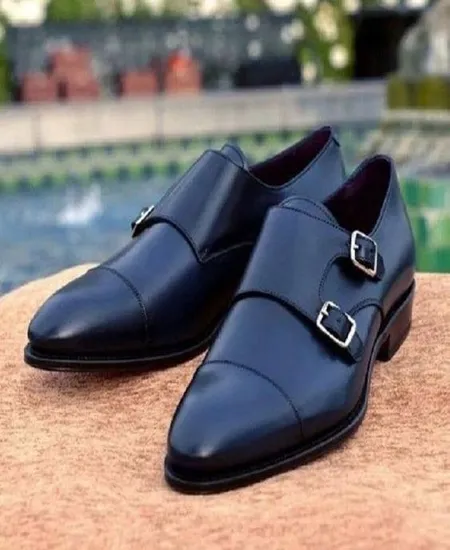 Monk straps, distinguished by their buckle feature, are appropriate for individuals seeking a departure from the ordinary and lend a particular flare to formal attire. When it comes to types of formal shoes for men, monk straps stand out among the elegance of Oxfords, the comfort of Derbies, and the precise craftsmanship of Brogues. Each design, with its own appeal, adds to a man's polished wardrobe, allowing him to exude confidence and refinement in a variety of contexts, from high-stakes business meetings to sophisticated social events, leaving a lasting impression of personality and style.
Cap-Toes Shoes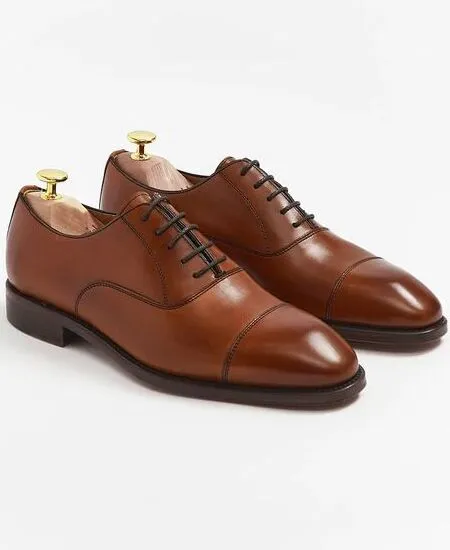 Cap-toes are distinguished by an additional piece of leather on the toe area, which elevates the formality of these shoes and makes them an excellent choice for luxury gatherings. Cap-toes are adored when it comes to types of formal shoes for men, alongside the beautiful aesthetic of Oxfords, the intricate workmanship of brogues, and the strong statement of monk straps. The variety of formal footwear serves a wide range of style preferences, allowing every guy to show off his refined taste and refinement, whether attending a lavish gala, a precise corporate meeting, or any sophisticated function emphasizing style with distinction and grace.
Also Read: Date Night Outfit Men
Blucher Boots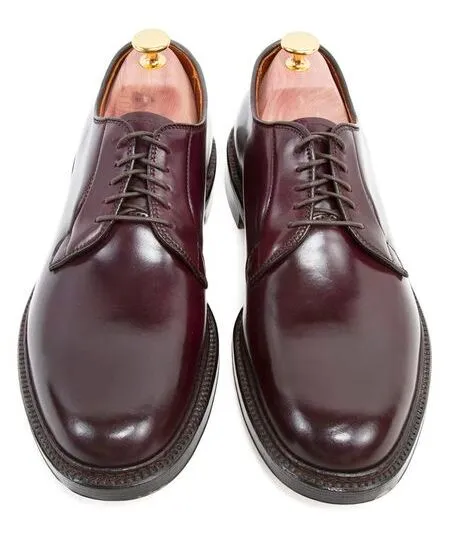 Bluchers, like Derbies, are noted for their comfort and versatility, making them appropriate for semi-formal or informal business gatherings. Bluchers match the elegance of Cap-Toes, the precise craftsmanship of Brogues, and the suave appeal of Oxfords within the broad range of types of formal shoes for men. Each design exudes a distinct elegance, allowing men to demonstrate their sartorial expertise and flexibility, allowing for a seamless transition from informal business luncheons to elegant evening soirees while demonstrating an inherent awareness of style subtleties and personal aesthetics.
Spectator Shoes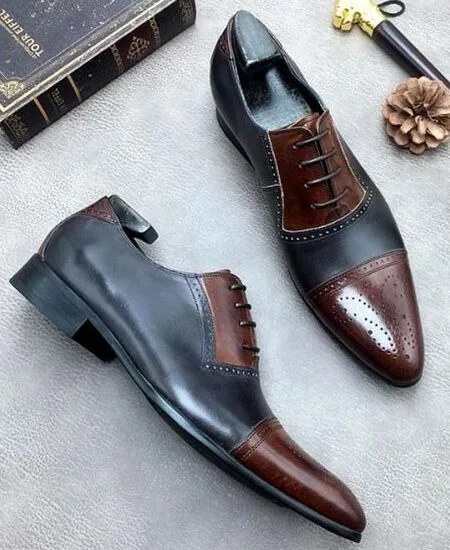 Among the different types of formal shoes for men, spectator shoes are an emblem of ageless elegance. These traditional footwear items are distinguished by their unusual two-toned style, which frequently incorporates contrasting colors and materials. They're ideal for formal occasions since they add a touch of refinement to any dress, suit, or tuxedo. The contrast between leather and suede or other fabrics is aesthetically stunning. Spectator shoes are a must-have for males who want to make a fashion statement while remaining sophisticated and stylish on important occasions. The elegance of spectator shoes will complement your formal clothing.
Also Read: Best Watch Brands in India
Dress Boots
Dress boots are an adaptable addition to the world of Types of Formal Shoes For Men. These ankle-high boots seamlessly combine refinement and flair, making them appropriate for a variety of formal settings. Dress boots, made of high-quality leather, provide a polished aesthetic that matches both suits and dressier casual clothes. The exquisite accents and sleek design offer a touch of sophistication to your attire. Dress boots give you the ideal blend of comfort and style, whether you're attending a business meeting or a formal dinner. Elevate your formal footwear collection with these timeless and versatile boots, which will ensure you look great at every gathering.
Opera Pumps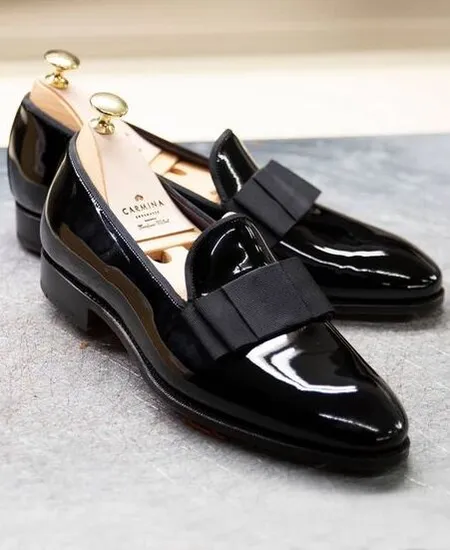 Among the different Types Of Formal Shoes For Men, opera pumps are a traditional choice. These classic shoes are only worn on the most formal occasions. Opera pumps are made of glossy patent leather and have a low-cut design with a characteristic bow at the front, reflecting refined elegance. They are the embodiment of black tie apparel and are an essential component of every gentleman's formal wardrobe. Opera pumps radiate refinement and are the ideal accompaniment to a tuxedo, whether you're attending a gala, a wedding, or an opera. Opera pumps are a must-have for individuals who appreciate the spirit of formal attire.
Wholecut shoes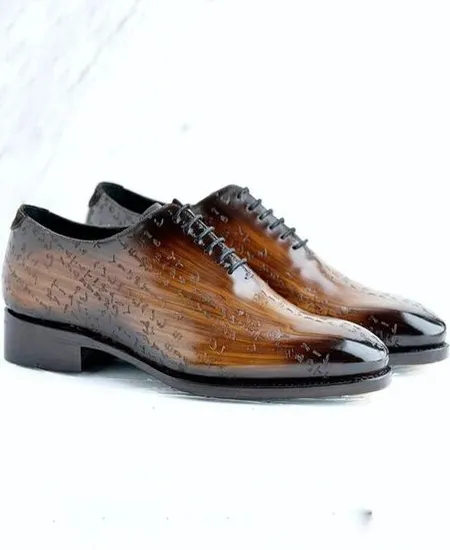 Wholecut shoes are the most elegant of the numerous types of Formal Shoes For Men. These footwear wonders are made of a single piece of fine leather and have a seamless and simple style. Their sleek lines and lack of stitching make them a sophisticated emblem. Wholecut shoes are great for premium events, weddings, or any formal occasion that requires a professional appearance. Their modest elegance and attention to detail distinguish them. Wholecut shoes are an excellent choice if you want a shoe that combines timeless design with a touch of luxury. They encapsulate the spirit of formal dress for sophisticated guys.
Chukka Boots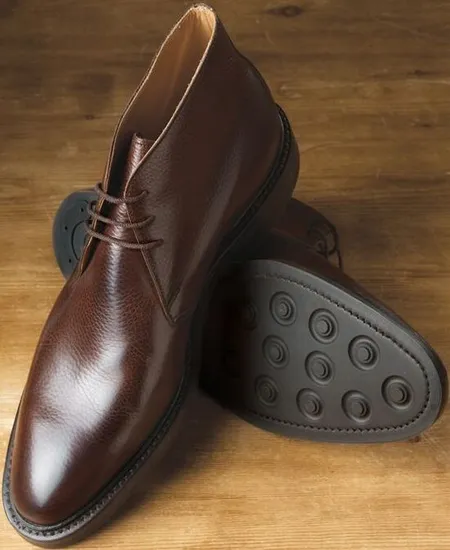 Among the different Types Of Formal Shoes For Men, chukka boots are an intriguing combination of casual and formal footwear. These ankle-high boots have a distinct adaptability that may improve your look on semi-formal occasions. They create a mix of beauty and comfort with their slick leather and simplistic design. The elegant design of chukka boots makes them suitable for a variety of events, from business meetings to upmarket dinners. They simply give a touch of refinement to any attire with their distinct yet modest appeal. Chukka boots are a smart addition to any gentleman's collection, providing a great balance of elegance and convenience for the modern guy.
How to Choose the Best Formal Shoes for Men
Choosing the proper formal shoe demands taking into account the occasion, personal style, comfort, and quality. The ideal formal shoe balances comfort and style, and testing on many patterns and sizes, until the appropriate fit is discovered, is critical. When it comes to types of formal shoes for men, every option, from the versatile Bluchers to the fashionable Oxfords, has its own aesthetic worth. It's critical to understand the nuances of each design, whether it's the aggressiveness of monk straps or the rustic refinement of formal boots. This enables people to make educated selections, matching their outfits to the occasion and their particular style, resulting in a balanced combination of elegance, comfort, and distinctive expression.
How to Take Care of and Maintain Formal Shoes
Maintaining formal shoes necessitates frequent cleaning, polishing, and proper storage in a cool, dry environment, as well as utilizing shoe trees to keep their shape and alternating usage to avoid overusing any single pair. These actions are critical for extending the life of the shoes and keeping their beauty. Understanding the types of formal shoes for men is essential to their care routine. Oxfords, Derbies, and Brogues, for example, may require special attention due to their distinctive designs and detailing. Regular, committed care guarantees that each pair keeps its charm, structural integrity, and elegant look on every formal occasion, displaying the wearer's devotion to style, quality, and personal image.
Where Can I Get Formal Shoes for Men?
Many respectable manufacturers and dealers sell a wide range of formal shoes for men, both online and in stores. Exploring numerous alternatives and reviews will help you make intelligent selections while also ensuring quality and authenticity. When looking for types of formal shoes for men, it's a good idea to shop around and compare the many Oxfords, monk straps, brogues, and derbies on the market. Each variety has its own distinct charm and flair, and finding the appropriate fit and design that complements one's particular taste and the event at hand is essential. Educated selections based on thorough investigation provide pleasure, showing refined taste and an appreciation for quality and refinement at every step.
Conclusion: Adding Elegance to Your Look with the Right Formal Shoes
Each formal shoe has a special charm and flexibility for various occasions. Understanding the characteristics and proper circumstances for each style allows one to march confidently in style for any formal event, presenting refinement and creating a lasting impression with impeccable fashion sense. Navigating the types of formal shoes for men, from the beauty of Oxfords to the distinctive details of brogues, allows people to adjust their choices to their particular style as well as the needs of the event. Choosing the proper pair that combines comfort, style, and appropriateness is critical in emphasizing one's presence and enhancing the whole ensemble, adding to a cultivated and polished look in any formal endeavor.
FAQs on Types Of Formal Shoes For Men
1. Is wearing loafers to a formal occasion appropriate?
Loafers are appropriate since they are a versatile type of formal shoe for men.
2. What are the key differences between Oxfords and Derbys?
Oxfords and Derbys are types of formal shoes for men; the former features closed lacing, while the latter has open lacing.
3. Is wearing Chukka boots to a business meeting appropriate?
Yes, when combined with fitted pants, Chukka boots are an excellent type of formal shoe for men for business meetings.
4. When is it OK to wear cap-toe shoes?
Cap-toe shoes, a type of formal shoe for men, are appropriate for upmarket events such as weddings and formal parties.
5. How should formal leather shoes be cared for?
Cleaning, polishing, and storing types of formal shoes for men, such as leather shoes, properly is essential.
Popular Searches
Rainy Season Shoes for Men  |  Rainy Season Shoes for Women's  | How to Choose Footwear | Types of Watch | Fashionable Watches for Men | Skin care routine steps | Types of Formal Shoes | Everything You need to know about Face Serums | Fashion Magazines in India | Top Fashion Photographers of India |  Organic Makeup brands in India |  Sustainable Fashion Brands | How to Care for Leather Shoes | Summer Outfit Ideas |