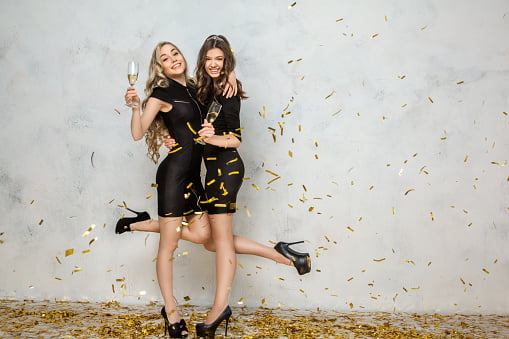 Ways to Style Little Black Dress
"Women hold up half the sky!"- Mao Zedong. Every cent can be bet on this statement as being a woman is being divine and powerful in one short life. Woman, you hold the world together, struggle against the odds, nurture life, and inspire artists like Picasso and Michelangelo. Then why hold back on your beauty and not inspire men to be poets? Let the world sing fables of your beauty as you adorn a sexy 'Little Black Dress'. LBD or Chanel's Ford has been ruling the charts since the last century and will continue to do so. This above-the-thigh cocktail dress will become your favorite piece of an ensemble as it contours the body in the most amazing manner. Whether it's for a casual or a formal occasion, you must always don the black dress in the most exquisite manner! But how to flaunt your little black dress to the fullest? Our fashion guide has covered it all ladies! The perfect jewellery, stunning shoes, and loads of sassy ways to perk up your sheer black dresses!
Some interesting tips for you are as follows:
1. Blend it with Bold Assortments
It's time to jazz up your foxy little black dress ladies! How about you don silver-toned chain tassel earrings and silver pumps along with your black dress? This look will make you a showstopper at any party! Along with this apply a shiny lip gloss and style your hair in loose curls. A very elegant look can be pulled together for a formal occasion by decking up your dress with a pair of nude heels. Tie your hair up in a neat bun and apply a nude lipstick. Further, we suggest you opt for a black metal tone watch and a black winged eyeliner for a classy finish.
2. Try Layering
Adding a layer over your dress will lend you an absolutely unique appearance! An oversize cardigan with your casual black short dress will set a new tone for your uber-cool appearance. With this, we suggest you wear criss-cross flats matched with your cardigan. Crop jackets and crop blazers will also help you look foxy with your cute dress. If you want to a rock a complete chic appearance then you should don a jacket of the same length as your dress! You can choose the jacket in shades of navy blue, olive green, or dark grey. Top off this impeccable look of yours with a pair of ankle-strap heels and a leather handbag. Even long coats with your knee-length black dresses will let you stay stylish while keeping you snug!
3. Pair with Stockings
By pairing your little black dress with black stockings, you will look absolutely astonishing within seconds! With a plain pair of stockings, you can don a black mini dress with flares. Red stilettos and a red lip colour will bring a sassy touch to the attire. You can even give a spin to your pretty printed black dresses with black stockings! At a casual party, you can go for a pair of polka dot stockings teamed with a mini dress with pleats. Add to the get-up more by layering it up with a sexy grey leather jacket and grey pumps. Dress up like a starlet in black fishnet stockings and a little black dress with leather accents. Glam up the look with a gold-toned statement neckpiece, a gold-toned clutch and scintillating stilettoes. Another glamorous look can be put together by donning a black tube dress with a pair of stockings and heels. Apply bold eye make up and wrap your hair in a bun to end this look with utmost charm.
4. Style with a Snazzy Footwear
Bored of teaming your dresses with heels and flats? Let's try something fun and unique by slipping into a pair of sneakers with a little black dress! You can bring more fun to this ultra-cool look of yours by wearing a long chain with a funky pendant along with the dress. Accessorise further with a couple of band rings, a leather tote bag, and black wayfarer sunglasses! It's time you brought a pop of colour to your black lace dress! Don a pair of maroon or olive green ankle-length boots with your dress. You can even team your ensemble with black stockings for a peppy twist. Another, stunning way to style your black mini dress is by donning it with knee-length boots. Along with this, choose a red lip colour and style your hair in a messy bun. Carry a messenger bag to finish the look with panache!
5. Use a Belt
To effortlessly add oodles charm to your dress, simply deck it up with a stunning belt. If you are dressing up for a party, we suggest you go for a sleek golden belt with your black lace dress. With your little black dress with quarter sleeves, team a tan brown or dark brown belt and match your lace-up boots to it. A small handbag will add more grace to the get-up. In case you want a cool, casual look then don a straight-fit comfy black lace dress with an animal printed leather belt. A pair of beige or creme ankle-strap heels and a duffel bag will oomph up the ensemble a lot more. Also, tying up your hair in a sleek hair bun and donning wayfarers will help you give an irresistible touch to your appearance.
6. Go for A Black Look
Nothing is sexier than dressing up in a complete black attire. But it's essential to note that you don't over-do it. One ultra-glamorous look that can be pulled off easily is by pairing your black sequin dress with black matte pencil heels. Along with this colour your nails black and apply a brilliant nude lip colour. Another mesmerizing appearance can be made by teaming your black cocktail dress with a black shiny black leather belt. Black heels, a box clutch, and dramatic eye make up is all you need to end the look with absolute elan! Teaming your black stockings and black boots with a short black dress is also an amazing idea! You can even carry a black chain clutch bag for utmost flair!
7. Try Neon Colours
Neon colours can bring a spunky, trendy twist to any of your outfits. And, this is one of the most trendy ways to add a pop of colour to your black dresses! Planning to wear a backless dress? Simply slip into a pair of neon pink heels with it. Style your hair in a loose bun and apply a thin eyeliner and a baby pink lip gloss for an alluring finish. Your halter neck and round neck dresses can be paired with a snazzy fluorescent green neckpiece and matching open-toe heels. Tie up your hair in a neat ponytail and apply a nude lip gloss to wrap up the appearance in style. You can also play around with a neon crop jacket or a neon belt to add an enthralling charm to any of your little black dresses!
Now go on and flaunt these looks with utmost flair girls! You can cleverly put together different pieces of assortments and stun everyone with your breathtaking fashion sense! It's time you added a sensational edge to your black dresses, ladies!