Introduction
Understanding how to style a black dress is an essential foundational skill in the world of fashion. The iconic little black dress (LBD) embodies versatility, adaptability, and timeless elegance, making it a must-have wardrobe item. Learning how to style a black dress allows you to create ensembles that range from subtle and elegant to dramatic and avant-garde, catering to every event and personal style taste.
The Versatility of a Black Dress
A black dress can go from day to night, casual to formal, giving it the ultimate in adaptability. A black dress's versatility transforms it into a canvas ready to adapt to any style and event. Understanding how to style a black dress is critical for generating a variety of elegant styles. The alternatives are unlimited, allowing for personal expression and a presentation of distinct style, whether it's enhanced with flamboyant accessories for a night out or coupled with relaxed layers for daytime.
Selecting the Best Black Dress for Your Body Type
Choosing the appropriate fit for your body type is critical before getting into how to style a black dress. A well-chosen black dress may draw attention to your greatest features while also boosting your confidence, providing a beautiful silhouette regardless of your body type. Understanding how to wear a black dress begins with picking one that flatters your individual form and fits your style, comfort, and occasion, making it a flexible and timeless addition to your wardrobe.
Pear-Shaped Body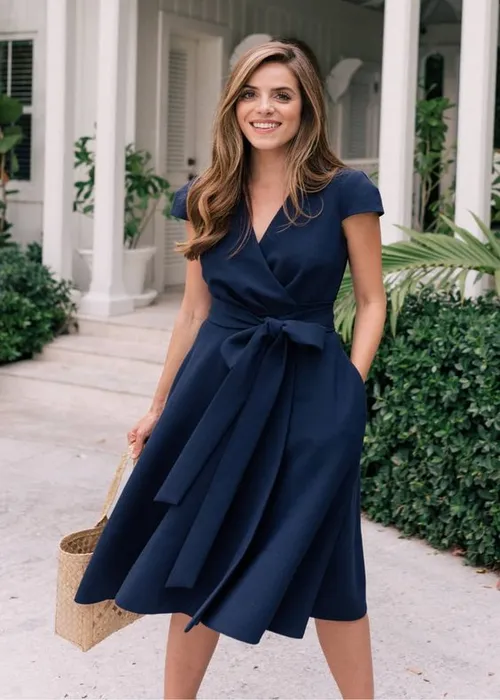 When thinking about how to style a black dress for a pear-shaped form, emphasize the upper body. A black dress with a waist belt and a small post-hip flare is ideal. Choosing V-neck or scoop necklines might bring attention higher. Complement with flashy necklaces and high shoes to make your legs look longer. Bold sleeves or embroidered tops can also contribute to a more balanced overall design.
Hourglass Body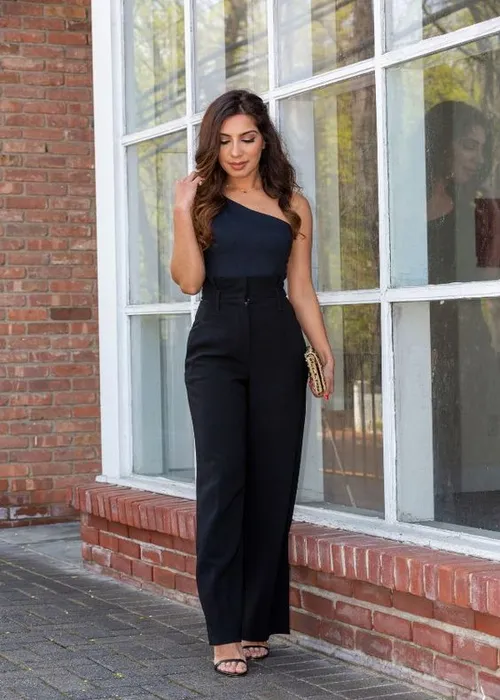 Understanding how to style a black dress for hourglass shapes involves emphasizing those natural curves. A fitted or body-con black dress with a waist belt is great. Wrap or belted styles are also excellent options. Accessorize with modest yet exquisite pieces such as a pendant necklace or tiny bracelets. Classic heels or stilettos will complement your look and highlight your attractive figure.
Apple-Shaped Body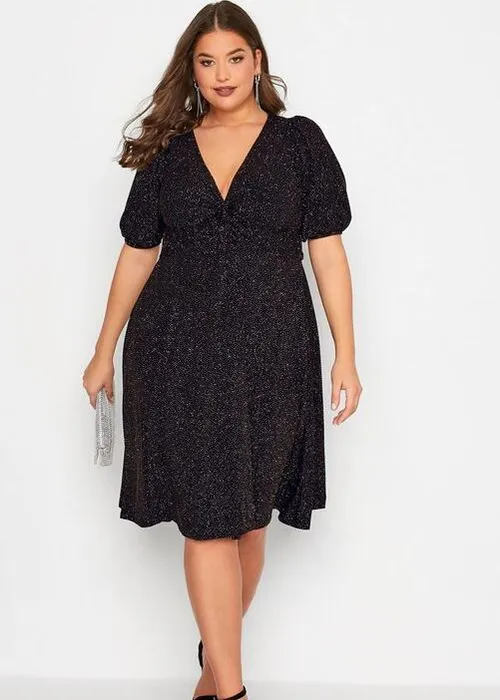 Apple shapes have wider midsections, so look for dresses with a touch of movement around the belly when deciding how to style a black dress for this body type. A-line or empire-waisted dresses may be quite flattering, softly gliding over the abdomen. Bold earrings or a statement choker will draw attention to your neckline. A casual yet refined look may be achieved by wearing them with knee-high or ankle boots.
Rectangle Body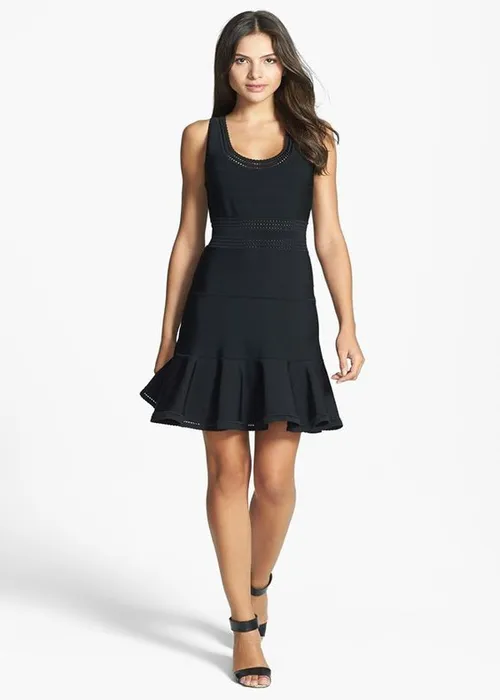 The trick to the rectangular body is to create the illusion of curves. This implies that while determining how to style a black dress, seek out things that enhance volume. Ruffled, tiered, or peplum designs are all great options. To constrict the waist, use a thick, hefty belt. To add individuality to the look, pair the dress with colorful ankle boots or strappy heels, as well as bold jewelry or a scarf.
Inverted Triangle Body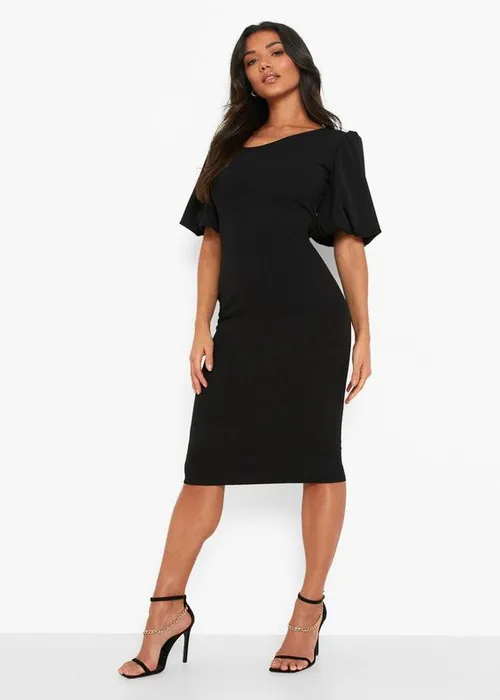 Think balance when wearing a black dress for the inverted triangle form. To compensate for wider shoulders, choose styles that curve at the hips or have more volume at the bottom. Dresses with wider straps or sleeves might be a good match. Consider stacked necklaces for depth and strappy sandals or wedges for a hint of refinement when deciding how to style a black dress.
How to Style a Black Dress for a Casual Look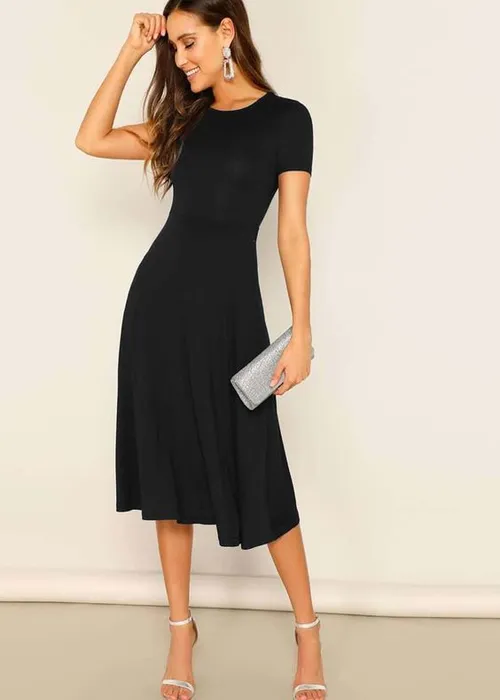 A black dress's informal design is all about comfort and subtlety. For a laid-back weekend look, pair it with a casual jacket and a crossbody purse, or layer it with a T-shirt beneath and complete with some classic shoes. When deciding how to style a black dress informally, consider using elements that exude simplicity and comfort, such as lightweight materials and minimal accessories, to get a relaxed yet refined look appropriate for a range of informal occasions.
How to Dress a Black Dress for a Formal Occasion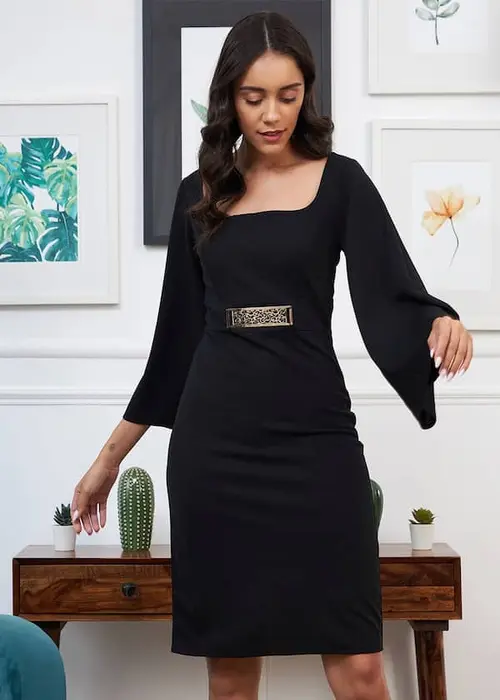 Consider monochrome accessories or metallic accents when deciding how to design a black dress for a formal occasion. They lend a degree of refinement and elegance to the black dress, making it appropriate for formal parties and sophisticated meals. Selecting refined, stylish accessories and paying attention to detail to produce a harmonious, polished appearance that matches the dignified mood of the occasion, allowing you to stand out with subtlety and elegance, are all part of mastering how to style a black dress officially.
How to Elevate Your Black Dress Outfit with Accessories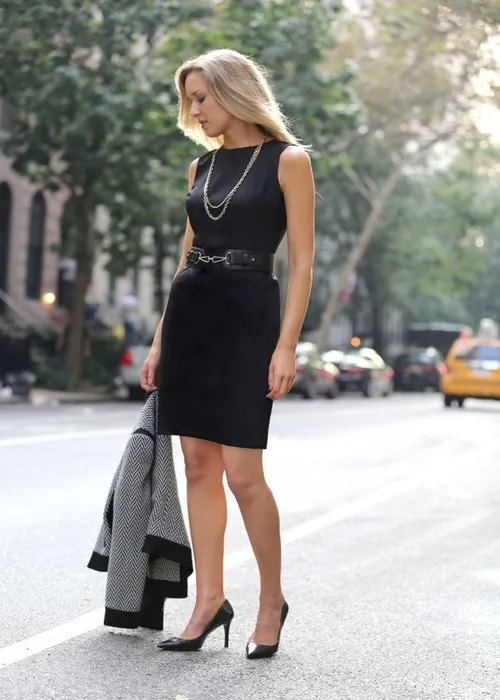 In the realm of black dresses, accessories are the game changer. They may dramatically modify your appearance by adding layers, textures, and colors to make your dress seem sophisticated and distinctively yours. To master how to style a black dress, one must first learn the art of accessorizing. You may experiment with different styles and moods by combining different accessories, transforming your black dress into a statement item that expresses your individuality and resonates with the desired ambiance.
Trying on Different Shoe Options for a Black Dress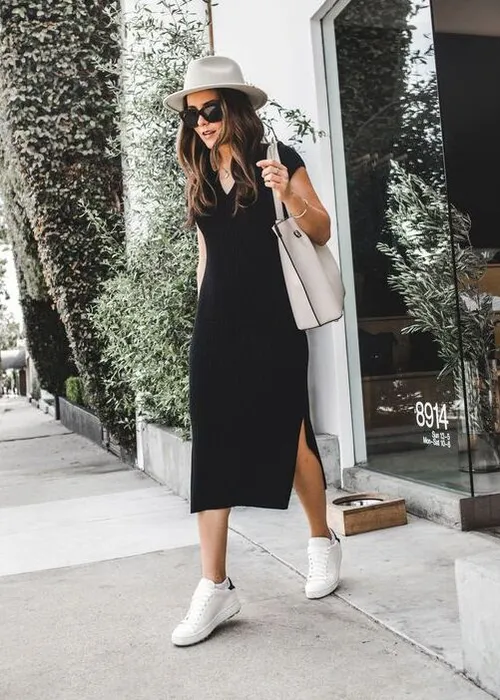 The shoes you choose with your black dress may determine the entire tone of your look, from stilettos and ankle boots to elegant sneakers. Choose attentively to ensure that they compliment your attire and are appropriate for the occasion. Consider the harmony between the dress and footwear when deciding how to style a black dress. The perfect pair may improve the elegance, comfort, and cohesion of your attire while accentuating your particular style and adjusting to diverse atmospheres and circumstances.
Layering Ideas for a Black Dress in Various Weather Conditions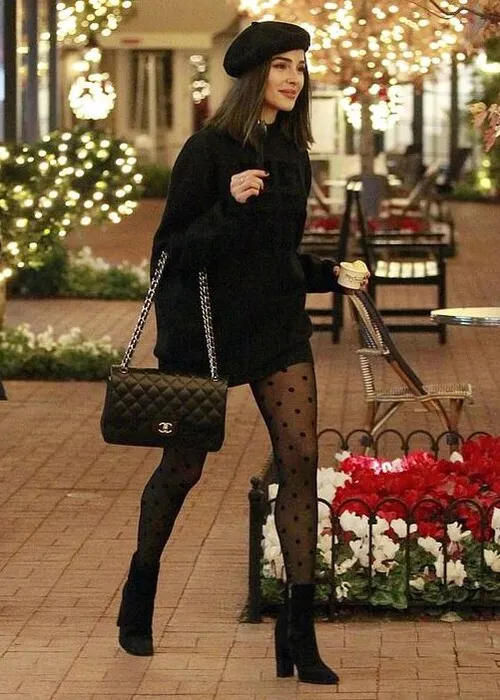 In colder weather, it's important to experiment with different layering alternatives. Weather-appropriate outfits may be created by pairing your black dress with tights and a warm cardigan. Understanding layering is critical when learning how to style a black dress. It not only gives comfort in different temperatures, but it also adds additional dimensions and adaptability to your style, making your black dress a year-round essential that can be worn in every season and temperature.
Jewelry Ideas for Accessorizing a Black Dress
When it comes to dressing in a black dress, jewelry is a delicate art. Choosing bold pieces that represent your individuality may make your ensemble the focal point, generating a 'wow' impression. To properly comprehend how to style a black dress, one must acknowledge the importance of jewelry. It may enhance elegance, inject character, and communicate your style narrative, transforming a plain black dress into a canvas for expressing originality and fashion sophistication.
Ideas for Hair and Makeup to Go With a Black Dress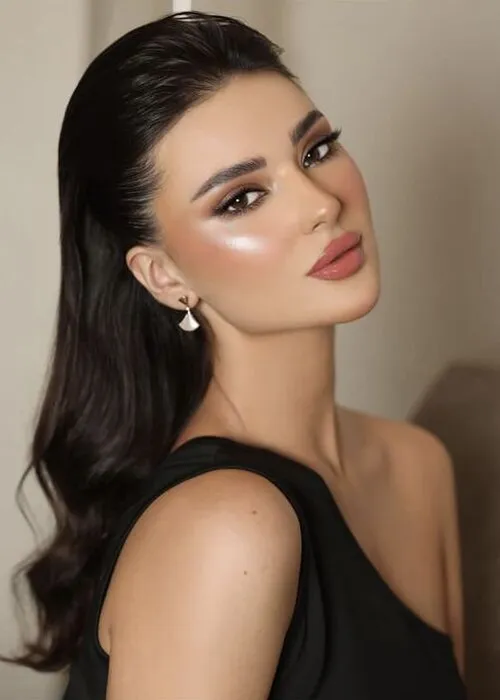 A black dress may be enhanced with complementary hair and makeup. Whether you choose a strong lip and a neat bun or neutral makeup and loose waves, the perfect cosmetics and hairstyle may make or break your entire image. Understanding how to style a black dress includes matching your makeup and hair, resulting in a unified and balanced image. When these aspects are in sync, they may increase the dress's visual appeal while also representing refinement and displaying your particular style.
Celebrities and Influencers Wearing Black Dresses for Inspiration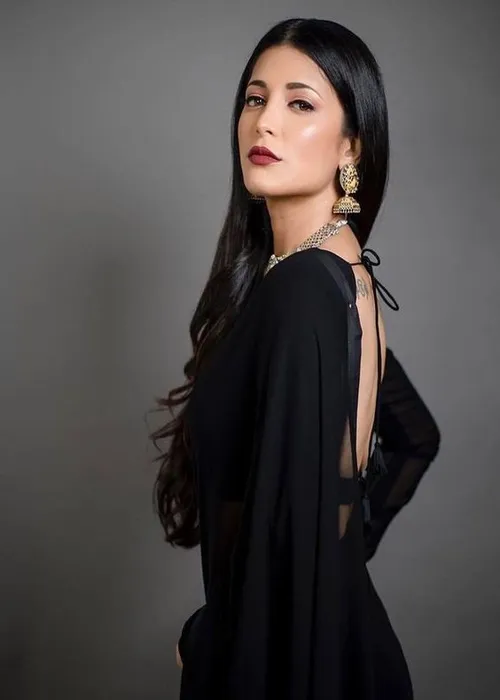 Celebrities and influencers are a goldmine of ideas on how to wear a black dress. Observing their accessories, footwear, and layering choices may give a plethora of styling ideas for creating beautiful and fashionable outfits. Exploring how to style a black dress entails gathering inspiration from fashion industry leaders, extracting components that resonate with your style, and incorporating them creatively to create ensembles that are both fashionable and individually authentic.
Keeping Your Black Dress in Good Condition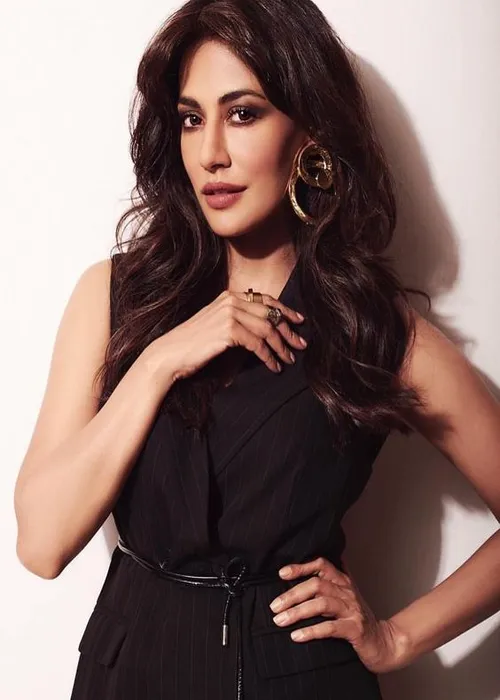 Proper maintenance is vital for extending the life of your black dress. Following care recommendations and storing your garment properly helps keep it looking new and fresh, ensuring its timeless elegance persists. Understanding how to style a black dress entails acknowledging its worth and protecting its quality. Regular, careful upkeep ensures that your black dress's beauty and adaptability will continue to show through, enriching your style repertoire for years to come.
Conclusion: A Black Dress's Timeless Elegance
Understanding how to style a black dress entails embracing its adaptability, playing with accessories, and adjusting to various events. A well-dressed black gown exudes uniqueness, sophistication, and timeless grace. So, take out your black dress and begin playing with the countless options it provides, making sure each style is a distinct representation of you. Learning how to style a black dress is an interesting adventure that allows you to explore and express many aspects of your personality and fashion sensibility.
FAQs on How To Style A Black Dress
1. How can I dress down a black dress?
For a comfortable style, pair with sneakers or flats, a relaxed blazer, and minimal accessories.
2. What accessories dress up a black gown for a formal occasion?
Choose bold jewelry, a stylish purse, and heels as your accessories.
3. Is it possible to style a black dress for summer?
Yes, for summer wear, match it with light accessories and shoes, and select a lightweight fabric.
4. How do you wear a black dress with layers in chilly weather?
Warmth and style may be achieved by wearing tights, cardigans, or jackets and acce ssorizing with scarves, gloves, and boots.
5. Do you have any hair and makeup suggestions to go with a black dress?
Hairstyles might be elegant buns or waves, and makeup can be dramatic lips or neutral tones with well-defined eyes.