Introduction
The scarf is a flexible and transformational item that can take even the most basic dress and convert it into a show-stopping ensemble. For years, fashion fans have been debating how to style a scarf. A scarf is your ideal sartorial ally, whether you're dressing up for an occasion, trying to remain warm, or simply adding a pop of color. Various civilizations throughout the world have adopted this ornament, making it an essential component of their fashion statement. Let's unpack the mystery and learn how to style a scarf for various events.
What is a scarf?
A scarf is a piece of fabric that is wrapped around one's neck, head, or other body parts. Its origins may be traced back to ancient civilizations, when it was utilized for hygiene, warmth, and, subsequently, fashion. Scarves have left their imprint on everything from the deserts of ancient Egypt to the haute couture runways of Paris. Given the accessory's versatility, the subject of how to style a scarf comes up frequently in modern times. It's more than simply a piece of cloth; it's a blank canvas on which to paint stories about locations, customs, and unique flair.
When to Wear Scarves
Scarves aren't just for the colder months. Their season is determined by the material and style they use. A delicate silk scarf with a hint of elegance is ideal for summer nights, while a bulky woolen scarf will be your closest friend during the winter months, providing both warmth and flair. There is a scarf for every event, casual outing, and everyday use. Understanding how to style a scarf might be the difference between a decent and a fantastic look. It might improve your look and give you a new perspective on old clothes. Accept the art of style and allow this traditional item to enhance your appeal.
7 Ways to Wear a Scarf
The Basic Drape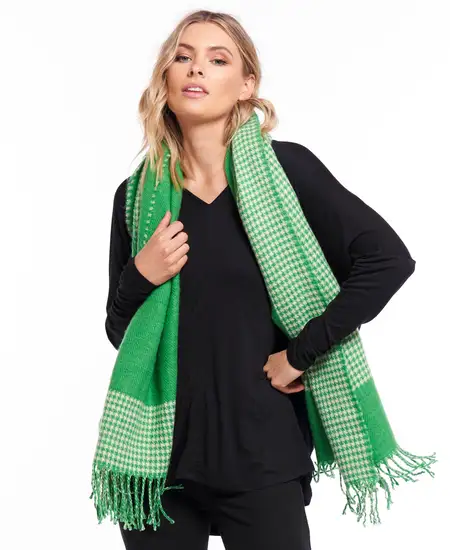 Wrap the scarf around your shoulders. It's straightforward, sleek, and effortless. The simplicity of this style makes it a go-to for individuals looking for a quick fashion fix. The Basic Drape stands out when considering how to style a scarf without making a fuss. It's great for emphasizing your scarf's patterns, colors, and textures. This strategy may match practically any dress, whether you're going to a formal event or a casual get-together. It might improve your entire look when paired with a spectacular necklace or earrings. Remember that little is sometimes more.
The Once Around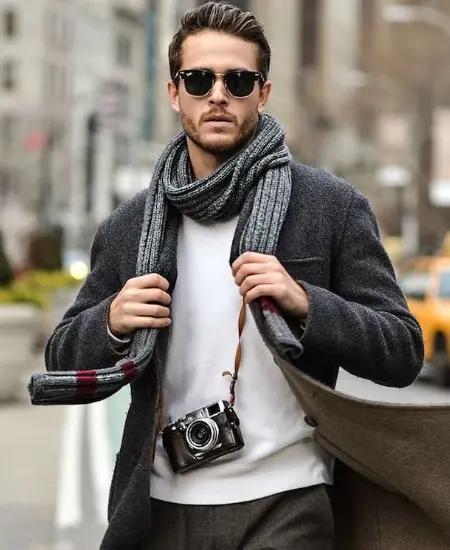 Drape it over your neck, wrapping one end once. It's both casual and stylish. The Once Around has a laid-back ambiance that is ideal for day trips or a relaxing evening. While it may appear simple, understanding how to style a scarf in this manner may add a trendy touch to your outfit. It looks great with medium-length scarves and may be worn with casual or semi-formal attire. When the weather drops, this look not only adds style but also provides much-needed warmth. Combine it with a trench coat or a basic shirt to make a stylish statement.
The Parisian Scarf Knot
Wrap your scarf around your neck and draw the loose ends through the loop. You've become French! The Parisian Scarf Knot is an homage to traditional French elegance and is known across the world for its elegant appeal. If you've ever wondered how to style a scarf for a European look, this is the guide for you. This knot, which is best suited for longer scarves, may transform a simple ensemble into something stylish. This look conveys your fashion savvy, whether you're enjoying coffee at a café or attending an art gallery opening. With the addition of sunglasses and a beret, you've caught the spirit of Parisian flair.
The Fake Knot
Make a loop on one end, then wrap and tuck the other end in. It's a knot, but not quite! The beauty of the false knot comes in its deceptive simplicity, giving the impression that you've spent hours painstakingly tying your scarf when it's actually a breeze. This is your go-to way to style a scarf for an elite event without it seeming too casual. This look is especially flattering on softer fabrics that flow beautifully. Wear it with a structured jacket or a cocktail dress to radiate subtle sophistication.
The Basic Loop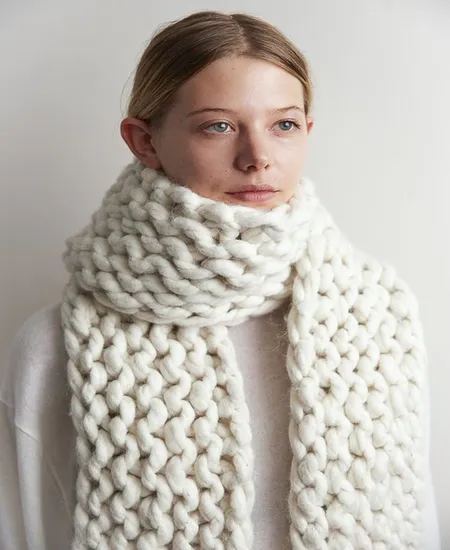 Wrap the scarf twice, then draw the ends through the loop. This is one of the most traditional approaches to the age-old topic of how to style a scarf. It's adaptable and appropriate for almost any event, from a brunch with friends to a stroll around the park. The Basic Loop strikes a perfect blend of elegance and comfort, especially on cold days. You may vary the tightness of the loop around your neck, depending on the length of the scarf. This approach emphasizes the neck region when matched with thick sweaters or a basic top, giving a sense of refinement to your attire.
The Neck-Tie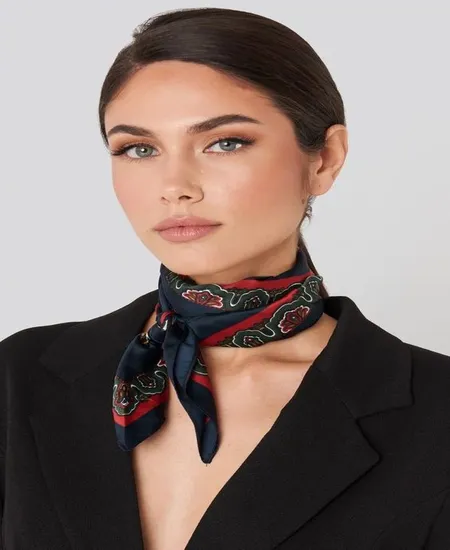 Consider tying your shoelaces; this is the scarf equivalent. And, for the Loop with Neck-Tie, just add a simple loop before the neck-tie! With a delightful twist, this lively and young approach to how to style a scarf is reminiscent of classic necktie approaches. The neck tie is ideal for scarves with brilliant colors or complicated patterns, as it highlights the design while providing a unique style statement. Whether you're going to a creative studio or a weekend vacation, this look gives a unique twist to your ensemble.
The Pretzel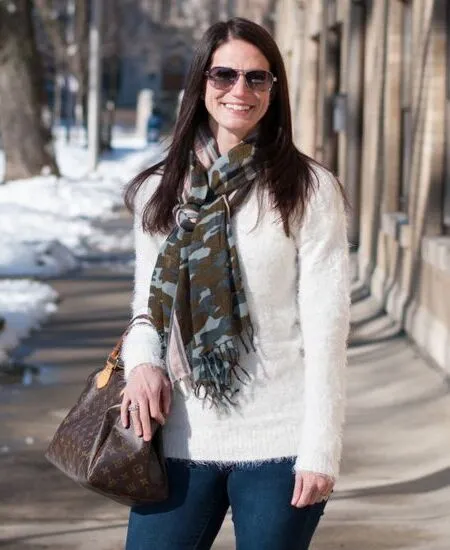 Twist the scarf twice around your neck and knot the ends together. A comfy option! With its numerous wraps and complicated knot, the pretzel approach keeps you warm while appearing stylish. The pretzel should be on your list when learning how to style a scarf throughout the colder seasons. This method's layers provide extra warmth, making it perfect for woolen or heavier scarves. The Pretzel is more than simply functional; it also looks stylish and goes nicely with overcoats, cardigans, and even dresses. Step out in elegance while keeping warm with this snug method.
Additional Unique Styles to Try Out
The Toss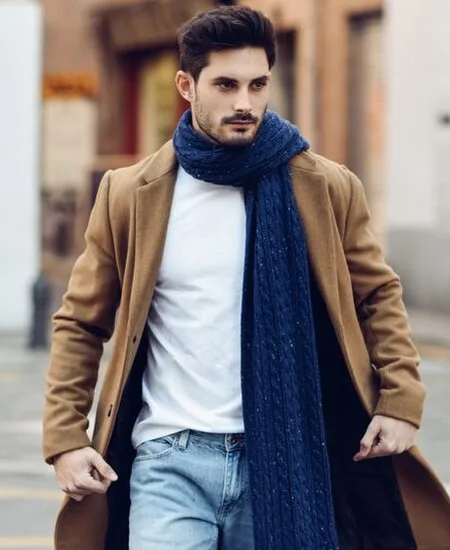 This laid-back yet trendy look is ideal for informal occasions. The toss is unavoidable when considering how to style a scarf effortlessly. By just hanging the scarf over one shoulder, you can get a relaxed, boho look that's perfect for weekend trips or coffee dates. What's amazing about this look is that it emphasizes the pattern of the scarf. You may modify the throw to your liking according to the length and breadth of the scarf. It may change a daily appearance into something sophisticated and unique when paired with jeans and a basic tee.
The Belted Drape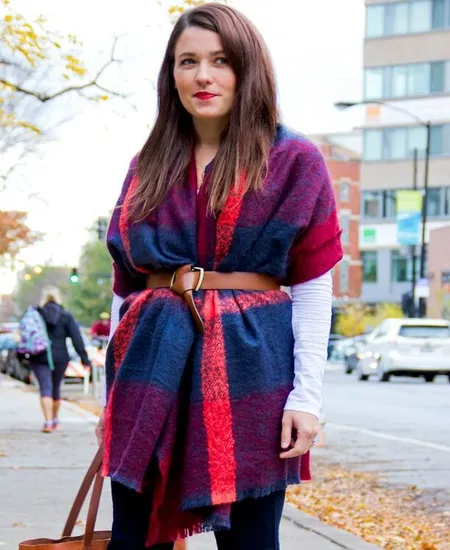 Using a belt to attach a scarf gives a sophisticated touch and is popular among individuals who enjoy accessorizing. The Belted Drape is the answer for those who want to know how to style a scarf in a structured and beautiful way. It creates a dress-like effect by cinching the scarf around the waist or just below the breast with a belt, giving depth and layers to the ensemble. This approach is ideal for longer, flowing scarves. It may be worn with both casual and formal outfits, making it an excellent choice for a variety of situations.
The Neckerchief
The distinction between a neckerchief and a bandana-style is crucial, as both have historical and cultural significance and can vary in style and usage. Delving into how to style a scarf as a neckerchief, it's worn closely around the neck, often with a square scarf folded diagonally. The bandana style, on the other hand, has its roots in the American West and can be worn more loosely. Both styles have seen a resurgence in recent fashion trends. They add a touch of retro charm to outfits and are perfect for adding color and pattern without overwhelming the ensemble.
The Faux Infinity and Faux Infinity Scarf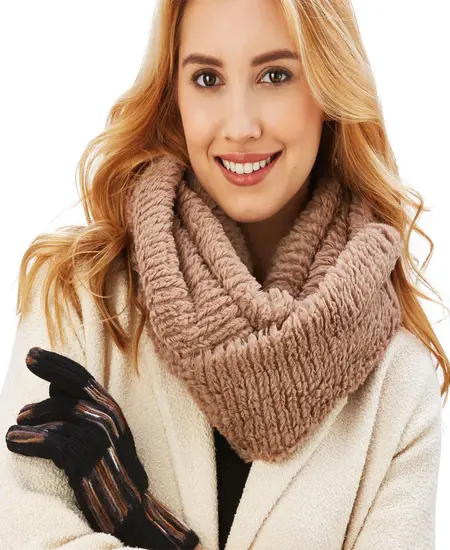 These variations have the appearance of an infinity scarf but lack the loop, making them adaptable and stylish. The Faux Infinity Ways stand out when it comes to how to style a scarf with a modern touch. You may create the illusion of an infinity scarf by tying the ends of a standard scarf together and putting it around your neck. This technique is ideal for folks who want the infinity effect but want the freedom to use scarves they already own. It's a clever approach to updating your scarf collection and giving it a new, modern look.
The Head Scarf and Headwrap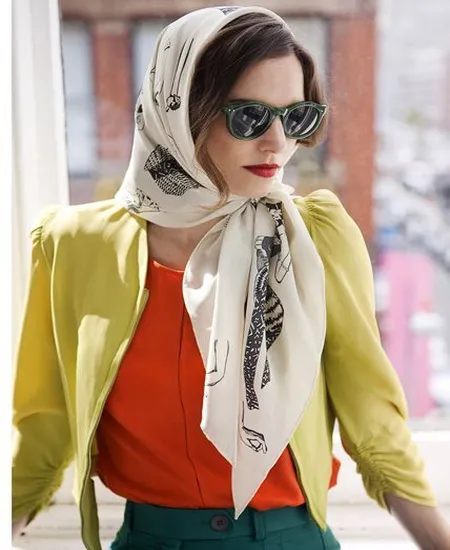 Scarf styling on the head is a tradition prevalent in many cultures that is both utilitarian and stylish. When it comes to how to style a scarf on the head, inspiration may be found in historical figures as well as modern-day fashion celebrities. The head scarf can be used to protect one's hair, to express cultural or religious values, or simply to make a fashion statement. The headwrap, on the other hand, frequently covers more of the hair and can be arranged in elaborate folds and knots. Both ways demonstrate scarves' versatility, allowing for displays of individuality, protection, and elegance all at the same time.
The Wrap and The Wrap Without Tails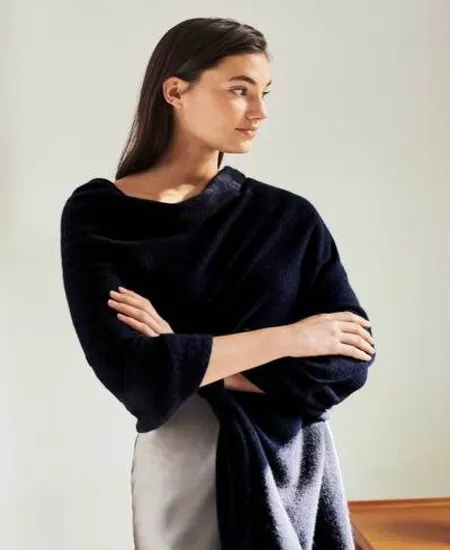 These designs are perfect for chilly evenings and are a staple in many closets. In order to learn how to style a scarf as a wrap, you must wrap it around your shoulders like a shawl. It may be worn freely or with a pin for a more structured appearance. With the scarf ends tucked away or wrapped around, the Wrap Without Tails creates a slimmer appearance, adding refinement to evening attire. Both versions are ideal for moving from a day at the office to a night out, offering warmth while adding a touch of refinement to the outfit.
Braided
This design is distinctive and can make a strong statement, making it popular among individuals who want to stand out. When it comes to how to style a scarf with a twist, the braided method provides a complicated yet approachable appearance. The scarf is braided like hair, adding texture and complexity to the ensemble. This strategy, which works best with longer scarves, elevates a modest item into a major point of the ensemble. The braided scarf may bring a flash of color and a touch of creativity to a monotone ensemble.
Shrug and Shawl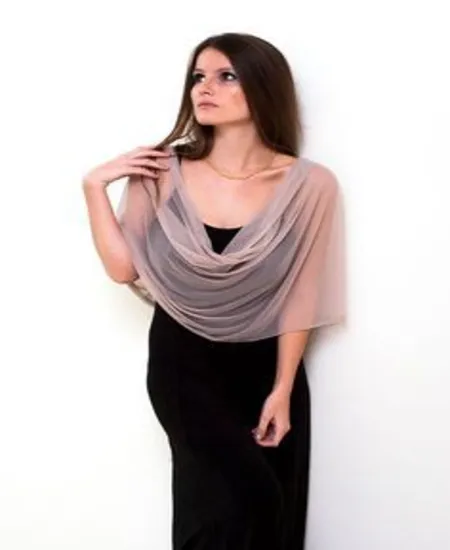 These fashions are not only fashionable but also utilitarian, giving warmth and layers to an outfit. The versatility of a scarf becomes clear when one learns how to style a scarf as a shrug or shawl. The shrug, worn over the shoulders, serves as a bridge between a cardigan and a scarf on somewhat chilly days. The shawl, on the other hand, is more lavishly draped over the body, making it suitable for cooler weather or formal events. Both types may lend a casual layer to an ensemble or make a dazzling statement at a gala occasion.
Headband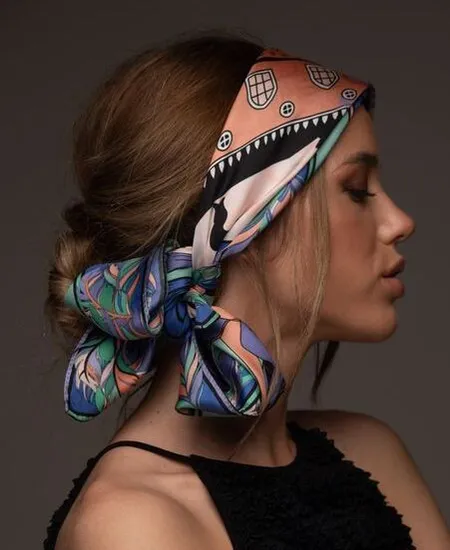 A stylish way to keep your hair in place while still looking fashionable When considering how to wear a fashion scarf in ways other than its traditional purpose, converting it into a headband provides both usefulness and flare. This approach is very useful on "bad hair days" or when you want to get a boho-chic look. Taking a slim scarf and folding it until it reaches the required width, wrapping it around the head, and knotting it beneath or on top of the hair for extra design It's a fantastic technique to recycle colorful scarves, filling your haircut with personality and vibrancy.
The Funnel Neck Scarf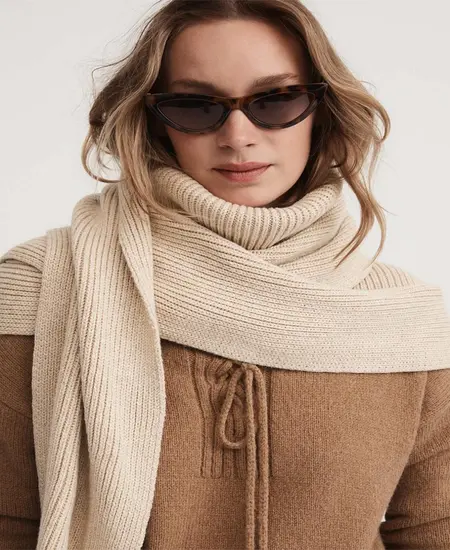 A fashionable and warm style, especially during the colder months. The funnel neck method is essential for learning how to wear a fashion scarf for maximum warmth. Wrapping the scarf around the neck several times provides a tight, "funnel-like" look. This not only keeps the chilly winds at bay, but it also provides a sophisticated, layered style that looks great with winter jackets and sweaters. To accomplish this warm wrap-around look, select a scarf with plenty of length. It's the right combination of functionality and modern style, keeping you both warm and fashionable.
Conclusion : How to Style a Scarf
Finally, knowing how to wear a fashion scarf is about more than simply accessorizing; it's about self-expression and creativity. Scarves, from the traditional drape to the complicated braided knot, provide limitless ways to up your fashion game. Scarves are more than simply pieces of cloth; they're adaptable canvases on which you may paint your personal style narrative. Scarves are your faithful friends, whether you want to remain warm in the winter, make a fashion statement, or add a burst of color to your ensemble. So, embrace the art of scarf style, try out new ways, and let your personality shine through your choice of knots, drapes, and wraps.
POPULAR SEARCHES
Ethnic Wear Brands in India | Types of Tops | Top Handbag Brands in India | Types of Skirts | Types of Jewellery | Luxury Fashion Brands in India | Bridal Lehenga Trends | Womens Ethnic Wear Tips | Ethnic Wear Ideas | Best Anarkali Suit | Types of Lehenga Choli | Different Kurta Style | Yoga Outfits for Women | Summer Outfit Ideas | Organic Makeup Brands in India | Perfect Makeup Products | Skin Care Tips for Monsoon | Types of Makeup Brushes | How To Choose Cosmetics | Variety of Dupatta | Latest Fashion Trends for Women | Types of Jackets for Women | Banarasi Saree Types | How to Style a Black Dress
FAQs for How to Style a Scarf
1. How can I learn how to style a scarf like a pro?
Begin with simple instructions and progressively experiment with different knots and drapes to learn the skill of how to style a scarf like a fashion expert. Perfect practice makes perfect!
2. What is the simplest method to wear a scarf in a casual setting?
Choose the "toss" option for a more casual look. It's easy to do and quickly adds a trendy touch to your clothing.
3. Are there certain scarf types that are appropriate for winter fashion?
Yes, various scarf types are ideal for winter use. The "Funnel Neck Scarf" is a fashionable option that not only keeps you warm but also adds a stylish layer to your winter wardrobe.
4. Can I use scarves as headbands, and if so, how?
Absolutely! Choose a narrow scarf, fold it to the necessary width, and wrap it around your head to make a headband. Put it beneath your hair for a utilitarian but stylish look.
5. What is a one-of-a-kind technique to make a dramatic statement with a scarf?
Try the "braided" scarf style if you want to make a statement. It's one-of-a-kind, eye-catching, and guaranteed to turn heads with its detailed and creative design.