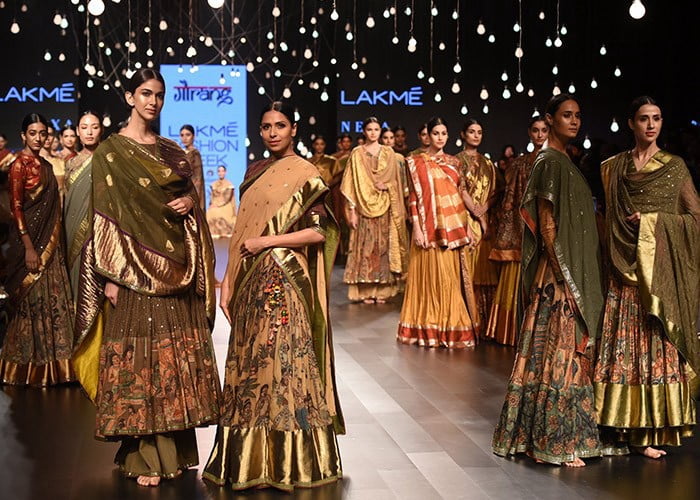 Welcome to the magical world of Indian ethnic wear, which features some hidden gems in the form of beautiful and elegant attire. You can find garments made of luxurious fabrics with colourful handwork and gorgeous silhouettes. If you're heading to a cocktail party, a delicate embroidered net saree is a definite head-turner. However, you could also flaunt a slimming anarkali. For college or everyday wear, few things beat kurtas and salwars. Then again, you could opt for churidar suits or flowing Afghani salwars that can even be given a contemporary touch with tank tops and gladiators. With all these choices, shopping for what looks good on you and what you feel confident in is quite a task. The solution? Peruse our fashion guide to uncover the secrets of how to buy ethnic wear for a satisfying shopping experience!
Sarees
Five to nine yards of sheer elegance, sarees are noted for their graceful style and feminine appeal. Traditionally, they're worn with figure-hugging cholis that create a pretty contrast with long, flowing saree hemlines. There are plenty of designs to choose from and what we suggest is having a few simple choices for casual wear and a few dressy options for special occasions. Banarasi and Kancheepuram sarees are our top picks for weddings, anniversary celebrations, and the like. They're well-known for their intricate gold and silver brocade or zari work as well as beautiful embroidery. They're expensive too so it's impractical to buy them for everyday wear. However, fabrics like cotton and tissue are cheaper and more durable, which makes women's ethnic clothing ideal for regular wear.
Colours That Complement Your Complexion
Sarees that don't flatter your complexion will only leave you feeling less than confident. Colours matter so pick wisely! Teal, purple, true red, and pale pink suit most skin tones. If you're fair, we recommend going for sarees in cream, golden brown, shades of green, and yellow—anything that adds warm tones. Summer colours like bright yellow, blue, red, white, and pastels look fabulous on wheatish skin tones. Women with olive complexions can easily pull off green, maroon, golden yellow, warm brown, and subtle colours like ivory, cream, and beige.
Sarees for Different Body Types
Always in vogue, sarees are designed to flatter any body type. You just need to choose the right fabric so that it accentuates what you want highlighted and plays down the rest. To create an illusion of curves, we suggest opting for cotton, tussar silk, and tissue, anything that's a little stiff and tends to hold its shape. Georgette and chiffon, which are very lightweight and sheer, are terrific choices for curvy women.
Lehenga Cholis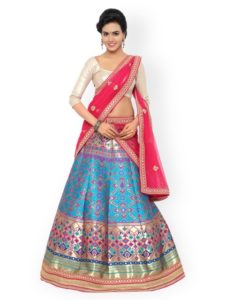 When it comes to ethnic wear with flair, lehenga cholis top the list of stylish ensembles that always stand out. With the proper cut, they can hug the body in all the right places. Fishtail or mermaid-style lehengas that flare out at the bottom look fabulous on hourglass shapes or on women looking to add curves. You can balance a heavy top with a lehenga that's heavily brocaded and embellished or choose an elaborate choli to balance a heavier bottom. For a slimming effect, nothing beats straight-cut lehengas as well as panelled lehengas that give the illusion of height. A-line lehengas are a third option and are a favourite among many. If you're tall, you can pull off circle lehengas flawlessly. They flare out from the waist to lend a very flirty, feminine vibe.
Like sarees, lehenga cholis feature numerous types and styles of ornamentation. Worn by members of the nobility in court during the Mughal era, they continue to captivate and fascinate others with their stunning handwork. Lehengas are incredibly dressy. They look out of place when worn as everyday wear or on casual occasions so set them aside for special events, festivals, and grand celebrations. We love designs featuring plenty of gold and silver threadwork, embellishments using semi-precious stones, and intricate embroidery. All this finery can cost a pretty sum so remember to choose well before you buy ethnic wear.
Salwar Suits
Indian ethnic wear has a very rich history and salwar suits, having origins in Punjab and Pakistan, have made a big impact on fashion. Today, they've become wardrobe staples for many looking to don fuss-free, comfortable outfits that are affordable and stylish. You can also find very dressy designs to see you through special occasions. They can feature beadwork, mirror work, gorgeous threadwork, and lovely cuts.
Afghani Salwar Suit
The Afghani style salwar suit is perfect for festive events with its short flared kameez and baggy salwar. Taller women would look wonderful in them. If you love this style and want to show it off as casual wear, stick to single or two-tone colours with not too much embroidery and embellishments.
Parallel Salwar Suit
The parallel salwar suit is another style and one that features contemporary elements. Unlike the traditional loose-fit salwar, it features a parallel cut that lends a sleek touch. We love it on women with larger frames as it's incredibly slimming. For a celebration, you can show off a suit with a sweeping, heavily ornamented kameez featuring long slits. Play it up with dangling earrings and toe rings for even more bling. If you plan to make one part of your everyday wardrobe, opt for a shorter kameez with prints, embroidery, and a touch of mirror work. It can be jazzed up with bags and jewellery.
Sharara Salwar Suit
Sharara salwar suits can be very dressy, mainly because of the eye-catching cut of the salwar. It flares from the knee down, similar to bell-bottom pants. The short, fitted kameez only adds to the allure. We love this style in bold colours like fuchsia, yellow, tangerine, red, and green. Contrast colours are also a hit as are multi-coloured choices. Add these eye-catching styles to your wardrobe if you have the height for the flared bottoms.
Fashion changes with the passage of time but Indian ethnic wear remains timeless. It's steeped in culture and celebrates the trends of days gone by. Sarees, with their ability to lend effortless grace, and lehenga cholis, which infuse a playful appeal into outfits, provide many wonderful choices to choose from. Expanding your wardrobe with gorgeous creations such as women's red kurtas, white kurta and elegant salwar suits will leave you eager to flaunt them on different occasions. The list of cuts, fits, and designs only adds to your choices. You can work them even more with jhumkis, anklets, bangles, and hair accessories. Find the right footwear and you're all set to shine! Browse our store for some of the best ethnic wear you'll find online. The plethora of options makes choosing what flatters you so easy. Buy ethnic wear and discover the magic of traditional Indian fashion. It'll take your breath away!