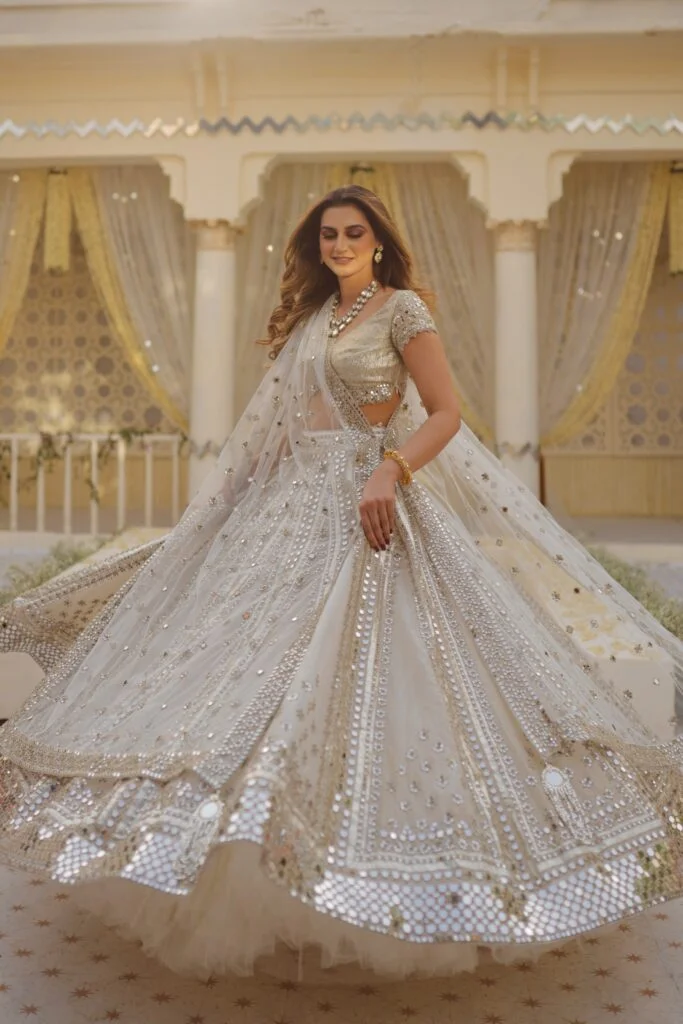 Lehenga Choli Styles
Complete your collection of ethnic wear with beautiful lehenga cholis. Lehenga cholis feature a flowing skirt and a fitted choli with a dupatta as an added layer. Timeless and graceful, they instantly put you under the spotlight. Find distinctive designs that can't be missed from a range of styles that are right for you. If you're looking to buy lehenga cholis, here are the top picks to consider.
Mermaid Lehenga Cholis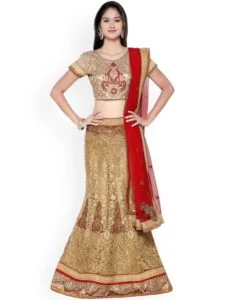 Women's lehenga cholis cut in the mermaid style feature a fitted skirt that flares out from the mid-thigh. It's a very elegant design and flatters most figures as it accentuates curves while adding height. Balancing the dramatic cut with an equally stylish choli can add to the overall look. We recommend a backless design with noodle straps or one with cap sleeves and an attractive cut-out back. You can also opt for sleeveless jackets to wear over the choli. This provides an even dressier touch and looks best when worn on special occasions like weddings. You can add to the feminine appeal with a dupatta loosely draped around the shoulders. Irrespective of your figure, pay special attention to the fit of the outfit. It should fit snugly and hug the curves. Wear it with embellished high-heel sandals and accessorise with gold jewellery.
Circular Lehenga Cholis

Remember, the mermaid cut has a type of fit-and-flare design; circular lehengas, on the other hand, flare out from the waist. This creates a dramatic effect that's feminine and youthful. With most of the emphasis put on the skirt, it's best to buy lehenga cholis with plenty of colour that can be accentuated with every movement. You can balance the bottom with a fitted puff-sleeve choli to maintain the girly appeal. Drape a dupatta over one shoulder or go without it. Long hair fashioned into a braid, drop earrings, and embroidered sandals are the perfect finishing touches. Women with short hair can pin it back and add flowers to play up the striking look. Circular lehengas are among the oldest designs and suit both girls and women. While they can be worn by anyone, they look fabulous on tall women with leaner builds.
Straight-Cut Lehenga Cholis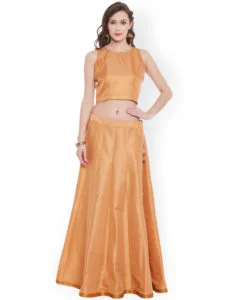 The straight-cut is a flattering design that suits any figure. Whether you're petite, tall, athletic, or curvy, the gentle silhouette adds height and even curves. To accentuate the clever design, choose a choli that flatters the torso. Women with beautiful, broad shoulders can opt for a notched neckline and a longer length to create a good balance between top and bottom. Cap sleeves or sleeveless designs with a keyhole detail can add more to the look. Straight-cut lehengas have so much going for them, but a dupatta can add even more style. For more coverage, bring one end of the dupatta toward the front and let it fall into a 'V' shape. The other end can be secured to the skirt to create a pleated effect.
Play up straight-cut lehengas even more with stone-encrusted bracelets and chandelier earrings. Slip-on heels with embroidery and a box clutch will provide the final touches to this amazing style.
Panelled Lehenga Cholis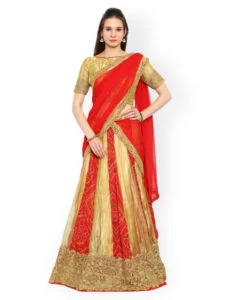 More of a design than a cut, panelled lehenga cholis, nevertheless, deserve mention for their ability to provide the illusion of more height with long panelled designs. You can buy lehenga cholis with panels in various colours or go for colour-blocked options. We recommend heavily patterned and embroidered cholis and simpler lehengas that highlight the panelled structure. The skirts' borders should ideally contain most of the ornamentation. To maintain the refined cut of the lehenga, choose a collared choli with an open back. You can also add a long fitted jacket to make it appropriate for office parties. Pair these stylish lehenga cholis with sling-back heels and braided hair wrapped into a chignon. Let jewellery accentuate the striking design. We suggest long drop earrings, dainty bracelets, and a statement ring.
Panelled lehengas look amazing when worn by women who know how to flaunt a few more inches added to their frame. The combination of a straight-cut and an A-line means the style suits various figures too. You can add to the look with a dupatta draped in a half sari and a neat topknot.
Panelled Lehenga Cholis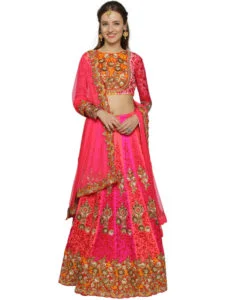 A-line lehengas are one of the most popular styles for their figure-flattering cut. They gently flare out from the waist to create the illusion of height and lend a slimming effect. If you want to buy lehenga cholis that remove inches from the hips, this is the one to choose. The sleek fit can be maintained with equally sleek cholis or you can play it up with cholis featuring three-quarter sleeves and scalloped hems. The appealing design of this style makes it ideal for bridal lehenga cholis too. We love them in rich colours featuring net overlays, beadwork, and sequins. Zari work also adds to the stunning look. Loop one end of the dupatta around your wrist and leave the other end hanging over one shoulder. This ensures the cut and ornamentation are visible while giving a girly edge to the outfit.
As with straight-cuts, A-line lehengas can be worn by anyone. You can personalise them by focusing on your overall look, which includes the hairstyle and jewellery you choose. Wearing pointed-toe heels with embellishments or metallic finishes is a great idea.
Types of Cholis
Like lehengas, there are different types of cholis. There's the strapless design that's sexy and eye-catching and the bra blouse that's skimpier than a traditional choli. There's also the jacket style choli, which is usually worn over a normal choli as a stylish layer. The open-back design is hugely popular whether it features long sleeves or short sleeves. Finally, there's the collared design that lends a smart and refined touch, perfect for formal occasions. Which one you should choose depends on the lehenga and how you want to wear it. As for the dupatta, it can be used to highlight certain aspects of the outfit or play it down. It can even be a focal point when worn with the various draping styles mentioned here.
Lehenga cholis are some of the best ethnic wear because they are feminine and stylish. Fine ornamentation and beautiful colours are combined to create stunning outfits that are ideal for dressy occasions. Find designs you love and buy lehenga cholis to flaunt at an upcoming event.