Nowadays, with the fashion trend charts getting updated every other week with new and exciting drifts, it becomes imperative for us ladies to be updated with the latest fashion trends for women to be at the top of our fashion game. And if you feel like you lack a bit of info in the field, worry not! Just keep scrolling for a walkthrough of all the latest women's fashion trends.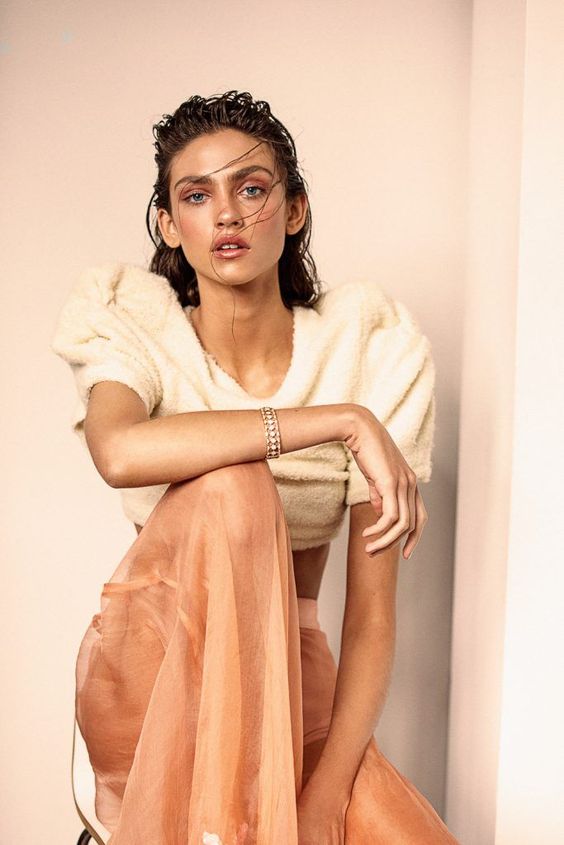 Top Latest Fashion Trends
1. Puffed Sleeves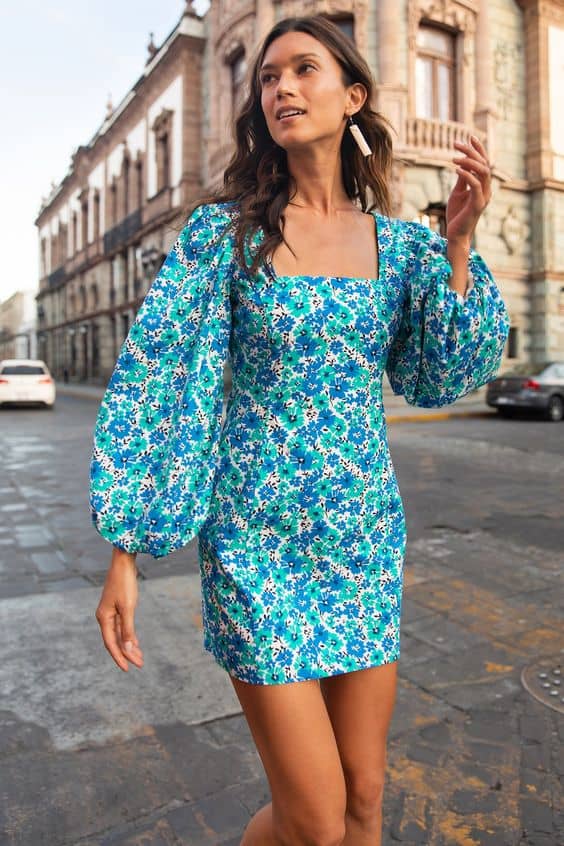 2021 seems to be the year for the revival of old fads. The trend of elaborate, fluffy sleeves that emerged back in the renaissance age appears to be back with a bang! Be it a pullover, an off-shoulder top, a maxi dress or a simple shirt, the addition of these elegant, ballooned sleeves will add an extra oomph that will surely drop jaws.
Also Read: Different Types of Tops for Women
2. Denim-on-Denim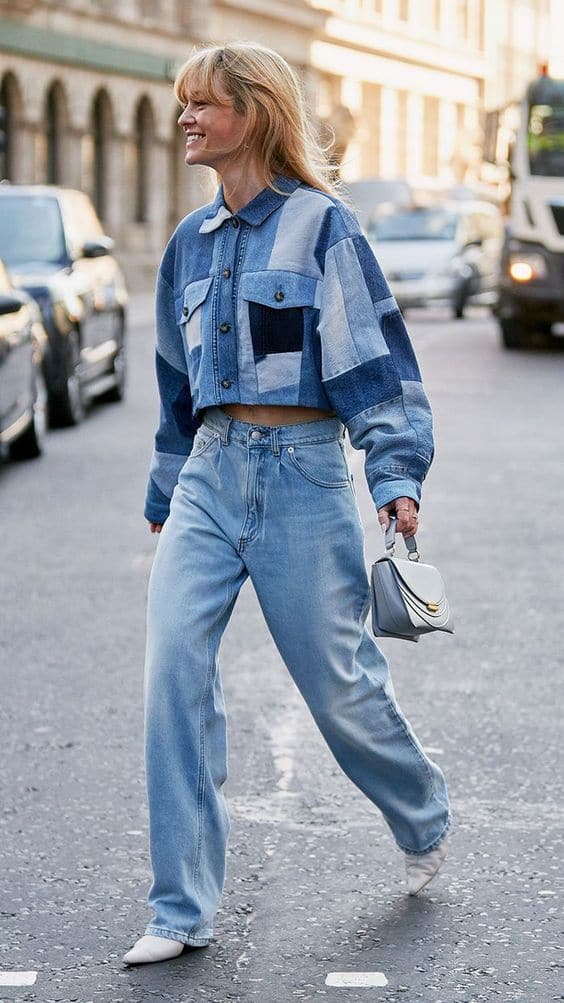 When in need of something comfortable and stylish, we turn to denim. The out of the box denim-on-denim trend breaks all barriers of conventional style and simultaneously ensures you get double the amount of coziness along with a playful, monochromatic, and dapper vibe!
3. Shades of pink
Crimson, pastel, Fuschia, magenta, rose, bubblegum, and an endless list of shades that none of us can ever get tired of. The versatility, innate elegance, and liveliness of pink colored clothing make them a must-have in your wardrobe
4. Oversized Bomber jackets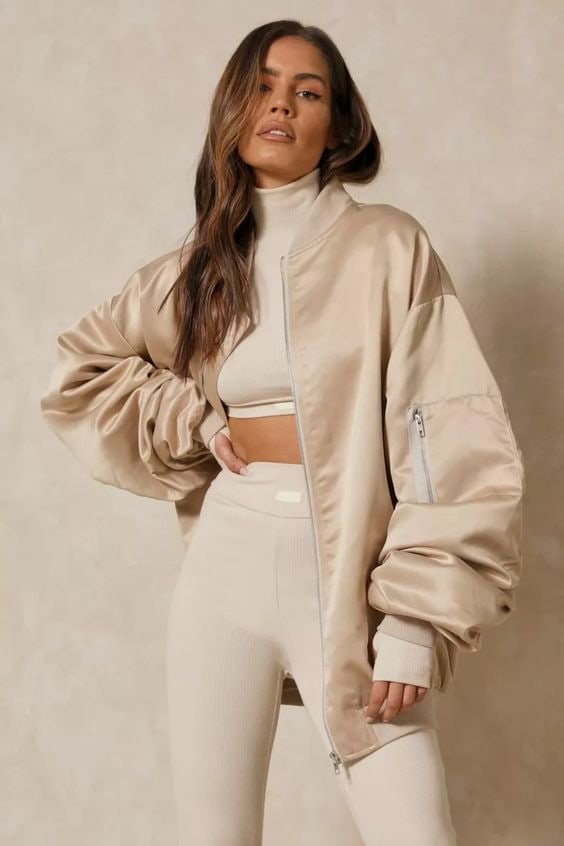 Oversized bomber jackets have come a long way from being worn in the cockpit to being one of the most liked latest fashion trends for women. Regardless of what you pair these timeless pieces with, they instantly elevate the entire look and add the much-loved model-off-duty vibe!
Also Read: Diwali Outfits for Women
5. Cropped Cardigans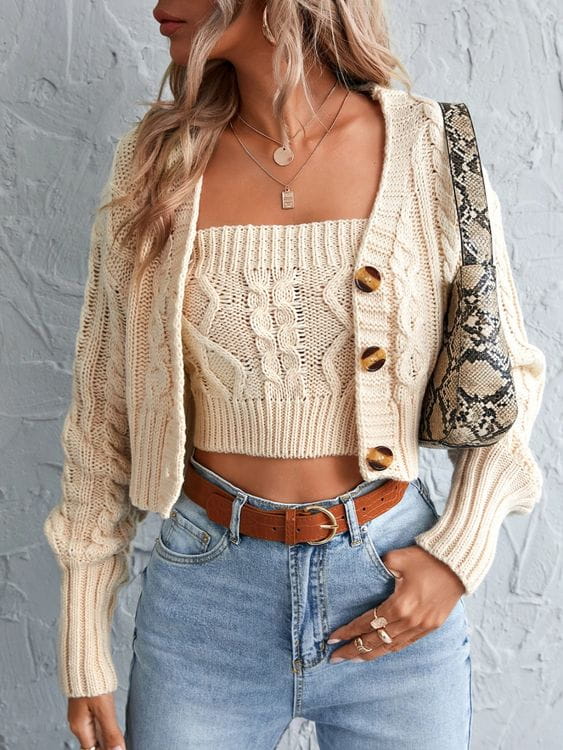 While long cardigans that fell past the waist were all the craze in the early 2000s, the cropped silhouette has managed to take over completely. Knitted in the most intricate patterns and designs, in the softest of yarns, cropped cardigans are comfy, classy, here to stay. Furthermore, these make for a beautiful addition to a modern woman's wardrobe!
6. Boiler Suits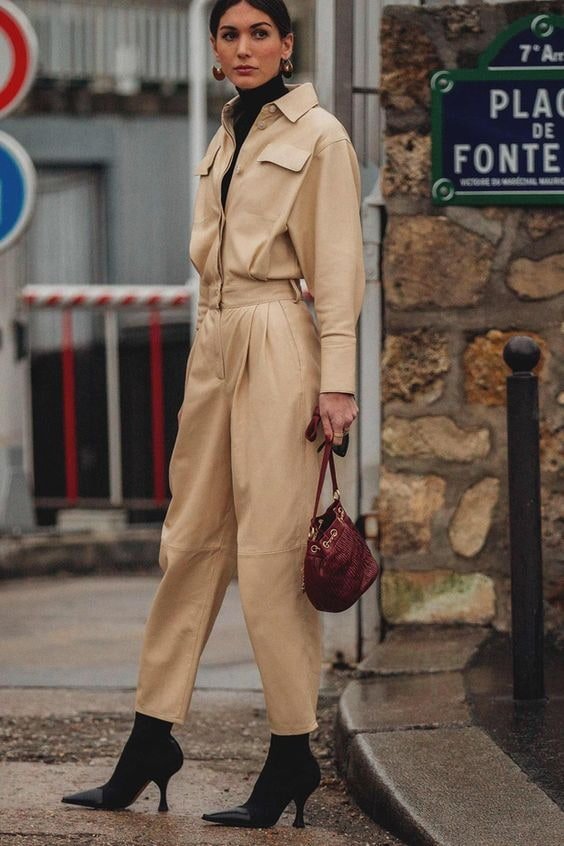 Originally designed to be worn as work garments for miners and pilots, these overalls or boiler suits have since evolved into much more glamorous pieces. The cool-girl vibe of the smart collars, accentuating waistlines, and airy, semi-loose leg fittings are enough to give the wearer and admirers an adrenaline rush!
Also Read: Office Looks for Women
7. Bohemian Florals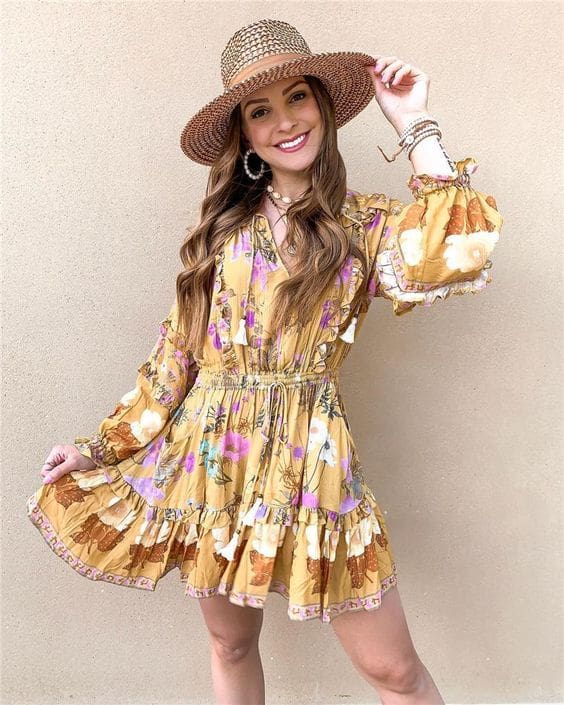 The easy-to-pull-off, refreshing prints of delicate tendrils, buds in the bloom, vibrant flowers, and tiny leaves have passed the test of time yet again to emerge as a modern woman's favorite. No matter what they are on, a dress, a top, a saree, or a shrug, the ageless allure of it is just simply too hard to resist!
8. Color Clashing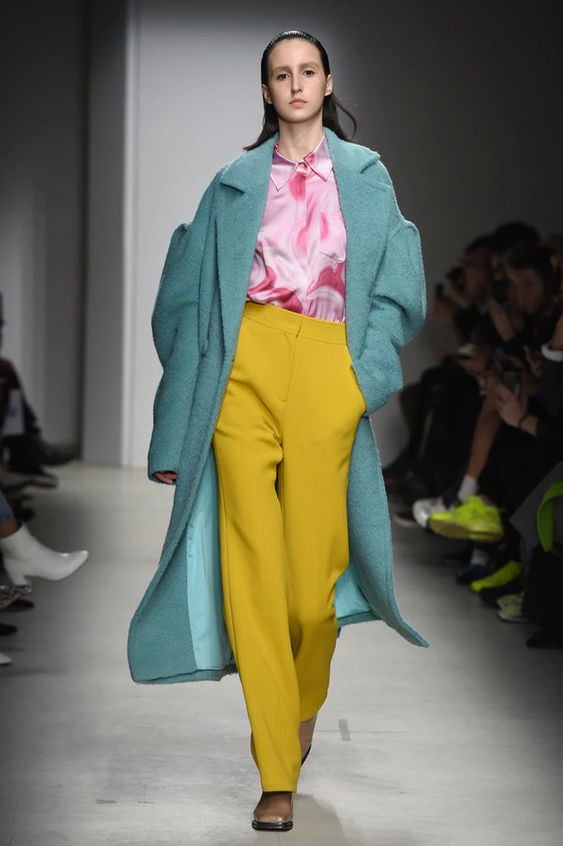 The latest fashion trends for women have been all about redefining standards, making room for innovation and artistry among the sea of rules of rights and wrongs. And this trend is proof of that. The clashing color palette will inspire you to pick out random colors from the wheel; it doesn't matter a bit if they 'clash' and allow your creativity to go wild!
9. Pastels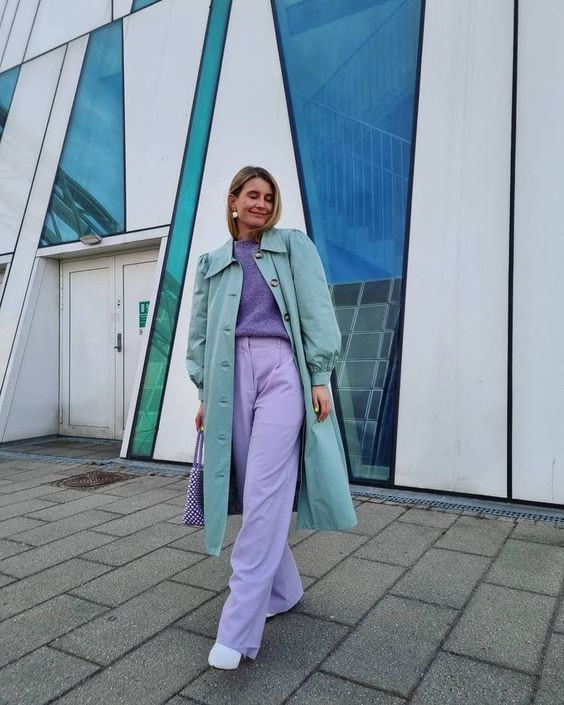 After decades and decades of playing with brighter shades of colours, 2019 brought with it a trend that is both minimal yet impactful. Calming, pleasing hues like baby blue, salmon pink, and mint will allow a respite from the bustling reds, yellows and blues and also add a dash of sophistication to one's outfits.
10. Trek-Sole Boots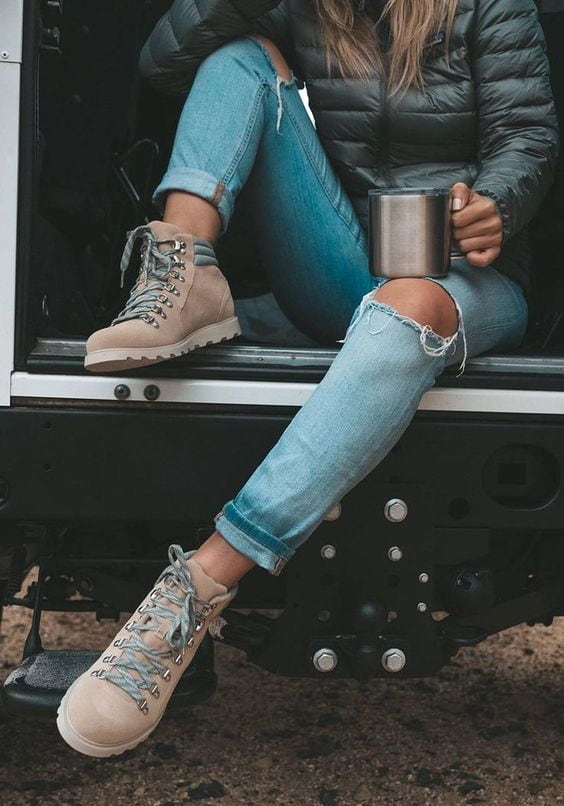 Having been in the men's fashion trends for the longest time, these chunky and oh-so-comfortable trek sole boots have acquired a firm place on the list of latest fashion trends for women. Multi-functional, laid-back yet statement-makers, these boots in attractive textures will stun, astonish and amaze every person that sets eyes on them!
11. Maxi Dresses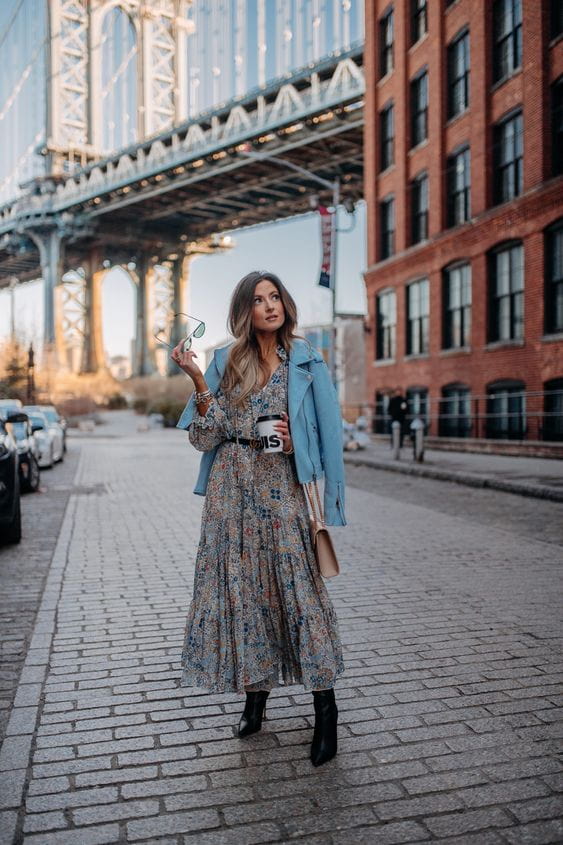 Flowy, summery, airy, cozy and highly bewitching, maxi dresses have always taken the cake for being the most preferred ensemble in the history of women's fashion. Make sure to stock up on different types of these to jazz up your wardrobe, and their versatility will never let you run out of unique outfit ideas.
12. Belted Dresses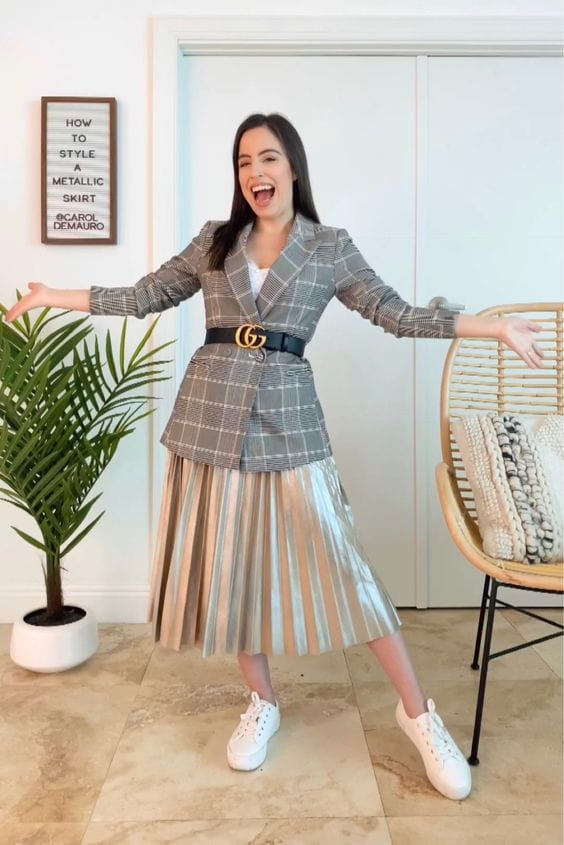 Dresses with belts highlighting your midsection, allowing the excess fabric to flare out in a skirt-like fashion, are a magnificent sight to behold. These trendy and sassy clothing items are the right mix of comfort and style that can be worn to a beach party, a night out, a casual outing or even a family gathering!
13. Bralettes
In 2021, if you still think that bralettes are only meant to be worn underneath tops, you are gravely mistaken! Be it a lacey one, a cotton one or even a spandex one. These dainty and bold pieces can be worn as bras, crop tops, tank tops and will prove to be lifesavers once added to your collection.
14. Academia Styles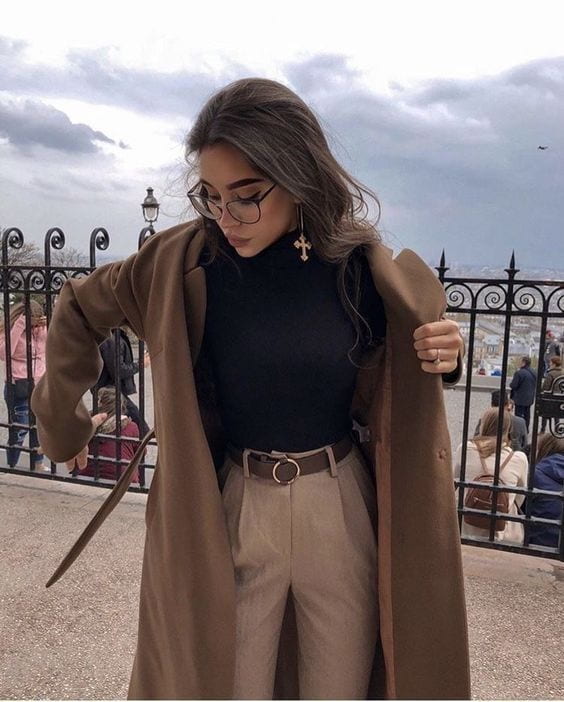 Academia styles, with comfort, literature and individualistic expression at their core, give every individual an opportunity to communicate their quirks and interests through clothing. Like dark literature? Pick out some snug fits in dark colours, and off you go impressing everyone. Like romance novels? There's a niche for you too!
15. Oversized Hoodie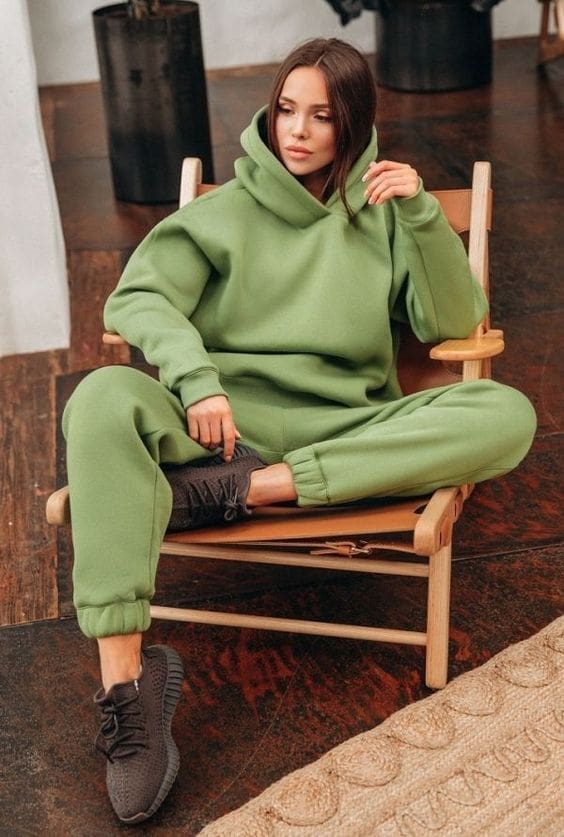 The messy, chaotic yet chic look of an oversized hoodie that we've loved for so long is now among the latest fashion trends for women! It doesn't matter if you wear these as a dress or pair them with joggers, skinny jeans, sneakers or heels. Oversized hoodies make sure you stay comfy and look debonair all at once.
Also Read: best workout clothes for women
16. Knee-High Boots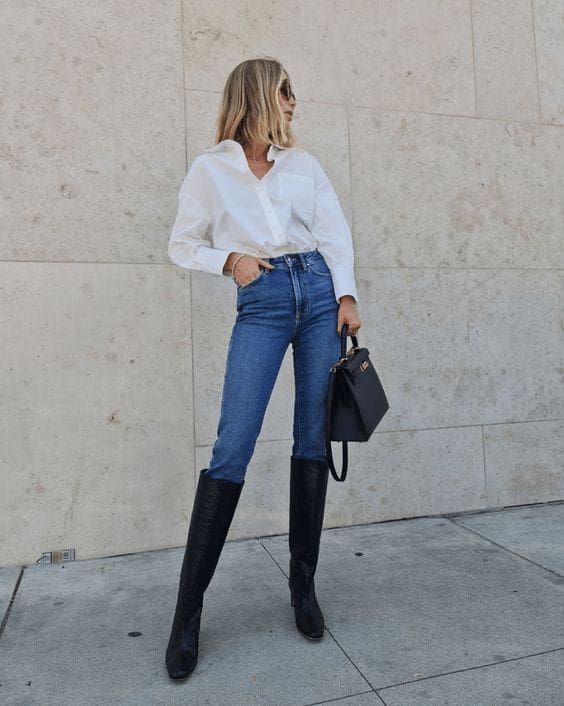 When timeless footwear is concerned, knee high-boots always make it to the top of the list. No other pair of shoes even come close to matching the impression that these classy, polished and attractive items leave. So, if you're looking to invest in timeless boots, knee-high ones should be your pick!
17. Wide Leg Pants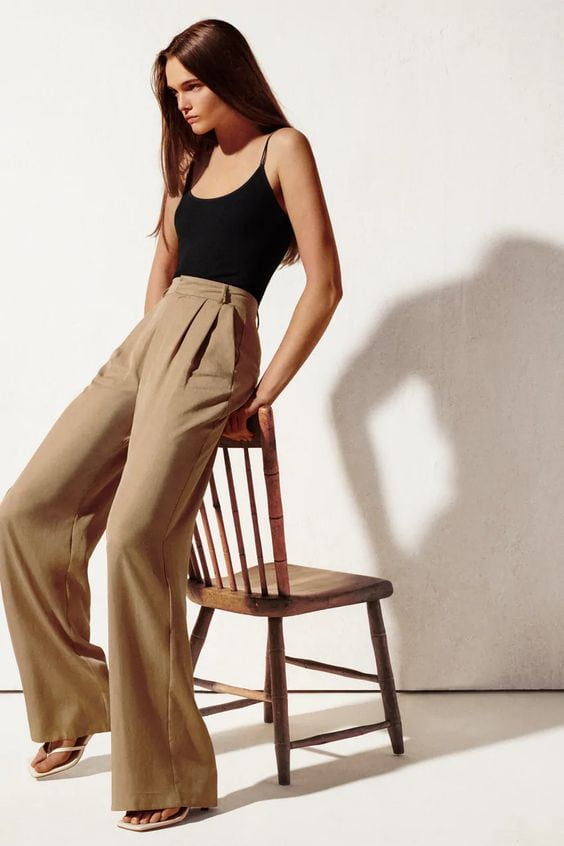 Trends come and go but be it the 80s, 90, or the 2000s, these iconic bottoms for women have ended up in the fashion charts time and again, and 2021 is no different. The unparalleled versatileness of wide-leg pants allows them to be sporty, casual, vintage, punk, grunge, boho or anything you want them to be!
18. Mini Dresses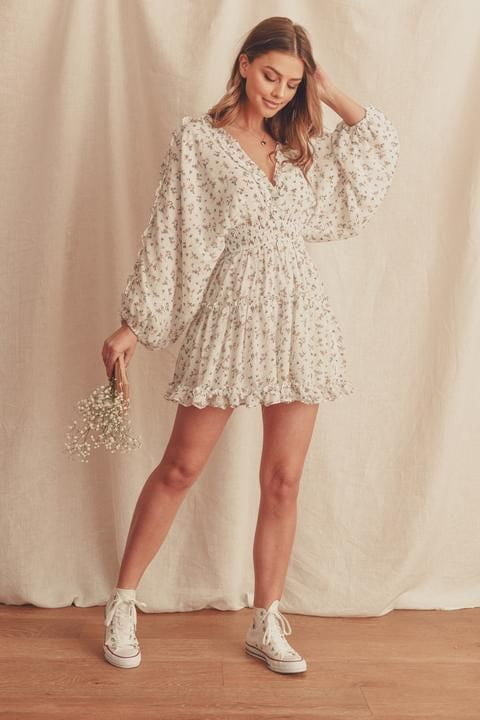 Regardless of your body type, donning a mini dress for a party is always the right choice. And hence, women have made sure to make these cute dresses with high hemlines, in light fabrics, a part of their collections, and so should you!
19. Cut-Outs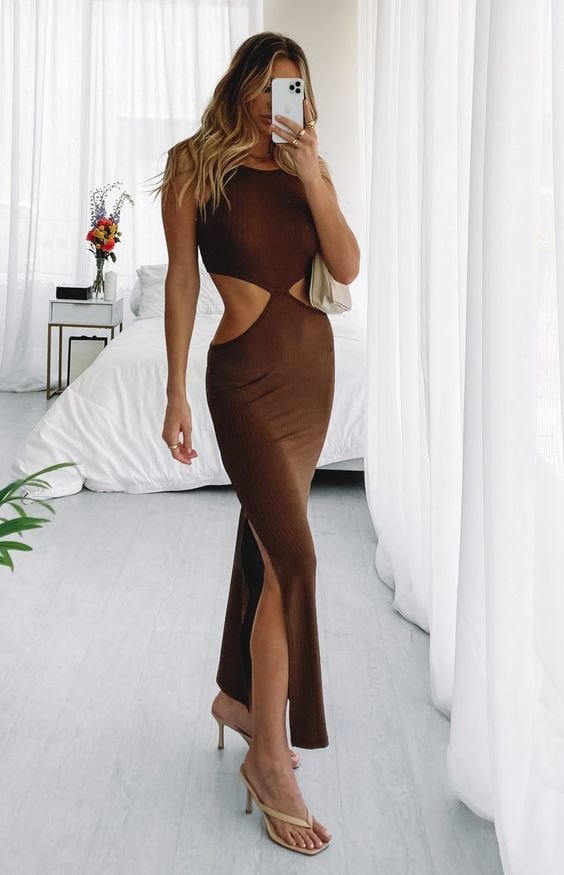 The thrill and sensual yet modest feel of showing just enough skin through slits is something that has been underrated for ages. Cut-out dresses, tops and pants with symmetrical cuts at the shoulder and waist, as well as the asymmetrical ones at the sternum, hips and sleeves, exude confidence and daring like no other clothing item does!
Also Read: Summer Outfit Ideas for Women
20. POP Colors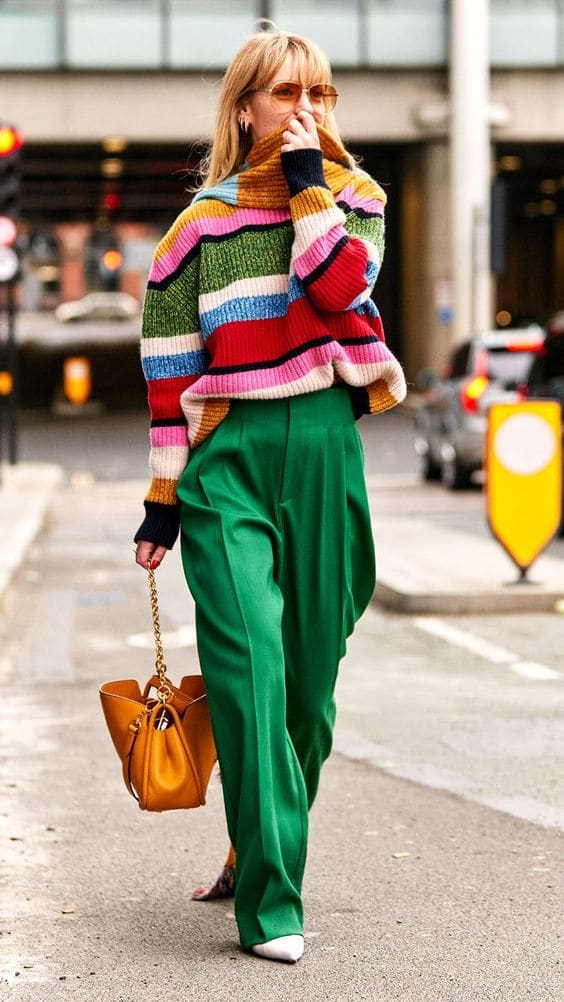 Fashion enthusiasts have decided to bring back bright, striking tones in full swing this winter. So be it a monochrome hot pink ensemble or an eye-catching, super-saturated orange and blue attire, sport them without the fear of judgy looks as they're now among the latest fashion trends for women!
21. Crop Jackets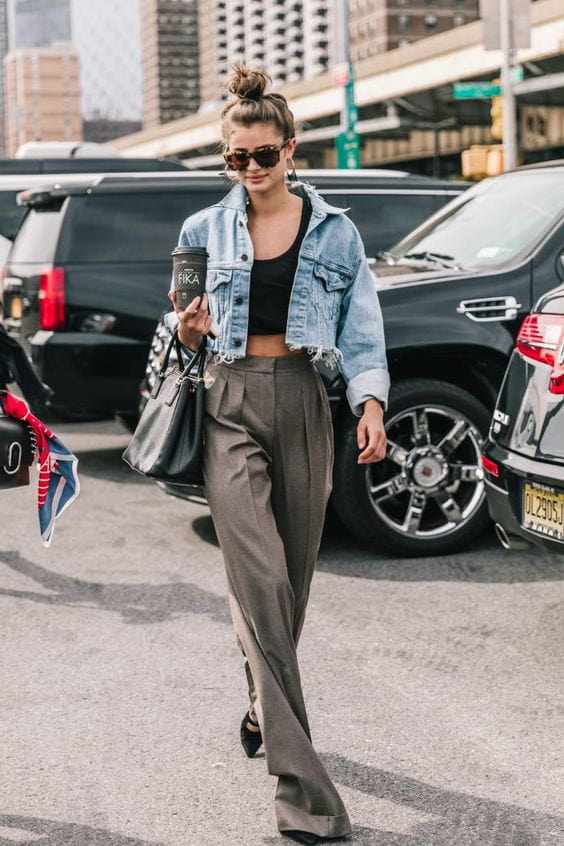 When in doubt, you can always trust a cropped jacket to spice up even the dullest of outfits! You could wear them over a tank top, dress or all by themselves over high waisted and they would undoubtedly make a swoon-worthy pairing.
22. Lady Boss suits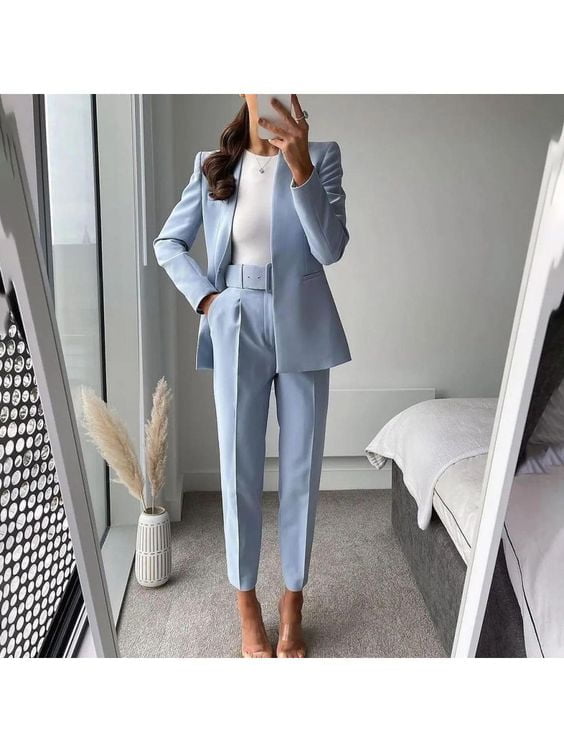 In today's day and age where we women are taking charge, it is only appropriate to do it in an exemplary fashion. Lady boss suits- fitted blazers and trousers paired with high heels or sneakers or ruffled tops or anything that defines you will emanate the kind of bold and fearless energy that demands instant attention and will turn all heads in your direction!
23. Ruffle
Frills and ruffles cast up an endearing girlish charm, a dash of playfulness, and have the potential to make a dull piece interesting. Shirts with ruffled sleeves dresses with ruffled hems, ruffle-sleeved jumpsuits, and shararas with flowy ruffles are all absolute must-haves to add a bit of zing to your daily outfits!
Also Read: Types of Coats for Women
24. Waist Cinchers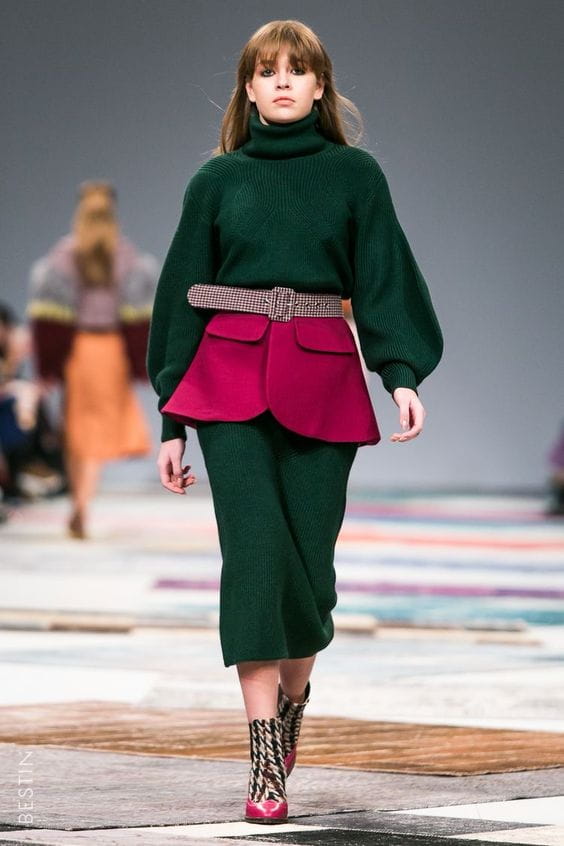 Now, who among us does NOT like an accentuated waist and a form-flattering outfit? Not only do waist cinchers provide sinuous silhouettes and pleasing curves, but they also make our legs appear longer, adding the illusion of height we all crave. Therefore, it is best to stock up on these for occasions that call for extra excitement and glam, from belts and simple drawstring to fancier wraparound dresses!
25. Oversized Shirts and T-shirts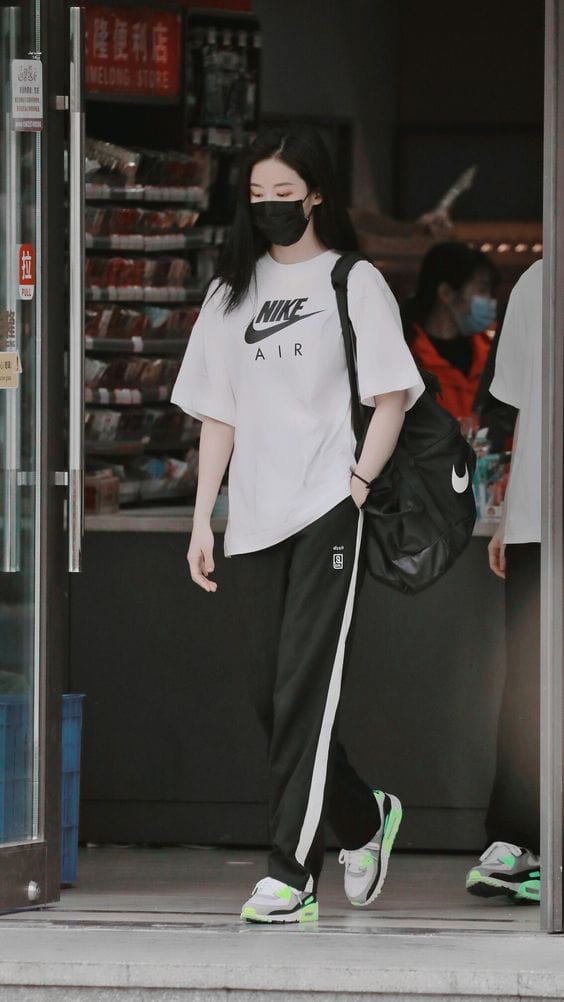 In a pandemic hit world where most work still happens from home, cozy, oversized, breathable clothes have become necessary. And so, baggy, larger-than-your-frame shirts and T-shirts and clever, voguish styles of sporting them have gained rampant popularity in the last two years, becoming every woman's most favorite trend!
26. Elevating Elegance and Sensuality with Lingerie Tops and Dresses
With the latest fashion trends for women—lingerie-inspired tops and dresses—enter the realm of elegance and sensuality. These items, made from delicate lace, smooth fabrics, and elaborate detailing, provide an attractive yet sophisticated style that easily transitions from romantic dinners to informal parties. Lingerie-inspired clothing is a vital addition to your wardrobe because current fashion trends stress the mix of sensuality and sophistication.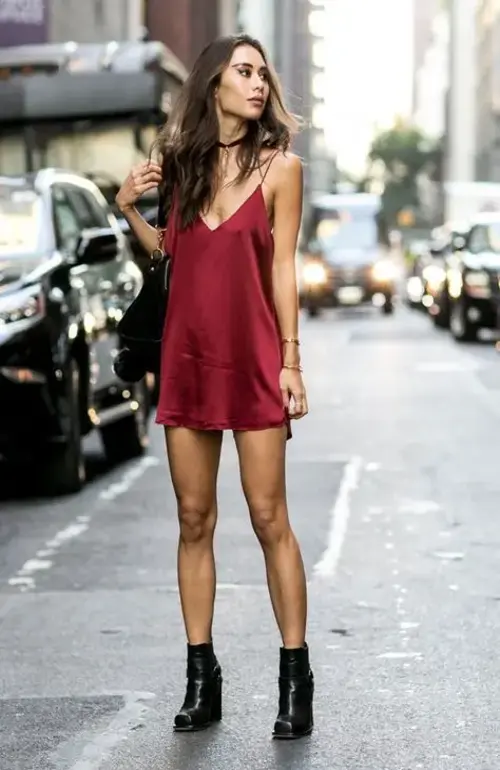 Source: Pinterest
These stunning items let you project confidence while keeping a refined appearance, making them ideal for a variety of occasions.
27. Channeling Your Inner Rebel with Edge and Elegance in a Leather Outfit
Leather attire has evolved dramatically in 2023, breaking out of the limits of biker jackets. Leather dresses, skirts, and suits have emerged as dramatic statements in the world of the latest fashion trends, flawlessly merging edginess with elegance. This trend encourages you to unleash your inner rebel while proudly projecting a sophisticated air.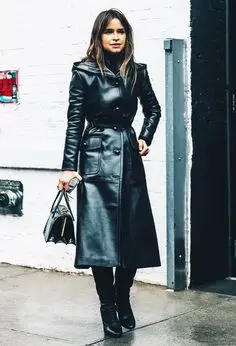 Source: Pinterest
Leather outfits have firmly established their place as a significant part of current fashion trends, giving you the option to make a statement, whether it's a sleek leather dress for a night out on the town or a fashionable leather skirt for a chic daytime look.
28. 3 Piece Outfits: Adding Versatility to Your Style
The introduction of three-piece outfits reflects the 2023 fashion landscape's emphasis on adaptability and refinement. These combinations, which include a blazer, slacks, and a vest or waistcoat, are designed to enhance your style game with effortless grace. The versatility of these clothes, which easily shift from formal meetings to casual parties, is reflected in the latest fashion trends.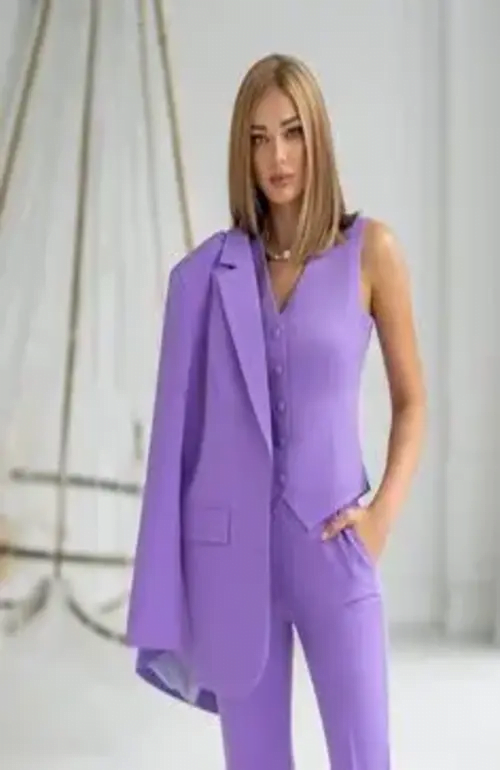 Source: Link
You can confidently embrace current fashion trends and create a style statement wherever your travels take you by incorporating this trend into your wardrobe.
29. Polka Dot Outfit: Timeless and Playful Fashion Choices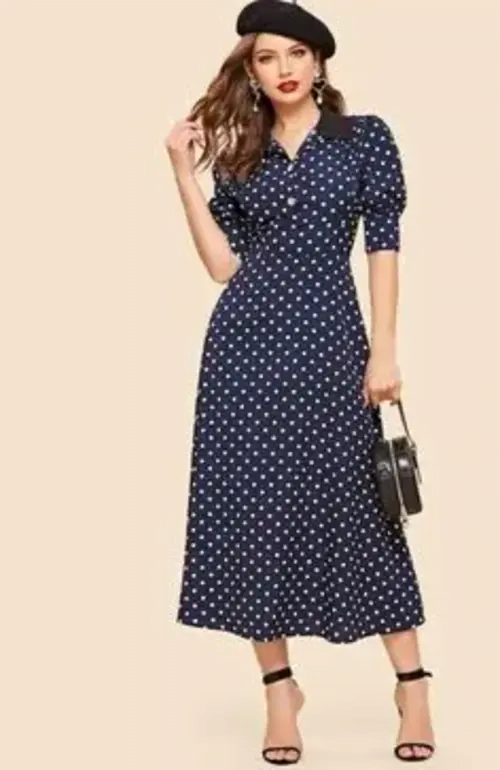 The allure of quirky polka dots has endured through the ages and is now a defining feature in the latest fashion trends for ladies. Dresses, blouses, and jumpsuits with these charming dots offer a touch of nostalgia and timeless charm to your ensemble. Polka dots have made a strong resurgence, giving ladies the option to add a touch of whimsy and sophistication to their wardrobe. Whether you choose a polka-dotted dress or a sophisticated blouse, you will make a fashion statement that is in line with current fashion trends.
31. Serene and Stylish Elegance in Lavender and Pastel Colors
Incorporate the tranquil and relaxing color palettes of lavender, mint green, and soft pink into your clothing to up your style game. The fascination of pastel colors is celebrated in these latest fashion trends, which create a fresh and refined aesthetic that exudes both calm and style. Lavender, in particular, has emerged as a popular choice, demonstrating its capacity to provide an air of refinement to any garment. These colors are a must-have in the world of current fashion trends, from pastel-hued dresses that convey freshness to mint-green outfits that show sophistication. Accept these tranquil hues and allow them to empower you to produce a lasting fashion statement in 2023.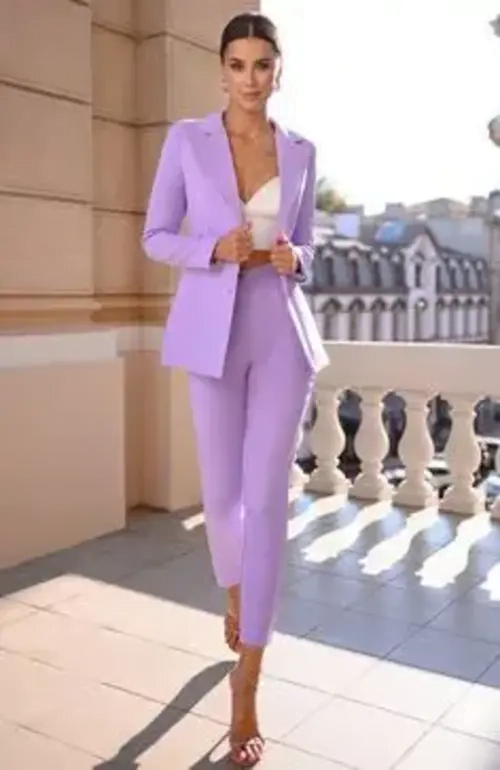 Source: Pinterest
32. Oversized Blazers: Effortless Elegance Meets Comfort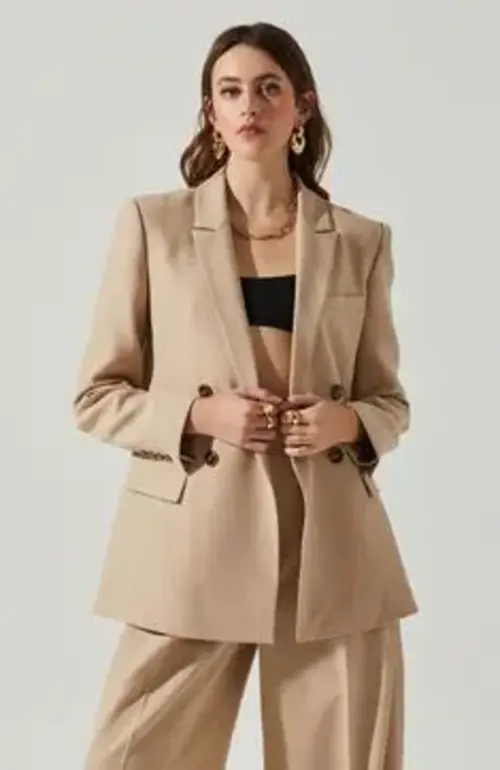 Oversized blazers have taken center stage in the world of the latest fashion trends, offering a balanced blend of comfort and elegance. Oversized blazers are endlessly versatile; use them with dresses for a beautiful and sophisticated style, with pants for a fashion-forward combo, or even over shorts for an effortlessly trendy attitude. This trend exemplifies the beauty of current fashion trends, where ease and sophistication blend perfectly. Oversized blazers are your go-to pick for making a statement that easily combines comfort and style, whether it's a leisurely daytime outing or a stunning evening event.
33. Where Glamour Meets Edginess with Chunky Gold Chains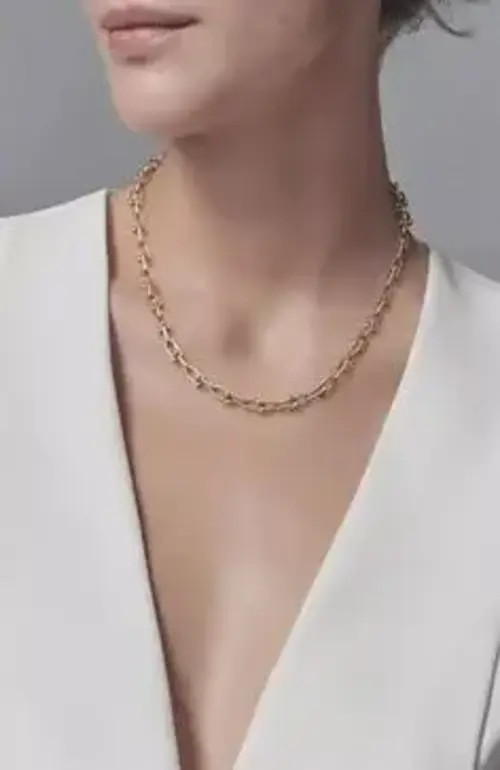 Embrace the appeal of thick gold chains to up your stylish quotient. Whether beautifully layered or boldly worn as a solitary item, these standout accessories add a touch of elegance and edginess to any look. Chunky gold chains are a must-have item in the world of the latest fashion trends for women, allowing you to create a striking and fashionable statement. From classic gold chains that ooze timeless elegance to bold and daring patterns that channel your inner diva, these items allow you to add a touch of glamour and edginess to your clothes.
34. Tailored Jumpsuits: The Ultimate in Easy Chic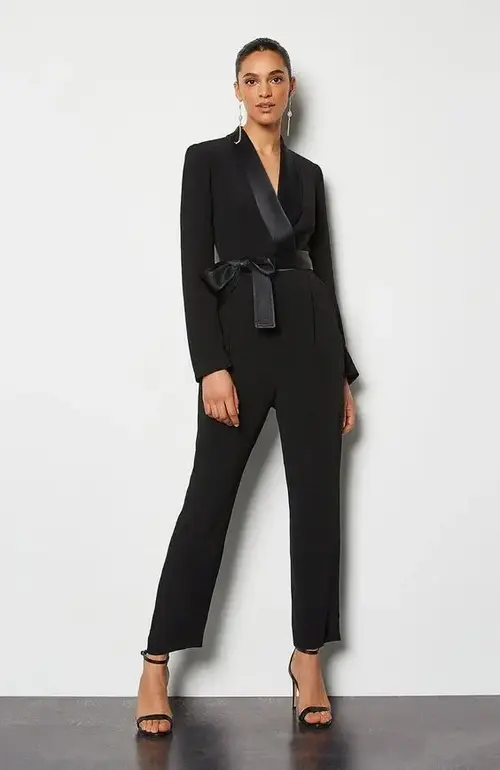 Tailored jumpsuits have become the pinnacle of the latest fashion trends, providing a versatile and stylish alternative to classic dresses and separates. These all-in-one outfits ooze confidence and flair, making them a must-have in your wardrobe in 2023. Whether it's a formal function or a casual outing, fitted jumpsuits allow you to easily transition from one occasion to the next while still maintaining your fashion-forward edge. With a variety of styles, shapes, and patterns to select from, you can embrace the tailored jumpsuit trend while proudly expressing your individual style.
35. Timeless Elegance for Every Occasion in Classic Stiletto Heels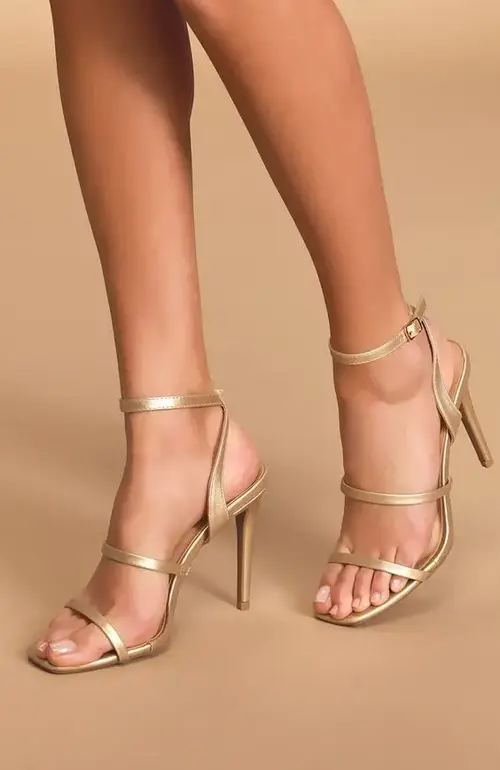 When it comes to traditional stiletto heels, elegance knows no bounds. These legendary shoes lend a touch of timeless elegance to any outfit, making them ideal for formal occasions as well as everyday wear. Stiletto heels are an evergreen favorite in the terrain of current fashion trends, raising your stature and confidence with every step. Whether you're wearing a sleek pair of black stilettos to a formal event or nude pumps to complement your everyday look, these heels are a mark of grace and sophistication. Accept the timeless attraction of classic stiletto heels as your reliable companions on your fashion journey.
36. Athleisure-Inspired Outfits: A Combination of Comfort and Style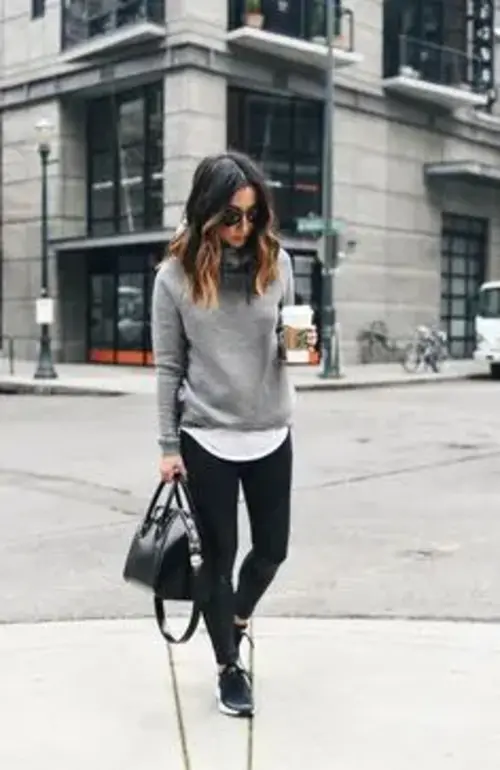 Experience the mix of comfort and style with athleisure-inspired ensembles that push the fashion envelope. This style celebrates the fusion of athletic gear with casual and attractive clothes, allowing you to effortlessly attain a comfortable yet fashionable look. Track pants that provide both comfort and style, sweatshirts that emit a laid-back yet sophisticated atmosphere, and sporty sneakers that provide a dynamic touch to your ensemble are key aspects of this trend. Athleisure-inspired ensembles are a novel and modern way to dress in the domain of the latest fashion trends for women. These ensembles allow you to show your individual style while prioritizing comfort, whether you're running errands or visiting friends for a casual brunch.
37. Headbands with Embroidery
Explore the wonderful world of adorned headbands and take your hairstyles to new heights. These enticing accessories effortlessly combine glamour and sophistication, instantly improving your entire image. Whether you're getting ready for a special occasion or just want to add a little sparkle to your everyday look, embroidered headbands are the perfect choice for making a statement and enhancing your presence.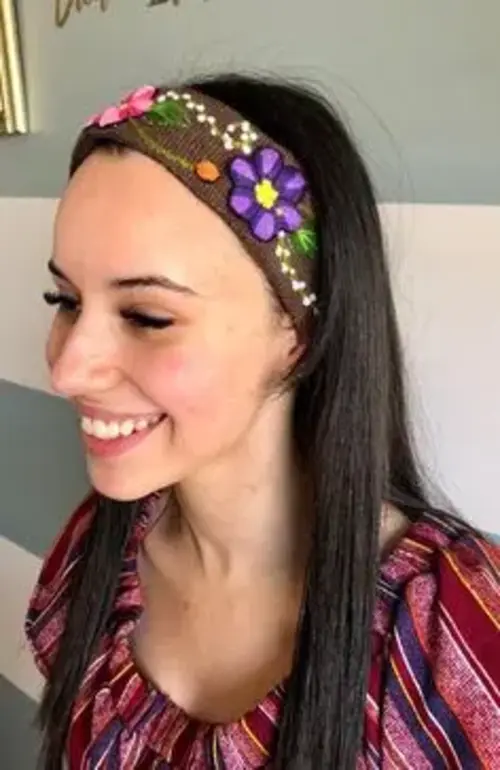 Embellished headbands have emerged as an enticing must-have in the area of top fashion trends. Their attractiveness goes beyond basic aesthetics; they represent a blend of elegance and panache that complements diverse ensembles while emphasizing your distinct style.
38. Power Suits of the Modern Era
Set new fashion standards by embarking on a sartorial adventure that defies convention with modern power suits. These ensembles reinvent women's clothing by incorporating modern silhouettes and a wide range of brilliant colors. Modern power suits are created to channel confidence and empower women, allowing them to express themselves through fashion choices.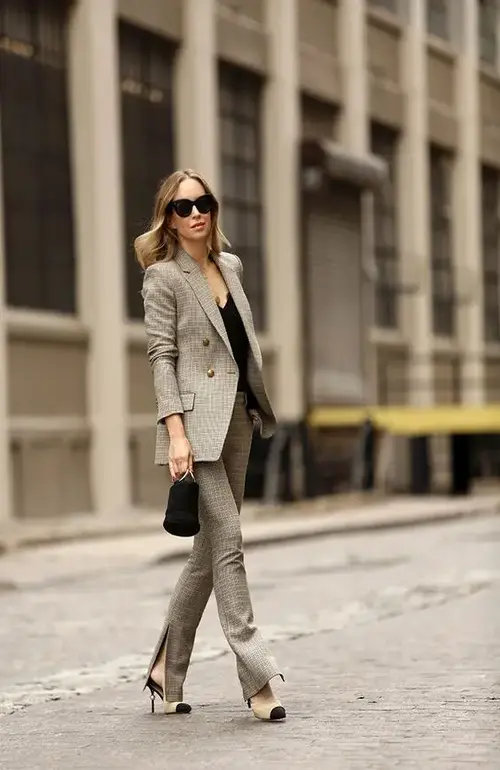 39. Pattern Combination: Latest Fashion Trends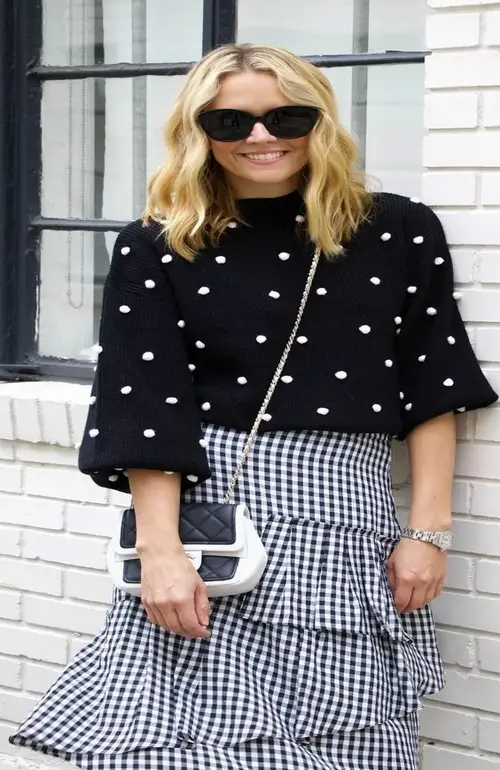 With the thrilling trend of pattern mixing, you may unleash your inner fashion maven. This avant-garde approach to dressing entails the artistic juxtaposition of various patterns and prints, allowing you to create aesthetically appealing ensembles that really reflect your character. Top fashion trends currently encourage this daring and creative expression, encouraging you to play with textures, colors, and designs.
Pattern mixing is a testament to personal style inventiveness in the ever-changing world of current fashion trends. It's an open invitation to let your imagination go wild and design clothes that draw attention and set you apart from the crowd. Pattern mixing, whether it's combining florals and stripes or polka dots and animal patterns, encourages a thrilling sense of adventure in your clothing selections.
Keep incorporating and upgrading these invigorating trends in your daily palettes and watch yourself transform into an absolute diva in a jiffy!
Popular Searches
Fashion Bloggers in India | Fashion Magazines in India | Fashion Photographers in India | Best White Sneakers | Men's Fashion Trends | Bridal Lehenga Trends | Ethnic Wear Brands in India | Shoe Brands in India | Types of Lehenga Choli | Different Kurta Style | Yoga Outfits for Women | Summer Outfit Ideas | Types of Silk Sarees | College Outfit Ideas | How to Buy Jewellery | Nehru Jacket Style