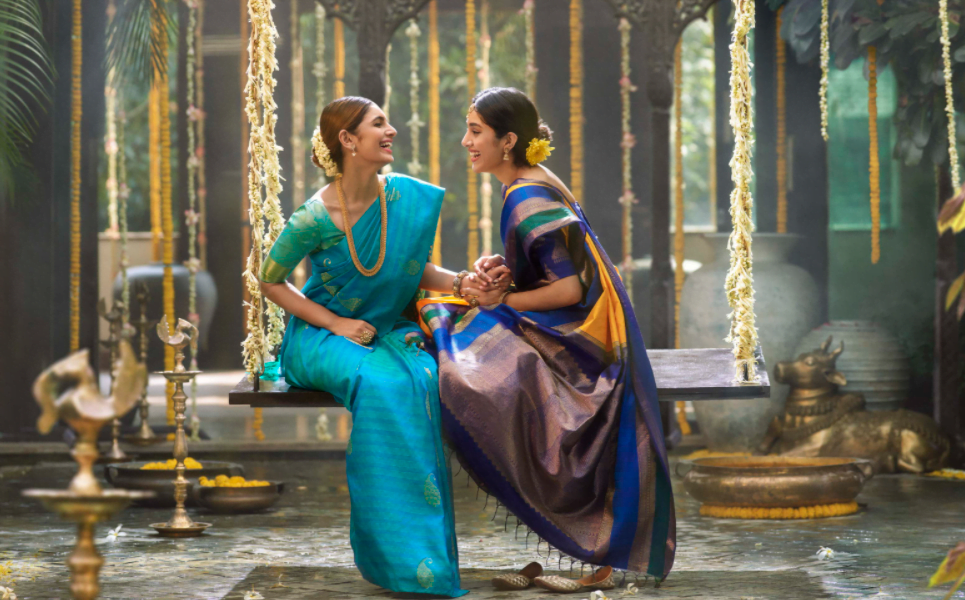 Sarees made of silk are a huge favourite with women who love to dress up traditionally. You can choose from understated designs if you wish to wear them regularly, or get some silk sarees with intricate designs and elaborate patterns for special occasions. With a wide range of silk materials and styles available, finding the right silk saree for you can be a task. We bring to you a complete guide on buying silk sarees to help you pick the right one for yourself.
Types of Silk Sarees
There is a wide variety of silk sarees available in the market. These have different names and possess certain qualities based on their weaves and places of origin. Let's have a look at some of the most popular types of silk sarees which you can choose from:
1. Tussar Silk Sarees
Also known as Kosa silk, Tussar silk sarees are beautiful and valued for their texture and purity. They naturally have a deep gold sheen and are available in a range of colours. These ethnic pieces are designed with a variety of natural motifs. Tussar silk sarees are traditional silk sarees originating in Bhagalpur. However, they are now found in contemporary designs too. Get some of these latest silk sarees to dress up in your ethnic best for various occasions.
2. Banarsi Silk Sarees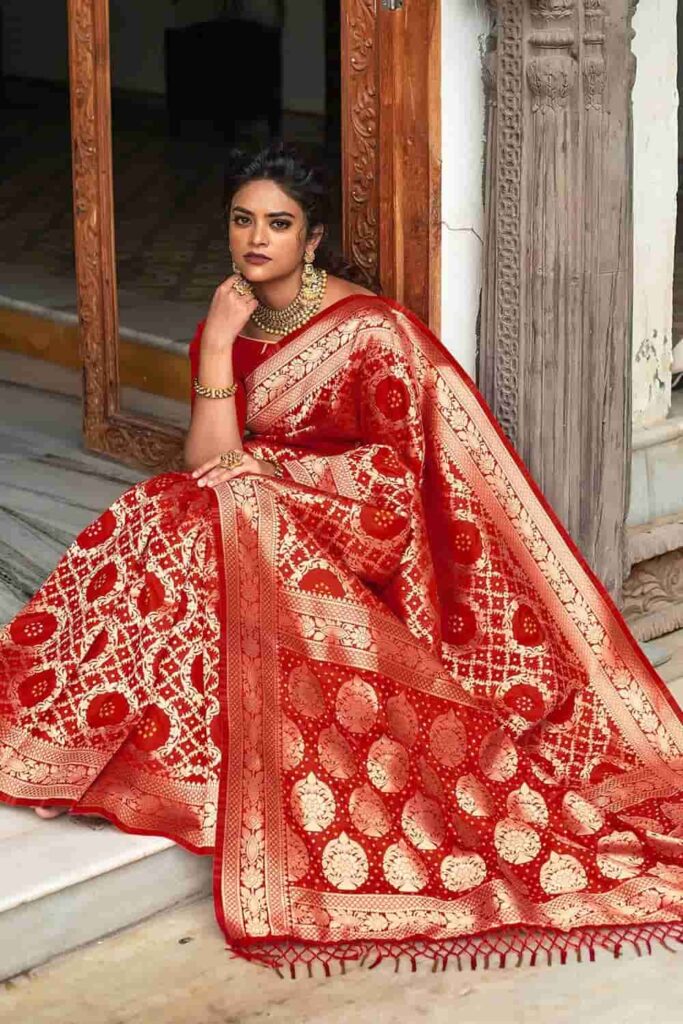 As the name suggests, these sarees are made in Varanasi and regarded as classic pieces when it comes to saree designs. They are considered to be among the finest silk sarees, known for their gold and silver brocade work. These are mostly hand woven and relatively heavy than other silk saree varieties. Their vibrant colours and dazzling patterns make them an apt choice for special occasions. Banarsi silk sarees use opulent motifs inspired by the Mughal designs and heavier of all the silk sarees due to their elaborate gold and silver thread work.
3. Paithani Silk Sarees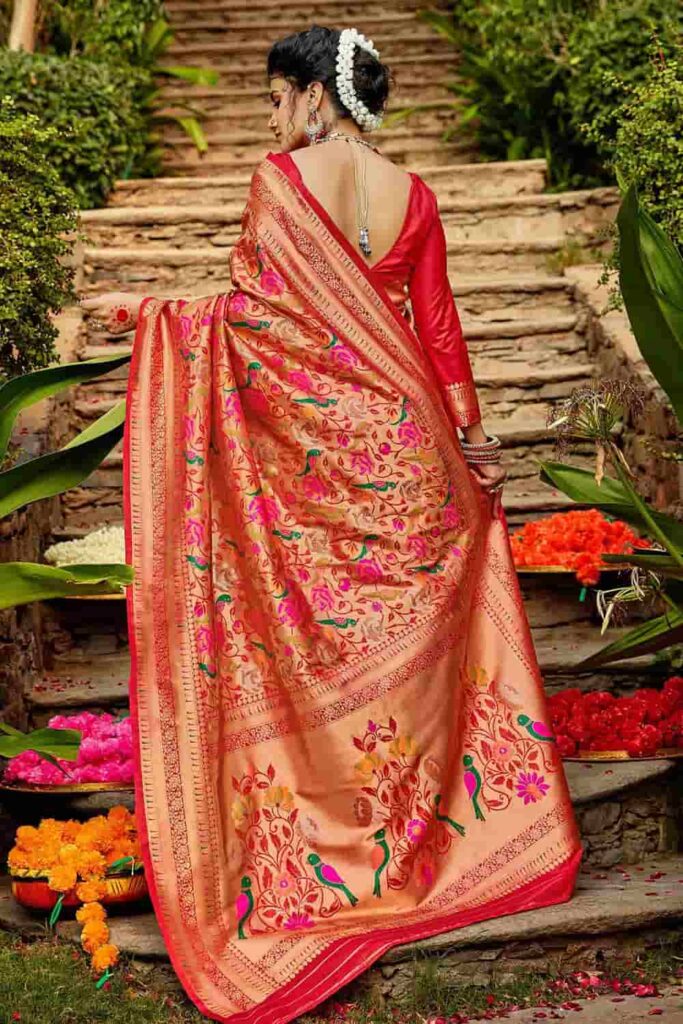 Originating from Paithan, a small town in Aurangabad in Maharashtra, this fine silk saree is characterised by slanted square designs in the border and has a pallu usually adorned with peacock motifs. They are known for the kaleidoscope designs, which are embedded in the sarees through weaving. Contemporary paithani silk sarees also feature other distinctive motifs such as parrots, trees, and flowers woven into the saree.
Also Read: How to Buy the Perfect Lehenga Saree
4. Kanchipuram Silk Sarees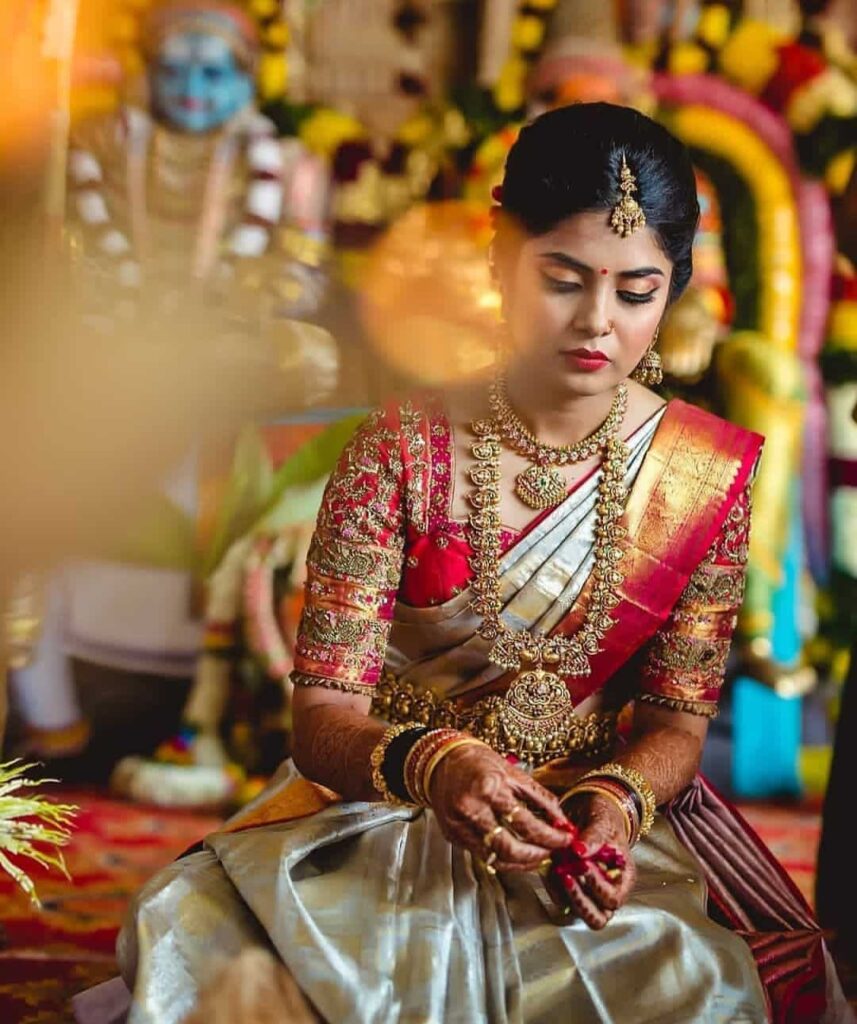 They take their name from a small town in Tamil Nadu where these sarees originated from. Kanchipuram or Kanjeevaram sarees are considered to be the highest quality of sarees woven naturally. Distinguished by its wide contrast borders, this saree is woven with heavy silk or gold yarns. It takes around 4 to 5 weeks to weave a Kanchipuram silk saree and the body of the saree is weaved separately from the border and pallu, which are both attached later. The rich colour patterns and designs lend these sarees a mesmerising finish.
5. Mysore Silk Sarees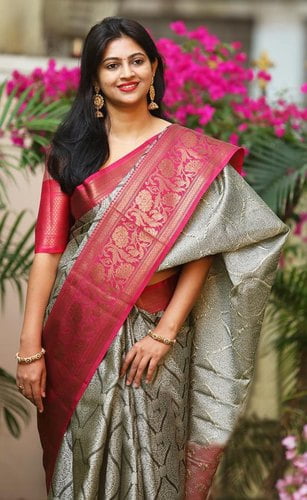 Mysore silk sarees originated in the state of Karnataka and are characterised by bright and heavy borders in unique and contrast colour combinations. They are lightweight as compared to other silk sarees and most of the time they have a plain body with impressive designer borders and pallu.
6. Chanderi Silk Sarees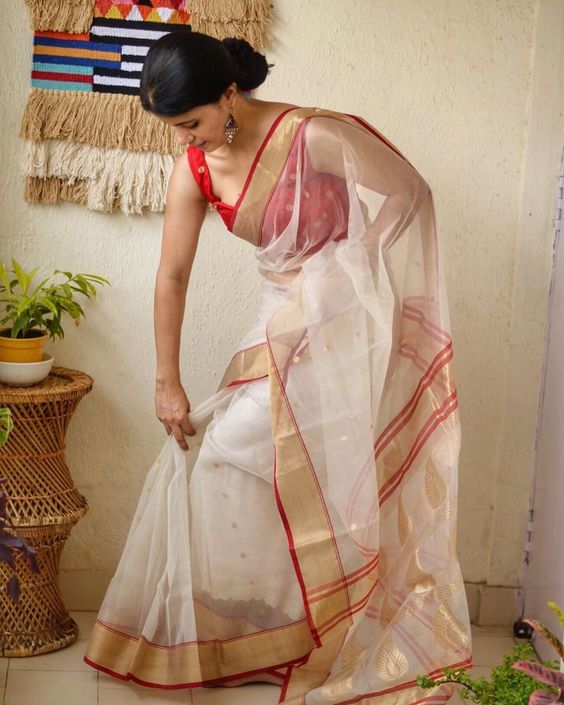 Chanderi silk sarees are a mix of cotton and silk originating in Madhya Pradesh. Chanderi Sarees are known for their sheer texture and glossy transparency. These are also lightweight which makes them perfect for daily wear options.
Also Read: 5 Trendy Ways to Style Your Kurtas
7. Patola Silk Sarees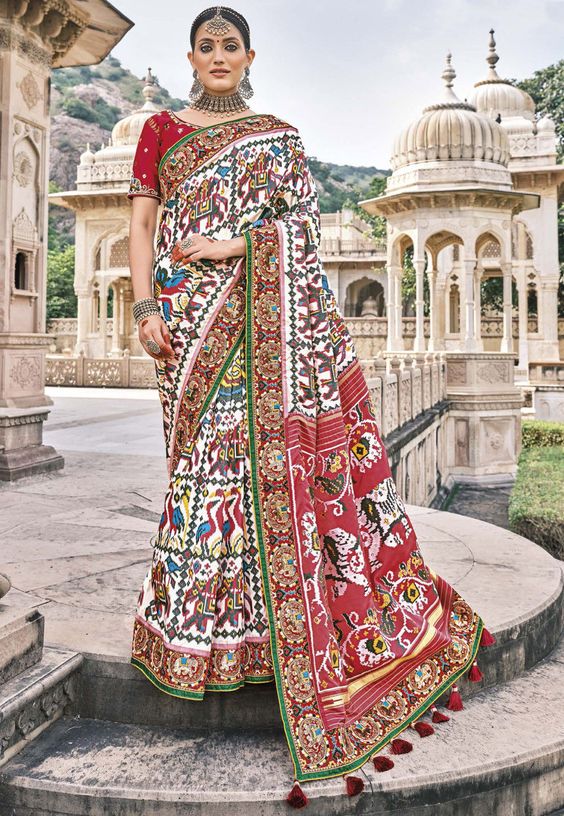 This silk saree made in Patan, Gujarat, is popular due to its special weave. Patola silk uses a double ikat technique and is highly priced because of its rarity. With four major designs including flowers, elephants, dancing figures, and parrots being used, a genuine patola silk saree takes anywhere between six months to one year to get weaved.
How to Choose the Right Silk Saree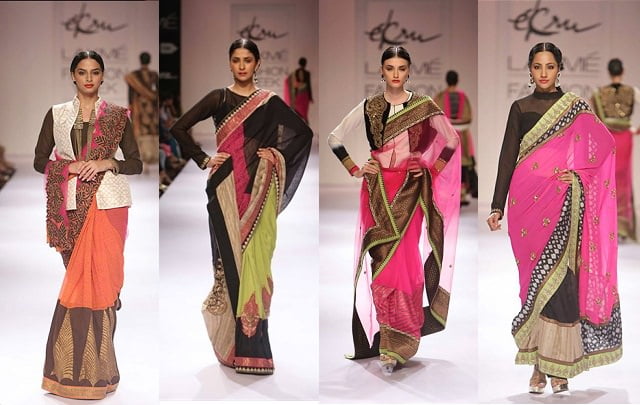 These are just some of the famous types of silk sarees and there are many more available. Choosing the right one can be difficult, especially when you have so many choices of trendy silk sarees available. Consider the fabric and get one that flatters your body shape. You may also choose silk sarees from your favourite colours, or colours that complement your complexion.
Consider the occasions for which you are shopping for silk sarees and make sure you pick accordingly. Go for a bright-coloured silk sarees, or ones with elaborate patterns if you want to wear them for a wedding function or a festive occasion. Printed silk sarees or colour-blocked ones are a brilliant option if you are buying them for regular wear.
Also Read: Bridal Lehenga Trends
How to Style Your Saree Look
Silk sarees will get an all new and refreshing look when paired with different styles of contemporary blouses. Choose from a variety of necklines, patterns, and sleeve sizes in blouses to make heads turn. Team your ethnic silk saree with a brightly embellished blouse and accessorise with a beautiful kundan necklace and a pair of chandelier earrings to look super-glamorous. Style your hair into a one-sided messy braid and slip into a pair of ethnic flats to complete your look.
Create an ethno-chic look by wearing a printed silk saree and complementing it with an embellished neckline blouse. Add a pair of drop earrings, a set of metallic bangles, and wear ethnic high-heels for a stunning get-up. We suggest you team your light-weight chanderi silk saree with a sheer-sleeve or cap-sleeve stylish blouse to look voguish. A statement neckpiece, a chunky bangle, and an embroidered clutch is enough for you to pull off this look with panache.
Wear your heavy and bright-coloured silk sarees teamed with gold-toned earrings and a pair of bangles to look ravishing on festive occasions. Keeping your jewellery and make-up minimal with highlight the rich pattern of your saree. Paint your lips in a subtle shade, tie your hair into a braided bun, and carry a sequined clutch to lift your traditional look.
Go for monochromatic silk sarees if you want to create a sophisticated traditional look for formal occasions like office parties, or formal dinners. Team your saree with a halter-neck blouse, over-sized stud earrings, and a delicate bracelet for an elegant look. A rose in your hair and a dash of red lipstick will keep you in the limelight, effortlessly.
Popular Searches
Signs that Say You're a Lipstick Junkie | Skin Care Tips for Monsoon | Top 6 Products for your Skin Care Routine |Sustainable Fashion Brands | Luxury clothing brands in India | The Best Watch Brands in India | How to Style Skirt | Yoga Outfits for Women| Summer Outfit Ideas | Sustainable Fashion Brands | Luxury clothing brands in India | Best Shoe Brands | Benefits of Running | How to Care for Leather Shoes | Eid Outfits Ideas | Different Salwar Suit Styles |