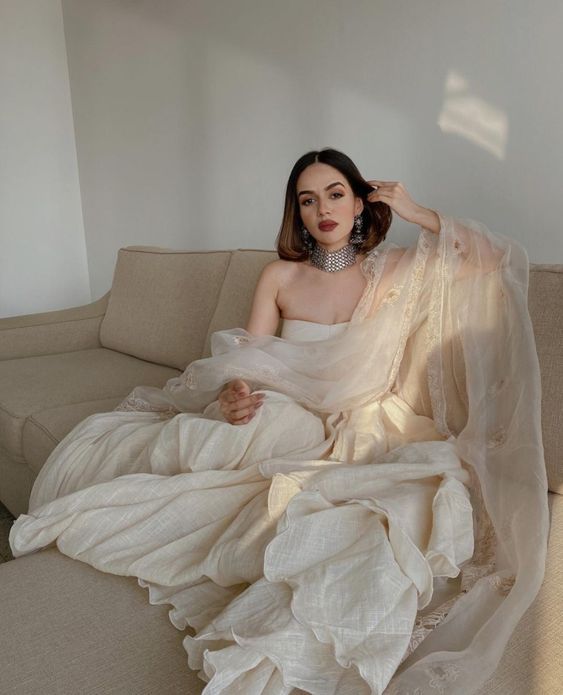 Are you considering starting your own blog or just looking for creative outfit inspiration? Or do you wish to transform your worn-out wardrobe into an intriguing exhibition? If yes, then you have arrived at the right fashion station. In this blog, we will be introducing you to the top 25 Indian Fashion Bloggers that keep the audience drooling in awe with the latest style trends across the country.
These Indian fashion bloggers on Instagram are pretty famous in the fashion blog industry because of their unique style. So sit back as we take a major style lesson and take inspiration from some of the most talented Indian fashion influencers.
Top 25 Indian Fashion Bloggers
1. Komal Pandey
Komal, one of the most popular Indian fashion bloggers, believes that fashion is not just for the elite class but for everyone. She began her career with a leading fashion community called POPxo, where she got a lot of recognition and became a true mascot for the brand.
Later, she started her own YouTube channel and rose up the ladder as an innovative individual content creator. She also got featured in Sonam Kapoor's fashion app and won Cosmopolitan's Best Fashion Influencer & Vlogger in 2021.
2. Juhi Godambe
Juhi Godame started as a fashion blogger and is now a proud founder of a clothing brand called Arabella. She is a fashion enthusiast who likes to explore worldwide fashion styles. Besides fashion, Juhi shares her take on beauty, travel, fitness and lifestyle trends in her blog posts. Furthermore, she is well-known for creating and presenting street-style fashion with ease and finesse with her fabulous Instagram posts.
3. Kritika Khurana
Commonly known as "Thatbohogirl", Kritika Khurana is a social media influencer and is one of the prime Indian fashion bloggers. She is fond of Bohemian fashion and has made it her USP. So, if you are looking for some Bohemian fashion inspiration, her profile is certainly worth checking out.
Kritika's haul videos can indeed help people explore various kinds of clothing with different ways to style. She is also known for revamping old and regular clothes in a quirky, attractive and stylish way.
4. Santoshi Shetty
Santoshi has an eccentric fashion sense. She prefers edgy pieces and loves vintage-inspired fashion. She has also walked the ramp for various fashion shows and has won many blogger awards from Cosmopolitan and Elle. Santoshi also has her own blog site called "The Styledge", where she writes about fashion and lifestyle.
5. Aashna Shroff
Aashna is a blogger who started her career at a very young age and switched careers to follow her passion for fashion. She excels in creating Indian fashion looks from which one can take inspiration. Additionally, she has a YouTube channel where she uploads the latest and trending beauty and fashion videos.
6. Diipa Büller-Khosla
Diipa is one of the globally recognised Indian fashion bloggers and has millions of die-hard followers. She has also won awards under the title "Influencer of the Year." Apart from fashion, Diipa loves to blog about beauty and lifestyle. Also, she has started a venture called "Post for Change" for creating social awareness through social media.
7. Sakshi Sindwani
Full of confidence, body positivity and fashion sense, Sakshi is one of the most stylish Indian fashion bloggers who has stepped into this industry and drastically changed the way individuals view women with curves.
In her blogs, she teaches her followers how to style silk pieces, mix prints and fabrics. She is a fashionista who carries her outfits very confidently. She could be the ultimate inspiration if you intend to start your own blog.
8. Pooja Mundhra
Pooja's Instagram and blog "TheCozyVibe" is the one you need to keep an eye on where she talks about the latest trends in beauty, fashion and skincare. Besides that, she shares her knowledge of interior design by suggesting home decor ideas. Pooja believes that consistency and a motivated approach will help you achieve the best in your blog career.
9. Gia Kashyap
In her blogs, Gia tells the audience that fashion has always been her passion. She is one of the Indian fashion bloggers that addresses the concept of fashion on a budget. Gia strongly considers that fashion is an art. Besides fashion, she also talks about self-care and provides wellness tips.
10. Masoom Minawala Mehta
Masoom is one of the fashion icons of India. Recently, she represented India and walked the red carpet at the Cannes Film Festival 2021. She creates beautiful western and Indian looks.
Masoom considers that the key to a successful blog is to be genuine and honest with your content. Currently, she runs her fashion portal called Style Fiesta, where she introduces multiple fashion products like clothes, jewellery, bags, sunglasses and many more.
11. Akansha Redhu
Having started her fashion blog in 2010, Akansha has a unique style that is easy to follow. She writes content related to beauty, lifestyle, travel, food, fashion events, products and many more. She has collaborated with multiple high-end brands like Louis Vuitton, H&M, Bobbi Brown Cosmetics.
12. Aakriti Rana
Aakriti is one of the most recognizable names in the blogging industry. She is an Indian fashion blogger and travel influencer who talks to her followers about the latest fashion trends around the globe. She focuses on creating positive content and beliefs in ethical advertising, therefore, shies away from fake promotions and endorsements.
13. Karron D Dhinggra
Karron is a corporate lawyer who turned into one of the leading Indian fashion bloggers. He is extremely passionate about fashion, runs a promising Youtube channel and blog page. He guides the audience on men's wear and grooming and creates multiple outfits ranging from formal to casual looks. Karron's fashion tutorials can help you to improve your outfit game in no time!
14. Usaamah Siddique
Usaamah's forte is to create basic wear effortlessly, which is why he attracts millions of followers. Apart from creating content, he owns a fashion brand called The Dapper Label, which you might have seen multiple celebrities wear. In addition, he gives excellent style inspiration and guidance.
15. Siddharth Batra
Siddharth is one of the top Indian fashion bloggers who addresses and promotes the concept of '#guybeauty'. He creates aesthetic outfits that comprise different colours, textures and accessories. Apart from fashion, he stands for gender fluidity and body positivity.
16. Roshni Bhatia
A mother that turned into a leading fashion influencer, Roshni is a fashion inspiration for many. She is majorly famous for her makeup, fashion and beauty hacks. Roshni has also featured in several fashion and lifestyle magazines like Vogue. Also, she has endorsed several brands like Colgate, Lakme, Lays, Ponds on her social media.
17. Sejal Kumar
Sejal is one of the most inspiring Indian fashion bloggers, who creates diverse content related to fashion, beauty, music and dance. Moreover, she gives the most relatable fashion advice, be it an Indian outfit or a western outfit. At the beginning of her blogging journey, she faced a lot of hate but soon realised that one must not let themselves get affected by trolls and stand for what they believe in.
18. Shereen Sikka
Shereen, who believes in setting trends, is an Indian fashion blogger who loves to create trendy looks that are practical and affordable at the same time. After studying fashion in London, she joined the Bollywood industry as a stylist and then started her blog page called "Love and other Bugs" with her sister Trishala Sikka.
19. Varun Agarwal
Varun is an Indian fashion blogger who loves experimenting with different styles and outfits that consists of bright colours and unique patterns. Besides fashion, he loves to travel and is an automobile enthusiast.
Varun writes about fashion, luxury, travel and his personal experiences on his blog page "settle subtle." He is a real inspiration for people as he is a successful entrepreneur and a book author, even though he failed at engineering.
20. Shivani Singh
As per Shivani, blogging is just a way to transform her passion into reality. She began her career as a fashion blogger in 2016 and now is an enthusiastic travel blogger. She creates a lot of attractive and unique outfits, out of which her ethnic looks are very eye-catching.
21. Malvika Sitlani
Do you remember this queen from the famous reality show? She is a model who transformed into a beauty and fashion blogger. She is known for creating marvellous makeup looks and strongly believes in comfort fashion. Malvika aims to make the best of basics. In 2021, she started her beauty brand called Masic Beauty, which intends to combine luxury and ethical pricing into one label.
22. Sarang Patil
Sarang is one of the successful social media influencers and Indian fashion bloggers. As per Sarang, the secret to pulling off any outfit is to carry them with confidence. He inspires other individuals in men's styling and grooming. Furthermore, he regularly guides his audience on fashion through his Instagram.
23. House Of Misu
House of Misu is a blog started by two friends Mitali and Summiyya, who love fashion, beauty, travel, food and design. The friendship duo loves to stay ahead of the fashion trends, and they also like to make their followers aware of these trends. They have also collaborated with popular brands like Pipa Bella and Shaze.
24. Shaurya Sanadhya Tulshyan
Shaurya, the founder of Shaurya Sanadhya and Aryam Skincare, is an Indian fashion blogger who believes in beauty with elegance. From her Instagram, one can say she can carry out any piece of clothing, be it hoodies, crop tops, dresses or Anarkali suits. Apart from fashion, she is a makeup and skincare enthusiast.
25. Jyo Shankar
Jyotsana started her fashion, travel and lifestyle blog as merely a creative outlet. She likes travelling to beaches and wearing cute outfits. Her aesthetically shot serene outfits on Instagram are loved by her fans. She also shares travel guides, hotel reviews, travel tips, fitness mantras and fashion trends on her blog page, which can help many beginners.
The blogging industry is flourishing, and so are its creators. Many Indians are looking forward to blogging as a career option, especially in fashion. If this field fascinates you, follow these top Indian fashion bloggers and get inspired!
Popular Searches
Fashion Trends | Womens Fashion in Monsoon Season | Fashionable Watches for Men | Priyanka Chopra Style | Ranveer Singh Fashion | Track Pants Styles | Types of Backpacks | Types of Necklace | How to Choose Right Sunglasses | Sugar Makeup Kit | Types of Silk Sarees | How to Style Maxi Dresses | How to Buy Jewellery | How to Style Skirt | Mens Suit Ideas