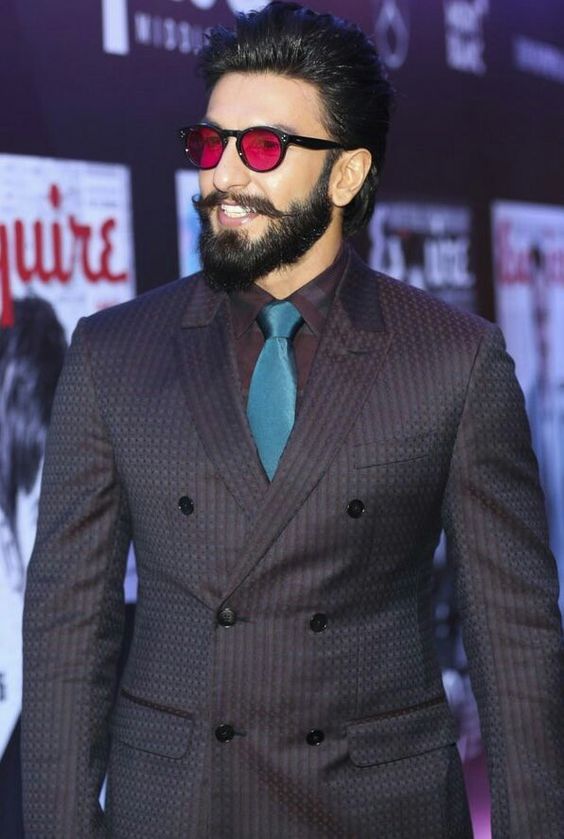 A dream for fashion designers, Ranveer Singh's eclectic style is equalled balanced by his sense of ease and confidence in pulling off any outfit.
He is charming, carefree and over the top, and we love him. Whether it is his acting skills or his fashion choices, Ranveer Singh always stands out from the crowd. Especially when it comes to his fashion choices, he has managed to surprise people almost every time he has stepped out.

At this point, many love his style; many hate it too. But one thing is for sure, you can't ignore Ranveer Singh's fashion choices. Hence, on the occasion of Ranveer Singh's Birthday, we thought of covering some of his most eye-catching fashion choices in the past few years.

1) The quirky multi-coloured attire
Recently, Ranveer took to Instagram to showcase another shade of his quirky fashion choices. In this picture, the actor can be seen wearing a multi-coloured printed attire with his trademark confidence. Dotted with various colourful blocks of colours and pictures, this t-shirt and shorts look gave the ultimate summer vibe. To complete the look, Ranveer Singh's fashion choice in attire was pleasantly complemented with some funky shades and white sneakers. This look, in particular, totally gave us #summergoals, to say the least.
Also Read: Best Summer Outfit Options for Men
2) Playing with dark shades and floral patterns
Another dazzling example of Ranveer Singh's fashion choices, we can see him pairing a black shirt and suit with floral printed pants in this picture. Shot in a glitzy background, Ranveer's quirky hairstyle and funky sunglasses simply add to the bling value of this look. Ranveer's caption for this picture was just as trippy as this look – "Hear colours, see sounds'. Surely, looks like that Ranveer and we ain't complaining.
Also Read: How to Choose the Right Sunglasses
3) Printed tracksuits for a bling look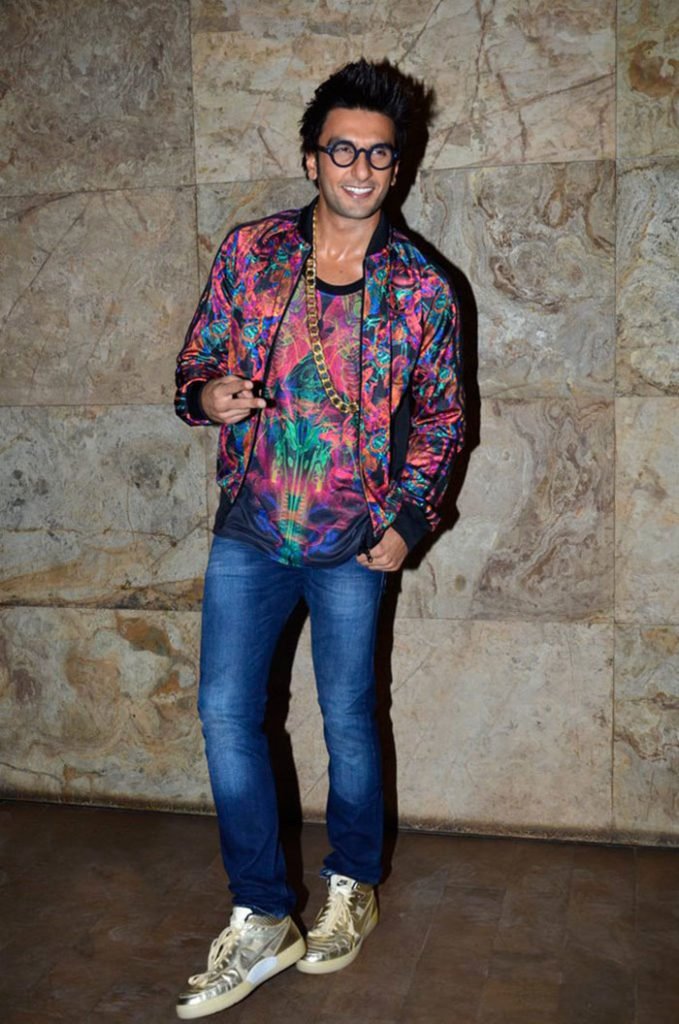 While the rest of the world is shopping for solid coloured tracksuits, Ranveer Singh paves a different style path for himself with classic printed tracksuits. With his radiating confidence, the combination of the tracksuit, dramatic eye-wear, shiny sneakers and the gold chain, creates a fresh look that is both quirky yet charming.
4) Going Mario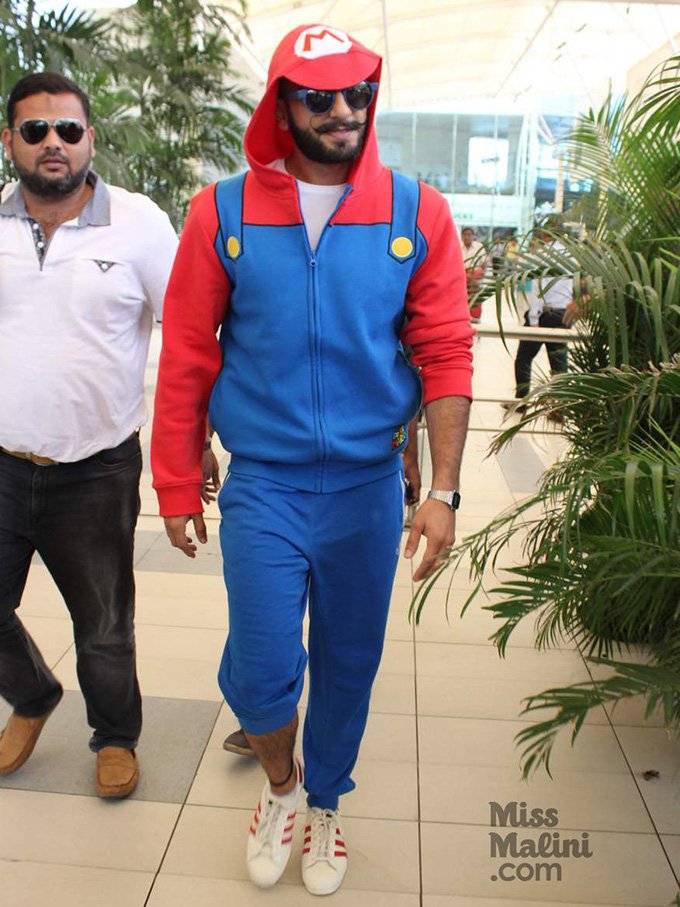 Even when he cosplays a beloved fictional character, Ranveer Singh manages to bring his special touch to it. So, when Ranveer donned the classic Mario outfits (from the popular video game series Mario), we were totally sold by his look. While the original Mario had a thicker moustache, Ranveer's twirled thin moustache settled in equally well with the outfit. So, was the case with white sneakers he chose to wear. We could safely say that this one was one of the more conventional outfits in Ranveer Singh's fashion choices, going by what follows next.
5) The unconventional Kurta with Skirt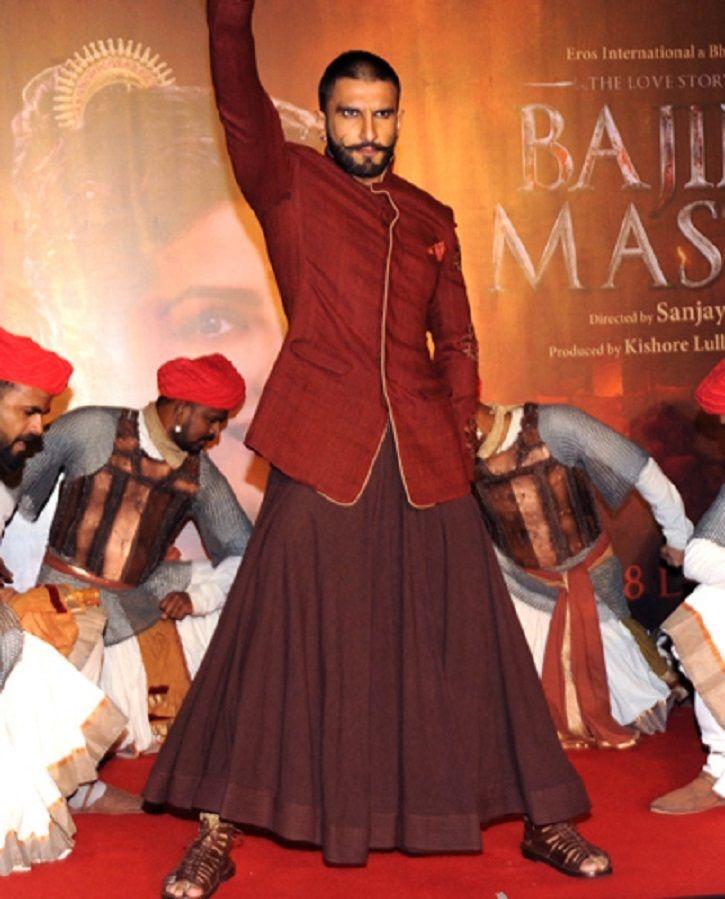 Never did we think that someone could pull off this fashion look without coming across as a joke. But then, Ranveer Singh arrived and looked like a boss, pairing the red kurta with a maroon skirt. Taking his style quotient to a new level, he decided to pair this outfit with gladiator sandals. Man, what a unique sight it was, watching Ranveer dance to Malhari song from Bajirao Mastani (2015) in this outfit.

Now, while we are talking about Ranveer's fashion choices in traditional wear, do have a look at our Bollywood wedding dresses article. You can get a throwback to the amazing outfits Deepika Padukone wore at their wedding and looked like a dream. Click here to check out the article.
6) The Poster Boy Look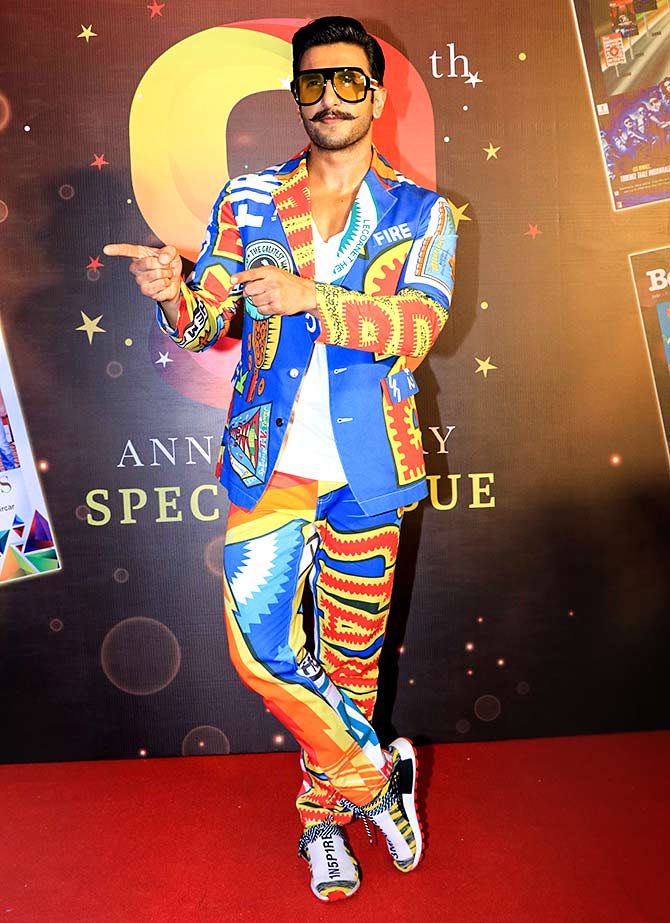 At an event, Ranveer Singh showed up wearing a vibrant coloured jacket and pants that were paired with white shoes. Now, the highlight of this outfit were the prints in it. Bringing in some quirky yet nostalgic vibes, the outfit was covered with prints usually seen in firecracker boxes and packaging. Now, being a firecracker of a guy that he is, the outfit evidently suited him to the T.
Also Read: 7 Styles Every Lover of Jackets Should Own
As seen in the above-listed outfits, Ranveer Singh's fashion choices are as candid and bold as it gets. If we were to list down all the quirky outfits he wore in this article, we would end up writing this article forever. Such are Ranveer Singh's fashion choices, brimming with confidence and experimentation. On observing his style quotient, one can surely take a lesson on pulling off any look, because an outfit only feels complete when you are confident about wearing it.

For more such updates on apparels, accessories and more, hit the subscribe button. Ensure that you stay in sync with everything that happens on the curious fashion blog – InfiFashion.