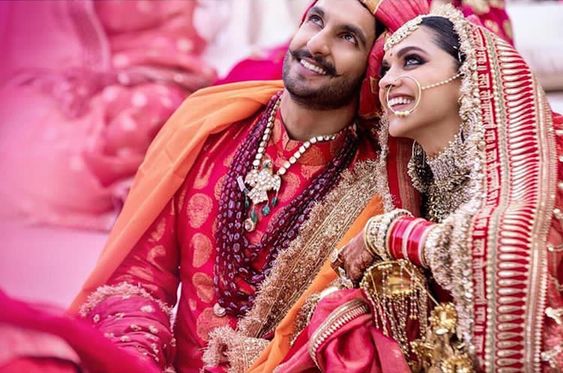 2018 saw some huge weddings in Bollywood. Thanks to which, many hearts were broken. But more importantly, these weddings showcased some incredibly eye-catching outfits. So, it only fits that we talk about those beautiful outfits before we say goodbye to 2018. So, ladies, get ready to explore eye-catching wedding dress styles that Bollywood wore this year.

Neha Dhupia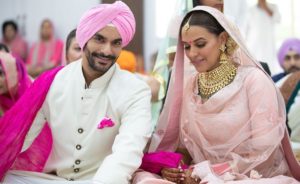 Getting married in the second quarter of the year, Neha Dhupia opted for a minimalistic, fuss-free bridal look and people weren't complaining. Looking incredibly gorgeous, here is what she wore during her wedding.

Picking a soft pink lehenga from Anita Dogre's 2018 collection, she subtly went against the norm of bright colours. The result was incredibly beautiful and fitted the vibe of the ceremony at the gurudwara.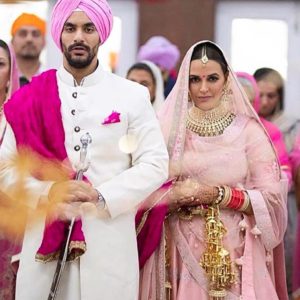 As for jewellery, Neha went for a heavy choker set which went well with her soft pink wedding dress.

In terms of makeup, Neha went for very soft shades that completed the soft colours of her outfit. She went for a simple flick of eyeliner along with a mauve lipstick. With soft tones being the focus in the entire outfit, the pop of colour in her ensemble came from the bindi which was bright pink and the traditional red choodas (wedding bangles).


Sonam Kapoor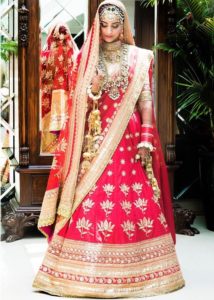 Being the fashionista she is, all eyes were awaiting the big day to see what Sonam would wear. Surprising many, she opted for a traditional and gorgeous red lehenga by Anuradha Vakil. Her eye-catching outfit was covered with intricate gold embroidery, further enhancing the richness of her outfit. To finish the look, she went for a pearl headpiece, vintage style jewellery, a lot of bangles and Jimmy Choo heels.
Talking about the vintage style jewellery she wore, the ensemble comprised of a choker that was layered with a guttapusalu necklace along with a multi-stranded matha patti. She too like Neha Dhupia opted for a simpler look with her makeup. Looking almost like a no-makeup look, she went for a barely noticeable eyeliner in black, individual lashes, soft peach cheeks and a beautiful tinted red lipstick. Coming together, the look was entirely like that of a traditional Punjabi bride in all her grandeur.


Deepika Padukone
With two wedding ceremonies, we got to see two different outfits from Deepika Padukone. Both of which were designed by the Indian fashion guru Sabyasachi.
For the Konkani wedding ceremony which had a white colour scheme, Deepika stood out in her burnt orange and gold sari. Some exquisite looking kundan jewellery complemented the saree.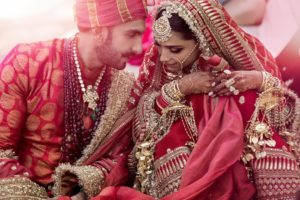 For the Sindhi ceremony, Deepika matched the colour scheme of Ranveer's outfit by going for a crimson and gold traditional wedding attire. Completely laden in jewels, one could spot a maang-tikka, stacked bracelets on the wrists and a gold kalira (umbrella-like ornament that is traditionally worn by Punjabi brides). Her intricately hennaed hands also had many rings adorning it, thereby making the whole look as grand as it could get.

But one major highlight that stood out was her dupatta. It had the Sanskrit quote '"Sada Saubhagyavati Bhava" embroidered on to the hem. The quote roughly translates to 'may you always be lucky as a married woman'.

On the makeup front, she went for a robust matte look with rosy-cheeked, highlighter-heavy skin. Following which, she opted for the smoky eye and taupe lip look to show off the best of her doe-like eyes and dusky complexion.
Priyanka Chopra
Following her footsteps of her Bajirao Mastani co-star, Priyanka too had two wedding ceremonies – a Hindu and a Christian one. For the Christian ceremony, she wore a custom Ralph Lauren white wedding gown that had a 75ft long veil. To beautifully contrast the white gown, she went for matte red lipstick. Looking both grand and graceful at the same time, Priyanka's wedding gown was a sight to behold.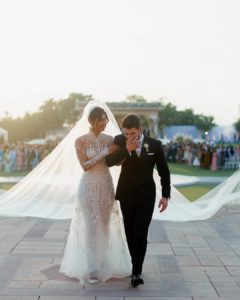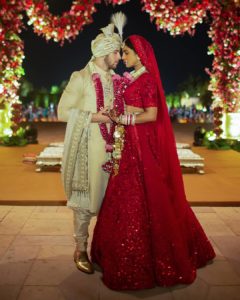 For the Hindu ceremony, wore a bright, ruby red lehenga that had french knots in silk floss, Siam-red crystals and hand-cut organza flowers. As for her wedding day jewels, they included emeralds, uncut diamonds and Japanese cultured pearls that were set in 22-karat gold by Chopard. But the star of her ensemble was a necklace that featured pear-shaped diamonds in white gold, and earrings that also had pear-shaped diamonds. With this rich an ensemble, Priyanka surely looked like a princess on her special day!

So, those were the wedding dresses worn by Bollywood actresses this year. Take a cue from their style choices and think of something special in Indian wedding dresses for yourself in future. These actresses may have set the benchmark for wedding dresses for girls. But that does not mean you cannot try to become a bride that is equally pretty with such strong inspiration.

For more such glimpses into fashion, makeup and accessories for all seasons, continue to follow InfiFashion and get regular updates on all things fashion.