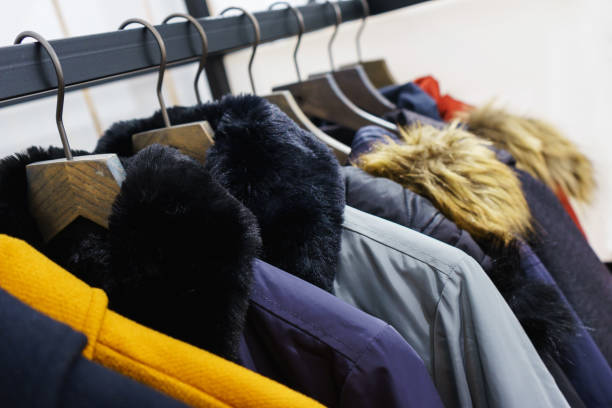 The best part about a little bit of nip in the air is the fact that you can layer up to your heart's content. A beautiful jacket can make you look truly stunning when layered on top of various outfits. Different ensembles call for different types of jackets to complement the look. Fill your closet with jacket styles that will make you stand out among the rest. You must know a few things about how to choose a jacket before making a purchase. A simple bolero jacket with puffed sleeves will give your shoulders definition and keep you warm. A classic must-have jacket is the camel coloured one that can give various outfits a powerful and timeless upgrade. Pick the best jackets for your wardrobe after considering the fabric, design, length and colour for absolutely fashionable outcomes every time.
How to Choose a Jacket
Jackets are by far the most versatile items a stylish person can have in their closet. Depending on the material, they can be worn on slightly chilly days or on really cold days. The best jackets are superbly stylish and very functional. Sleeveless jackets can be used for layering even during summer with super stylish results. Go for jackets with side pockets to stow away your phone or iPod as you listen to songs with your headphones. Lighter fabrics with beautiful prints can be paired with dresses and shorts. Solid coloured jackets in light fabrics can look classic and are ideal for those not so cold days. Women can go for belted jackets that will define the waist. The wider belts form a more elegant silhouette. Look for big buttons as they add a fashionable touch to the whole look. Men should look for structured shoulders and bigger collar lapels for a powerful dressing style.
The Must-Have Jackets
A fashion savvy person has an array of stylish items that work well with various outfits. There is that one jacket that is the favourite and absolute go-to item all through fall and winter. Then there are the more fun ones that add funky depths to your look. Know your style to know how to choose a jacket which will give your outfits a fashionable upgrade every time. Below are the 7 styles every lover of jackets should have.
Asymmetrical Jacket:
These are very trendy with jacket features like an asymmetric hem and often have edgy zipper details. They are often made with sweatshirt material and are perfect for layering when the weather is pleasant and cool. Pair them with skinny denim, Mary Jane heels, and side parted chignon for a casual chic look.
Kimono Jacket:
These jacket designs are perfect for fall. They can be layered on top of crop tops and jeggings. Experiment with beautiful prints like Japanese cherry blossoms or go for soothing pastel shades. If you opt for a busy print then go monochrome for the rest of your look or be daring and mix prints for fabulous results.
Denim Jacket:
These should be a staple item present in everyone's closet whether you are a guy or a girl. Denim jackets are perfect for all seasons, whether they're light wash, dark wash, full sleeved, or sleeveless. Guys can layer it with loose-fit trousers, beanies, loafers, and striped T-shirts for a stylish weekend look. Try to avoid pairing a light-wash denim jacket with a pair of light-wash denim pants; instead opt for a darker tone for your bottom wear.
Long Jacket:
Any jacket that hits below the hips is a long jacket. They are all the rage right now and are sure to be a timeless item that can be worn for years. They are perfect for wearing over casual outfits to dress things up. Wear these over basic T-shirts and boyfriend jeans with T-strap heels for a fun day out with friends. Opt for fabrics like wool for colder days.
Army Jacket:
This is another classic staple for both men and women. Opt for camouflage prints or solid army green shades to make a statement. Guys layer it with cool grey turtlenecks, sneakers, jeans, and wayfarers for the most effortlessly fashionable look. Girls can sport it with ballerina buns, woollen infinity scarves, and either bodycon dresses or jeans and T-shirts.
Blazer Jacket:
These are perfect for office wear and also for casual business events. Team these with pencil skirts or printed leggings and nude heels for a business-chic look. Guys can pair them with khaki pants and crew neck T-shirts. When layering your blazer, opt for clean silhouettes to keep things formal yet casual.
Leather Jacket:
These are the most versatile and fashionable jackets out there. Leather jackets are timeless fashion items that can lend the right amount of edge to any outfit. Guys can style them with basic T-shirts and fitted dark jeans. Style them with band T-shirts and distressed denim for a more grungy effect. Girls can give their feminine skirts and dresses an edgy upgrade by layering a leather jacket on top too.
Flaunt Your Fashionable Jackets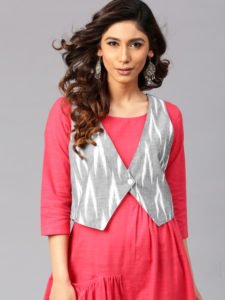 When you know how to choose the perfect jacket for yourself, browse the fabulous selection of jackets online. You can find something that suits your style and also something that is fun and outrageous to experiment with! Take your pick from ethnic Nehru jackets to layer over your traditional kurtas for a classic Indian-intellectual look. Opt for loose-fitting hooded jackets with padding to keep you warm on cold days. Pair them with boots and skinny denim for the perfect winter attire. Checked or plaid jackets will be excellent choices if you love all things preppy. Pair them with skater skirts and bow accessories for the perfect look. While solid colours are more classic, printed options are fun to play around with. Wear your printed jackets with chinos to parties and get everyone's attention. Put on some zany over-sized glasses and wigs and take fun selfies in your fun jackets with your buddies at the party!
Style Them Your Way
Now that you know how to choose a jacket, invest in some stylish hats since they go insanely well with jackets of all kind. A big floppy hat, fringed kimono jacket, and round sunglasses with coloured lenses is the perfect outfit if you love the Hippie style trend. Keep things classic with long trenches in neutral colours or be trendsetting in sequinned bomber jackets. Go for fall's favourite colours like olive, oxblood, navy, and mustard or try out cool trends like ombre, metallic, lace or crochet. Buy the best jackets and layer up in complete style.