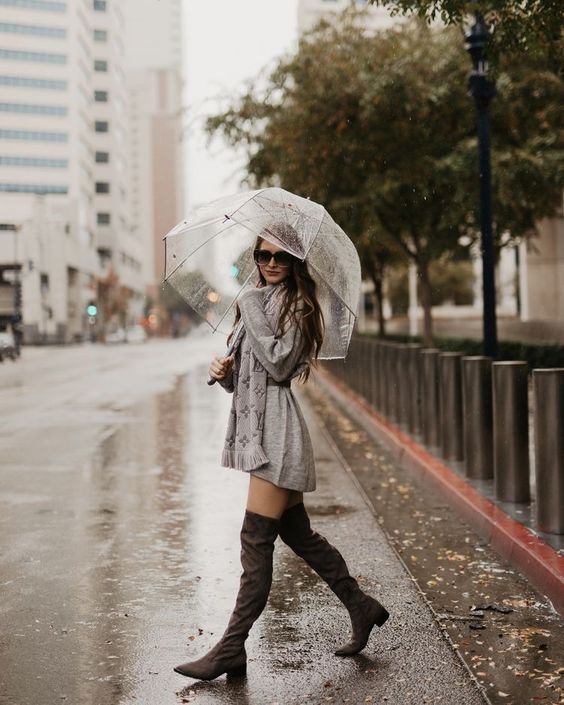 Monsoon is a season that is a mix of many experiences. The cold rains feel amazing when they hit our warm skin. The chilly winds make us want to snuggle into our jackets. But, at the same time, humidity tends to become a serious issue, especially in coastal regions. Apart from that, the pothole-ridden, sludge-filled roads possess some strong potential to ruin our outfits in an instant. That is why we got to be extremely careful when picking outfits during the monsoon and that is what this article is about. Here, we shall delve and analyze all the critical aspects of women's fashion for the monsoon that is comfortable and stylish at the same time.
Importance Of The Fabric
The first critical aspect that comes to the mind is the fabric. Now, we have said that humidity is on the rise, but still, you've got to set those summer clothes aside. Instead, opt for lighter yet stronger fabrics. Practicality should be the primary concern in your fashion styles for the summer. That's why avoid fabrics which stick to the skin or shrink when in contact with water. Keeping all the factors mentioned above in mind, here are some fabrics that you can go for your clothing in the monsoon.
Cotton

Denim

Silk

Mul

Gabardine

Nylon

Chiffon
Picking The Right Outfits
Where we talk about fabrics, outfits can bound to enter the discussion. The right garment can have a make-it-or-break-it effect on the onlookers. So, you got to pick garments that suit those popular style preferences while adhering to precautionary monsoon measures. Here are some suggestions that can prove beneficial during the monsoon:
Full-length garments like trousers and jeans can catch a lot of mud and muck when walking during the monsoon. One way to minimise the damage is to go for three-fourths. These ensure that your bottom wear is spared from the muck and dirt to a certain extent.

Frocks and middies are also a good option for the monsoon. Short length of these outfits makes it quite a manageable outfit especially when heading out during the rain.

Jackets work just as well during monsoon as they do in other seasons. Add a colourful touch to your look with jackets in delightful colours like lemon yellow, orange and blue. These colours go particularly well with the rainy weather.
Short skirts are another option to avoid getting muck on your outfits, just like three-fourths. We would personally recommend skirts with pencil cuts for the season.
The rains shouldn't stop you from going traditional. Long, flowy salwar kameez aren't that comfortable in this weather. Instead, you could opt for simple cotton Kurtis. Light and comfortable, you can pair them with denim and leggings.
Styling It Up With Accessories
Apart from outfits, there are other aspects of fashion that can brighten up your look during the monsoon. In the following list, we shall be exploring some smart tips to achieve that cool look people always crave for during the rains.
Give a break to your stilettos and peep toes. With all that moisture from the rains, your feet are better off with some breathing space. Hence, we would recommend you go for wedges or strappy footwear.

It might get chilly at times during the rains. But layering up your outfits isn't the solution. This would only add to the eventual humidity you would feel in this weather.

Raincoats, too, can brighten up your overall look. One way to do is to wear a fluorescent raincoat over your outfit. Neon or transparent umbrellas are also a good option.

Avoid pastel colours in your choice of outfits in the wet weather. Just like white fabrics, outfits in pastel colours tend to become translucent when they become wet.
With these insights in hand, your fashion preferences in monsoon need not take a dip in both attractiveness and comfort. A splash of bright colours and attitude can brighten up the gloomiest of days. So, get out there and use these tips to achieve that brightness. For more such glimpses into fashion, makeup and accessories for all seasons, continue to follow InfiFashion and get regular updates on all things fashion.