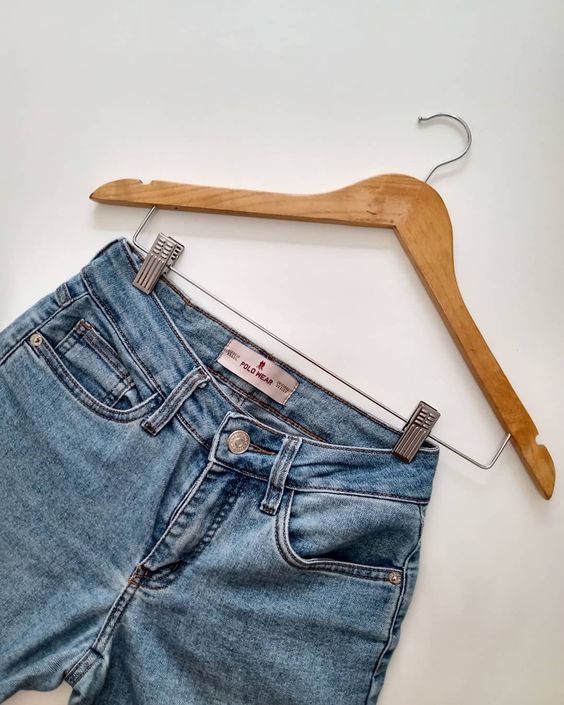 Are you looking for jeans that fit you perfectly and lend you a fetching appearance? Then it's important to know a few facts about these trendy pairs before you indulge in shopping a few for yourself. You must go for styles that will flatter your body shape. The voguish washes, pop colors, and the trendy ripped styles are all set to drive you crazy. So, here we are to help you figure out which pair of jeans will work on you and help you save loads of time.
Jeans Fit Types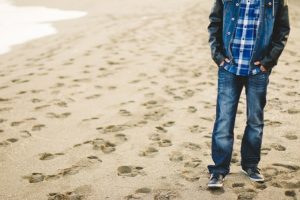 Finding the right pair of jeans can really be a super-exciting task if you pay attention to the details, such as the bottom cut, rise, wash, and, shape. This staple fashion piece can work with your different looks seamlessly. We suggest you go through our fashion guide before you get your own pair of the latest jeans, for tips that would make your task easier. Scroll down to know the styles in jeans and the different ways to wear them for a super-savvy look.
Straight-Fit Jeans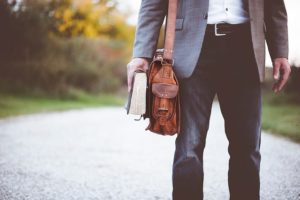 This classic style in jeans sits typically at your waist and has been a timeless favourite of all jeans' lovers. A fit that is straight through the hip and slightly tapered at the bottom lends a long, lean look to your legs and suits all body types. Team a pair of straight-fit jeans with a striped T-shirt and ballet flats for a shopping spree with friends. Guys can create a relaxed look by teaming them with a chambray shirt and suede moccasins.
Tapered Jeans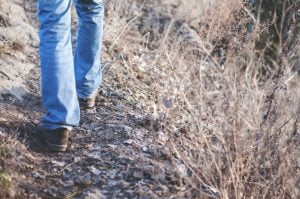 Tapered jeans are extremely popular among men as well as women. These fit snugly from your waist to ankles without being too tight. Women can choose from folded helms as well as cropped versions of this style and team them with tops and shirts tucked in the jeans. Men can go for tapered jeans that fall on the ankles and pair them with T-shirts and casual shirts. Complete your get-up with loafers or pumps to further lend an illusion of length to your legs.
Boot-cut Jeans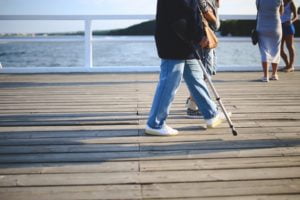 Are you looking for a classic retro style? Then you must get yourself a pair of boot-cut jeans that typically sits below your natural waist. These jeans are tight at the waist, fit your thighs snugly, and flared at the bottom, thus ideal for narrow-hipped and broad-shouldered men and women. We recommend teaming them with a checked shirt with front pockets and a pair of platform wedges for a boho chic look. Men, you can balance out your body shape and create a straight and sharp look by teaming them with a printed button-down shirt and boots.
Slim-Fit Jeans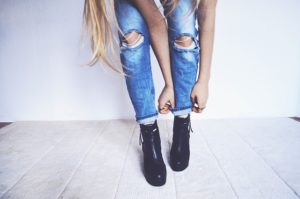 This style of jeans is not skinny but simply slim and made of stretchable denim. The snug fit begins from your waist or below it and extends to ankles while adjusting to the natural contours of the body in a comfortable manner. Guys, team them with a slim-fit T-shirt or a linen shirt for a striking look. Complete your appearance with pompadour hairstyle to look every bit a fashion plate. Women can play with their looks by teaming their slim-fit jeans with a tank top and a casual jacket. A pair of sneakers can add pizzazz to your ensemble effortlessly.
Boyfriend Jeans/Anti-fit Jeans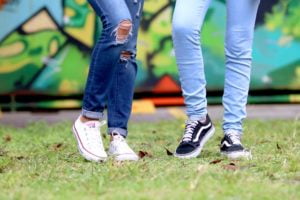 Boyfriend jeans are typically anti-fit jeans but made only for ladies. Men can get their pair of anti-fit jeans too for a relaxed look at various occasions. Girls can doll up to a tomboy look with boyfriend jeans that come with a roomy denim cut. A spaghetti top or a comfort fit shirt can team swimmingly well with your boyfriend jeans. Guys can look uber-cool by wearing these ultra-trendy jeans that hit right at the waist and are loosely fitted. A sporty top, a wide belt, and a pair of thong-style sandals are all you need to don a peppy look.
Skinny-fit Jeans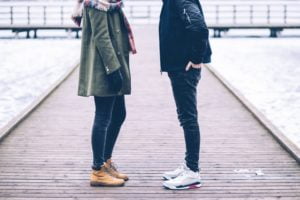 Skinny fit jeans are an exact opposite of boyfriend jeans and fit you from waist to ankle while taking your exact body shape. These are highly stretchable, and fit your body like a second skin. Skinny fit jeans look good on women who are in perfect shape. Teaming them with halter-neck tops or tube tops can raise your glam-quotient in no time. Guys can experiment with skinny fit jeans too, by pairing them with regular-fit shirts.
Types of Rise in Jeans
Make your signature statement with the perfect pair of jeans in all seasons. You have to consider the rise of your jeans now that you are aware of the style you want. Rises give an illusion of a waistline from where your jeans begin and thus determine the overall look. Wearing jeans in a rise that doesn't suit you will make your body look disproportionate. Most of the styles offer three different rises for men and women. Let's have a quick look at them:
Low-rise jeans
Are generally reserved for the ladies, as they sit pretty much low on the hips. They are available in skinny, slim-fit, or relaxed-fit styles. Pair them with a cropped top and open-toed sandals for an attractive appeal. Add a little drama when winter falls by teaming your skinny pair with thigh-high boots and a bikers jacket. Don't be afraid of trying the ultra-low waist jeans if you have long legs. Look spell-binding as you team them with sheer shirts or tunics and stilettos.
Tip for Low Rise Jeans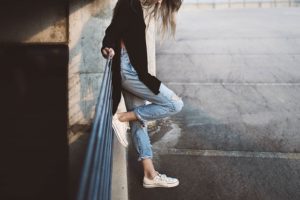 Men can best team a pair of low-rise jeans with a T-shirt. However, you must avoid them if you have shorter legs and a longer torso.
High-rise Jeans
The name itself signifies that they are total opposites of low-rise jeans. Measure your waistline just above the navel if you wish to go for high-rise jeans. However, those who have a shorter torso must avoid high-rise jeans as they will make it appear even shorter. These are the go-to pairs for men and women who have shorter legs as they make them appear proportionate above and below the waistline.
Tip for High Rise Jeans
Avoid embellishments and embroideries on the pockets to look polished.
Mid-rise jeans
These are the most preferred designs as they offer a solution between high-rise and low-rise fits. Go for a classic pair of mid-rise, comfort-fit jeans and team it with a variety of tops, T-shirts, and shirts for a sassy look. Wear loafers, sneakers, or boat shoes teamed with these pairs to look cool and trendy.
Tip for Mid Rise Jeans
Experiment with various tops while wearing mid-rise jeans to find ones that complement these pairs perfectly. Avoid wearing pointed-toe shoes paired with these jeans.
How to Wash Jeans
Most people prefer raw, unprocessed denim but denim jeans with different finishes, also referred to as washes, are quite popular too. Most jeans in the market are available in three different washes including stone wash, acid wash, and vintage wash. Even unprocessed jeans fade away after some time and look worn out. Don't worry though, as worn out jeans give you a look that is both rugged and en-vogue.
How to Care for Jeans
Wash your jeans occasionally as this would retain the colour and look of the pair for a long time. In fact, many denim companies recommend not to wash them at all!