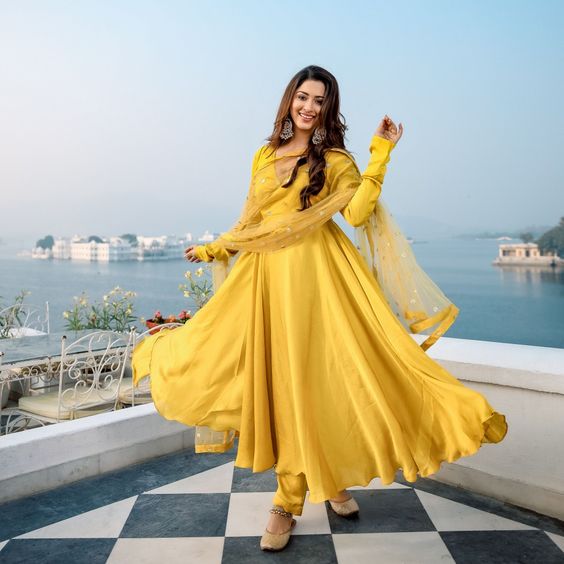 Few outfits are as dazzling and graceful as designer anarkali suits. They have all the great qualities that make ensembles hot favourites. Their flowing silhouette along with stone embellishments, beautiful zari work, or stunning overlays have made them wardrobe must-haves! Their timelessness has led to the creation of several anarkali suit designs that range from A-line fits to knee-length numbers. Collar designs and sleeve lengths also vary to give you even more options. With the wide range we offer, you are sure to be spoilt for choice. Our buying guide will come in handy as you buy anarkali suits. You can then personalise each outfit with the right accessories and rock them with confidence!
Different Anarkalis for Different Figures
Like sarees and kurtas, anarkali suits and anarkali kurtis come in various cuts and fits. While it's tempting to go all-out and indulge your inner shopaholic, you should keep in mind that not every style belongs in your shopping cart.Take a look at the different kinds of anarkalis and choose one or two that fit you the best. Here's a guide to help you find your dream anarkali.
Gracefully Long and Flared Anarkalis
An anarkali suit typically features a kurta with a flared bottom part that reaches mid-calf or down to the ankles. Churidar pants and a dupatta complete the outfit. The suit is graceful and very feminine. However, despite its amazing look, such designs tend to flatter tall women more as the flared hemline adds width. Pick this stunner if you have the height to show it off. We love it in vibrant colours as well as deep, rich tones. Think yellow, pink, dark green, and wine. You can, of course, opt for a simple suit with minimal design. If you are a little more experimental, we suggest going a step further with embellished necklines and zari borders. They add to the allure of an anarkali!
Ever-Flattering A-line Anarkalis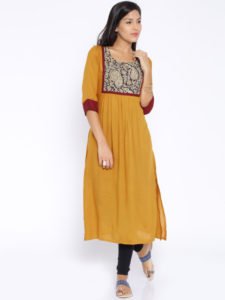 There's a reason why the A-line cut remains a favourite among many: it's just so flattering! The silhouette is slimming and adds inches to your height. We love the contemporary flavour it lends to an anarkali suit. If you're petite, we suggest choosing an anarkali that falls just below the knees or mid-calf so the churidar pants are visible. This gives you an illusion of a longer torso. Since the cut is more understated than in traditional flowing anarkalis, you should opt for designs featuring plenty of fine embroidery and embellishments, especially around the neckline, cuffs, and hemline. If you're going for prints, avoid large motifs and choose small patterns instead. We recommend anarkalis in neutral tones like beige, off-white, and taupe that suit all complexions. To add a dash of colour, pick suits featuring vibrant dupattas and details.
Youthful Short Anarkalis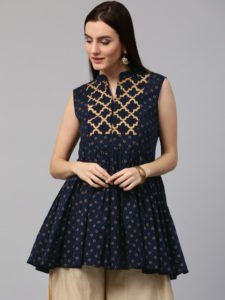 Anarkalis have evolved over time to reflect current fashion trends. One of the more popular styles, especially among young women, is the short anarkali. Not only does it exude a youthful vibe, but it's super stylish as well. Choose a knee-length number and pair it with form-fitting bottoms that show off your legs. Panelled designs in vibrant colours are perfect, as are anarkalis with pretty empire waistlines. The feminine silhouette can be enhanced with contrasting overlays and satiny borders. You can also pick a sleeveless choice to add to your wardrobe. It's flirty and very practical to wear in the summer.
The three styles described here are few of the most popular designs out there. They're feminine and an absolute joy to wear on special occasions. If you simply must have them all, look for anarkalis with hemline variations. For instance, if you're petite but want a long anarkali, an A-line or straight cut one will look fabulous. Likewise, tall women who love the youthfulness of a short anarkali can go for one that's knee-length instead of above the knee. This will create a nice balance between one's height and the length of the anarkali.
Layers for Extra Appeal
You can make anarkalis look even more stunning by pairing them with gorgeous jackets. Team a long jacket with a well-fitting anarkali that reaches down to the mid-thigh. Heavily embroidered jackets can add a dash of sass to your look. Consider pairing a beige jacket with a solid purple anarkali with lovely beadwork for a chic and elegant look. You can even go for jackets that flare from the waist and fall just above the ankles. They're incredibly dressy and feminine. Put together a show-stopping ensemble by opting for a contrasting jacket. Think sheer green with gold-toned overlays to wear over a maroon anarkali featuring gold-toned borders. Gold jewellery and matching footwear will ensure a picture-perfect finish.
Tips and Tricks to Help You Own Every Look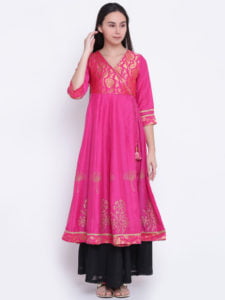 Anarkalis immediately stand out for their intricate details and unmistakable style. However, you can still make them shine even more with a few clever tricks. Anarkalis with stand collars are extremely elegant and are appreciated for lending a stately touch to ensembles. Choose one sans sleeves for a subtle look. Women hoping to make a bold impression can opt for long-sleeved varieties. While you can opt for flared anarkalis with stand collars, you could also look glam in smart A-line cuts. They add inches to your height too! Watch out for V-necks that can give anarkalis a sensuous vibe. If you're going for a plunging neckline, choose anarkalis with long sleeves. This keeps the outfit very elegant. Scoop necks are our third favourite. With their eye-catching cut that falls between demure and sexy, you just can't go wrong. Think scoop neck anarkalis with pretty cap sleeves for a stunning result. Backless numbers are yet another great choice. They look great with both short and long sleeves. Pick a design featuring a heavily detailed front for even more impact. You can also try backless creations with attractive tie-up details and beadwork.
Wear Anarkalis with Confidence!
Pepper your wardrobe with show-stopping anarkali suit sets that reflect your fine taste. You won't find it easy to come across clothing that's so feminine and graceful. What we love about this timeless ethnic wear piece is its ability to showcase current trends and still look traditional. With straight-cut anarkalis, flared hems, and sleek A-line silhouettes, you can give your style a fun makeover that's sure to get you noticed and be envied. Buy anarkali suits and create splendid ensembles that excite and delight. You'll love making an impression no one's likely to forget!