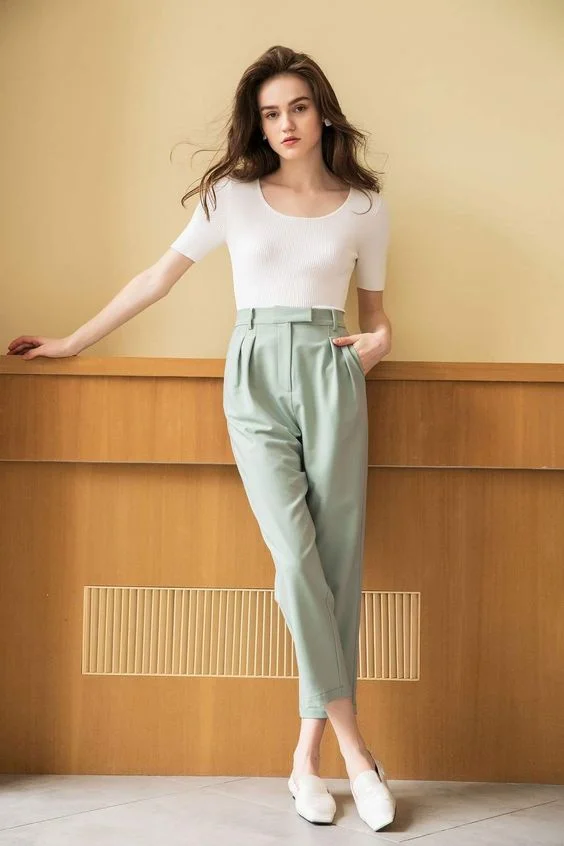 The year 2020 has been a Pandora's box filled with surprises. Right since the fourth month, we began practising social distancing as a response to the Coronavirus outbreak. No one could have ever thought the world would be contributing to saving lives by just staying within the boundary of their homes and not stepping out of it unless required.
As we adapt to this new lifestyle and continue working from home, the importance of dressing up has disappeared. As dressing up for office every morning was a significant part of our routine, we might as well continue with it post quarantine and start our day productively. After spending weeks in those comfy PJ's and hoodies, you might be finding it hard to get back to your skinny jeans.
Do not worry lady, we have got your back! Stay with us till the end of the article as we have got some latest fashion & styling tips. These tips will help you get the perfect look for your glamorous entry back in the office. So let us get started with some of our best office looks and outfit ideas…
Also Read: Fashion Bloggers in India
Solid Jumper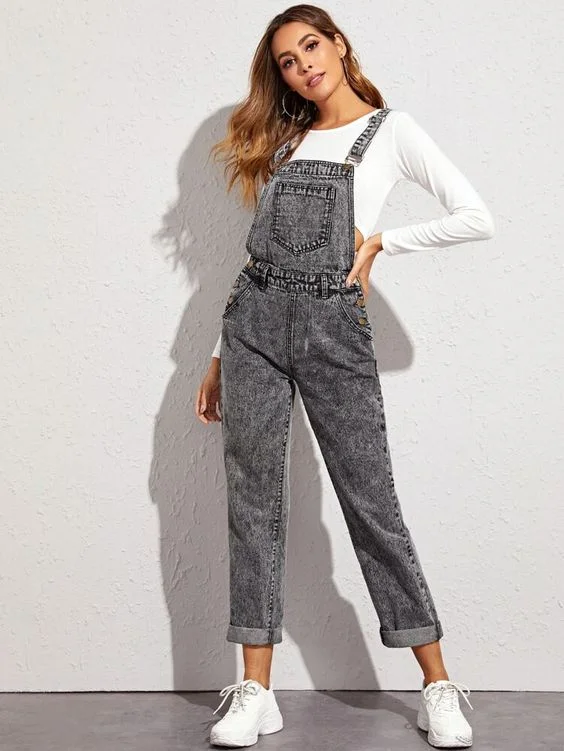 This is more of a casual look if you don't feel like to go straight for trousers. Jeans, on the other hand, make for the most comfortable choice. Consider donning a poppy coloured jumper. Over the years, jeans have become a wardrobe staple as it can be easily paired with any top of your choice, giving a casual yet stylish look.
Styling Tip: To get a sporty look wear sneakers along with this outfit or go for boots to get a chic look.
Also Read: Yoga Outfits for Women
Maxi Skirt with Black Turtle Neck Tops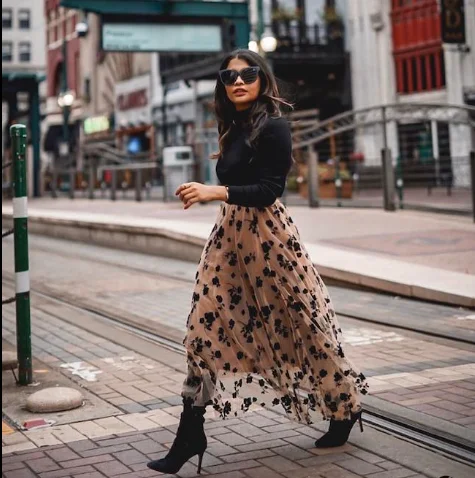 Maxi skirts can be worn for any occasions and give a chic look to the overall outfit. Almost everyone owns these full-length skirts as it helps them to create a style statement. If your maxi skirt is printed, then it is the perfect bottom to wear for a party or brunch. To get a more balanced look you can wear the skirt with a black turtle neck top. A tip to wearing turtle necks would be to tie your hair up in a messy bun as it complements the outfit.
Styling Tip: If tuck in the top or tie it in a knot right above the skirt, it will give you a defined waistline.
Also Read: How to Get Rid of Pimples
Brown Trousers with a White T- shirt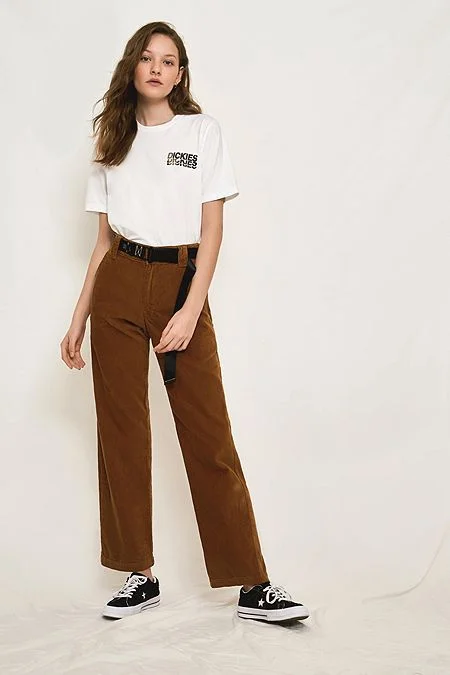 This is a simple yet classy outfit, it is a go-to outfit choice for casual outings and office looks. You can accessorize a little bit with a delicate gold pendant choker, along with some minimalistic ring to get a polished look. Choose light brown cigarette pants and tie a knot on the T- shirt or tuck it in loosely. You can add a leather belt on to create a perfect vintage look, furthermore wear layered bracelets to get the complete look.
Styling Tip: Select the right T- shirt considering three aspects: the fit, the material and the neck. The selection also depends on your body type and what suits you well.
Also Read: Best Running Shoes For Women
Shirt Dress or Shift Dress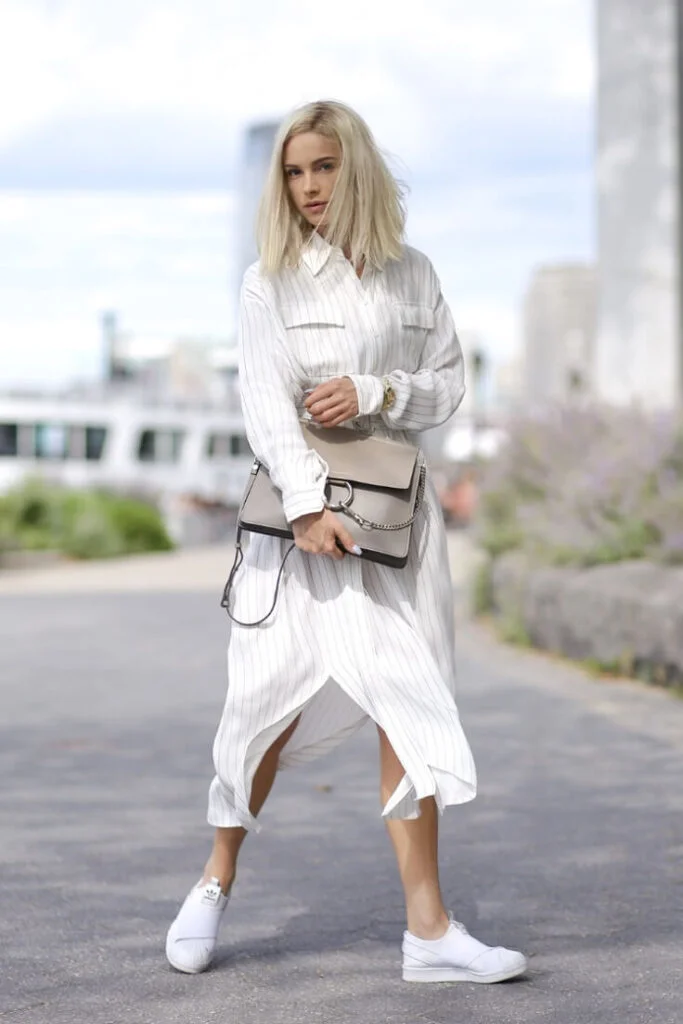 These dresses are very comfortable and a perfect choice for loungewear. They also give a very relaxed feel and are best suitable as summer outfit. The unique prints and colours will provide you with a variety of shirt dresses. To get a chic look wear a minimalist layered necklace along with simple earrings.
Styling Tip: You can simply complete this look by adding some classy heels and a matching sling bag.
Also Read: Show-stopping Wedding Outfit Ideas
Mix Matched Blazers and Trousers
If you like wearing blazers with everyday trousers then this the perfect formal look for you. One can create this look by pairing three clothing items, including a blazer, trousers and a solid crop top. You can go for basic black or white crop tops and pair them with contrasting shades of trousers and blazers. If you like experimenting with your look, you can try various sizes to get different vogue looks for your Instagram posts, right from the cool baggy look to the classic sleek outfit.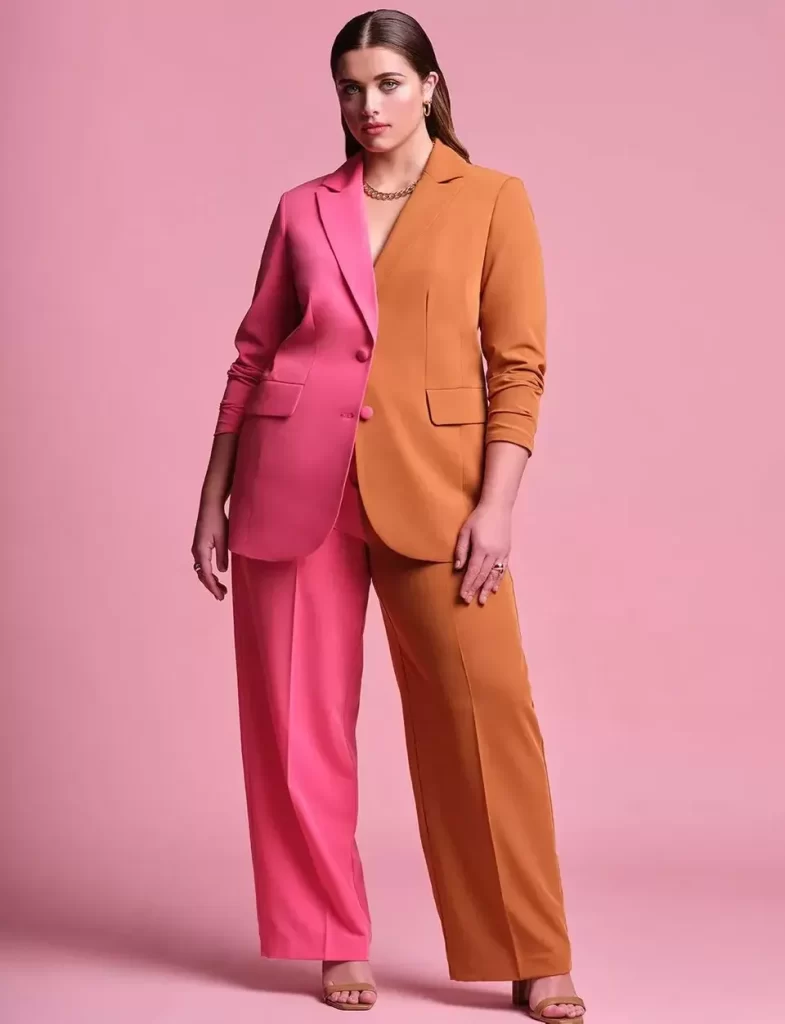 Styling Tip: Get yourself an out of the box look by styling the blazer with vintage high waisted flare jeans and a solid T- shirt.
If you guys have any other office outfit ideas that we can try post quarantine, do let us know in the comments below.
Popular Searches
How to Style Formal Shirt | Types of Formal Shoes | Types of Formal Shirts | How to Buy Blazers | Different Tie Styles | How to Choose a Jacket | How to Choose Right Sunglasses | Sugar Makeup Kit | Nehru Jacket Style | Types of Backpacks | Men's Suit Ideas | Track Pants Styles | Places To Visit In India this Vacation | How to Boost Immunity | Best Watch Brands in India |