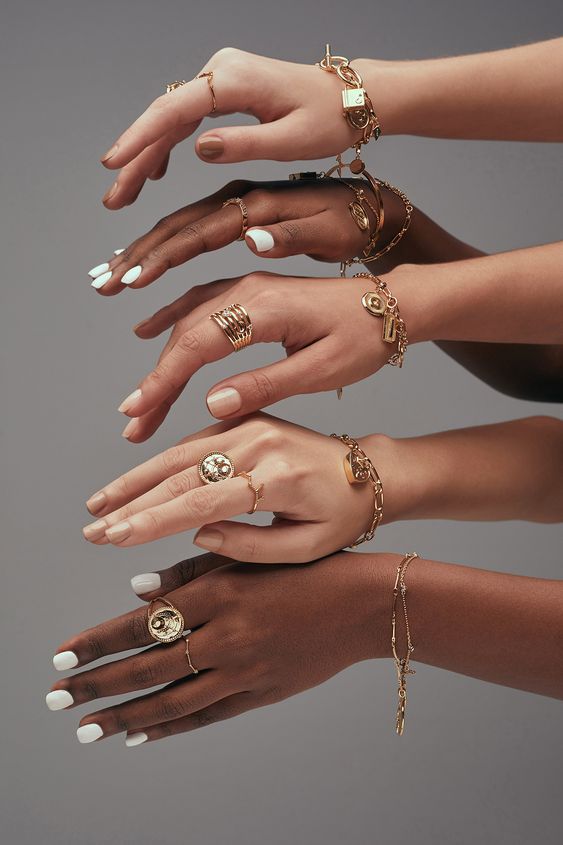 Bracelets are can never go out of style! Just wrap them on your wrist and you are all set to make some people turn green with envy. There are leather bracelets, beaded ones and the most trendy among all, the cuff bracelets and loads more. Whether there is an occasion or not, donning stylish bracelets is always a good idea. These can be easily paired with any kind of outfit to add a charming touch to it. Our fashion guide will help you style your stunning bracelets in ultra-cool and savvy ways!
Styling the Bracelets:
1. Clubbing Multiple Bracelets
Women
If styling one bracelet seems to be a little less jazzy then clubbing a couple of them together will work like a charm for you. You can don bracelets of same design but different shades together. Another fun look that can be created with multiple bracelets is by mixing up various types of bracelets and donning them together. You can take this look a notch-higher by wearing bracelets of different shapes having the same colour. Try donning a multi-string bracelet with a metallic chain bracelet. Wearing multiple trendy bracelets will undoubtedly look fabulous with all of your casual apparel.
Men
To upgrade your style, we suggest you to accessorise your attire with a couple of funky bracelets. If you prefer leather bracelets then go for a set of three of them having less widths. Even multi-string bracelets will do the work stunningly. You can go for plastic bracelets having beads if you want to sign off your funky look with a fun twist. A set of four beaded bracelets in shades like beige, brown, tan brown, black, and navy will take your look a notch higher. You can experiment and don a mixed set of bracelets. Try wearing a metal, cuff bracelet with a bunch of beaded bracelets in totally contrasting hues. Or you can opt for a multi-stranded bracelet instead with the cuff bracelet.
2. Wrap a Watch
Women
What's better than donning your favourite watch with a couple bracelets on the same hand. To show off your feminine side with flair, opt for two-to-three beaded bracelets with your silver-toned analog watch. Make sure that the bracelets are of different, vivid colours. You also opt for a leather bracelet and don it with a leather watch of the same shade to complete a funky look with elan. If you are heading for a wedding or dressing up in a traditional manner, then accessorise your attire with a gold-toned or silver-toned bracelet. Add even more to the attire by donning an analogue watch and that too on the same hand as the bracelet. An ultra-snazzy outfit could be given a touch of quirkiness by donning multiple bracelets of distant types and shades with a cool, metallic watch.
Men:
Watches are one the most frequently used piece of assortment. What if we gave a fresh twist to them by wrapping a bunch of bracelets around it. Give your brown or black leather watch a luxe spin of style by donning with it a brown leather bracelet having a thin strap. You can get a funky look by wearing the same watch with a set of three-to-four beaded bracelets. Opt for hues like light green, light blue, off-white, and grey. For a laid-back appearance, you can don a multi-string bracelet with your chronograph watch. Stainless steel bracelets with interlinked details will look striking when donned with a silver-toned metallic watch.
3. Staying Subtle Yet Stylish
Women
We all need a handful of ways to look stunning while staying subtle. And, all you need for that is just one pretty bracelet! We suggest you to go for thin cuff bracelets or for bracelets with clasps to accentuate your formal attires. To add bling to your party ensembles, opt for broad cuff bracelets in gold or silver tones. You can even go for stone and metal bracelets to uplift your party wears. With your everyday casual apparels you can don multicoloured beaded bracelets or multi-string bracelets. For an elegant look, you can opt for an interlinked chain bracelet. Wear this delicate piece on one hand and a classic analogue watch on the other. Apply contrast nail paint and stunning nail art to jazz up your look in an effortless way.
Men
How to flaunt a perfect sleek look? Keep your accessories minimal. With your day-to-day attire, you can simply go for an adjustable bracelet. For parties, wear something more fancier! We suggest you to go for a leather bracelet with metallic accents. Shades like navy blue, dark brown, and black will amp up your attire instantly. Stainless steel bracelets having fold-over clasps will also look turn your party outfit more flattering. You can choose them from black, silver, and gold tones. Stylish bracelets with a magnetic closure can be donned as a casual wear. Prefer colours like red, black, white, or blue.
4. Amp It Up with Rings
Women
Rings and bracelets merge together effortlessly. So bring out your sassy rings and don them with your hot favourite bracelets to amp up your various outfits. With your classy cuff bracelets you can go for cuff rings of the same shade. Even mid knuckle rings will look impressive with bracelets. Tube rings teamed with multi-stranded bracelets and clasp bracelets will lend your ensemble a very trendy twist. If you are looking for a bracelet to be donned with your cocktail rings then simply wrap an eye-catching metal bracelet and you are good to go! Your finger bracelet can be given oomph by donning plain bands on different fingers of the same hand.
Men
Now you can style your classy rings and cool bracelets together. Love your ring bands? Don two of your favourites and enhance their charm with a metal, cuff bracelet! Want something more jazzier? Team up your leather watch and leather bracelet together. And, don a cool silver-toned ring on the other hand. You can do the same with your stainless steel link bracelets. With your beaded and plastic bracelets, we suggest you to don thumb rings in vivid hues. Matte rings complemented with stylish bracelets will add another level of class to your looks in a snap.
Now go ahead style your bracelets in the most fashionable sense and thereby, give a lift to your smart attires. Whether it's a semi-formal party or a music fest that you are heading to, add a snappy twist to each one of your ensembles by donning trendy bracelets. So go ahead and make your own personalised collection of cool and stylish bracelets!