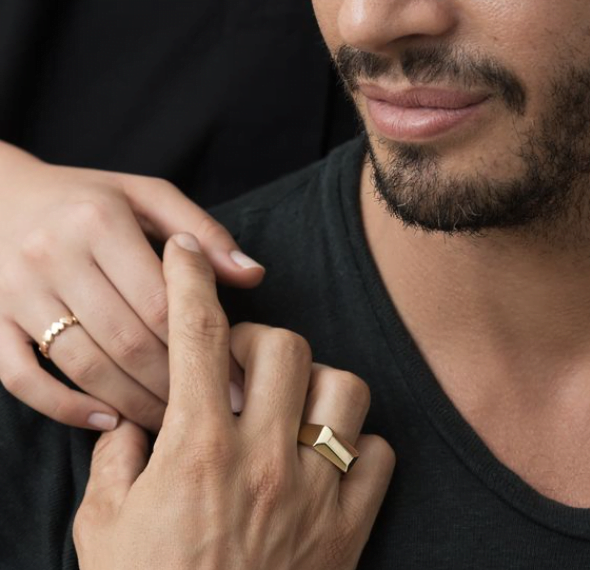 Rings are undoubtedly one of the most effortlessly stylish accessories. No matter what the occasion is, a ring will always add oodles of charm to your look. There are a variety of designs available, some fit for the red carpet and others funky enough to play up any day outfit. With so many to choose from, it pays to know the popular picks so that you can show them off. Our fashion guide will show you some stylish rings that you simply must have!
Bands
You can get bands in varying thicknesses. You can also get them in sets with a couple of slim bands and a couple of thick ones. With a set, you can wear them together to really stand out or opt for one or two depending on your look. Bands can be simple with no ornamentation or they can be embellished with stones. We recommend getting both styles. You can jazz up an ensemble with a studded silver band or play it up even more with both silver and gold rings. Wear them to amp up the appeal of a sexy cocktail dress and stilettos.
A lot of cool designs are featured in bands for guys. We love those in steel or silver that you can wear on your thumb or on your index finger. If you need to shine at a special event, we suggest going for a band that has crystal embellishments. You could let it accessorise a formal suit or a dressy kurta-pyjama. For casual wear, choose a plain band that can be complemented by an edgy black beaded bracelet.
Textured and Engraved Rings
Who doesn't love flaunting a personalised something that reflects your ideas and thoughts? Stylish rings with textured details and engravings can instantly perk up your look. Get them in gold with antique finishing to bring a dose of vintage charm to an evening ensemble. Accessorise further with a cut-out bracelet in a similar finish. If you've chosen a personalised ring that spells out your name or a word, wear it with a casual outfit like jeggings and a top. It'll lend a funky flavour that could be a little too much for a dressy ensemble.
Handsome engraved rings can do oodles to boost a man's style too. They can add zing to your day-to-day looks as well as to party wear. Choose one in a silver colour to temper bright purple shirts and red chinos. Gold-toned rings, meanwhile, can enhance the colour of pink party shirts and light blue jackets. You can take your look further by slipping on a set of beaded bracelets and a watch.
Cuff Rings
Cuff rings come in a wide array of choices. You can opt for a simple one minus engravings to give a classy touch to anything you wear. Cuff rings can also feature beads, crystals, and stones to dress up evening wear even more. You can also try a cuff ring with a cut-out detail that resembles a horseshoe. The adjustable design is a must-have for anyone who has trouble finding rings in their size. You can resize it and wear it on whichever finger you want. Women can wear it with a backless jumpsuit and peep-toes. It would also look stunning with a lovely saree and open-toed sandals.
Cuff rings are also popular among men's. You can make a collection of them with all the latest designs in different thicknesses and finishes. Plain rings with cut-out details in stainless steel are a hot favourite among guys, but you can just as easily complement casual attire with studded rings too. We recommend keeping the heavily embellished choices for special occasions. You can style them with ethnic attire such as sherwanis and kurta-pyjamas.
Cocktail Rings
Want to make a bold fashion statement at the next party? Just slip on a large cocktail ring featuring coloured crystals. It can easily accessorise a little black dress, a floor-length evening gown, or a contemporary saree. To make sure your ring steals the limelight, avoid wearing any other rings and keep other jewellery to a minimum. If the occasion is a corporate event, accentuate your dress with a cocktail ring and a dressy watch. If you're attending a family function, accessorise your saree or tailored dress with a set of bangles in the colour of your cocktail ring. If you must wear another ring with it, choose a slim band with no embellishments.
Signet Rings
Distinctive and stylish, signet rings are must-haves for men who want to show off their style with a touch of flair. You can choose a monogrammed ring, one featuring Oriental artwork, ethnic Indian motifs, and gothic-inspired engravings. Let them accessorise anything from smart-casuals to party wear and formals. Traditional weddings are the ideal opportunities to don stunning sherwanis featuring fine embroidery that can be accentuated with signet rings in similar colours. The rings also look fabulous with formal suits.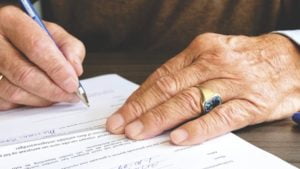 Knuckle Rings
Knuckle rings are perfect for those who love wearing funky and edgy jewellery. They come in many designs but they all share a common feature: they immediately stand out. Popular among young women and men, you can wear them with party outfits and trendy casuals alike. You can choose subtler designs if you want to wear them with formal attire. Slim knuckle rings with textured details are perfect for giving girly ensembles a whimsical touch. Those with cut-outs and beadwork, on the other hand, look fabulous with lehenga cholis. Knuckle rings look best when worn with no other jewellery though you can add earrings for more bling.
Solitaires
These are undoubtedly among the most popular especially as engagement rings. Featuring a single stone that takes centre stage, you really don't need to wear any other jewellery with one of these on your finger. Diamonds are the stone of choice here. Wear solitaires with gorgeous evening gowns and elaborate ethnic wear. Tailored dresses and sarees with blouses that have smart stand collars are a couple of choices we recommend. If you want to wear more jewellery, choose elegant chandelier earrings or studs that bring out the brilliance of your ring. You want to keep your look sophisticated and never overdone.
Show off your terrific fashion sense with popular rings that clearly reflect your taste. You can combine different types of rings and wear them together, or you can go for an understated appeal with just one or two rings. Explore and find designs that are trendy yet timeless. Flaunt them with different ensembles as the occasion demands. Your jewellery collection is incomplete without rings so get your favourites and let them help you make waves!