You go through your closet looking for the perfect saree when it's time to dazzle at an upcoming wedding. That traditional red one has always served you well, but how you'd love to make a splash in a designer saree! What's stopping you? With amazing offerings from names so familiar to your ears, you can shine in sarees that skim your curves in all the right places and help you make a huge statement. Treat yourself to a wonderful blue silk number that you can accessorise with fine gold jewellery. Add to your growing collection of designer ethnic wear with a fantastic navy georgette saree featuring paisley motifs. We give you five solid reasons why you should splurge on the best designer sarees, all the while suggesting pieces from big names like Mandira Bedi and Satya Paul.
The Quality Rocks!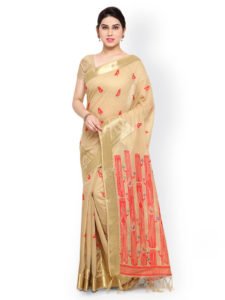 Designer sarees may cost a small fortune, but you can be sure that you're getting good value for your money. That silk or georgette saree you have your eye on is sure to be made with great attention to detail. You're unlikely to get loose thread work, annoying frayed edges, or cholis sewn with little care. Instead, you get to show off sarees that look great and feel amazing. Designer label Akaaro boasts a collection of stunning designs in colours that complement various complexions. Are you a dusky beauty? Try a fabulous cream silk saree with pops of colour. Enhance the play of hues with gold earrings and beaded bangles. Pin your hair back near the nape of your neck and secure it using a jewelled hair clip for more sparkle. Ladies with a fair complexion will turn heads in a striking magenta saree with gold-toned borders. This vibrant hue can be played up even more with colourful jewellery, or you can choose to tone it down with a simple gold necklace and matching stud earrings. We recommend this look for an engagement party or an anniversary dinner.
Find a Terrific Fit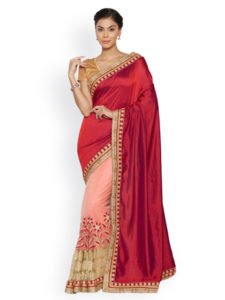 A designer saree should hug your curves elegantly and play up your best features. The brains behind these stunners want you to look perfect in their creations. Cholis that fit perfectly and sarees that drape beautifully are what you can hope to find with offerings from household name Satya Paul. We're in love with the contemporary designs, particularly those featuring attractive geometric shapes. Try a printed lime green saree and accentuate the refreshing colour with a dramatic sequined blouse. Put a retro spin on this modern marvel with peep-toe heels and teased hair swept up into a chignon. Winged eyeliner and matte red lips will help you finish the ultra-feminine ensemble. If you love a touch more colour, we recommend a red and pink printed saree that you can drape in a way similar to how you would a lehenga. Wear it with a black choli that has a square neckline and put on matching pointed-toe stilettos. Slip on chunky stone-encrusted earrings and a large ring. Suffice it to say, you'll be the belle of any ball! If these detailings have confused you then I suggest you check out this article on how to buy Indian Ethnic Wear for Women. With this article, you can get great help next time when you plan on buying an ethnic attire for yourself.
They're Original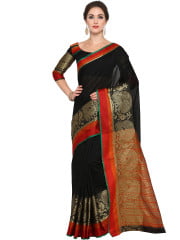 Okay, we admit, some imitations do have their appeal, especially when you can't afford to spend a lot on clothing. However, nothing beats original designer sarees when it comes to design, fit, and quality. What we suggest doing is saving up to treat yourself to one every few months. You'll have a terrific collection before you know it. Mandira Bedi's line-up of sarees is something else. There's everything from the more traditional paisley designs to contemporary two-tone ones and stylish colour-blocked choices. We're crazy about the jacquard crepe sarees in stylish black with bursts of colour that give you even more to marvel at. Leave your little black dress behind in favour of one of these stunners the next time you're headed to a cocktail party. You can spruce up your look with large drop earrings and a cuff bracelet. Ombre sarees, with their beautiful colours mixes, are in. In Mandira Bedi's collection, you can find designs bordered with intricate gold threadwork and delicate contrast overlays. Bring out the colours with a blend of gold and silver armlets and hand jewellery.
You'll Be a Trendsetter!
The best designer sarees are at the forefront of fashion. After all, designers set most of the trends we follow. With a few of them in your wardrobe, you can be sure to make a huge impression at any event. Just check out the collection of Ritu Kumar sarees. This is a good brand to consider if you're looking for a mesmerising bridal saree to wow your guests on your special day. We recommend an embroidered saree that also features contrast piping and taping details. Match it with an equally stunning blouse, also with embroidery, to really bring out the beautiful details. If you love the traditional red of a bridal saree, we suggest a lovely georgette one with a black panelled blouse. You can play up the metallic embellishments with an elaborate nose ring and attractive haath phools.
They Make the Perfect Heirlooms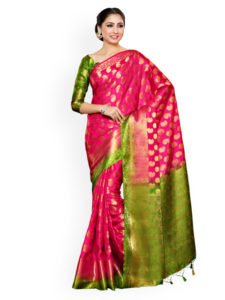 The best designer sarees are timeless. Imagine presenting your daughter or little sister with one of your prized sarees when she comes of age. You probably have fond memories of your mother or big sister doing the same for you. We're sure the youngest will value it as much as you do. So, go ahead and get that gorgeous saree that's been on the top of your list of must-buys for a while now. You'll be doing yourself and your loved ones a favour!
Get started building a designer saree collection filled with creations from your favourite designers. When you take pride in wearing beautiful ethnic wear, buying the best pieces is a no-brainer. Besides, we know you're dying to go on a shopping spree! Carefully crafted choices will put you on the fashion map and make you the envy of your peers. Remember, with designer sarees, you not only get to wear amazing originals, but you also get excellent value for your money.
Last but not the least, to ace your designer saree look you will need to wear jewellery that will compliment your saree. It is better if you buy jewellery that can match any type of sarees rather than buying jewellery for every saree you own. To know more on how to buy jewellery that can be worn on various kinds of sarees, click here.