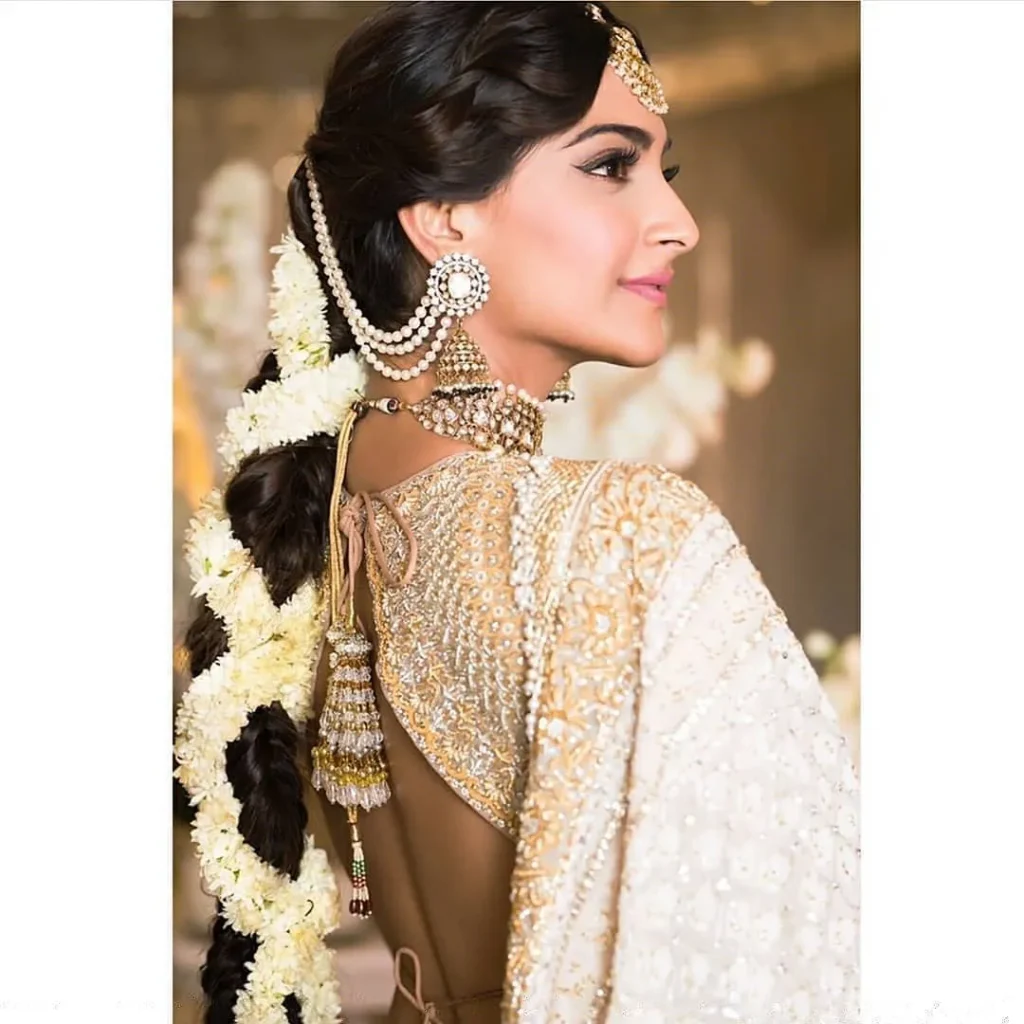 Hair accessories for women and girls have long been inspired by glamorous actresses all over the world. The beautiful women of Bollywood, including Deepika Padukone, Katrina Kaif, and Priyanka Chopra, have a strong influence on today's fashion scene. When they grace the world of Bollywood with their amazing acting skills and stunning looks, their gorgeous hair accessories also leave an impression on everybody. These are a few of the top styles made famous by Bollywood and its bevy of beauties!
Flirty Flowers
Flowers have always been an inspiration for stylish hair accessories. They look absolutely lovely with every hairstyle and can glamourise any look. Bollywood actresses have been wearing flowers in their hair for years. Some wear them across their heads in the form of a crown while others opt for subtler single flowers pinned to the side. Some also choose to wear small flowers all over their hair for a whimsical touch. Orchids, hibiscuses, water lilies, and jasmine are some of the choice flowers. We recommend going for solid pink flowers or flowers with an ombre tone. Place them around a messy chignon or around a topknot for a flirty touch. Let them style boat-neck dresses and cute shrugs for a girly day look.
Beautiful Maang Tikkas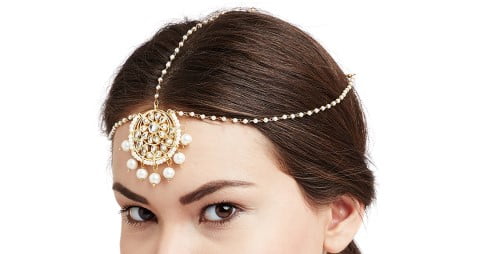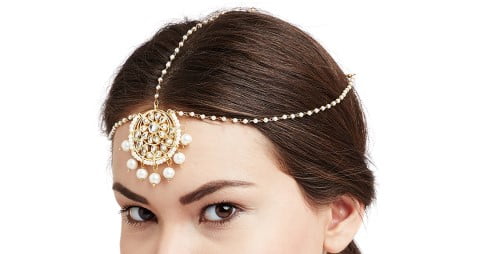 Traditional maang tikkas are some of the most popular hair accessories made famous by Bollywood. The decorative piece of jewellery that lies at the center of the forehead can be a large gold-toned circle with a red stone in the middle, or it can be a simpler circle of beads. What add to the allure of maang tikkas are the delicate strings that accompany the centerpiece. They sweep across the top of the hair in perfect symmetry. Only one or two strings are worn for a subtle look, while four or more strings or strands of beads are worn for a fancier vibe. We suggest going for a simple maang tikka to accessorise a blue and gold-toned lehenga choli, and leaving more elaborate designs for heavily embroidered designer sarees. Enhance the gorgeous colours and sparkle with stud earrings, jhumkas, and necklaces.
Glittering Hair Bands
Once a practical solution to keeping loose hairs away from the face, hair bands are now used to make any ensemble shine. Thanks to Bollywood, these accessories that feature stones, sequins, and beads are now favoured by girls and women alike. Hair bands are a classic hair accessory. Easy to wear and very feminine, they look wonderful when paired with sheer blouses and trousers. Ethnic style hair bands can be flaunted with salwar kameezes and patiala pants.
If you want to wear a highly decorative hair band, remember to keep the rest of your outfit dressy otherwise it will look out of place. Toned-down designs with just a single stone or a small cluster of them would look stunning when paired with an embroidered tunic and a churidar. Cute hair bands that can be tied in the back or in the front with a bow are our pick for wearing with tailored dresses and kitten heels. You can also try a hair band with a lovely sequinned floral detail to accessorise summery daywear.
Bejewelled Pins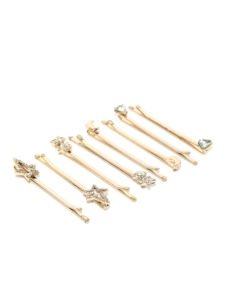 Pins have been used as hair accessories for ages. Your mother probably has some and even your grandmother undoubtedly owns a few. But, Bollywood trends have given these accessories more glamour. They come in every shape and size imaginable. Traditionally worn to keep buns in place, some pins can be attached to half updos and braids as well. Bollywood-inspired designs feature everything from pearls and diamonds to beautiful beads and precious metals. They take on numerous shapes including those of animals and insects. Go for a multicoloured pin in the shape of a ladybird to glam up a white shirt and a pair of slim-fit jeans. You can make this your go-to casual Friday attire. Just add a pair of pumps and a smart handbag. Large and fancy pins that are made to cover a large section of hair look best with equally fancy ensembles.
We love pins that are strategically placed to highlight the construction of an elaborate bun. They go superbly with zari sarees but can also give stylish kaftans more pizzazz. Smaller pins that can be worn all at once to form a pretty cluster look stunning with backless evening dresses and vintage-inspired high-collared blouses.
Sparkling Tiaras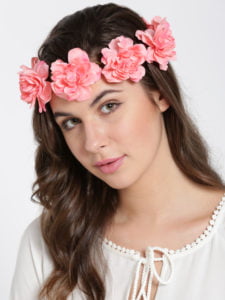 The tiara is no longer reserved for queens and princesses. Bollywood has made it famous, so that every woman and girl can wear it as a hair accessory. Some might not consider the tiara as an everyday accessory because of its roots to royalty, but wear it with the right formals and you can look fabulous. Bollywood sirens have been known to flaunt these gorgeous accessories on the red carpet and many women show them off at gala events and weddings.
You can feel like royalty too the next time there's a special event you need to attend. Choose a tiara with floral motifs and a slim band to go with a sapphire blue V-neck gown. Play up your ensemble with sequinned heels and a stylish box clutch. You can also opt for a subtler tiara that features just a band with a small cluster of white beads on the side. It can be worn during the day with a smart-casual outfit like a knee-length tailored skirt and a pastel-coloured cardigan.
Elaborate Passas or Jhoomars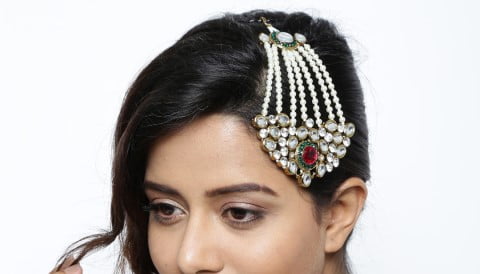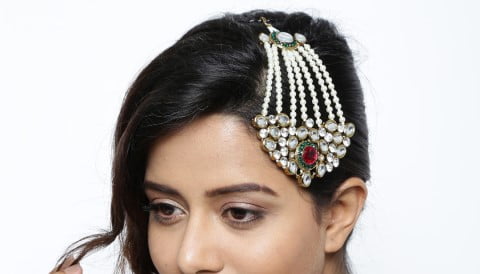 Traditional and timeless, passas or jhoomars are our first choice for accessorising bridal wear. This exquisite hair accessory is so stunning that it instantly catches attention and makes a lingering statement. Worn on the side of the head to form a stream of beads and precious stones, passas are one of the fanciest hair accessories around. Sometimes, they're worn towards the middle for a more symmetrical look. Recent trends have shown them to be placed on buns so they create a cascading effect of pearls and gold. When worn with maang tikkas, the outcome is mesmerising. If you're wearing it with non-bridal wear, we recommend showing them off with backless cholis and panelled lehengas featuring beadwork and mirror work. Simpler designs can be flaunted with churidars and long ethnic style jackets. Style your hair into curly half updos, thick braids, and side buns.
Bollywood will forever be an inspiration on what women and girls put on their hair. Whether it is a fresh flower or a shiny tiara, these stunning hair accessories continue to captivate. Let them style formal wear and casual wear alike. Show them off at parties, corporate events, and even at work. With the right outfit and the right hairstyle, hair accessories can amp up your look in no time.