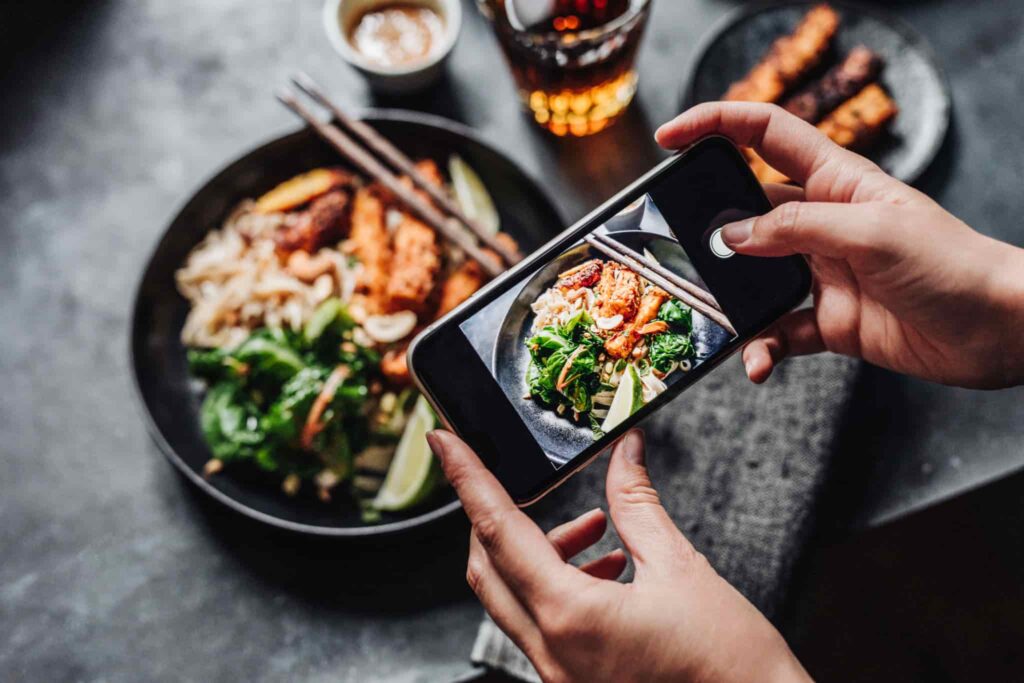 Foodie or not, coming across posts and videos of delicious foods on your homepage is enough to make anyone drool. Today, there is no shortage of food bloggers in India who have made food blogging a full-time job. This involves everything from sharing pictures and tips to posting recipes easy and complex alike. Keeping up to date with these top food bloggers in India will make sure you never miss out on yummy opportunities to cook your favourite meals at home or learn how to feed your loved ones the healthiest of snacks. Listed below are 15 of the best food bloggers in India that you should check out.
Also Read: Types of Tea You Must Really Know
List of Top 15 Food Bloggers in India
1. Anubhav Sapra – (@delhifoodwalks)
Anubhav Sapra started his popular blog "Delhi Food Walks" in 2011. A space to simply explore Delhi's wide variety of street food later evolved to cover lesser-known local recipes and street foods across the country. While his niche still remains North Indian food, his blog offers recipes from other places which will satisfy all your taste buds. You can also find food content by Anubhav Saora on his YouTube channel.
2. Hina Gujral – (@funfoodandfrolic)
If you are always looking for new tips and tricks to add some extra spice to your same old recipes, Hina Gujral's "Fun, Food and Frolic" is the food blog for you. She shares a variety of recipes made by her that often satiate mild taste buds with balanced spice levels and ingredients that lean towards the healthier side. Not only are these recipes healthy and delicious, they can also be prepared in small amounts of time, which is especially ideal if you have a hectic schedule.
3. Richa Hingle – (@VeganRicha)
Going vegan is the latest trend in a more sustainable livelihood these days. Many of us seem to be taking this step, while others are curious to try out. If you are one such individual who is interested in the concept of veganism but worries that vegan food will not be tasty, Richa Hingle's blog is just what you need. She shares scrumptious vegan recipes for pastas and pizzas, making sure her followers can enjoy all their favourite foods but with organic ingredients.
4. Asha Shiv – (@foodfashionparty)
While it seems nearly impossible to get bored of classic dishes, you will surely, at some point, want to delve into unique recipes that offer your tastebuds something new. Asha Shiv's blog is a curation of fun baking, breakfast, lunch as well as dinner recipes that include dishes like potato waffles, gujiyas, stir fry meals, and more. You can also find a variety of fruit creations on her blog that will inspire you to cook up new dishes for every season.
Also Read: Places To Visit In India this Vacation
5. Harpal Singh Sokhi – (@chefharpalsokhi)
Chef Harpal is easily one of the most famous food bloggers in India. Being a certified chef, he runs an all-rounder blog with equally flavourful recipes of vegetarian and non-vegetarian food along with beverages. He is best known for his popular rendition of "Namak Shamak," which he often used on his cooking show. True to his ethnicity, he adds a Punjabi twist of tadka in all his recipes which you will not be able to resist.
6. Deeba Rajpal – (@passionateaboutbaking)
If indulging in your favourite sugary dishes is your guilty pleasure, you absolutely must follow Deeba Rajpal's "Passionate About Baking" blog. She is a content creator, food stylist, and baker who shares the most delicious dessert recipes. Often using seasonal ingredients, she puts together eggless creations that will beyond satisfy your sweet tooth. As a food stylist, she also has the best tips in terms of decoration, so make sure to check out her blog!
7. Neha Mathur – (@whiskaffair)
Neha Mathur's blog, called "Whisk Affair," has been quite popular for the last 7 years and is one of the best ones to follow, especially if you are a beginner. Featuring simple recipes such as jaljeera and pakoras to more exquisite ones such as chicken curries and mawa cakes, her blog will add to your cooking knowledge on all levels. You can always rely on this blog for some refreshing recipes that will gratify the foodie within you instantly!
8. Natasha Hamo – (@organicandhappy)
Healthy food has never looked more tempting than Natasha Hamo's nourishing recipes on her "Organic and Happy" blog. After switching from junk food to health-giving alternatives post some health complications, Natasha shares a myriad of easy to prepare, including vegan recipes made with organic ingredients. Her recipes will definitely teach you to maximise nutrition levels of your meals. If you wish to set the ball rolling for healthier food decisions, this is the place to start with.
Also Read: Top 10 Types of Photography Lighting
9. Karthik Gandhi – (@gastrohogger)
Known for his never-ending love for biryani, Karthik Gandhi is a true foodie who takes you along on all his food trips in Hyderabad. With top-notch professional reviews of many food outlets, his blog lists out the best places you can visit to make your Hyderabad trip worthwhile. His main focus is still biryani, and in a city known for its delicious servings of the dish, Karthik's blog will direct you to the most authentic places to get a mouthful of rich favours across the country.
10. Sailu | Indian Food – (@sailusfood)
Easily one of the top 10 food bloggers in India, Sailaja Gudivada's blog provides a thorough understanding of Indian spices and dishes. "Sailu's Food" will teach you to implement professional cooking techniques and get that restaurant style taste in all dishes at home. Her blog offers recipes for all your finger-licking favourites, including staple foods from various Indian states and cultures, such as dosas, badusha, pulao, and more.
11. Uma Raghuraman – (@masterchefmom)
If you are a mom in search of the right recipes to ensure your kids are getting their daily nutritional intake in a tasty way, Uma Raghuraman's "Masterchef Mom" is here to the rescue! She prepares and shares many delicious recipes so you can learn the healthiest ways to cook for your kids. She also shares many helpful tips and tricks to shop for vegetables and fruits the correct way, especially if you are just starting to get accustomed to grocery shopping.
12. Nandita / Everyday Superfoods – (@saffrontrail)
Dr. Nandita Iyer is a medical professional specialising in nutrition, so an abundance of healthy food tips are given on her blog. Having started "Saffron Trail" in 2006, she has shared and continues to share countless easy-to-prepare alternatives and healthy recipes. Taste is never compromised in any of these recipes, which make use of organic nutritions. This blog is one of the best ones to follow, specifically if you are on a weight loss or gain journey.
Also Read: Tips for Photography
13. Suvir Saran – (@suvirsaran)
Suvir Saran is a well-known chef and cookbook author in India. With years of experience in the food industry, he is an all-rounder who sheds light on many different spices that you can use to make your dishes more flavoursome. You can also find many restaurants and meal recommendations on his blog for days when you do not want to spend too much time contemplating your next spread.
14. Shivesh Bhatia – (@Bake With Shivesh)
With close to a million Instagram followers, Shivesh Bhatia is one of the most popular food bloggers in India. As his blog name, "Bake with Shivesh" suggests, his niche is baking and you will find over 3,000 recipes of cakes, pastries, tarts, cookies, and puddings on his blog. He also imparts knowledge about the nutritional value of each preparation, so you know exactly what you are consuming.
15. Ronak Rajani – (@MumbaiFoodie)
Mumbai—a place well known for the versatile food it offers—has many streets and restaurants that offer you the perfect bite. Ronak Rajani writes detailed food reviews on his blog that you can refer to and navigate your way to the best food outlets in Mumbai. His blog features just about everything from authentic, healthy, and junk food to desserts and beverages – both alcohol and non-alcohol based.
Popular Searches
Top Most Luxury Makeup Brands | Home Décor Ideas for a Better Living Space | Types Of Skirt You Will Love | Best Cameras for Photography | Right Skin Care Routine Steps | How to Get Rid of Pimples | Best Running Shoes For Women | How to Boost Immunity | How to Get Rid of Dandruff | Benefits of Vitamin C on the Skin | Top Shoe Brands In India | Top Luxury Fashion Brands | Sustainable Fashion Brands | Organic Makeup brands in India | Best Watch Brands in India |