Individuals find a powerful means to express their unique style in the ever-changing world of fashion. As we enter the 2023 fashion environment, it's time to look into the top fashion trends that are now shaping the business and allowing individuals to establish their particular style declarations. This comprehensive guide will help you embrace the year's most intriguing and latest fashion trends.

Elevating Elegance and Sensuality with Lingerie Tops and Dresses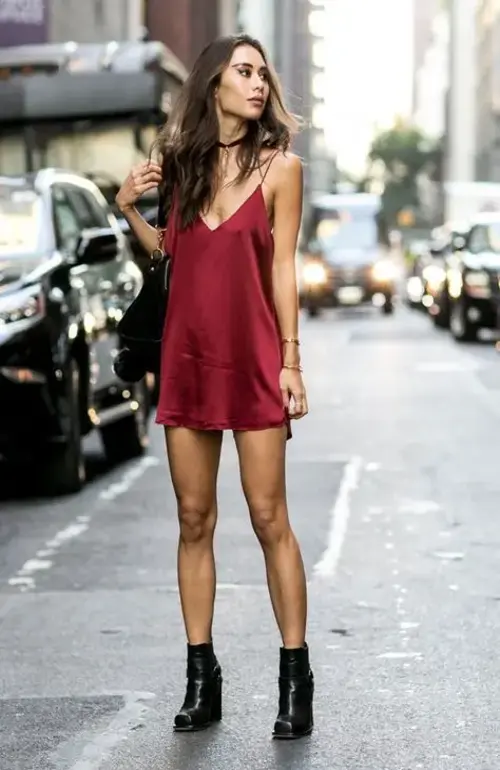 With the latest fashion trends for women—lingerie-inspired tops and dresses—enter the realm of elegance and sensuality. These items, made from delicate lace, smooth fabrics, and elaborate detailing, provide an attractive yet sophisticated style that easily transitions from romantic dinners to informal parties. Lingerie-inspired clothing is a vital addition to your wardrobe because current fashion trends stress the mix of sensuality and sophistication. These stunning items let you project confidence while keeping a refined appearance, making them ideal for a variety of occasions.
Channeling Your Inner Rebel with Edge and Elegance in a Leather Outfit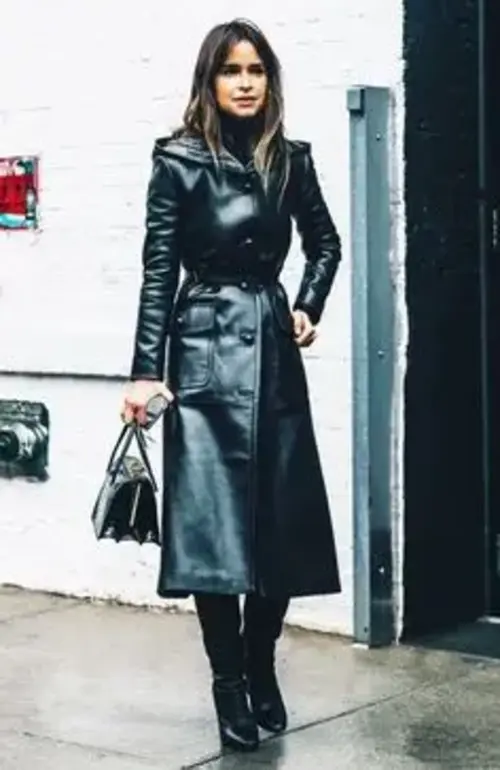 Leather attire has evolved dramatically in 2023, breaking out of the limits of biker jackets. Leather dresses, skirts, and suits have emerged as dramatic statements in the world of the latest fashion trends, flawlessly merging edginess with elegance. This trend encourages you to unleash your inner rebel while proudly projecting a sophisticated air. Leather outfits have firmly established their place as a significant part of current fashion trends, allowing you the option to make a statement, whether it's a sleek leather dress for a night out on the town or a fashionable leather skirt for a chic daytime look.
3 Piece Outfits: Adding Versatility to Your Style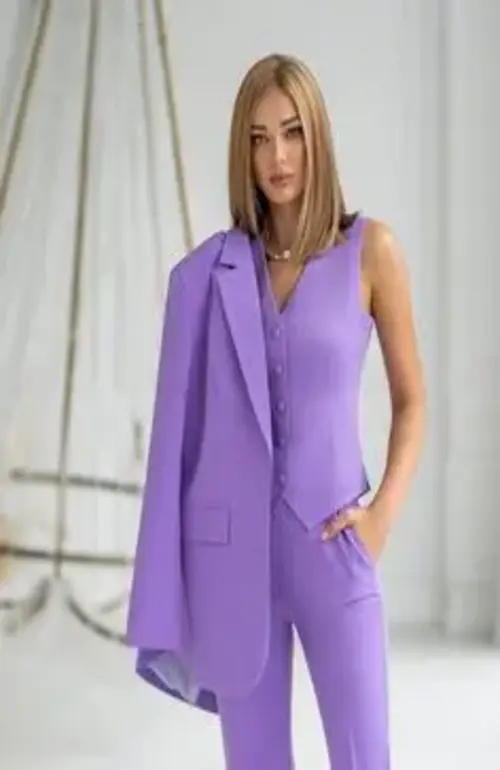 The introduction of three-piece outfits reflects the 2023 fashion landscape's emphasis on adaptability and refinement. These combinations, which include a blazer, slacks, and a vest or waistcoat, are designed to enhance your style game with effortless grace. The versatility of these clothes, which easily shift from formal meetings to casual parties, is reflected in the latest fashion trends. You can confidently embrace current fashion trends and create a style statement wherever your travels take you by incorporating this trend into your wardrobe.
Polka Dot Outfit: Timeless and Playful Fashion Choices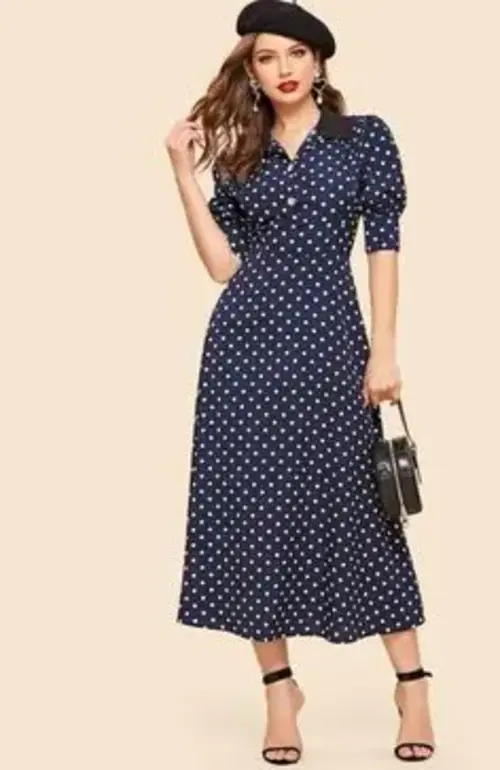 The allure of quirky polka dots has endured through the ages and is now a defining feature in the latest fashion trends for ladies. Dresses, blouses, and jumpsuits with these charming dots offer a touch of nostalgia and timeless charm to your ensemble. Polka dots have made a strong resurgence, giving ladies the option to add a touch of whimsy and sophistication to their wardrobe. Whether you choose a polka-dotted dress or a sophisticated blouse, you will make a fashion statement that is in line with current fashion trends.
Serene and Stylish Elegance in Lavender and Pastel Colors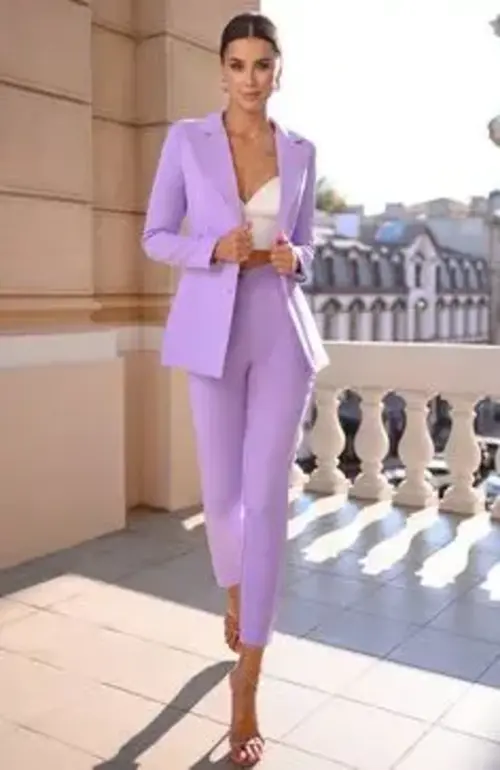 Incorporate the tranquil and relaxing color palettes of lavender, mint green, and soft pink into your clothing to up your style game. The fascination of pastel colours is celebrated in these latest fashion trends, which create a fresh and refined aesthetic that exudes both calm and style. Lavender, in particular, has emerged as a popular choice, demonstrating its capacity to provide an air of refinement to any clothing. These colors are a must-have in the world of current fashion trends, from pastel-hued dresses that convey freshness to mint-green outfits that show sophistication. Accept these tranquil hues and allow them to empower you to produce a lasting fashion statement in 2023.
Oversized Blazers: Effortless Elegance Meets Comfort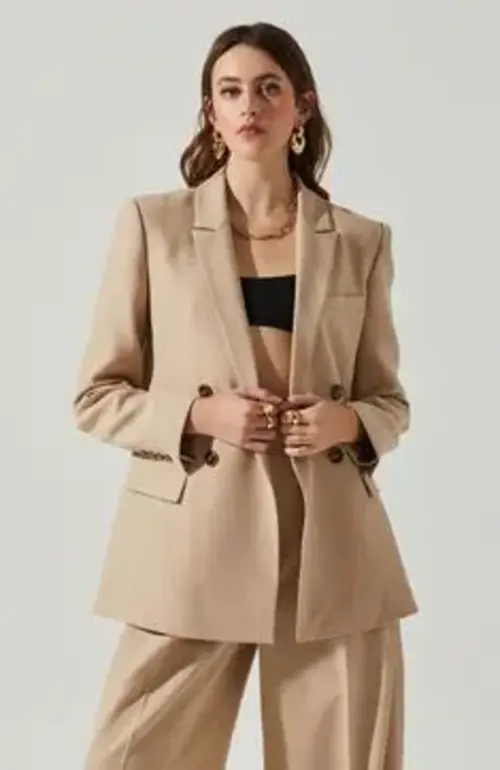 Oversized blazers have taken center stage in the world of the latest fashion trends, offering a balanced blend of comfort and elegance. Oversized blazers are endlessly versatile; use them with dresses for a beautiful and sophisticated style, with pants for a fashion-forward combo, or even over shorts for an effortlessly trendy attitude. This trend exemplifies the beauty of current fashion trends, where ease and sophistication blend perfectly. Oversized blazers are your go-to pick for making a statement that easily combines comfort and style, whether it's a leisurely daytime outing or a stunning evening event.
Where Glamour Meets Edginess with Chunky Gold Chains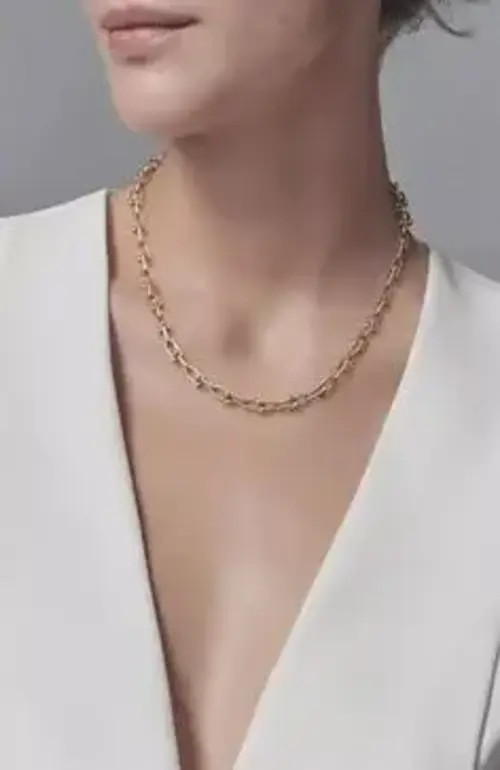 Embrace the appeal of thick gold chains to up your stylish quotient. Whether beautifully layered or boldly worn as a solitary item, these standout accessories give a touch of elegance and edginess to any look. Chunky gold chains are a must-have item in the world of the latest fashion trends for women, allowing you to create a striking and fashionable statement. From classic gold chains that ooze timeless elegance to bold and daring patterns that channel your inner diva, these items allow you to add a touch of glamour and edginess to your clothes.
Tailored Jumpsuits: The Ultimate in Easy Chic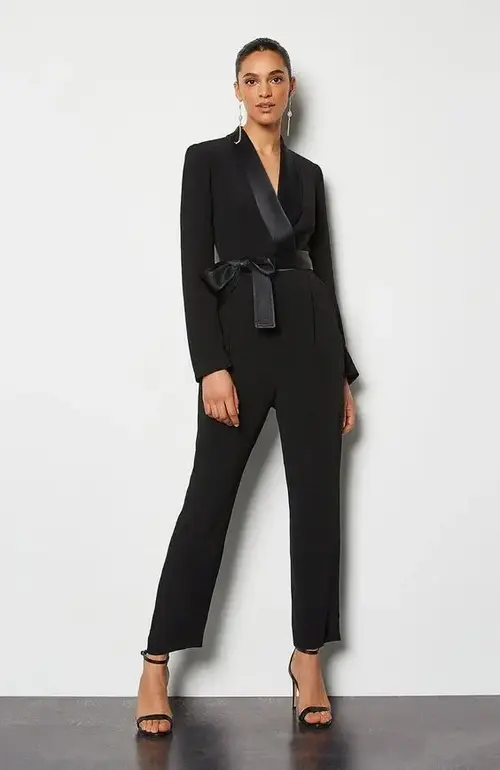 Tailored jumpsuits have become the pinnacle of the latest fashion trends, providing a versatile and stylish alternative to classic dresses and separates. These all-in-one outfits ooze confidence and flair, making them a must-have in your wardrobe in 2023. Whether it's a formal function or a casual outing, fitted jumpsuits allow you to easily transition from one occasion to the next while still maintaining your fashion-forward edge. With a variety of styles, shapes, and patterns to select from, you can embrace the tailored jumpsuit trend while proudly expressing your individual style.
Romantic Ruffles: Femininity and Timeless Whimsy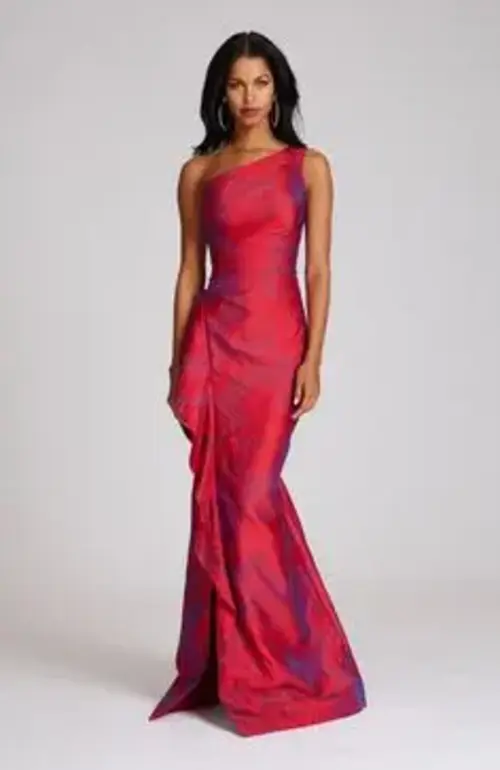 Romantic ruffles are making a striking presence in the arena of top fashion trends for women, so embrace their timeless charm. Ruffled dresses, blouses, and skirts add a whimsical and feminine touch to your wardrobe, allowing you to capture the essence of timeless appeal. Whether it's the cascading ruffles on a flowing gown or the dainty frills on a blouse, these pieces allow you to express femininity with playfulness. Ruffles transcend seasons and fashion eras, making them a timeless option in the realm of the latest fashion trends. Elevate your look with ruffled pieces and let your inner romantic emerge.
Timeless Elegance for Every Occasion in Classic Stiletto Heels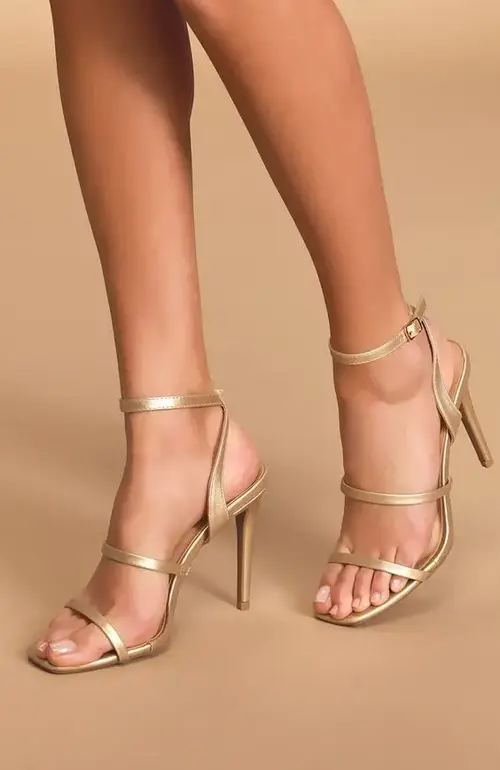 When it comes to traditional stiletto heels, elegance knows no bounds. These legendary shoes lend a touch of timeless elegance to any outfit, making them ideal for formal occasions as well as everyday wear. Stiletto heels are an evergreen favorite in the terrain of current fashion trends, raising your stature and confidence with every step. Whether you're wearing a sleek pair of black stilettos to a formal event or nude pumps to complement your everyday look, these heels are a mark of grace and sophistication. Accept the timeless attraction of classic stiletto heels as your reliable companions on your fashion journey.
Athleisure-Inspired Outfits: A Combination of Comfort and Style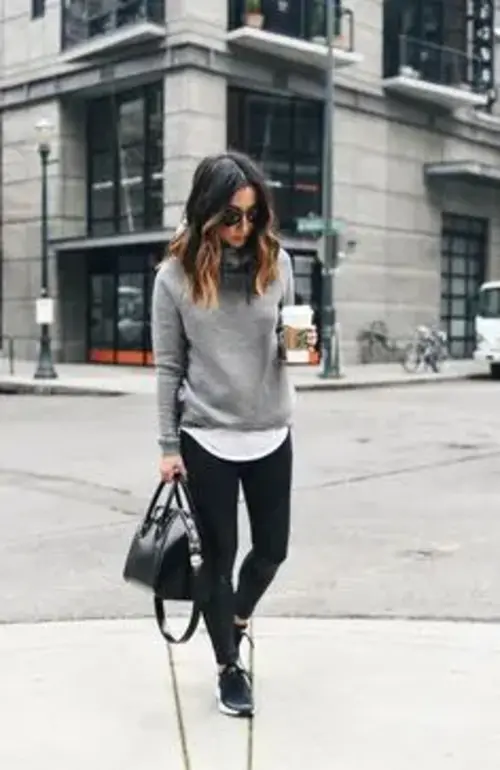 Experience the mix of comfort and style with athleisure-inspired ensembles that push the fashion envelope. This style celebrates the fusion of athletic gear with casual and attractive clothes, allowing you to effortlessly attain a comfortable yet fashionable look. Track pants that provide both comfort and style, sweatshirts that emit a laid-back yet sophisticated atmosphere, and sporty sneakers that provide a dynamic touch to your ensemble are key aspects of this trend. Athleisure-inspired ensembles are a novel and modern way to dress in the domain of the latest fashion trends for women. These ensembles allow you to show your individual style while prioritizing comfort, whether you're running errands or visiting friends for a casual brunch.
Headbands with Embroidery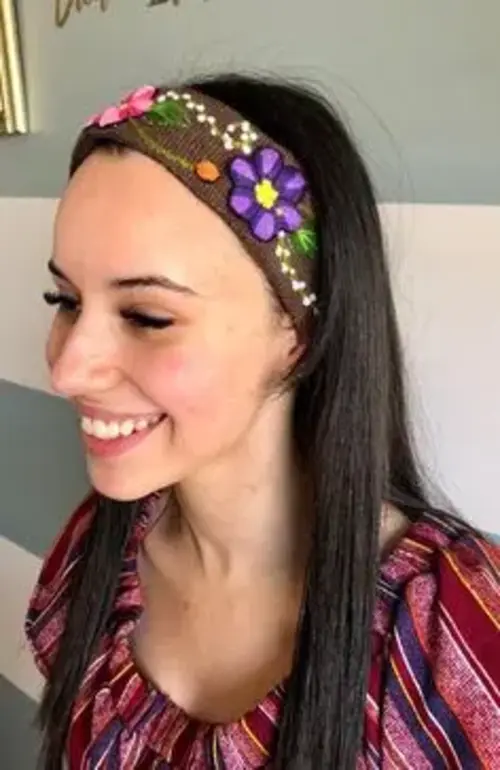 Explore the wonderful world of adorned headbands and take your hairstyles to new heights. These enticing accessories effortlessly combine glamour and sophistication, instantly improving your entire image. Whether you're getting ready for a special occasion or just want to add a little sparkle to your everyday look, embroidered headbands are the perfect choice for making a statement and enhancing your presence.
Embellished headbands have emerged as an enticing must-have in the area of Top Fashion Trends. Their attractiveness goes beyond basic aesthetics; they represent a blend of elegance and panache that complements diverse ensembles while emphasizing your distinct style.
Power Suits of the Modern Era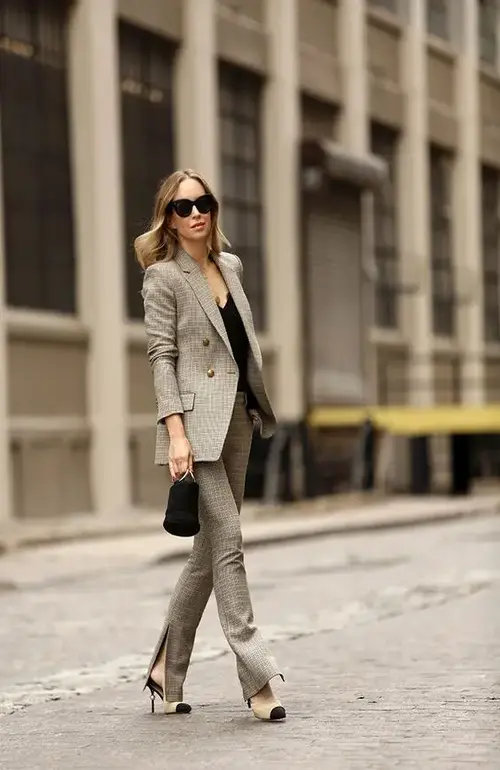 Set new fashion standards by embarking on a sartorial adventure that defies convention with modern power suits. These ensembles reinvent women's clothing by incorporating modern silhouettes and a wide range of brilliant colors. Modern power suits are created to channel confidence and empower women, allowing them to express themselves through fashion choices.
When it comes to the Latest Fashion Trends for Women, modern power suits shine brightly. They provide an endless canvas for producing a bold and fashionable impression, from outrageous and empowering colours to elegant, precise styles. These clothes break down barriers, radiating refinement while breaking conventional rules.
Pattern Combination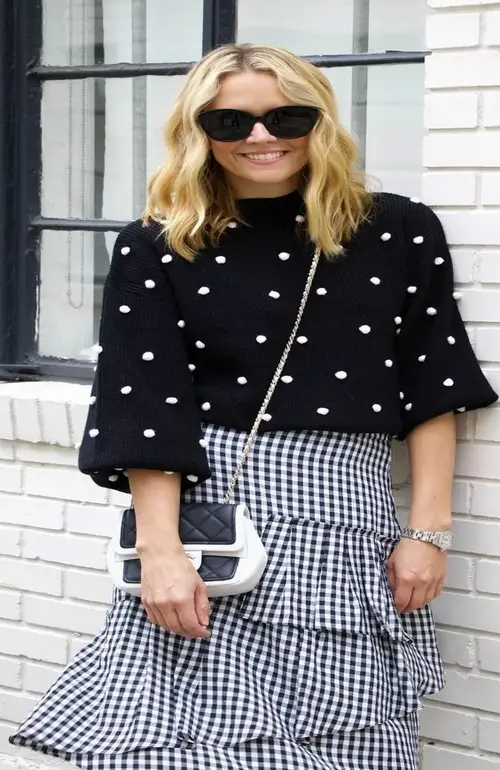 With the thrilling trend of pattern mixing, you may unleash your inner fashion maven. This avant-garde approach to dressing entails the artistic juxtaposition of various patterns and prints, allowing you to create aesthetically appealing ensembles that really reflect your character. Top Fashion Trends currently encourage this daring and creative expression, encouraging you to play with textures, colors, and designs.
Pattern mixing is a testament to personal style inventiveness in the ever-changing world of Current Fashion Trends. It's an open invitation to let your imagination go wild and design clothes that draw attention and set you apart from the crowd. Pattern mixing, whether it's combining florals and stripes or polka dots and animal patterns, encourages a thrilling sense of adventure in your clothing selections.
Latest Fashion Trends FAQs
1. How can I incorporate lavender and pastel hues into my wardrobe's top fashion trends?
Add lavender and pastel tones to your clothing to embrace their serenity. To seamlessly embrace this lovely color palette and stay on-trend, invest in lavender blouses, mint green accessories, or soft pink dresses.
2. Can I wear an oversized blazer with jeans?
Absolutely! An oversized blazer is a flexible piece that may transform your casual outfit into a smart and relaxed look. To convey effortless style and sophistication, layer it over a t-shirt and jeans.
3. Do Fit jumpsuits suit all body types?
Yes, tailored jumpsuits are made to complement a wide range of body types. Choose a waist-cinching design to enhance your curves and produce a flattering silhouette for your body shape.
4. How do I blend patterns without overpowering my outfit?
To guarantee a seamless blend, begin by pairing designs with similar color tones. Mix large and tiny prints for a balanced and coherent style that adds visual interest to your ensemble without being too busy.
5. Can I wear heavy gold chains with jeans?
Absolutely! Gold chains are a classic item that can easily boost even the most casual clothes, such as jeans and a T-shirt. Accept the glitz and sophistication they add to your overall image.
Conclusion: Embrace your personal style journey.
Begin an exciting style adventure by immersing yourself in the year's latest fashion trends. These styles mix elegance, creativity, and empowerment to provide a diverse spectrum of self-expression alternatives. Remember that fashion is a strong form of self-expression, so embrace the styles that suit your distinct personality and experiment with different looks to develop a wardrobe that genuinely expresses who you are. Let these trends motivate you to reimagine your style path with confidence and elegance, from empowering power suits to whimsical pattern mixing.