With the fiesta of lights and fun, Diwali is just around the corner. Finally, the one-year wait is coming to an end! Diwali is celebrated for five straight days, which also calls for dressing up for all of the fun festivities. And when it comes to dressing up, what other than traditional dresses could justify this grand festival better? In this blog, we will talk about the best Diwali outfit ideas. Read on to learn about the best fashion ideas for dressing up like a patakha this Diwali!  
1. The Perfect Match: Cigarette Pants with Long Jacket 
Neatly-fitted cigarette pants paired with a long jacket and a gorgeous crop top or Kurti will look just right for this bright occasion. There are numerous styles and designs to choose from – solid colors, prints, embroideries, embellishments, and formals or semi-formals.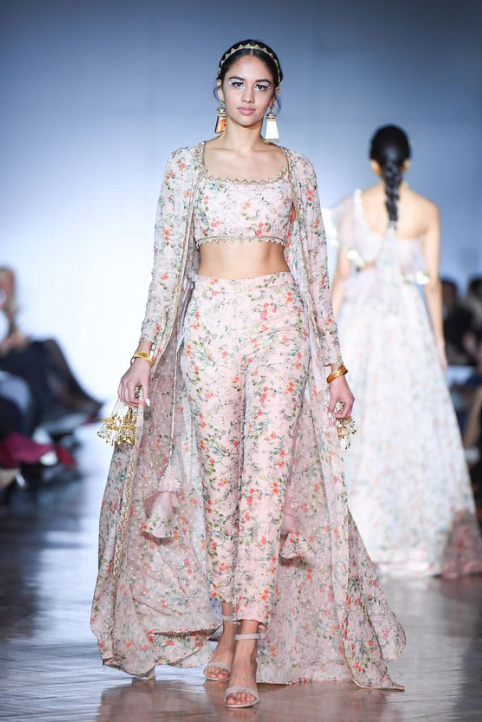 Do you prefer comfort over everything else? Then get a long jacket stitched in light cotton fabric. For an easy-breezy feel, you can also pick chiffon or georgette. To give your look a classic touch, pair it with the silver or golden oxidized neckpiece and earrings to look Diwali party-ready. 
2. Lighten Up the Celebrations in Long Traditional Gowns
How about adorning a flared and free-flowing traditional gown to glam up your look for Diwali parties this year? It is one of those Diwali outfit ideas that are everlasting. You can easily find different designs of evening gowns in the market as well as on online shopping websites. Regardless of your height, build, or size, you can wear these gowns and feel confident flaunting your curves.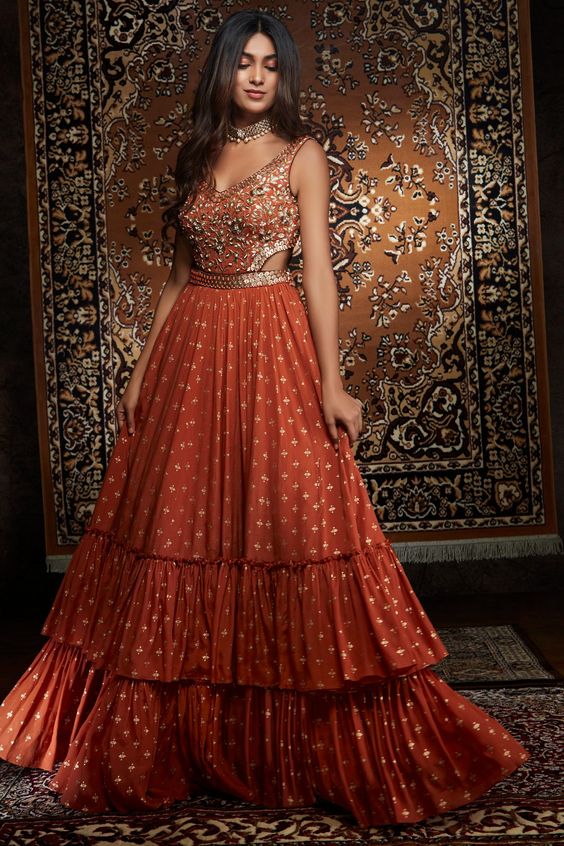 Diwali is not just about lights; colors are also integral to this festival. So choose from vibrant hues and attractive shades to get your dream look. If you love a subtle look, then there are multiple options available in beautiful pastel colours. 
3. In Trend: The Indo-Western Look
Set your social media handles on fire with photos of you in fusion attire this festive season! The combo of indo-western outfits never goes out of fashion. The wonderful aspect is that there are countless combinations of Indian and Western clothes. Some of these fusions you can try out include a cold-shoulder blouse with the six yards, a belt paired with a traditional saree, or a peplum top over an ethnic lehenga or skirt.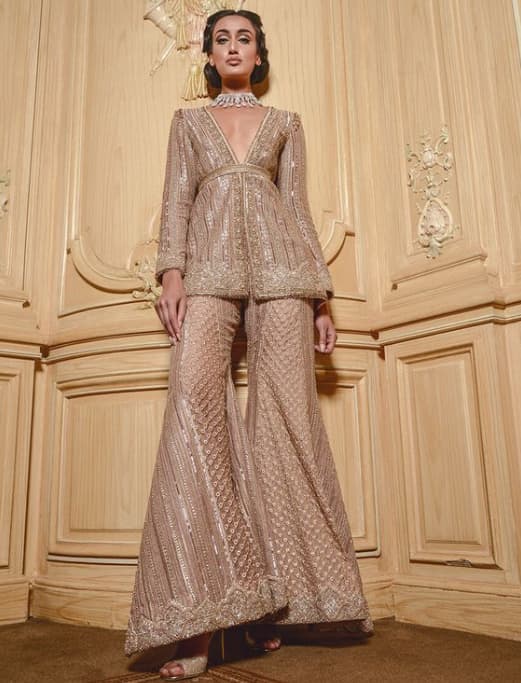 You can also adorn a comfortable and attractive jumpsuit with a colorful jacket on top. An embroidered crop top with a minimal lehenga can also take the style game to the next level. These are just a few suggestions, you can always explore the internet to get more creative Indo-western dress inspirations.
4. Chic & Elegant: Center-Cut Kurtis 
Light up your fashion game with centre-slit Kurtis. These ethnic Kurtis come in a variety of fascinating designs, shades, and patterns. Whether you love a minimal look or a glamorous one with shimmer and bling, centre-cut Kurtis is a versatile option. They are designed to perfection to match your Diwali look and personality. Made from cotton, silk, and synthetic fabric, you can choose the one that will make you look ravishing and feel confident.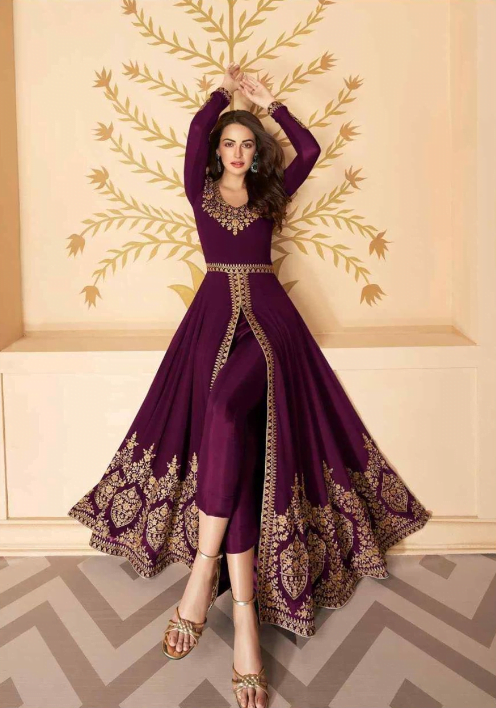 You can pair these Kurtis with leggings, denim, cigarette pants, palazzos, or skirts, and adorn them according to your comfort and style. If you are looking for fresh and contemporary dress ideas for Diwali, center-cut Kurtis can be one of the best options to go for.
5. The Bomb Combo: Crop Top with Heavy Skirt
No matter if you are a millennial or belong to Gen-Z, a crop top paired with a heavy skirt will ensure that your entry into the party turns heads. One of the most popular Diwali dressing ideas, crop tops and skirts are suitable for any traditional occasion. It will strike the perfect balance between modern and traditional looks by ensuring full comfort and uncompromised style. You can wear them in multiple ways: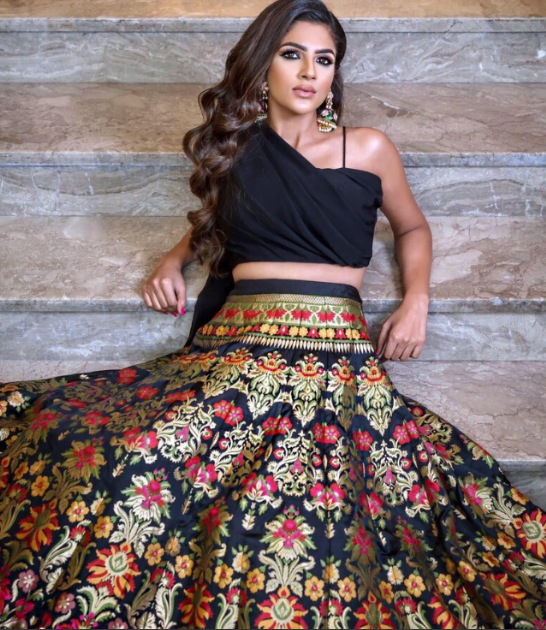 You can go for a crop top with loose-fitting sleeves and pair it with a cascading skirt or wear a boat-neck blouse with colour-coordinated and heavily embroidered lehenga. You can also choose abstract designs and unconventional trends for the top or skirt to get into the rhythm of the celebrations. Just feel comfortable in what you wear and you are sure to make a booming impact!
6. The Comfy Look: Dhoti Pants with Crop Top
Dhoti pants are the most comfortable bottom wear ever. You can wear them anytime and anywhere. With Diwali celebrations in full swing, you can't overlook the mountains of chores you need to take care of, right?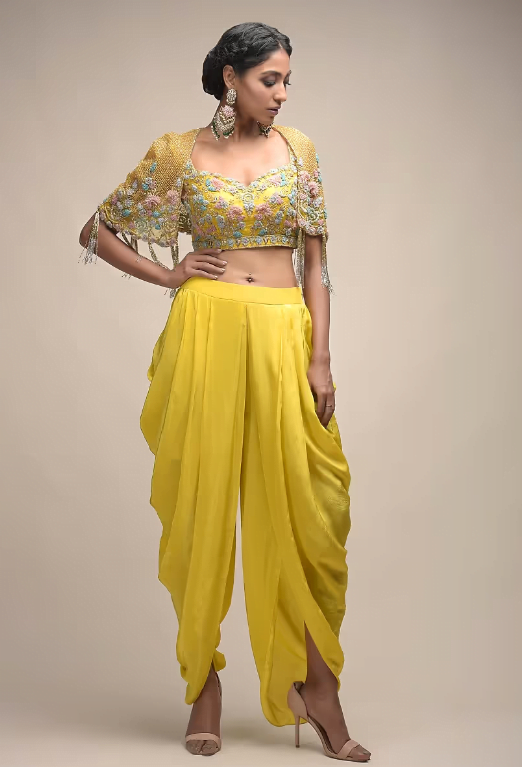 However, that should not stop you from dressing up in your finest outfit. Pair comfortable dhoti pants with a chic crop top, wear some lightweight pieces of jewelry, and see the magic unfurl. Dhoti pants come in a wide assortment of colors, fabrics, styles, and patterns. Just make your best Diwali dressing idea do wonders and brighten up your evening in the best possible way.
7. Half and-Half Sarees: A Blend of Tradition and Modern
Half-and-half sarees have already become extremely popular in the fashion industry. Why not try it this year as your Diwali ethnic wear idea? Inspired by traditional Indian culture and clothing, these fashion innovations look good on everyone.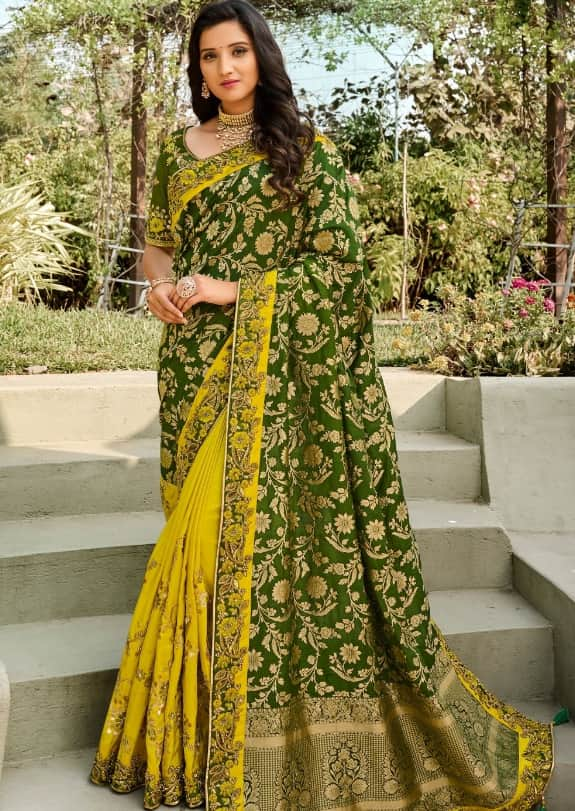 Sizzle your Diwali night with contrasting color combinations and mesmerize all the eyes around you. You will find half-and-half sarees in dozens of fabrics, including art silk, georgette, chiffon, cotton, and so on. Depending on how you want to look and feel, you can choose solid sarees with minimal zari work or a go heavy with prints and embroidery. 
8. Fuse it Together: Palazzo Pants with Kurti or Crop Top
Kurtis or crop tops are not only chic but also comfortable. When you pair them with free-flowing palazzo pants, they become the perfect Diwali dress-up ideas – a combination of modern aesthetics and traditional touch. Most importantly, no festival, whether Diwali or Holi, is complete without accessories.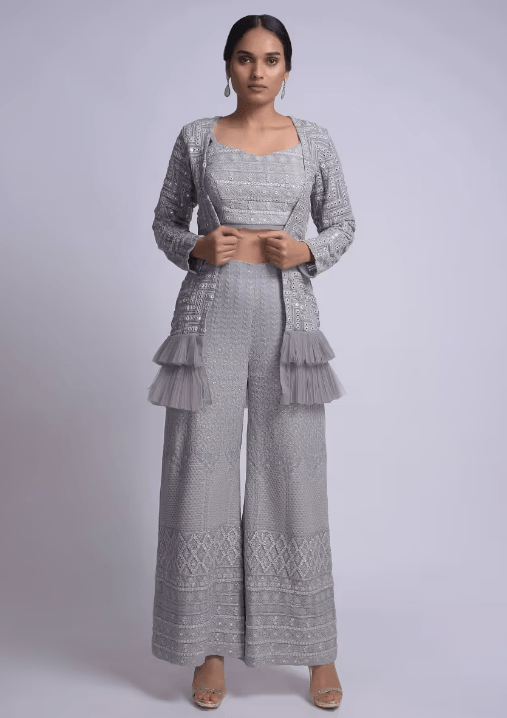 With a kurti or crop top, you can wear big earrings and heels to rock the party. Want to try something new? Why not complete the outfit with a sheer long jacket? And remember, ladies, fusion outfits never get old!
9. A Festive Must-Have: The Appealing Anarkali
Anarkali suits – which more or less have a permanent place in Indian women's wardrobes – are not just beautiful but also sophisticated. No matter how many pieces you have in your closet, Diwali is incomplete if you haven't twirled to Bollywood beats wearing an Anarkali. Every year, new styles hit the market but the love for anarkalis does not fade away.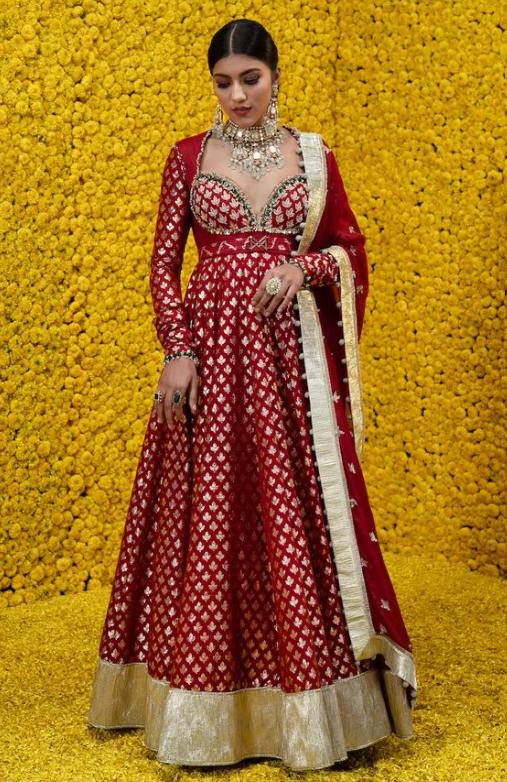 The reason is that it can be worn by both ladies and girls, regardless of the occasion. A concern regarding your body type is also unnecessary when wearing an Anarkali suit. It suits every body type! Available in a plethora of colors and designs, these Diwali ethnic wear ideas rule the list!
10. Unmatched Charm: Traditional Silk Sarees
Nothing can beat the magic of traditional silk sarees during festive seasons. The six yards carry a scintillating charm you cannot match with anything else. Kanjivaram, Banarasi, Kalamkari, Kota, Bandhani, Pochampalli, and much more – you have an ocean full of sarees from different states and cultures to choose from.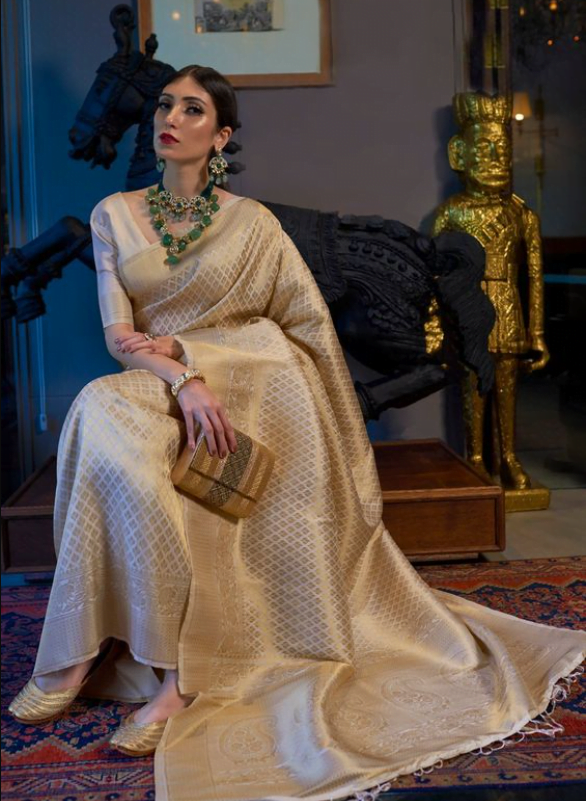 Are you a saree lover but cannot wear or carry them well? Don't worry! Now, you can get yourself a pre-stitched saree to flaunt this Diwali, without any of the fuss. It is one of the most breakthrough Diwali outfit ideas for ladies who are in love with the 6-yards of tradition. Get your saree game stronger with the right accessories because festivities are just about to begin.
11. Ethnic Lehenga Set
Diwali ethnic wear ideas and lehengas have been hand-in-hand for ages. You cannot even imagine the festival of lights without a colorful and glittery ethnic lehenga set! These outfits are gorgeous and look fab on every woman alike. Their precise cut, design, and colors make them a must-have in the ethnic ensemble corner of every girl's closet.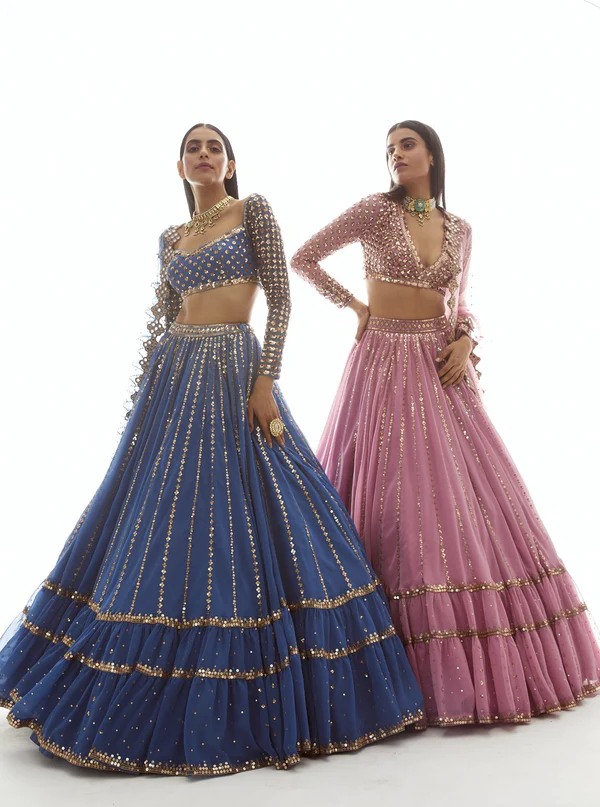 Wear a vibrant lehenga with a sequined choli and sheet dupatta, and you will surely grab all the attention. Also, do not forget your statement heels, earrings, and clutch to match your ethnic piece. Decked up in a lehenga, you are going to look no less than a celebrity.
12. Sharara Suits for that Extra Magic
Are you looking for Diwali ethnic wear ideas that you can wear at both pooja and parties, workplace and home? Your search ends with Sharara suits. This beautiful three-piece comprises wide-legged pants and a long or short kurta, complemented by a dupatta. This set is all you need to glam up your look this season. Sharara suits are elegant and comfortable.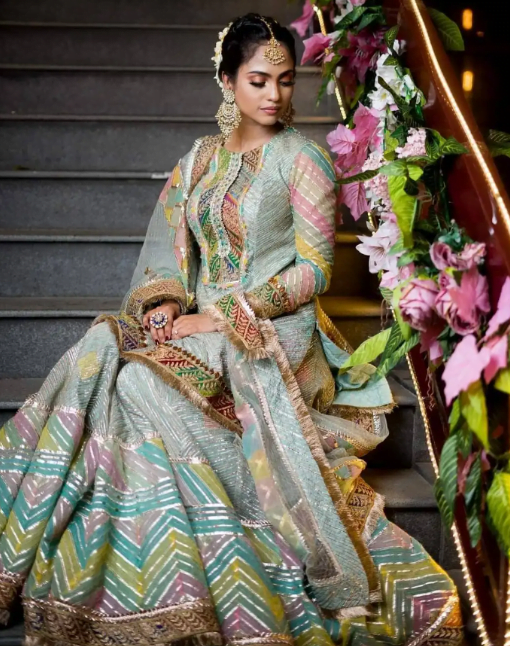 These are available in a variety of fabrics, shades, and patterns just like any other clothing item. Also, whether you want a designer piece or something budget-friendly, you have all the options in the world. So, choose the one that suits you, and be the centre of attraction amid lights, fun, and frolic.
Spending quality time and making memories with your loved ones all night in the most beautiful outfit is probably the best way to celebrate Diwali. Hopefully, these interesting Diwali outfit ideas will help you choose the perfect attire you want to sport during the festivities. Most of the Diwali dress up ideas curated for you are versatile and comfortable. You can put them on for both professional and family events. Flaunt the best version of yourself this Diwali with these Diwali outfit ideas, and do not hesitate to make a bold style statement.