Whether it is a rooftop candlelight dinner or a brunch by the beach, the quality time you spend on a romantic date with your partner must be a memorable one. Needless to say, despite all the chaos packed in this city, romantic restaurants in Mumbai come through if you are looking for the perfect date.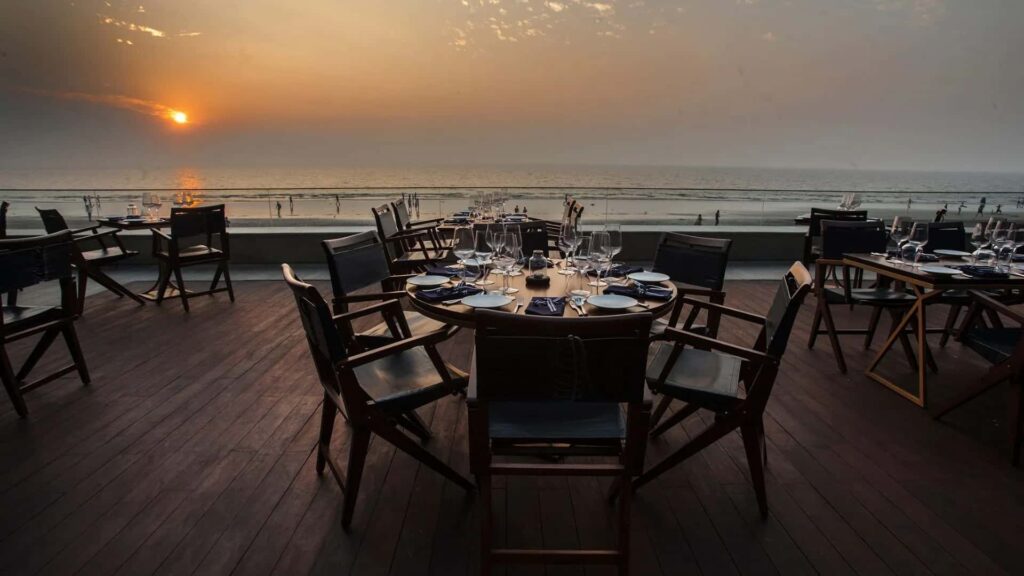 Also Read: 22 Best Valentines Day Gifts for Him That He Will Love
With Valentine's Day just around the corner, it's time to priorities preparations for setting up that perfect date to create a core memory with your better half. Listed below are some of the most romantic date places in Mumbai that will help you do just that:
Checkout Best Restaurants For Couples in Mumbai:
1. Celini – Grand Hyatt
This Mumbai-based home-style Italian eatery appreciates traditional Italian dishes and adapts them for a modern audience. The simple and modern design of Celini Mumbai's interiors exudes a subtle beauty.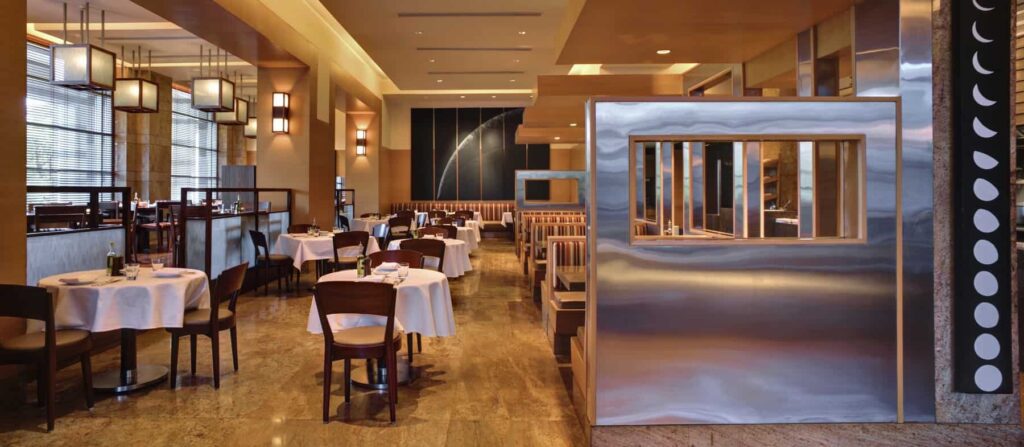 This Mumbai restaurant has a charcoal barbecue, rotisserie, and wood-fired pizza oven in addition to a wide selection of gourmet wines and numerous sitting options, such as table booths and lounges.
> Avg Cost for Two: ₹5,000
2. Lotus Café – JW Marriott
At this upscale dining location in Mumbai, savour the flavours of fine cuisine while taking in the refreshing beauty of a blossoming lotus pond. You can eat at this international restaurant whenever you want because it is open around the clock!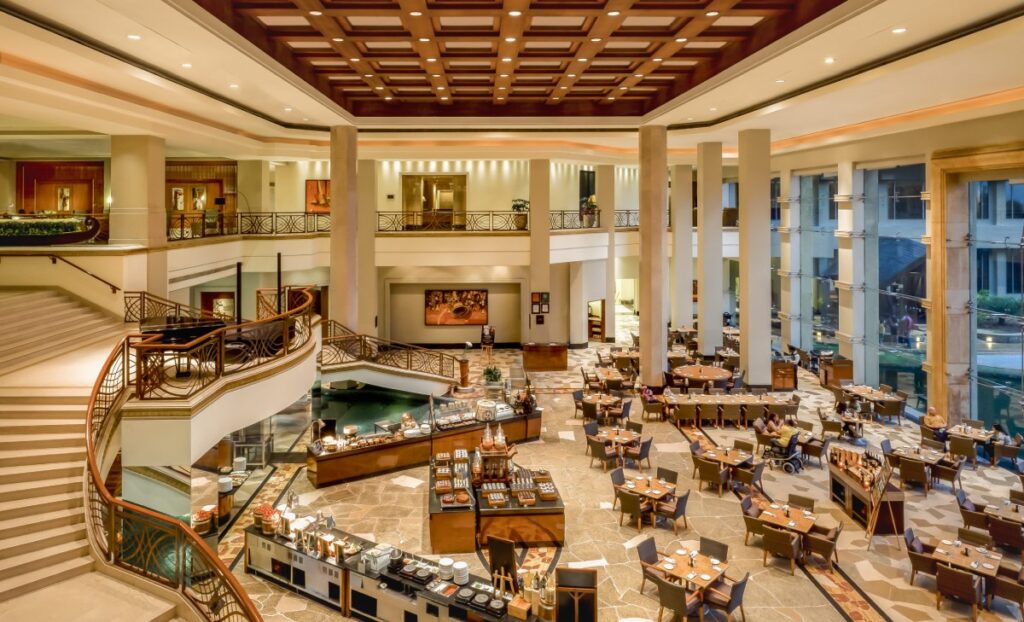 With your special someone, visit this romantic restaurant in Mumbai for tantalising dishes and a vast selection of delectable fare. Overall, Lotus Cafe is bound to become a favourite place for you to set up the perfect date.
> Avg Cost for Two: ₹3,000
3. The Bayview Restaurant – Marine Plaza
This top-notch restaurant is easily one of the most romantic places in Mumbai. With the combined charm of the sea and the tranquillity of candlelight dinners, you can enjoy a peaceful meal with your significant other at this restaurant.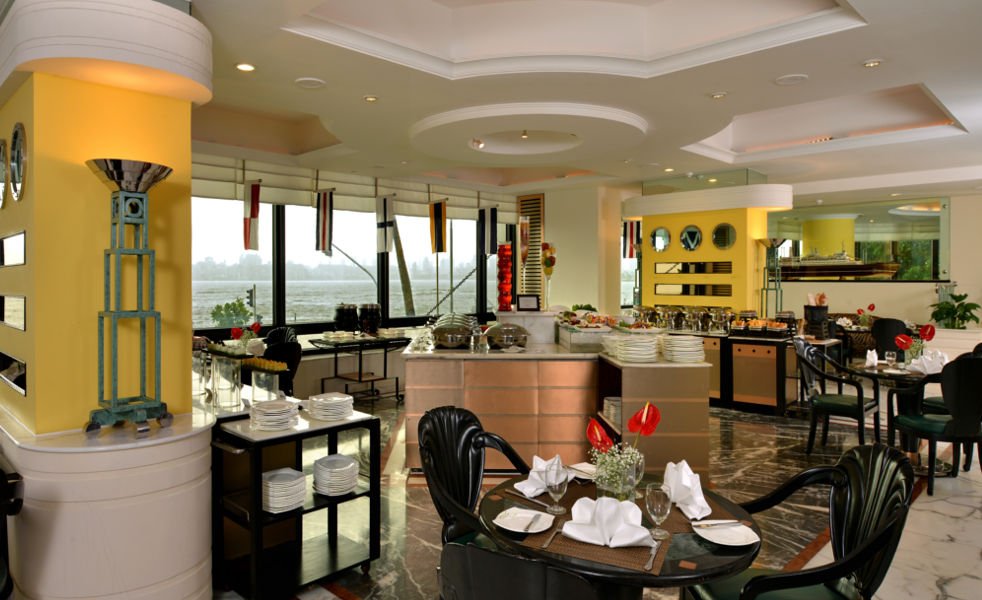 Open 24 hours, this restaurant offers a comprehensive meal along with a fine dining experience. The cuisine consists of a great balance between North Indian, Mughlai and fast food with something for everyone to enjoy.
> Avg Cost for Two: ₹4,000
Also Read: Express Your Love For Her in 2023 With The Best Valentine's Gifts
4. Gallops, Mahalakshmi
Located in the heart of South Bombay, Gallops offers views of the Mahalaxmi Race Course on one side and a tonne of greenery on the other. If not for the tree canopies entwined with fairy lights, you and your date can enjoy a fancy dinner under the stars in this 37-year-old restaurant's recently constructed al fresco sitting area.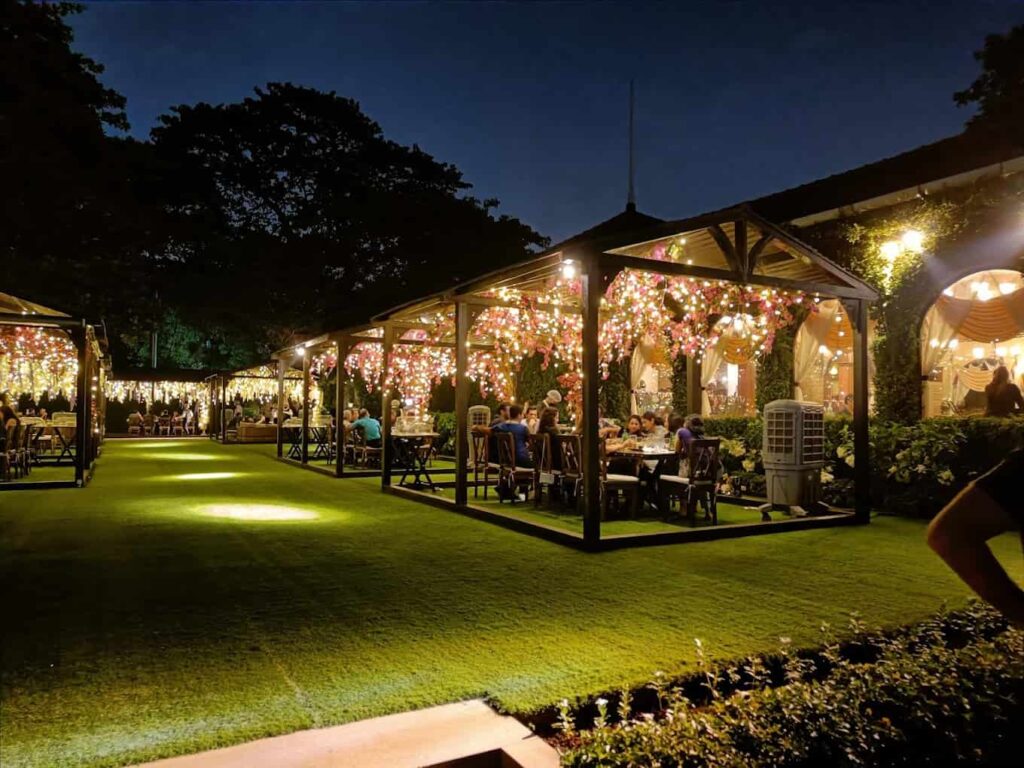 With the lovely seafood, North Indian and Continental spread that Gallops offers, you and your date are sure to have an amazing time savouring their favourite delicacies.
> Avg Cost for Two: ₹3,000
5. AER Rooftop Bar, Worli
Located on the top floor of the renowned Four Seasons Hotel, AER is where your date must be. This is if you want to make a good long-lasting impression. AER from the Four Seasons is one of Mumbai's best rooftop restaurants.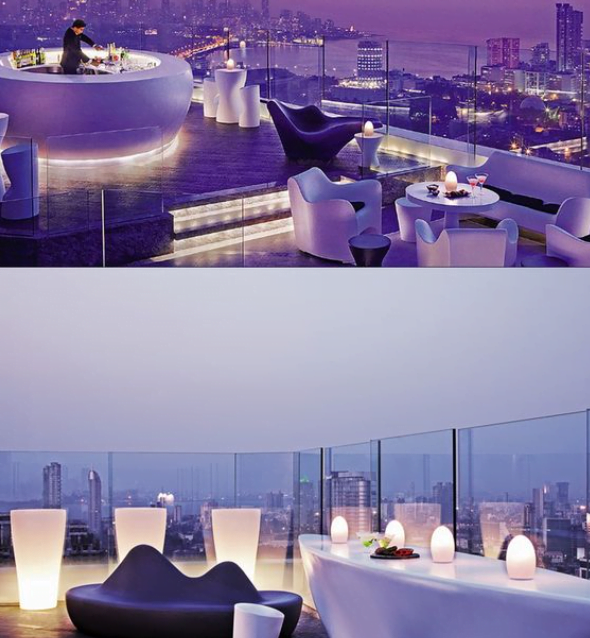 Whether you want to relax and listen to live music while dining with special someone or view the iconic cityscape of Mumbai, AER is where you can live these moments. It offers an excellent view of the surroundings and a great party environment with multiple cuisines.
> Avg Cost for Two: ₹4,000
6. Gadda Da Vida, Juhu
Gadda Da Vida has a separate eating and entertainment corner that provides the best sea views in the area. It is surrounded by towering and imposing pines and highlighted by an excellent ambience.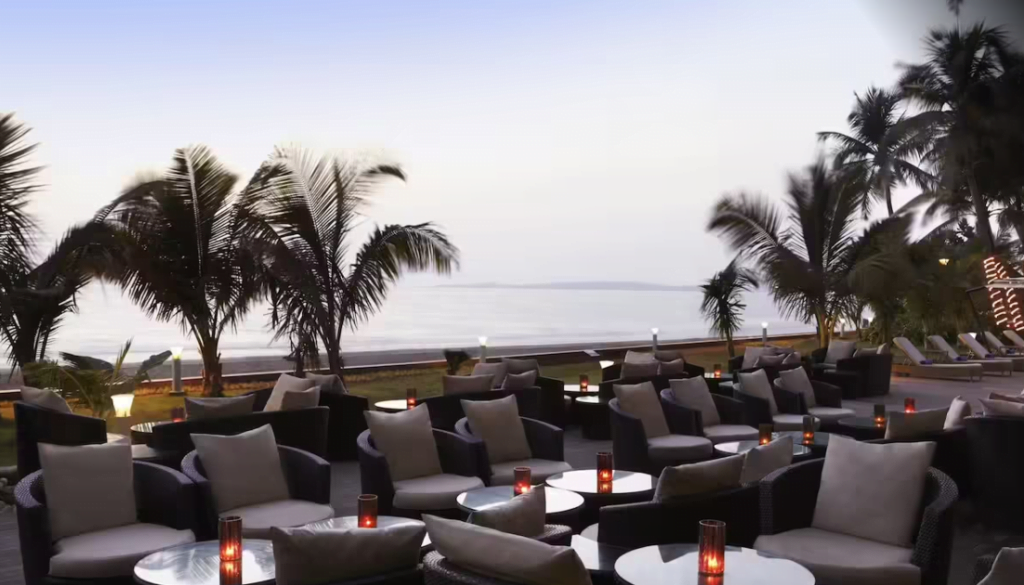 This is one of the best restaurants for couples in Mumbai so take full advantage of the DJ service and enjoy the delicious meals! Gadda Da Vida can be an excellent choice for those planning a private dinner date in Mumbai because it's also one of the city's best spots for hanging out.
> Avg Cost for Two: ₹5,500
Also Read: How to Choose a Perfect Date Outfit This Valentine's Day
7. Cecconi's, Juhu
Cecconi's classic appeal is ideal for an evening away from the modern metropolitan chaos. Except for the pleasant view of the sea, the world within the restaurant is covered in tall plants that surround it.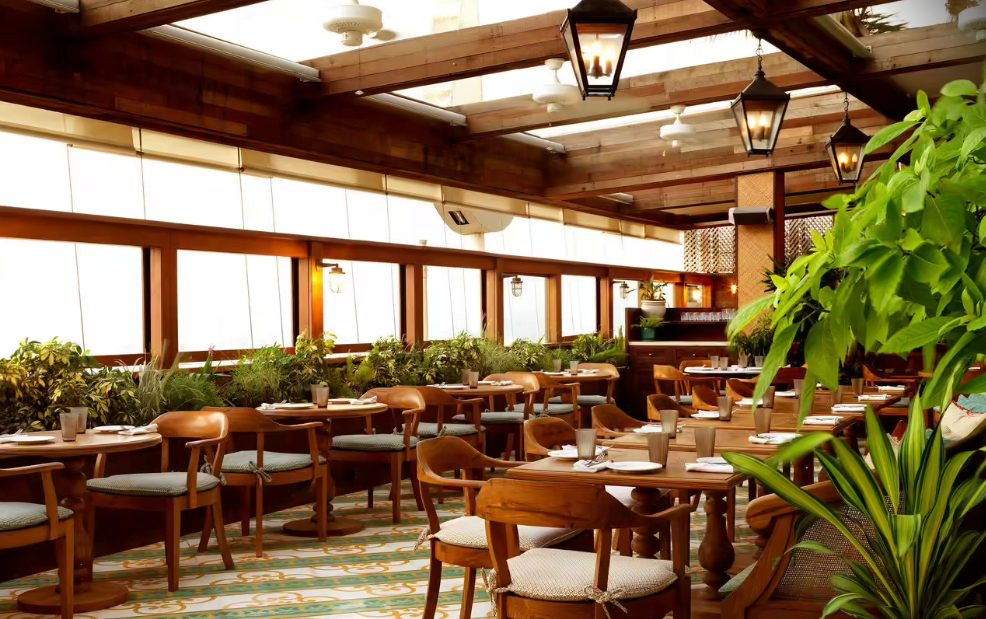 Pizzas straight from the wood-fired oven are available on the modern Italian menu, along with Cicchetti and Profiteroles for dessert.
> Avg Cost for Two: ₹4,000
8. Olive Bar & Kitchen
This sleek Mediterranean lounge bar and restaurant are among the best places to go out on a date in Mumbai. One of the first establishments in the city to introduce the idea of Mediterranean food and entertainment, Mumbai's Olive has a different vibe every day.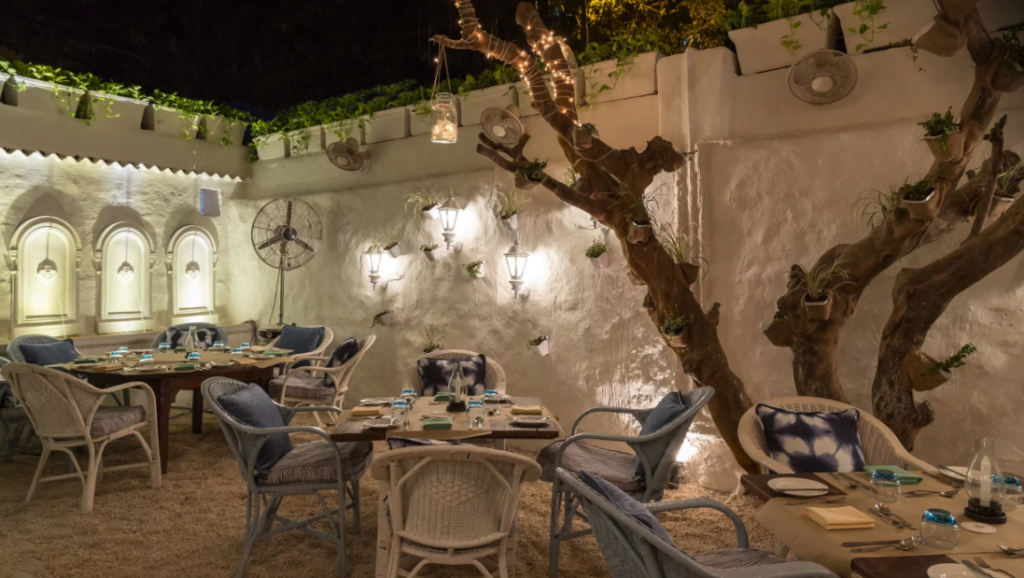 On Thursday bar nights, the establishment erupts with music and high spirits. On the contrary, Sundays, witness a relaxed atmosphere as people come over for brunch across the sunlight courtyard.
> Avg Cost for Two: ₹4,000
9. Pizza By The Bay
This Italian restaurant near Churchgate station is a must-visit for all pizza enthusiasts. Located close to the sea, this prime spot pizza joint has the most gourmet pizzas you will ever have.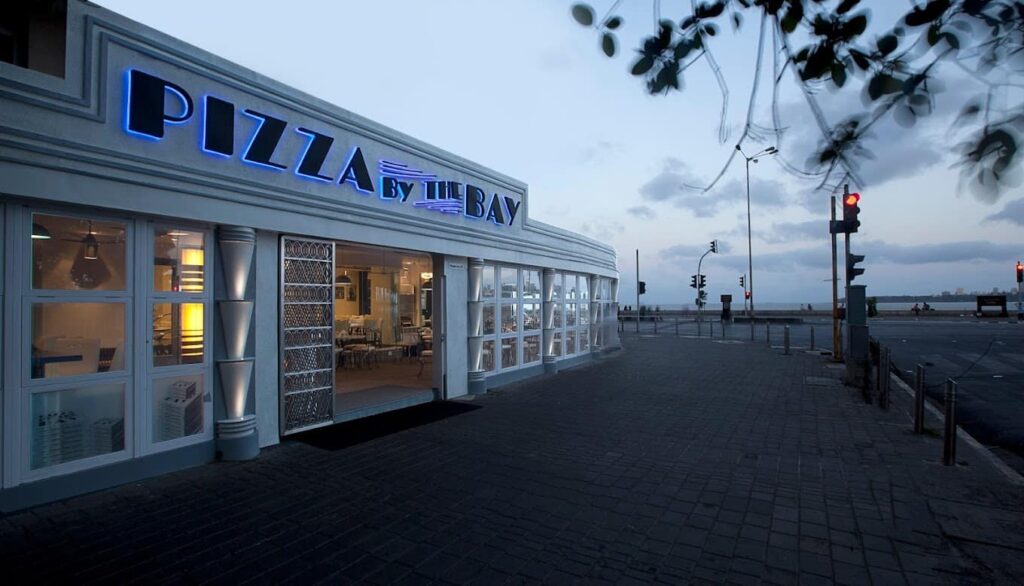 The perfect balance between each element will ensnare your senses and keep you and your bae coming back for more. Naturally, it goes without saying that any couple looking for a special dining experience will be won over by the stunning sea view, exquisite pizzas, and friendly staff.
> Avg Cost for Two: ₹2,500
Also Read: How to look Perfect for your Special Valentine's Date?
10. Dome, Marine Drive
To see Mumbai's urban setting sparkling next to the Arabian Sea, head over to Dome. While the sushi and sashimi menu isn't extensive, it does contain some of the restaurant's most popular items, making it the ideal place for a sushi date.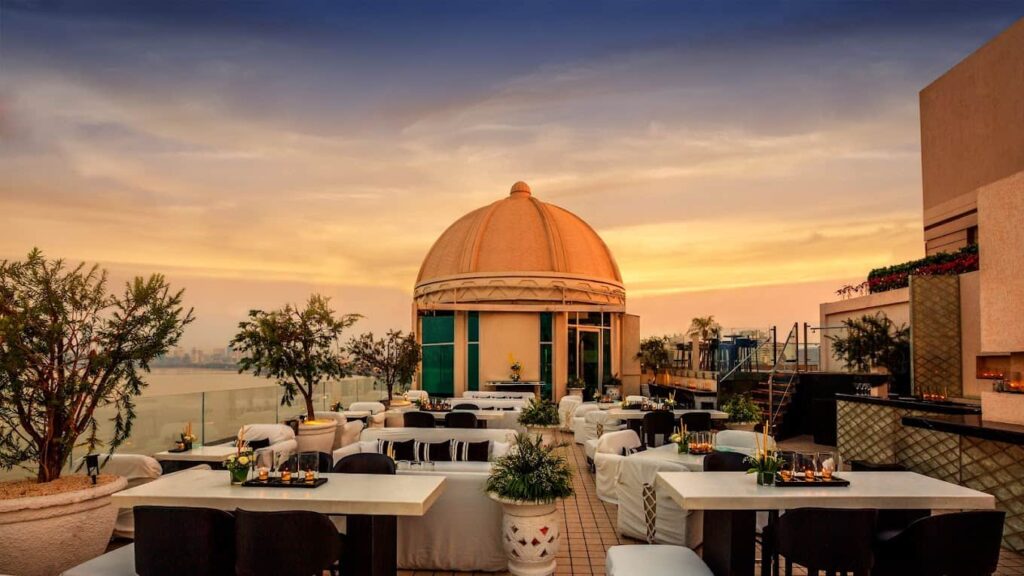 A picturesque plastered dome crowns one end of the restaurant, and a few short steps lead up to the lit pool for a peaceful stroll with a drink in your hand.
> Avg Cost for Two: ₹4,000
11. The Table, Colaba
From the food to the setting, everything about The Table is exquisitely iconic. The decade-old premium dining establishment puts you enough far away from the historic neighbourhood's charm despite being located in Colaba.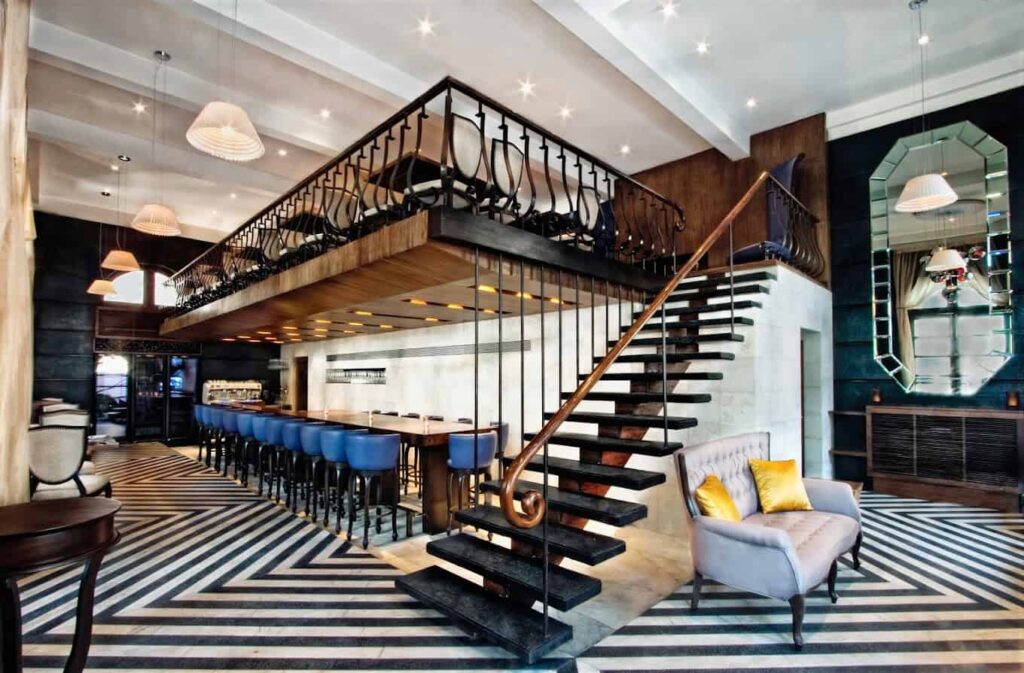 The striking black and white striped carpeting, cosy lighting, and perfectly prepared farm-to-table food create the ideal atmosphere for a sophisticated date.
> Avg Cost for Two: ₹5,000
12. Seaside Patio
The large rooftop of this budget-friendly restaurant, which is situated directly on the Juhu beach provides a breathtaking bird's-eye view of the ocean. You can visit this restaurant with your special someone for a delectable brunch or evening cocktails.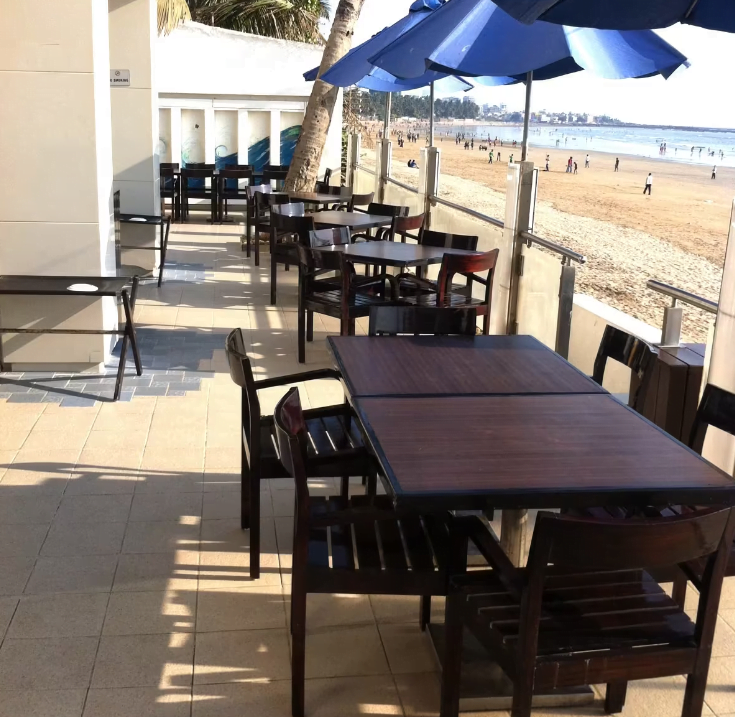 The exotic and cosy seating space with coloured and softly illuminated lights served with platters of delicious North Indian, Chinese and Mughlai food simply cannot be missed out on!
> Avg Cost for Two: ₹2,500
Also Read: Top 15 Handbag Brands in India
13. Ziya, The Oberoi Mumbai, Nariman Point
Ziya from the Oberoi, one of Mumbai's best seaside restaurants, provides the perfect spectacle of mesmerising panoramas all around. The best motivation for all of the great foodies out there comes from the views of the Queen's Necklace and the romantic setting along the famed Nariman Point.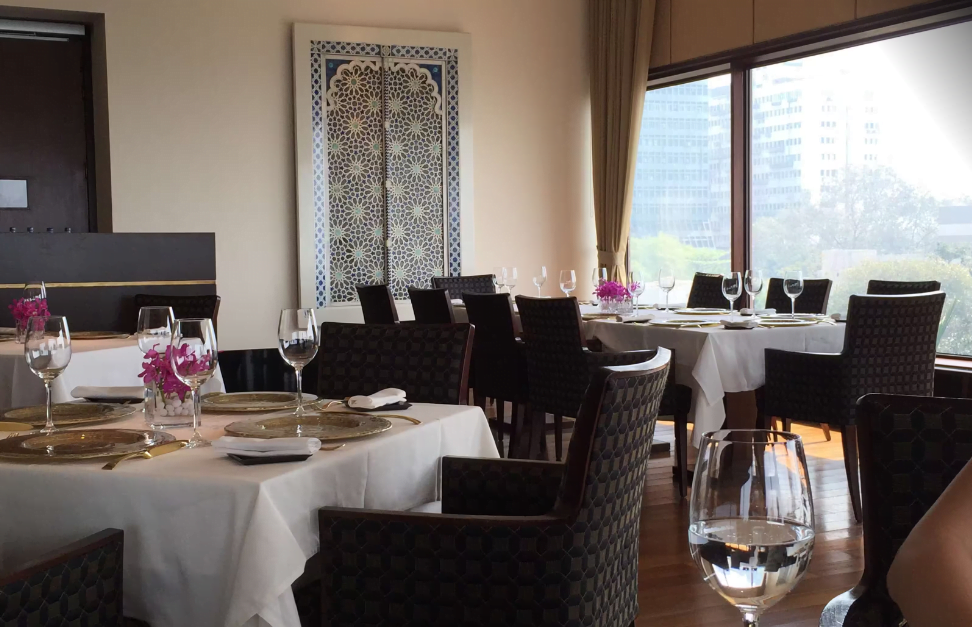 Ziya has been a perfect getaway for gorgeous couples because of its mutton biryani, fantastic music, and kind staff.
> Avg Cost for Two: ₹5,500
14. Breeze Lounge
If sunset dates are your jam, you just cannot go without experiencing it at Mumbai's very own Breeze Lounge. All you need for the ideal date night is a breathtaking view of Powai Lake, an open roof, and a lovely atmosphere with DJ nights.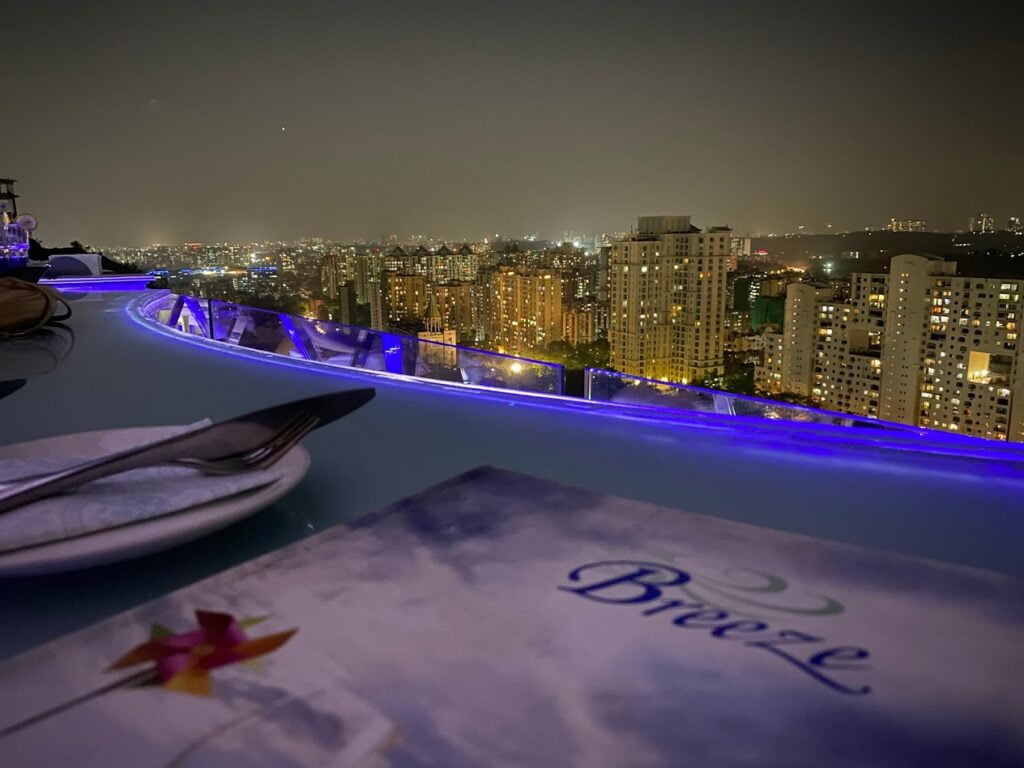 This is one of the only few excellent rooftop dining alternatives that offer delicious vegetarian fare. With exquisite cuisine and enjoyable music, you can witness the entirety of Mumbai shimmer in its brilliant lights from The Breeze Lounge.
> Avg Cost for Two: ₹3,000
15. Farmhouse Sea N Sand, Vasai
Farmhouse Sea N Sand which is located on the quiet Suruchi Beach is ideal for any couple looking to spend some quality time and enjoy a calm romantic dinner. The boats lining the coastline and the exotic surroundings offer a stunning view.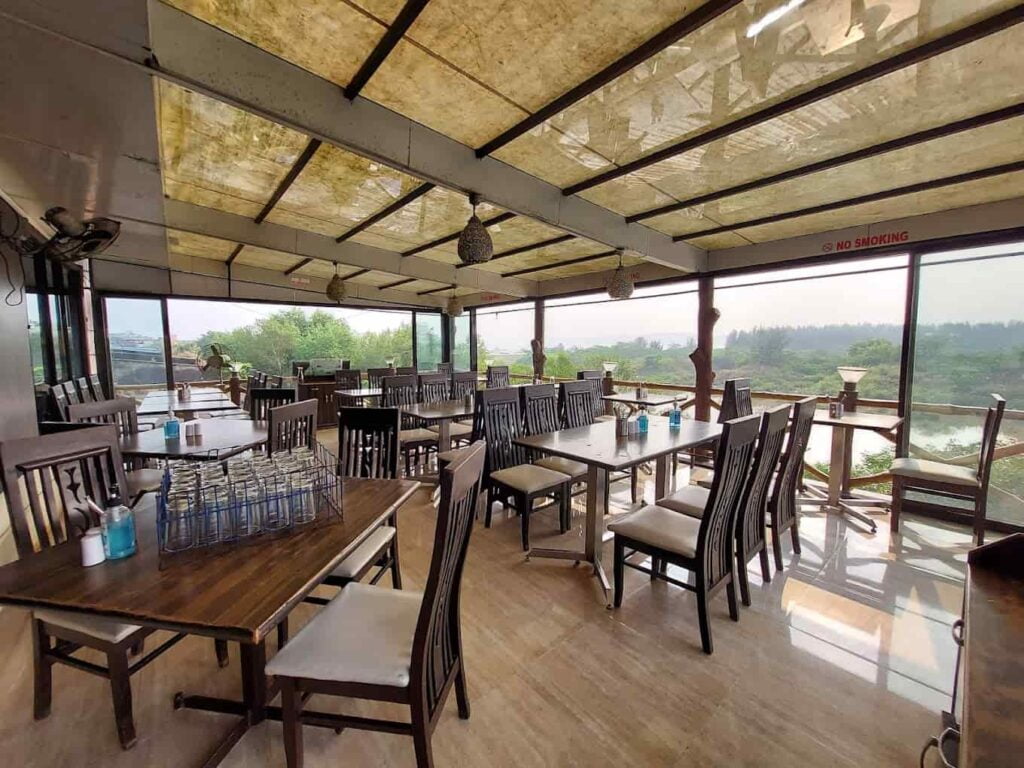 Couples are bound to love the fantastic seafood dining selections and live entertainment alternatives like karaoke and sports viewing at this location. A remote lodging option, Farmhouse Sea n Sand, can be an excellent venue for anyone seeking a tranquil getaway
> Avg Cost for Two: ₹1,300
Also Read: Top Shoe Brands In India – Complete List Of 20 Shoe Brands In India
16. 1BHK – Brew House Kitchen, Andheri
Located at Oshiwara, Andheri West, this beautiful and romantic restaurant in Mumbai offers the best of everything. From its delicious Italian and Continental menu and great service to its romantic ambience and homely feel, a date at 1BHK will be a memorable one.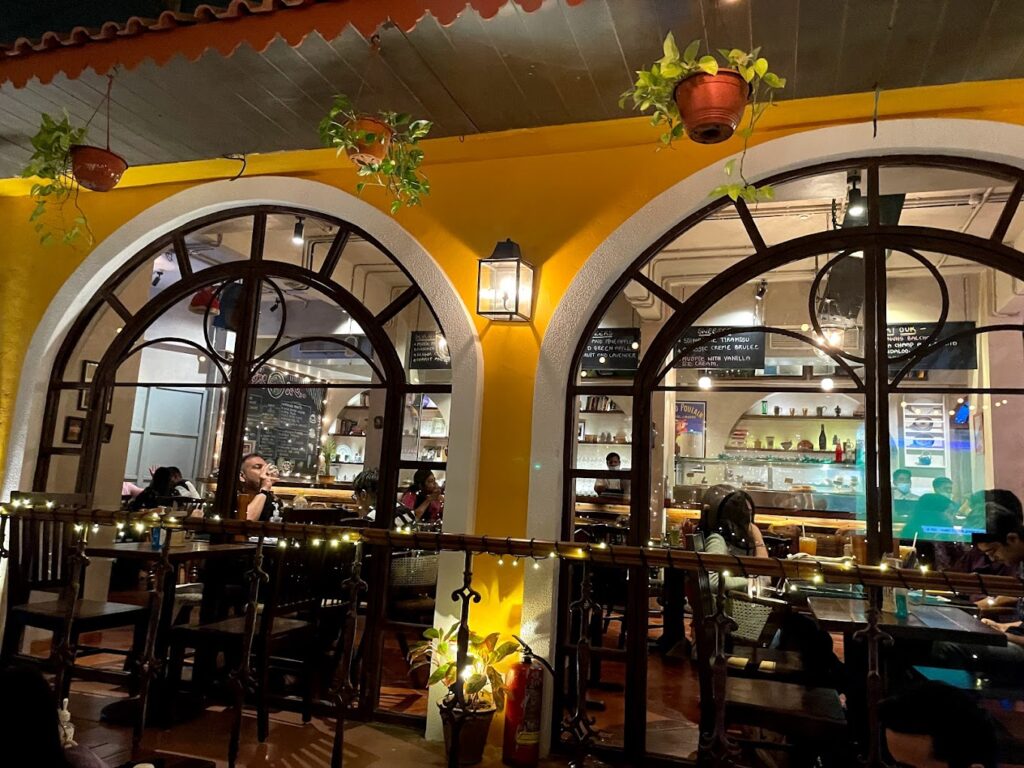 Visit during the monsoons for the best feel with its lush decoration and colourful, quaint interiors. Don't forget to order some fries and enjoy an exquisite hot chocolate with your partner at this pocket-friendly haven!
> Avg Cost for Two: ₹1,900
17. Prithvi Café, Juhu
If you are looking for an affordable date place, Prithvi Cafe is easily one of the most romantic restaurants in Mumbai, located right at the heart of it. The atmosphere here is unbeatable all year round but during the monsoon, it is simply on another level.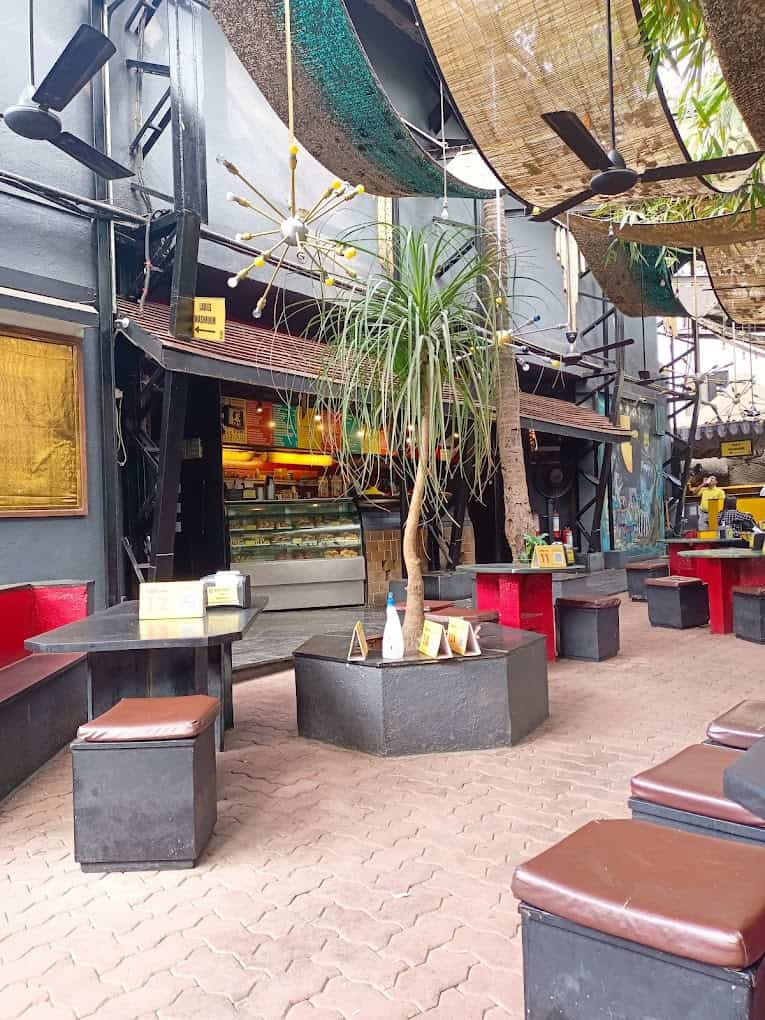 The ideal setting for a date with your significant other includes open space, lush vegetation, dim lighting, and a cup of steaming coffee. If you enjoy theatre, the adjoining Prithvi theatre is known for putting up the most incredible plays.
> Avg Cost for Two: ₹600
18. Pink Wasabi, Juhu
Pink Wasabi is the perfect place that has it all to take your significant other for a fun dinner date or even brunch. Not only does it serve an array of delicious Asian foods, but the pink interior décor is also quite Instagram-worthy and romantic.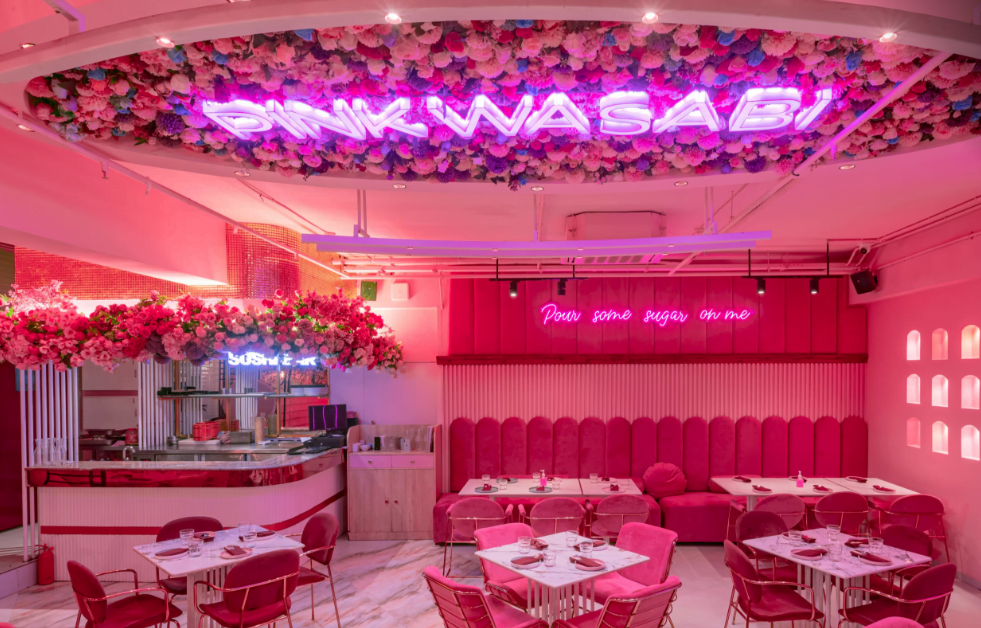 With heavy influence from Japanese cultural elements like cherry blossoms, Ikigai and more on their interior as well as menu items, this is truly one of the most unique and romantic restaurants in Mumbai. With their chocolate tiramisu moulded into coffee beans, you can end your date on a delicious note.
> Avg Cost for Two: ₹2,000
Also Read: Shop from The Best Watch Brands in India
19. Asilo, Lower Parel
Asilo is the perfect setting for an intimate evening with a view of the Mumbai skyline. At this rooftop bar located on the 40th floor of St Regis, Mumbai, you can choose a private cabana with linen-covered sofas in the manner of Santorini.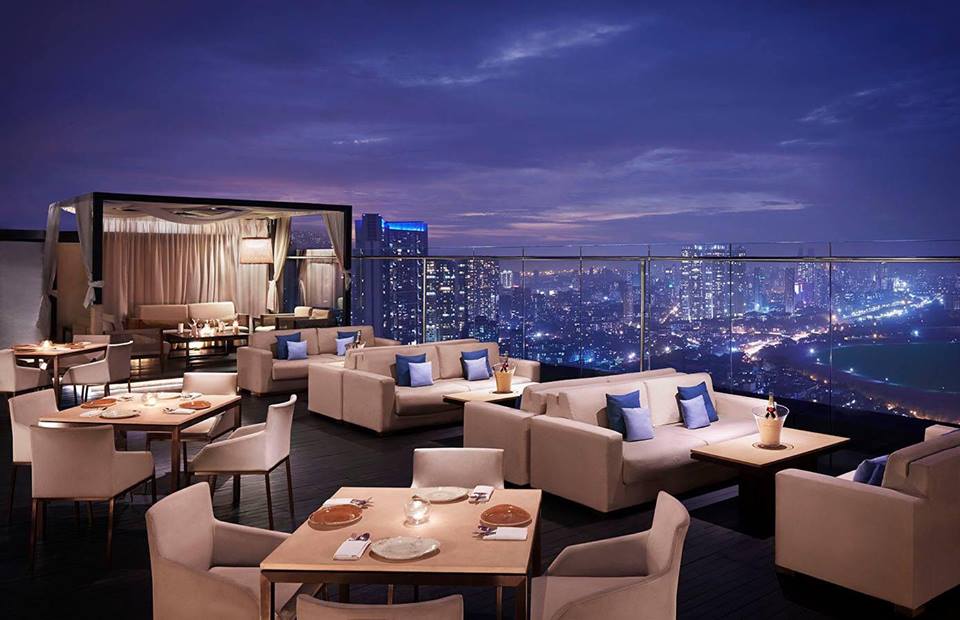 All you have to do is arrive early and have fun because their energising sundowner cocktails, like the Lychee Tea and Asilo Sunrise, are best enjoyed in the orange glow of the sunset.
> Avg Cost for Two: ₹6,000
20. Sea Lounge, The Taj Mahal Palace, Colaba
Another romantic eatery in Mumbai is Sea Lounge in Colaba, which offers a stunning view of the enormous Arabian Sea and the Gateway of India. Stylish, up-to-date decor, live music, and a romantic sea view all enhance the dining experience at this restaurant, which also offers some delectable dishes.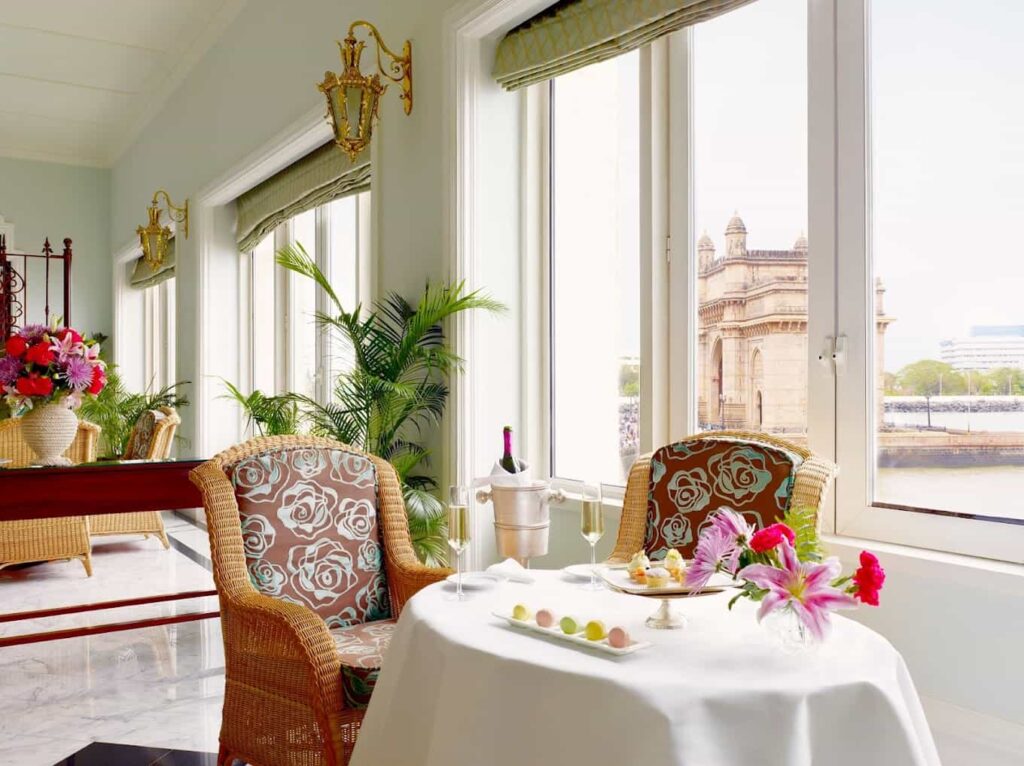 The restaurant has an advantage over other romantic seaside restaurants in Mumbai because of the old-world charm and rustic atmosphere of the location, as well as some freshly prepared Italian specialities.
> Avg Cost for Two: ₹5,000
21. Bayview, Colaba
This place is known to bring that old, Bollywood romance to life with a distant view of the magnificent Gateway of India. The interior is as chic and sophisticated as it gets with minimal lighting and comfortable, spacious seating.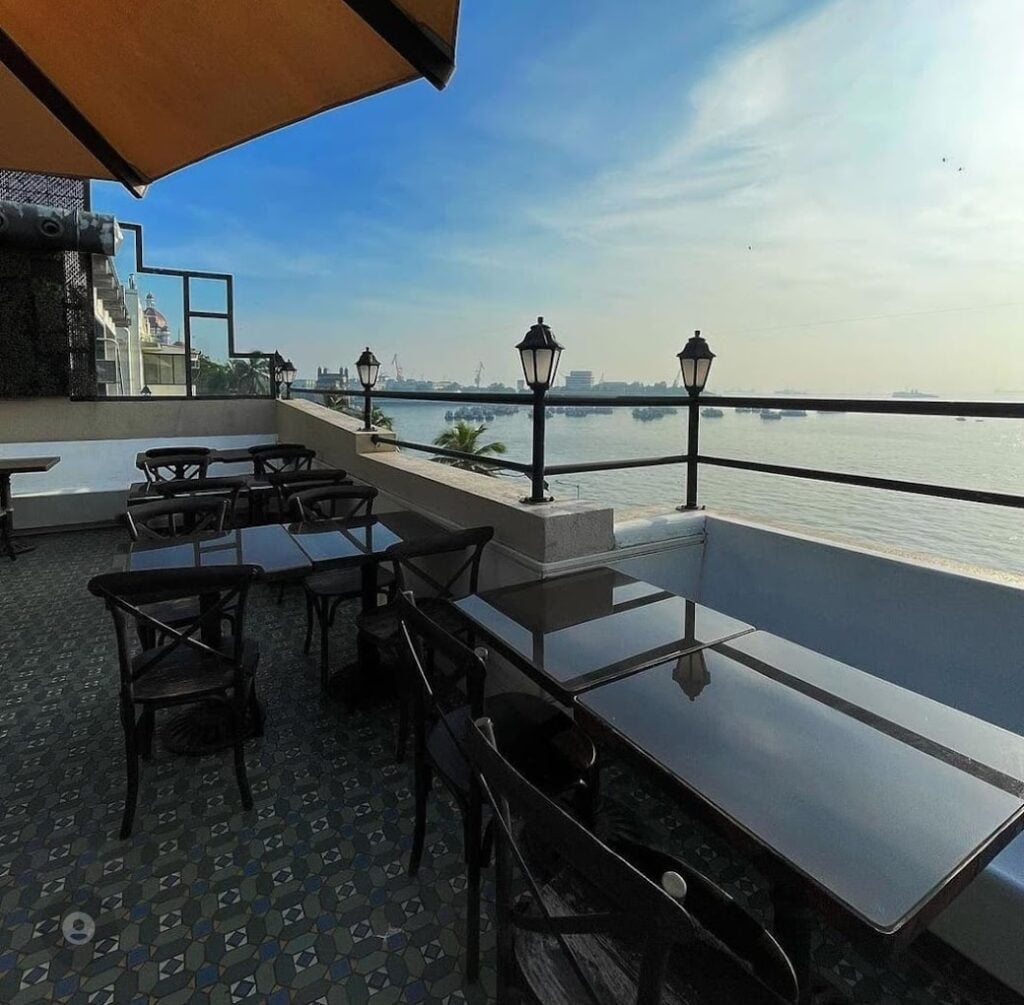 The terrace view is as scenic as they come so you can enjoy the sunset and dinner under the stars. The versatile menu includes North Indian and Continental along with Chinese to satiate your tastebuds.
> Avg Cost for Two: ₹1,800
Also Read: Best Couple Gifts Ideas That You Need To Snap Right Away
22. Razzberry Rhinoceros, Juhu
Last but not least, this is another sea-facing restaurant located at the beautiful Juhu beach for the perfect date with your partner. Decorated with sheer, flowy curtains and simple interiors, you can enjoy the calm beach waves while sipping on one of their delicious, fruity mocktails.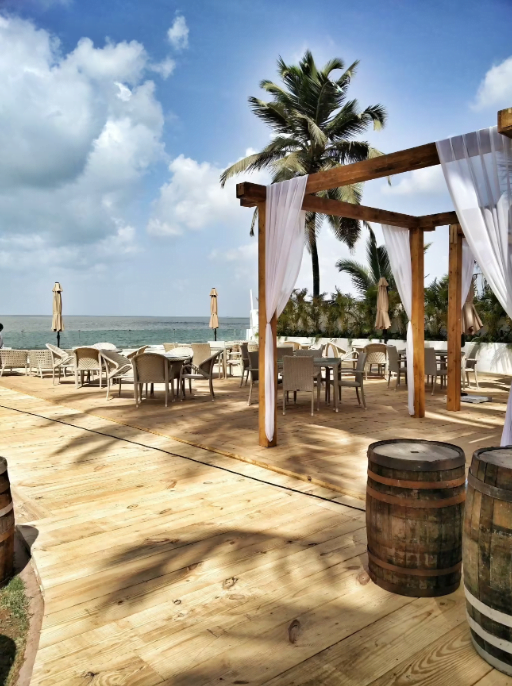 At this romantic restaurant in Mumbai, you can make a whole night of your date with a late-night walk on the beach.
> Avg Cost for Two: ₹2000
With these romantic restaurants in Mumbai, you will indeed never run out of beautiful places to take your significant other. Each date will be just as beautiful as the other so make sure you add these places to your list and check them out! Head over to the Infifashion website for more on such interesting topics.
FAQs
1. What can I do romantic for Valentine's Day?
You can never go wrong with a romantic candlelight dinner, so pick a place and put together something cosy to celebrate Valentine's Day in the best way. You can also go with other options like amusement park dates for something thrilling or a serene library or museum date if your partner is an appreciator of art. Needless to say, your partner will surely be impressed if you put in some effort and give your partner the time of their life!
2. Where can I celebrate my anniversary in Mumbai?
You can celebrate your anniversary somewhere special for you and your partner. By tracing back your steps and recognising important milestones, you can choose places that mean something to both of you in the relationship and enjoy a quiet dinner. This could include beach dates, park dates or a visit to one of the many romantic restaurants in Mumbai.
3. Which place is best for Valentine's Day?
Pink Wasabi is one of the best places for Valentine's Day. The beautiful pink decor with the cherry blossom embellishments will create a romantic atmosphere you will seldom get elsewhere. Not to mention, it is definitely an economical place with many other spots like the Juhu beach and PVR theatre around. This makes Pink Wasabi one of the prime spots for a romantic date any day.
4. Where can I take a girl on a date at night?
Beachside restaurants like Razzberry Rhinoceros are a great choice for date night as there is hardly anything better than sipping your favourite drink with your loved one while under the stars, facing the beautiful sea. You can also definitely choose Prithvi Cafe as this lively place has an ambience like no other with extremely pocket-friendly and delicious menu items like aloo kulcha, multiple mojitos, biryani and many more.
5. Where should I go for a date in Mumbai?
You can go to many different romantic restaurants in Mumbai if you are looking for a classic date place. Options like Bayview, The Table, Seaside Patio, Dome, 1BHK – Brew House Kitchen, Ziya, The Oberoi Mumbai and more are all incredible choices with versatile cuisine to satisfy all your tastebuds. They are all also located at beautiful places overlooking beaches and lush greenery that will make for an amazing memory.
Popular Searches
12 New Year Dress Ideas To Flaunt At Nye Party | Types Of Tattoos | Cozy Corner Ideas For Your Home | 9 Tips For Good Sleep Every Night | Hair Care Tips: How To Treat Your Hair Like A Boss | Sustainable Fashion Brands | Organic Makeup Brands In India |Types Of Tea You Must Really Know | Best Cameras For Photography | Right Skin Care Routine Steps | How To Get Rid Of Pimples | | Best Diwali Outfit Ideas | 18 Best Places To Visit In Christmas | Things to Remember While Buying Cosmetics | Luxury Clothing Brands In India |