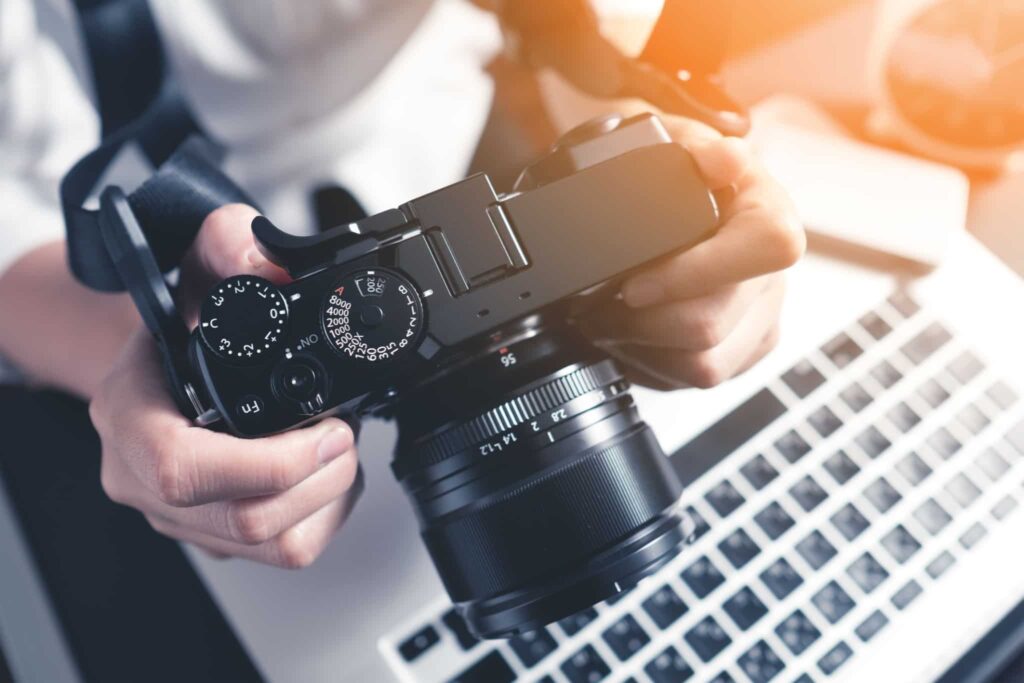 Life comes with a series of both ups and downs, and many moments are made easier and more joyful with the support of your loved ones. Often, when one is presently living some of the most precious days of one's life, the urge to bottle up those exuberant moments is pretty natural so as to relive them for days to come. While this sounds like an impossible feat, it is very much possible with the advent of technology. Living in a world as delightfully complicated as the technological one, there is a solution to every problem and an answer to your every whim. And this particular one can be fulfilled with 10 best cameras for photography.
Whether you want to capture people who are dearest to you or freeze once-in-a-lifetime scenic views that introduce you to the immense beauty of nature, cameras are an essential for both. Today, with countless advancements in the world of photography and technology both, the market can offer you a large variety of choices with specifications that cater to your exact needs. With cameras, you can save your favourite memories in high definition and even pursue a photographic career, if that interests you. Opening up a world of possibilities, cameras today come with features like film simulation modes, fast image processing, excellent performance in various lights, anti-flicker features, and many more—all of it in an affordable budget!
Also Read: Top 16 Fashion Photographers of India
So if you are planning on investing in a camera, this guide offers a detailed look into the 10 best cameras for photography currently available in the market. Let's a look!
1. Sony A7 IV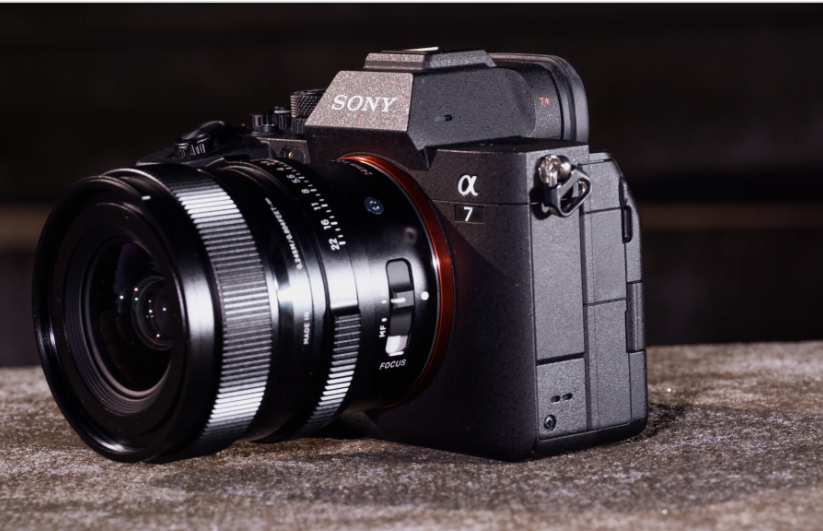 Staying true to the reputation of its predecessor Sony A7 III, which received glowing reviews from every photographer, this camera is worth every penny. With a new 33MP sensor, this is the best camera you can use for both stills and video shots. It's highly ideal for hybrid shooters, who will surely benefit from the camera's excellent auto-focus skills along with the high-resolution image quality that offers immeasurable depth. This full-frame, mirrorless camera also has a shooting capacity of up to 10 fps that you can enjoy with incredible buffer capacity. Offering you class-leading reliability in terms of both photography and video shooting, this is a great option to go for.
Some of the other notable features of the Sony A7 IV include auto and manual focus, unlimited shooting capacity, live streaming, webcam functionality, and great image stabilisation. The overall autofocus and interface design of this camera has also seen improvements, when compared to the previous generations of the Sony series. While the rolling shutter rates are not an exceptionally fast sensor in this camera, the resulting images and videos are still one of the best you will get from cameras in the current market.
Specifications:

Sensor Size: Full-frame sensor
Type: Mirrorless
Resolution: 33 MP
Lens Mount: Sony E-mount
Viewfinder: 3,690K dots, 0.5 inch OLED, 23mm eye point, 100% coverage, 0.78x magnification
Monitor: 3.0-inch vari-angle touchscreen, 1,037K dots
Maximum Continuous Shooting Range: 10fps
User Level: Professional/semi professional

Why to Buy?

Excellent face recognition
Impressive 33MP sensor with autofocus
Amazing burst mode

Why not to Buy?

Not beginner-friendly in terms of usage and price
Heavily clipped 4K footage
2. Canon EOS R6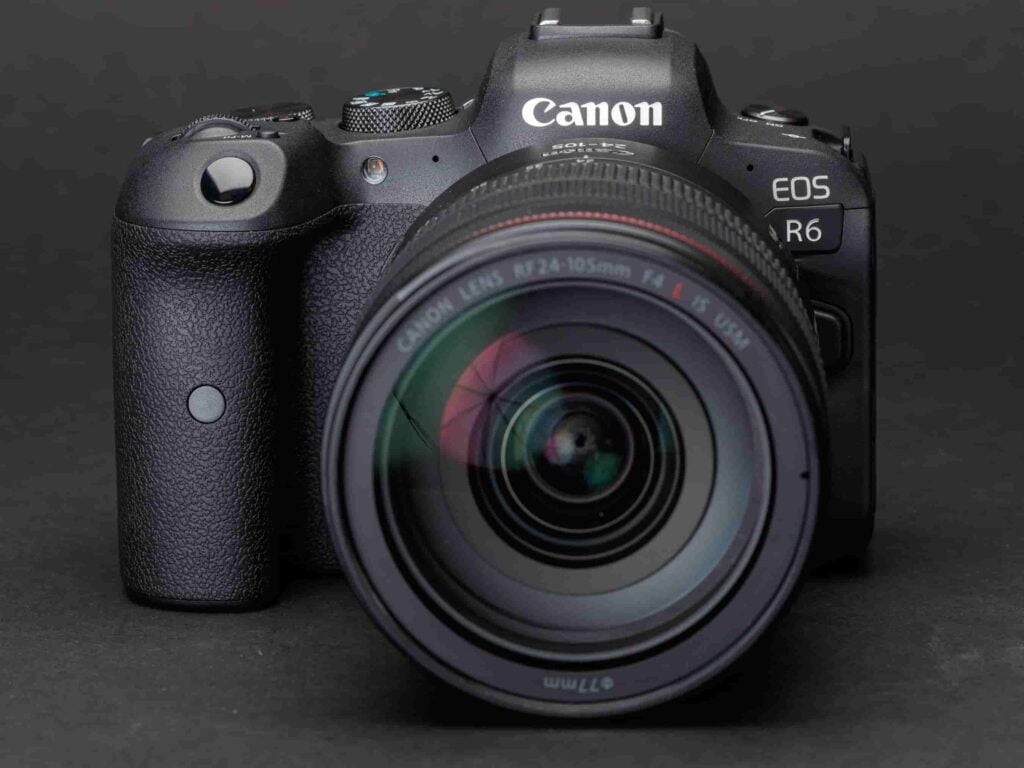 This camera is a recent addition, launched in July 2020, to the Canon EOS series. While it has not garnered as much attention as some of the other variants in the series,—specifically the Canon EOS R5—this is one of the best all round cameras you can find in the market right now. Equipped with an extremely fast machine, this camera allows you to enjoy amazing image stabilisation and clarity with the quick communication between camera and lens. It also provides extremely speedy burst shooting powers that makes it one of the best cameras for photographers with an interest in wildlife or sports photography. Although its 20.1MP resolution might seem a bit low, it gets the job done perfectly well if your purpose does not require resolutions as high as 40MP. As far as enthusiast-level cameras go, this one is highly equipped with features suitable for high-dynamic range displays in both image and video shooting. The same also allows it to fit into a very light budget, so you can surely consider this excellent variant!
Specifications:

Sensor Size: Full-frame sensor
Type: Mirrorless
Resolution: 20.1MP
Lens Mount: Canon RF
Viewfinder: 3,690K dots, 0.5 inch EVF OLED, 100% coverage, 0.76x magnification
Monitor: 3 inch fully articulating touch display, 1,620K dots
Maximum Continuous Shooting Range: 20fps
User Level: Professional

Why to Buy?

Dual card slots
Excellent autofocus
Overall great at both photography and video shots

Why not to Buy?

20MP resolution
On the expensive side
Video shooting limits due to overheating
3. Nikon D850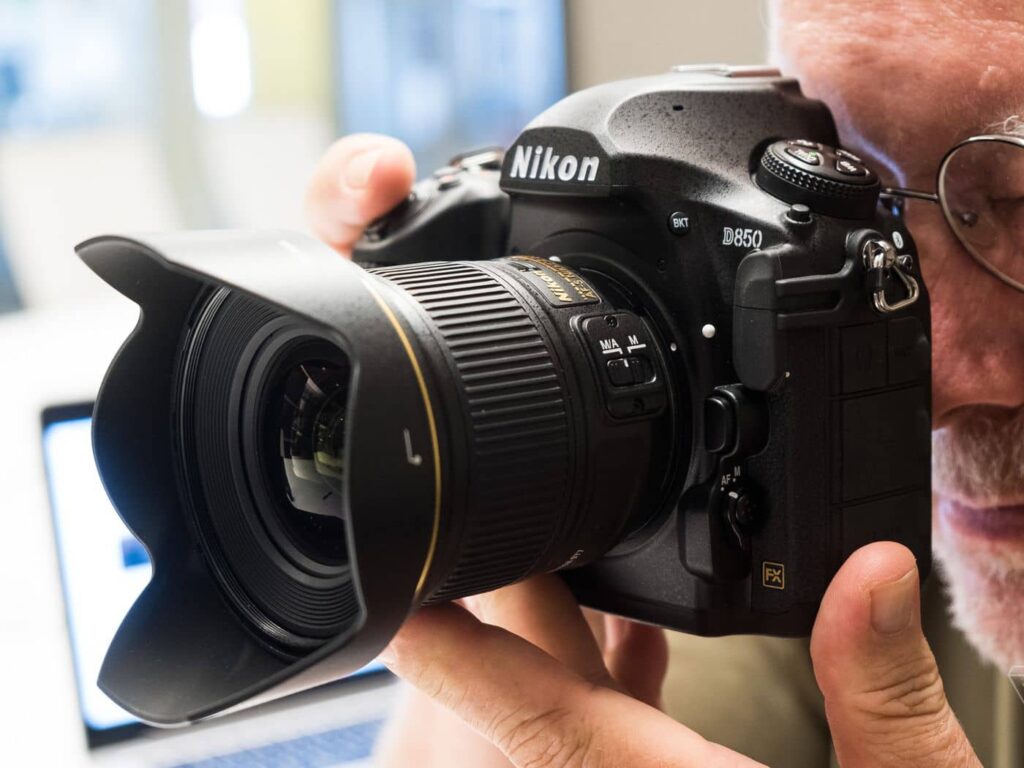 Easily one of the most exceptional cameras that you can buy right now, this camera offers exceptionally fascinating shooting features. One of them is the tilt screen that allows you to attempt a variety of angles without having to lie down or bend over backwards to get the perfect shot. This makes it the best camera for photoshoots in an affordable price range. The optical zoom DSLR camera offers high image resolution of 45.7MP along with a high video resolution of 1080p. With its extremely fast autofocus and full-frame CMOs image sensor, you can always rely on this one to give you the highest quality pictures. It also allows you to shoot slow-motion in 8K in UHD and offers a high battery life, which takes up to 1,800+ shots on a single charge. This is the first Nikon DSLR to capture videos at the full width of its sensor. Additionally, this camera offers an attenuator mode for camera audio to filter out loud or unpleasant sounds and offer you a smooth rendition. Lightweight, easy to use, and economically ideal, this is a great camera that will give you your money's worth.
Specifications:

Sensor Size: Full-frame sensor
Type: Mirrorless
Resolution: 45.7MP
Lens Mount: Nikon F mount (with AF coupling and AF contacts)
Viewfinder: 100% coverage, 0.76x magnification, pentaprism single-lens reflex
Maximum Continuous Shooting Range: 9fps
User Level: Beginner/professional
Why to Buy?

BSI (Back Side Illuminated) sensor
Impressive battery life
Exceptional autofocus abilities

Why not to Buy?

In built flash not available
Nikon wireless application for iOS is not the smoothest experience
Slow AF contrast
Also Read: International Day of Families – Style your picture-perfect family
4. Canon EOS 5D Mark IV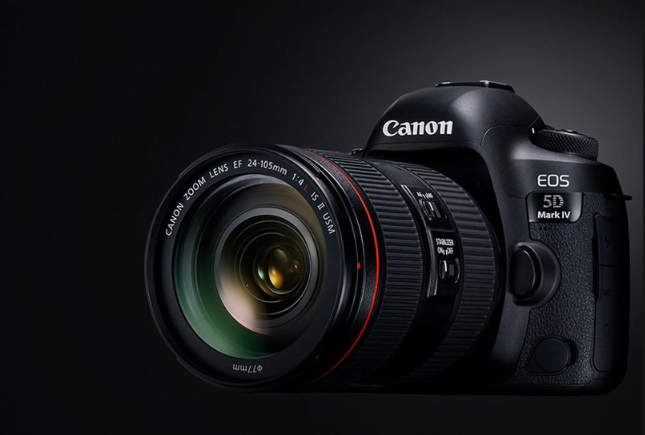 Another product from Canon, the world-renowned brand for photography equipment, this camera is just as impressive as, if not more, all those came before it. Equipped with a full-frame sensor, this piece is quite popular among avid portrait photographers due to the resulting high resolution images it offers. One of its most appreciated features is the excellent quality of shoots in low-light conditions, owing to its wide ISO range of 100 to 25,600. With extraordinary colour rendering capacities, you can hold onto all your precious memories in the best quality possible. With its high-speed and sensitive autofocus abilities, the Canon EOS 5D Mark IV is an easily impressive variant that shoots at a resolution of 30.4MP. The focus in this camera, especially in live view, is quite accurate at zeroing in on your initial subject, even when you are moving while shooting. Ever since being launched back in 2016, this has been one of the most popular cameras among photographers due to the various fascinating features it offers, and it continues to enjoy that reputation till date.
Specifications:

Sensor Size: Full-frame sensor
Type: CMOS sensor with 61-point reticular AF
Resolution: 30.4MP
Lens Mount: Canon EF
Viewfinder: 100% coverage, 0.71× magnification, LCD (Live View), Eye-level pentaprism
Monitor: Touch screen with advanced controls
Maximum Continuous Shooting Range: 7fps
User Level: Expert

Why to Buy?

Built-in WiFi/NFC module, GPS receiver
Waterproof body
High speed continuous shooting

Why not to Buy?

Does not support CFast and SD UHS-II cards
4K video not compatible with professionals
File production system not ideal
5. Fujifilm X-T4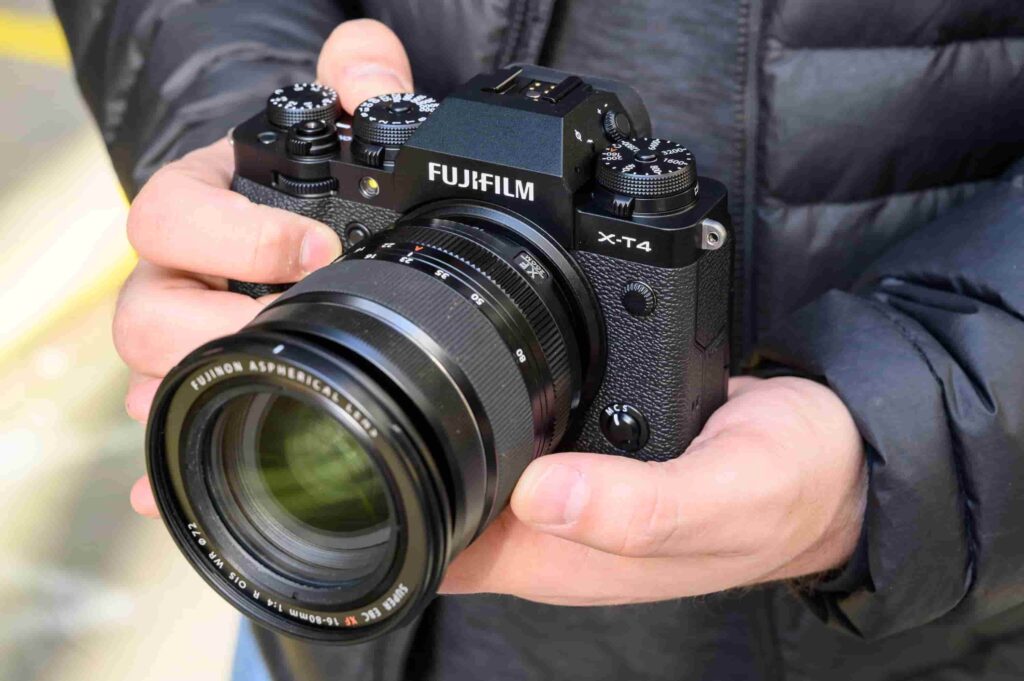 This Fujifilm camera offers you the perfect amalgamation of features, size, and value for money, making it one of the best cameras to shop for, especially if photography and shooting is a hobby for you. With a bigger battery slot, this camera now allows you to shoot up to 500 shots in a single charge. It's class leading in built body stabilisation (IBIS) and comes with speedy-burst shooting mode that offers you an opportunity to click exceptional stills. While the APS-C sensor surely assists in shooting amazing photographs, the same also allows you to shoot extremely high-quality videos. Its autofocus abilities have also proved to be fast and rewarding in many situations, opening up possibilities for you to experiment with various kinds of photography techniques. Highly efficient on multiple fronts, this camera shoots at a fast speed with additional stabilisation and can be best experienced by still shooters. Lightweight in build and equipped with modern features for the best shoots, the Fujifilm X-T4 is currently a top-tier camera that has been described by many as Fujifilm's most exceptionally performing camera as of yet.
Specifications:

Sensor Size: Crop sensor
Type: Mirrorless
Resolution: 26.1 MP
Lens Mount: Fujifilm X-mount
Viewfinder: Electronic
Monitor: 3-inch, fully articulating touchscreen
Maximum Continuous Shooting Range: 30fps
User Level: Intermediate

Why to Buy?

IBIS available, which is excellent for video shooting
High image quality
Great overall for photography and videos

Why not to Buy?

Headphone jack not available
Video recording limit
No battery charger with camera
6. Olympus OM-D E-M10 Mark IV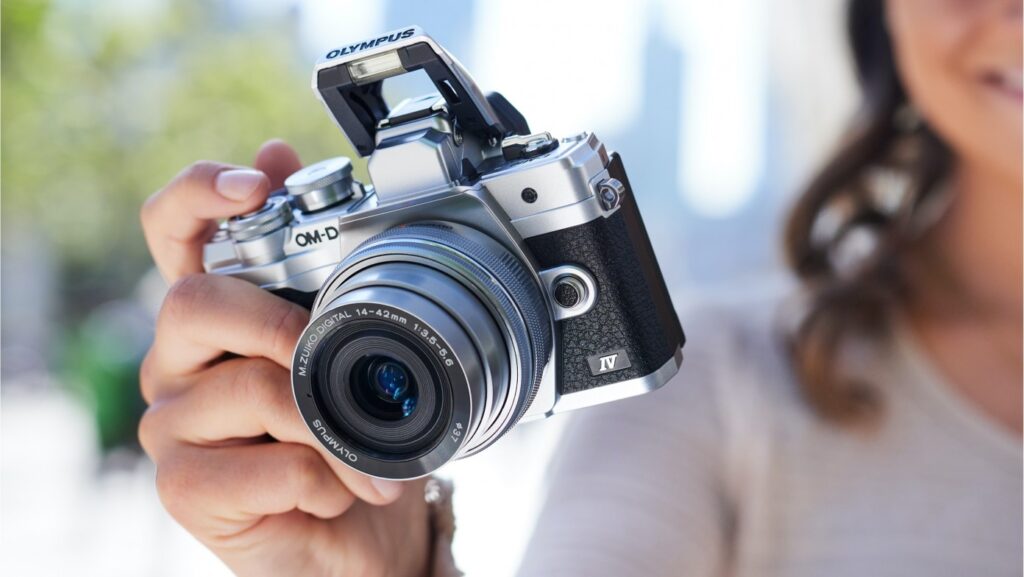 If you are looking to buy a camera just to learn the basics of photography before moving onto a more complex one, the Olympus OM-D E-M10 Mark IV is second to none. It has a smaller sensor compared to some of its peers but coupled with the crop factor, you can salvage the slightly low-resolution pictures with double the focal length of the lenses. It also has built-in optimal image stabilisation that allows you to get amazing shots even in low-light settings. On beginner levels, this camera is fully equipped with helpful features that you can use to start out with both photography as well as video shooting. Its flip-down touchscreen with impressive ergonomics will allow you to adjust to shooting with this camera with the utmost ease. The flip-down touchscreen, when flipped, acts as a selfie camera with command buttons of movie capture and brightness and virtual shutter release present on the screen. The interface is built with a fairly simple design that is very easy to figure out, so switching between different modes and accessing all its aspects will not be a hassle. The sensor also has one of the biggest selections around when it comes to lenses so you can keep levelling up as you move deeper into the realm of photography with this excellent camera.
Specifications:

Sensor Size: Micro four thirds
Type: Mirrorless
Resolution: 20.3MP
Lens Mount: Micro four thirds mount
Viewfinder: 2,360K dots, electronic
Monitor: 3-inch tilting touchscreen, 1,037K dots
Maximum Continuous Shooting Range: 15fps
User Level: Beginner

Why to Buy?

High image stabilisation
Compact build and feel
Packed with extremely useful features for beginners

Why not to Buy?

Low recording limit
Low burst and video shooting range
No microphone input and USB-C port available
Also Read: Top 8 Places To Visit In India this Vacation
7. Nikon Z fc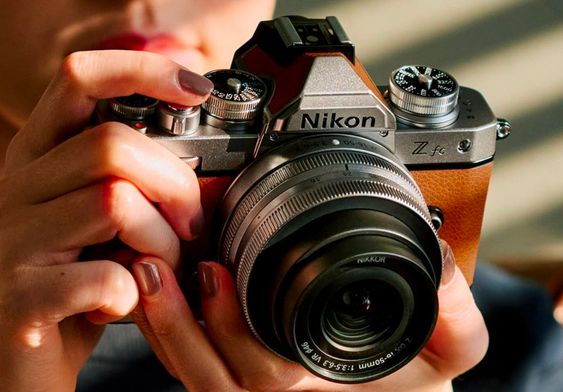 The market certainly has its fair share of high-technology cameras that will charm professional photographers, but with options like the Nikon Z fc, hobbyist shooters and enthusiasts also get to experience the best features. Launched in 2021, this is one of the newer models with interesting features like 11fps burst shooting, 4K 30p video shooting, and more. The available USB 3.0 socket interface is highly efficient at data transfer, more so than many alternatives that you will find in the market. This camera will allow you to hone your skills in fields of both videography and photography at quite an affordable price. It is also endowed with the APS-C model with retro styling that adds an edgy colour factor to all your photos. The exteriors are stylish and sleek, living up to the retro styling it adds to its images. While this camera lacks internal image stabilisation skills, the hybrid autofocus system makes up for it by allowing you to beautifully capture even fast-moving objects. This lets you experiment with a number of different photography styles before settling with one that interests you most.
Specifications:

Sensor size: APS-C
Type: Mirrorless
Resolution: 20.9MP
Lens Mount: Nikon Z
Viewfinder: Digital
Monitor: 3-inch vari-angle touchscreen, 1,040K dots
Maximum Continuous Shooting Range: 11fps
User Level: Enthusiast

Why to Buy?

Easy to handle
Convenient vari-angle display
Quick focus and high ISO output

Why not to Buy?

Low availability of DX-format Z lenses
Only compatible with UHS-I cards
Lacks high image stabilisation
8. Nikon Z6 II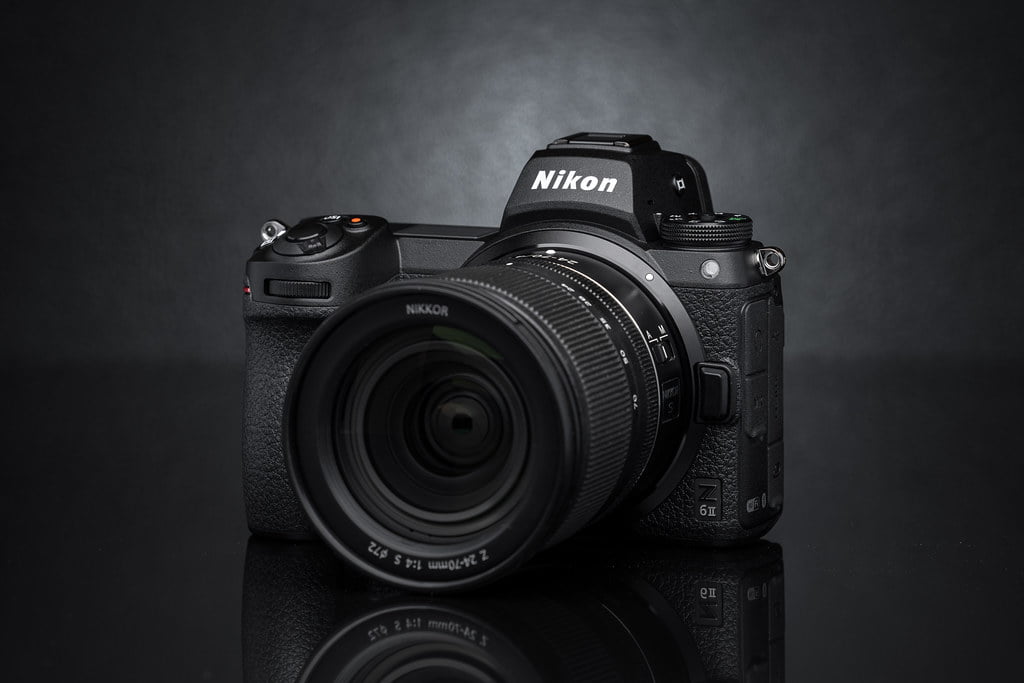 This is one of the recent full-frame cameras by Nikon that you should definitely consider if you are looking for high value-for-money options. Its Expeed 6 processor brings a multitude of excellent features with it, including image stabilization and accurate autofocus boosts, which come exceptionally handy for face and eye detection. These features make this camera a delight to work with if you indulge in portrait and wildlife photography. It also has many qualities that improve its overall performance, such as the ability to capture in low light, high burst shooting speed, video shooting at 4K capture up to 60p, and more. These features enable you to do your best work with this mirrorless camera. With its weather-sealing mode and a comfortable grip on the body, it gives you a sleek feel that you can use to produce stable, well-captured shots. The ergonomic design of this model makes it very convenient in the outdoors. Improving the initial processing power featured in the existing Z6 model, the hardware of Nikon Z6 II is equipped with a second Exceed 6 processor. The 24.5MP BSI CMOS sensor also delivers a dynamic range with excellent high ISO noise performance and unparalleled level of detail, all at a good enough price range.
Specifications:

Sensor size: Full-frame sensor
Type: Mirrorless
Resolution: 24.5MP
Lens Mount: NIKKOR Z
Monitor: 3.2-inch tilt-angle touchscreen, 2,100K dots
Viewfinder: 3,690K dots
Maximum Continuous Shooting Range: 14fps
User Level: Intermediate

Why to Buy?

Impressive image quality
Exceptional build quality
Polish handling with high burst shooting

Why not to Buy?

Vari-angle display not available
Options with more advanced AF systems available
Paid firmware upgrade required for raw video
9. Fujifilm X-S10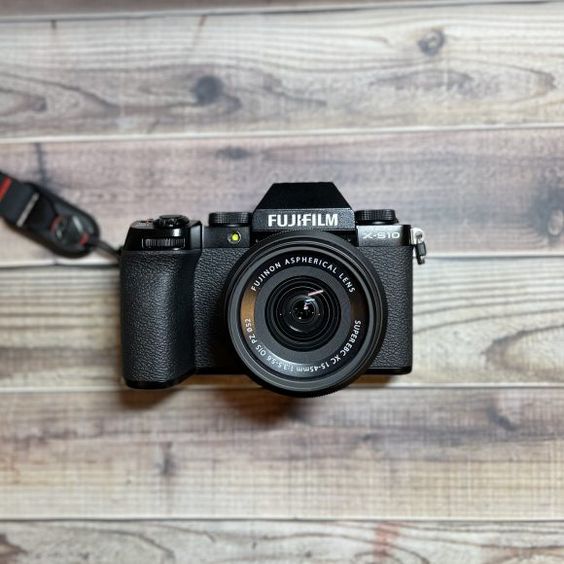 Presenting a mixture of many admirable qualities from the company's previous variations in the X series, this is an ideal camera for just about everyone. Made in a small size to ensure convenience, this 26MP camera comes with interchangeable lenses that allow you to shoot high-quality photographs. Videos can be shot at 4K, and you will surely get the best of them owing to its in-body stabilisation. This light-motion sensor with an IBIS unit is extremely efficient, especially in terms of power consumption.
The buyer gets a wide range of features to explore in this camera, some of them being auto and scene modes, high-speed recording, red-eye reduction, remote live view, mobile device remote controlled, etc. The battery power supports up to 325 shots in a single charge and the wireless connectivity is a major plus point. Also, you can take full advantage of the WiFi and bluetooth connectivity for hassle-free usage as well. However, one downside that professional photographers might experience with this camera is the absence of weatherproofing, making it crucial for you to ensure that the exteriors are protected in rough weather. Nevertheless, the Fujifilm X-S10 is known for capturing a variety of textures, colours, and images in the finest quality and is surely a worthy purchase.
Specifications:

Sensor Size: Crop Sensor
Type: Mirrorless
Resolution: 26MP
Lens Mount: FUJIFILM X mount
Monitor: 3 inch, fully articulating touchscreen, 1.04M dots
Viewfinder: 2.36M dots, OLED electronic
Maximum Continuous Shooting Range: 30fps
User Level: Professional

Why to Buy?

Effective image stabilisation feature
Small body with comfortable grip
Large choice of lenses available

Why not to Buy?

Limited usability of touchscreen
Body is not weatherproof
Improvements can be made to tracking AF
Also Read: Health Benefits of Running
10. Canon PowerShot G1 X Mark III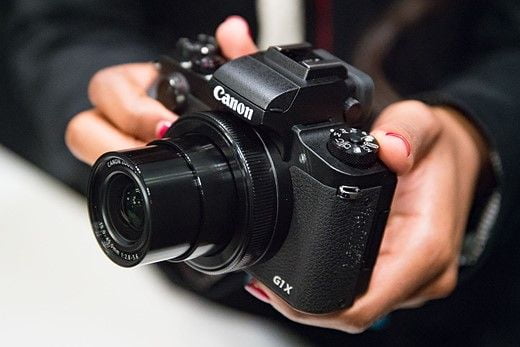 For people who want to indulge their photographic hobbies without delving deep into the countless technicalities of features, the Canon PowerShot G1 X Mark III is a perfect choice. It offers a versatile and modern range of features packed in an extremely convenient, compact body that you can easily carry around with you. Images taken on this camera have been reviewed to be phenomenal in terms of quality as well as composition. It also features comprehensive weather sealing, which allows you to enjoy uninterrupted shooting even in adverse weather conditions. However, it is important to note that this camera may come off as restricting if you use it for professional purposes. The low-aperture range of f/2.8–5.6 does not give its best performance in low-light settings. Moreover, the focal range of 24–72mm is generally considered average. This camera, packed with modern features, is also resistant to dust and water to some degree. Regardless, this is overall one of the best cameras to invest in, especially if it is your first as it allows you to experiment comfortably.
Specifications:

Sensor size: APS-C
Type: Mirrorless
Resolution: 24.2MP
Monitor: 3 inch vari-angle touchscreen, 1,040K dots
Viewfinder: EVF, 2,360K dots
Maximum Continuous Shooting Range: 9fps
User Level: Beginner/Enthusiast

Why to Buy?

Compact body
Weather sealed for maximum convenience
Excellent image quality

Why not to Buy?

Low battery life of 200 shots
No availability of 4K video recording
Limited zoom lens
Composing the 10 best cameras for photography, this list has something for everyone, beginner enthusiasts and professionals alike. Whether you are leaning more towards photography or primarily interested in videography, these cameras will allow you to live out all your creative desires and capture the fondest memories in high resolution. Available in affordable price ranges, these are the 10 best cameras for photography of all kinds!
Fashion Bloggers in India | Fashion Magazines in India | Bridal Lehenga Trends | Different Kurta Style | Yoga Outfits for Women | Top Ethnic Wear Brands | Best White Sneakers for Men | How to Style Skirt | How to Style Maxi Dress | Guide to the Best Running Shoes for Men | Top Shoe Brands In India | Luxury Fashion Brands in India | Sustainable Fashion Brands | Best Watch Brands in India | Latest Fashion Trends for Women |