Introduction
Salwar suits, an iconic garment of the Indian subcontinent, have won hearts across boundaries and cultures for millennia. Originating in the stately palaces of the Mughal Empire, this traditional clothing has gracefully endured the test of time, developing and renewing itself with each passing decade. Today, as we look at the many types of salwar suits it's amazing to see how this ensemble has evolved from being a mainstay of North Indian women's clothing to being a global fashion statement.
Whether you're dressing for a huge wedding or a casual day out, the broad variety of Salwar suits guarantees there's something for every occasion. We'll go through the complex tapestry of styles that make up the world of Salwar suits in this detailed guide, exploring their origins, importance, and current interpretations. So, whether you're a fashionista looking to update your wardrobe or someone curious about the wonderful world of Indian traditional clothing, this guide to the types of salwar suits is perfect for you.
1. Traditional Elegance
Anarkali Salwar Kameez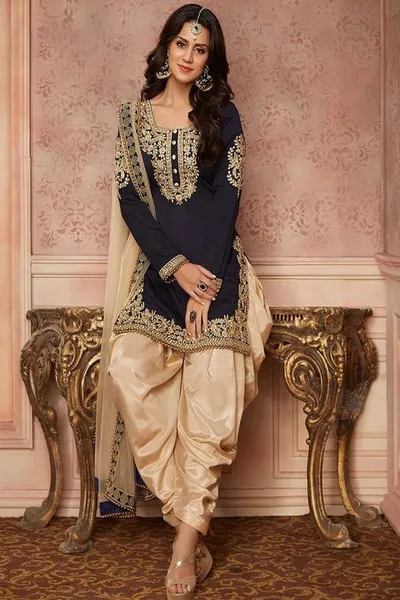 The anarkali, one of the most distinguishing types of salwar suits, stands out in the crowd due to its regal ancestry. This salwar suit is inspired by the iconic dancer Anarkali and has a long, frock-styled top and a slim bottom. Historically popular throughout the Mughal period, its flared style is still popular now, brilliantly linking the past and the present.
Patiala Salwar suit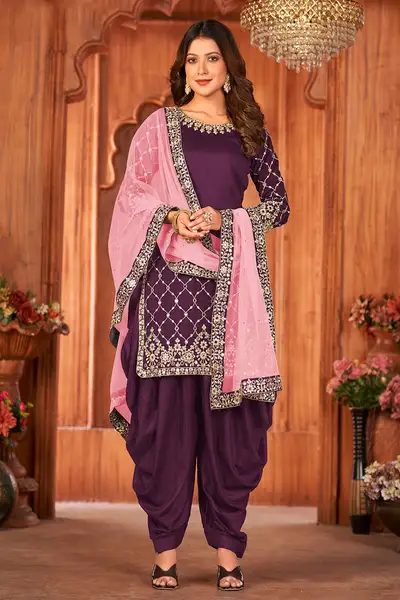 The Patiala Salwar suit from Punjab's heartlands deserves special note as we investigate numerous types of salwar suits It oozes comfort and sophistication with its wonderfully pleated and voluminous salwar combined with a shorter kameez. It's a style that seamlessly merges heritage and contemporary, a celebration of the colorful Punjabi spirit.
Churidar Salwar suit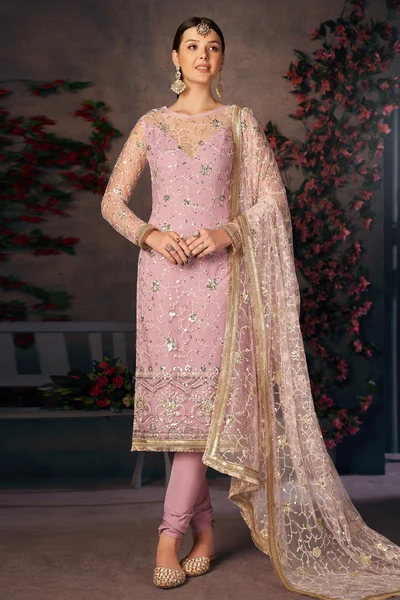 The Churidar salwar suit stands out among the types of salwar suits that have tastefully changed through the years. Its distinguishing characteristic, the extended fabric lengths that collect at the ankles, simulating 'churis' or Indian bangles, and the normally lengthier kameez, exhibits a combination of grace and modesty, making it an evergreen choice for a variety of situations.
2. Inspired By Regions
Women's Pakistani Salwar suits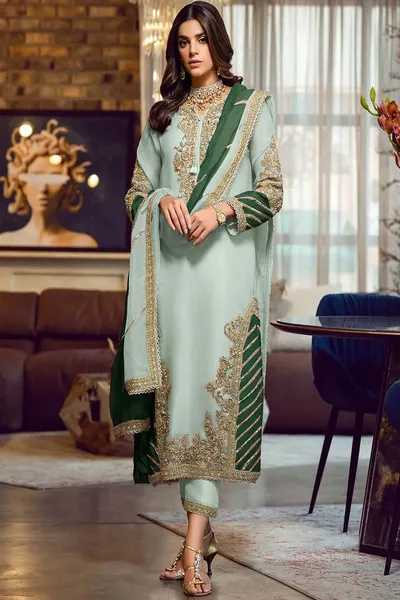 Taking a look at the global types of salwar suits, the Pakistani salwar suit catches our eye. It closely resembles a traditional Pakistani dress with its longer kameez and straight cuts. It is the essence of grace and elegance that the area is known for, sometimes decorated with elaborate embroidery and combined with a straight pant or salwar.
Punjabi Salwar suit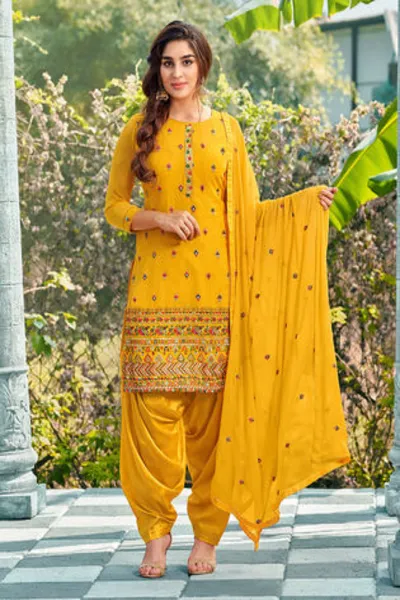 When it comes to regional types of salwar suits, the Punjabi salwar suit symbolizes the vitality of Punjabi culture. It is distinguished by its vivid colors and strong designs and is worn with a voluminous Patiala salwar, making it associated with comfort and flair. It is more than simply a piece of clothing; it is a celebration of the Punjabi way of life.
Khadi Salwar suit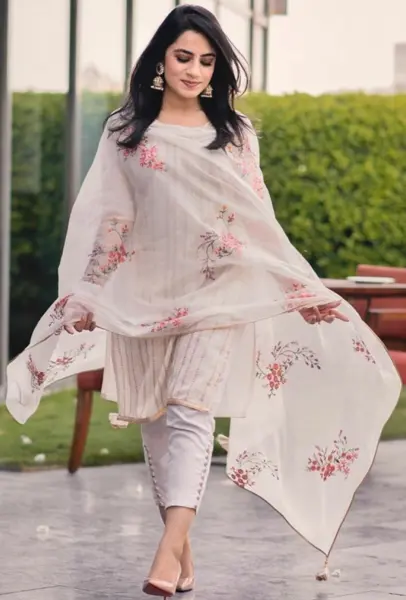 As we look at the many types of salwar suits, the importance of khadi cannot be overstated. Khadi Salwar suits, which have their origins in India's liberation fight and were championed by Mahatma Gandhi, are a monument to the country's independence. The Khadi Salwar suit resonates with simplicity while creating a powerful fashion statement thanks to its hand-spun and hand-woven fabric.
3. Contemporary Favorites
Palazzo Salwar suit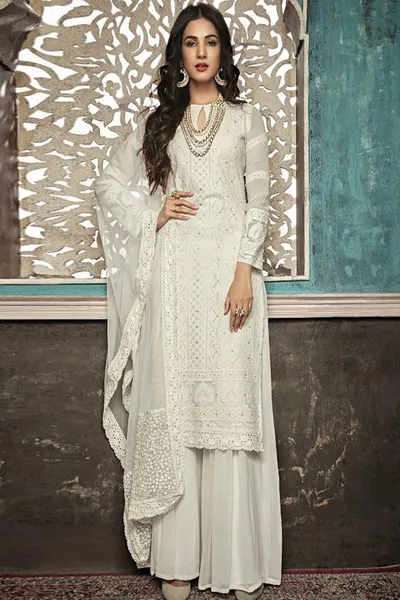 The Palazzo Salwar suit is at the top of the modern types of salwar suits. The Palazzo Salwar suit is inspired by western wide-leg pants and has flowing palazzo pants and a medium-to-long kameez. It's the ideal combination of comfort and style, making it a popular option for both casual and formal occasions.
Silk Salwar Kameez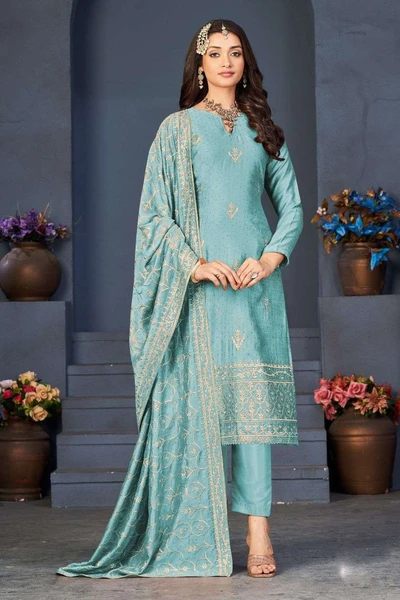 Silk has a particular place in the hearts of fashion fans due to its lustrous sheen and ageless charm. When it is worn with these types of salwar suit the outcome is an ensemble that exudes elegance and sophistication. The silk Salwar Kameez, which is typically embellished with complex patterns or minimalistic motifs, has unrivaled royal beauty. This sort of Salwar suit assures you shine with an air of traditional beauty, whether it's for festive occasions or personal parties.
Georgette Salwar suit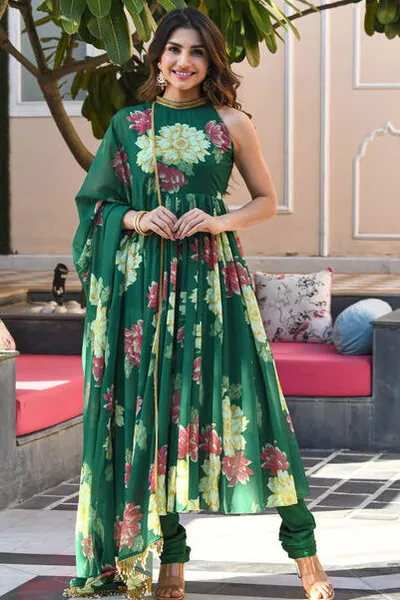 Georgette fabric has left a big imprint in the types of salwar suits It is delicate, light, and effortlessly elegant. The Georgette Salwar suit, with its airy feel and slight shine, is ideal for individuals who want to combine comfort with flair. Its flowing drape and versatility make it a popular option for a variety of settings, from everyday wear to special events. The Georgette Salwar suit comes to life when embellished with embroidery or designs, complementing the vitality of the wearer.
Designer Salwar Suit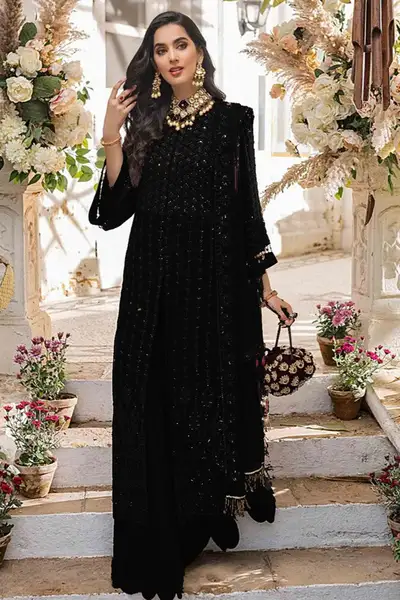 In the varied palette of types of salwar suits, one type stands out as a monument to ingenuity and originality. Each piece is a one-of-a-kind work of art created by seasoned designers, showing a mix of modern trends and traditional elements. This type of salwar suit is all about making a statement, from avant-garde cuts to exquisite decorations. It's more than just clothing; it's a reflection of your personality, ensuring you're the center of attention at every gathering.
4. Party and Celebration Types
Women's Party Wear Salwar suits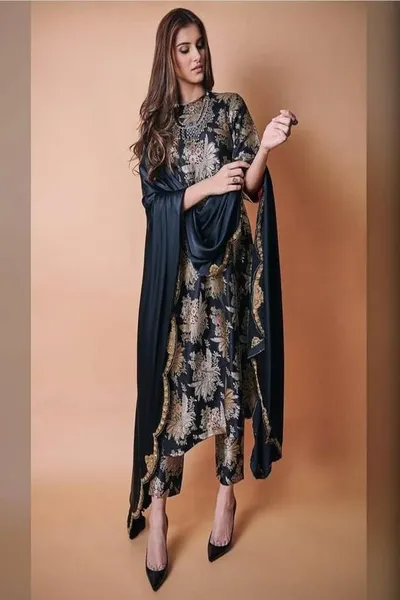 When it comes to dressing up for a spectacular evening or a lively party, there are several types of salwar suits to choose from. The Party Wear Salwar suits for women are the most popular. These outfits are all about making a great appearance, with rich materials, brilliant colors, and light-catching decorations. Whether it's a cocktail party or a family gathering, these salwar suits make you the star of the show, radiating flair and style.
Embroidered Salwar Kameez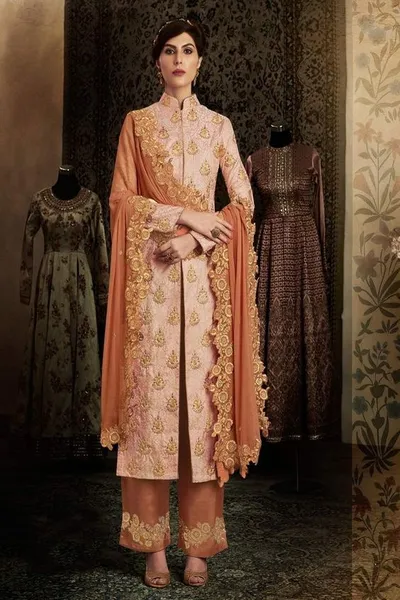 When it comes to ornamental types of salwar suits, the embroidered salwar kameez is a perennial favorite. Embroidery adds depth, texture, and charm to the Salwar Kameez with its elaborate designs weaved by expert artisans. The selection of embroidery is enormous, from delicate threadwork to glittering sequins and beads, ensuring that each item tells its own distinct tale. This kind of Salwar suit exudes heritage, art, and attention to detail, making it a treasured addition to any wardrobe.
Wedding Salwar suit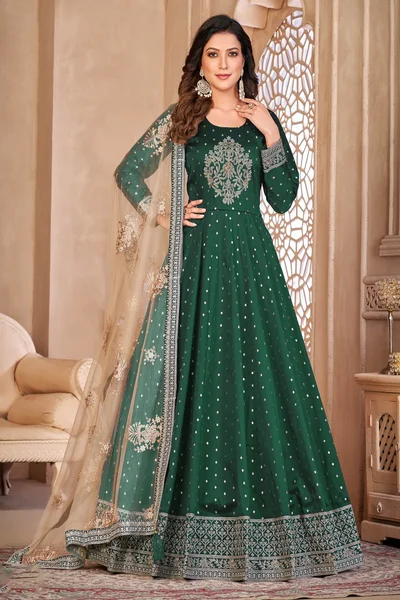 Weddings, with their grandeur and emotion, necessitate attire that is appropriate for the occasion. Among the festive types of salwar suit the wedding salwar suit takes center stage. These suits are the ultimate in elegance and charm, with luxurious materials, vibrant colors, and intricate craftsmanship. The wedding salwar suit guarantees that you represent the pleasure and beauty of the important occasion, whether you're the bride, a bridesmaid, or a guest.
Bollywood-style Salwar suit
Bollywood has always been a trendsetter, and its impact on types of salwar suits is unmistakable. The Bollywood-style salwar suit is inspired by the silver screen's glamor, glamour, and drama. These suits offer a touch of cinematic enchantment, from the costumes worn by leading heroines in memorable movie moments to the fashions flaunted at red-carpet events. The Bollywood-style Salwar suit, which is often distinguished by current cuts, vibrant colors, and an air of drama, makes you feel like a star, ready for your close-up.
5. Unique Cuts and Styles
Floor-Length Anarkali suit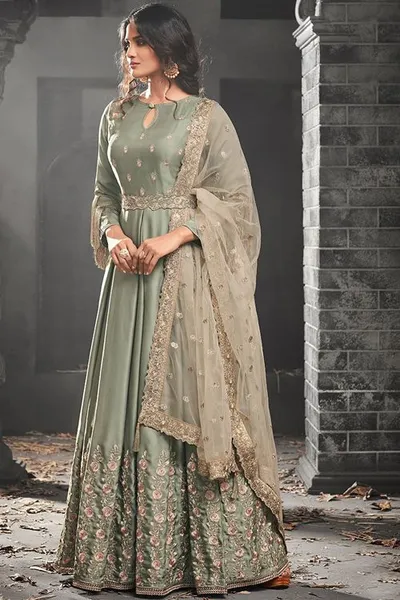 The floor-length variation has become one of the most sought-after types of salwar suits in recent years, pushing the boundaries of the conventional Anarkali. It emits a feeling of majesty and drama with its long, sweeping length that touches the floor, making it a go-to pick for great gatherings and festivities.
Sharara-style Salwar suit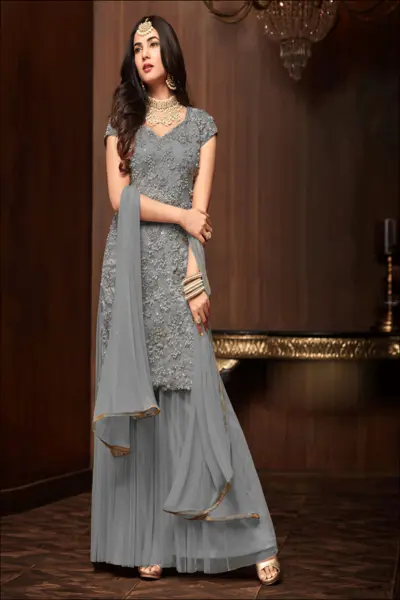 The Sharara Style is one of the finest types of salwar suits for celebrations, having made a surprising reappearance on the party circuit. The Sharara oozes classic appeal, with flared pants that broaden from the knee down and a short to medium-length kameez. It's ideal for weddings and celebratory events.
Salwar suit with Jacket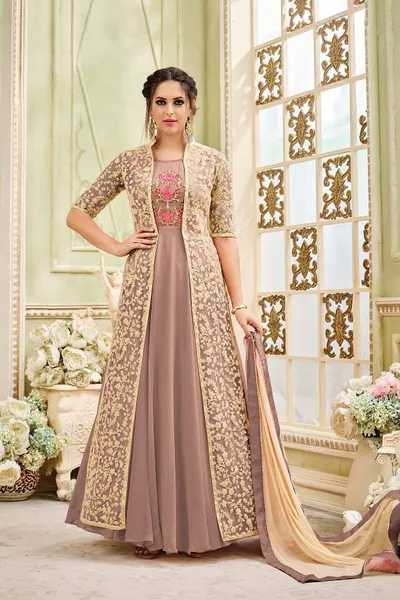 When modern fashion meets the old types of salwar suits, magic happens. The salwar suit with jacket is one such trendy outfit. This look layers a jacket, which can be waist-length or floor-length, over a standard kameez. The jacket, which is frequently embellished with exquisite embroidery, prints, or patterns, lends a touch of refinement to the ensemble. The Salwar suit with jacket lets you stand out with grace and elegance, representing the best of both worlds, whether you're attending a formal function or a celebratory party.
Dhoti Salwar Kameez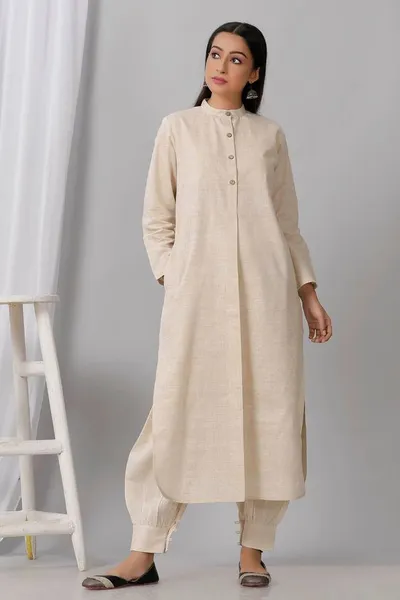 The exquisite combination of history and innovation can be seen in numerous types of salwar suits, with the Dhoti Salwar Kameez being a notable example. This combination offers a whimsical twist to the traditional salwar by drawing inspiration from the age-old dhoti, a traditional Indian garment. It gives a contemporary take on traditional attire with pleats that mirror the drape of a dhoti combined with a stylish kameez. The Dhoti Salwar Kameez is a tribute to the ever-changing nature of fashion and is ideal for anyone wishing to make a distinct style statement.
6. Trendy Adaptations
Netted Anarkali Salwar Kameez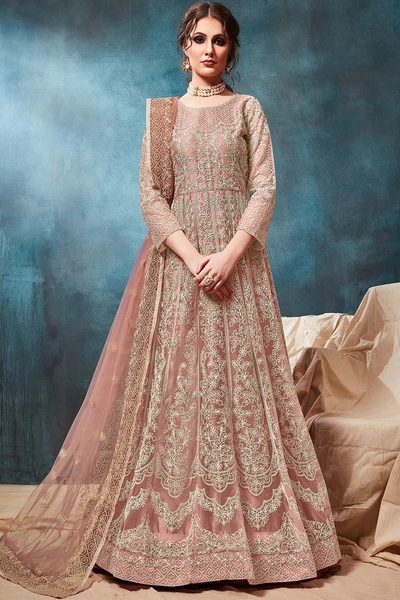 When it comes to royal types of salwar suits, the Netted Anarkali Salwar Kameez is a favorite among many fashion fans. The Anarkali, noted for its flared design, is enhanced by the addition of net fabric. This style is dreamy and ethereal, with layers of net lending volume and drama to the ensemble. Whether it's a wedding or a joyful event, the Netted Anarkali Salwar Kameez guarantees you shine with regal elegance.
Women's Floral Print Salwar Suit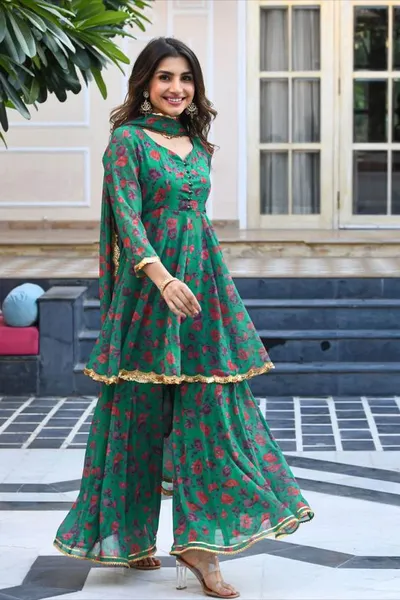 The Floral Print Salwar Suit for Women, which embraces the lively and colorful types of salwar suits, is a breath of fresh air. This ensemble, inspired by nature's richness, is embellished with prints of blooms, petals, and leaves, producing a vivid aesthetic appeal. The Floral Print Salwar suit is ideal for springtime celebrations or summer soirees since it exudes joy, freshness, and the spirit of rebirth, making it a must-have for individuals who love to enjoy life in all its colors.
Brasso Salwar Kameez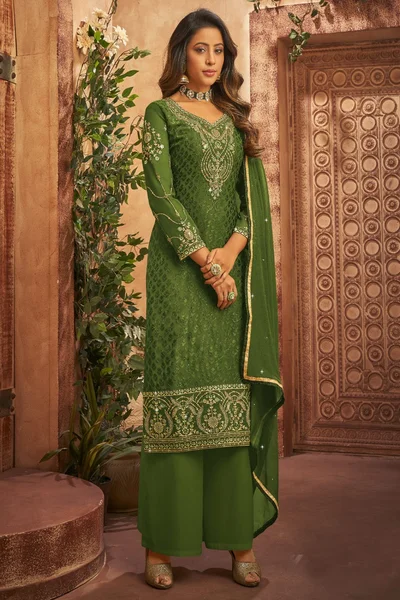 Experimenting with textures and patterns within the types of salwar suits in the Brasso Salwar Kameez provides a one-of-a-kind tactile experience. Brasso involves burning out designs on cloth, resulting in a raised pattern on a sheer or semi-sheer backdrop. The ensuing opacity/translucence play adds dimension and mystery to the ensemble. The Brasso Salwar Kameez is all about making a stylish statement and creating a lasting impression, whether it's for an evening event or a midday gathering.
7. Tailored Features
Collar Neck Salwar suit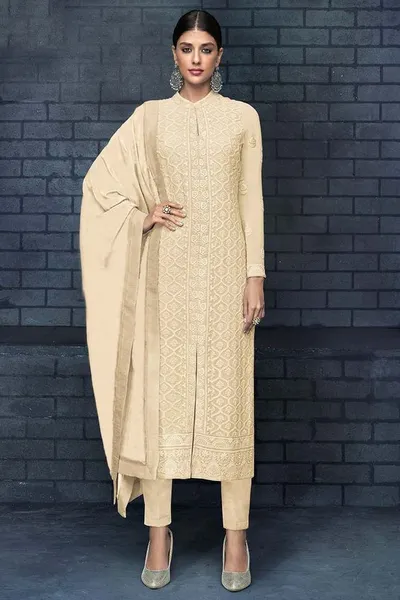 Navigating the many types of salwar suits leads to an attractive and composed design: the salwar suit with a collar neck. The collar neck, inspired by Western formal clothing, lends refinement and structure to the classic salwar kameez. This style, which is appropriate for both informal and formal settings, provides the user with a sophisticated appearance. The salwar suit with collar neck, whether coupled with exquisite embroidery or kept plain, is a beautiful combination of east and west, making it a popular option for many.
Pant-style Salwar suit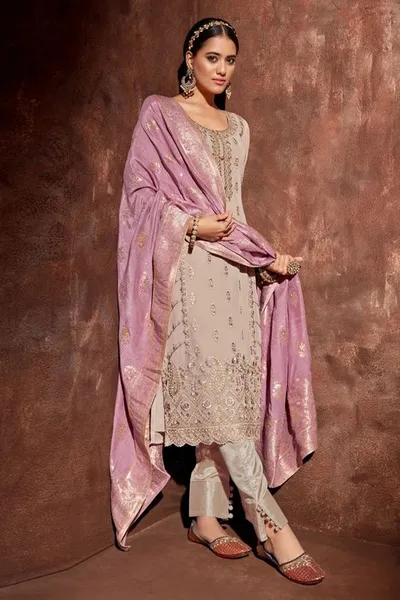 Modern tweaks on the original types of salwar suits have resulted in outfits that speak to the modern lady, with the Pant Style Salwar suit being a good example. This design pairs the kameez with straight-cut pants or trousers rather than the usual wide-leg salwar. As a consequence, the design is sleek and streamlined, exuding modernity and flare. The Pant Style Salwar suit is ideal for workplace attire, formal meetings, or sophisticated parties for individuals who want to smoothly merge tradition with today's trends.
Front Slit Salwar suit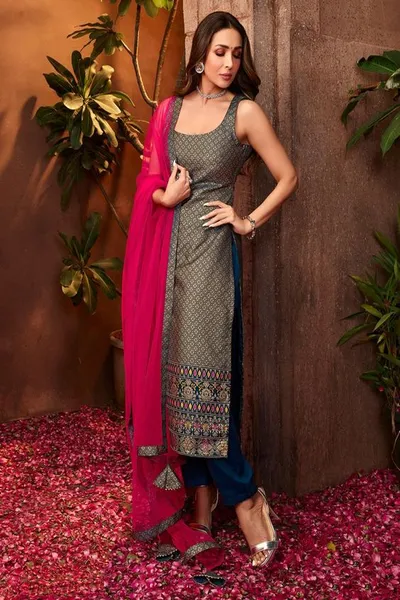 The front-slit salwar suit adds a touch of intrigue to the conventional types of salwar suits. As the name implies, the kameez in this design has a slit in the front that reveals the salwar or trousers underneath. This design not only gives a hint of sexiness but also a distinct silhouette that is both graceful and edgy. The front-slit salwar suit, when paired with palazzos, straight pants, or even skirts, is a flexible choice for individuals wishing to break the norm while remaining anchored in tradition.
Conclusion
As we progress through the many types of salwar suits, it's clear that this traditional garment has experienced tremendous alterations over the years, adjusting to modern tastes while retaining its cultural core. The universe of salwar suits offers a wealth of alternatives for any event and fashion taste, from the regal beauty of Anarkali suits to the modern appeal of the pant-style salwar suit, the innovative jacket style, and the elegant front slit design.
FAQs on Types of Salwar Suit
1. What are the most common types of salwar suits for special occasions?
Given their grandeur and elegance, Anarkali, Jacket Style, and Front Slit Salwar Suits, among others, are frequently in high demand for festive events.
2. How can I decide which types of salwar suits to wear on a regular basis?
Comfort is essential for everyday wear. Consider simple salwar suits, pant-style salwar suits, or salwar suits with a collar neck since they combine comfort and style.
3. Is there a modern type of salwar suit that combines Western and Indian styles?
Absolutely! Pant-style salwar suits, jacket-style salwar suits, and front-slit salwar suits are modern adaptations that blend Western and Indian design sensibilities.
4. Which type of salwar suit is regarded as classic or traditional?
Traditional or traditional Salwar suits include, among others, the Patiala Salwar suit, the Churidar Salwar suit, and the ageless Anarkali.
5. Can I tailor my clothing to the type of salwar suit that I prefer?
Yes, many designers and shops provide customization possibilities, allowing you to build a one-of-a-kind blend from the numerous types of salwar suits available.