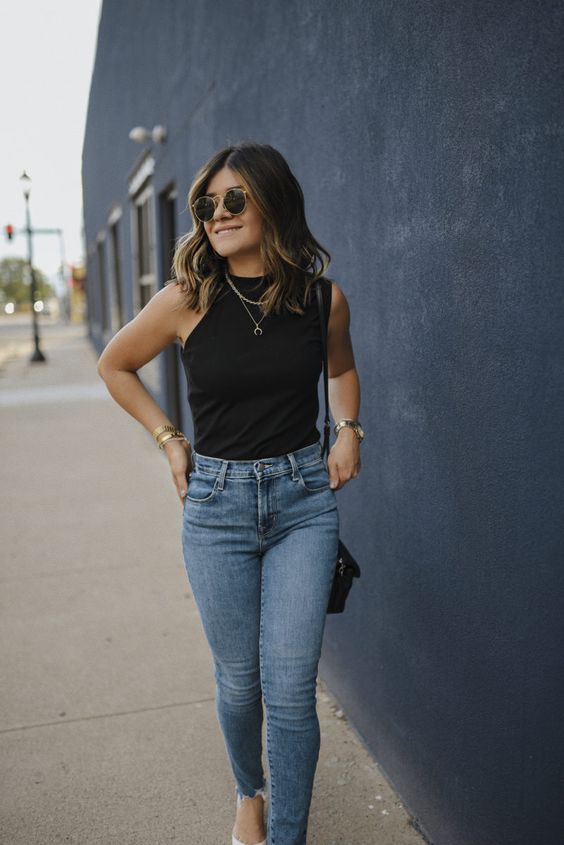 The ultimate pair for some and a head-scratcher for others, skinny jeans have taken the fashion world by storm. The figure-hugging cut helps you stand out and when paired with the right top, shoes, and accessories, it can help you make waves on both casual and semi-dressy occasions. But how do you get the right fit? After all, skinny-fit jeans aren't designed for your curves at the expense of different cuts, lengths, and rises. Some are more stretchable than others too. To help you shop for the perfect skinny-fit jeans, we've complied this short guide that shows you what to look for and what to avoid. You'll soon be wearing these sexy bottoms with confidence!
The Right Size Above All!
Jean sizes are pretty straight forward, that is, until you're faced with different brands from different countries. You factor in the measurements of your waist and hips and that's about it. But, despite this seemingly easy way to find your size, many get it wrong. Skinny jeans are very stretchable and maybe it's this that causes some confusion. Do you get a size 28 if you're a size 28, or do you go for a size smaller since the jeans stretch? Skinnies also lose their stretchiness after a while and this means regular trips to the tailor to alter them. A fool-proof way to get the right size is to try on several pairs of skinny-fit jeans till you find those that fit. But, if you're shopping online, going by the waist and hip measurements of the brand you're purchasing from is the only way. If you're in between two sizes, opt for the larger one.
You can always get it altered to your measurements whereas a size that's too small will remain just that; a size too small. If you're extra slim or petite, try a pair of super skinny-fit jeans. They may fit you better than regular skinnies. Ladies, do keep a super stretchable pair of jeans handy for those days of the month when your body decides to bloat.
Get the Correct Waist Rise for You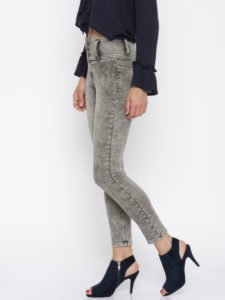 Some people prefer high-waist jeans while others don't. Then again, just because you're not the biggest fan of a particular waist rise, doesn't mean you shouldn't try it. It could look a lot better on you than the waist rise you usually go for. Mid-rise jeans look wonderful on people eager to slim down their tummies. They're a lot more comfortable than high-waist jeans too. Low-waist jeans, while super-sexy on people with toned abs, aren't such a good idea on the rest; muffin tops are unattractive on anyone! If you're voluptuous, skinny-fit jeans with a mid-rise will provide more coverage than a low-rise. You can also try high-waist jeans as long as they don't nip or pinch. People with slim and petite builds will also find that high-waist jeans look good on them as they define the waist and the hips.
Choose the Right Length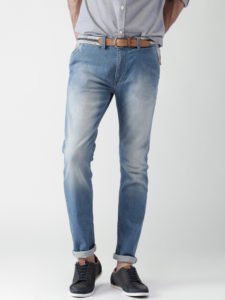 This is a rather overlooked aspect, but one that's very important. The right length jeans can elongate your figure to make you look taller and slimmer. If you have the height, you can easily wear skinny-fit jeans that reach down to your heels. The hems can be folded up to your calves for a sporty look, or they can be scrunched up around your ankles. Wear them with low-top canvas shoes and ballerina flats if you're folding the hems. No high-tops or shoes with ankle straps, please, as they can make you look stumpy. Jeans with scrunched up hems, meanwhile, look fab with high-top sneakers and with stilettos. Just make sure there's not too much excess fabric otherwise your outfit can appear sloppy. Petite folks look gorgeous in jeans that aren't too long but that end somewhere around the ankles. They can be worn with almost any type of shoes, but look particularly stylish with ballerinas, loafers, and booties.
Size Comparison Chart
Here's a quick look at the size charts of jeans in the USA, UK, and Europe. This is a general guide, so make sure you check the size chart of the brand you're purchasing from. Keep in mind that some jeans can be very stretchable. You may want to consider going one size smaller to get the right fit.
Women's Jeans
| | | | | | | | | | | | | |
| --- | --- | --- | --- | --- | --- | --- | --- | --- | --- | --- | --- | --- |
| USA | 0 | 2 | | 4 | | 6 | | 8 | | 10 | | 12 |
| UK | 4 | 6 | 7 | 8 | 9 | 10 | 11 | 12 | 13 | 14 | 15 | 16 |
| Europe | 32 | 34 | | 36 | | 38 | | 40 | | 42 | | 44 |
| Jeans Size | 23 | 24 | 25 | 26 | 27 | 28 | 29 | 30 | 31 | 32 | 33 | 34 |
| Waist in inches (UK) | 24.5 | 25.5 | | 26.5 | | 28.5 | | 30.5 | | 32.5 | | 34.5 |
Men's Jeans
| | | | | | | | | | | | | |
| --- | --- | --- | --- | --- | --- | --- | --- | --- | --- | --- | --- | --- |
| USA and UK | 28 | 30 | 32 | 34 | 36 | 38 | 40 | 42 | 44 | 46 | 48 | 50 |
| Europe | 38 | 40 | 42 | 44 | 46 | 48 | 50 | 52 | 54 | 56 | 58 | 60 |
| Waist in inches | 28 | 30 | 32 | 34 | 36 | 38 | 40 | 42 | 44 | 46 | 48 | 50 |
Find Flattering Colours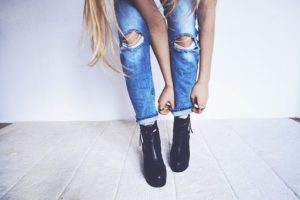 The wrong colour skinnies can spell fashion disaster. Imagine showing up for work in a pair of neon green jeans, or trying to achieve an elegant look at a special dinner in a pair of blazing red jeans. Needless to say, your style quotient will take a big dive. Our recommendation is to go for jeans in a dark wash like navy and slowly add to your collection with pinks, lilacs, and reds. Dark wash jeans are perfect for the workplace and for dressy occasions. You can pair them with just about any top and shoes. Distressed jeans, on the other hand, are a lot edgier and look best when worn with similarly edgy footwear like studded boots and old canvas shoes. If you can't decide on a colour, get a pair of navy jeans with no distressing, and another pair in a light wash with a bit of a distressed finish. The first can be worn to work and to special nights out, while the second pair can be your go-to day-to-day wear.
Prints and Embellishments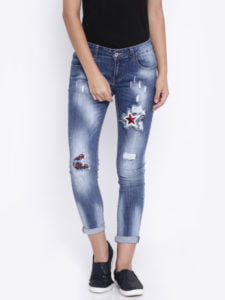 Guys, unless you have the attitude to carry off printed skinnies, try to stick to solid-coloured jeans. They're easier to style and can be worn to different occasions. If you must have a pair of printed skinnies, choose one with subtle motifs. Ladies, polka dotted skinnies are fabulous choices and can be worn on casual days out as well as to dinner parties and dates. Avoid anything too loud or too heavily printed. It will just look tacky and make it that much more difficult to style. Jeans with embellishments can be terrific picks as long as they aren't overdone. A pair with sequinned pockets or one with a beaded waist is perfect. You could team it with simple white boat-neck tops and moccasins for a daytime look, and with cowl-neck tops and heels for the evening.
BIG Don'ts When Buying Skinny Jeans
Don't buy jeans that are too tight especially around the waistline. They'll only create unsightly muffin tops.
Don't buy skinnies with large or overly colourful prints.
Don't choose skinnies based solely on what's in. The cut may not suit you and you'll just end up feeling depressed. Instead, pick jeans that flatter your shape and that you feel comfortable in.
Skinny jeans are far from the dreaded bottoms many think them to be. You too can wear them and look fabulous in them. It's just a matter of finding the right fit, cut, length, and colour for you. These sexy bottoms go wonderfully with a range of tops and shoes. You can smarten them up with pointed-toe stilettos and tailored jackets, or you can give them a street-chic vibe with T-shirts and hats. Make them part of your wardrobe and discover the fun of dressing up in these figure-hugging garments.