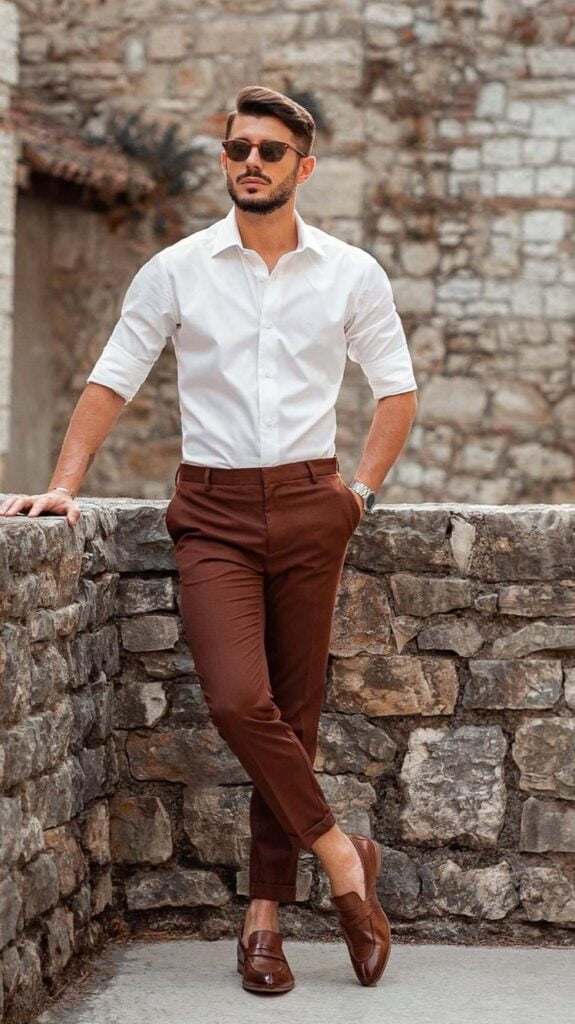 What makes a 'Man' look 'Handsome'? What makes the ladies flutter and fall in love with a 'Man'? It is not just the charm, intellect, or humour that makes him a 'Man', it is beyond all of this. A crisp shirt with an elegant tie paired with an ironed pair of trousers and polished shoes bring out the real 'Man'. So be a 'Man' by jazzing up your wardrobe with formal wear, especially formal shirts. A crisp shirt on a sculpted torso makes for a head-turner look. Knowing how to buy the right dress shirt for the right occasion will help you achieve the look you're after.
Finding a perfect formal shirt can be more complicated than you think, be it for yourself or for someone else. You need to consider a lot of details to get it right, from the collar to the cuffs, to the cut of the torso.The correct shirt selection can add character and individuality to an otherwise utilitarian office outfit, so careful consideration is advised when it's time to buy. Whether you are looking for a shirt to wear to the office or just something to dress up your weekend style, we will walk you through the features to look for.
Some Points to Consider Before Making a Purchase are Listed Below:
Measurement
A good measurement is the first thing to look for in formal shirts. Do not just go after small, medium or large size. One should know their measurements the neck size and arm length are the keys to make you look better. Therefore, measure these details appropriately to have the perfect-fit shirt.
Different Fits
Formal shirts come in different fits. Every man has different requirements from a formal shirt. The different fits ensure that each man gets his desired fit. Formal shirts are available in athletic fit, regular fit and full fit. Athletic fit also called slim or tailored, is the narrowest-fitting men's formal shirt. The regular-fit formal shirts are a little looser than the athletic fit. If a men's formal shirt does not have a fit listed, you can assume that it is regular fit. The full-fit formal shirts are the loosest of all formal shirt fits, these shirts are appropriate for men with a larger stature.
Colour or Pattern
With so many choices of formal shirts available in the market, you may not be sure which colour is right for you. A light blue shirt is usually the safest option, whites are very formal, even grey can also work. To project a more lively image, choose bright or unconventional colours. After you select a colour, check out the pattern. Solid colours are considered wardrobe staples because they are easiest to match, but you might consider choosing subtle stripes or a plaid pattern. Solid men's formal shirts do not have a pattern. They are a single colour, with white and blue being the two most popular options. These colours tend to go very well with blacks, greys, and dark blues in business suits. Pink can be a very eye-catching colour for a men's formal shirt, though it is more appropriate for celebratory occasions such as weddings, rather than business situations.
Striped shirts are usually two or three-toned, with white being a common base colour and the stripes accenting the shirt. The stripes can be one or two-toned, with the latter usually featuring borders along each side of the stripe. Striped formal shirts are more casual than solid formal shirts, but they are still appropriate for many business situations. A checked pattern features thin, horizontal, and vertical stripes that form evenly-sized squares on the shirt. This pattern is the most casual of the three patterns and it is well-suited for offices with business-casual dress codes. Checked men's formal dress shirts are out of their element in situations that call for more formal wear
Style
The style of the formal shirts is in the details. While the colour may be the first thing you notice about formal shirts, it is the details that will define its style. Be sure to notice the style of the collar, cuffs, and pocket of formal shirts before you buy it. You will probably find that there are formal shirt details that you prefer over others.
Collars
The type of collar that you choose in formal shirts changes the overall look of the formal shirts. The type of collar also projects how formal the shirt looks. The types of collars that the formal shirts come in are straight-point, spread, tab, club, and pinned. The V-shaped points of a straight-point collar are the most common style and are flattering for most faces. With a bigger gap between the tips, a spread collar has many different tips to flatter all but the roundest faces. With a higher collar and a smaller spread, a tab collar is most flattering on men with long necks. Also known as a rounded collar, the club collar is short, has rounded tips, and looks very stylish. With a high collar much like the tab collar, a pinned collar has a straight pin which fastens the two points.
Cuffs
Though the cuffs of formal shirts are often overlooked, they are one of the few features visible when buying formal shirts. An effective choice of cuff demonstrates a keen eye for detail and completes a polished and perfectly proportioned appearance. Barrel cuffs are also known as a button cuff because they close with at least one button, and possibly more than one. If there are multiple buttons, these can be used to adjust the fit. A French cuff or double cuff has fabric that is long and folds back. These are closed with a cufflink or silk knot. French cuffs are considered by many to be more formal than a barrel cuff. A convertible cuff can be closed with buttons or cufflinks.
Pocket Placement
Pay attention to where pockets are placed. Men's shirts with two chest pockets are considered to be less formal. Formal shirts with button-down placket are more likely to have a chest pocket, and shirts worn with a vest or with suspenders should not have pockets, so your chest does not appear bulky.
Find the Right Fabric
There are different types of fabrics that are commonly used in formal shirts. By understanding what the different weaves do for a fabric, you can be sure to find the ideal dress shirt fabric for your needs. Cotton breathes well and can be very soft, so you will be comfortable while wearing it. Cotton formal shirts also hold dye well, so bright colours will look good for a long time. There are a few choices for men's formal shirt materials, but cotton is by far the most common one. It is soft, breathable, and durable, making it ideal for formal wear. Variations in the weaves of cotton threads affect the quality of the shirt.
Polyester is another common material used in making men's formal shirts. The shirt may use polyester entirely, though most shirts that contain polyester employ a cotton/polyester blend. This material is inexpensive and it can be wrinkle and stain-resistant, which are both popular features for formal shirts worn frequently in the office. Linen formal shirts breathe well, making them perfect for summer wear. Linen does wrinkle easily, therefore, you will need to spend a bit more time ironing or having these shirts professionally laundered. A tightly-woven fabric with a silky texture provides a lustrous finish to the shirt. Silk is extraordinarily soft and smooth and it can also have an attention-grabbing light sheen to it. Made of 100-percent cotton, poplin is woven with a horizontal rib effect and can be a bit more expensive.
A crisp formal shirt is a staple in a man's wardrobe. Finding the best shirt is essential for comfort and the overall look. A wrong shirt can portray a negative image in a professional environment. Whether you need the perfect look for a job interview or a durable shirt for everyday wear, the choices are plentiful. By narrowing down the fit, sizing, style, colors, and manufacturers, the only decision left is to pick one up for yourself.