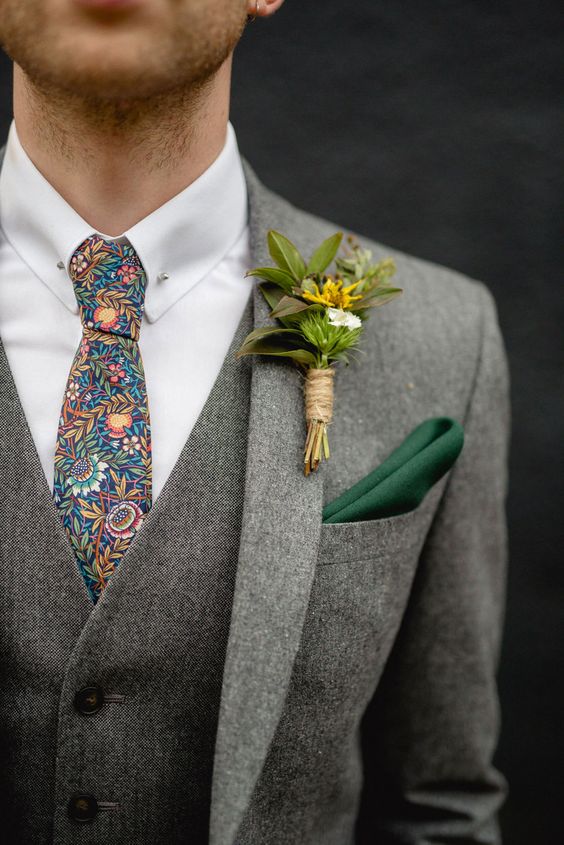 Ties lend you a stylish appeal and help you complete your formal look to the core. Be it a striped tie, a checked one, a solid-coloured one an embroidered design; each of them exude a charm of their own when paired creatively. Ties are one of the few accessories available for men. Therefore it is not surprising that they are extremely popular. Matching your ties with the shirts you own can be a task at times. But worry not and let our style guide help you create the best of formal looks with your collection of ties. Check out our tips on seven different ways to style ties.
Solid-coloured Ties
The most versatile of all, solid-coloured ties are one of the best choices you can opt for when getting ready up for a formal occasion that doesn't need you look all dressed up. Best suited with your summer collection of shirts and suits, solid-coloured cotton ties can be worn throughout the year with most of your formal attire. Choose from a wide patterns available including slim ties and wide ties and get ready to give yourself a new look each time.
Create a stylish outfit by teaming your solid-coloured cotton shirt in navy or lime green colour with beige slim-fit pants. Complement the look with a maroon self-textured tie, a pair of black formal shoes, and a neat hair-do to make an impression. You can also go for analogue colour combinations by teaming your solid-coloured shirt in light colour with a cotton tie in darker shade of the same colour. Wear a pink shirt teamed with purple tie or a sky blue shirt with a cobalt blue tie to achieve a distinct look.
Striped Ties
They make for a great option when you are dressing for important occasions such as a business meeting or a wedding reception. If you still believe that you don't have to match your striped shirt with a striped tie, then you really have to know that you actually can! Just make sure you are pairing your striped shirt with the right tie in stripes. Look classy by pairing your pink and white striped shirt with white and powder blue striped tie and complement the look with a neutral-coloured suit. Add a stainless steel watch, cuff links, and a stylish pocket square to make heads turn.
A solid-coloured cotton shirt can be paired with a striped tie in a windsor knot that matches the colour of the shirt. However, here is something that you must always keep in mind while pairing stripes together. Teaming a striped shirt with a striped tie is perfectly fine if the stripes are not identical in size. Also make sure that at least one of the colours in your tie matches the tone of your shirt.
Checked Ties
Well, these ties make for perfect occasion wear and their clean pattern adds an edge to your style. The general rule that you must follow with checked ties is that you should always pair them with plain shirts. Go for bright hues in your ties and wear them in different knots to complement white shirts. You may also team them with light-hued shirts for an impeccable look. Wear an orange tie teamed with a light-blue shirt and a navy suit to look impressive. Complete your outfit with brown formal shoes and a metallic watch.
Create a sharp look by teaming your brown checked tie with an off-white shirt or a shirt in earthy tone and beige cotton pants. A pair of formal shoes in brown, a watch in gold-tone, and a stylish satchel bag is enough to complete your classy look. We suggest you top off the ensemble with a complementing blazer while going for formal events.
Silk Ties
They lend a very rich and classy look to your appearance and make for the perfect choice when you are required to look all dressed up. Go for designs like embroideries, floral motifs,or paisley patterns in silk ties for a striking appearance. Wear your textured suit teamed with a solid-coloured shirt and a printed silk tie in a trinity knot to take your style notches higher. A pair of brogues, a watch in silver-tone, and a neat hair-do will complement your look further. You can also team your checked or striped shirt with a solid-coloured silk tie that complements the tone of your shirt. Complete the look with a slim-fit blazer and a smart leather messenger bag to look impeccably handsome.
Dotted Ties
Add some pizzazz to your look by wearing your dotted ties to work occasionally. Choose from many fabrics varying from cotton to silk and create looks that will make sure you get unlimited attention. Dotted ties not only work well for your formal looks; they equally enhance your different casual looks when paired right. Ranging from pin dots to very large ones, dotted ties help to achieve different stylish looks with panache. However go for ones having smaller dots to create a more refined look. Pair them with solid-coloured shirts to raise your style quotient. Wear your cream or pink shirt teamed with a brown or blue dotted tie and khaki trousers. Don a leather strapped watch and aviators to sign off your dapper look. Opt for dotted ties in silk on special occasions, while a cotton one will make for a perfect choice for everyday office-wear.
Patterned Ties
From paisleys to plaids and everything in-between, patterned ties are the ones that enhance your look not only for special occasions but also your everyday outfits. Team them with light and pastel coloured dress shirts for an uncluttered look. Create a sophisticated appearance by teaming your slim-fit pastel-coloured dress shirt with an abstract-printed tie and complement the look with black slacks. Bind your look together with a pair of black oxford shoes and a metallic watch to stand apart from the crowd.
Bow Ties
Exude class and a boyish charm by wearing bow ties. These ties should be worn on rare and very special occasions. Match them with your suits or tuxedos and get ready to make heads turn. We suggest you team your checked bow tie with a neutral-coloured suit, or a black and white plaid bow tie with a black tuxedo and white shirt. A pair of formal dress shoes and a gun metal watch complementing your ensemble will lend you a suave look, effortlessly.