When it comes to men's accessories, a wallet is an essential item that not only serves a practical purpose but also reflects a man's style and personality. With numerous brands available in the market, choosing the right one can be daunting. To help you with your search, we have curated a list of the top wallet brands in India for men. From classic designs to luxurious options, these labels offer a wide range of options that cater to different tastes and preferences. So, without further ado, let's dive into the world of top wallet brands in India.
Best Wallet Brands for Men in India Worth the Investment
Whether you prefer a classic leather wallet or a trendy fabric one, there is a brand that suits your taste and budget. Here are 15 top wallet brands in India you can check out:
1. Peter England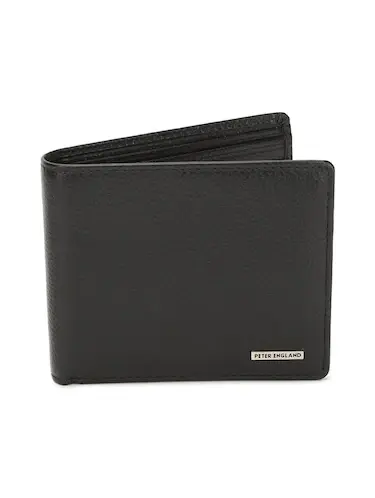 First on our list is Peter England. A part of the Aditya Birla Group, this Indian brand is well-known for high-quality men's attire and accessories. It presents an array of wallets that beautifully harmonise practicality with elegance. Known for meticulous workmanship, Peter England's wallets are built to last through daily use.
Crafted to withstand daily wear and tear, each wallet is a testament to durability and utility. This dedication to quality doesn't compromise affordability, rendering Peter England a favoured choice among Indian men. With a track record of offering excellence, this is a top wallet brand whose designs remain a reliable companion for individuals seeking both reliability and style.  
2. Fossil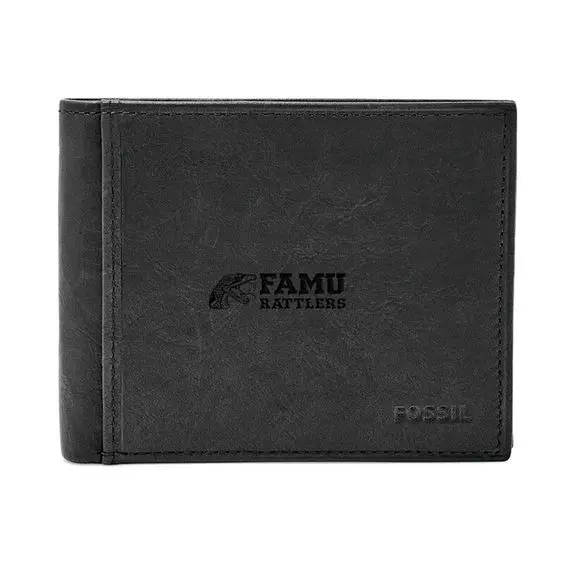 Fossil is a globally recognised brand known for its stylish and durable accessories, such as watches and wallets for men. The range of wallets is crafted from high-quality leather with statement designs that appeal to the eyes. The pieces from this top wallet brand feature RFID protection that provides an extra layer of security and peace of mind when carrying your wallet around. It prevents unauthorised scanning of your cards and personal information by electronic devices, which makes them worth the investment if you:
Travel frequently and need to protect your documents from identity theft.
Use contactless payment methods and want to avoid card skimming or cloning.
Store sensitive data or documents in your wallet and want to keep them confidential.
3. Montblanc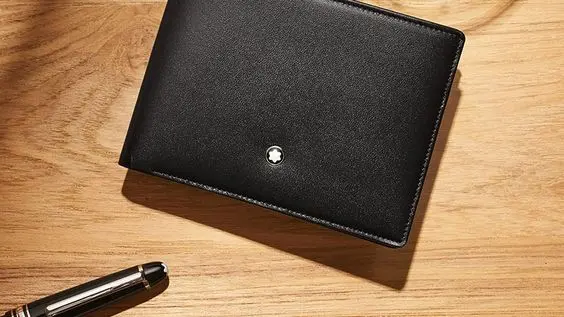 Montblanc is synonymous with luxury and sophistication. The brand handcrafts wallets from fine leather, combining traditional craftsmanship with modern design.
Montblanc is one of the top wallet brands offering a variety of styles and colours to suit classic and modern preferences. Whether your taste leans towards timeless appeal or contemporary flair, their range caters to all. Delve into a beautiful selection of wallets where craftsmanship is paramount, and accessories echo the essence of a life well-fashioned.
4. Woodland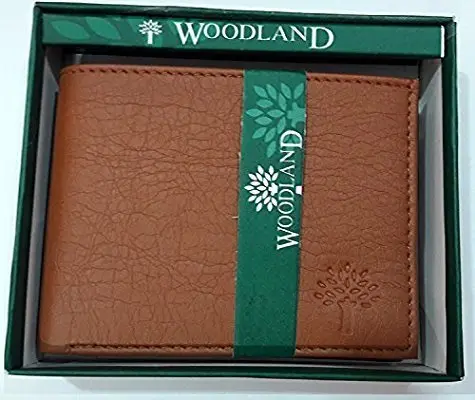 Introducing Woodland, a name synonymous with providing items characterised by tough reliability and unwavering durability. With a reputation built on strength, their wallet collection embodies a lasting heritage. Crafted from genuine leather, each piece embraces a simple style that speaks to men seeking elegance without excess. It's a tribute to the effortless charm found in simplicity, appealing to those who value subtlety.
Yet, Woodland's wallets are more than appearances. Celebrated for practical design, they offer numerous card slots and roomy compartments, suiting the diverse needs of modern man. Whether you're an outdoor enthusiast or someone who appreciates simplicity, Woodland's choices match your beliefs.
5. Urban Forest
Hailing from India, Urban Forest emerges as a dynamic force in the world of men's accessories, offering an expansive spectrum of wallets. Dedicated to crafting pieces that blend style and practicality, this brand strikes a chord with the modern gentleman.
In a world where security is paramount, Urban Forest steps up with ingenious features like RFID protection and an array of card slots. Whether you prefer minimalism or have all your essentials close, Urban Forest unveils an assortment that resonates with your unique panache. Among the top wallet brands, Urban Forest understands the intricate needs of modern man, seamlessly weaving functionality into every fold and stitch. 
6. Kenneth Cole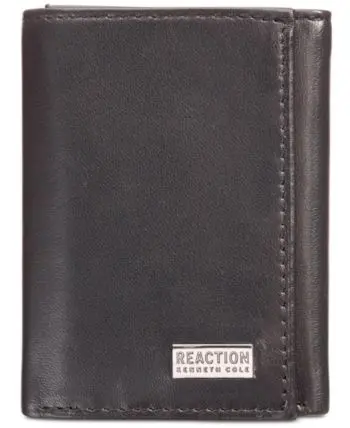 In the realm of top wallet brands, Kenneth Cole stands tall, celebrated for its fusion of sophistication and contemporary flair. Renowned for crafting wallets that epitomise suave elegance, the brand's reputation precedes it. Utilising resilient materials like supple leather and robust carbon fibre, each piece is a testament to durability and resilience.
The leather, handpicked with precision, undergoes a meticulous process of treatment and dyeing, ensuring a harmony of longevity, supple texture, and vibrant hues. Whether preparing for a formal affair or seeking a daily essential, Kenneth Cole's versatile offerings cater to diverse tastes. Enhanced with the Kenneth Cole emblem, these wallets exude an understated yet distinct refinement.
7. Gucci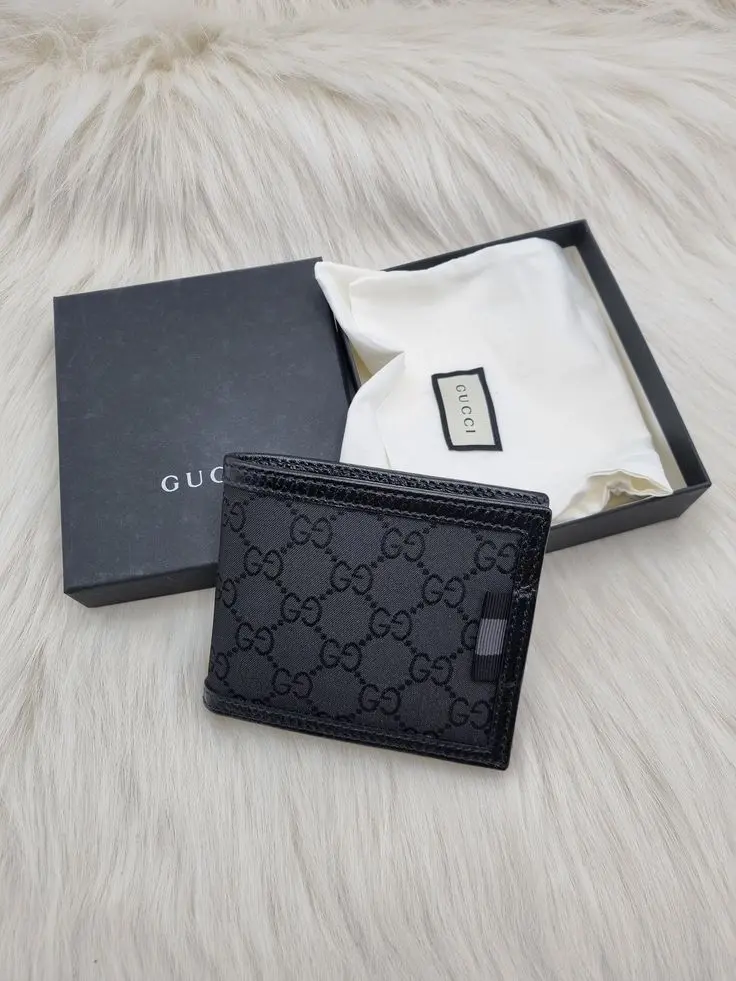 Gucci, a name synonymous with luxury, requires no introduction. Famous for its unique designs, Gucci offers wallets that are more than just accessories—they're statements of style and luxury.
Gucci's wallets are woven from premium materials like supple leather and durable canvas and echo the brand's distinctive logo and design motifs. Among these, the GG pattern, the vibrant web stripe, the distinctive horse-bit emblem, and charming bee iconography find their place in this fashion treasury. Gucci's wallets are more than just practical items; they represent a long-lasting tradition of luxury and class.
8. Being Human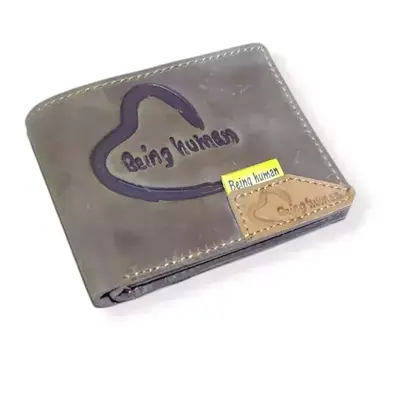 Initiated by Salman Khan, Being Human doesn't identify as a mere brand; it's a genuine movement with a heart. With a relentless commitment to social causes, this top wallet brand stands for something greater. Beyond its impactful mission, Being Human crafts products that resonate with quality and style.
Crafted from premium materials, their wallets boast chic designs and impeccable craftsmanship. Tailored for the modern man, these wallets aren't just about aesthetics – they embody practicality. So, for gentlemen who aspire to leave a positive mark on the world while exuding suave charm, Being Human wallets effortlessly merge fashion with purpose.
9. Calvin Klein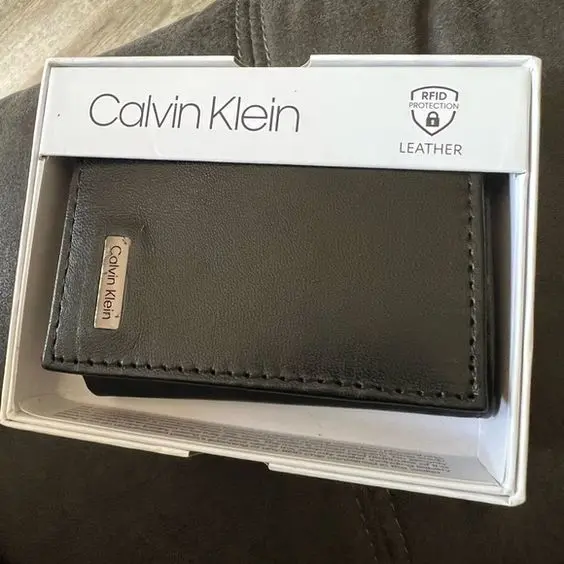 Calvin Klein is a top wallet brand that is synonymous with style and sophistication. Its collection is crafted from high-quality materials and features sleek and minimalist designs. Functionality is another hallmark of Calvin Klein wallets. With carefully designed compartments, card slots, and pockets, they offer ample storage space for your essentials while maintaining a sleek profile. Whether you need to carry multiple cards, bills, or even a few coins, there's likely a piece from this top wallet brand that suits your organisational needs.
One of the standout features of Calvin Klein wallets is their minimalist yet distinctive design. The brand has mastered the art of blending simplicity with sophistication, resulting in wallets that exude a sense of understated luxury. This design philosophy appeals to individuals who appreciate a refined, timeless look free from excessive embellishments.
10. Tom Ford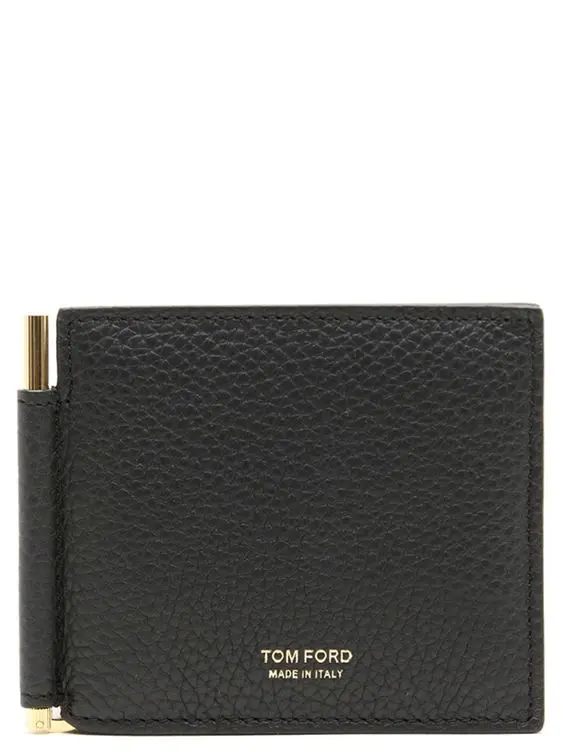 Tom Ford's commitment to impeccable quality extends to every facet of their wallets, making them coveted items in luxury fashion. This top wallet brand's dedication to crafting timeless pieces is evident in the materials used and the thoughtful design elements, which sets them apart from the rest.
Tom Ford wallets are more than just accessories; they are expressions of your personal style and confidence. They are designed to meet your needs and preferences, with features like RFID protection, removable ID windows, and coin pockets. Whether you're looking for a wallet that is simple and elegant or bold and distinctive, Tom Ford has a wallet that suits you perfectly. 
11. Royal Enfield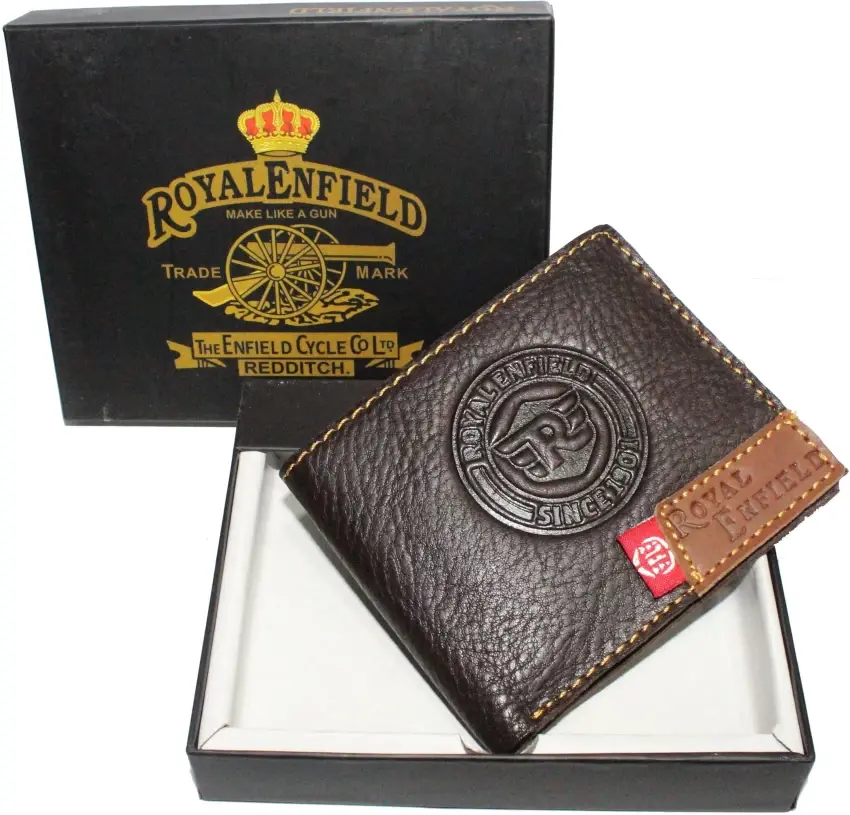 Royal Enfield is known for adventure and toughness, and their wallets are made with the same adventurous spirit. Crafted from the finest leather, these wallets embody a classic and enduring design that mirrors the essence of the iconic motorcycle brand.
For brand admirers, these wallets become more than just everyday accessories – they're a tangible connection to the spirit of freedom and exploration that Royal Enfield represents. Whether you're a motorcycle enthusiast or someone who appreciates quality craftsmanship, this top wallet brand offers pieces that are built to last.
12. Victorinox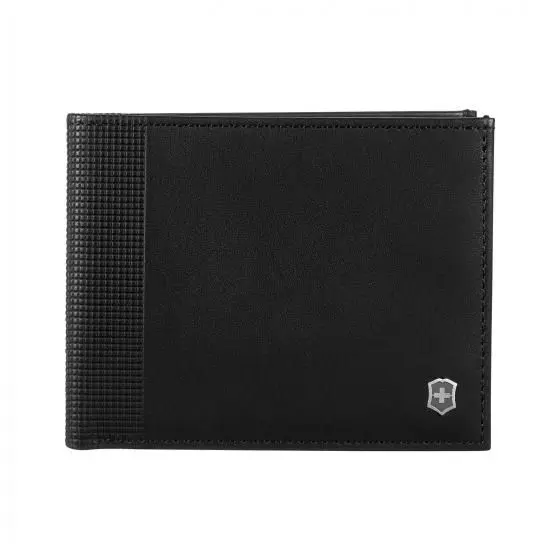 Renowned for Swiss Army knives, Victorinox extends its excellence to wallets. The Altius collection showcases minimalist design, top-quality leather, and impeccable craftsmanship. Combining form with function, Altius wallets feature multiple card slots and spacious compartments, catering to both avid travellers and craftsmanship enthusiasts.
Durable and functional, the wallet collection embodies Victorinox's commitment to utility and lasting quality, ensuring your essentials are elegantly organised on any journey. Beyond their practicality, their pieces encapsulate the brand's legacy of precision and reliability. Just as their knives have been trusted tools for various situations, the label positions itself among top wallet brands, too. 
13. Bottega Veneta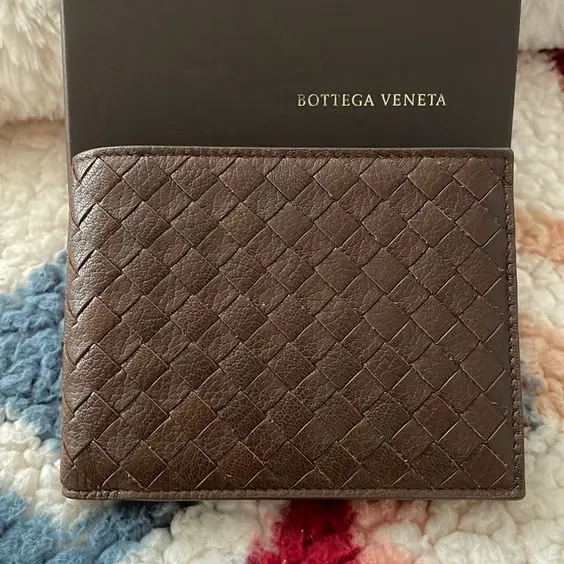 Bottega Veneta, synonymous with luxury, extends its artistry to wallets. Made from high-quality materials, each piece features its signature woven design. Meticulous in detail, Bottega Veneta wallets seamlessly blend sophistication and functionality, hosting multiple card slots and spacious compartments.
This top wallet brand exudes sophistication beyond passing fads. Bottega Veneta's wallets embody timeless style and impeccable taste. Their collection shows that you value both luxury and usefulness—a perfect blend that stands for real quality. Unlike passing fashions, these wallets stay relevant and highlight your good taste.
14. Bellroy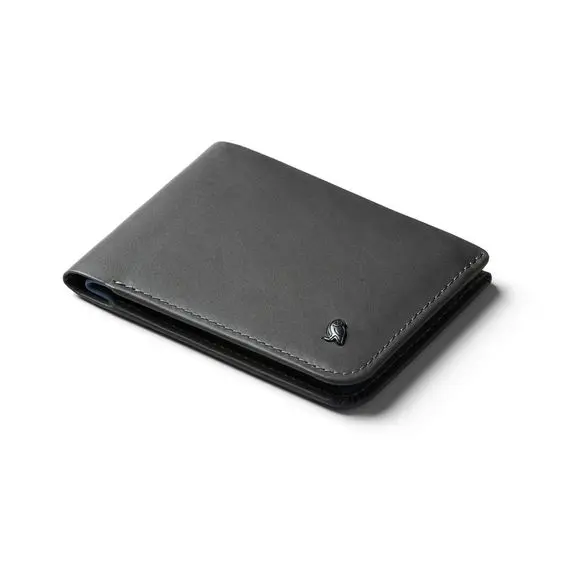 Bellroy, a brand at the intersection of style and functionality, pioneers wallets that redefine utility. Crafted from premium materials, their innovative designs cater to diverse needs. Renowned for slimness and minimalism, Bellroy wallets align with streamlined preferences, offering an understated yet sophisticated appearance.
Beyond aesthetics, Bellroy's focus on efficiency shines through features like RFID protection and ingenious storage solutions. The accessories from this top wallet brand seamlessly adapt to modern life, simplifying daily routines while safeguarding digital information. Bellroy's commitment to form and function translates into wallets that transcend traditional accessories.
15. Tommy Hilfiger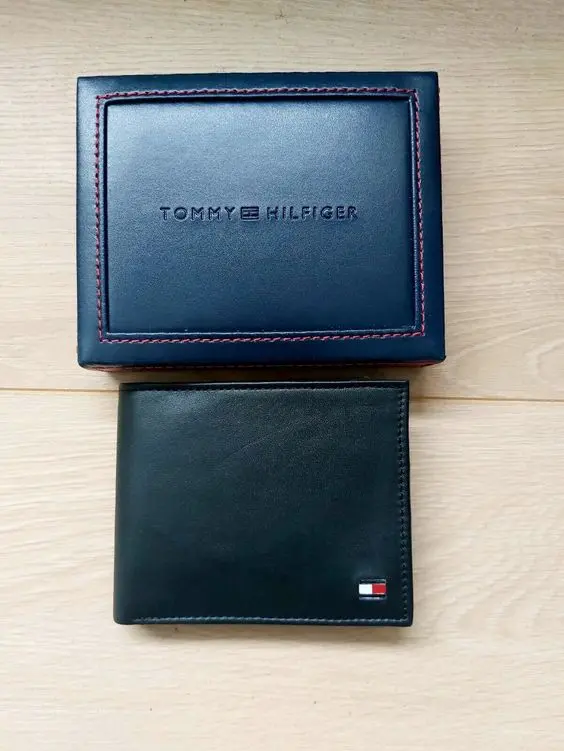 Tommy Hilfiger wallets are synonymous with iconic American style. Crafted with attention to detail, these wallets reflect the brand's commitment to quality and fashion-forward design. From classic bi-folds to modern cardholders, Tommy Hilfiger offers a range of options to suit different preferences.
The brand's signature colours and logo embellishments adorn many of these wallets, adding a touch of sophistication. With a fusion of practicality and style, Tommy Hilfiger wallets are essential for individuals who appreciate timeless elegance and contemporary flair. Whether you're dressing up for a formal occasion or need an everyday accessory, Tommy Hilfiger wallets effortlessly complement your look.
Decoding the Top Wallet Brands in India with Infifashion
When it comes to choosing a wallet, it's important to consider factors such as style, functionality, and durability. The top wallet brands in India offer a wide range of options that cater to different tastes and preferences. So, go ahead and choose a wallet that not only reflects your personal style but also meets your everyday needs. For more such fashion updates and guidance, subscribe to our newsletter today.
FAQs
1. Which are the best men's wallet brands?
Some of the top wallet brands for men in India include Tommy Hilfiger, Fossil, Montblanc, Bellroy, Woodland and Urban Forest. Their diverse offerings cater to various styles and preferences, ensuring quality and fashion-forward choices.
2. What materials are commonly used to make men's wallets?
Leather is the most common material used by top wallet brands. Other materials, such as canvas and synthetic fabrics, are also used in some designs. Leather wallets are long-lasting and always in style, and they look better with age. Canvas presents a casual alternative, favoured for its lightweight and laid-back appeal. Synthetic fabrics like nylon offer modern practicality, while emerging materials like RFID-blocking fabrics enhance security. Each material reflects preferences for style, function, and longevity.
3. What are the different types of men's wallets?
There are top wallet brands offering various types of designs. Below is a brief description of each for your reference:
Bi-Fold Wallets: These classic wallets fold in half, offering ample space for cards and bills. They strike a balance between slimness and storage.
Tri-Fold Wallets: With an extra folding flap, trifold wallets offer more compartments for organisation. They're ideal for those who carry more cards or prefer separation.
Cardholders: Minimalistic and sleek, cardholders are perfect for carrying just essentials like cards and IDs, fitting easily into pockets.
Money Clips: Streamlined and modern, money clips securely hold bills while often featuring a pocket for a few cards, perfect for those who prefer cash.
Travel Wallets: Designed for globetrotters, these feature extra compartments for passports, travel documents, and foreign currencies.
Slim Wallets: Designed for the minimalist, these prioritise compactness while still accommodating essentials.
Front Pocket Wallets: Slim and designed to fit into front pockets, these wallets reduce bulk and offer enhanced security.
Zip-Around Wallets: Providing added security, these wallets feature a zipper closure to keep contents safe and organised.
Phone Wallets: Combining wallet and phone case, these are convenient for those who like to carry both essentials together.
Are expensive wallets worth buying?
Expensive wallets are worth buying if they offer value for money. The reason behind their premium pricing is that these pieces are crafted with higher-quality materials and craftsmanship that result in a longer lifespan. However, it ultimately depends on your personal preferences and budget. You can also find top wallet brands that offer good quality and functionality at affordable prices in India.
Popular Searches
Best Handbag Brands in India | Top Most Luxury Makeup Brands | Tips On How To Buy Perfumes | Rainy Day Outfits & Accessories For Men | Latest Fashion Trends For Women | Top 25 Indian Fashion Bloggers In India | A Simple Guide To Grooming Great Beards | How To Buy Jewellery | Top Most Luxury Makeup Brands | Haldi Outfit Ideas | Top 8 Places To Visit In India | Top 15 Fashion Magazines In India | Top 10 Richest Cricketers In The World | Best Cameras For Photography | Home Décor Ideas For A Better Living Space