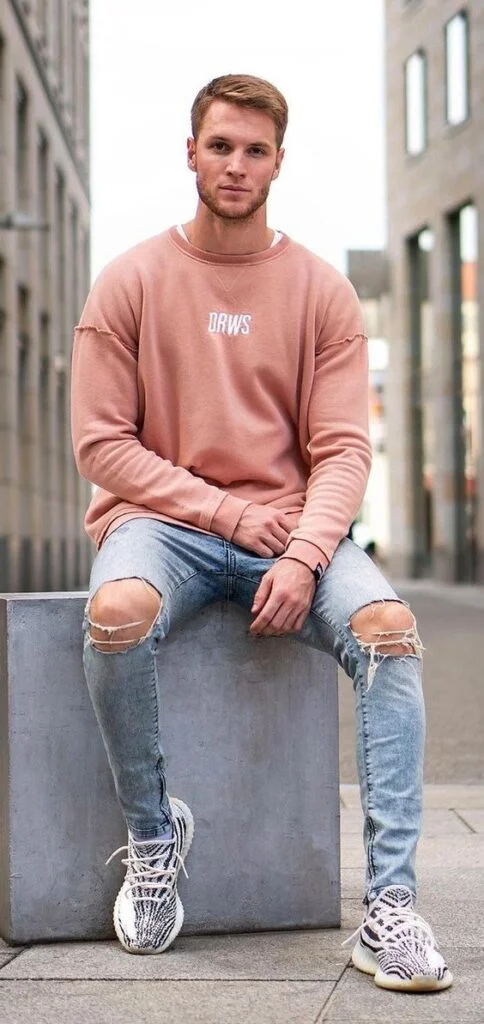 When to wear Sweatshirts
Putting together an interesting wardrobe doesn't mean you need to have tons of clothes. With a bit of imagination and a few choice items, you can create stunning outfits that are trendy and totally you. Take the humble sweatshirt, usually associated with loungewear and gym wear, for example. You can style it to turn outfits into fashionable ensembles, some even suitable for wearing to work. Thanks to brands that offer designs that blend various styles, you can pick cuts, colours, and fits that are so easy to customise. Check out our tips and tricks to getting sweatshirts to look absolutely stylish and watch them help you make the right statement as the occasion demands.
Winter Look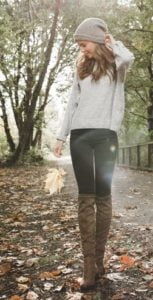 One of the best times to cozy up in a sweatshirt is when the weather dips. We recommend warm pullover winter wear sweatshirts with or without hoodies. You can wear them with equally warm sweatpants or choose to combine them with track pants if you're planning to get in some exercise. They go terrifically with jeans too, especially the boot-cut and straight-fit styles. Hoodies that feature nice graphics look cool and pair well with casual jackets. Sweatshirts with an added layer of polar fleece are a smart choice during particularly cold months. We like the idea of pepping up outfits to counter the dull grey of winter. Vibrant colours like pink, orange, yellow, and red not only elevate your style but your mood as well. Sweatshirts with slimmer cuts are stylish and don't have the sometimes boxy appearance of regular-fit sweatshirts. Unless you have the build to pull it off, try sticking to designs with a more snug fit to keep outfits looking so much more stylish.
Winter wear sweatshirts can be given a touch more of style with the right layers and accessories. We know you need to bundle up to battle the cold but that doesn't mean you can't do it in style! We recommend winter hats, patterned mufflers, and coats with synthetic fur trim. Don't forget those winter boots and gloves to tie it all together.
Casual Office Look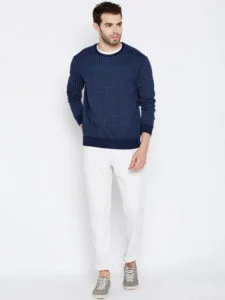 Yes, the once-casual sweatshirt can be transformed into smart-casual office wear. Unless the dress code at your workplace is very strict, you should have no problem complementing trousers with slim-fit sweatshirts and jackets. If it's casual Friday, you have even more pairing options. You can wear them with chinos, khakis, or jeans and finish with boat shoes or loafers. Women can opt for any one of the many pretty floral numbers trending today, some with satiny finishes that make them even dressier. If colour-blocked pieces are more your style, then classic tones such as grey, dark blue, and black are perfect. Pair them with wide-leg trousers and pointed-toe stilettos for a smart touch. You can complete the look with silver accessories, studded earrings, and large tote bags or handbags in complementing hues. Alternatively, you can switch trousers out for knee-length pencil skirts. You can even throw in a satin scarf to accessorise your gorgeous ensemble even more.
Party Look
A celebration doesn't have to entail the usual slinky jumpsuits and maxi dresses. If you're wondering when to wear sweatshirts, you can surprise your friends by showing up at a party in a trendy number and a fancy skirt. Try teaming solid sweatshirts in neutral tones with vibrant striped skirts. We like the boho-chic look too, which is very easy to achieve with a regular-fit sweatshirt. Choose one in a light green tone and pair it with a long flowing off-white maxi skirt. A top knot that shows off a statement necklace and dangling earrings will give the outfit just the right touch of flair. If you're hitting a get-together right after work, you can easily transition your sweatshirt-and-trousers day look into a rocking party outfit. Go for a striking blue printed sweatshirt to give off-white chinos and loafers a stylish appeal. Men, don't hold back with accessories; get out your statement watch, slip on cool aviators, and throw on a chic jacket.
Casual Look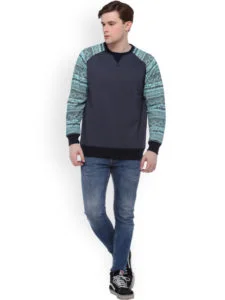 Jeans and T-shirts may be the norm for everyday casual wear but why not mix it up a bit with a graphic sweatshirt? Look forward to an exciting session of gaming with friends over the weekend in distressed blue jeans, lace-up casual shoes, and a sweatshirt featuring your favourite video game. It's a great way to make a statement and stand out. Slogan sweatshirts are another top choice, especially for young men and women. Whether you're heading to class or are catching up with friends for a cup of coffee, one of these fashionable sweatshirts paired with cargos or cute cut-off denim shorts will have you looking super trendy. Add more fun to the outfit with beanies, caps, and scarves. Oversized sunglasses and aviators are also awesome accessories that will complement. Ladies, slip on large hoop earrings and step into sassy gladiator sandals to take the look further. If you're choosing a solid sweatshirt, lend texture with printed bottoms and layer with an edgy studded jacket. Sweatshirts with floral, abstract, and animal prints are terrific picks.
Lounge Look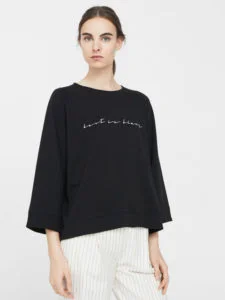 Make a date with your television over the weekend and relax watching your favourite shows. Sweatshirts can be super comfy garments to lounge in. Team them up with loose-fit pajamas and soft slippers for utter comfort. If you like looking perfectly put-together at all times, you can choose a sweatshirt in a bright colour featuring funky graphics. We recommend shades of orange, red, and purple to perk up the outfit. You could pair them with shorts and thong sandals or slip into slim-fit cotton jeans and mules. Cropped sweatshirts are a hot trend today and are perfect for flaunting a toned midriff. Keep the look stylish with high-waist jeans or a high-waist skirt. You can choose from cropped hoodies or round-necks, whichever speaks your style.
Sweatshirts are incredibly versatile and though they're typically super casual, changing fashion trends have helped them evolve into stylish garments that leave plenty of room for customisation. Slim-fit sweatshirts with satiny finishes are our hot favourite for parties while solid colours and designs with embellishments are ideal for the workplace. Casual sweatshirts can be worn with any casual bottom as well as with sportswear. However, depending on the cut, fit, and print, they can be jazzed up to wear to smart-casual occasions as well. Just put your imagination to the test and you'll find that sweatshirts can take you through different looks. Fashion is all about experimentation so don't be afraid to try new things. You'll soon realise it's not so much about when you wear sweatshirts, but how you wear them!