Introduction to Beach Outfit Ideas for Ladies
Beach vacations and retreats are the ultimate in relaxation and renewal. However, just as important as the sun, sand, and surf is how you dress for them. Welcome to the ultimate resource for beach outfit ideas for ladies. Whether you're lazing by the water, participating in beach activities, or simply drinking at a beach bar, the appropriate wardrobe may make all the difference. This book promises to give ideas, suggestions, and tactics to guarantee you're not only comfortable but also fashionable every time your feet touch the sand.
Denim Delight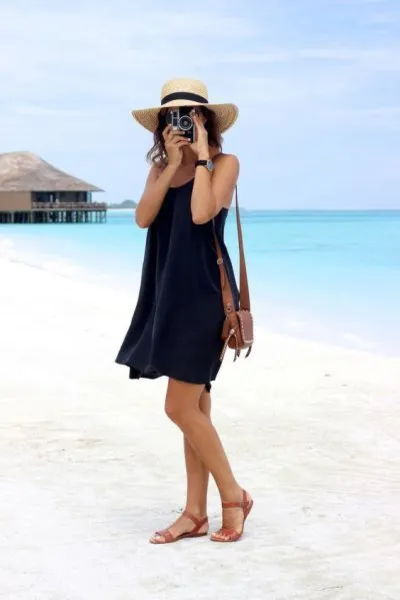 Denim may not be the first item that springs to mind when thinking about beach outfit ideas. A traditional denim jacket worn over a sleek bikini, on the other hand, adds an unusual twist to standard beach gear. The rough appeal of denim matches the sleek contour of a bikini, producing a balanced style that is both sophisticated and relaxed. Perfect for cooler beach nights or a stunning entry to a coastal eatery
Sun-kissed Elegance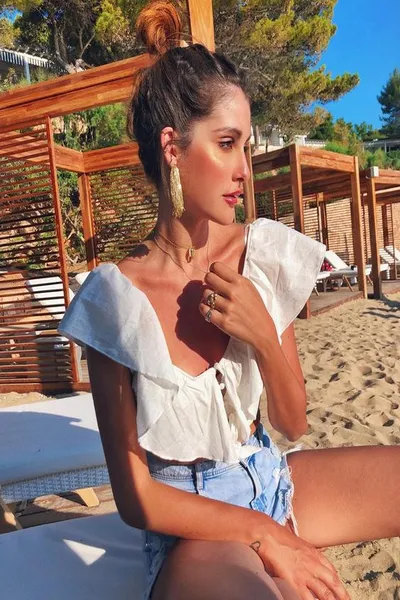 Among the most popular beach outfit ideas is the timeless pairing of a whimsical ruffled one-piece with stylish oversized sunglasses. The delicate ruffles lend a feminine touch to your beach style, while the big sunglasses protect your eyes while also exuding mystery. This ensemble screams elegance and flair, whether you're resting by the beach or strolling along the beach.
The Sunset Charmer
A vivid tropical pattern jumpsuit is ideal for individuals who enjoy attending or hosting beach parties. This dress design is ideal for sunset gatherings since it mixes comfort and flair. The vibrant colors mimic the vibrant hues of a sunset, allowing you to blend in perfectly with the mesmerizing backdrop. This style is sure to get comments when paired with some tiny shoes and little jewelry.
Effortlessly Cool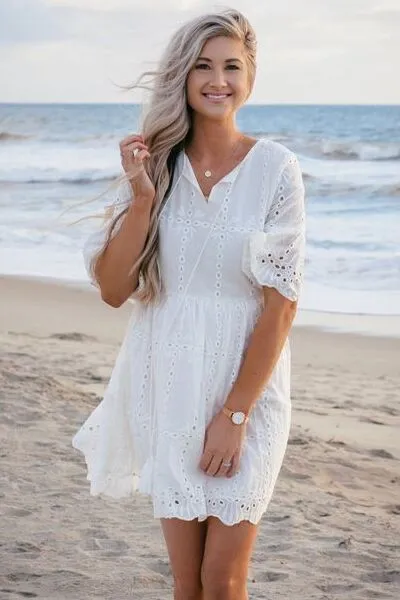 Consider teaming breezy linen pants with a sensual bandeau top to go beyond the typical beach outfit ideas. This combination provides comfort as well as style. The linen's breathability keeps you cool, and the bandeau top adds a touch of flair to your beach day. With a pair of bohemian sandals, you'll be set for both beach relaxation and seaside dining.
Boho Breeze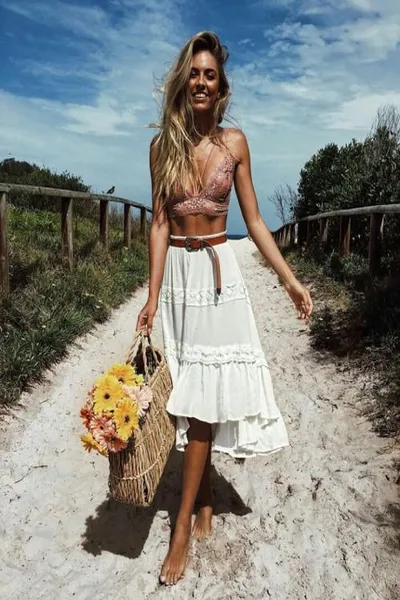 A flowing beach kaftan decorated with colorful tassel accents is the garment to choose for folks who want a free-spirited atmosphere on their beach adventures. This bohemian-inspired ensemble, which ranks high on our list of beach outfit ideas, is both quirky and functional. It provides enough sun protection and lends itself well to coastal picture possibilities against the setting sun.
Seaside Classic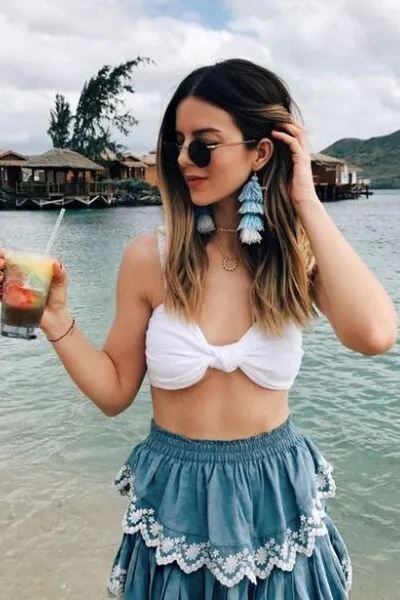 A traditional striped sundress combined with soft espadrilles never goes out of style when it comes to embracing distinctive beach charm. This combo is unbeatable when it comes to traditional beach outfit ideas. The stripes' simplicity compliments the rhythmic waves, and the Espadrilles provide comfort for those long beach walks. With a straw hat, you've got the perfect outfit for a sunny day out.
Sporty Chic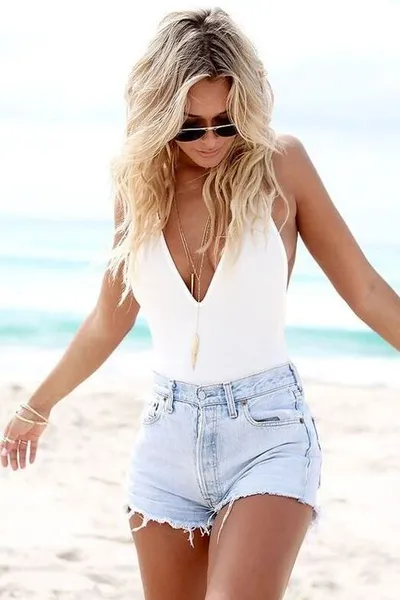 Enter the realm of athleisure-inspired beach outfit ideas by wearing a casual T-shirt dress and accessorizing it with a sporty sun visor. This look exudes easy sophistication, combining the ease of a loose-fitting dress with the practical appeal of a visor—ideal for midday beach volleyball games or a stroll down the beach.
Ocean Whisperer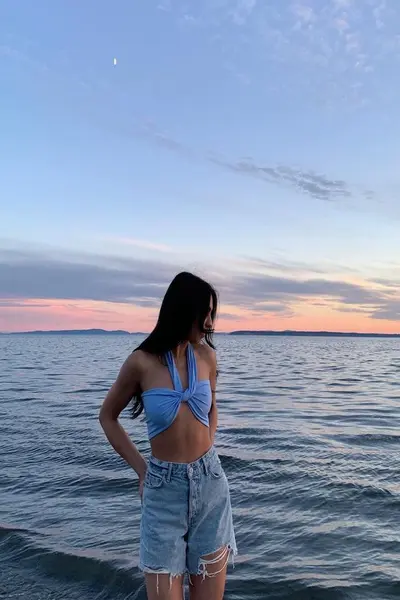 Our next beach costume design is inspired by the fascination of the water and oceanic sensations. With their nautical designs and hues, nautical-inspired bikini sets conjure recollections of remote places and deep blue waters. This attire, along with a lightweight cover-up and sea-inspired jewelry, appeals directly to the heart of every ocean lover.
Beach Glam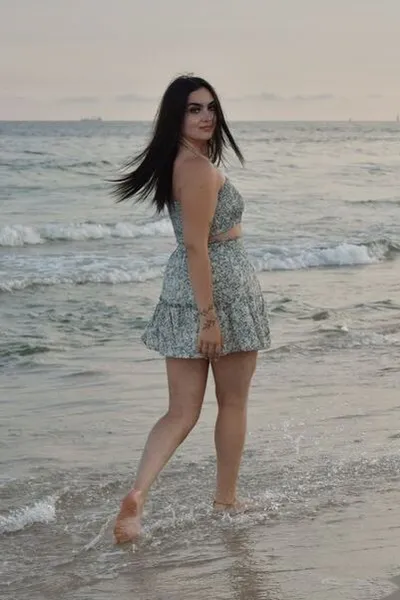 The airy translucent wrap skirt coupled with a supporting bikini top stands out among beach outfit ideas for people wishing to increase their elegance quotient while at the beach. The wrap's translucence catches the light just perfectly, creating captivating patterns on your skin, while the bikini top provides comfort without sacrificing elegance. Finish the ensemble with metallic sandals and sparkling body lotion, and you'll be ready to dazzle.
Laid-back Luxe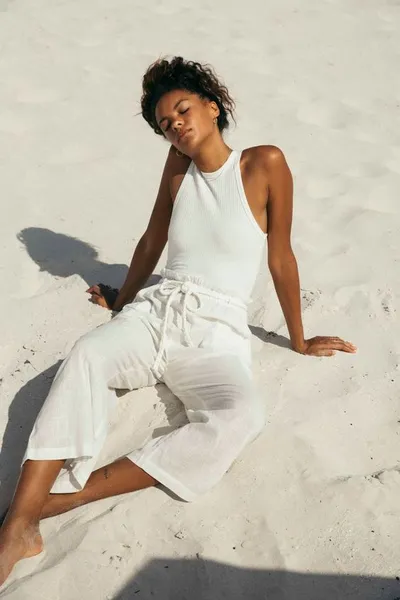 Consider an oversized beach shirt paired with frayed denim cutoffs for a casual luxury look at the beach. This look seamlessly combines a comfortable style with a tinge of edginess, making it a favorite among laid-back beach outfit ideas. Slip on some leather slide shoes and add some necklaces for the right balance of simplicity and refinement.
Dream in Pastel Colors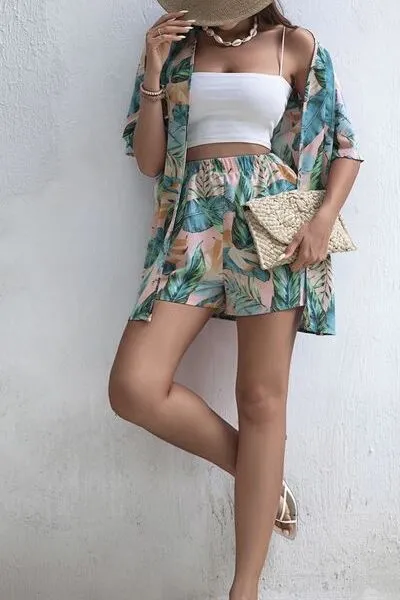 Enjoy the tranquility of the beach in a flowing, high-low beach dress in lovely pastel tones. This costume design exudes calm, emulating the delicate hues of a beach morning. With pastels ruling supreme in beach outfit ideas this season, add pearl accessories and nude espadrilles for an ethereal presence on the sand.
Classic Combo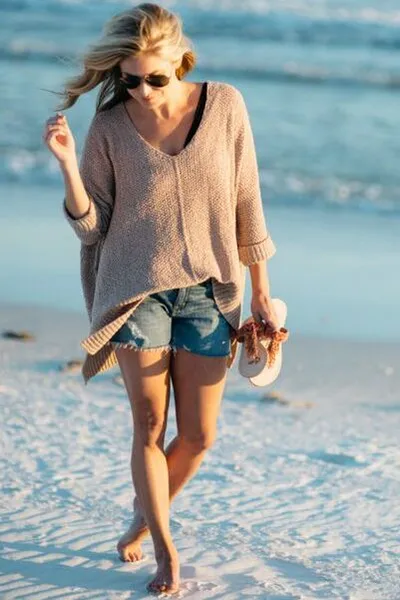 The clean white button-down shirt coupled with casual beach shorts is a combination that has stood the test of time. This outfit, classic in its simplicity, is an adaptable option for beach outfit ideas. This combination delivers elegance without overshadowing the beauty of the beach itself, whether you're sinking into a beachfront novel or heading off on a seaside excursion. To complete the traditional look, add a woven belt and a Panama hat.
Tropical Twist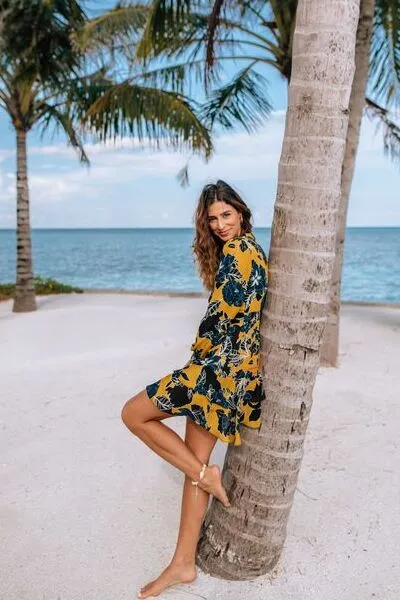 Looking for a splash of color and a dash of exotica on the beach? Dive into a vibrant sarong wrap that pairs perfectly with a sporty tankini. This suit, one of the brightest beach outfit ideas, evokes tropical holidays by combining comfort with exuberant style. Pair with beaded sandals and a wide-brimmed hat to sip on your pia colada with flair.
Retro Vibe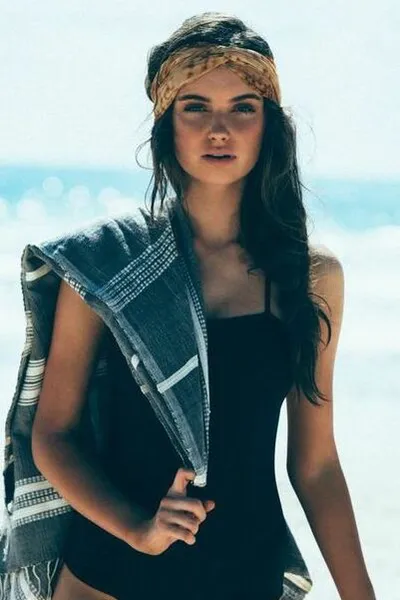 Wear a vintage peasant blouse with edgy faded denim to channel the feelings of yesteryear. This style among beach outfit ideas embraces nostalgia while providing a modern take on traditional beach gear. Put on circular sunglasses and lace-up shoes for a total throwback to bygone ages.
Striped Sensation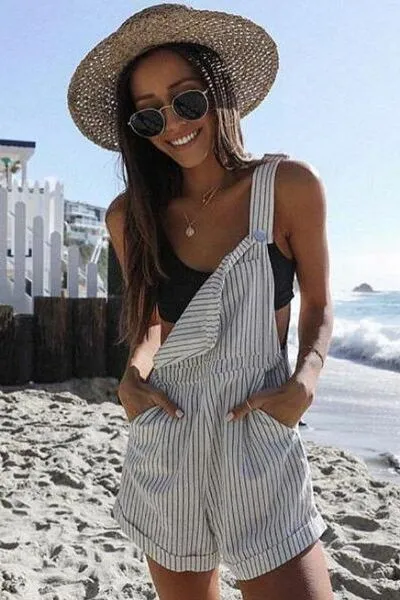 Wear beach overalls with a striped tube top to channel the everlasting seaside appeal. This combination embodies casual elegance and is a wonderful balance of form and utility. The vertical stripes lengthen your silhouette, while the overalls are fun and young. For the ideal beachfront brunch costume, pair white sneakers with a bucket hat.
Conclusion: Beach Outfit Ideas for Embracing Your Style
The beach is more than simply a place to visit; it is an experience. While the surf, sun, and sand all play a role, your clothing may considerably enhance the experience. There is no end to how you may express yourself with the abundance of beach outfit ideas accessible. The beach is your runway, from casual and comfy to sleek and contemporary. So, embrace your style, let your confidence show, and make every beach day a fashion moment to remember!
FAQs on Beach Outfit Ideas
1. What are some hot beach outfit ideas for this summer?
Every summer, new trends emerge, and this season is no exception. Dive through our collection to discover the most popular designs and combinations this year
2. How can I select beach outfit ideas that flatter my body type?
It's critical to feel secure and at ease on the water's edge. Our guide provides specific recommendations for different body forms, ensuring you look and feel your best.
3. Are there any beach outfit ideas that are appropriate for both casual and fancy beach occasions?
Absolutely! Our varied variety of clothing choices covers anything from casual loungewear to exquisite ensembles suitable for beach weddings or celebrations.
4. Where can I discover eco-friendly and sustainable beach outfit ideas?
The importance of sustainability cannot be overstated. Dive into our eco-friendly beachwear area to ensure you not only look beautiful but also do good for the world.
5. Can you provide beach outfit ideas that work well for daytime and nighttime?
Without a doubt! Many beach ensembles may easily shift from sunbathing daytime charm to beachfront midnight elegance with the correct accessories. Explore our carefully picked selection of multipurpose items.