The warm days are melting away and there is a chill in the air that reminds us that Christmas is around the corner. If you too are yearning for that magical vibe on Christmas eve, now is the time to start brainstorming on the best Christmas decorations ideas to make your home merry and dazzling!
Decking out the home with lush greenery, fairy lights, sparkling trinkets, and cute stockings in the hues of happy reds and greens is a delightful ritual for sure. That said, there is a lot more that you can do to assent to the Christmas vibes and make their decorations stand apart. So, without any further ado, read on for the best Christmas decorations ideas to dazzle the home in the greatest way and make this Christmas all the merrier!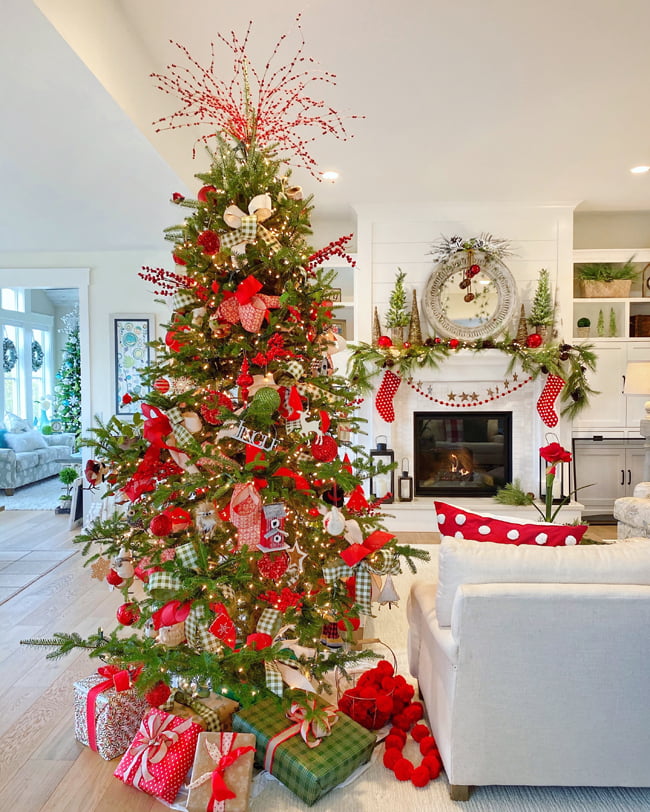 Also Read: 18 Best Places to Visit in Christmas: Most Festive Cities in the World
1. Decorate with Fancy Votives
Candles are the timeless epitome of beauty, elegance, and serenity. While candles are a quintessential part of Christmas decorations ideas, the age-old decoration styles can become monotonous. So, here are a couple of easy ideas to create remarkable masterpieces with fancy votives, that you can proudly call their own!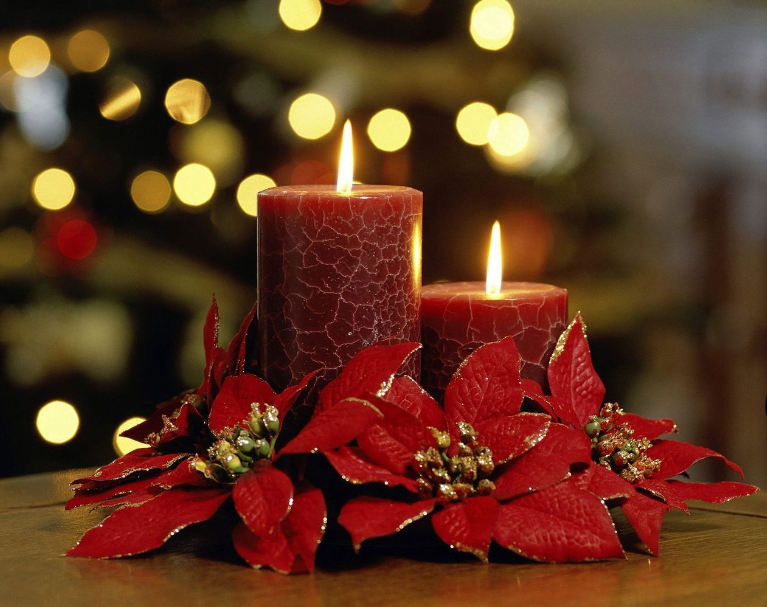 Buy simple candle votives and create holders using small shot glasses, mason jars, or even unused fish bowls!
Give wings to the imagination and use stuff like sparkling sand or dried twigs to fill in the candle holders.
You can also use cute buttons, burlap string, ribbons, pearls, and glass marbles, or weave small sweaters using yarn to make fancy votive holders.
2. Involve Christmas Bauble Chandelier
While being consumed in incredible Christmas decorations ideas, one should not forget to look up and miss out on the ceiling decorations! Christmas baubles are not just for the tree and can help transform a regular chandelier into a dreamy one. For making a Christmas Bauble Chandelier, you can use the chandelier which is already in place or create an arrangement using filament bulbs hanging from the ceiling.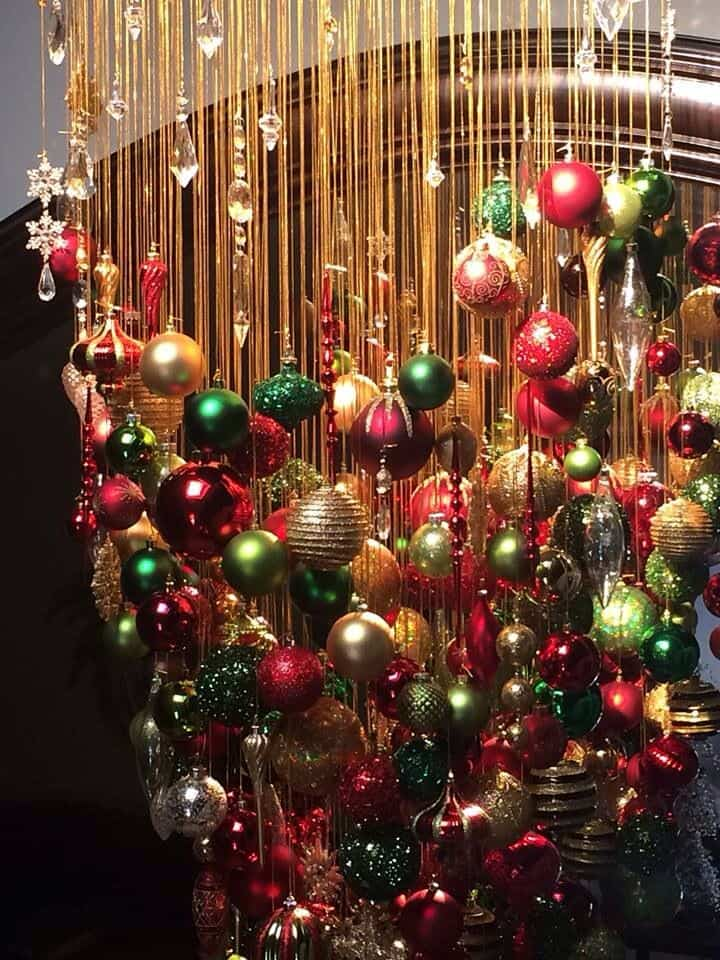 Now, arrange for the Christmas baubles that can aptly complement the decor. Bring several metallic hues along with the quintessential reds and greens and also use candy canes, Christmas wreaths, snowflakes, etc. to unleash creativity.
3. Decorate with Pretty Stars Hangings
Christmas tree decoration is incomplete without a dazzling star placed on top of it. But, that isn't the only place where one can use a star. If you are musing on Christmas decor ideas, stars can use pretty star hangings at different places in their homes to ginger up the ambiance.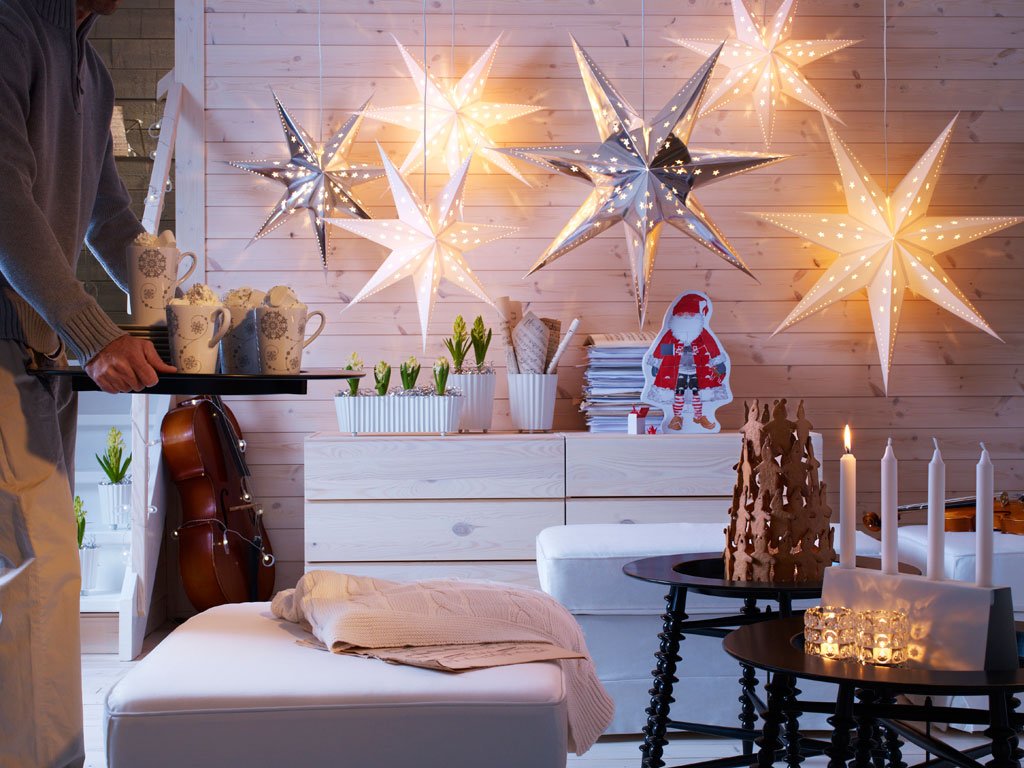 For instance, multi-paper star lantern lampshades can be used to revive old lights. Also, you can use LED curtain lights in the shape of stars to decorate the windows, railings, and curtains of course! These star-shaped hanging lights can effectively create a warm, cozy ambiance and roll out the lovely Christmas vibe in a trice.
4. Make a Magical Christmas-themed Menu
Food is a crucial aspect of Christmas decorations ideas. After all, there is no party without good food. Moreover, food is not just for the tummy, it is supposed to delight us visually too. So, plan and cook a hearty meal that tastes good, smells good, and looks even better!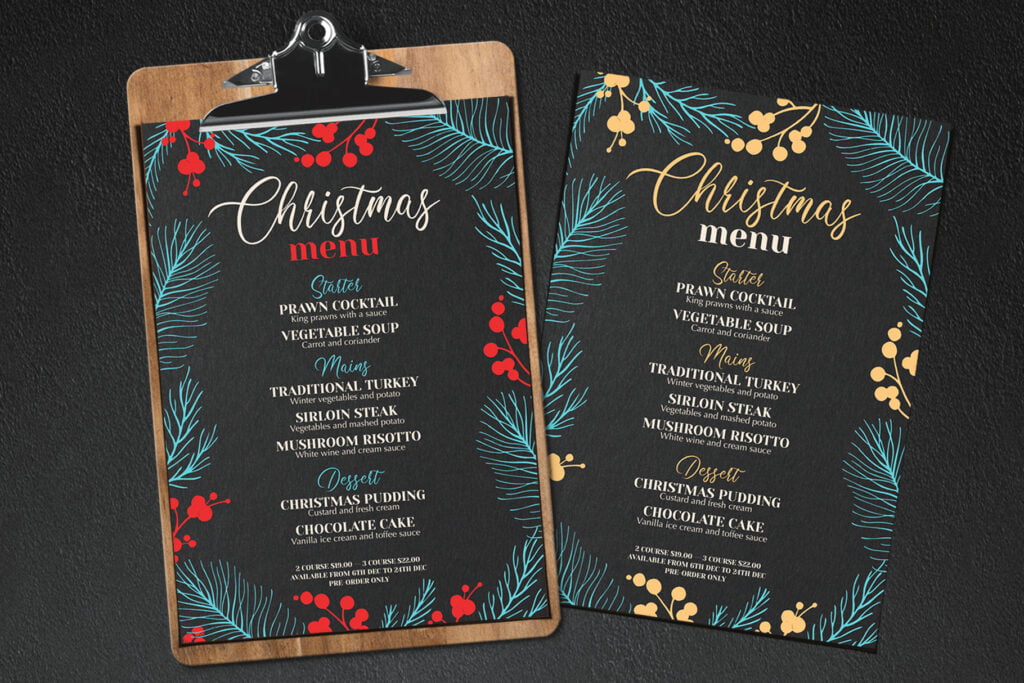 You can make a magical Christmas-themed menu perhaps incorporating a pizza resembling a Christmas tree, pretty cinnamon rolls muttered with colorful sprinkles and Parmesan garlic breadsticks with a hummus wreath. They can also add a lavish salad with ingredients assenting to the Christmas colors, choco-dipped marshmallow reindeer, and other foods that look beautiful and make for a delicious meal.
Also Read: 12 Best Diwali Outfit Ideas To Try & Glam Up Your Ethnic Look
5. Use Elegant Christmas Embroidery Hoops
If anyone is thinking of DIY Christmas decorations, embroidery hoops make an incredibly unique, and affordable choice to accent the decor. If your creativity knows no bounds can make these using cloth patches in different hues, embroidery hoops, beautifully tinted thread, beads, pearls, etc., and garner praise from guests.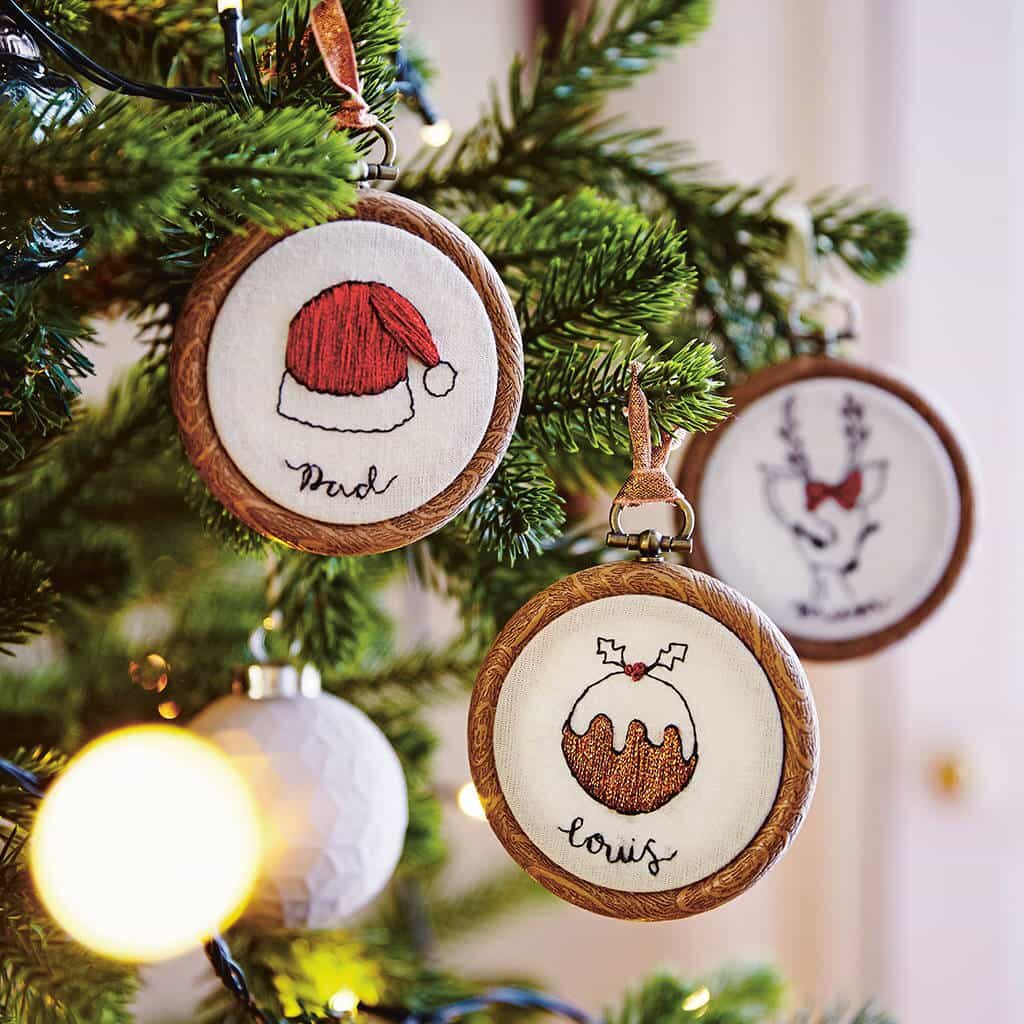 These embroidery hoops can have designs of a gingerbread man, cute stockings, a Christmas cap, candy canes, snowflakes, reindeer, and a lot more. Small ones can be used for the Christmas tree and bigger ones as wall accents. One can intertwine dainty fairy lights with these Christmas embroidery hoops to add more charm to the decoration.
6. Add Festive Cheer to a Hallway
First impressions matter the most! So, while thinking of the best Christmas decorations, ensure to add festive cheer to the hallway too. An exquisitely decorated hallway can wow the guests and set the mood for the impending celebration and also cheer the residents every time they enter their homes.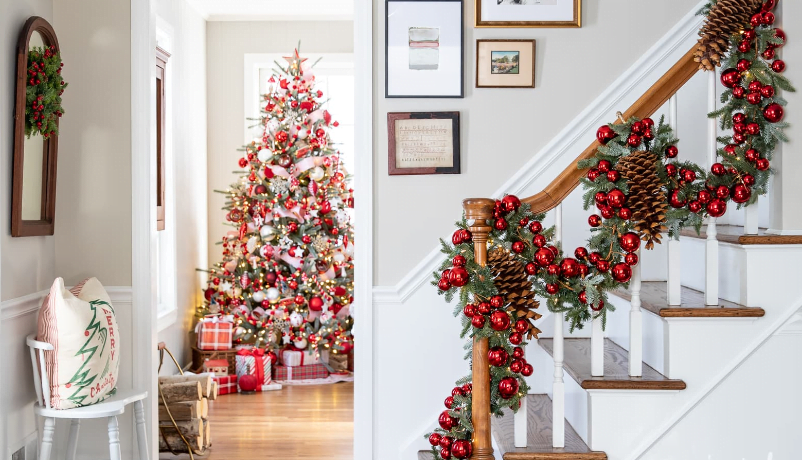 Some of the best ways to bedeck a hallway are by using a faux or real wreath on the main door, using bells, stars, and trinkets hanging from the ceiling or as wall accents, twinkling fairy lights, and lovely candles. All these Christmas decor ideas, if utilized properly, can transform a simple hallway into a magical gateway to the festive cheer.
7. Make Hand-Made Christmas Crackers
One of the best and simplest DIY Christmas decorations ideas for a sustainable and eco-friendly Christmas is making handmade crackers. Making handmade Christmas crackers can be a fun activity in which all the family members can be involved. Moreover, for making these crackers, one does not have to invest in elaborate material.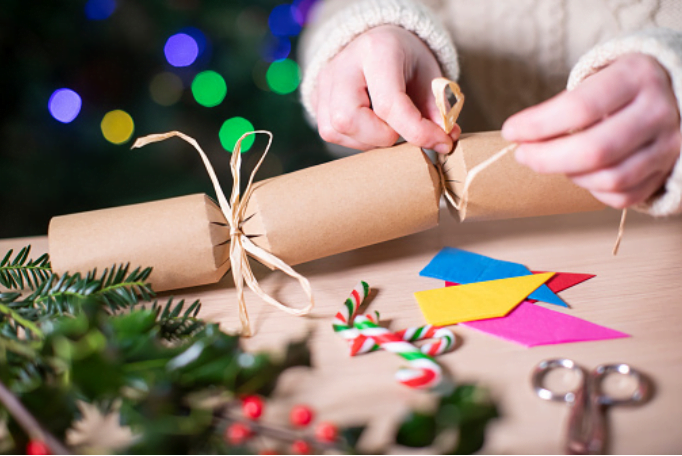 The bits and bobs or discarded material creating a mess in the house can be smartly utilized to bring these humble yet amazing adornments to life. For making the Christmas crackers, search the house for leftover gift paper or waste cotton or yarn, buttons, burlap string, washi tape, etc. For the fillings, you can use small toys, jokes or old memories, chocolates, small perfumes, etc.
8. Garnish the Stairs With Sparkly Baubles
Colorful sparkly baubles are an integral part of Christmas decorations ideas. As discussed earlier, baubles can be used in making a spectacular chandelier and at many other places, like the stairs! So, while talking about Xmas decorations ideas, whether one is a minimalist or a maximalist, stairs can not be ignored. For a minimalistic look, you can use sparkly baubles in metallic hues paired with shimmering butterflies or snowflakes.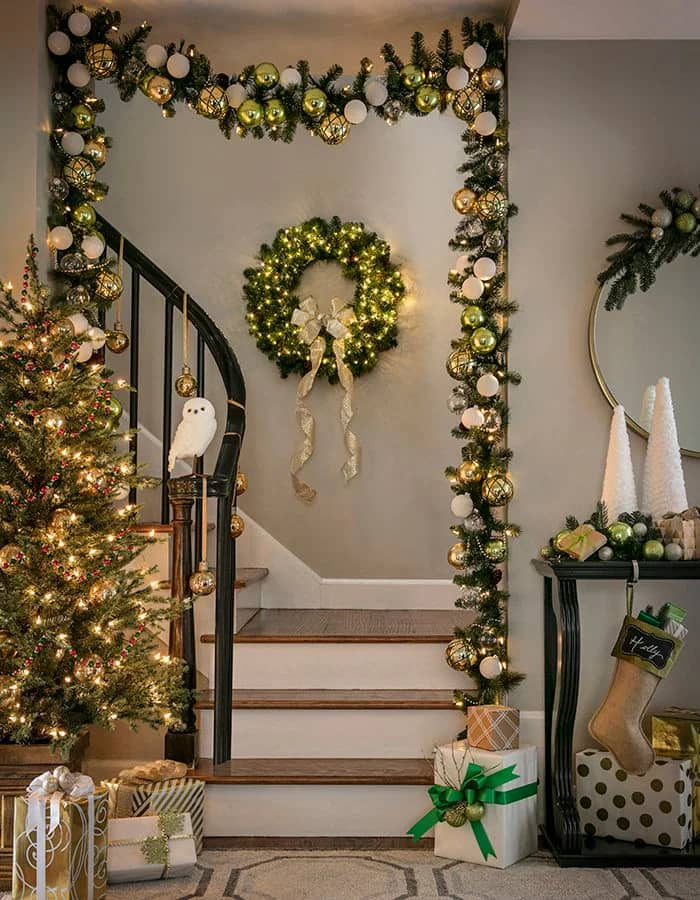 For a maximalist approach, they can create the Christmas tree look even on the staircase by using brightly tinted sparkly baubles. These baubles can be intertwined with a series of lights, banister garlands, classic stockings, candy canes, etc.
Also Read: Top 8 Places To Visit In India this Vacation
9. Make a Unique Garland With Scarves
If you are looking for prudent DIY Christmas decorations should dive into your closet or storage space to fish out old or unused scarves. After finding a couple of them, they can get going with these smart Christmas ideas decor.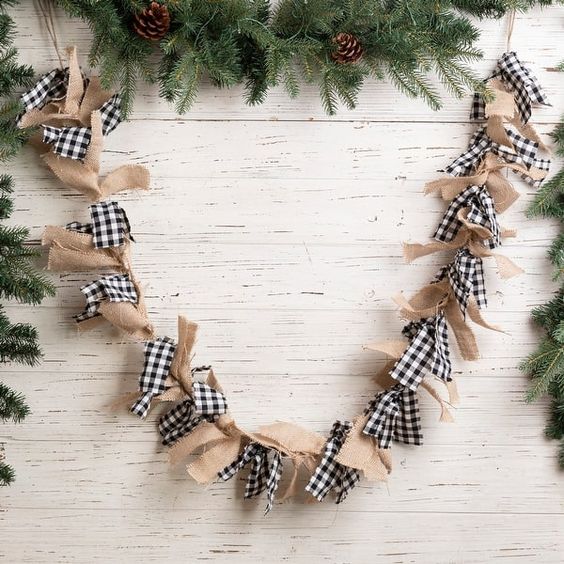 You can sew these scarves together to create a garland or simply tie them together to create a unique garland. Ensure that the knots look tidy. Next, to adorn the garland of scarves further, use pompoms, doves, or gingerbread men. This garland can be tied around the Christmas tree or the wreath or anywhere to create a snug ambiance and spread the warmth.
10. Create an Aesthetic Christmas wall with Hangings
If there is any muted wall in the house that pops out like an eyesore, be happy instead! It can be treated like a canvas and be completely transformed into an epitome of beauty with some beautiful Christmas adornments.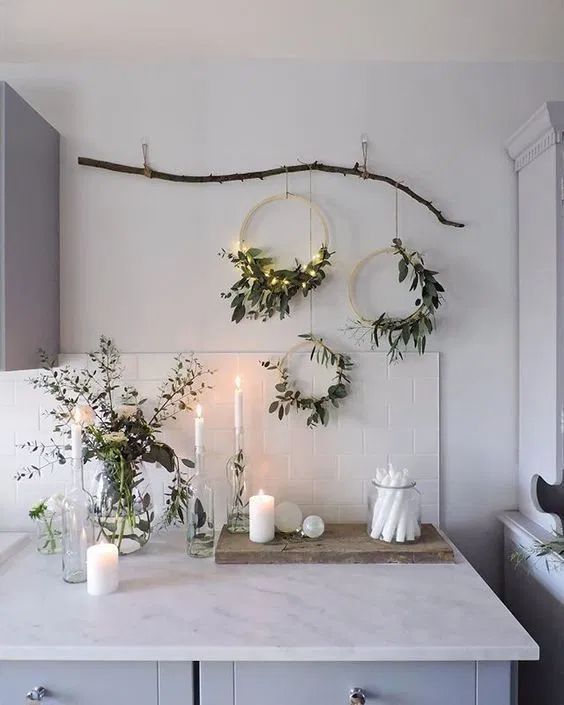 There are numerous ways to create an aesthetic Christmas wall with beautiful hangings like pictures, old greeting cards, or fun sign boards with Christmas-relevant slogans. You can write 'Merry Xmas' using foil balloon hangings and use the remaining space as a canvas to unleash your artistry. For fillers, they can use several hangings like stockings, lights, candle holders, stars, snowflakes, candy canes, or anything beautiful that is extra and does not have any specific space to be placed.
11. Wrap-up Presents with Hand Made Tags
DIY Christmas decorations are incomplete without gifts, an unmissable and highly anticipated part of Christmas festivities. The beautifully decorated Christmas tree with nicely wrapped presents is a dreamy sight indeed.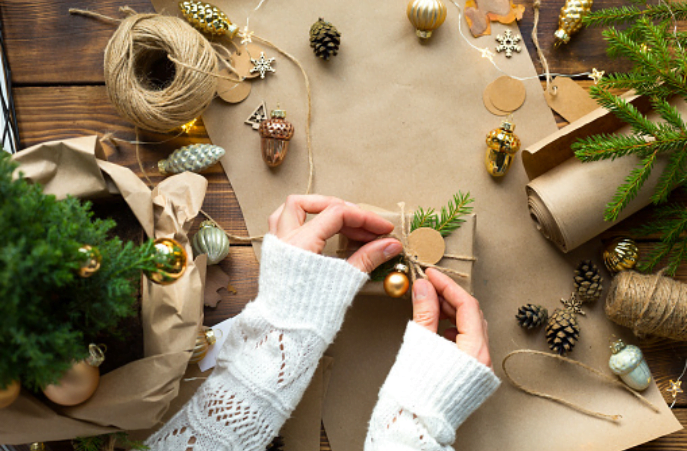 It is very much possible to create this sight during the upcoming Christmas festivities and spice things up by wrapping up the gifts with handmade tags. You can get super innovative with these tags. They can use thrifty stuff like brown paper, pieces of colored paper, ribbons, burlap string, glitter pens, and the brain's right hemisphere to write creative messages for friends and family.
12. Add a Surprising Color
Traditional colors like red, green, silver, and gold are the highlights of Christmas decor. But, the best Christmas decorations are those that are unthinkable and natty.So, this Christmas, give a modern twist to the classic Christmas decorations ideas and use a surprising color pop to amp up the decor and add zest to the ambiance.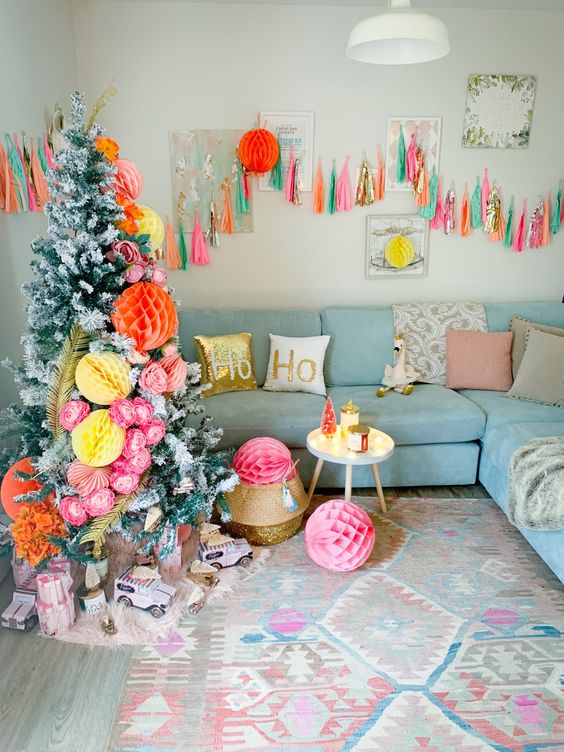 Depending on their personal choice, you can experiment with unexpected hues, and create patterns that are fun and refreshing. For a classy and plush decor, one can go for colors like teal, indigo, and even greys to ingeniously complement the Christmas vibe. For a more dramatic look, leverage the peppy rainbow colors!
Also Read: 11 Tips for Photography to Effectively Boost Your Art of Photography
13. Decorate the Bar
For those of you who have a bar in your homes, this is one of the essential Christmas decorations ideas. Whether the plan is to get high or indulge in mere social drinking, the bar must be decked out just like the rest of the house during Christmas.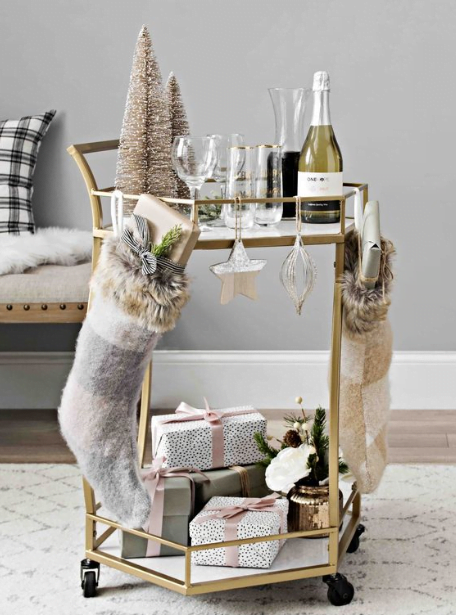 To decorate the bar, use mirrors to create an illusion of the bar being full of exciting options, and flaunt crystal glassware and golden coasters. Place the wine bottles in decorated snug baskets, and use candle votives and other forms of light in plenty to create a splendid play of reflections along the crystal glassware, wine bottles, and decanters.
14. Wrap Your Front Door With Ribbon
Before taking the guests inside the nicely decorated Christmas-ready home, you can make their front door look amazing by wrapping it with a ribbon. This is one of the simple yet heartwarming Christmas decorations ideas. It can be implemented to convey to the guests that the entire house including the impending celebration is a gift for them this Christmas!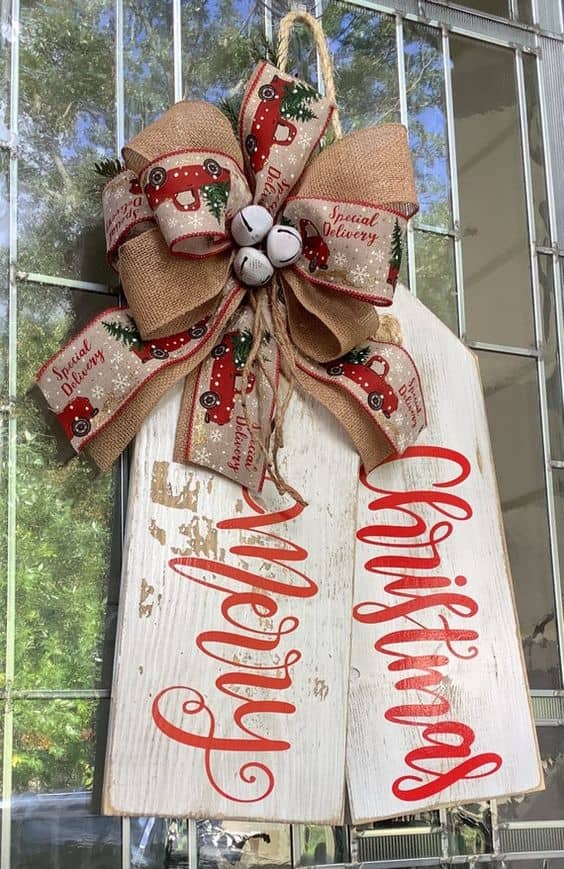 You can use any ribbon of your choice and decorate the door just as they would decorate any present. A hand-made gift tag with a heartwarming message can also be tied to the ribbon to make the door look like an idyllic present.
15. Decorate With Candles
Most Xmas decorations ideas are sure to entail candles in various forms. Candles are truly the most humble exemplification of beauty and grace that can lighten up any ambiance.While making a list of the best Christmas decorations, top it with candles as they are going to be utilized thoroughly.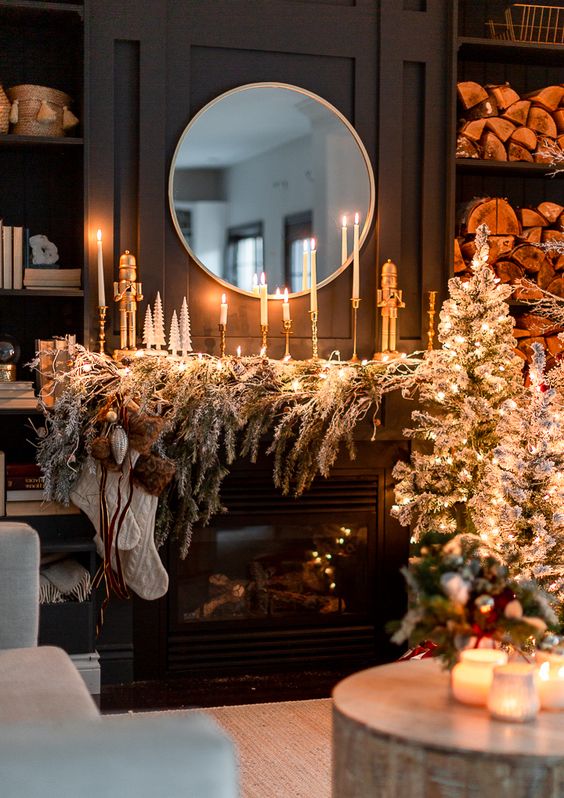 You can decorate the hallway, foyer, area around the Christmas tree, dinner table, and any place that can be thought of using the candles. Also, instead of using bare candles, get innovative and decorate them with hand-made candle holders, ribbons, and trinkets or paint them in lovely tints.
16. Use Special Wrapping
Wrapping Christmas presents is a quintessential part of Christmas decor ideas. But, how to make this regular activity more exciting this Christmas? If you are inclined towards DIY Christmas decorations can incorporate unique wrapping techniques by using decorative stuff easily available at home and make the recipients feel uber special.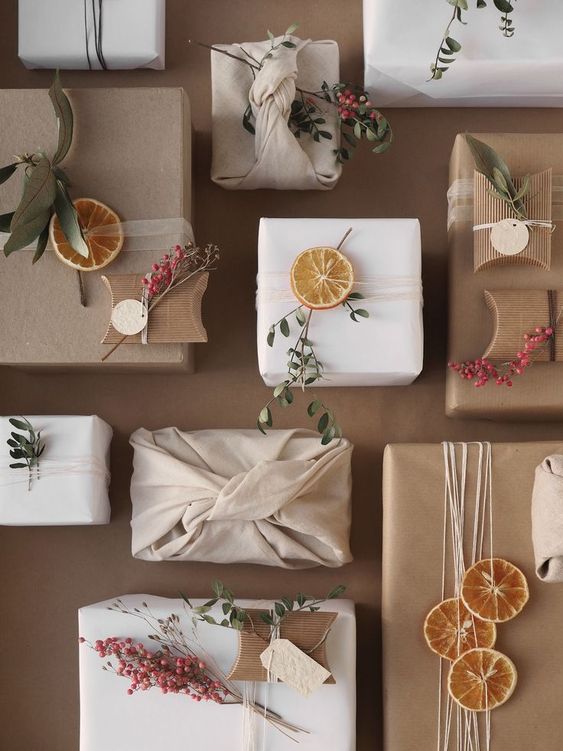 Some of the wrapping ideas include using regular craft paper tied with a burlap string and decorated with seasonal accents like pine cones, sprigs, etc. Creating a snowman-wrapping by using white paper, buttons, paper hats, and red ribbons, or using newspapers as wraps and then decorating it further using handmade accents, buttons, and a brightly tinted thread.
Also Read: 17 Top Fashion Designers in India Leading the Fashion Industry
17. Use Flowers as Decor
Flowers have a magical charm that can fill the ambiance with joy, freshness, exuberance, and the quintessential festive spirit. If you have run out of Christmas decorations, ideas must resort to flowers, faux or fresh to prettify the various spaces like the living area, dinner table, foyer, bathroom, etc.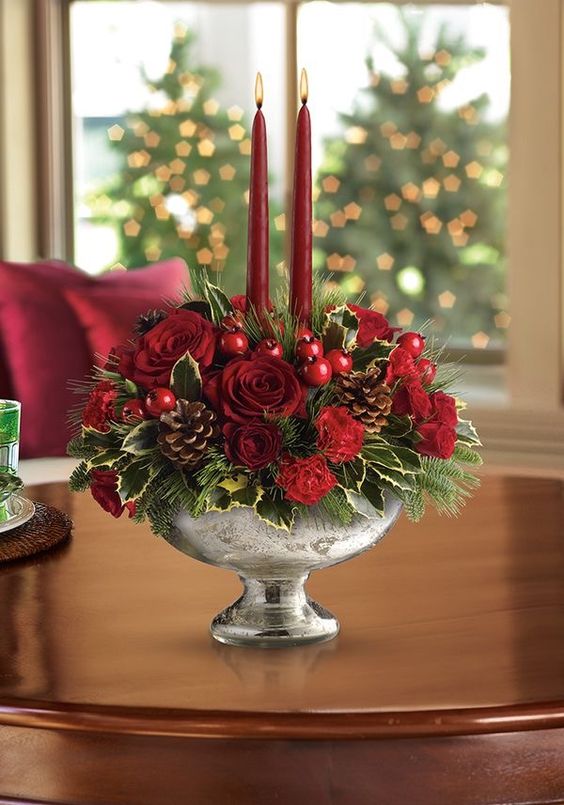 Floral decor, implemented by using fresh flowers, not only looks attractive but also spreads beautiful fragrances in the home, and sets the right mood for blissful festivities. If you, too want long-lasting decor, it is better to use superior-quality artificial flowers and mist them lightly with fragrant water to give them the freshness of natural flowers.
18. Put Out Some Lanterns
Putting out lanterns is a gorgeous way of lighting up the ambiance and kickstarting the festive spirits effortlessly. The electric one will need a bulb, but the non-electric alternative is a fantastic way of using old or bare candles. Lanterns can be put out in several ways to enhance the aesthetic appeal of the decor.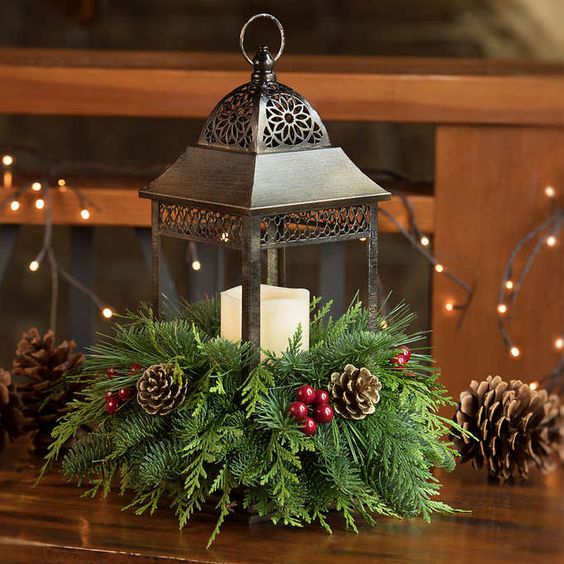 For instance, create a dreamy effect by using a series of lanterns near the entryway or sidewalk, use a couple of vintage lanterns near the fireplace or in the foyer area, or place lanterns nicely near the Christmas tree. Also, you can create bespoke lanterns by using mason jars or any jar and filling them with fairy lights.
19. Add Fancy Antlers
Thinking about Christmas, the magical sight of Santa Claus loaded with gifts and riding on the sleigh pulled by reindeer pops up! Thereby, one of the best ways of reminiscing about this sight is to include some fancy antlers in the Christmas decor.Christmas decorations ideas for using antlers are many and can be best implemented by using one's creativity.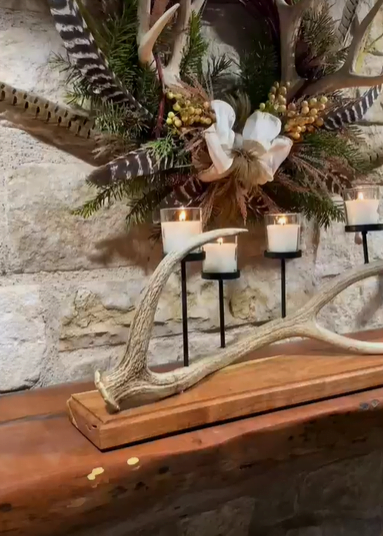 While some of you might choose to don the fancy antlers themselves, others might prefer putting them out at other places.Artificial antlers can be used to decorate mason jars, wreaths, and lanterns, or can simply be used as wall accents. Also, you can make red edible antlers and use them on plum cakes or little cupcakes!
20. Involve String Lights
Christmas is all about lights, joy, and magic. So, do not leave it all to Santa and let the pretty string lights do the job of lighting up the decor and the festive spirits. Use the string lights in abundance to light up any space like a dream. Also, replace candles with string lights in places where there is a risk posed by combustible things.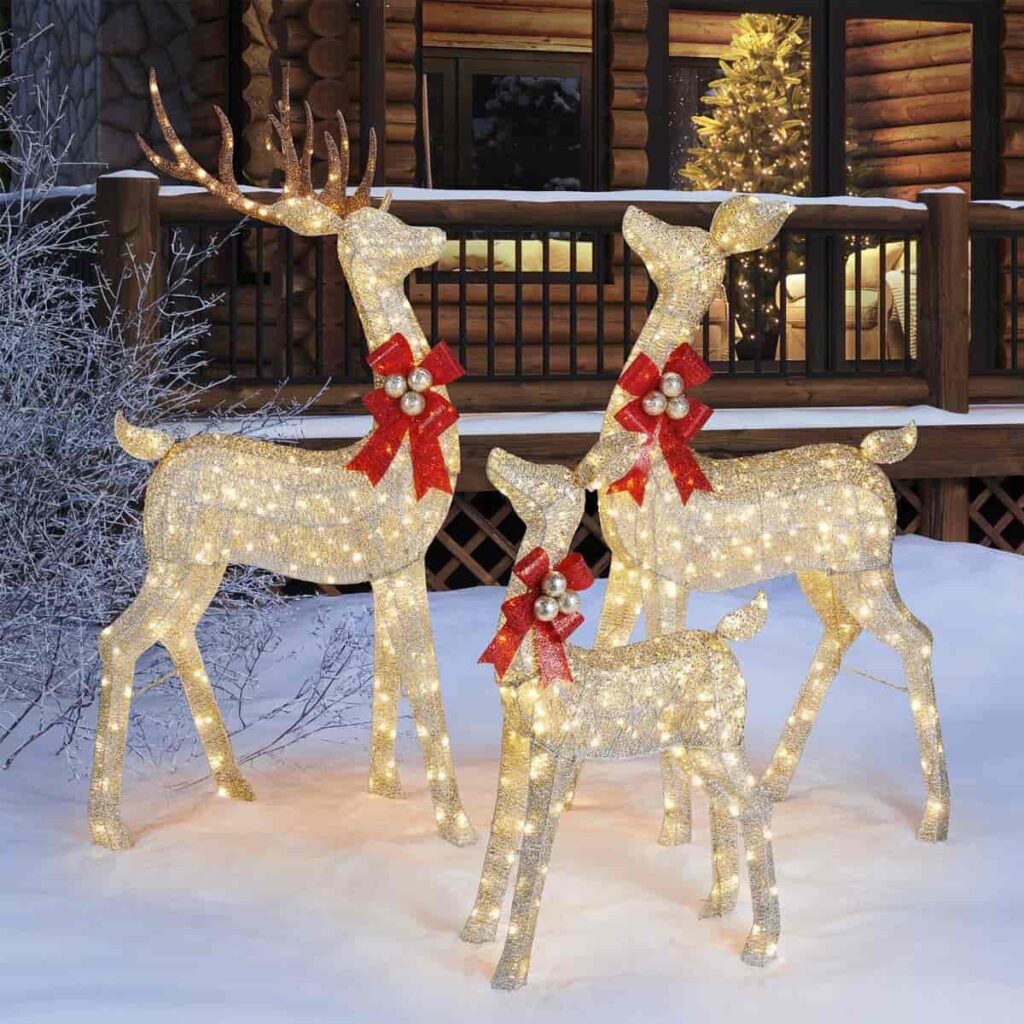 Fortunately, string lights can be used in all possible spaces that one can think of, including the main door, stairs, hallway, patio, bedroom, balconies, backyard, etc. One can either use them to create mesmeric boundaries or even wrap them around objects to highlight them.
Also Read: Top 10 Richest Cricketers in the World
21. Do Not Forget the Kitchen
While you are immersed in a myriad of Christmas decorations ideas, it is pretty natural to forget the kitchen after one has cooked up a storm! Although the delicacies will be primarily laid out on the stunningly decorated food table, the hosts as well as the guests might need to make frequent trips to the kitchen.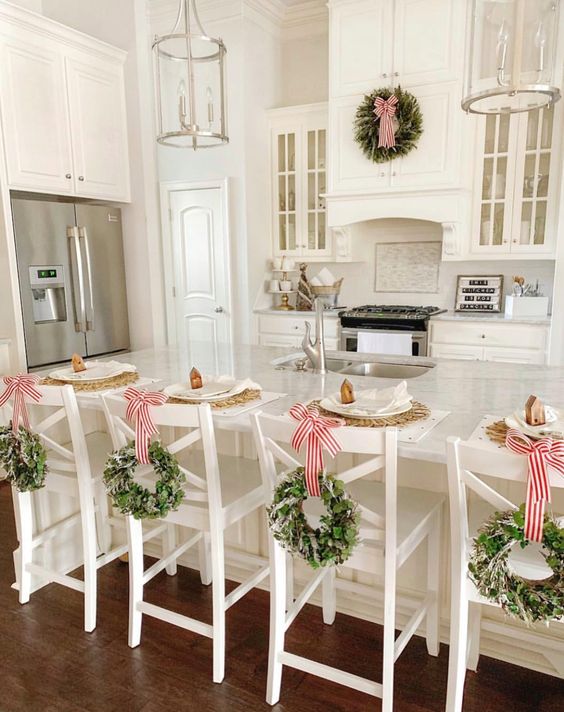 The kitchen would inadvertently make a crummy sight amidst the best Christmas decorations done in the rest of the house. Using string lights or fancy lanterns, hanging randomly colored baubles, using ribbons, and putting up seasonal accents like sprigs, pine cones, etc., are some of the best Christmas decorations ideas for the kitchen.
22. Give Santa a Warm Welcome
One of the best things about winter is Christmas and the best part of DIY Christmas decorations is creating a snug, warm and cozy ambiance to give Santa a warm and loving welcome! There are plenty of best Christmas decorations ideas to create a warm and welcoming Christmas decor.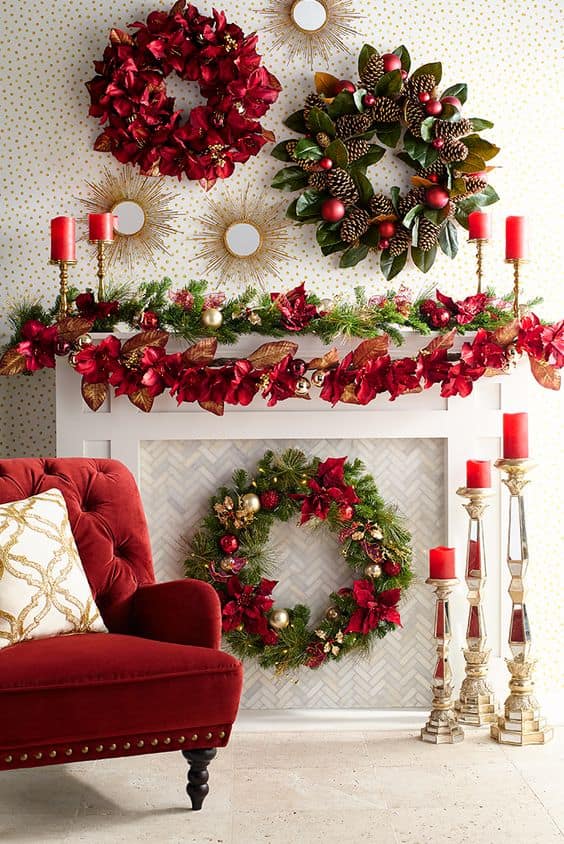 You can create a faux fireplace, and use plentiful fairy lights, candles, and lanterns wherever possible. They can make smart use of garlands made of scarves, to create woollen garbs for candle holders and wine bottles, hang woollen stockings, and use plush festive cushions at various seating places to create a warm, fancy and festive ambiance.
23. Add Festive Pillows
Festive pillows are yet another way to accentuate the Christmas decor and create a warm and cozy ambiance. Festive pillows or cute throw cushions can be added to any seating arrangement in the living room or bedroom or the rocking chair or the swing chair or a dainty tepee tent placed in some snug corner of the house.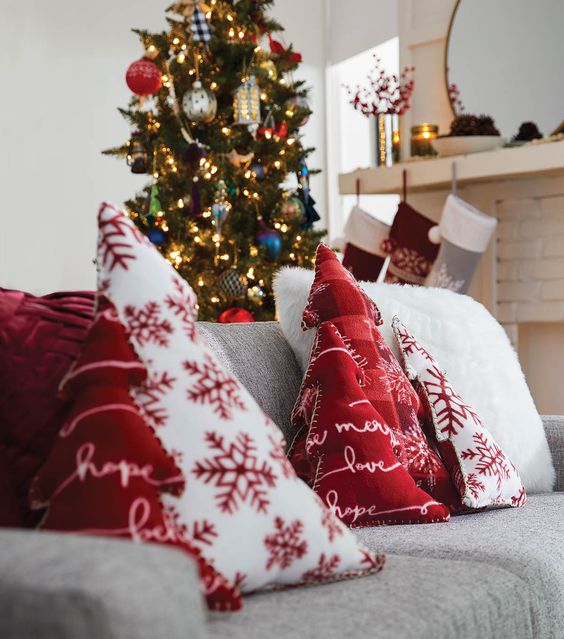 You can include festive pillows in their DIY Christmas decorations and innovatively decorate them using pompoms, ruffle yarn, and various other embellishments. Also, they can hand-paint them with either Christmas quotes or relevant pictures, make embroidered festive pillow covers or get them picture painted!
24. Creative Advent Calendar
The Christmas vibe is electrifying and for most of us, it is almost impossible to contain the excitement. Therefore, to count the days in anticipation of Xmas, one of the best Christmas decorations ideas is creating a bespoke Advent Calendar.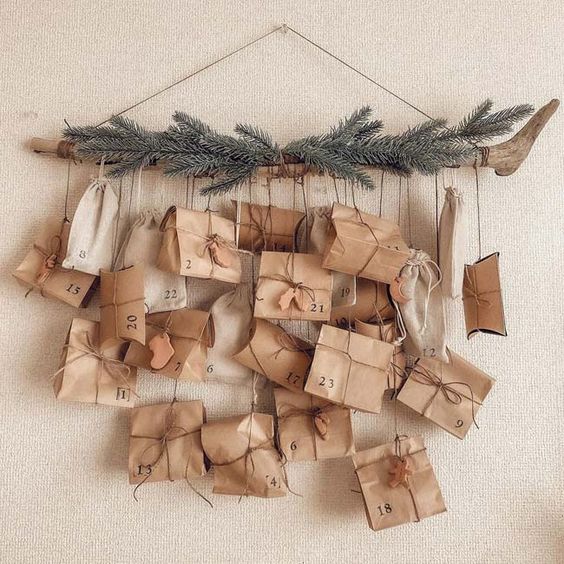 For this activity, the entire family can be involved with the most creative lot designing the Advent Calendar with attractive card paper and other decorative items, while everyone else can create tiny, secret message cards. These messages are to be stored in envelopes or boxes designed in the Advent Calendar and opened every day until Christmas to enhance the festive cheer.
Also Read: 14 Different Types Of Skirt You Will Love
25. DIY the Doormat
While contemplating Xmas decorations ideas, perhaps most of us would miss out on sprucing up the humble doormat. With all the decorations in place, an old or drab doormat would make for a shabby sight. If Christmas decorations ideas are thought of in advance, you will be left with sufficient time to DIY the doormat too.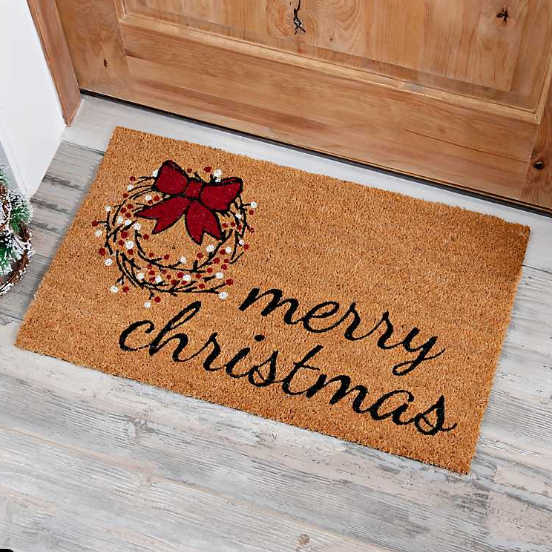 One of the easy ways of doing a doormat is painting with the help of stencils or blotching randomly with an assortment of spray paints or simply pasting waste cloth bits randomly on a plain jute mat. For bordering the doormat, you can use old scarves or pom poms, or tassels.
26. Add Balloons
Balloons are undoubtedly one of the best, easy, and most affordable DIY Christmas decorations that can fill up large spaces and gladden both kids and adults alike. Balloons can instantly create a festive ambiance and also make for an amazing backdrop for clicking pictures. Balloons can be of various shapes and colors that complement the decor and can be used in spaces like kids' rooms or the living room or the hallway.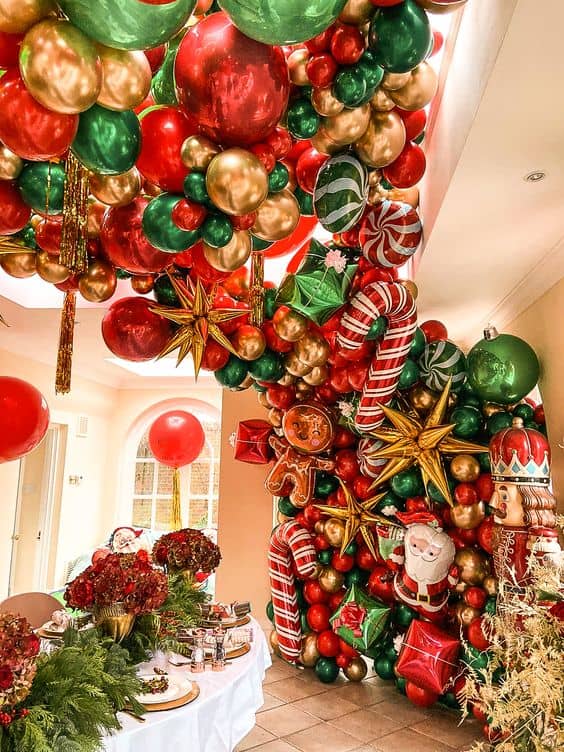 Use the balloons underneath the Christmas tree along with the presents to create an illusion of swarming goodies. You can use foil balloons in various shapes like that of Santa, reindeer, snowman, etc., and put them up around the Christmas tree or at the main door to welcome visitors.
27. Get the Kids Involved
There is no blessing bigger than having kids at home. Kids can enliven the Christmas spirit in the truest sense and ensure that the grownups in the house come up with the best Christmas decorations. Kids can be involved in implementing several Christmas decorations ideas.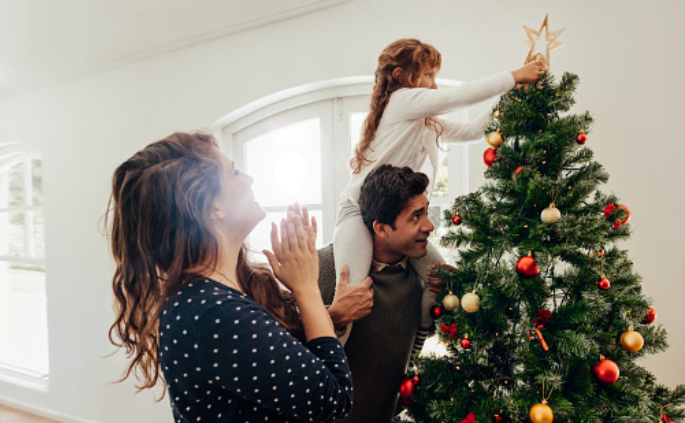 They can be engaged in blowing the balloons and decorating them, making Christmas crackers, creating easy and delightful candle votives, and decorating the cupcakes, and the Christmas tree. Kids can be asked to do various drawing, painting or sticking activities depending on their age and interest. That said, getting your kids involved in the Christmas rituals and activities makes them aware of the historical importance, or religious significance.
28. Decorate Wine Bottles
As soon as you start brainstorming for Christmas decorations ideas, you should stop discarding wine bottles, especially the good-looking ones. There is a lot that can be done with wine bottles and the decorated wine bottles make for lovely decor accents. The old wine bottles can be hand-painted or spray-painted in various hues, designs, and patterns that assent to the festive mood.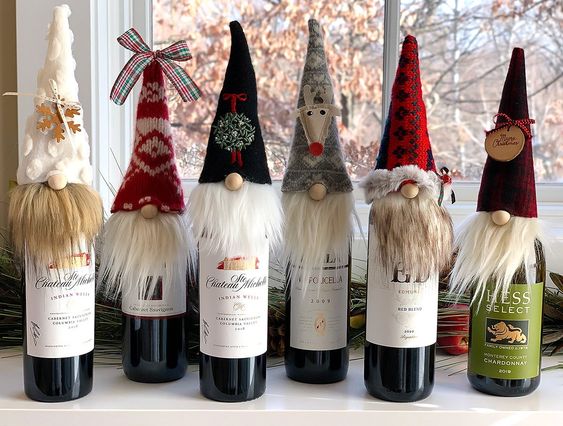 The bottles can also be filled with fairy lights and wrapped with burlap strings and burlap lace ribbons and can be fancied up further by using cute little buttons, pearls, ribbons, etc. The wine bottles in use can also be decorated by dressing them up in jute covers or knitted yarn covers to fit with the cozy winter vibe.
Also Read: Show-stopping Wedding Outfit Ideas for Women in 2022
29. Accessorize Candle Holders
Do not discard old, bare, or drab candle holders, as they all are added advantages during Christmas to let one's creative juices flow inundated. During Christmas, one is going to need candleholders in plenty to jazz up various spaces.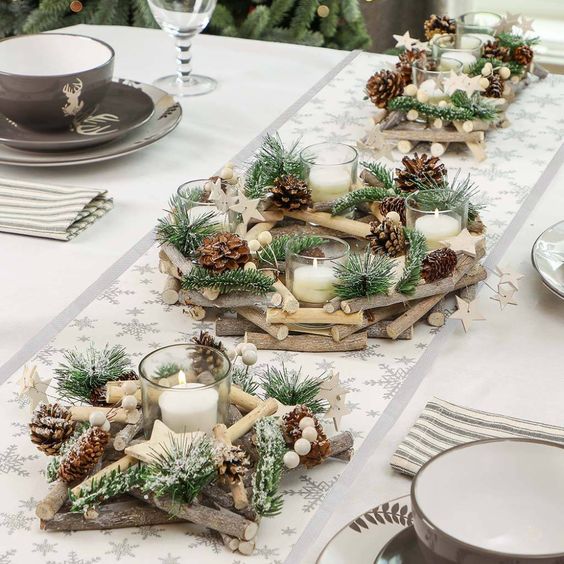 Some of the best Xmas decorations ideas to accessorize candle holders are wrapping the holders using burlap strings or lace or glaze ribbons, painting them in various hues and patterns, pasting them with various embellishments, or putting up small Christmas trinkets around them. Again, this activity can be made super fun and eventful by involving friends, family, and kids, and their remarkable imaginations!
Make the Most of Our Christmas Decor Ideas
So here comes the gratifying end to this delightful rundown of Christmas decorations ideas. These brilliant suggestions cover almost every aspect to decorate the various things and spaces during Christmas in the best possible way. You can use these Xmas decorations ideas the way they are suggested or brainstorm further and come up with exciting alternatives.
Finally, there is just one thing to remember regarding these Christmas decor ideas, and that is there is no fixed rule to go about these ideas. The best Christmas decorations are those that are done from the heart and are not confined by the laws of perfection.
So, let loose, involve family and friends, and do what suits the budget and everyone's preferences. Any activity done together with smiling faces ought to spell magical bliss during the festivities. On this note, here's wishing for a wonderful holiday season!
Popular Searches
Types of Jewellery | 9 Tips For Good Sleep Every Night | Hair Care Tips: How To Treat Your Hair Like A Boss | Top Shoe Brands In India | Top Luxury Fashion Brands | Sustainable Fashion Brands | Organic Makeup brands in India | Best Watch Brands in India |Best Food Bloggers in India | Types of Tea You Must Really Know | 6 Best Skin Care Products Your Skin Needs | Best Cameras for Photography | Right Skin Care Routine Steps | How to Get Rid of Pimples | Best Diwali Outfit Ideas To Try & Glam Up Your Ethnic Look |