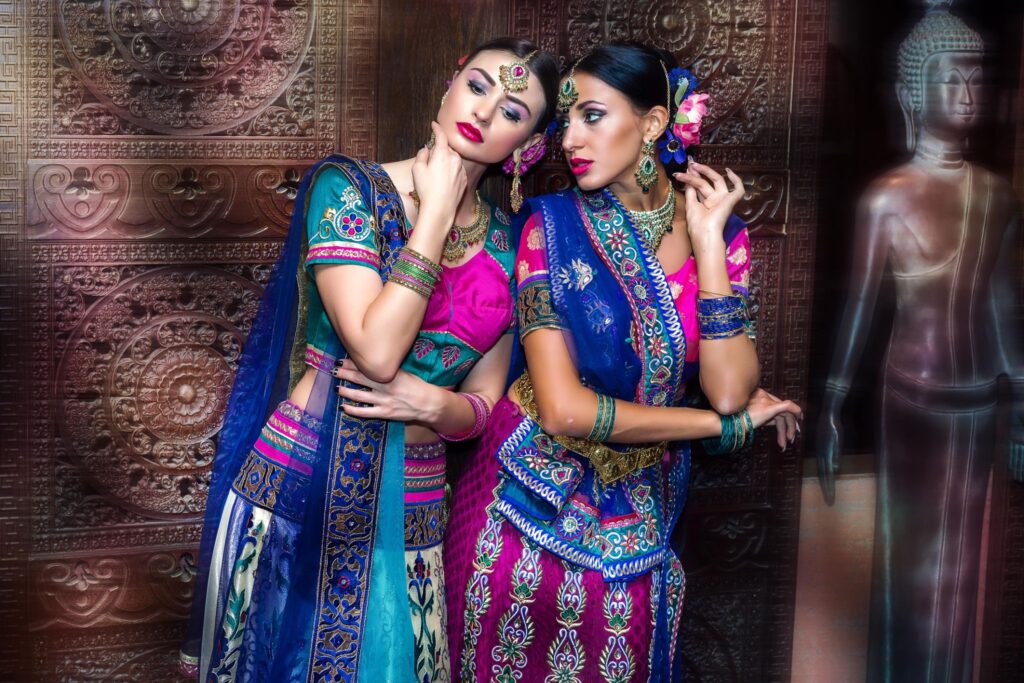 Ethnic wear stands out for being timeless and fashionable. Stylish sarees and feminine lehengas are two of the most recognisable and popular creations. However, not everyone has the time to drape a saree, and first-timers may be daunted by the prospect of it. Some simply may not feel all that confident in a lehenga. The lehenga saree that blends the designs of these two fabulous styles. No longer will you have to fold pleats; just tuck and drape! This trendy option has become all the rage among women who need a quick way to look fabulous. If you want to buy lehenga sarees, these handy tips and tricks should help.
Lehenga Sarees for Different Body Shapes
Like all clothing, lehenga sarees should complement your body shape. There's a whole selection of styles to choose from, some with slimmer silhouettes and others with bottoms that are very flared. Find yours from these popular picks.
Lehenga Sarees for Apple Shapes
People with apple body shapes have fuller waists that can be slimmed with the right style of lehenga saree. We recommend a design with a wider skirt to balance everything out. Designer lehenga sarees tend to feature embroidery and embellishments around the waist, but we suggest you find lehenga sarees that have the details on the skirts' borders. This will draw attention to the overall outfit instead of centering at the waist. If you simply can't do without an ornamented waist, opt for a choli that reaches below the navel to meet the skirt. You'll feel a lot more confident. The lehenga saree's pallu draped across your body will help you cover your waist even more.
Lehenga Sarees for Pear Shapes
Pear body shapes have heavier hips and narrower waists. The trick is to build up the top half of the body to create a more hourglass silhouette. Consider choosing printed and embellished cholis and simpler lehenga sarees so that the eye is drawn upward. You should also opt for a slimmer lehenga like one with an A-line shape. Flared cuts also work well but we prefer the flattering cut of an A-line lehenga. If you have a toned tummy, feel free to opt for sexy cholis that are cut quite high. If you aren't too confident showing it off, you can settle for a longer choli. Just make sure that whatever you choose features striking details like puff sleeves, embroidery, and beadwork.
Lehenga Sarees for Hourglass Shapes
The hourglass is one of the most desired shapes and if you're blessed with it, have fun wearing any lehenga saree! You can choose from mermaid, flared, A-line, and straight cuts. Because hourglass figures are very curvy, it's a good idea to stay away from styles that over-emphasize either the top or bottom half of the body. We particularly like lehenga sarees with skirts that don't flare out too much. If you prefer simpler cholis, you can accessorise them with gorgeous necklaces and armlets. Otherwise, opt for cholis with detailed sleeves and pretty beadwork. Enjoy wearing lehenga saree designs featuring embroidered waistlines, brocade borders, and twinkling mirror work.
Lehenga Sarees for Straight Shapes
Women with straighter body shapes should look for designs that create the illusion of curves. Think embellished cholis and lehenga sarees with plenty of embroidery, prints, and brocaded borders. You can use the pallu to add more definition to the hips as well. Avoid straight-cut lehenga sarees and choose flared cuts instead. Cholis with scoop and v-necklines will create the illusion of curves too. You can drape the pallu toward the front of the body for even more volume. We suggest styling your hair in soft curls and letting it down to enhance your feminine allure!
Lehenga Sarees for Strawberry Shapes
The opposite of pear shapes, women with strawberry shapes need to play up the bottom half of their bodies to balance the heavier top. We like the idea of settling for cholis with minimal ornamentation but if you love a bit of bling, get one with an embellished stand collar. No plunging necklines for this shape! It's a good idea to wear a regular or slim-fit choli instead of a figure-hugging one. For the lehenga saree, choose skirts with a lot of ornamentation. Enjoy going wild with beads, rhinestones, eye-catching prints, and more.
Brides, Look Fab in a Stunning Lehenga Saree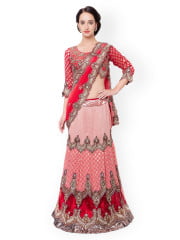 The modern lehenga saree is soaring in popularity, especially among young adults and busy women. It's so easy to drape. For the bride-to-be, there's the added bonus of being able to enjoy the day without fussing over stubborn pleats that just won't sit well. White may be the colour of choice for many brides but we favour ivory and cream lehenga sarees because they're softer and suit different complexions more easily. You can always go for cream overlays on white backgrounds with white bead details and matching embroidery. If you yearn to stand out, we suggest bridal lehenga sarees with hints of colourful accents or red details. Navy is also a terrific accent colour for white lehenga sarees as is gold and silver tones.
Layer, Layer, Layer!
When you buy lehenga sarees, consider adding jackets to your shopping list. They're an excellent way of dressing up these wonderful creations. Unlike ordinary lehengas with jackets that meet the mid-thigh, lehenga sarees can only have shorter jackets as the pallu is draped across the body. Still, they provide a grand touch to any lehenga saree. Brides will have fun wearing them especially in contrasting colours and with details. There are designer peplum style jackets too. You can also get them made if you love the idea of pairing traditional and contemporary styles.
Lehenga sarees are all about showing off ethnic wear without the fuss of traditional styles. You can even have fun with the pallu. Choose a lehenga saree with a heavily embroidered pallu and let it add an interesting touch to the ensemble by letting the ends fall over the front of one shoulder. This can lend a dash of bling to otherwise simple cholis. There are many more ways to style pallus. Just get creative and you can give lehenga sarees a lovely personal touch!
With the help of this guide, buy lehenga sarees with confidence. Whether it's your first time purchasing these gorgeous delights or you just want to brush up on your knowledge, we hope you walk away with a stunning lehenga saree collection that flatters and puts you under the spotlight. Don't forget to accessorise your latest purchases with gorgeous hair pins, jewellery, shoes, and hairstyles. As dressy as lehenga sarees are, you can always jazz them up a bit more for those extra special occasions. Own your looks with confidence and love the attention you receive!