Proposing your partner is one of the most nerve-wracking yet thrilling experiences of your life. You can still create a beautiful memory by expressing your love in an unconventional way. To ease your help you, we have cusrated a lovely list of 19 ideas for proposal that will surely make him or her swoon. Customise or take a leaf from this list and freeze your spectacular moment in time. Read in to know more about the best proposal ideas.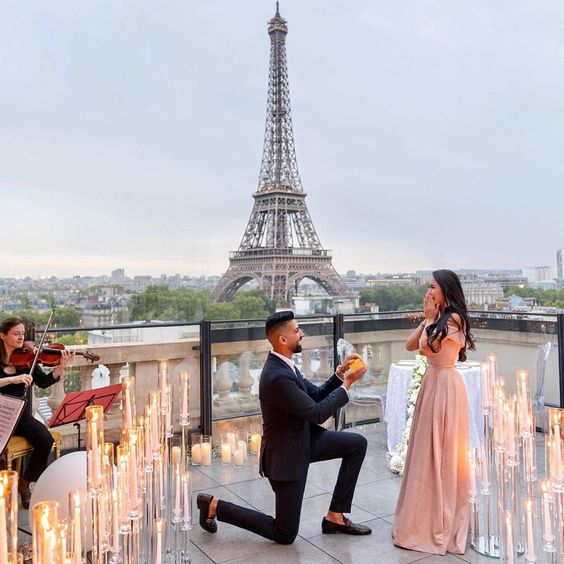 Also Read: 22 Best Valentines Day Gifts for Him That He Will Love
Best Ideas for Proposing your Partner
If you envision a future together, it is time to move forward and make a lifetime commitment to that person. Choose from the spectacular ideas for marriage proposals suggested by us to show your love in the cutest way.
1. Recreate Your First Date
Recreating your first date is a simple yet effective idea to rekindle the flame and remind each other of the butterflies that you had experienced for the very first time.
This is one of the most classic ideas for proposing that will help you relive the experiences and intense emotions when you first met. And proposing marriage in a way that is inspired by a key memory will engrave it in your heart forever
2. Visit A Romantic Cafe
This is one of the most wonderful ideas for proposing, allowing you the opportunity to express your thoughts and make a special, cherished moment. The soft ambience of the space is an ideal site for such a significant event because it offers a warm vibe, good lighting, and an intimate environment.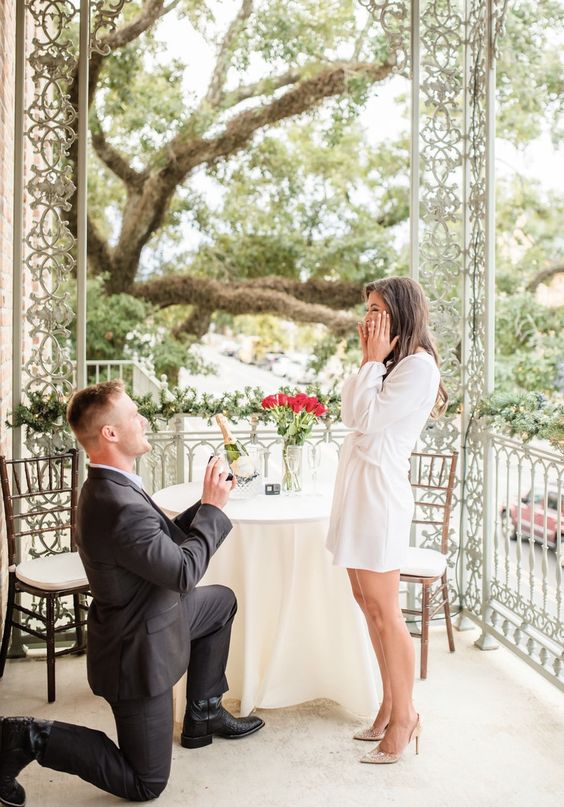 It is a unique experience as you can propose while eating a delicious, and maybe your favourite, lunch with your significant other.
3. Make A Personalised Word Puzzle
Puzzle her before the proposal! Create a custom word puzzle, alter it to fit your relationship and give your proposal a special and considerate touch.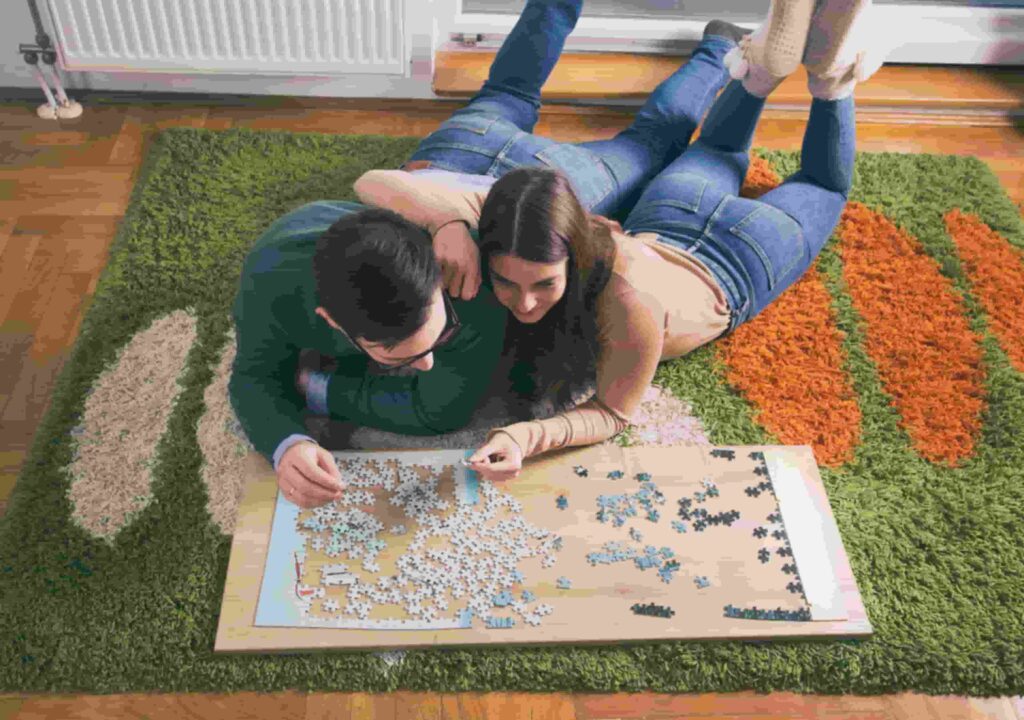 You may make your companion grin with a personalised word search by including inside jokes, memorable moments, quotes or even a personal message.It is a thrilling way to subtly express your emotions.
Also Read: Express Your Love For Her in 2023 With The Best Valentine's Gifts
4. Invite Your Friends And Family
One of the most charming ideas for proposing are to express how much your partner means to you by inviting friends and family.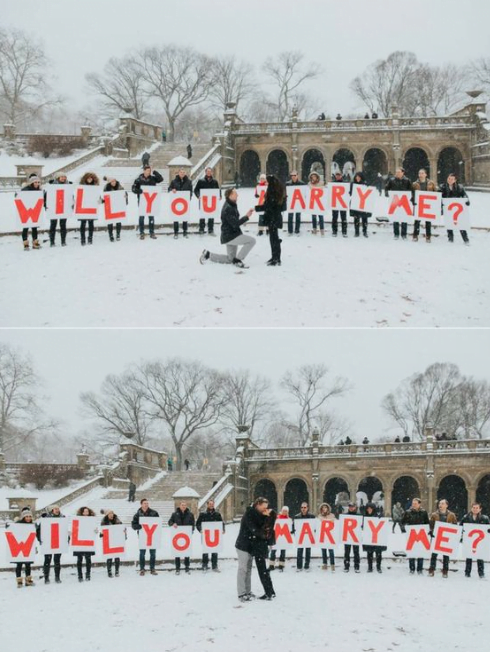 It can be a beautiful way for loved ones to celebrate the moment with the couple and shower their love and blessings for their future.
5. Create A Treasure Hunt
Proposing your partner for marriage with a treasure hunt is a spectacular way to make it special and unforgettable. Design a unique map that is customised to your relationship. Add the riveting build-up to the big moment and plan a series of hints that will direct your significant other to the spot where you will pop the question.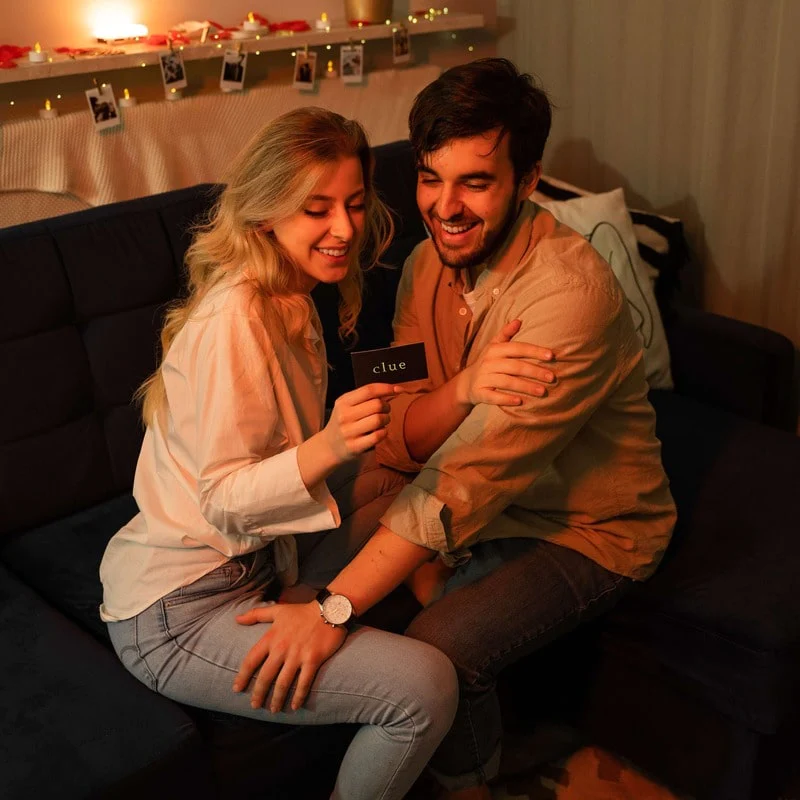 This may be a favourite location in the city or a location that is significant to the two of you. You can spice up the clues by adding inside jokes, pictures or the genesis of your relationship.
6. Create A Romantic Beach Spot
Find a location with a clear view of the sky and the ocean, as well as lots of sitting, shade and flowers, for a truly beautiful proposal. To create a romantic and dreamy atmosphere on the beach, bring picnic food, a blanket, and some aromatic candles.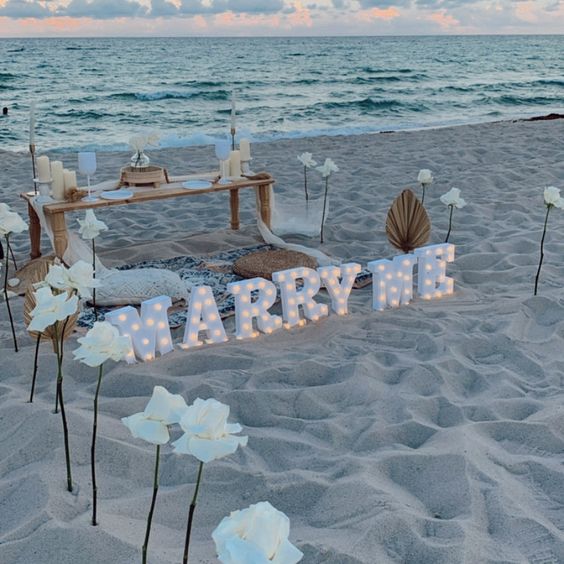 Pop the question in the most heartwarming way and get ready to share your last name with your partner.
Also Read: Types of handbags for women you should consider buying this Valentine's Day
7. Organise A Special Trip
Boost the romance and propose the person you love in a place that has special value for the two of you. This place can be where you two first met, a place you both adore or another significant place for your relationship. Sending a handwritten note, a special poem or an unexpected present will help to make the proposal even more memorable.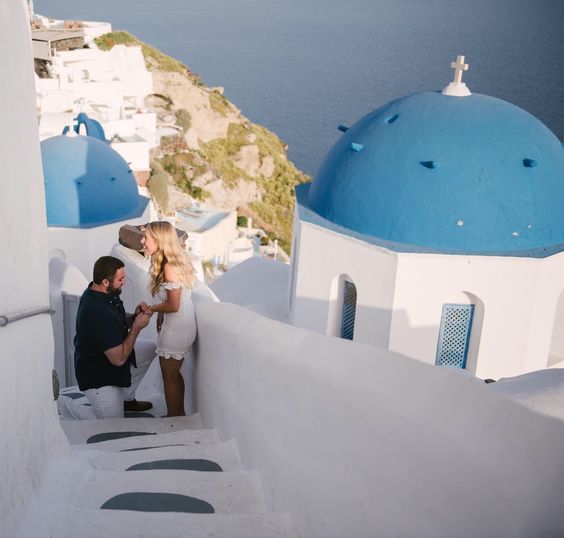 Candles, roses, and other thoughtful additions can help you create a romantic ambience in your space. Make arrangements for a special activity only for the two of you, like a picnic, a walk on the beach, a trip in a hot air balloon or even adrenaline-filled activities like bungee jumping.
8. Confess At Airport Arrivals
A unique and unforgettable way to declare your love is to pop the question upon his or her arrival at the airport after a long trip. Distance does make the heart grow fonder and they will be surprised to see you with a ring. Ensure you get the necessary clearance from the staff in case so have an unperturbed moment.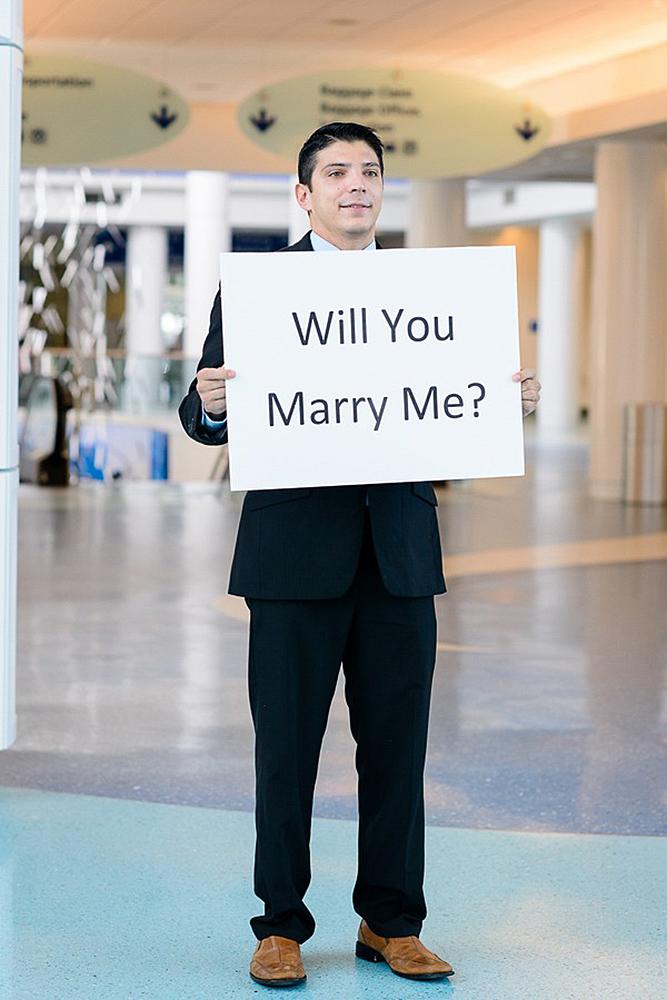 You may do something straightforward and private, like bring a bouquet and a sign, or something more like a surprise serenade. Whatever you choose to do, make sure it has special importance for your spouse and that both of you are at ease with it.
9. Play Around With Your Food
Parents always told us not to do this, but all is fair in love. Set the ambience by adding candles, music, and flowers. Create a memorable lunch and serve your special someone their favourite dish, or come up with a customised menu that lists delicacies that both of you have explored over the relationship or enjoy munching on together.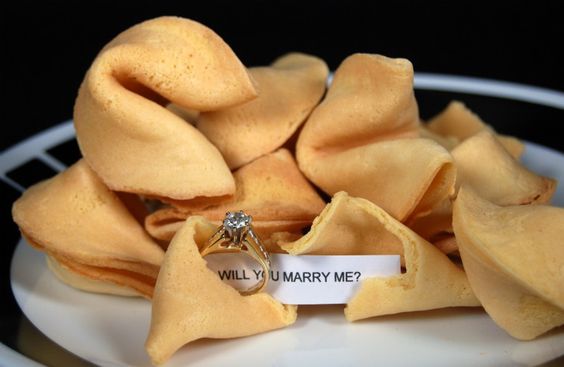 Include an astonishing statement or memento that captures the two of you as a pair and make the moment your own. While you are eating, use the opportunity to propose. Serve a cake with the words "Will You Marry Me?" written on it as an illustration and commit to a lifetime of happiness.
Also Read: How to look Perfect for your Special Valentine's Date?
10. Bake Something Special
Making something special in the kitchen might be a wonderful way to pop the question. It displays your love for them in the most chocolatey and crunchy manner. The thoughtfulness and effort you will put in for their favourite delicacies will make them fall in love with you all over again.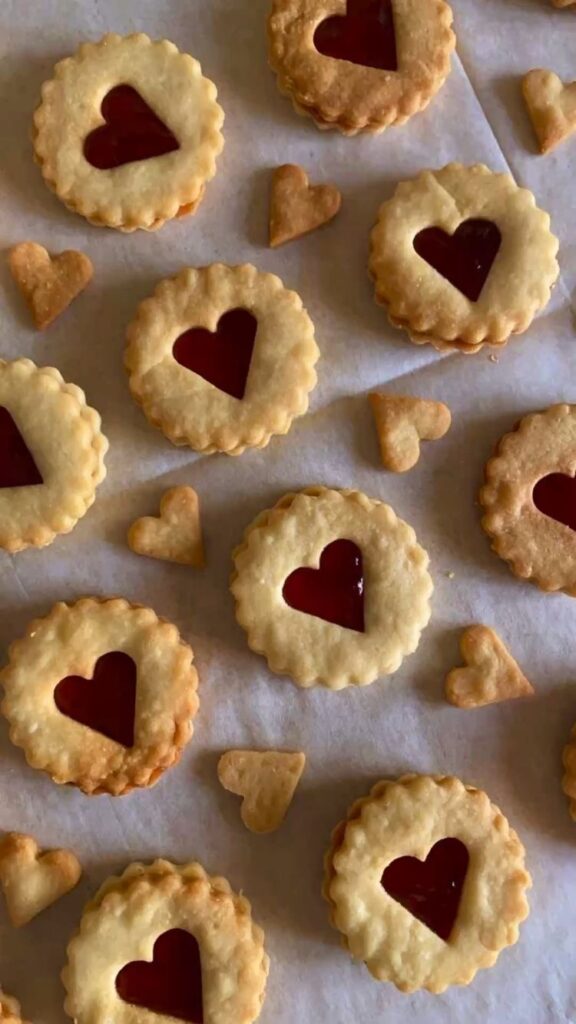 Bake something as straightforward as a cake with a personalised message on it, or a classic croissant dripping in their favourite flavours. Whatever you choose to bake, you are sure to put a smile on their face; after all, who can say 'no' to a dessert!
11. Surprise Them While Clicking a Photo
Photoshoots and creating short videos are the trend, so conceptulise one with your significant other. Plan a fun or romantic shoot, and pop the question as a surprise. You will get their candid reaction and will create a wall full of photos for life.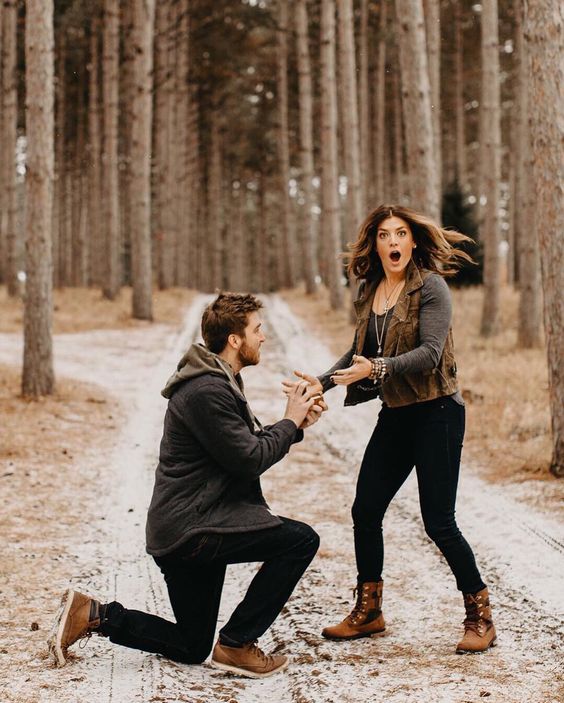 Plan in advance with your photographer and get smart outfits, accessories, decor set up and of course, the nails.
12. Make It Happen In The Air – Book Hot Air Balloon
An exceptionally romantic way to ask your partner to marry you is to pop the question while you are iamist clouds – just like a Disney princess. Your proposal can have the ideal setting as you soar through the air while taking in the breathtaking scenery. A hot air balloon ride must be scheduled with a reliable company. Make sure to enquire about the company's guidelines for suggestions made during a journey.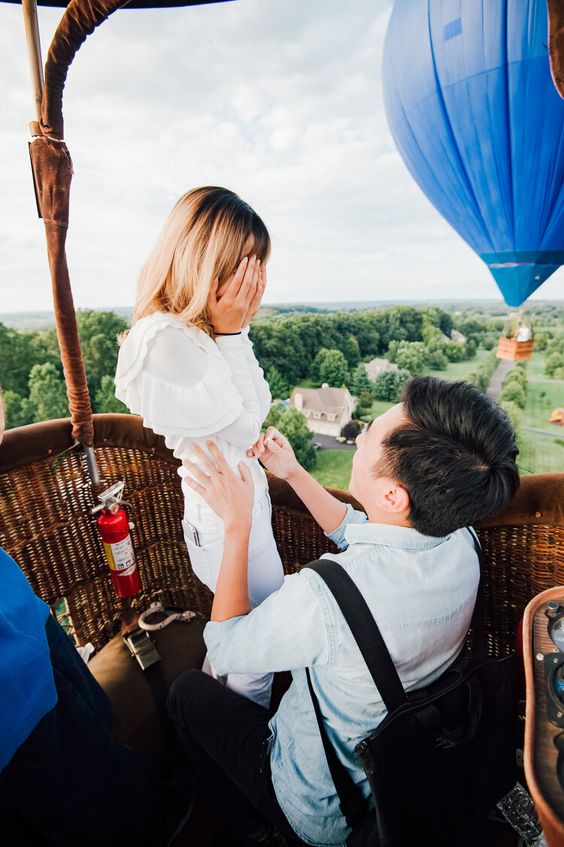 Some businesses could provide special deals or even aid in the proposal planning process. Plan your proposal once you have reserved the journey. This can involve writing your partner a meaningful message or bringing a spectacular gift.
Also Read: Best Romantic Restaurants in Mumbai for a Perfect Date
13. Do It On A Rooftop
Proposing on a rooftop under the shimmering stars is a romantic and memorable way to express your love and commitment to your partner. Add an elegant touch with some beautiful lilies, wine and candles.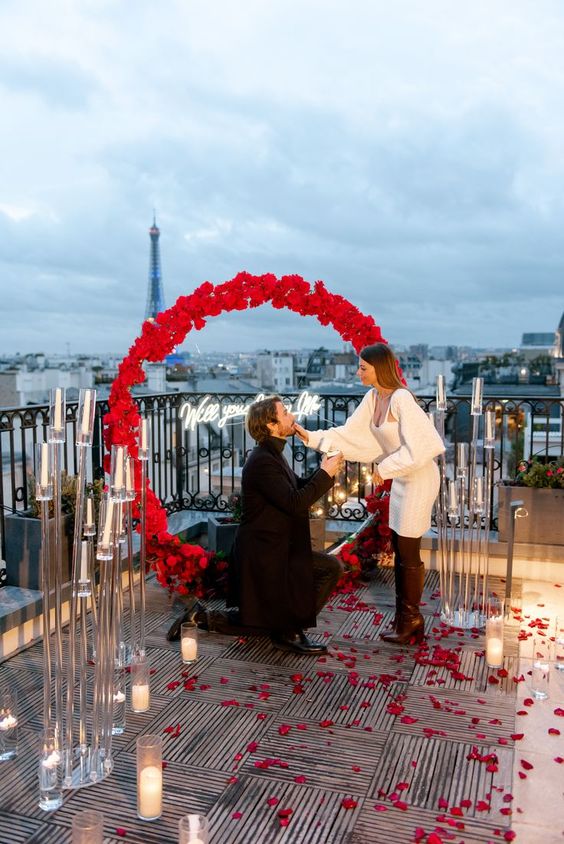 Welcome them on a red carpet and lead them to a special dinner to enjoy. Take in the city skyline for a truly breathtaking proposal.
14. Go On A Boat Ride
On a romantic sunset cruise, kneel and pop the question while watching the fireworks display. Planning and selecting the ideal location will allow you to announce your love and commitment while surrounded by captivating waves.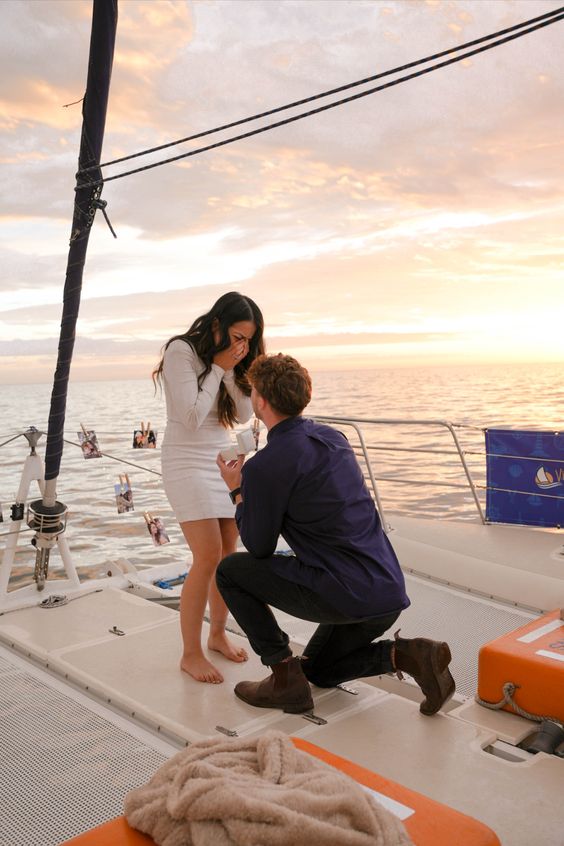 Spend the remaining time on the boat toasting your recent engagement. Bonus, it makes for stunning pictures too!
15. Let Your Pet Join The Special Moment
Have your furry friend do the job for you. Your pet can wear a specially designed "Will You Marry Me?" sign around their neck when you pop the question. And those puppy eyes definitely help! To deliver the engagement ring, hide it in a cute box and tie it to your pet's collar.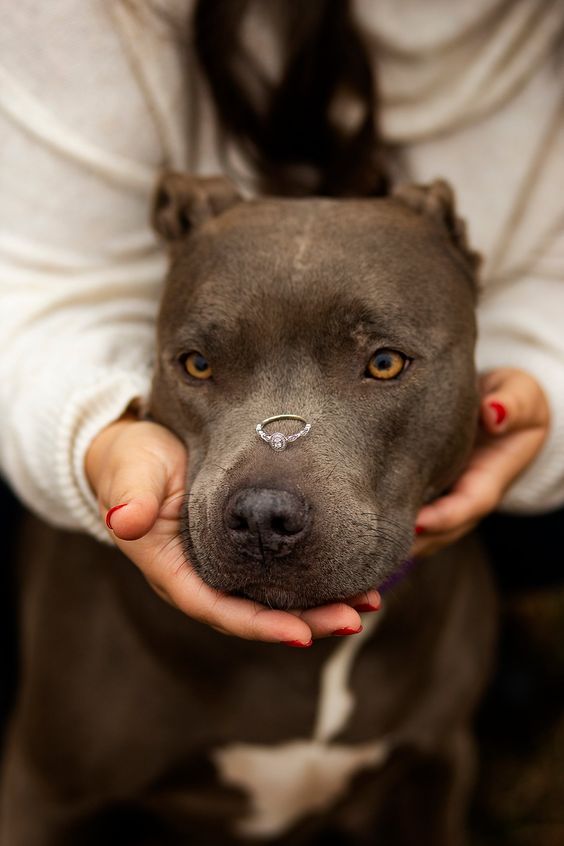 Call your lovely pet and have your partner unbox the surprise. Think about dressing up your pet in a special outfit and bringing them along on THE day.
Also Read: 18 Best Places to Visit in Christmas: Most Festive Cities in the World
16. Take Advantage a Family Event
One memorable and romantic approach to proposing is at a family meal. Before proposing, confirm that both your partner and your family are on board with the idea. Start building up for the big question by extending gratitude towards the families and appreciating them for their support.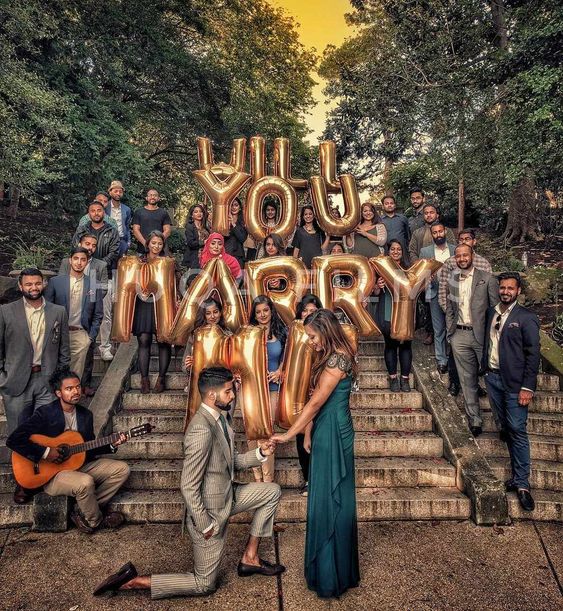 Let them know how vital they have been to maintaining your relationship and how much you value them. Then propose to your partner by getting down on one knee and as they say 'YES' you can rejoice and spend the evening with your loved ones.
17. Rent A Float Plane
It is incredibly romantic to consider popping the question to your significant other as you soar through the air in a float plane. Whether you are flying over a lake or the ocean, the view from the skies can be breathtaking, and the experience will live in your memory forever.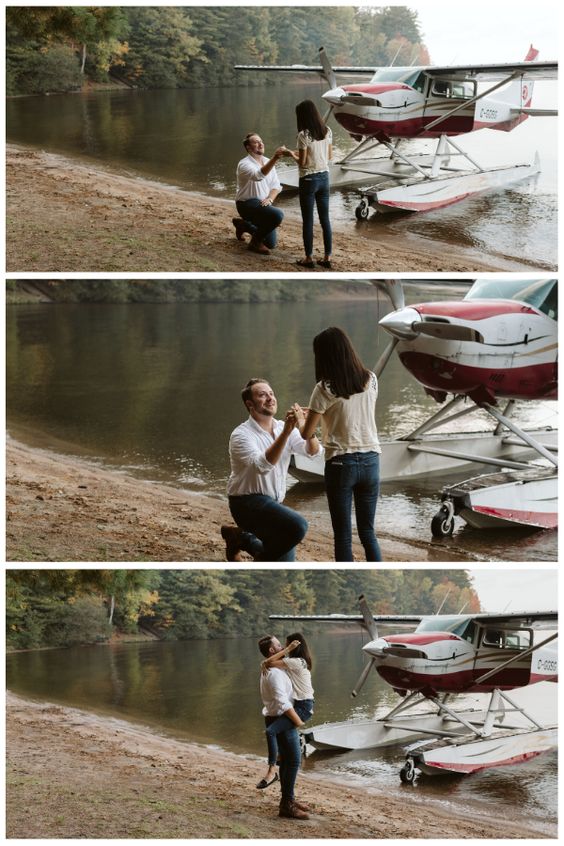 To make your proposal even more exciting, arrange for the pilot to fly over a special place you have always wanted to visit together.
18. Find A Snow Wonderland
A romantic proposal might be created in a snowy wonderland. Embark on a snowy stroll with your loved one and guide them to the location of your choice. Whether it is a lake covered in snow, a comfortable lodge, or a remote meadow it will be breathtaking. Put a blanket down and huddle up close.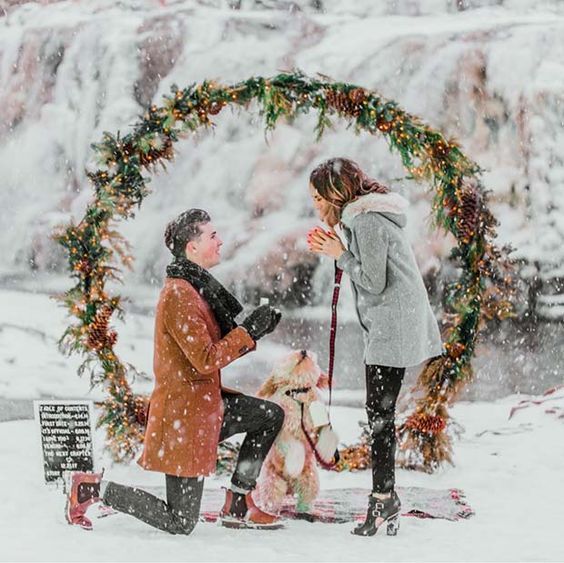 Enjoy your time together as well as the beauty of the snow. When the moment is appropriate, ask THE question. Make your proposal special to the two of you and let your special someone know how much you adore them. Your big moment will have the ideal backdrop thanks to the snow.
Also Read: Top 15 Handbag Brands in India
19. Skywriters
Use skywriters and make your proposal extraordinary. Leave a smoke trail in the sky that spells out "Will you marry me?" or it could be something more artistic like a poem or picture.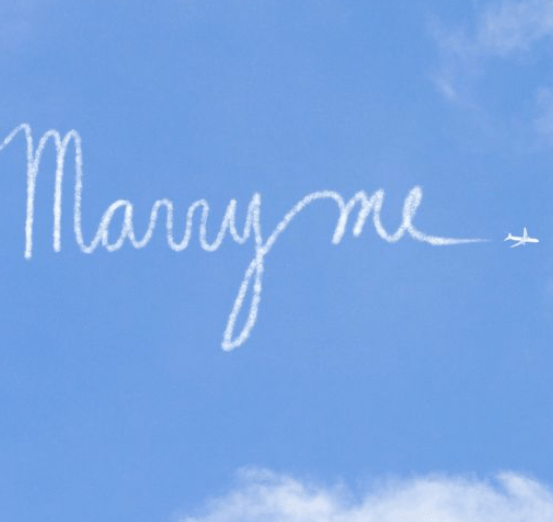 The message will typically be flown over a place that is meaningful to the couple, such as the beach or park where they went on their first date.
Skywriting proposals are a wonderful method to leave a lasting impression and provide the couple with a special memory. You may even attach a banner to the plane with your proposal message on it.
20. Ferris Wheel Proposal
If you plan it well, proposing atop a ferris wheel might be one of the coolest ideas for proposing. Make sure you have a strategy in place so that you may enjoy some quiet time. Choose a less busy time for the ride so you can have more solitude. Create a unique proposal by including unexpected components like music, decor, and a personalised message.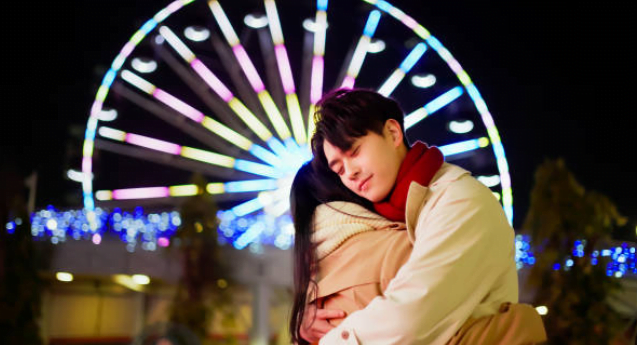 Pack a camera so you can record the moment in time. Finally, keep in mind to have the ring on hand so you do not miss the ideal opportunity. Tip, you can hire drone cameras to capture the perfect moment.
21. In an Intimate Setting at Home
There is no place like home! And it works as a great idea for proposals as well. Dim the lights and add some candles to create a romantic ambience and play some calming music your companion likes. Use sentimental items that are meaningful to you two and decorate your home with flowers, hang up pictures or other keepsakes, or utilise other unique decorations that have personal meaning for the two of you.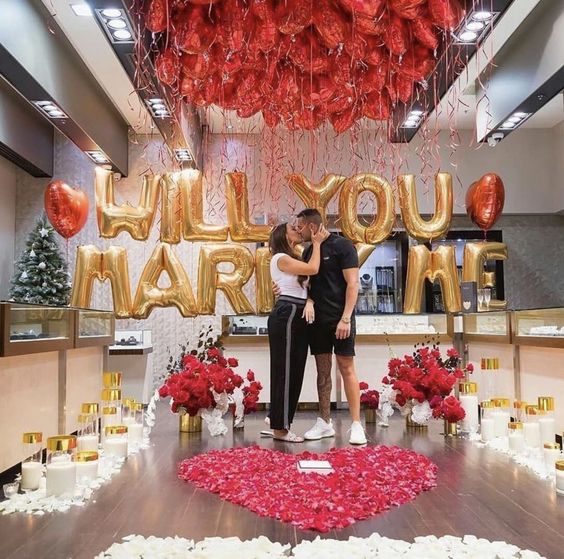 To set up the proposal, pick a location in your house that has a special significance for the two of you or maybe where you have spent the most time together.
Also Read: Top 30 Luxury Fashion Brands in India Gaining Huge Popularity
22. In A Picturesque Open Field
You can create a picturesque set up with an open space such as a field in your hometown. Pick a secure and private space, and remember to check the weather too. During your special time, the last thing you want is to be disturbed. Set up a pleasant environment once you have chosen a location. Bring some refreshments and snacks, light some candles and spread out some blankets.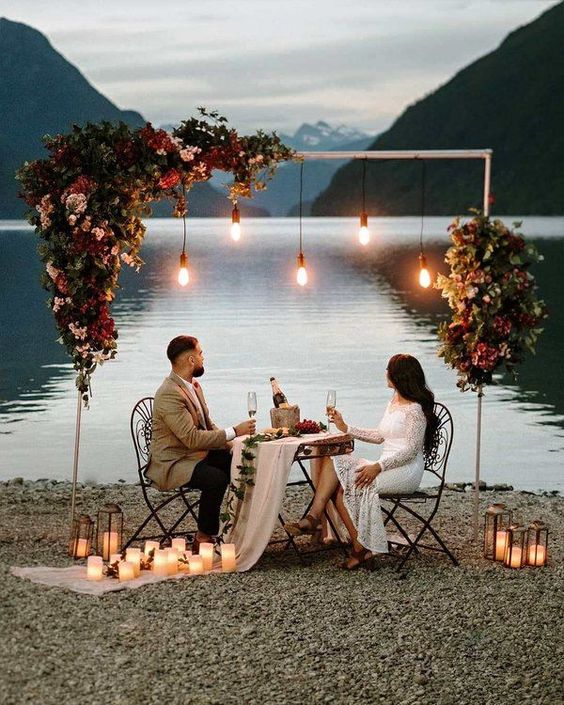 To create the perfect atmosphere you can turn up some soothing melodies. When the time is right, go down on one knee and explain to your partner why you want to spend the rest of your life with them, as well as how much they mean to you. Give them the ring, then celebrate with a passionate kiss outside to mark your new engagement.
23. On A Helicopter Ride
Get a bird's eye view of the city or your vacation spot from the helicopter. The stunning sights are enhanced by the intimacy you share and creating a lasting picture in your mind.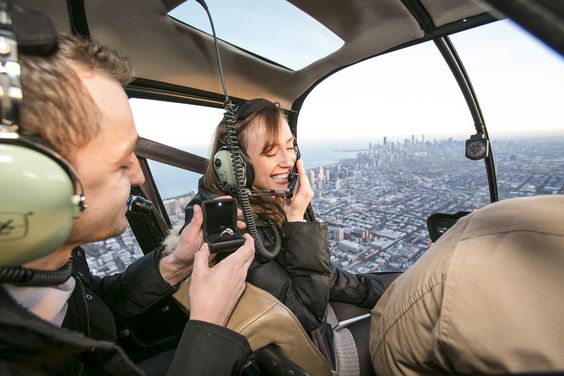 If you intend to pop the question, you must be at ease with being in the air and have a strategy in place. Before you ask her to marry you, you might want to spend a little time discussing your relationship and what makes it so important. Once you land, you can have a fun photoshoot too.
24. Arrange Fireworks
Setting off fireworks to celebrate a marriage proposal can be a lovely and enchanting way to mark the event. Discover options, and have the fireworks firm may set up and install the pyrotechnics for your proposal.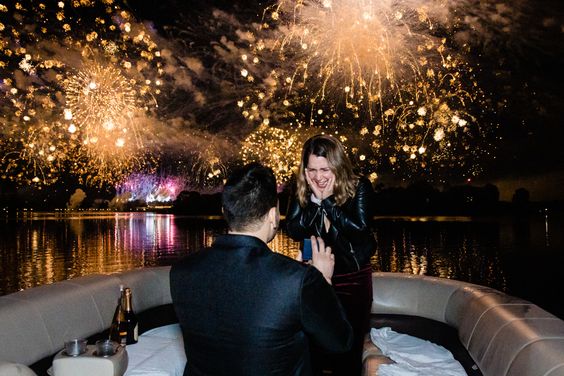 Closer to you, you can even have cold pyro for a blissful feel. Custom fireworks with heart shapes or letters can also be arranged to make your proposal feel more exclusive or tailored to you.
Also Read: Sustainable Fashion Brands for a Better Tomorrow
25. Under the Northern Lights
Proposing under the Northern Lights would be an incredibly romantic and even grand gesture. Surrounded by the dazzling colours of the Aurora Borealis, you could kneel and ask your special someone to spend the rest of their life with you.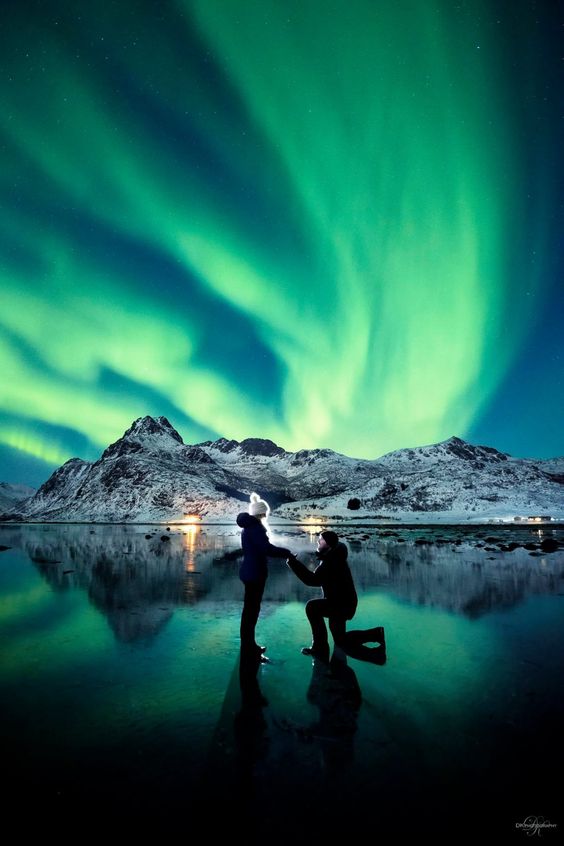 The beautiful light show in the sky would be a magical backdrop to your proposal. Do not forget to click some photos and cease the special moment in your hearts.
26. Safari Proposal
There is nothing quite like the wild expanse of a safari to create a romantic, magical atmosphere for a special proposal.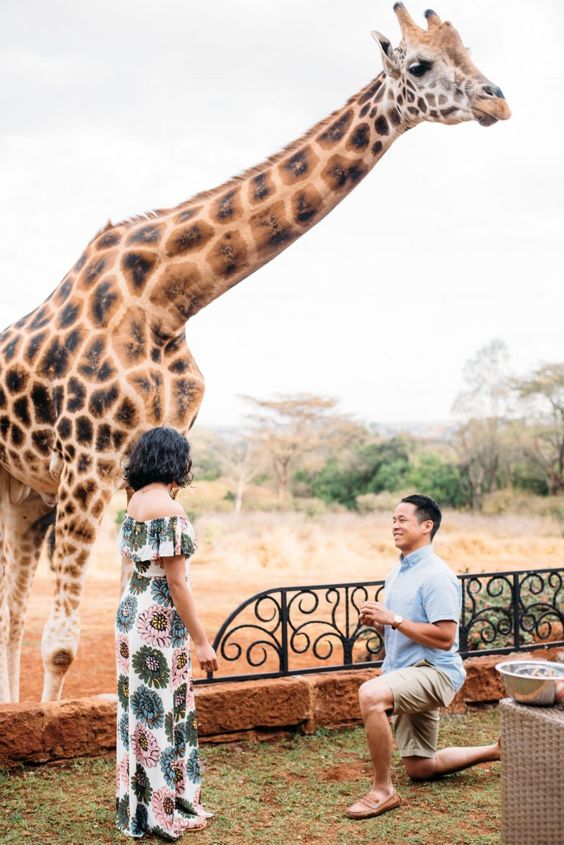 Make sure you bring a bottle of champagne to celebrate and do not forget the ring. Enjoy the moment and savour the memory of your magical proposal in the wild air of safari.
27. A Romantic Christmas Proposal
A super flattering approach to show your sweetheart how much you care is by popping the question on Christmas. It might also be a significant and wonderful occasion that you will never forget.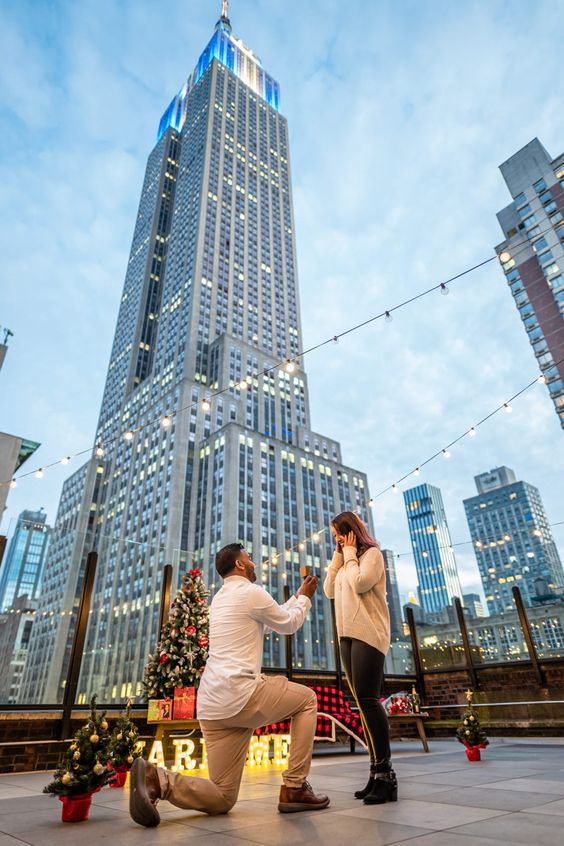 Prepare a romantic speech in advance, and be inventive in putting your spin on it by including music. You can even have your friends and family with you to commemorate this occasion. A cute way would be to have the ring wrapped as a Christmas gift.
Also Read: Shop from The Best Watch Brands in India
28. At A Wine Yard
An idyllic place to further your relationship is to propose in a wine yard. A cosy backdrop with the sun setting in the distance, the aroma of grapes, and a glass of wine to enjoy can provide the ideal situation for popping the question.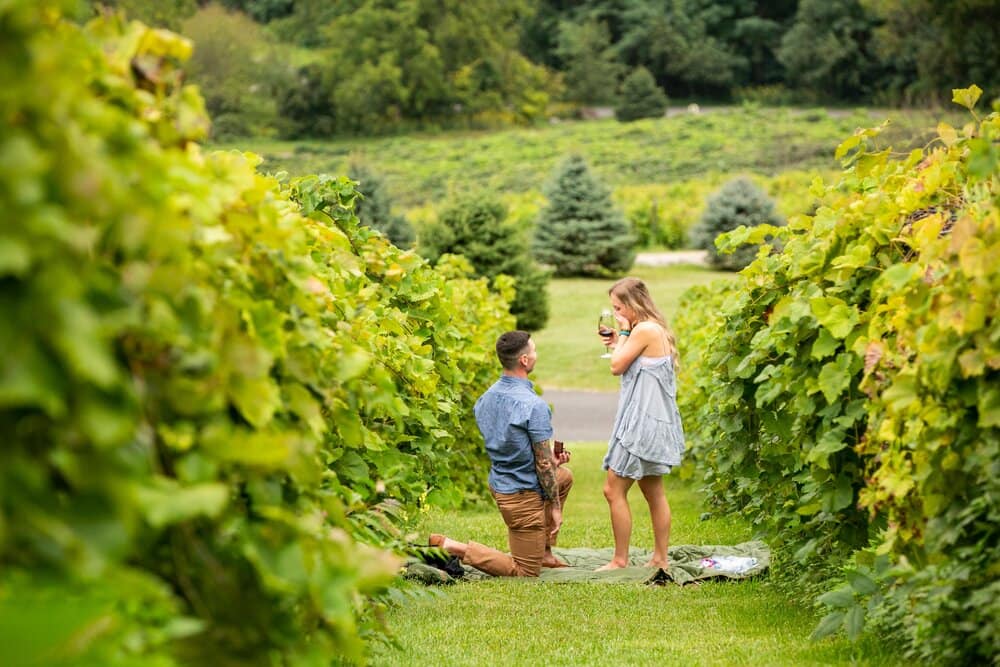 You can surprise them with a ring by putting it in their wine glass to make it even more romantic. They will find the ring as they take a sip, allowing you to pose the question that will change your lives forever.
29. Coffee Proposal
Popping the question on a coffee date is another wonderful idea. Express to your partner how much they mean to you and how much you care about them before asking them to marry you.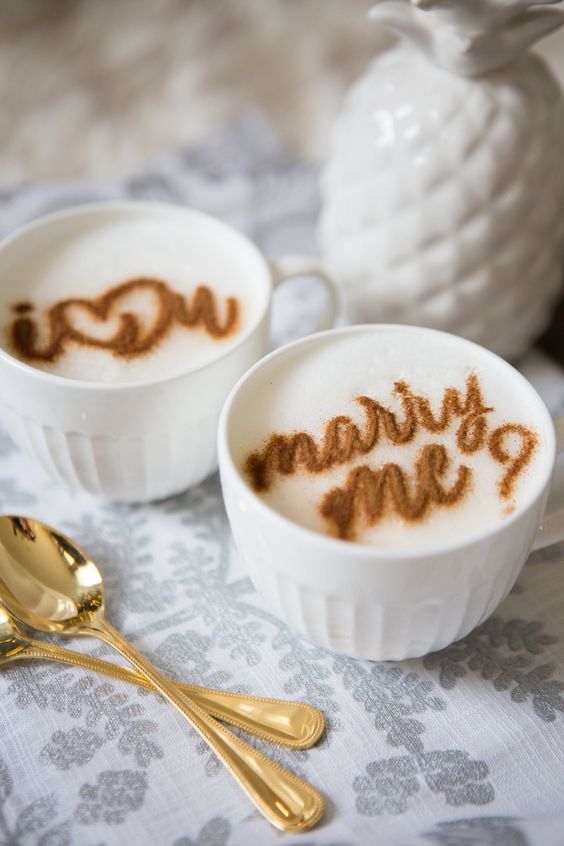 Then, get on one knee and give them your engagement ring amidst the coffee aroma. You can also enquire about having the barista personalise your coffee cups with a message. You might ask, "Will you marry me?" or something more intimate through your lattes.
Make the Most by Taking Inspiration from this Blog
We hope our ideas for proposing have given you plenty inspiration to ask the big question. For more such fascinating ideas, sign up to our newsletter so that you get an update everytime we make a new post!
What is The Most Romantic Way To Propose?
The most romantic method and the best way to propose is to pop the question to your special someone while accompanying them to a location that holds significant meaning for the two of you and creating a cosy atmosphere with candles and flowers.
What Do I Say While Proposing?
Express your love for your partner and tell them why you want to spend the rest of your life with them. Describe the life you envision together. Include a few romantic and humorous moments you have shared and conclude by asking the big question.
How Do You Propose In Secret?
If you want ideas for proposing in secret, start by planning out the details. Consider when and where you want to propose. You could do it in a place that is special to the two of you. Another key aspect of a secret proposal is the element of surprise. You could plan a special activity that leads up to the big moment. When you are ready, find a way to get your partner to the spot without them suspecting. Once the moment is right, get down on one knee and express your love to them.
How Do You Record A Proposal?
Hiring a professional videographer is one of the best ideas for proposing to capture the special moment. You can also think about getting a friend or relative to assist you in organising the proposal. They may assist you with anything, including bringing her to the appropriate location and capturing the special moment on camera.
What Is The Most Popular Way To Propose?
One of the most popular ideas for proposing a partner is to arrange a special and romantic occasion. By planning a surprise meal, taking your significant other on a special trip, or hiring a photographer to document the occasion, you can make the proposal elaborate. Make sure it is something special that your beloved will always remember, whatever you choose.
Popular Searches
Top Luxury Fashion Brands In India | Best Summer Outfit Options For Men | Essential College Outfits For Men | The Right Skin Care Routine Steps | How To Get Rid Of Pimples With Care | New Year Dress Ideas | Types Of Tattoos | Cozy Corner Ideas For Your Home | Types Of Jewellery | A Guide To Health Benefits Of Oats | Top Fashion Designers In India | Latest & Easy Full Hand Mehndi Designs for Bride | Latest Bride Leg Mehndi Designs | Rajasthani Mehndi Designs: A Celebration of Art and Culture | Top Ring Ceremony Mehndi Designs for Engagement Brides |