Weddings are a special time, and every bride wants to make her special day as unique and memorable as possible with the best types of Jewellery and trendy bridal lehenga. One way to do that is with custom mehndi designs for their hands, arms, and feet. From traditional bride leg mehndi designs to modern patterns and intricate artwork, there are so many ways to customize your wedding mehndi look!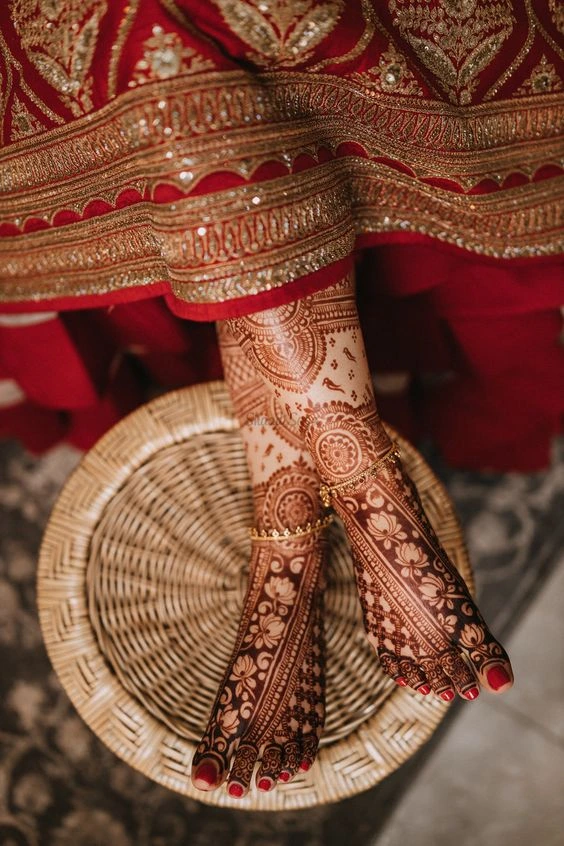 Also Read: Top Ring Ceremony Mehndi Designs For Engagement Brides
The Significance of Applying Mehndi to the Legs of Indian Brides
Bride leg mehndi designs have been an integral part of Indian weddings for centuries. It is a deeply rooted cultural practice that dates back to ancient times, and has symbolic significance behind it.
In Hindu mythology, bride leg mehndi design is said to be a symbol of joy and celebration. On the wedding day, applying mehndi or henna tattoos to the bride's legs signifies her inner happiness and excitement for beginning the next chapter of her life with her new partner. It also represents unity between two people as the intricate design intertwines both their names together in order to bind them in matrimony forever.
On a practical level, bride leg mehndi designs are also believed to hold magical powers that drive away evil spirits on the day of marriage while protecting a couple and keeping them safe from negative energies around them.
Therefore, applying bride leg mehndi designs have both traditional as well as spiritual symbolism attached to it. As such, it is considered an essential part of any bridal look that adds depth and beauty to her overall look on her special day!
Leg Mehndi Designs for Bride that Will Instantly Elevate Your Bridal Look
Here's an overview of the latest designs in bridal leg mehndi that can help you create the perfect bridal look for your big day and will also compliment your stunning mehndi designs of hand.
1. Floral Bride Leg Mehndi Design
One of the most popular bridal leg mehndi designs is floral-themed art. This type of design incorporates intricate detailing of flowers into the pattern, giving it a more feminine and delicate feel.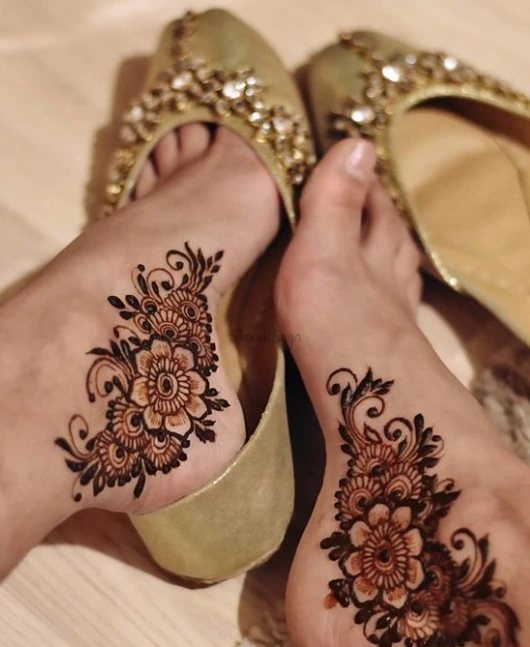 It's usually drawn all over the foot but can be customized based on your own preferences. For example, some opt to draw just a few flowers scattered across their toes while others go all out with an array of beautiful blooms drawn from ankle to toe. You can also choose different colors for each flower – from natural shades like brown or red to bolder hues like green and blue – for a one-of-a-kind look.
2. Geometric Bride Leg Mehndi Design
Geometric patterns have become increasingly popular when it comes to expressing creativity through body art. They are characterized by symmetrical figures such as circles, squares, triangles, and diamonds that form intricate shapes and visuals that look stunning on any bride's legs.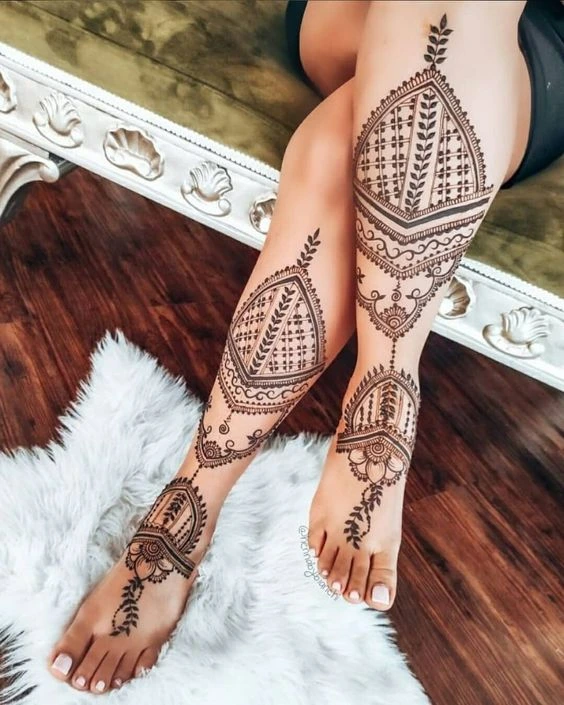 This type of bride leg mehndi design works well if you want something minimalistic yet eye-catching or if you want something simpler than traditional henna conventions without sacrificing its beautiful flair.
Also Read: Show-stopping Wedding Outfit Ideas for Women in 2022
3. Mandala Bride Leg Mehndi Designs
Mandala designs combine both geometric elements with floral elements which make them very versatile in terms of aesthetic appeal. These patterns use ombre shading techniques which gives them an illusionary effect as they seem to shift with movement or light changes.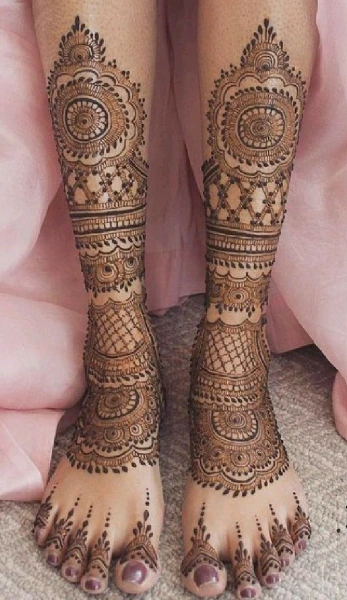 The mandala symbol has spiritual connotations making this design perfect for representing unity between two souls preparing to embark on their eternal journey together as husband and wife!
4. Jeweled Bride Leg Mehndi Designs
For those who want some sparkle at their feet, jeweled bridal leg mehndi is the way to go! Add some glitzy stones in coordinating hues near certain areas of your mehndi design or spread them throughout the entirety of your artwork – it's up to you! When done right, this bride leg mehndi design looks glamorous without overdoing it and will draw everyone's attention no matter where you stand during your ceremony!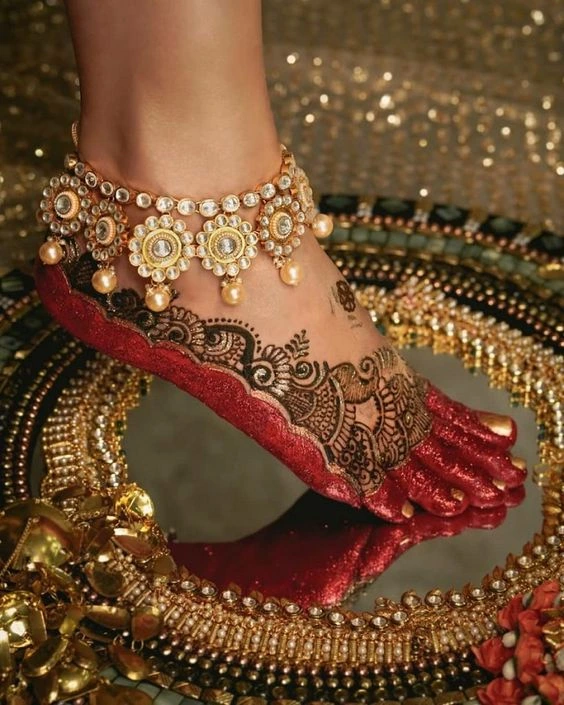 By considering these creative options – Floral Bridal Leg Mehndi Design, Geometric Bridal Leg Mehndi Design ,Mandala Bridal Leg Designs ,and Jeweled Bridal Leg Designs – you can ensure that you have a perfect fit for your specific style on your special day!
Also Read: 10 Top Most Luxury Makeup Brands That Will Blow Your Mind
In addition to the popular floral, geometric, mandala, and jeweled bride leg mehndi designs, there are many more unique options available for a bride-to-be to choose from. Take a look at these ideas:
5. Ombre Bride Leg Mehndi Design
Ombre is a big trend in fashion and make-up, but it's also really popular when it comes to mehndi designs. This type of design is perfect for those who want something softer and less bold as it allows you to create a gradual transition between different colors.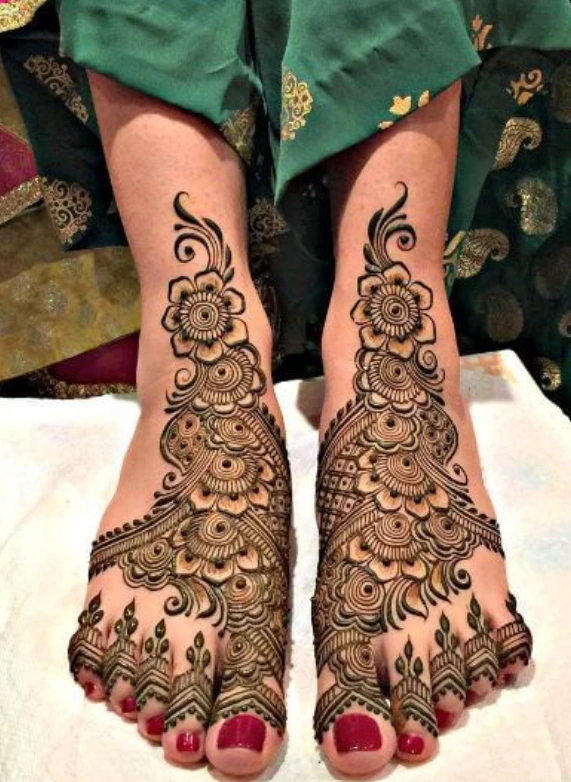 You can use traditional shades like reds and browns for an ethnic feel or opt for brighter hues like aqua blue or yellow gold for a more modern look.
6. Cursive Writing Bride Leg Mehndi Design
For those getting married in India or other countries where cursive writing is prevalent, they may want to incorporate this design into their bridal leg mehndi. Personalize your design with your own name written in beautiful script or an important phrase such as "love conquers all"!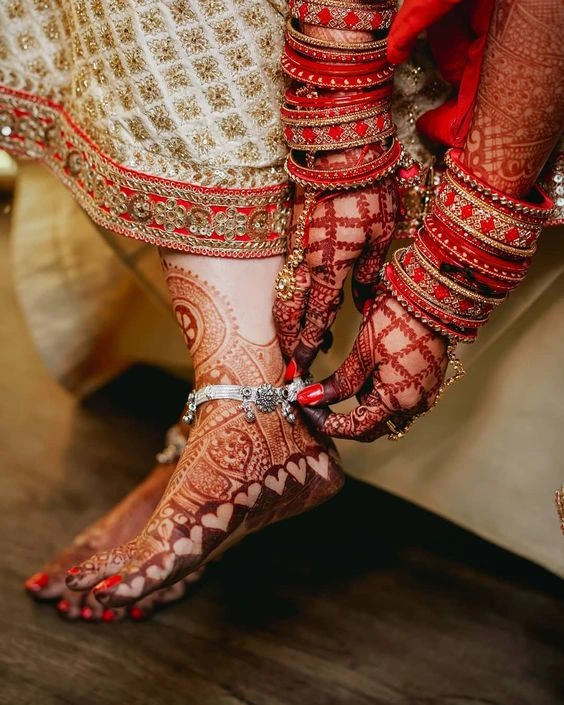 Also Read: Organic Makeup brands in India Worth Exploring for a Better Skin
7. Symbolical Bride Leg Mehndi Designs
This types of foot mehndi design is simple and easy, incorporating symbols such as stars, hearts, crescent moons and fishes into them which can represent special moments shared between two people.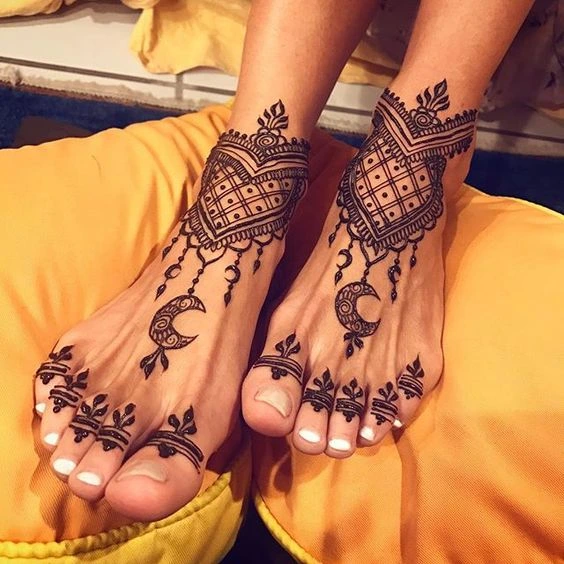 They look especially romantic if done in pairs on both legs – one leg showcasing the symbol and its complement appearing on the other corresponding leg!
8. Abstract Artwork Bride Leg Mehndi Designs
Abstract artwork is incredibly unique and makes an interesting statement when worn as wedding mehndi art. This easy foot mehndi design lets you create abstract shapes or draw freehanded shapes with dots – the beauty lies in their uniqueness.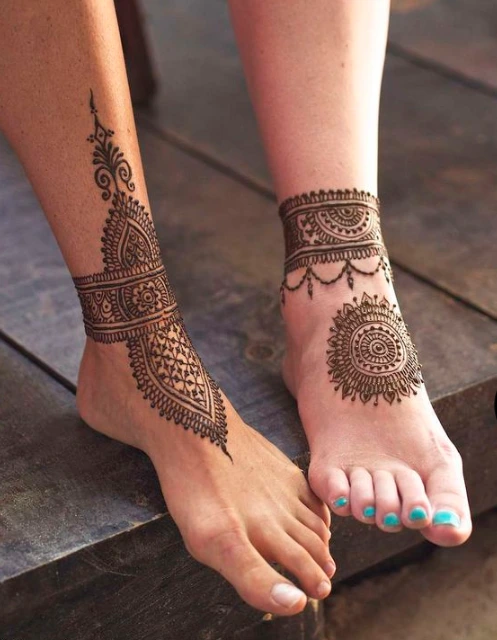 So don't be afraid to play around with different ideas until you find something that speaks to you!
Also Read: Best Romantic Restaurants in Mumbai for a Perfect Date
9. Glittery Bride Leg Mehndi Designs
If you're looking to add some extra sparkle to your wedding day look, glittery mehndi is the way to go! You can apply either a glitter gel or powder directly onto the henna paste or draw intricate patterns over it with larger crystals.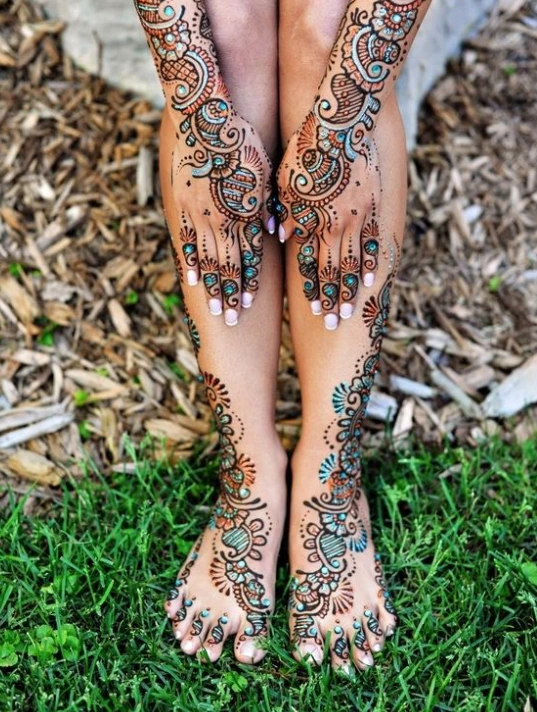 Choose subtle shades like champagne gold or silver for a classic look, or opt for bolder hues like pink or blue for something out of the ordinary!
10. 3-D Bride Leg Mehndi Designs
3-D mehndi art has become increasingly popular in recent years and can be used to create stunning visuals on any bride's legs. This bride leg mehndi design uses shading and contouring techniques to create the illusion of 3D shapes that pop right off the skin.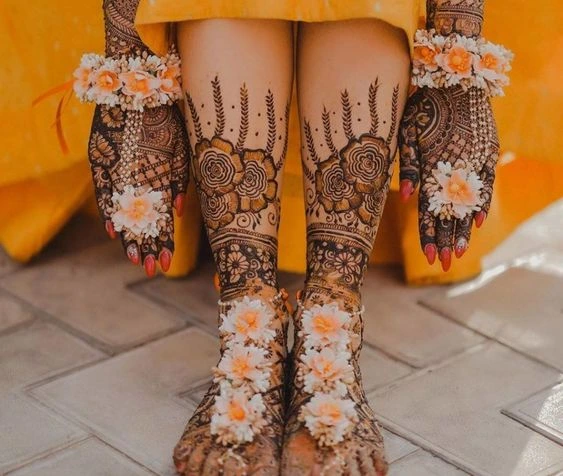 It's a great way to add an extra dimension to your bridal look without being too flashy – just gorgeous!
Also Read: Guide to Hair Care Tips: How To Treat Your Hair Like A Boss
11. Combination Bride Leg Mehndi Design
Combination bride leg mehndi design combine several elements into one cohesive artwork piece, making them perfect for those who want something more intricate than traditional mehndi but don't want over-the-top flashiness either.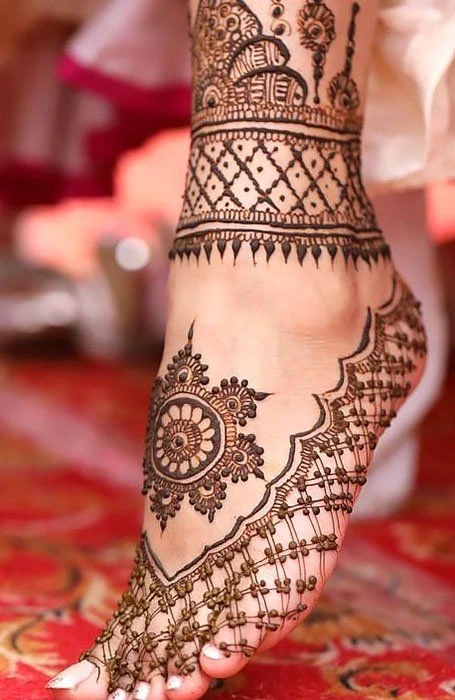 For example, you can incorporate floral elements along with geometric shapes and symbols for an eye-catching design that still looks timelessly elegant.
By exploring designs – ombre, cursive , symbolical Bridal leg designs ,and abstract artwork bride leg mehndi designs -you can create a timeless piece of art that you'll never forget! So pick and choose the right look that represents your personal style on your special day!
Watch this Space for More Fashion Trend Updates
In conclusion, bride leg mehndi design is a beautiful and intricate form of body art that has been practiced for centuries in various cultures around the world. Whether you are looking to adorn your hands and feet for a special occasion or simply want to appreciate the beauty and symbolism behind the designs, mehndi is a versatile art form that can be appreciated by anyone. From traditional motifs and patterns to modern interpretations and unique designs, there is a mehndi style for everyone to enjoy. So embrace the beauty of this timeless art form and let your hands and feet become a canvas for exquisite mehndi design.
Popular Searches
Fashion Bloggers In India | Ethnic Wear Brands In India | Shoe Brands In India | Sustainable Fashion Brands | Latest Fashion Trends For Women | Fashion Magazines In India | Top Fashion Photographers Of India | Types Of Jackets For Women To Suit Your Style! | Benefits Of Coconut Oil On Skin & Hair | Things To Remember While Buying Cosmetics | Types Of Nail Shapes | Types Of Tattoos | Cozy Corner Ideas For Your Home | 9 Tips For Good Sleep Every Night | How To Style Skit |