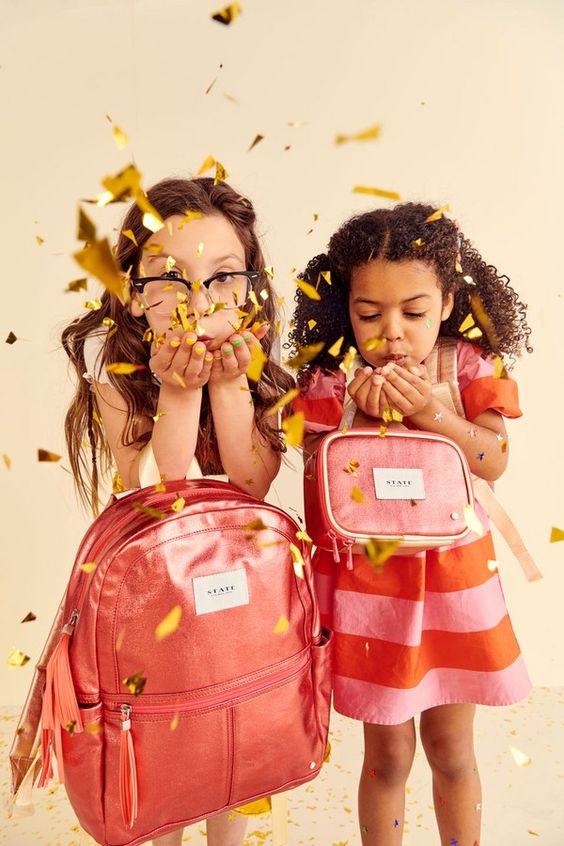 The most common problem with shopping for children is that they refuse to listen to reason. If they like that SpongeBob Squarepants bag, they'll stick to their guns, even if your voice gets hoarse telling them how there is no way their Monday's routine will fit into it. And if they don't like the beige utility backpack you got them? Well, it's never going to see the light of day. We give you the perfect solution to this quandary, by showing you the types of bags your little one will take instant liking to. Read on and discover the styles.
1. Multi-utility backpacks
For the incredibly busy and adventurous children of today, a multi-utility kids' bag is the way to go. These remarkable backpacks come with numerous slots and pockets to store everything your child needs to carry: from a water bottle to a pencil box. Multi-purpose kids' school bags allow your child to compartmentalise their books, so that they can easily pull out what they require without the hassle of emptying its contents.
2. Minimalistic backpacks
Get your kids a backpack that features a single, easy to access slit is the best way to avoid confusion. These bags make it easy for kids to store all their necessary items to be stored in one big pocket. The first thing to keep in mind here is your child's needs. If they have a lot of knick-knacks, like miscellaneous pencils, diaries, small books, big books and so on, a simplistic backpack will not do for them. These bags are ideally suited for smaller children and their smaller needs.
3. Cartoon themed kids' bags
Cute Tom & Jerry or Pink Panther themed kids' backpacks are sure to immediately appeal to them. Talk to your child and find out what cartoons he or she likes. You also want to choose a colour scheme that he or she would love, as the wide range of available options gives you that liberty. Younger children especially enjoy donning these cartoon themed kids' school bags, so getting one for them to carry to school is an idea we strongly recommend.
4. Kids' Trolley Bags
Toting trolley bags in school or while travelling will make your kids more adult-like. More than that, trolleys are an effective way of protecting your loved one's sensitive back from undue pressure caused by their demanding schedules. This is precisely why we suggest you get them their very own kids' trolley bag. Remember to match the colours of the kids' trolley bag you buy to the wishes of your child.
5. Colourful Printed Bags
Getting your little one a colourful printed backpack is a must if he or she is a fan of bright colours and likes experimenting. Children are sure to immediately fall in love with their vivid patterns and distinctive designs. These kids' bags may be used practically anywhere. Let your child carry it to school,while she/he goes out swimming, or even when they are out with friends, without compromising on the effort you put into how they look. It is essential that you select your prints carefully. For little girls, you could try delicate floral prints in pink and purple; while boys would appreciate abstract patterns in loud colours like blue, green, and orange. Once your child starts using a printed bag, make sure that he or she takes good care of it, as you don't want the print to peel off and leave you with no design at all.
6. Monotone backpacks
Celebrate your child's favourite colour by getting them a single toned kids' bag of their choice. Keeping it simple with these bags has the added benefit of letting your son or daughter accessorise it further. Get them tassels, badges, and keychains to attach to the bag to let them show off their creativity to the fullest. Rather than painting on the walls, encourage them to channel their inner artists in a healthier- and more cost effective-way! The best thing about monotone bags is how low maintenance they are. Barring the most stubborn stains, anything can be simply washed off without fear of peeling prints. If picking a single colour is difficult for you or your child, you may instead go for bags that mix and match with a second shade as well, giving the desired effect of simplicity without being monotonous.
All in all, we strongly recommend that you maintain a keen eye on both your child's wants and his or her needs. Keeping these simple points in mind, we are confident that finding the perfect bag for your little one to fall in love with is just a small step away. We suggest you look at the range of kids' bags at Infifashion. You can pick from a variety of brands, styles, fabrics, and features. Buy kids' bags at Infifashion and give your child an accessory she/he will be proud of flaunting.