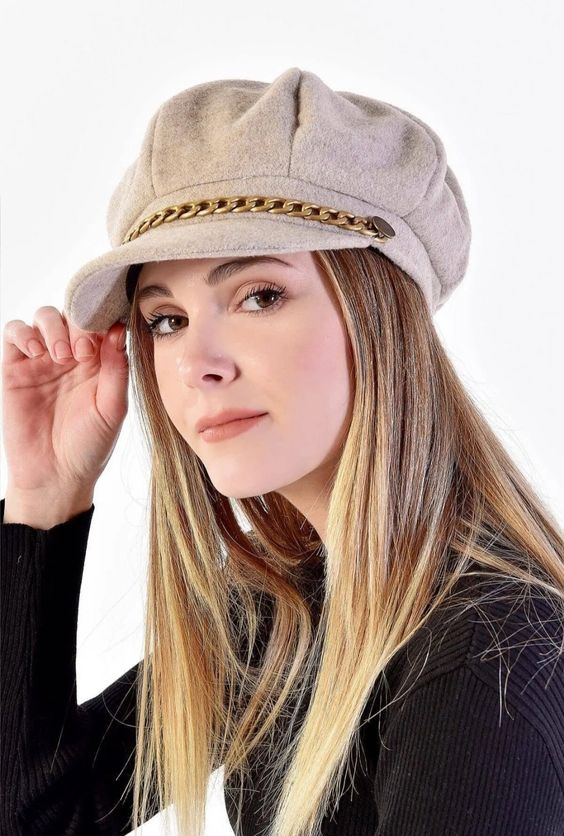 Remember that baseball cap you wore last summer that's now tucked away somewhere in your closet? Or, how about that beanie you wore last winter and have forgotten all about? Our suggestion: get them out, dust them off, and style them in fun ways to make yourself stand out. We've rounded up seven incredible styling ideas that you definitely need to try. Whether you're in need of a cool accessory to complement your sportswear, or a dose of style for your usual jeans-and-T-shirt ensemble, a cap will definitely do the trick. Luckily, they come in numerous styles, so you can rock a different look each time. Take a look at our top seven picks and learn how to wear them like a true trendsetter.
Flat Cap
Retro-inspired, dapper, and classic, flat caps can be worn with casual and dressy clothing. The style, which originated way back in the 14th century, hasn't lost an ounce of its coolness. The firm brim at the front and flat top lend this cap a look of sophistication. Grab one of these wonders when you're headed out for a fishing trip wearing your favourite chino shorts and a polo T-shirt. You can wear the same cap when taking your lady out for coffee. Ditch the shorts in favour of slim-fit jeans and throw on a fitted jacket for a slimming effect. Ladies, flat caps can be styled in equally fun ways. How about a cropped jacket, skinny jeans, and ankle boots on movie night? A gorgeous tweed flat cap in dark grey can tie your look together. You can bring out the colour more with hot pink lips and flushed cheeks.
Baseball Cap
Baseball caps are among the sportiest designs and thanks to various style icons and celebs who are often seen flaunting them, they've gained immense popularity; you can team with any fashionable casual wear items. If you're still reserving them for your son's outdoor sporting events or using them to hide a bad hair day, it's time to stop. Wear a solid black baseball cap with a denim jacket, T-shirt, and distressed jeans to tie it all together. If you're feeling peppy, get your hands on bright pink, striking fluorescent blue, and vibrant green caps. Yes, guys, that goes for you too! There's no better way to jazz up an ordinary T-shirt and ripped jeans than with an eye-catching pop of colour. We also adore sequined caps and printed ones that lend baggy jeans, summer dresses, and all-black outfits a touch of fabulous. For a dressier spin on baseball caps, try the leatherette choices that look smashing with calf-length boots and short dresses. Guys, you can show them off with olive green or navy slim-fit casual pants and jackets. Baseball caps can also give smart-casual ensembles the right edge. We recommend choosing black and brown caps to go with grey shirts, green polo T-shirts, dark-wash jeans, and single-button jackets.
Cadet Cap
This military-inspired style is a cousin to the baseball cap, save for the flat top and more rounded visor. Wear this attractive accessory with a button-down shirt, a graphic T-shirt underneath, and faded jeans. Sneakers or slip-on canvas shoes will take this casual outfit further. Ladies, cadet caps are what you need to give cute miniskirts and shorts even more appeal. We recommend wearing edgy studded ankle boots and chunky bracelets for a true rocker vibe.
Beanie
Reminiscent of cold winter days, beanies are our top pick for accessorising warm winter jackets, boot-cut or skinny jeans, and knee-length boots. But don't let the fun stop there; you can grab beanies to wear in warm weather too. Slouchy crocheted beanies look great, especially when paired with off-the-shoulder sweaters and printed jeggings. Also, try them with leatherette skirts and sneakers for a casual date outfit that's sexy and cute. Turn up the heat a few more degrees with a bold lip colour and over-sized sunnies. Guys can try them with slogan T-shirts and cargoes. You'll be amazed at how they immediately liven up your look. Slouchy beanies aren't the only style you can sport; there are more fitted designs that look just as stunning. Chunky knitted varieties are perfect for adding texture to colour-blocked outfits. We also suggest flaunting brightly-coloured caps to easily give monochrome ensembles more appeal.
Peaked Cap
Another military-inspired cap is the peaked cap. Featuring a flat top but with a very eye-catching shiny peak, this is a favourite among those who really want to stand out. We recommend wearing it with coats and skinny jeans, as well as with slim-fit trousers and jackets. Of course, you can always get a more casual design to pair with everyday wear, but where's the fun in that? Our advice is to save these stunners for parties and nights out.
Newsboy Cap
Must-have caps for warm weather, newsboy caps make for terrific accessories no matter what summer outfit you wear them with. Usually made of light, breathable cotton, they keep you looking and feeling cool as the mercury climbs. Pair a solid-coloured number with capris, khakis, or slim-fit shorts when on a weekend getaway. We recommend keeping the look casual with fisherman sandals and moccasins. Printed scarves and beaded bracelets can add to your cool outfits. Patterned newsboy caps are absolutely striking and just the thing to perk up neutral-coloured outfits. Try a cute polka dot cap or a striped one to really give your look a fresh vibe.
Ski Cap
We love the cold because it means being able to add layers of style to one's outfit. Another winter favourite is the ski cap, which comes in any colour and design. Feel festive in a red and green one or go for a white and blue cap. Wear it with a pair of jeans, a warm pullover, and a thick muffler. Don't miss stocking up on classic colours like black and grey that are so easy to style. You can style these caps with parkas and thick leggings as well as with over-sized sweaters and skinny jeans. Not afraid to try new things? Get yourself a ski cap with overlays in the shape of animals. They're super fun to wear and look awesome with hooded jackets, printed pants, and booties.
Caps really are one of the best accessories to own. There are so many different styles of caps that there's one for everyone, no matter their taste. What's more, you can play up their colours and designs with mufflers, shades, and earrings. Who can say no to a sporty baseball cap and aviators that easily spruce up everyday wear? Maybe you're looking to reinvent your casual style without going all-out. A gorgeous cadet cap can help you do just that. Take our word when we say that trendy caps should top your list of must-have accessories.