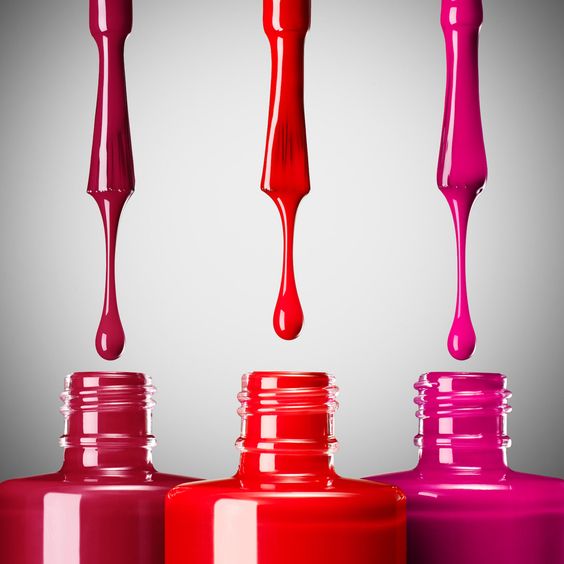 Nothing makes you feel as pampered as a good manicure and pedicure. A peppy nail colour can brighten your day, while an elegant nude shade will give your nails a sophisticated edge. A good gel nail polish can last without chipping for days, which is wonderful if you don't have time for regular removals and applications. A brilliant way to shake things up is to experiment with different kinds of nail art using various types of nail polishes. But, nail polish on nails aside, there are a bunch of creative ways that you can use these little pots of colour for. With some imagination, you can easily incorporate the hottest colours ruling the fashion runways by engaging in fun DIY art projects at home. Check out these cool ideas where your nail polish really shows off its worth.
Styling Old Necklaces

Do you often chuck your favourite necklaces when they break? Then you should stop. You can use glossy nail polish to jazz up any metal chain in only five minutes. Glossy nail polish is preferable to matte since metal has a sheen to it. You can use two or more colours to create a desired pattern. If you have three or more gold-coloured chains of various lengths you can use this method to convert them into a single layered necklace. You'll need pliers and circular links to attach the ends of the necklaces together. Colour the chains and let them dry out completely. Colour them on top of old newspapers to keep your floors and tables from staining. Arrange the chains from longest to shortest and gather each end to link them together. You can use the oyster clasp from any of the chains or from some other chain that you don't use to hold the necklaces together.
Repurposing Old Jewellery
Rhinestone jewellery is easily available and very affordable. But, given time and if you don't maintain it well, it can end up looking a little shabby. You can use nail polish to spruce it up and give it another lease of life. You'll need white nail polish to use as a base colour along with any other colours you like. Use them to create beautiful multicoloured statement bracelets in no time and at a very small price. Just make sure you don't colour the metal parts of the necklace. Three coats of white polish will provide a solid base over which you can start applying the other colours. If it's a rather chunky bracelet you're working on, use pastel shades like mint or pale yellow for a chic touch. Vibrant hues like red and orange look better on slimmer bracelets. A cotton swab soaked in nail polish remover will help clean up messy edges after you're done.
Shoe Refashion

Every year, there's a new list of 'It' colours in the world of fashion. Some are classic and range from neutral shades to pastel hues, while others are a lot peppier. Though you may not be able to buy a whole new fashionable wardrobe based around these colours every year, you can let your nail polish make a difference. Use it to jazz up old shoes in need of a pick-me-up. We recommend doing this with high heels in neutral tones as the colour will stick better. Clean the shoes before you start and tape off the areas you don't want to colour. Use a base nail polish in a colour like white so that other colours stand out. Once you're done and all coats of polish have dried, remove the tape and check your handiwork. Wear your creations with a cute party outfit and accentuate them with stylish jewellery. Don't be surprised if all eyes are on you as you make an entrance at your favourite nightclub!
Door Knob Makeover

Give your home decor a little boost with doorknobs that will pique anyone's curiosity. Water marbling is an easy and fun technique to try for this project. You can use as many colours as you want. Begin by cleaning the doorknob to remove any dust particles. You can paint the top half with a colour like turquoise. In a glass of water, add a few drops of white or any other contrasting nail polish colour. Make sure the water's clean as the nail polish needs to spread out evenly. Dip the door knob in the water and hold it there for a few seconds. Remove it and leave it to dry. Once dry, coat the doorknob with clear nail polish. This fun idea leaves plenty of room for experimentation. You can get very fancy looking knobs for your drawers and doors. What's more, water marbling can be applied to a variety of objects. Try it on glassware, plant pots, and even to personalise cardboard gift boxes.
DIY Phone Cases

You can transform your phone with interesting phone cases, but you may not like the price you have to pay for them. Instead of shelling out money, turn cheap black and white cases into stylish accessories. You can use ordinary sticky tape or masking tape to get multicoloured evenly striped phone cases. Glitter nail polish and matte nail polish both work well for this and you can use them to create pretty polka dots and cool chevron patterns. You can even try the stencil method to get beautiful block style graphics on your phone case. Take a print out of anything that you like. It could be a silhouette of Heisenberg's head or something as simple as an owl or a heart. Carefully cut the image out to create a stencil. Place it on the phone case and fill the gap in carefully using nail polish. If you're doing an image within an image then let the first coat dry before proceeding onto the next one. This way, you can have a flawless personalised cover that looks very professional. Make several phone cases using the stencil method. Match each one to your mood and outfit.
You don't need to be an expert at craft to try these DIY techniques. They're so easy, cost little, and can help you utilise nail polish in more ways than you thought possible. Easily transform the way your old headphones look and give a colourful upgrade to boring beige shoes. Spruce up the look of old sunglasses and colour code your jewellery with keychains. Jewellery, bags, and even hats can be turned into trendy accessories that will put the spotlight on you. Let your creative juices flow to create one-of-a-kind items that totally reflect your style. Your friends will be running to you for fashion ideas!