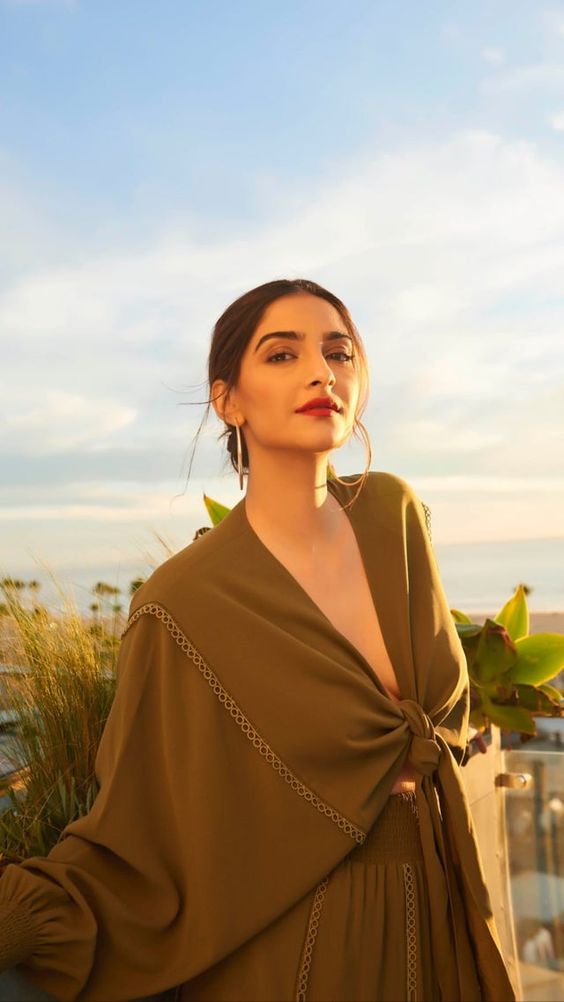 Eye-catching dresses Birthday Girl Sonam Kapoor wore in the past
It seems like there is no stopping when it comes to Sonam Kapoor upping her fashion game with every passing year. Whether it is film premieres or her marriage, Sonam has always managed to dazzle with her magnetic fashion sense. With the fashion diva turning 34 this Sunday, 9th of June, we couldn't help but look back and go wow over some of the best dresses she has worn in the past.
In the past, she has been able to pull a successful transition of out-of-the-box fashion ramp outfits into those that can be worn in her day-to-day schedules. The major reason behind this appeal could be the fact that she uses her height (she is 5'8') to her advantage in her outfits. Also, she does not shy away from experiments, and that confidence is clearly visible and enhances the visual appeal of her already-bling outfits.
So, now that you have a clearer idea into how she pulls off those eye-catching outfits, let us explore some of Sonam Kapoor's best dresses in the past, on the occasion of her birthday.
The Red Carpet at Cannes 2018
In her first red carpet appearance at Cannes Film Festival 2019, Sonam chose to wear a Swarovski crystal-encrusted ivory Ralph and Russo tulle lehenga. Now, the highlight of this lehenga is that it had the appearance of a gown with its eye-catching train. Also featuring floral hand embroidery, the lehenga was paired with a crop top with three-quarter sleeves and a side cape. The result – she looked a dream.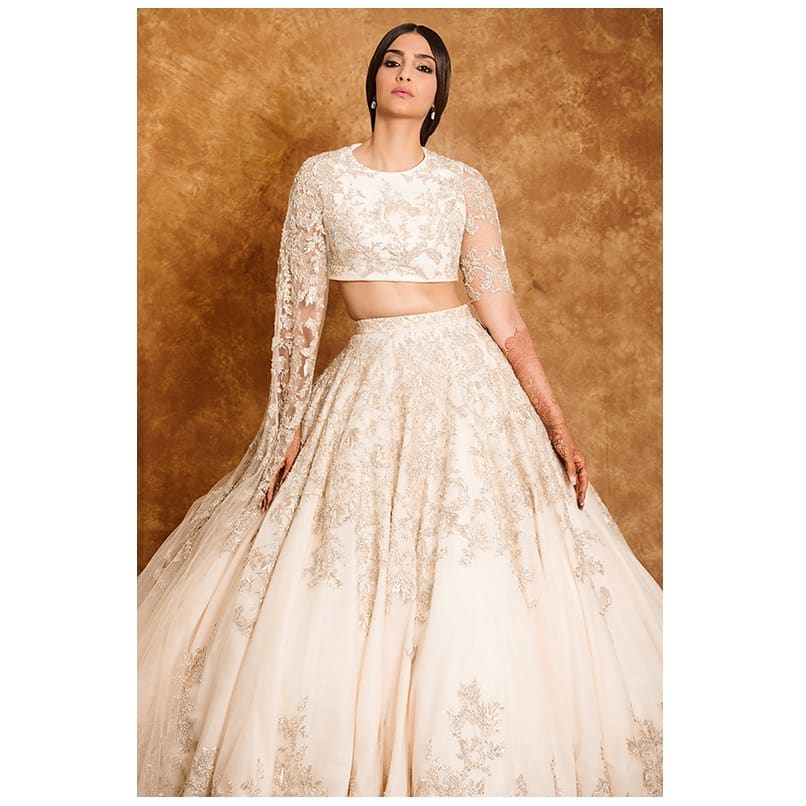 During Sanju's Trailer Launch
During the trailer launch of Sanju, Sonam Kapoor was spotted wearing a metallic saree by designer Gaurav Gupta. Her plum-hued saree had found its perfect match in a matching sweetheart neckline blouse that featured strappy sleeves. To further enhance the appeal of the saree, it also had a pleated cape. In this look, she was as regal as it gets.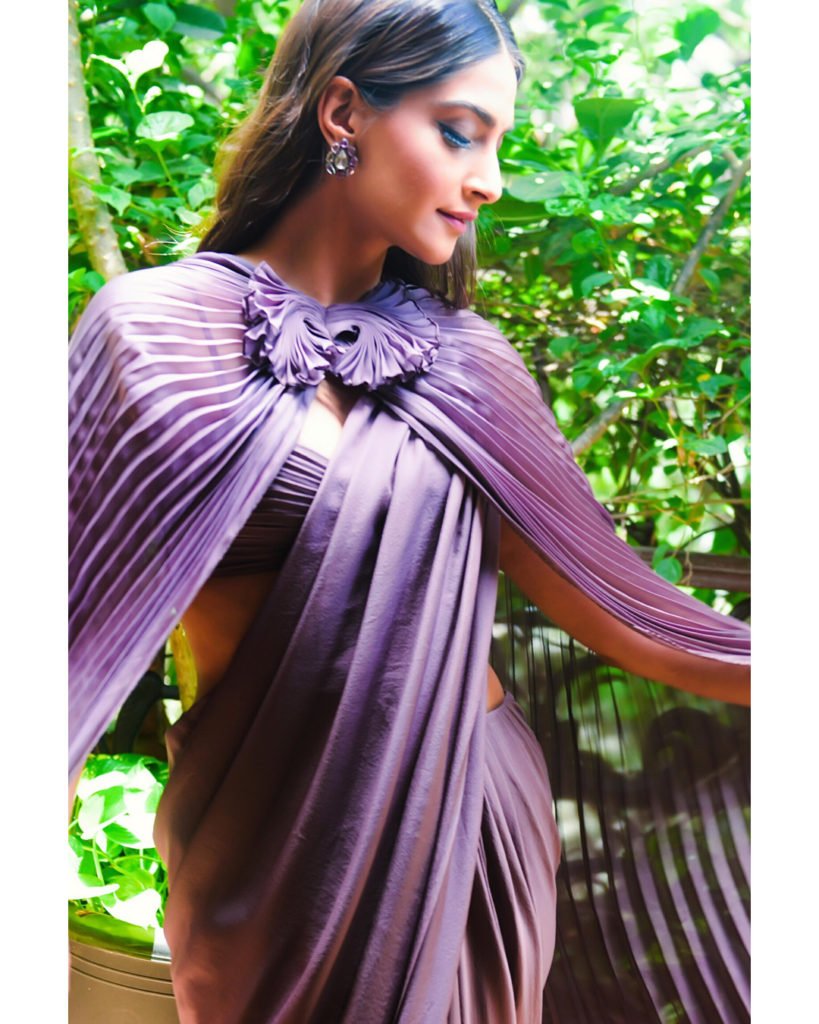 The Knitty Way
In this look, Sonam has got the knitwear vibe on point a bright pink and red knit top with skinny red knit trousers. The knit set was surely a burst of colours as individual pieces. Together, the ensemble came across as fashion gold. This is where Sonam Kapoor gave her followers some serious fashion goals to consider.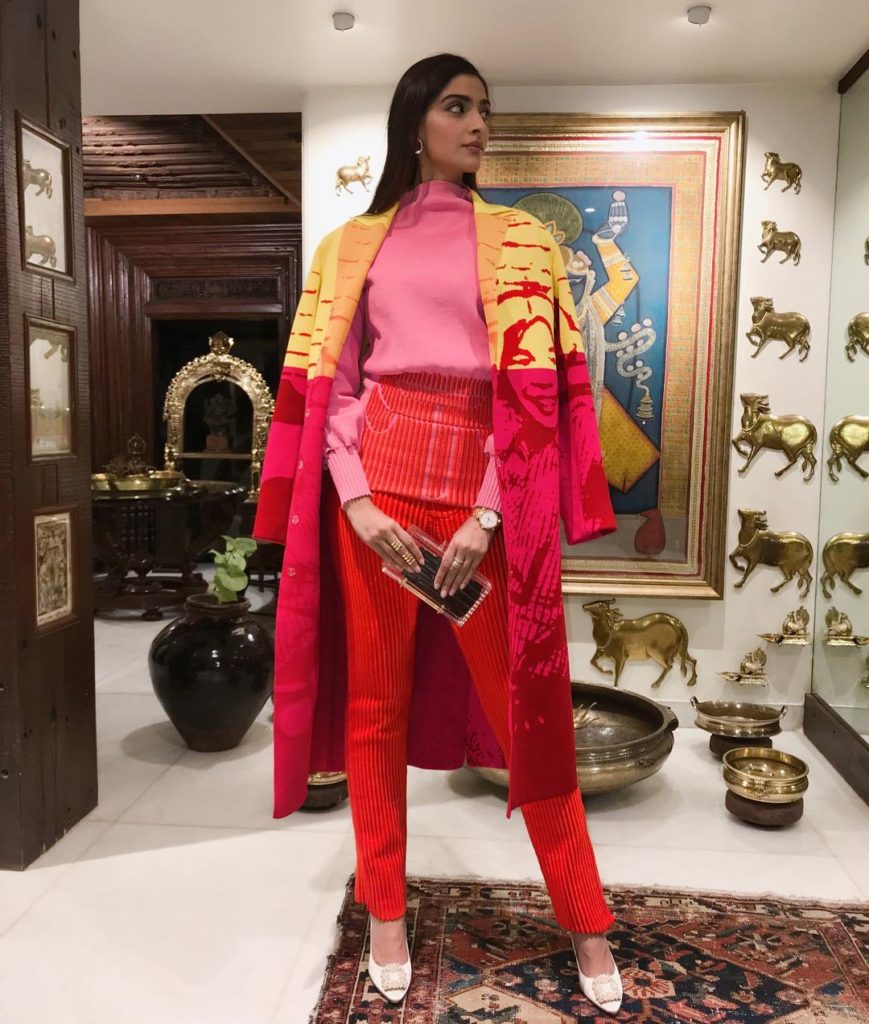 The uber-cool traveller look
While most go for simple and casual outfits like tees and jeans, but not Sonam in this look. Right outside the terminal, she was spotted in a denim palazzo saree. Not only, Sonam set new standards in terms of airport look, she also pushed people to rethink the possibilities in styling denim palazzo sarees for different occasions. That's what we would call a serious fashion win.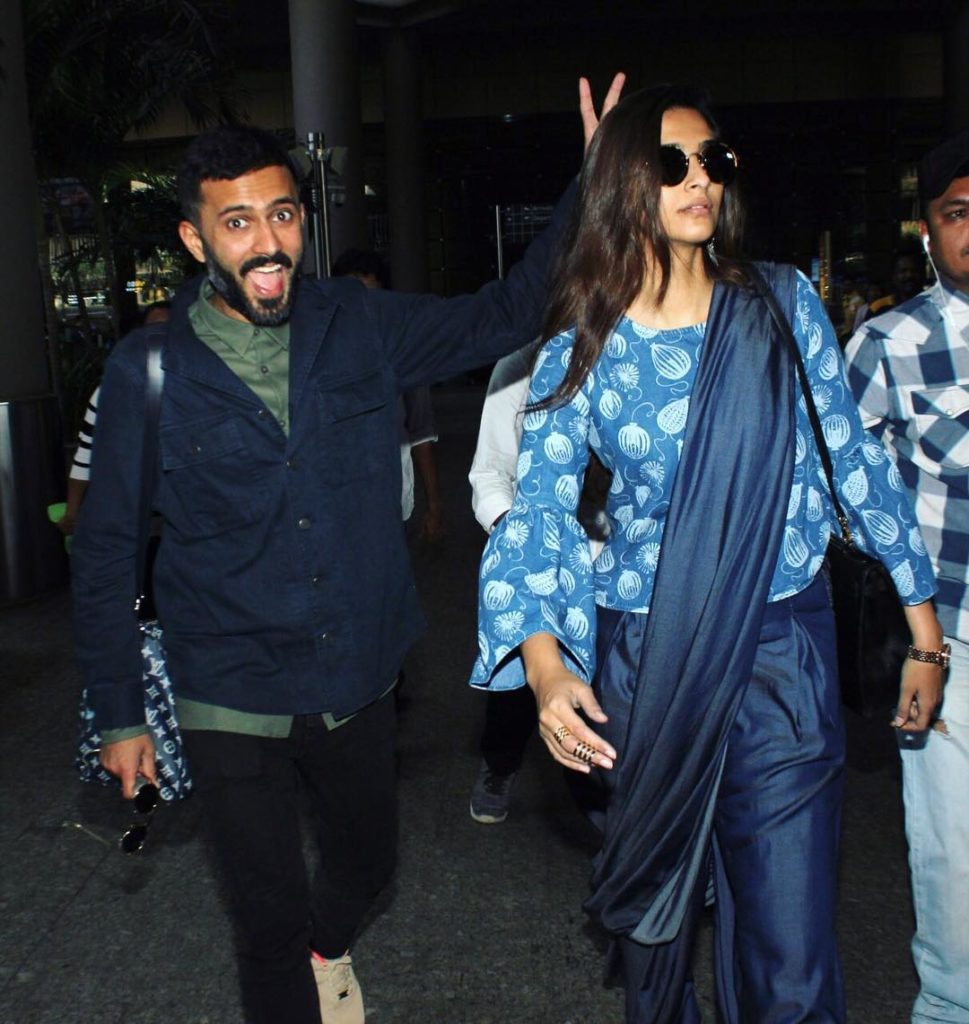 Making basic ensembles fun
Even when it comes to her basic ensemble, Sonam Kapoor sure knows how to give them a fun twist. This time, the standout is a black Balenciaga pantaboots or 'pants and boots piece' or trousers with a built-in five-inch heel. Beautifully complementing it is a grey oversized Fear of God sweatshirt. To further notch up her high street fashion sense, Sonam Kapoor wore her hair in an edgy bun pinch.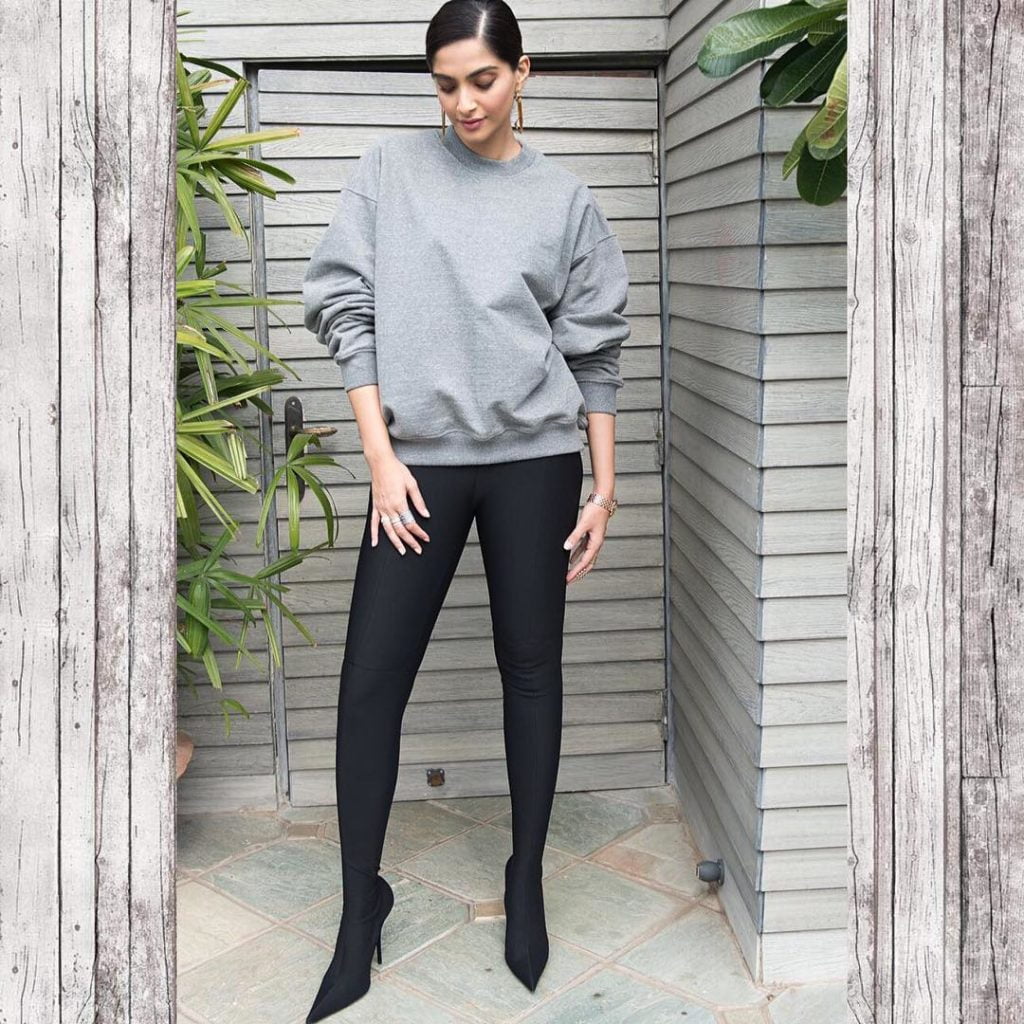 Embracing denim in a new way
With this look, Sonam surely is bringing in a new denim trend. Her distressed denim saree teamed with a dolam shirt is unique and a total stunner. She then goes for gold wrought earrings, evil eye bracelet and a statement ring, keeping in line of the boho chic vibe of her beautiful outfit. Basically, this is Sonam Kapoor levelling up in her fashion game, like always.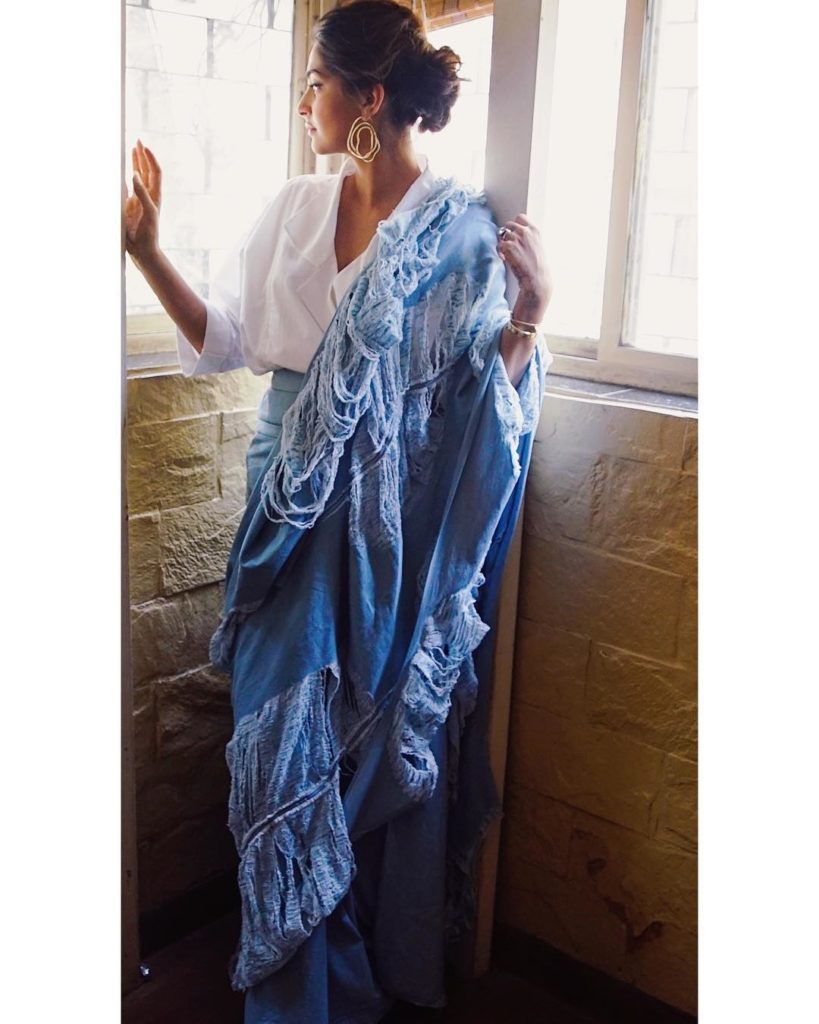 In an older blog post, we have covered the wedding dress Sonam Kapoor wore in her wedding. Looking just as dazzling as in the looks mentioned here, check out the blog on Bollywood wedding dresses to see it yourself.
We are just scratching the surface when it comes to the style quotient of Sonam Kapoor. Ideally, we could go on and go about various looks of Sonam Kapoor. But then, there is always another birthday or a fun occasion in future, where we could further explore and be in awe of the fashionista that is Sonam Kapoor. For now, team InfiFashion wishes Sonam Kapoor a Happy Birthday and a fashionable year ahead!
For more such updates on apparels, accessories and more, hit the subscribe button at the top of this page. Ensure that you stay in sync with everything that happens on the curious fashion blog – InfiFashion.