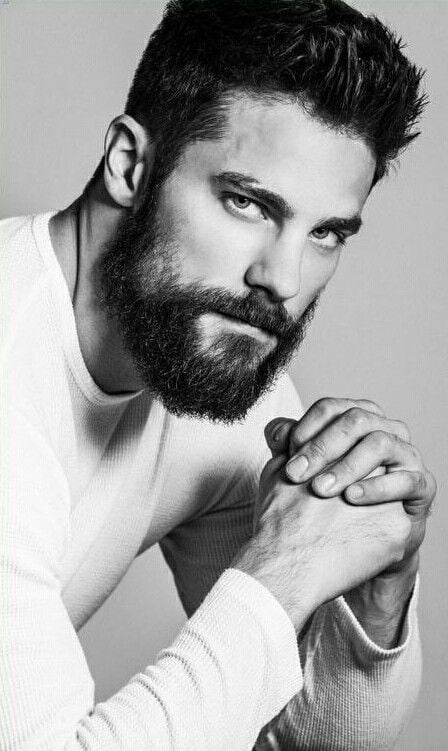 If you've decided to grow out that stubble into something a little more permanent, there might be quite some questions hovering around your mind. How to grow it? Should I try out that actor's beard style?
Hold your train of thoughts! There is an easier way to figure out your beard style without all those questions. You can do so by grooming your beard according to your face type. Now, for those who have questions about what is a face type, we have talked about it in an older article that tackles a similar dilemma with hairstyles.
Coming back to the topic in question, just like hairstyles, your face type determines how well a beard style shall suit your face. For the perfect bearded look, your beard goes well with your jaw in a way that achieves a nicely graduated, oval shape. But how do you achieve such results? Here are some beard styles that can be tried for each face type.
Oval Shape
Look at an oval face not as a particular shape, but rather as a set of proportions. Here, the cheekbones tend to be slightly wider than jawbones, with a balanced chin that is vertically symmetrical with your forehead. With an oval face, there are numerous beards that you can try out. Since your face has both square and round features, you don't really need to stress about balancing anything out.
One classic beard style many love is where the beard is squared out at the jaw, with clean lines on the cheeks, short on the sides and cut underneath.
Rectangle Face
Since this is a longer face shape, styling your beard in a long, triangular or pointy way at the chin will be of no help to uplift your look. Fuller cheeks on a beard give the impression of a slightly wider jaw which takes the attention away from the length of the face. So, avoid picking a beard that exaggerates your face shape. Rather, give the face some width by letting your beard grow in higher up the cheeks, too. By doing so, your face won't look too elongated.
Triangular Face
A triangular face, also known as a heart-shaped face, have a pointed chin, wide cheekbones, and narrow jawbones that sit high and relative to your mouth. Triangular faces stand to benefit the most from a beard. Our pick for this face type would be a beardstache. Once preferred by Victorian strongmen, it is now a super cool look to draw attention higher up the face.
Square face
You might identify this face type as one common among Hollywood action stars with thick, wide jawbones and short, angular chin. Guys with this face type look best when going for narrow facial hair like a goatee. This lengthens your chin while accentuating your already considerable jaw. Square-jawed guys also look best with traditional moustaches.
Round Face
With this face type, you need to work on the angles. One of the options is to go a beard that is shorter on the cheeks and longer towards the chin. That gives the vibe of a flattering look. You could also go for a goatee with stubble on the cheeks. This creates the impression of a longer and more pronounced chin, perfect for formal occasions.
Diamond Face
The goal for this face type should be to maintain hair on the chin. This would offset the cheekbones. To give the illusion of a balanced bone structure, many try to square off a prominent chin. But while doing so, keep the length in check. Pointed beards tend to accentuate this face shape unnecessarily. Hence, you should rather go wider on the cheeks and wider on the edge of the jawbone. A lighter moustache provides further emphasis to the cheeks and jawbone.
So, the next time you plan to experiment with your beard, these tips should come in handy. When it comes to beards and face types, the smallest details matter the most. So, do not ignore them and for more insight into fashion, grooming and other insights to styling, keep following Infifashion.