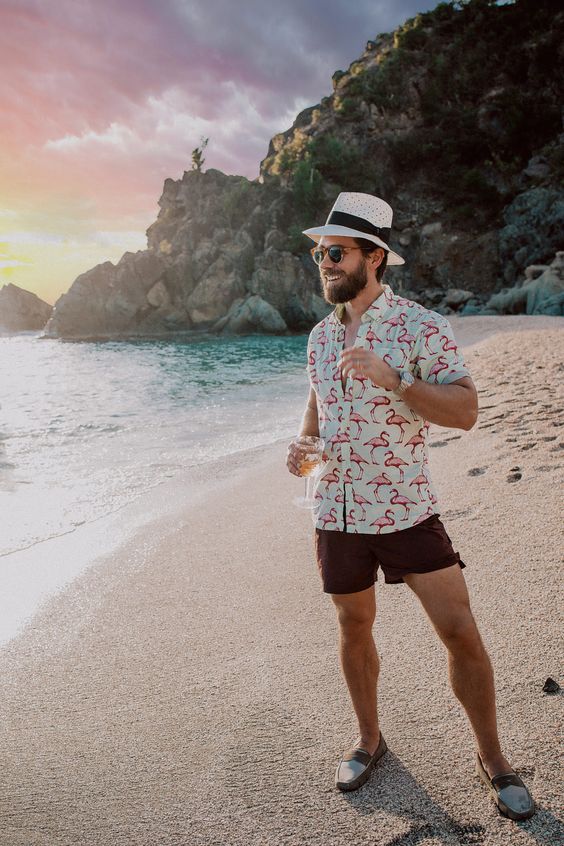 The season to hit the beach is here. But are you ready for it? With so many styles to choose from, we are truly spoilt for choice today. Know everything you need to pick the right beachwear for you and nail the hot summer look.
When picking beachwear, it is essential to know that everyone has their own set of tastes, purpose and comforting factors. But overall, swimwear today emphasises a focus on practicality and looking good. So, keep reading to explore the various types of beachwear you can find for yourself.
Options For Men In Beachwear
Swim Trunks
Very similar to the shorts you wear every day, swimming trunks are known to have a tight fit lining on the inside of the shorts. They are usually made from nylon or polyester as these materials tend to dry up quite quickly.
Board Shorts
Built to hold up against wear from contact with a surfboard, Boardshorts are designed to be quick-drying, comfortable and light-weight. Boardshorts do not have an elastic waist like many swim shorts do. Instead, they feature a more rigid waistband which opens at the front with a lace-up tie. This is in place to ensure that shorts do not come off by the force of the wave, as they are commonly used by surfers.
Swim Briefs
Swim briefs are swimsuits inspired by briefs that are majorly worn by those into competitive swimming and diving. Often made of a nylon and spandex (Lycra) composite, these briefs feature a V-shape front with form-fitting coverage.
What Matters In Your Choice
Leisure Or Not
Just like any other outfit, your choice in swimwear should involve consideration of your active needs. Are you looking for something to wear in a pool or the sea? Are you a regular swimmer? Is sun protection a concern?
In most cases, the basic swim trunks are seen as best suited for casual users who just intend to laze around with some light swimming. For those looking for a more active use, look for snugglier fits that provide some body coverage.
The Visual Impression
The way you look in the swimwear is also a critical aspect. While most family vacationers aren't that big on style, but those into the party scene have some specific needs. Hence, these men tend to be pickier in their choices. Whatever may be your choice, some basic rules can help improve your swimwear selection process.
If trying to look professional, opt for conventional and conservative options like trunks or square-cuts in dark, solid colours or restrained stripes are a safe bet.

Want an eye-catching look? Tread cautiously on this path as you need to pick something that flatters your physical features without looking awkward. For that, stripes, plaids and bright solids should seal the deal.

For those with a chilled, laidback approach to style can relax baggier swimwear options in trunk or board shorts. These give a slumped and casual feel but pretty comfortable.
Concerned With Style
Apart from swimming, there is so much more to the beach outfit. Many hit the beach just to chill. That's when shorts enter the picture for good. But, wearing shorts comes with certain style choices that you should definitely try and benefit from. Here are some ways where you can style some really cool casual looks for the beach.
If you are into colour coordinating your outfits, collared shirts and light cardigans are good choices to try.

The striped t-shirt is an all-time favourite when it comes to pairing with shorts. Comfortable and easy to style, they are your go-to choice for beachwear.

For those into pop-culture, good graphic t-shirts would also look great on a beach. Or else the good ol' plain T-shirts are there to save the day. But in either case, invest in light T-shirts in plain colours. Avoid bright colours as it won't suit the sunny location.

Watches are great accessories that go well for most locations, even beaches. Just opt for something that is water-resistant and inexpensive. Watches tend to get misplaced or nicked at beaches. So, better safe than sorry.

Sunglasses are also an accessory that is essential for the beach. Just make sure, you avoid going over-the-top with them. Stick to simple styles, and you are good to go.
With this insight into beachwear for men, you should be set to chill while looking your best this summer. To keep yourself in sync with the current trends and interesting styles from the fashion circuit, keep following InfiFashion.